Boston High School:

Brunswick School
November, 16, 2013
11/16/13
9:45
PM ET
By
John McGuirk
| ESPNBoston.com
AVON, Conn. -- For Phillips Academy-Andover, this was not the way it wanted to finish.

After running the table during the regular season to go unbeaten, the Big Blue found themselves in a perpetual quagmire against Brunswick School in today's Jack Etter Bowl.

During the first 22 minutes, Andover's offense struggled to move the football with any consistency, and the defense had no clue on how to stop Bruins quarterback Billy O'Malley. The junior signal-caller was riddling the Big Blue secondary at will, throwing for three scores in building a 21-6 lead.

For the Andover fans who made the two hour-plus trip to picturesque Avon Old Farms School's Ryan Field, their silence was contagious — all but excepting the fact that Brunswick (based out of Greenwich, Conn.) was the better team. Late in the third quarter after O'Malley connected with wide receiver Malik Wilder for a 57-yard scoring strike giving the Bruins a 22-point advantage, the Big Blue faithful were virtually in shock and awe.

But that is when things changed. Not once did Andover believe it was out it. A break here or there was all it would need to change the complexion of this game Their wish came true as the Big Blue demonstrated tremendous resiliency by scoring 29 unanswered points to power past Brunswick, 35-28.

"I knew their initial lead would not hold up," Big Blue head coach Leon Modeste said. "We just had to do something positive. Our game plan was to control the tempo and keep their offense on the sideline because it is such a tremendous offense. Once we were down we went to the spread but still ran the ball and that was the adjustment we made in the second half."

The groundwork for this comeback began a week ago after Andover (9-0) stormed back to beat long-time rival Phillips Exeter Academy in the closing minute.

The Big Blue's 'been there and done that' attitude certainly played a major role in this triumph.

"I'm just so happy with the way our defense adjusted against, probably, the best offense we've seen all year," Modest said. "We made some adjustments and stopped some of those big plays they were having success on. That team was very-fast and we weren't use to that type of speed."

The Big Blue's resurgence started once senior running back Ryder Stone blasted through the defense for a 25-yard touchdown run with 2:55 left in the third to make it 28-12. O'Malley, who literally was having his way in the first half having completed 7 of 14 passes for 151 yards and three touchdowns, found the road a bit rougher following his scoring pass to Wilder. After Stone's scoring run, O'Malley, who came into this contest having thrown for 1,929 yards and 28 touchdowns, went 7-for-19 for 103 yards and no touchdowns. He finished his day completing 12 of 26 passes for 251 yards. The 28 points was also the lowest point total put forth by the Bruins his season. Brunswick came in averaging 45 points-per-game.

The Big Blue secondary, led by senior defensive back Brandon Michel, made the adjustments to the Bruins' speedier wide outs, hanging with them and disrupting passes that allowed PA's offense to regain possession of the ball.

"We just needed to stay confident as a defense," said Michel. "In the second half we were able to re-group and we all trusted one another and each person's responsibilities. If we continued to do that we felt we could shut down their offense as a whole and that's what we did. We knew they had a talented offense but at the same time we knew we could compete with them. We knew our offense could come back and put points on the board. But in order to stay in the game we needed to prevent them from scoring, especially in the second half."

After Brunswick (7-2) did nothing offensively following the Big Blue's score, Andover got the ball back on its own 30. Behind the solid running of Stone, who put forth a workman-like effort, gaining 217 yards on 33 attempts, the Big Blue managed to reach the Bruins' 6-yard line. Stone finished the 70-yard march with a sprint into the end zone. His ensuing two-point conversion run had Andover down by only eight points at 28-20 with 11:30 left.

Over the next four minutes, Brunswick had possession of the ball twice, once courtesy of a Jack Varvel pickoff of a Ian Maag pass, but failed to move the chains. The Big Blue re-gained possession at the 7:20 mark on their own 29. Realizing every play would critical to have a shot to come all the way back, Andover orchestrated a 71-yard drive with a mix of pass and run. Moving the ball to the Brunswick 38 and facing a third-and-11, Stone got the call again and the Calgary, Alberta native didn't disappoint. Taking a draw from Maag, Stone broke through the Bruin defense for the touchdown. Now trailing by two points, Stone tied things at 28-all after bouncing off a pair of tacklers and reaching the right corner of the end zone on the conversion run with 4:22 showing.

"I knew we could come back," Stone said. "I'll admit we were asleep in that first half. We were struggling but we pulled through. It took a little while but once we stepped up and started to make some plays we knew we had it. We found some real success on the ground. There were some great holes and some great blocking up front."

With their confidence rattled, Brunswick looked like a unit dazed and confused. Its objective was to get back into sync and hope for the best. Inside PA territory and facing fourth down, O'Malley's saw receiver Henry Taylor had a step on Michel. But his throw was just out of the senior's reach, giving the ball back to the Big Blue.

On first down, Maag (10 of 27 for 144 yards) pumped fake a bubble screen in which the Bruins' defenders bit on thus leaving senior wide receiver Matthew Rusk-Kosa all alone for a well-executed 66-yard pitch and catch to put Andover ahead to stay with 2:45 remaining. Brunwick's final attempt to tie matters faded after O'Malley was sacked for a 3-yard loss on fourth down.

The Bruins, whose last bowl appearance came in 2006 in a loss to Belmont Hill, got this contest started in the right fashion when O'Malley found Wilder for a 32-yard scoring pass. The Big Blue answered on their opening possession. A 50-yard kickoff return by Michel would lead to a Michael Moore 1-yard touchdown dive. The PAT was blocked and Andover trailed 7-6.

O'Malley's rein over the Big Blue secondary continued during the Bruins' next possession. A pair of passes to Wilder and Dyland Wadsworth set up a Wilder 29-yard scoring grab to make it 14-6 late in the first quarter.

Brunswick added to its total with less than four minutes to go before the half. Needing just three plays, O'Malley found Taylor in the corner of the end zone for a 33-yard reception to send the Bruins into the break feeling good about themselves, leading by 15 points.

"It was a hard-fought game and we played a very-good Andover team," said Bruins coach Jarrett Shine. "It was a battle the entire time. Billy O'Malley is a leader for us and his future is very bright. Our kids have nothing to hang their heads about. Andover was able to move the ball well on the ground and we just didn't wrap up and make tackles. We also had a couple of blown coverages late which also hurt us."
May, 11, 2013
5/11/13
1:53
PM ET
By
Ryan Kilian
| ESPNBoston.com
DEERFIELD, Mass. – With the start of the 2013 NCAA men's lacrosse tournament upon us this weekend, there is a good chance that when you tune in you will see Deerfield Academy lacrosse alumni playing an important role in the game.
Of the 16 NCAA tournament teams there are 14 Deerfield alums playing or coaching on eight teams. Cornell head coach Ben DeLuca and Teewarton Trophy (Player of the Year) finalist Rob Pannell are both Deerfield alums, as is North Carolina star attack Jimmy Bitter, to name a few.
Tucked away in the historic, rural town of Deerfield, Mass., resides one of the top high school lacrosse programs in the United States.
[+] Enlarge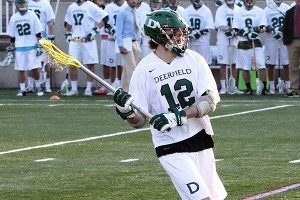 Ryan Kilian for ESPNFormer Concord-Carlisle standout and ESPN Boston All-State selection Jackson Finigan has joined Deerfield Academy for a postgraduate year before heading to the University of Delaware next year.
Deerfield Academy, a school with a total student body of approximately 600, is known for its elite academics, as well as competitive college preparatory school athletic program. Founded in 1797, Deerfield Academy is set on a picturesque campus located 30 miles North of Springfield, Mass. in the Western part of Massachusetts.
The boys' lacrosse program, which is run by 20-year head coach and athletic director Charles "Chip" Davis, has put together 20 consecutive winning seasons. They have won or shared a piece of their conference title in seven of the last eight years and are a jaw-dropping 87-4 overall in the past seven season of play.
Deerfield competes in the Western New England Division 1 Conference, known as one of the strongest leagues in the country. Their fellow WNE D1 competitors include the likes of Avon Old Farms, Salisbury School, Brunswick School and rival Choate-Rosemary Hall.
The balance and strength of the WNE conference has improved over the years with many of the top high school and future college stars headed to New England to further educate in the classroom and on the lacrosse field.
"There are a number of very high level payers at almost every team in our league now," Davis said. "That speaks to the amount of good players that play the game and these schools are attracting these very high level players. This was not always the case."
The Beginning
: Every elite program has a defining period when it makes its ascension to the top and remains there.
Davis attributes much of the start of Deerfield's reign at the top to a midfielder out of Charlottesville, Va. named Henry Oakey. Oakey came to Deerfield in 1993 and would go on to star at the University of Virginia and graduate with a National Championship (1999).
"He was one of those kids who I would consider a catalyst," Davis recalled. "I felt like ever since he got to Deerfield we have not had a losing season. We had three good years in the mid 1990's where we only lost two games a year and since about 2000 we have been at the top of the league each year. "
Alumni:
The impressive list of Deerfield alumni who have moved on to successful intercollegiate lacrosse careers is as impressive as it is large. In the 2013 season Deerfield alums played on 10 Division 1 programs (six Ivy League teams, three ACC teams, and one Patriot League team) with numerous other Division 3 schools also represented.
Pannell, Bitter and others are both looking to lead their college lacrosse teams to the NCAA Championship this season. Deerfield also boasts alumni such as Bitter's older brother Billy, who attended Deerfield before starring as an All-American attack at North Carolina. The older Bitter is now playing in the professional ranks.
"Personally, when deciding boarding schools I couldn't think of any negatives about Deerfield," Jimmy Bitter
told ESPN Boston
when I spoke to him during his final season of play at Deerfield. "It has great academics, a very friendly environment, and a top athletic program. The school taught me to push myself academically and grow as a lacrosse player. Coach Davis is very knowledgeable about the game of lacrosse and really makes an effort to improve each player."
College Preparation:
The elite lacrosse, balanced with the rigorous academic schedule, is why many student-athletes choose Deerfield. Deerfield offers students a grade 9-12 boarding and day school experience as well as a postgraduate option.
Canadian born attack Joe French is doing a Postgraduate year at Deerfield this year before heading to the University of Virginia to play for head coach Dom Starsia.
French was young for his grade as a 16-year old senior, and thought by doing another year of school it could help prepare him both athletically and academically for UVA. French settled on Deerfield due in part to its academic reputation, and close alumni network.
"Deerfield has been a blast and I am a little bit sad that this year is coming to an end," French said. "Academically I have taken an array of classes from public speaking to statistics, or even an English class called 'Reading Insanity.' The lacrosse is just a bonus. We have a great team and every day of practice is just another way to get better because the long pole your dodging is going to UVA or Army, or the middie your feeding is going to Princeton or Delaware."
Like French, Jackson Finigan is also currently doing a PG year at Deerfield. Finigan is committed to play lacrosse at the University of Delaware next year and won an MIAA state championship last season at Concord-Carlisle High School. Finigan chose to attend Deerfield after visiting the campus, meeting with Davis and learning about the high-level combination of academic and athletic success at the school.
"At Deerfield we are held to the highest standards to perform in the classroom and on the field," Finigan said. "The school work is as hard as any college and the lacrosse is about as good as any college level as well. Between balancing lacrosse and schoolwork I have grasped a sense of time management that I can carry with me for the next four years in college."
2013 Season:
French and Finigan are two members of a 2013 squad that currently sits atop, with Brunswick School (Conn.), of the WNE Conference D1 with an overall record of 12-1.
Deerfield has three games remaining against three of their toughest competitors in Avon Old Farms, Salisbury, and Phillips Exeter in their quest for another WNE conference D1 championship. Davis knows all too well that it will not be an easy feat.
"We are coming into the home stretch of our season with three games to play," Davis said. "All three teams are very good teams and we always have competitive games with all three."
Deerfield is averaging 12 goals a game this season and is holding teams to an impressive six goals against on average. Davis attributes much of this season's success to experience and leadership.
"We have two outstanding captains this season in attack Adam Philie (Dartmouth commit) and defender J.R. Mastro (Trinity)," Davis said. "Both came to Deerfield as sophomores, both are good friends and are outstanding, mature leaders."
After suffering a two-goal opening game loss to Brunswick, Deerfield has ripped off 12 consecutive wins and has improved with each win this season.
"The style of lacrosse that we are playing is unselfish by nature," Davis said. "I knew we had a lot of talented kids this year so we have had to manage their expectations about playing time and they have bought into the selfless mindset."
Deerfield, along with all of the NEPSAC lacrosse programs, does not participate in any post-season tournaments due to the nature of the spring athletic season and the limits with end-of-year scheduling. While many would like to see some sort of tournament Davis embraced the current state while acknowledging the difference with the public school tournament format.
"It gives each game its own importance," Davis said. "If you lose a game that may not feel like a big rivalry game it may come back to bite you. Too often times we do not live in the moment."
September, 14, 2011
9/14/11
11:52
AM ET
ESPN High Schools continued its countdown of the Top 25 rising lacrosse seniors at each position today with a look at the
midfielders
.
Phillips Andover's Joe Kruy was first among the New Englanders represented on the list at No. 12.
In addition, the long stick middies were in focus last week, with Dover-Sherborn product Dickson Smith leading the list of locals at No. 5. The complete LSM list can be found
here
.
Midfielders:

12. Joe Kruy, Phillips Andover (Andover, Mass.), Duke
18. Oliver Saffery, Wellesley (Wellesley, Mass.), Gettysburg
25. Billy Heidt, Brunswick School (Greenwich, Conn.), Dartmouth
Longstick midfielders:
5. Dickson Smith, Holderness School (Holderness, N.H.), Virginia
Smith is a 6-foot-4 long stick midfielder who is versatile and can play close defense as well. The rising senior has a smooth style and uses his large frame and long arms to make good checks. Smith was named to the New England Underclass team at the Under Armour games, which won the event title.
7. Reilly Naton, Duxbury (Duxbury, Mass.), Yale
Naton does a great job bringing the ball up field and then looking to dump the ball off to one of his more skilled shooters and collects the easy assist. The Duxbury rising senior plays the wing on face offs and is always there to get the ground ball off the face. Naton will be a special player at the next level.
11. Corey Wisnowski, Berkshire (Sheffield, Mass.), undecided
17. James Burke, Duxbury (Duxbury, Mass.), Penn State
23. Steve Brown, St. Sebastian's (Quincy, Mass.), Middlebury