Boston High School:

Bryant University
February, 16, 2013
2/16/13
4:34
PM ET
By
Mike Scandura
| ESPNBoston.com
Officially, the nickname of the Classical High boys' basketball team is the Purple.

But given how well head coach John Kavanagh's team has played in recent weeks, perhaps that nickname should be preceded by the adjective "red-hot."
Classical clinched the Division I-Central title by reeling off three consecutive victories – 79-75 over Hope, 82-58 over Smithfield and 89-70 over defending Division I state champion Central.
Ironically, Classical (14-3 in I-Central and 17-5 overall) is led by three of the shortest players on the team: 5-8 guard Kealen Ives, 5-10 forward Ismael Batista and 6-1 center Terrill Toe.
Ives is Classical's leading scorer while Batista has proven to be a force on the offensive glass.
Toe buried a 3-point shot with 16.5 seconds left in regulation to break a tie and give the Purple a 79-75 victory over Hope. Ives celebrated his 17th birthday by scoring a game-high 34 points, which included 15-of-18 from the free throw line.
Ives just missed a triple-double when Classical belted Smithfield.
He finished with 21 points, 11 assists and eight steals while Batista and Toe combined for 51 points; Toe nailed seven 3-point shots).
Classical held its senior night on Feb. 12, and Batista made sure his classmates would go out as winners as he scored 19 points – including a quintet of 3-point baskets – which helped the Purple crown the Knights.
SKIPPERS REBOUND
North Kingstown's Skippers, who had been cruising along in Division I-South, dropped an ugly 53-46 decision to La Salle in a crossover game.
Ugly was defined by the fact North Kingstown shot a frigid 29.3 percent (17-of-58) from the floor and 53.3 percent (8-of-15) from the free throw line.
But the Skippers (15-2) held onto first place in their division by rebounding to beat St. Raphael, 55-52, on Kazre Cummings' 3-point shot at the buzzer and South Kingstown, 58-33, with Justin Pratt and Owen Heath combining to score 30 points.
North Kingstown (20-2 overall) leads the power-point standings while Classical is in second.
OUTSTANDING PERFORMANCES
Austin Cilley broke the career scoring record for Westerly boys' basketball – one that had stood since 1952 – by pouring in 38 points during a 61-58 overtime conquest of Barrington in a Division II crossover game.
Cilley raised his career total to 1,399 points, which eclipsed the previous mark of 1,386 set by Bob Serra in 1952. In the game where Cilley broke the career record, he tossed in 38 points, including nine in overtime, as the Bulldogs beat Barrington, 61-58.
Three other boys surpassed the 1,000-point mark for their careers in recent games: La Salle's Jared Thompson; Mount Pleasant's Jovel Beckford; and Ponaganset's Scott Peterson.
PERFECTION ELUDES SAINTS
The St. Raphael Academy girls' had their sights set on at least an undefeated season in Division II-Central. But Johnston derailed the Saints by handing them their first loss of the season, 65-63 when Isabella DiRaimo nailed a 3-point shot with 3.2 seconds left and, following a turnover, Alex DiRaimo tossed in a basket at the buzzer.
The Saints still led II-Central with a 10-1 record.
Elsewhere:
Exeter/West Greenwich coach Steven McGrane notched the 350th victory of his career when the Scarlet Knights belted Cranston West, 64-37, due in part to Taylor Buckley's game-high 17 points.
Middletown (13-1) remained atop the III-South standings as the Islanders beat Hope, 58-31, with Chelsea Dowler posting a double-double (14 points and 10 rebounds).
Juanita Sanchez handed the Islanders their first loss, 53-47, and maintained a firm grip on second place (10-1).
"WEIGHTY" ACCOMPLISHMENT
Barrington High senior Charlie Ionata is inhaling rarified air after his performance at the East Coast Track & Field Invitational.
Ionata uncorked a heave of 77 feet, 6.5 inches in the weight throw, which not only captured first place, but, according to the U.S. High School Weight Throw Performance List, was the longest in the nation.
In addition, he beat the previous meet record of 73-feet and three-quarter inches and moved into 11th place on the all-time national list – good for second on Rhode Island's all-time list.
SIGNING ON THE DOTTED LINE
Several Rhode Island high school football players inked National Letters of Intent during the recent signing period.
One of the more notable "signees" was La Salle's All-State quarterback Anthony Francis – the 2012 Gatorade Rhode Island High School Football Player of the Year – who opted for Marist College.
Cumberland wide receiver Mitchell Baxter and North Kingstown tight end Alex Madoian signed with Bryant University.
Portsmouth native Charlie McKeeman, who played for Bishop Stang of Dartmouth, Mass., signed to play fullback for the University of Rhode Island.
THE "BUTLER" DID IT
Not only was Alex Butler one of the best basketball players ever produced by East Providence High – where he is the head coach these days – but he also was one of the best ever to play for Rhode Island College.
Not surprisingly, Butler was one of 11 players recently inducted into the Little East Conference Hall of Fame.
Butler, who was an All-Stater in high school, was a two-time Division III All-American at RIC.
Mike Scandura has been covering high school sports, college basketball, football and hockey plus minor league baseball in Rhode Island since the early 1970s. A native of Oswego, N.Y, he's a member of the Words Unlimited Hall of Fame which is the statewide organization of sportswriters, sportscasters and sports publicists.
February, 7, 2013
2/07/13
1:24
AM ET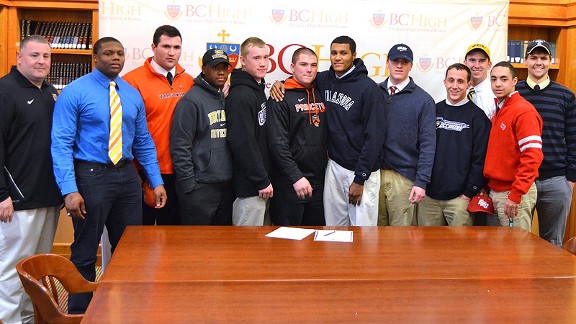 Scott Barboza/ESPNBoston.comEleven college-bound seniors from BC High football's team gathered for a ceremony Wednesday at the school on National Letter of Intent Signing Day.
BOSTON -- Luke Catarius' senior season didn't go as planned. Coming off a Division 1 Eastern Mass. Super Bowl championship season with his BC High teammates as a junior, the Eagles linebacker and fullback held high expectations for 2012.
Yet, his final campaign got off a rough start when he suffered an ankle fracture during a preseason scrimmage against Mansfield. It forced Catarius to miss the Eagles' first seven games of the season.
"It was tough because every year since freshman year everyone's like senior year is when everyone's going to come together," Catarius said Wednesday at the school's Morrissey Blvd. campus, "and obviously we had big shoes to fill from [the 2011] team. We wanted to repeat. I got hurt, a couple other guys got banged up, too, and it all went down hill from there."
BC High had a revolving door of injuries through the first half of the season and they struggled to gain momentum, finishing with a 4-6 record.
But Wednesday was National Letter of Intent signing day and Catarius joined 10 of his football teammates who are going on to play football at the college level for a ceremony held for the families and friends of the Eagles athletes.
While 2012 might have been a season of unrealized potential, the Eagles seniors will leave nothing behind.
"Going to BC High, you understand that an education is what gets you far in life," said wide receiver Lincoln Collins, who signed to FCS power Villanova. "In looking for colleges, we did the same thing. We're all setting ourselves up for life outside of football."
Looking on during the gathering was Eagles head coach Joe Gaff, a longtime Eagles assistant coach who assumed the program's reigns for the first time in the fall. Gaff held Catarius up as an example to younger athletes. It would've been easy for the injured player to pack it for the rest of the season. Instead, Catarius stuck to his strict rehabilitation regiment and made his return to the field while putting in some extra work in the library to work his way into Princeton.
"He took his frustration and turned it into action," Gaff said of Catarius, who originally committed to Bryant University before switching to Princeton in January. "He knew what he had to do to get into the Ivys. He needed a certain test score, so he went in and studied every day and he got himself mentally prepared.
"He did a tremendous job. It shows what kind of competitor he is."
On a day that marks a milestone for many families across the nation, Gaff's class headed the notion that Wednesday was but a transitional day.
Eagles offensive tackle Jack McDonald signed his Letter to Virginia before a large group of family members – most of whom were donning the Cavaliers' navy blue and orange colors.
"Football's going to end sometime, whether that's two years, four years from now, or even if you're lucky enough to make it to the NFL," the Eagles captain said. "It's going to happen sometime. You need that education for when it does end. I think that's what all of us have found."
Those BC High seniors pursuing collegiate football careers are:
Jackson Bockhorst - Tufts
Luke Catarius – Princeton
Lincoln Collins – Villanova
Skyler Evans – Mass Maritime Academy
Jaleel Johnson – Merrimack
Tim Johnson – Sacred Heart
Jack McDonald - Virginia
Mark McGuire – Holy Cross
Pat O'Hearne – John Carroll
Brandon Owens – Byrant
Mike Roberts - Colby
February, 1, 2013
2/01/13
9:00
AM ET
By
Roger Brown
| ESPNBoston.com
The second half of January featured a flurry of activity with regard to New England players committing to colleges. Some of the notable commitments:

"Everett High School wide receiver/defensive back Jakarrie Washington to Wisconsin: Recruiting writers were scrambling last week when word leaked that Washington would be joining the Badgers, since he was relatively unknown outside of Massachusetts. He had no other scholarship offers at the time of his commitment. What Washington does have is speed. He has reportedly run the 40 in 4.4 seconds. He's also versatile. He caught 33 passes for 439 yards and nine touchdowns last season, when he also carried the ball 75 times for 697 yards and 15 touchdowns.
"St. John's Prep running back Alex Moore to Pennsylvania: Many thought Moore would join teammate Lucas Bavaro at Dartmouth, but he selected Penn – the first school to make him an offer. Moore, perhaps the best two-way player in Massachusetts last season, helped St. John's Prep win the EMass Division I Super Bowl and claimed the third annual ESPN Boston "Mr. Football" award, which is given annually to the best player in the state. Moore, who will likely play on the defensive side of the ball in college, made 67 tackles (five for loss), recorded four interceptions and forced four fumbles during his senior season. He also rushed for 857 yards and 14 touchdowns, and caught 20 passes for 455 yards and five touchdowns.
"Windsor (Conn.) defensive end Cole Ormsby to Connecticut: Ormsby committed to UMass in June, but switched that commitment last week. Ormsby led the state with 17 sacks last season, when Hand defeated Windsor 23-6 in the Class L championship game. He completed his senior season with 85 tackles.
SIGN HERE
Wednesday is National Signing Day, and ESPNU will have 10 hours of coverage beginning at 9 a.m. At least 17 of the nation's top uncommitted recruits are expected to announce their college decision live during the telecast. Rece Davis and Dari Nowkhah will host the coverage from Charlotte, N.C.
ESPNU will have reporters at the following schools: Alabama, Auburn, Clemson, Florida, Florida State, LSU, Michigan, Notre Dame, Ole Miss, Ohio State, Texas, Texas AM and USC. The station will also air a two-hour preview show on Tuesday beginning at 5 p.m.
THESE GUYS ARE COMMITTED
Nine of New England's top 10 recruits (as rated by ESPN) have verbally committed to college programs. Six of the 10 players are from Connecticut, and the four others are from Massachusetts. Here's where those players will be playing next season:
John Montelus, OG (Everett High School): Notre Dame
Maurice Hurst Jr., DT (Xaverian Brothers): Michigan
Tim Boyle, QB (Xavier): Boston College
Noel Thomas, ATH (St. Luke's): Connecticut
John Van Allen, OLB (Avon Old Farms): Harvard
Sadiq Olanrewaju, OT (Salisbury School): Virginia
Cory Jasudowich, ILB (Cheshire Academy): Connecticut
Tevin Montgomery, OT (Tabor Academy): Boston College
Jack McDonald, OG (BC High): Virginia.
Note: Thomas, who played for his father at St. Luke's in New Canaan, Conn., enrolled at UConn for the spring semester. Thomas played wide receiver, quarterback and running back in prep school, and finished his career with 4,888 yards of offense and 53 touchdowns. He is expected to play wide receiver in college.
BULLDOG MENTALITY
Michael Dulac, Vermont's Gatorade Player of the Year for the 2012 season, has committed to play for Division I Bryant University. The Bulldogs compete in the Northeast Conference.
Dulac, a 6-foot-3, 270-pound lineman, led Hartford High School (White River Jct.) to three consecutive Division I championships. He started on each side of the ball in all 43 games of his high school career.
Dulac reportedly had offers from eight schools, and selected Bryant over Dartmouth.
NEW HAMPSHIRE LANDS LINEBACKER
Proctor Academy fullback/linebacker Odaine Franklyn committed to the University of New Hampshire on Thursday.
Franklin made 48 tackles last season. He also rushed for 178 yards and three touchdowns on 17 carries. Proctor finished the season with an 8-1 record.
Franklyn, who was recruited to play linebacker, was a three-year starter for White Plains (N.Y.) High School before he enrolled at Proctor Academy. He had scholarship offers from Akron and Albany coming out of high school.
Recruiting information regarding high school or prep school players in New England can be sent to Roger Brown at rbrown@nhfootballreport.com.