Boston High School:

Bryce Peritz
March, 2, 2014
3/02/14
7:13
PM ET
By
Jeff Cox
| ESPNBoston.com


BOSTON – Springfield Cathedral has had trouble getting over the hump in the first game the past few Super 8 tournaments, but the Panthers had no such problem this year.

The Panthers defeated Duxbury, 4-1, in the first game of the best-of-three series on Sunday afternoon at the TD Garden. It was a closer game than the final score would indicate with two late goals skewing the appearance.

"There are always so many nerves in game one of this tournament," said Cathedral head coach Brian Foley. "We got a game one win and that's something we've been searching for the last couple years. We're happy with the result."

"We played a great game as a team. We came out hard in the beginning," said junior forward Zac Prattson.

Brotherly connection: Springfield Cathedral has three pairs of brothers on its team and one of those pairs came up with the first two Panthers goals.

Zac Prattson, the older of the two Prattson brothers, scored the game's first goal on a shorthanded bid at the 2:36 mark of the opening period. Holy Cross commit Peter Crinella broke up a pass in the neutral zone and led Prattson who took a step inside the blue line before taking a slap shot on goal that found the five-hole.

"I was busting down the side and saw a shot opportunity. I just threw it on net and slipped it five-hole," said Zac Prattson.

After Duxbury had tied the score in the second period, younger brother Riley helped Cathedral regain the lead for good. Just after a power play had expired, Riley Prattson found himself alone on the right side. UMass recruit John Leonard sauced the puck over a Duxbury defender's stick to Prattson who took a step in before raising the puck past Duxbury goaltender Tucker Kelly.

"[Riley] always steps up to the challenge. He played really well today," Zac Prattson said of his brother's play.

"They're great," Foley said. "Zac got the first goal for us, which was huge. He's a captain and a leader. He's more of a lunch pale, blue-collar type guy where his brother Riley is more of a skill guy. I was happy to see them both score."

The other two sets of brothers are Bryce and Cam Peritz and D.J. and Keith Petruzzelli.

Goaltending controversy: Springfield Cathedral has the luxury of having two very good goaltenders. Freshman and Quinnipiac commit Keith Petruzzelli got the nod in goal Sunday. He made several very nice stops, including a flurry in the second period where he stuck his toe out for a nice kick save.

"Keith was 5-0 as a starter coming into today," said Foley of his freshman. "He's now 6-0 on his young career. He stepped up today and played really well for us."

"Game two is up in the air. I can't tell you that one yet," said Foley when asked who his game two starter would be. "[Senior] John Liquori is a great goalie and they both had a great week of practice. You talk about competition. To see how they competed this week was really good."

"I wouldn't be surprised if Johnny [Liquori] takes game two," added Foley.

Power forward: Crinella, a junior captain, might not be the fastest player on the ice, but his physical presence along with his heavy shot make him one of the most dangerous players with the puck in high school hockey.

His third period tally put the game out of reach when he once again used his body to fend off a Duxbury defender after having received a home run pass from defenseman Matt Cieboter.

He shot the puck high and wide on a power play attempt in the second period after he was left alone in the slot, but it was the type of play that shows his ability to make space and create havoc for the opposition.

Youth is served: Springfield Cathedral is without a doubt the youngest team in the tournament. Foley's team dresses just one senior and he doesn't play when Petruzzelli occupies the crease.

The starting lineup consisted of four freshmen and two juniors, and many more young players, including eighth grader Devon Tongue, see significant ice time.

"You never know how your kids are going to come out," Foley said. "I thought we played a little nervous early on, but as the game moved along we had some good moments.

"We talked about being here before and not accomplishing our goal. That was a big thing before the game. We just wanted to play a solid hockey game and block out where we are."

Dragons see some positives: Despite losing 4-1, Duxbury head coach John Blake felt there were several positives to take away from Sunday's Super 8 opener.

"I think our guys have a sense of confidence that we can play with these guys going into Thursday now," Blake said. "We were in the game late, but we'll need to get it going right away."

The Dragons might have needed a period to get their legs under them and let the magnitude of the game sink in, but a whole different team took the ice for the second stanza.

"I thought the first period, whether it was nerves a little bit, we were off as a team," said Duxbury head coach John Blake.

Dragons senior forward Matt Saia scored his ninth goal of the season just 48 seconds into the second period on a nice individual effort. He stole the puck away from a Cathedral defender and beat him off the boards before roofing a shot over Petruzzelli's blocker.

Duxbury will need to be focused right from the get-go and concentrate on some of the minor details of the game in order to be more successful in game two.

"I think it's got to be a full 45-minute effort on Thursday. We've got to play mistake free hockey in order to beat Springfield. We made a few mistakes and they made us pay," said Duxbury head coach John Blake.

The two teams will meet again in the second game of the best-of-three series on Thursday night at 6 p.m. at the Tsongas Center on the campus of UMass-Lowell.
February, 19, 2014
2/19/14
11:46
PM ET
By
Jeff Cox
| ESPNBoston.com
WEST SPRINGFIELD, Mass. – High school hockey fans got their wish for a clash between Super 8 favorites in the championship game of Thursday's Springfield Cathedral High School Tournament.

After Malden Catholic made quick work of St. Mary's in the first semifinal, the host Panthers easily dispatched of Needham in the second semifinal, 9-0.

Cathedral scored four times in the first and five more times in the second period to allow the coach to rest some of his superstars in the third period.

"The kids worked hard and skated hard tonight. We had a game like yesterday [2-2 tie versus Bridgewater-Raynham] then today we put up nine," Panthers head coach Brian Foley said. "We have the ability to score goals, but you never know when it's coming."

Defenseman Bryce Peritz had a big night on the score sheet, including the opening goal of the game and three assists. The big junior defenseman tipped in a long point shot from Quinnipiac commit D.J. Petruzzelli just 1:46 into the game to start the scoring onslaught.

"Bryce is a big kid. He's a junior, one of our older kids. He's been a leader for us defensively," said Foley, the bench boss of a team with just one senior. "He's improved dramatically, just mentally, playing the game a lot simpler. He's been blocking a lot of shots and playing tough in front of the goal for us. He's been very effective the last two weeks, especially."

Holy Cross recruit Peter Crinella extended the lead to 2-0 at the 7:04 mark of the opening period. He roofed a wrist shot into the top corner of the net as he streaked down the left side.

Freshman Riley Prattson scored his first of three goals on the night as he circled from behind the net. He beat Needham goaltender Mike McHale above his glove with a laser of a wrist shot.

UMass-Amherst commit John Leonard connected for a goal on a nice setup from Prattson and Petruzzelli at the 12:18 mark of the opening period to give the Panthers a 4-0 advantage heading to the first intermission.

Cathedral scored five more times in the second period, including shorthanded goals by Dan Petrick and Prattson on the same penalty kill. The shorthanded goal gave Prattson a hat trick after he had already picked up the first tally of the period.

Leonard and eighth grader Devon Tongue also found the back of the net in the middle frame.

Foley's team is a very young group, as evidenced by the goal scorers in the second period, with all in eighth, ninth and 10th grades.

"At this point in the season, no one is still a rookie," said Foley of his younger players. "They're playing older than their years. They're really getting comfortable.

"Devon Tongue, especially, he's really come onto the scene. Devon has made steady progress the whole season. He's playing really, really well for us right now."

Foley chose to rest senior John Liquori for the second half of the game, giving sophomore Owen Mastroianni a chance to see some ice time to close out the second period. Freshman sensation and Quinnipiac recruit Keith Petruzzelli came in for the third period.

Springfield Cathedral has tied Austin Prep and BC High already this season, but the Panthers see Thursday's clash against three-time defending champion Malden Catholic as a pivotal contest in the team's quest for a high seed in the Super 8.

"Every game is an important game," Foley said. "It's the last game of the regular season. It's our tournament that we haven't won in years. Malden Catholic is a great opponent. We're going to be real excited to play [Thursday] night and give it our all."

"We're just trying to focus on playing Malden Catholic.," Liquori said. "It's a huge game to determine our seeding for the Super 8. We really don't want to play a play-in game."

Needham will face St. Mary's in the consolation game tomorrow, a contest with a lot riding on it for both clubs. Needham needs a win to qualify for the state tournament, while the Spartans are still making a push to be included in the Super 8.
December, 29, 2013
12/29/13
12:37
AM ET
By
Phil Garceau
| ESPNBoston.com
HYANNIS, Mass. – The Panthers may be a young team, but the message they sent this weekend should have any team that crosses their path a little worried.
Barnstable coach Scott Nickerson might have summed up Saturday night's game against No. 8 Springfield Cathedral the best.
"We were outmanned, they just did everything well. They've got some of the best players I've seen in the last 10 years."
The Panthers followed up Friday night's six-goal game by hanging nine goals on their second ranked opponent in as many games to capture the Cape Cod Freeze Out championship.
[+] Enlarge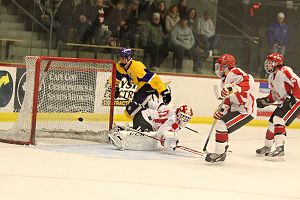 Phil Garceau for ESPNBoston.comSpringfield Cathedral winger Peter Crinella was one of three Panthers with multigoal games in a rout of No. 19 Barnstable at the Cape Cod Freeze Out.
Sophomore Johnny Leonard paced the offense with a hat trick and D.J. Petruzzelli chipped in with two goals and a pair of assists in the win. Both players were named to the all-tournament team.
Leonard scored two of his goals in the first period as the Panthers took a 3-0 lead into the first intermission. Leonard scored his first of the night was he got behind the Red Raiders blue liners and was fed a perfectly timed pass Matt Cieboter. All alone on the breakaway, Leonard made a quick move to beat Kevin Huska and gave Cathedral the lead just 69 seconds into the game.
Freshman Riley Prattson added a goal midway through the first and Leonard was set up for a power play goal from Perruzzelli in the closing minutes of the period to put the finishing touch on an all-Panther first period.
"Always when you can score early and get a lead you're always better off. It's a tough game and playing from behind is hard," said Cathedral coach Brian Foley.
Barnstable was at risk of being run out of their own building, but 20 seconds into the second period Cam Curtin got a hold of the puck and took it up the left side and rifled a shot past John Liquori.
Peter Crinella and Pertuzzelli scored a minute and a part from each other to give the Panthers a 5-1 lead and Crinella goal with 25 seconds put the visitors up 6-2, but the pesky Red Raiders refused to go away. Cody Pasic got two goals in the final five minutes, including one with seven seconds on the clock giving the Red Raiders a shred of hope to cling onto as they skated back to their locker room for the second break.
"We played a better second period, tying them 3-3 in the period and we go into the locker room trailing, 6-3," said Nickerson. "If we don't give up the goal at the end it's 5-3, and I think it's a different story."
But Springfield Cathedral put an end to any thought of a Barnstable comeback, scoring two quick goals to open the third. Leonard scored his hat trick goal with 3:05 on the clock to end the high scoring affair.
"At the end of the second they took the momentum away so it was important to come out in the third and score the three goals to win the game," said Foley. "I thought the next goal in the third was going to be huge. If they made it 6-4 we are on our heels."
No inexperience here:
Cathedral is skating one of the youngest teams in the state. The only senior on their team is their goaltender, John Liquori. The Panthers have five juniors in first-liners Crinella and Petruzzelli, second line right winger Zach Prattson and their second defensive pairing of Cieboter and Bryce Peritz.
That leaves 15 skaters and two goalies between eighth grade and sophomores. But don't let that fool you. They need be considered amongst the most explosive teams in the state. Six goals against No. 22 Braintree and nine goals against No. 19 Barnstable with Kevin Huska in net.
"We are really young so obviously its work in process," said Foley of his team so far. "Its nice we're scoring a lot more goals than we have in the past, but we are allowing more goals than we had in the past so we need to work on team defense but we are making strides and improving."
With such a young team, the hot question on everyone's mind is how they will react come tournament time in February. While the season is still young, Foley isn't worried about that quiet yet, "Its very strange but credit to those kids. They are a talented group of kids and as long as they keep working and improving, age won't be an issue as the season goes on."
A learning experience:
Nickerson didn't sugar coat his loss after the game and gave credit where credit was due.
"We reacted slow. At this point in the season I don't think we could beat them one out of 20 times but down the road, who knows. It's a good learning experience."
Barnstable had gotten off to a solid start this season, but Saturday's game should be a wake up call to the Red Raiders. If they want to be the best they have to beat the best and Cathedral reminded them just how far they are.
But the season is still early on and there are things that the Raiders did well that can be built upon. How they reacted when they were down after the first period is a good starting point.
"We attempted to make a game out of it but at this point in the season we aren't ready for that type of competition," said Nickerson. "Its good for us, it shows us where we stand and where we need to be but also a reminder that we aren't a super eight team."
Power-play dominance:
The Red Raiders were sent to the penalty box four times and the Panthers did their best to make them pay for every mistake that made.
Four penalties translated into three power play goals for the Panthers.
Barnstable needed to play a perfect game when they were at ever strength to win the game, never mind when they were outmanned on the ice.
December, 15, 2013
12/15/13
1:05
AM ET
By
John McGuirk
| ESPNBoston.com
WORCESTER, Mass. -- St. John's (Shrewsbury) was able to weather the storm on two fronts this evening.

First, the Pioneers had to trudge their way through the winter conditions to make it to the Holy Cross Hart Center. Secondly, they managed to withstand offensive-laden Springfield Cathedral by rallying from a two-goal third period deficit to secure a 3-3 tie in a Catholic West Conference showdown.

For St. John's (0-0-1) the deadlock felt more like a victory. The same, however, could not be said for the Panthers (1-0-1) whose mental breakdowns over the final frame allowed the Pioneers to crawl back.

"You go into the third period with a two-goal lead you expect to hold on to it," said Cathedral coach Brian Foley. "St. John's played hard and played with a lot of energy. I know it was their first game and for them it was going to be an exciting night."

The Pioneers comeback began early in the third. Just 1:12 in, junior forward Garrett Lehane let go of a shot from the right circle which sailed past the catching glove of Panthers goaltender John Liquori (22 saves). Four minutes later, with Cathedral's Bryce Peritz in the penalty box for a tripping violation, senior Kevin Connelly snuck a shot past Liquori to knot this tilt. For the remainder of the period, the Panthers played back on their heels. A game misconduct penalty to Zac Prattson certainly didn't help matters, gaving the Pioneers a five-minute power play to work with. To Cathedral's credit, it succeeded on the penalty kill which, in turn, also negated its offensive punch in a quest for the go-ahead score.

For a team that finished 7-11-4 a year ago, St. John's, under the direction of first-year head coach Mike Mead, sustained a belief that things will be much different this season.

"The kids really played well and were able to bounce back," said Mead, who took over for longtime coach Brian Murphy. "It was certainly a good start to the season. We needed to be physical with them and I think our senior defensemen really stepped up and played well for us. It was a good comeback. The kids didn't quit so you take that and move forward. For us it's one shift and one period at a time. We want to build confidence with each period."

The Panthers held a 1-0 lead after the first 15 minutes thanks to Prattson's hard wrist shot past Pioneers netminder Mario Pizzeri (29 saves). Cathedral probably could have scored a couple more times in the frame, out-shooting St. John's 14-6, but Pizzeri, who was sidelined for part of last season due to a groin injury, stood tall.

St. John's physicality was notice immediately, as they were bumping any Panther with the puck on his stick. Midway through the middle period, Cathedral went up by a pair. On the strength of the power play, junior forward Peter Crinella poked in a Riley Prattson pass just in front of Pizzeri. But less than 30 seconds later, Pioneers' top defenseman Bryan Nelson blasted a shot that Liquori initially stopped but somehow the puck trickled through the senior pads across the goal line to make it 2-1.

"We wanted to come out and send a message that we want to be respected this year," said Nelson. "Last year was a letdown season. We knew we were a bigger team compared to them and we knew they were young. Our plan was to bang them around as much as we could tonight and I felt we did that."

With St. John's slowly seizing momentum, Crinella, temporarily, put a halt to it during the final minute of the period by tallying his second score of the night. The Holy Cross commit gained control of puck from behind the Pioneer goal and cycled out front before launching a hard wrist shot through traffic that Pizzeri never saw, giving the Panthers a 3-1 edge.

A team with a flurry of offense, it appeared as though Cathedral was in total control. But the ever-presence of the St. John's fore check forced the Panthers into losing their composure as well as the puck. Both of which allowed the Pioneers to earn the tie.

"Cathedral is a great team," Mead said. "They're a Super 8 team, so to come back and tie a Super 8 team in your own building in our first game and as a new coach is a good sign. I'm glad it's over.

"Now it gets easier from here, you hope."
December, 9, 2013
12/09/13
1:42
AM ET
By
John McGuirk
| ESPNBoston.com
MARLBOROUGH, Mass. -- It is never easy replacing a legend, but that is the task which has been handed down to first-year St. John's (Shrewsbury) coach Mike Mead.

Mead's Pioneers, along with many of the state's other top-echelon programs, took part in Sunday's Fifth Annual Garrett Regan Hockey Summit at New England Sports Center. The event is named after the former 26-year Hingham High coach and Massachusetts State Hockey Coaches Hall of Fame inductee who passed away in June 2008.

Mead, who was appointed to the position last September, takes over for Brian Murphy, who stood behind the St. John's bench for 29 seasons, posting an overall record of 392-217-63, including a pair of Division 1 state titles (1999, 2004) and a handful of Super 8 appearances.

Mead is no stranger to St. John's. He served as an assistant under Murphy for 16 years, leaving in 2007 to spend more time with his family. He is also head of the Math Department at the school.

"Brian is a great friend and was a great mentor," said Mead. "He kind of broke me in. When this opportunity happened I jumped at it. My kids are little older now so everything sort fell into the right place at the right time for me."

Mead exudes the fact that the Pioneers have a plethora of depth, including a freshman team with 25 members. "We have a lot of kids who came back and tried out," he said. "We have good numbers and good depth. I don't really know the kids yet so with our tryouts I did things by grade. I didn't do it with returning players. We did juniors and seniors one day and freshman and sophomores the next. What I have seen so far I have been pleasantly surprised."

St. John's will, again, be paced by senior defensemen Bryan Nelson (23 points last season), Connor McCann, senior forward Kevin Butler and senior goaltender Mario Pizzeri.

Mead is also counting on senior forward Chris Adams and junior forward Dan Barlock to make their presence felt.

"We'll try to be aggressive on the forecheck and having two men on the puck," Mead said. "The biggest thing for us will be on offense. I feel we are a strong defensive team. I'm going to need some of our seniors to put the puck into the net."

Lancers quest for four: Malden Catholic began its quest for a fourth consecutive Super 8 crown, taking on Springfield Cathedral, another Super 8 qualifier from a year ago.

The Lancers controlled the opening frame, building a 4-1 lead before the Panthers rallied for three unanswered tallies to earn a 4-4 tie in the 2-period scrimmage.

By most people's observations, MC is the prohibitive favorite to claim another Super 8 crown again this season.

Despite the losses of two of their most prolific players (Casey Fitzgerald and Mike Iovanna, who combined for 56 points a year ago), there is still plenty of talent to carry the Lancers again this season. Junior forward Ara Nazarian (26 goals, 24 assists) leads the way. Senior forward Tyler Sifferlen, junior forward Austin Goldstein, sophomore forwards Matt Filipe and Jake Witkowski along with defensemen John McLean, Nick Rolli are solid. As of now, Alex Reissis appears to be the front-runner between the pipes replacing departed Connor Maloney.

"We lost some major contributors but we have a good bunch of younger kids who have come in that should fill those spots fine," MC head coach John McLean said. "The issue is you cannot replace a Casey Fitzgerald (who joined the United States National Team Development Program). He was a special player but the guys that are going to play need to step up.

"As far as our expectations I just worry about the next game. We don't think about the Super 8. Right now we're rolling everyone and everyone is getting to play. When we work we're good and when we don't want to work then we're just average. All that matters is winning the last game of the year. Last year was a long learning curve for us. Hopefully our leaders this year will step it up and take us to the Garden again. We have a lot of good, young strong players. It's just a matter of them gaining the confidence to play at this level."

Against Springfield Cathedral, Sifferlen netted a pair of goals, with Goldstein and Rolli accounting for one apiece.

"I think we have a good group of young core guys on this team," said Nazarian, a UNH commit. "We have good leadership from our older guys. It's a good mix of young and older guys. I think things are looking good so far. There is one goal here and that's to win the whole thing. That is our mindset. We won last year so we know every team we play is going to give us their best so we need to give it our best every game. This is a whole new season so we're just focusing on winning it again and not look back on last year."

Raiders on the rebound: Having reached the third round of last year's Super 8 before falling to St. John's Prep, Central Catholic remains hopeful for another stab at the big dance. Raiders head coach Mike Jankowski is a main reason as to why this program has emerged as a driving force statewide.

With Central everything begins from the net outward. Senior goaltender Colin Soucy, arguably the best high school netminder in the state, will be relied on heavily to get the Raiders back into Super 8 contention.

"We've had a lot of success of late," Jankowski said. "The culture has changed here and we are getting kids coming back from juniors and prep schools and believing in this program and high school. We want kids to enjoy their high school experience here. The schedule we play keeps is very competitive and it keeps our kids engaged and maintains them playing at a high-level. There's nothing like high school hockey in terms of the relationships and friendships the kids build. It's an awesome brotherhood that all teams should experience."

For years, Central often flew under the radar, constantly being overshadowed by other programs. But due to their recent success, that is no longer the case. Jankowski wishes it was not like that but when you win consistently, you now have a target on your back.

"Now, instead of coming in as a dark horse which we like to ride, there is a new expectation level which has been set here but I think we're ready for it," he said. "Colin is back and what he did for us, especially at the end of last year, was remarkable. For the kids to have that confidence in him at his position just gives us that added advantage. The goalie position where it makes a difference in a team's won-loss record. Colin is just a great example of being a great character kid."

Panthers on the prowl: With the loss of two key contributors last year, Springfield Cathedral will be looking to its youthfulness to help them make a return visit to the Super 8. Gone are defenseman Matt Foley and forwards Artie Potter and Dominic Blad. But who returns should play a key role in the Panthers postseason hopes. It all starts with goalie John Liquori. The team's lone senior, Liquori played himself into a top-level talent a year ago. Forwards Peter Crinella (a Holy Cross commit), Johnny Leonard, D.J. Petruzzelli, Cole Foster, Zac Prattson and Riley Prattson will give Cathedral the ammo it needs on offense.

Defense will be a work in progress, but Bryce Peritz, Jordan Tetreault and Cam Griffin return.

Also make note on freshman goaltender Keith Petruzzelli over the next couple of years.

"We've got babies but they're all good," Panthers coach Brian Foley said. "Our first two lines are going to score goals. We had a great first week of practice and you noticed how much they improved in just one week. It'll be fun over time to see how these guys mature this year. I think this will be our most-offensive team that we've had ever. All of those kids did a lot of work on their strength and speed during the off-season. I also think our defense and goaltending will be outstanding as well."

BC High movin' on: With the loss of all-everything goaltender Peter Cronin, all is not lost at BC High. Brandon Payzant, a sophomore, was Cronin's understudy a year ago and by the looks of things, he appears to be a quick learner after playing solid between the pipes today against St. Mary's of Lynn.

"Brandon was with us last year as a freshman," Eagles coach John Flaherty said. "Obviously he had a great kid to watch and learn from. Peter was great working with Brandon so he now has a year of experience under his belt in practice and being around these guys. Now he is able to get some game experience. He's a good athlete and someone who will be able to step in and carry the load for us. We are also carrying eight defense (spearheaded by Sam Topham) where we hope to find the right combinations in order to keep the puck out of our zone."

On offense, BC High will count on Patrick Kramer (25 points), Steve DeForge, Chris LaLiberte, Tim Larocque, Jake Lemanski and Connor Noonan to work the puck into opposing team's defensive zones.

"We have a lot of experience back," Flaherty added. "It is just now we need guys to play bigger roles for us. Overall we are returning seven defensemen, 11 forwards and one goaltender and most of them have been around for a few years and it is our hope this is the year they blossom."

Hawks a sleeper?: Don't rule out Xaverian as a potential candidate to do some big things this season. Reaching the Division 1 South quarterfinals last season, the Hawks should be a better unit this year in spite of the departures of Eddie Pratt (17 goals last year) and defenseman Mike Brennan. They are led by forwards Antonio Marini (35 points last year), Tim Sweeney (24 points) and Jake Farrell (14). Defensively, Rick Smith and Ryan Walsh will be keys in shutting down opposing offenses.

Shot in the arm for SMH: After spending last season at Brewster Academy, St. Mary's of Lynn head coach Mark Lee was overjoyed learning that goalie Bailey MacBurnie was returning for his senior year.

Two years ago, as a sophomore, MacBurnie secured a 1.38 goals-against-average in helping the Spartans earn a No. 2 seeding in the Super 8 Tournament. With him back in the crease, expect St. Mary's to make another solid postseason run.

"Bailey can certainly be a difference maker for us," Lee said. "I think with this team we are putting a lot of kids in a position to allow them to gain great experience because overall we are a young team. I think we'll get better as the season goes."

With another year under their respective belts, you can look for forwards Jordan Manthorne and Jon Powers, the only two players to reach double digits in scoring last season, to lead to carry this club offensively.

Burlington moves on from repeat: Defending back-to-back Division 1 state champion Burlington will count on its defense to help the Red Devils in their quest for a third state title.

"So far I'm happy with our progress even though it has only been a couple of days," said Burlington head coach and recently-inducted Mass. State Coaches Association Hall of Famer Bob Conceison. "We have a strong defense and some forward that are young so it will be a work in progress to get our offense going. This is kind of a similar team to last year in that our offense started to come together at the end of the year. It's going to take a while for our offense to gel. We lost some firepower on offense last year (losing C.J. Grinnell and Joe Bernardi) but our defense is back."

The Red Devils also lost goalie Derek DeCastro to graduation and hope to fill the void with senior Mike Guleserian.

The Hall calls: Longtime Hudson head coach Mike Nanartowich will be inducted into the Mass. State Coaches Hall of Fame in May, along with Murphy, Waltham head coach John Maguire and Stoughton front man Dan Mark. Two years removed from his Division 3 state championship triumph over Medway, Nanartowich, now in his 24th season, regards Shrewsbury as the favorite in Central Mass. this year.

The Colonials return a front line of Dan and Jack Quinlivan along with David Belbin. Last season the trio combined to score 125 points. However, never never rule out the possibility for the Hawks at making a serious charge by season's end.

"You still have to go out and show up for every single game," Nanartowich said. "Right now you have to give the edge to Shrewsbury because of the people that they are returning as well as Wachusett and its depth. But at this point, I just think Belbin and the Quinlivan brothers can be the most-dominant line in all of Central Mass. this year. How you take care of their speed and skill requires a lot of game planning. As for us, we will still go out and play everyone straight up like we always do."

In regards to going into the Hall of Fame, Nanartowich remains humble over the selection. He passes the credit over to the players and coaches he has worked with over the years as the reason for the honor.

"I'm going in with a bunch of great guys and guys who have won at a good level," he said. "For me, all that hard work of watching tape, going to various rinks to scout and those commitments you make in the off-season with your team has paid off in winning a state championship and now it has paid off in terms of being recognized by your peers."

Hawks longtime assistant coach Mike Correa added that the honor bestowed on Nanartowich is certainly well-deserved.

"There is probably no one who does more for his players or works harder at preparing kids, not only for the game but life lessons as well, than him," Correa said. "Winning the 2012 state championship is not the reason why he should be in the hall. It is all the dedication he has brought to all the kids who have played in this program over the years which stands out to me."
February, 8, 2013
2/08/13
4:07
AM ET


BOSTON – The only difference between Wednesday's 2-2 tie by Springfield Cathedral and BC High and postseason hockey is the fact that are no ties in the playoffs. UMass-Boston's Clark Center buzzed with a postseason pitch as two of the state's top three teams battled for the second time this season on the Eagles' Senior Night.

After dealing No. 3 BC High its first loss of the season in a 3-2 win on Jan. 12, Cathedral found itself playing from behind at two junctures during last night's action. However, in both circumstances, the Panthers responded and showed resolve while running their unbeaten record to 13-0-3.

"To go anywhere, you're going to have to be a team that battles through adversity," Panthers head coach Brian Foley said. "We did a good job twice of coming back from a goal deficit."

While Cathedral maintained control on play in the first, BC High (10-2-3) claimed the first lead of the game, as freshman defenseman Ryan Shea pinched in to collect the puck and score from below the goal line at 9:06 of the first.

The Panthers wasted little time drawing even. Eighteen seconds later, Peter Crinella potted the rebound from a Bryce Peritz blast from the point.

The teams went to the room tied, 1-1, but the Eagles reclaimed the lead in the second at Pat Kramer's centering pass from Gretzky's office found the tape of Tom Besinger. The goal at 2:49 of the second stood up till the third period, when Cathedral was again able to find the equalizer. D.J. Petruzzelli deked out an Eagles defender, allowing space for a 2-on-1 to develop down low. Petruzzelli then slid a saucer pass across the top of the goalmouth to a waiting Dominic Blad, who went 5-hole for the game-tier.

While BC High closed out the season series with Cathedral without finding an elusive second point, Eagles head coach John Flaherty felt his team had been acquitted.

"If that's the number one team in the state, we're as good as them," he said. "We play a tougher schedule. I think we're right there with them."

WORK IT LOW, SEND IT HIGH
Cathedral outshot the Eagles 30-23, and the difference in margin came largely due to a strong first period by the Panthers.

Cathedral found great success working the puck down low, all the while drawing BC High's collective defense to sag down below the faceoff circles. With the Eagles playing down low in "the house" area, the Panthers' forwards then looked to send the puck back out to the points for shots on goal.

"[Matt] Foley and Jack [Williams], we know they can shoot the puck and we know they're a focal part of their offense," Flaherty said. "They were zipping it up and going D-to-D, so we knew we had to make an adjustment to try to take that away the best the could."

The Eagles made their corrective adjustments and tightened up the passing lanes to limit the opportunities in front of Peter Cronin (28 saves) in the second and third.

YOUNGSTERS ON THE RISE
A couple of the teams' youngest members made their presence felt on the score sheet.

Shea, who's helped bolster the Eagles' blue line all season with fellow frosh Billy Roche, netted his first goal of the season. Yet, at this stage of the season, the younger members' contributions are viewed as compulsory.

"They've played a lot of hockey," Flaherty said of his first-year defensemen, "so they're not freshman any more."

Flaherty added on Shea, "He's a seasoned player, so we expect that more now even more heading down the stretch."

In addition, Petruzzelli, a sophomore, might be playing his best hockey at an opportune time.

"His last two games have been his best two games of the year," Foley said of Petruzzelli. "He's really coming on strong. He put it right on [Blad's] stick, he got it off quick and we were fortunate it went in."