Boston High School:

Burncoat
November, 26, 2013
11/26/13
7:36
PM ET
WESTWOOD, Mass. – On a cold and dreary Tuesday afternoon, Xaverian football went through its practice paces at the high school. It was like any other practice, except that it's St. John's Prep week. The Hawks kicked off the session with a chorus of "Beat Prep" after running through stretches.
Although Xaverian still has another game to play past its Thanksgiving Day duel against its Catholic Conference rival – the Division 1 state championship against Central Catholic to be played Dec. 7 at Gillette Stadium – they weren't looking any further than the task at hand.

The Hawks are one of 12 teams in Massachusetts presented with the same conundrum this week: With a state championship game looming, how do you approach a game that essentially has become exhibition?
Now, with that being said, in this scenario, the Catholic Conference is a bit of an outlier. With the MIAA's new playoff guidelines taking hold this year, the conference is an exception in the state, as league foes meet only once on Thanksgiving to count for its regular date, keeping with tradition. So while other Thanksgiving rivals who also happen to be league foes might be playing for the third time this season (Holliston vs. Westwood, Plymouth North vs. Plymouth South, etc.), Xaverian will be seeing the Eagles for the first time come Thursday.
It also sets up a duel for the Catholic Conference regular-season championship – no small pot.
And so Hawks head coach Charlie Stevenson is preparing as if there were no tomorrow.
"If one of my players didn't want to go out there and play Thursday and beat Prep, I would think there's something wrong with them," Stevenson said.
Stevenson stands in support of a handful of statewide coaches who are staring down state championship games beyond Thanksgiving who also answered the question of whether to play starters on Thursday with the retort, "Let them play."
So, during the weekend, we took the matter to those who will be charting the course with the question of whether to play, or not to play.
The responses were varied, from Dennis-Yarmouth head coach Paul Funk's Belichick-ian, noncommittal approach, to this pearl from Plymouth South's Scott Fry, on the status of star running back Dylan Oxsen: "You don't think we should give it to Oxsen 30 times on Thanksgiving Day?"
Here it is in their words:
-----
Peter Afanasiw, Cohasset
"We're going to try to roll out a team that stays healthy, competes and, hopefully, comes away with yet another win. No team in school history has ever registered 11 wins."
Brian Aylward, Tewsbury
"It is a rite of passage for any football player that plays football in Tewksbury. It's an 80-year tradition against Wilmington; it's the one chance you get to play them in front of all your family and represent your town and do battle. And that's exactly what we're going to do. We have to. We're not good enough not to play."
Scott Fry, Plymouth South
"We expected, if we won this game, that a lot of our kids weren't going to be playing on Thanksgiving. It's the third time we're going to play [Plymouth] North and we've already canceled the J.V. game because of that reason. The young kids are going to play on Thanksgiving. You're going to need a different roster for the Thanksgiving Day game."
Paul Funk, Dennis-Yarmouth
"We're going to do what's best for our football team."
Ken LaChapelle, Northbridge
"We're going out to win that game. I'm not going to have Uxbridge start chanting the score [if they win] during the basketball season. I'm playing to win that game. Do I maybe not run [quarterback Koby Schofer] 20 times? Maybe. But I'm playing to win the game and Uxbridge better be prepared because we're coming to win."
Michael Lynn, Littleton
"We can't even put some of our backup kids in there, it's not safe. We're 11-0, we want to protect our perfect season, so we're going to have to play our starters and our premier guys as much as we have to — we don't have much of a choice. To me this is the fatal flaw in the playoff system, Thanksgiving being sandwiched in between the state semifinals and state finals. For everybody but 12 schools it's not a problem, but for those 12 schools it's definitely a dilemma."
Sean Mulcahy, Doherty
"We have a big Thanksgiving game to get through first. Burncoat has ruined a lot of my Thanksgivings, so I'll make sure we have our kids ready for them come Thursday. We will be playing our starters. I'm not planning to go out and play for hopefully a state title and then walk around the streets of Worcester and have some Burncoat fan come up to me and say, 'but we beat you.' Hopefully, that's not happening."
Mike Redding, Mansfield
"We're going to play to win. Obviously, we'd like to get our guys out early. Two years ago, we won on the last play of the game and, last year, they won. We want to beat Foxborough. We don't want to be 11-1 as a state champion; we want to be 12-0. We want to beat our rival, but it would be in our best interest to score early and get some guys out and get some guys rested as soon as possible."
(Editor's note: Correspondents Chris Bradley, Phil Garceau, Paul Lazdowski, John McGuirk and Josh Perry contributed original reporting to this story.)
November, 23, 2013
11/23/13
10:02
PM ET
By
John McGuirk
| ESPNBoston.com
LEOMINSTER, Mass. -- Before they had time to blink, the Doherty Highlanders were trailing 16 points to Western Mass. power Wahconah Regional.

Like a Mike Tyson fight (pre-Buster Douglas, of course), Doherty found itself lying on the canvas in a heap after the Warriors came out swinging right from the outset.

With one foot firmly planted on the Highlanders' throats, Wahconah failed to complete the task when it had the chance and let Doherty off the hook. Helped by a couple of Warrior miscues, Doherty was able pull itself up, and in the process, save its season after rallying back to post a 22-16 triumph in today's Division 4 state semifinal played at Doyle Field.

"It seemed our kids were so excited about this game and the atmosphere that we got tired after two plays," said Highlanders head coach Sean Mulcahy, his team finishing with 325 yards to the Warriors' 257. "Wahconah took it to us early and I think our kids did panic a little bit."

Doherty (10-1) faces Dennis-Yarmouth (a 21-14 winner over Bedford on Saturday) in the final on Dec. 7 at Gillette Stadium – time to be announced.

While some pundits assumed the Highlanders' overall talent-level would be far too great for the Warriors (10-1) to handle, it appeared to be the other way around in the early going.

On the Warriors' opening possession, senior quarterback Ethan Wells, who played marvelously all game long, directed his club on a 53-yard scoring drive with Wells completing the drive by connecting with junior wide out Ryan Washburn for a 26-yard scoring reception. Matt Salvatore's proceeding conversion catch had the Warriors in front, 8-0.

Wells put his diversity on display for the Highlanders, demonstrating his capabilities throwing the football as well as running with it. He finished with 129 yards on 30 carries and was 6 of 13 passing for 93 yards. Lining up in the shotgun throughout, Doherty's defense appeared baffled about what Wells would do next, consistently loading the box to take away the run.

Yet, the strategy didn't seem to faze Wahconah. After a second consecutive Highlanders punt, the Warriors were given a short field to work as they set up on Doherty's 43-yard line. Four runs by Wells, netting 17 yards, positioned running back Darrow Brown to bust through for a 10 yard scoring run with just over a minute remaining in the initial quarter. Brown then threw a pass to Cole Morrison for the two-point conversion pushing the Warriors out to a 16-0 advantage.

In spite of the deficit, it was certainly still within reach for Doherty, and its plethora of talent, to jump back into it. All the Highlanders needed was something to fall their way and provide a much-needed lift. It came in the form of running back Jahkari Carpenter.

With Doherty's running game totally inept during the opening frame, Carpenter changed that early in the second thanks to his 59-yard jaunt. That was immediately followed by senior quarterback Luke Brennan's 19-yard touchdown scamper to make it 16-6 after the conversion run failed.

"Our defense made some great adjustments after [Wahconah] went up by 16 points," said Brennan, who finished with 93 yards on 6 of 15 passing. "Our offense eventually clicked and that's what we did the rest of the game. Everyone kept their poise. We knew it was going to be a war. We knew we needed to grind for four quarters and keep our composure the whole game no matter what happened and that's what we did."

On the ensuing kickoff, the Warriors made a critical error which in turn provided the momentum shift Doherty grasped hold of and didn't surrender.

Senior Eli Pease had the ball squirt through his hands that ended up sitting on the 1-yard line. After a delay-of-game penalty, Wells had no place to go inside his own end zone and was smothered by the Highlander defense resulting in a safety.

"Once we got that safety I felt our kids could finally breathe a little and now start to play," Mulcahy said.

He added, "We'll enjoy this and now get ready for Burncoat on Thanksgiving. We'll worry about Gillette after Thanksgiving."

With 4:47 still left before halftime, Doherty came all the way back. Carpenter's 42-yard zig-zag touchdown and Mitch Celaj's conversion catch had this contest knotted at 16-16. Carpenter finished with 114 yards on 14 attempts.

"We did a great job coming out for this game," Warriors coach Gary Campbell Jr. said. "Offensively and defensively we were executing. But in the second quarter the wheels came off. All you can ask for are opportunities. If you get them phenomenal and if you don't that's the way it goes. Doherty is a quality team but I was pleased to see our kids hang with them through four quarters like they did. We'll fight with anybody but this one will sting a little.

"I thought Ethan [Wells] played great for us today. He is our heart and soul. He's a tough kid who is still deciding on attending either RPI and WPI. It doesn't matter where you put him on the field. He's just a very smart, tough player that can play anywhere."

It only got worse Wahconah after a shotgun snap deflected off of Pease, who was in motion, resulting in Highlander senior Peter Franco's recovery on Wahconah's 40. But Doherty running back Issac Yiadom gave the ball back to the Warriors, coughing it up inside the 10. Yiadom carried the ball four times for 40 yards.

Wahconah's offense did nothing following the turnover and had its punt partially blocked. Doherty took over on the 16 and needed only one play to take a 6-point lead. Alfred Adarkwah's 16-yard scoring grab from Brennan with 16 seconds before halftime had the Highlanders in a much-better frame of mind than what transpired during opening 11 minutes.

The second half was a bend-but-don't break style offense and defense from both teams. Doherty had a chance to pad its lead late in the third but Carpenter lost control of the ball inside the Warriors 10. Likewise, Wahconah put forth its best drive of the game following the turnover. Beginning at his own 8-yard line, Wells' legs did much of the work in moving the Warriors all the way the Highlanders' 6. Facing a fourth-and-goal Wells' pass to the back of the end zone was battered down by senior Shawn Jackson.

Doherty regained possession and eventually ran out the clock for the triumph.
June, 22, 2012
6/22/12
2:09
PM ET
STARTING ROTATION
RHP – Matt Tulley, Sr., Lowell
The Virginia Tech signee lived up to every ounce of his preseason hype, taking ESPN Boston's 2012 Mr. Baseball Award earlier this week as the state's top player. He earned his third consecutive Merrimack Valley Conference Player of the Year honor, going 7-1 with 90 strikeouts in 59 innings and one save, for a 1.46 earned run average. Opponents batted just .159 against Tulley on the season. At the plate, Tulley batted .306 for the Raiders, leading the team in RBI (20) and ranking second in runs scored (19). For his career, Tulley went 20-2 with a 1.57 ERA and 200 strikeouts in 140 innings.
RHP – Pat Ruotolo, Jr., Peabody
The 5-foot-10 craftsman caught national attention this year after throwing three no-hitters in a span of four starts, and finished the season as the state's runner-up in strikeouts (130). In 76 innings of work, he went 8-1 with two saves, 31 hits allowed and 12 walks, for an ERA of 0.83, to earn Northeastern Conference MVP honors. He has 232 strikeouts since the start of his sophomore season, and over 300 for his career. Ruotolo is considering interest from a handful of Division 1 schools.
RHP – Alex Rozak, Sr., Plymouth North
The UMass-bound Rozak catapulted himself into discussion as one of the state's best pitchers with his postseason play, winning three games as the Blue Eagles made their fourth Division 2 state final appearance in five seasons. He also carried a no-hitter into the final out in the Division 2 Eastern Mass final. For the season, Rozak was 8-3 with 61 strikeouts and 13 walks, with a 1.02 ERA. He won 24 games in his career at North, including a 9-1 campaign in the Eagles' 2011 state championship season.
LHP – Steve Moyers, Sr., East Longmeadow
One of a handful of returning All-Staters, the University of Rhode Island signee is making his second appearance in the "Starting Rotation" after compiling a 7-2 record with 106 strikeouts. Over his last two seasons, he has gone 15-3 with 194 strikeouts, and he leaves East Longmeadow as one of the school's winningest, compiling a 30-3 career record.
LHP – Ben Bowden, Jr., Lynn English
The 6-foot-4, 220-pound southpaw got off to a hot start, throwing a perfect game on April 7, and didn't cool off. On the mound he had six wins, with 82 strikeouts in 51.2 innings for a 2.19 ERA. At the plate, he played a key role in the Bulldogs' stunning upset of Peabody in the Division 1 North tournament; on the season, he batted .394 with 21 RBI, two home runs and nine extra-base hits, and also drew 17 walks.
STARTING NINE
CF – Casey DeAndrade, Sr., East Bridgewater
The speedster joins exclusive company as one of several players to make All-State in two sports, having made the football squad last fall. This spring, he put up .455/.506/.682 totals at the plate, with 25 RBI, two home runs, 19 runs and 15 stolen bases. On the mound, he went 5-2 with 67 K's in 50.2 innings, holding opponents to a .106 average as the Vikings captured their first Division 3 South title since 1993. DeAndrade is headed to the University of New Hampshire in the fall for football.
2B – Chris Hoyt, Sr., Xaverian
Nobody elevated their stock in the playoffs more than the Stonehill College-bound Hoyt, who pounded out eight RBI in the MIAA tournament – including four in the Division 1 state final. Batting out of the leadoff spot this spring, Hoyt batted .411/.477/.526 totals, with 19 RBI, two home runs, stole 19 bases and only struck out three times in 107 plate appearances. He also posted a ridiculous OPS of 1.003.
C – Bobby Melley, Sr., BC High
A returning All-Stater, the 6-foot-3, 200-pound Centerville resident was one of the state's most dangerous power hitters, compiling .370/.557/.685 totals with 13 RBI, three home runs and drawing 22 walks. Behind the plate, only two runners attempted to steal on him, both of which were caught out. Melley will continue his career next year at UConn.
1B – Chris Shaw, Sr., Lexington
A returning All-Stater, Shaw was one of three Bay Staters taken in this year's MLB Draft, going to the New York Mets in the 26th round. This spring, he batted .480 with seven home runs and 27 RBI, and also went 5-0 on the mound with 95 strikeouts in 45 innings. Shaw will be honoring his commitment to Boston College rather than signing.
3B – Frank Crinella, Sr., Springfield Cathedral
In addition to flawless defense, Crinella was a tough out at the plate, hitting .456 on 26 hits, with 27 RBI and four home runs to go along with it as the Panthers went 18-2 before a surprise upset in the Division 1 West quarterfinals. Crinella will continue his career next year at Merrimack College.
SS – Matt O'Neil, Sr., East Longmeadow
Coupled with Moyers, the returning All-Stater formed an imposing 1-2 punch on the mound for the Spartans, who suffered a surprise upset in the Division 1 West semifinals. O'Neil batted four home runs to go along with 21 RBI; on the mound, he was 4-3 with 70 strikeouts in 41.1 innings. O'Neil will continue his career next year UConn.
1B – John Jennings, Sr., Newton South
The Dual County League's Large Division MVP was a force at the plate for the Lions, batting .415 with five home runs and 31 RBI. On the mound, he was 4-1 with 31 K's in 27.2 innings, for a 1.27 ERA. He will continue his career next year at UMass.
SS – Regan Aghdam, Sr., Burncoat
One of the state's premier leadoff hitters, Aghdam was solid at the plate, leading the Inter-High league in batting average (.463). On the mound, he went 6-0 with 43 strikeouts in 49 innings pitched. Aghdam will continue his career next year t the University of Rhode Island.
SS – Brandon Bingel, Jr., St. John's Prep
The Catholic Conference's co-MVP was a driving force for the Eagles, hitting .418 with 25 RBI and five home runs. On the mound, he was 5-1 with a 1.20 ERA in 40.2 innings pitched. Bingel is currently committed to Bryant University.
BULLPEN
LHP – Scott Tully, Jr., Reading
Tully had a breakout junior season, going 8-2 with four saves with a 0.99 ERA and 122 strikeouts in 63.1 innings, tied for third-most K's in the state. Tully also allowed just 27 hits this spring. He is currently committed to Notre Dame.
RHP – Pat Delano, Sr., Braintree
Nearly two years after Tommy John surgery, the 6-foot-7 fireballer found his way back to the top, going in the 35th round to the Boston Red Sox in the MLB Draft, and earning MVP honors in the Bay State Conference's Carey Division. He posted a 1.21 ERA with four wins and 50 strikeouts in 57 innings, and added four home runs at the plate. He was also named a Region 1 All-American by the American Baseball Coaches Association. Delano is currently committed to Vanderbilt, but has until the August 15 deadline to decide whether he'll sign or not.
RHP – Charlie Butler, Sr., Nashoba
A returning All-Stater, Butler was once again dominant on the mound for the Chieftains, striking out 90 in 54 innings for a 0.91 ERA and 6-2 record. At the plate, he batted .365 with 14 RBI and two home runs. Butler will continue his career next year at the University of Maine.
RHP – Mike Walkowicz, Sr., Amherst
Another one of the state's strikeout kings, Walkowicz went 5-4 on the mound as he rang up 112 batters in 65 innings of work for an average of nearly two K's per inning. He will continue his career next year at Endicott College.
LHP – Tyler Buck, Sr., Franklin
One of the state's most elusive lefties, Buck went 7-1 on the mound with 80 strikeouts and a 1.42 ERA for the Panthers, who were the No. 1 overall seed in Division 1 South. He also went .378 at the plate with 18 RBI and two home runs. Buck will play next year at St. Anselm College.
LHP – Mac Curran, Jr., Coyle-Cassidy
The hard-throwing 6-foot-4, 240-pound Lakeville resident was an intimidator for the Warriors, going 6-1 with a 0.52 ERA and 63 strikeouts in 49 innings. He also batted .351 at the plate, and is 14-3 so far as a starter for Coyle. Curran is currently fielding a slew of Division 1 interest.
RHP – Brandon Shileikis, Jr., Dighton-Rehoboth
The workhorse logged 68 innings and struck out 74 while walking just 12, going 9-1 with three saves, an ERA of 1.75 and a WHIP of 0.96. At the plate, Shileikis had .427/.456/.524 totals with 28 RBI and 27 runs. Shileikis is currently fielding various Division 1 interest.
RHP – Keegan Dellacona, Sr., Barnstable
The 6-foot-3 Dellacona formed a dynamic 1-2 punch on the mound along with UConn-bound Willie Nastasi, as the Red Raiders won the Old Colony League outright. For the season, Dellacona struck out 67 in 49.1 innings, for a 4-0 record and 0.89 ERA. He also threw 70 percent of his pitches for strikes, registered a 0.67 WHIP, and held opponents to just a .136 batting average. Dellacona is undecided on college plans.
LHP – Ryan McDonald, Sr., Acton-Boxborough
Another of the state's most deceiving lefties, McDonald went 5-2 with 71 strikeouts in 46 innings, for a 1.98 ERA. He also led the Dual County League in batting average (.468) and plated 16 runs, including two homers. McDonald had previously signed with Bryant University, but is currently uncommitted.
RHP – Lee Albertson, Sr., Westfield
Albertson was the ace of a Bombers staff that won its third Division 1 West title in five years this spring. He went 6-2 on the mount with two saves, and struck out 58 batters in 54 innings. Albertson will be heading to Holyoke Community College next season.
UTILITY
3B – Joelfi Arias, Sr., Springfield Central
The Eagles scored one of the biggest upsets of the MIAA tournament by knocking off Springfield Cathedral, and Arias played a big role. He had five home runs on the season to go with 24 RBI, and on the mount he had 65 strikeouts in 62 innings, logging a 5-2 record. Arias is headed to Juco power Indian Hills Community College, in Ottumwa, Iowa.
OF – Adam Benvie, Sr., Dighton-Rehoboth
One of several mashers on a lineup that batted nearly .400 as a team, Benvie posted .386/.538/.771 totals with 37 RBI and five home runs, scoring 27 runs and drawing 22 walks. Benvie will continue his career next year at UMass.
C – Joe Walsh, Sr., Taunton
The Old Colony League MVP led the Tigers on a surprise run to the Division 1 South final, where they lost to eventual state champ Xaverian. He batted .447 with 31 RBI, 23 runs scored and three home runs, for an on-base percentage of .562. He leaves Taunton a career .379 hitter with a .486 on-base percentage and 50 RBI. Walsh will play next year at Eckard College in St. Petersburg, Fla.
SS – Evan Mondor, Sr., Dighton-Rehoboth
One of several big bats that led the Falcons to the No. 1 seed in Division 2 South, Mondor posted .478/.617/.791 totals with 10 doubles, three home runs, and 20 RBI. Mondor also scored 35 runs and only struck out three times all year. He will continue his career next year at Bentley University.
SS – Brendan Skidmore, Sr., Franklin
Skidmore took home Hockomock MVP honors this season after batting .467 with five home runs and 21 RBI for the Panthers, who won the league outright as well as the No. 1 seed in Division 1 South. Skidmore will do a post-graduate year at Bridgton Academy next season.
OF – Jarrod Casey, Sr., Milford
A returning All-Stater and the reigning Mid-Wach A MVP, Casey put in another dominant season for the Scarlet Hawks, batting .490 with 22 RBI. On the mound, he was 6-2 with 73 strikeouts in 47 innings, for a 0.91 ERA. Over the last two years, Casey has gone 14-3 on the mound.
SS – Sean O'Neill, Sr., Norwood
The senior played a significant impact on the Mustangs' run to the Division 1 South quarterfinals, taking MVP of the Bay State Conference's Herget Division in the process after batting .416 with 16 RBI and a home run in the wood-bat league. O'Neill will play next year at Merrimack College.
SS – Dan Cellucci, Sr., Lincoln-Sudbury
Another returning All-Stater, Cellucci was consistent once again for the Warriors, batting .435 with 18 RBI and two home runs as the Warriors came up short in the Division 1 state title defense. Cellucci will continue his career next year at Bryant University.
1B – Adam Mayhew, Sr., Westfield
His numbers probably don't reflect his importance to the team (12 RBI; 3-0, 15 IP), but his defensive presence was without question as the Bombers won their third Division 1 West title in five years. Mayhew will continue his career next year at Westfield State University.
Photos of Adam Mayhew, Mike Walkowicz, Lee Albertson, Matt O'Neil and Joelfi Arias are courtesy of the Springfield Republican. Photos of Pat Ruotolo, Ben Bowden and Mac Curran are courtesy of the Area Code Games.
May, 10, 2012
5/10/12
7:59
PM ET
By
John McGuirk
| ESPNBoston.com
SHREWSBURY, Mass. -- Jimmy Smith has done a lot of good things during his time as a St. John's baseball player. But the one thing the senior had never done was homer in a game. You can now add that to his resume.

In a scoreless deadlock against mighty Burncoat yesterday, it was Smith who struck the decisive blow. With two out and a runner on, Smith turned on a letter-high fastball and sent it deep over the right field fence giving the Pioneers a 2-0 victory at Pioneer Field in a highly-anticipated matchup between two of the elite programs in Central Mass.

"That is the first one I've hit in the two years I've played here," said Smith, more noted for his speed on the base paths and defensive prowess. "I grew up around the Burncoat area and I know everyone on that team so it feels good to get a big hit like that. Everyone on this team has a huge heart and we look to come out an win every single game. That comes back to our practices. We practice as hard as we can all the time. Everyone is pushing each other to make everyone better and I think that has helped us to win a lot of these close games like today."

As expected, both St. John's ace Mike Badjo and Patriot counterpart Sean McGrail matched zeros on the scoreboard. The two seniors played things out as if it were a do-or-die chess match with neither hurler refusing to give an inch.

Prior to the fifth inning dramatics, the Pioneers had managed only a pair of singles against McGrail, a righty who started his career at St. John's before transferring a few miles down the road to Burncoat. Likewise, the Patriots were struggling to get anything going against Badjo (CG, 2 hits, 6 Ks). In the third they did load the bases with two out but the right hander got a ground out to end the threat. Burncoat did nothing with the bats thereafter.

"It was an outstanding baseball game," said Pioneers head coach Charlie Eppinger, his team improving to 13-2 and await a huge showdown Friday when they host BC High. "McGrail and Badjo both pitched great. We know McGrail really well after he spent his first two years here at St. John's and is a great pitcher. I thought Badjo was just a horse for us out there today.'

McGrail, like Badjo, went the distance, allowing 3 hits and striking out 8. Burncoat (12-2) came into this tilt averaging just under six runs-per-game. In spite of the many victories the Patriots have attained this season, they knew St. John's would be a measuring stick game for them.

"It was a matchup between two of the better teams around and two of the better pitchers around," Burncoat head coach Brian Sargent said. "One hit by them was it today. Playing a team like that you have a small window to score runs and in the third we had our shot but couldn't get the big hit. We have nothing to hang our heads over. We knew St. John's is the best team around. Today we played a quality team and now we know that we can hang with anyone. Today was the highest level of competition yet for us and I think we rose to the challenge."

In the fifth, No. 9 hitter Micah Cummins drew a one-out walk (one of five issued by McGrail on the afternoon). After retiring leadoff batter Tom Petry on a comebacker, McGrail had a 2-1 count on Smith. Sticking with his bread-and-butter fastball that was moving well all over the strike zone, McGrail delievered his next pitch. Only this time the ball never moved and stayed up which allowed Smith to take full advantage as it was gone the moment it struck the bat.

"It was good to see Jimmy come up with that big hit," Eppinger added. "I don't know where that came from because he's more of a speed and singles guy. Two out hits like that one win ball games and it showed today."
April, 20, 2012
4/20/12
11:34
AM ET
In this week's edition of "Roundtable", ESPN Boston High Schools Editors Scott Barboza and Brendan Hall are joined by correspondent Bruce Lerch and Brockton Enterprise staff writer John Botelho as we discuss the best hitting lineups, the best faceoff specialist in lacrosse, and whether Milford is now the team to beat in softball.

1. AFTER BEATING KING PHILIP, IS MILFORD THE FAVORITE IN DIVISION 1 FOR SOFTBALL?

ESPN Boston High Schools Editor Scott Barboza: In a word, yes. Shannon Smith is simply pitching out of her mind right now, but it's not as though we haven't seen this before from the University of Kentucky commit. Two years ago, Smith was named Massachusetts Gatorade Player of the Year after recording a 0.36 ERA. This year, she's been dominant, including a 20-strikeout performance against Shrewsbury and 17 K's against KP. Not to mention, the Scarlet Hawks haven't even been playing with their opening day lineup, after All-State catcher Taylor Archer suffered a leg injury in the first week of the season. Freshman Taylor LeBrun has done a terrific job behind the plate in the interim, but MIlford will only be that much more potent with their top battery in place. I'm certainly not ruling out KP, as anything short of a rematch between the two teams in the state final would be unexpected.

Bruce Lerch, correspondent: While there are several teams with good enough pitching to shut down the Scarlet Hawks bats, how many are strong enough offensively to hit against Milford ace Shannon Smith? The only team that really comes to mind is...King Philip. The Kentucky-bound Smith two-hit the Warriors and struck out 17 Monday afternoon, so you have to think they are the lead horse in the race right now. KP has hit Smith before, however, as a 10-1 result in the state championship game two years ago proves. Of course, Smith was but a freshman then, and having faced King Philip several times since then her knowledge of that dangerous lineup has grown considerably.

Oh yeah...KP also has Meghan Rico. I've heard she's a pretty good pitcher too...something about a reigning player of the year? If both aces are on their game, then the state championship softball game may have to be scheduled for more than one day

John Botelho, Brockton Enterprise: Even with Milford knocking off K-P, it's still hard to call anyone but the Warriors - the two-time defending state champ - the favorite to win it all. This means Milford might have closed the gap, but until someone proves Meghan Rico is possible to beat in the playoffs, the Warriors remain the class of softball in this state. Keep in mind how difficult it is to beat a good team twice, and chances are Milford will have to do just that if they're to bring home the state crown.

2. SEVEN OF THE EIGHT TEAMS PARTICIPATING IN THE COACHES CHALLENGE CUP THIS WEEK ARE RANKED IN OUR TOP 25. WHICH OF THOSE TEAMS HAS THE BEST CHANCE OF WINNING A STATE TITLE IN THEIR RESPECTIVE DIVISION?

Scott Barboza: We might have seen a Division 2 Eastern Mass final matchup preview on Thursday when Concord-Carlisle and Hingham squared off in a Coaches Challenge Cup semifinal. The Patriots beat the Harbormen, 9-4, with Jackson Finigan, Tim Badgley and Kevin Delehey scoring two goals each. If both teams take care of business hereon out, we should expect to see both of them at Harvard Stadium. Of course, none of this makes mention of Dover-Sherborn. The Raiders fell just short of an upset over Lincoln-Sudbury before falling, 12-11, but they've proven their among the elite in Division 3.

Bruce Lerch: That team would Dover-Sherborn. Lincoln-Sudbury will enter the Division 1 tournament as one of the teams best suited to make a run at Duxbury, but betting against the Dragons has been mostly a losing proposition for the past decade. The six Div. 2 teams that participated in the tournament are perennially among the last teams standing in June, so while a state champion could come from this group, picking who it will be requires a crystal ball.

Dover-Sherborn has the talent to compete with the best teams in the state, something the Raiders proved three years running now at the Coaches Challenge Cup, and is likely going to snag one of the top four seeds in the Div. 3 tourney and will be included in the group of favorites that should also include Weston and Norwell.

3. IN BASEBALL, WHAT'S THE BEST HITTING YOU'VE SEEN SO FAR?

ESPN Boston High Schools Editor Brendan Hall: I have seen both BC High and Lowell multiple times, and I don't think you can go wrong either way.

BC High can mash 1 through 9, but at the top is where they're especially dangerous. UConn signee Bob Melley is the Eagles' most powerful bat out of the No. 3 spot, but he's surrounded by plenty of college-ready talent in seniors Chuckie Connors, Justin Silvestro, Brian Hocking, and juniors Ryan Tufts and Dan Dougherty. I will put the Eagles' top six hitters against any team's top six in the state...

...Unless that top six is Lowell. The Red Raiders are only going to get stronger as the season goes on, but they're showing some real nice stuff through the first three weeks of the season. Rory O'Connor, Derek Reed and Andrew Marasa form what is regarded as the state's best outfield, but they can manufacture runs from the plate, too. Matt Tulley is headed to Virginia Tech for his low-90's fastball, but he's got a heavy swing from the cleanup spot too. My favorite hitter to watch in this lineup is senior Chad Gens, who can square up and plant it deep as good as anyone. After Lexington's Chris Shaw, he might be one of the better power hitters in Eastern Mass. I expect him to be near the top in extra base hits this year.

Also of note, take a look at Dighton-Rehoboth, which comes in this week at No. 18 this week. With a top of the order led by Bryan Rocha, Adam Benvie, Evan Mondor and Mike St. John, the Falcons are averaging 11 runs per game, including shellackings over Somerset (22-0) and Case (17-6). When it comes to manufacturing runs, you can't forget Walpole, between leadoff shortstop Johnny Adams, catcher Dan King, and brothers Cam and Craig Hanley.

John Botelho: Despite getting shutout by Marshfield for their first loss of the season on Thursday, the East Bridgewater Vikings offense is certainly among the best in southeastern Mass, and could be the class of the D3 South Sectional later this season. Even with the setback against the Rams, E-B is still averaging just over 10 runs per game.

In the Hockomock League both Oliver Ames has emerged as a team with an electric pitching staff, but the offense is plenty capable of flexing muscle too. With sweet swinging David MacKinnon - whose emerging as one of the best hitters in the Hock - hitting third and powerful Matt Harding hitting fourth, the Tigers have one of the best 3-4 combos going. Matt Mancini, Ryan O'Shea, Mike McMillan and Jim Sullivan help bolster a lineup that features plenty of hitting ability.

4. AN UNDERRATED ASPECT OF LACROSSE IS THE "FOGO" (FACE OFF, GET OFF) POSITION. WHO IS THE BEST FACEOFF SPECIALIST IN THE MIAA?

Scott Barboza: I think there's no doubt that Clay Richard of Medfield is the best true FOGO in the state, but as we saw during Wednesday's matchup against No. 1 Duxbury, Dragons midfielder Henry Narlee might be the best faceoff man in the state. Sqauring off against Richard and the Warriors, Narlee won an amazing 21 of 28 draws.

Bruce Lerch: The two best were on display Wednesday night in Duxbury as Medfield's Clay Richard went to work against the Dragons Henry Narlee. Richard more than held his own against Narlee in their individual battle, but in addition to the Duxbury junior's elite skill, he also has the advantage of having James Burke and Reilly Naton flying off the wings to grab every loose ball in sight. Not only is Narlee at winning the draws to himself, but is deadly accurate when shooting the ball into space for his two LSM's to chase it down.

5. LOOK AT THE NEXT TWO WEEKS OF SPRING. CALL AN UPSET. AND FEEL FREE TO GO BIG.

Scott Barboza: Don't really know if this would count as such, but I'm calling Duxbury's take down of Garden City (N.Y.) this weekend. Looks like the Dragons' regained their top form in the last week. In softball, I have a feeling about Hudson taking down Shrewsbury this weekend.

Brendan Hall: Boston Latin has a two-game swing at the beginning of next month that could have big implications in the Dual County League: May 4 at Lincoln-Sudbury, and May 7 at Acton-Boxborough. The Wolfpack seem to be everyone's favorite little underdog in the league (no pun intended), but I wouldn't be surprised to see them take one of two here. L-S has some talent, but has been searching for that staff ace; meanwhile A-B has had a knack for the dramatic so far, twice winning one-run games, the latest a 1-0 decision over Waltham on Wednesday. Can Latin pull 1 of 2 here? It might depend on who's pitching.

Elsewhere, I've got May 10's matchup between No. 14 Burncoat and No. 3 St. John's of Shrewsbury circled on the calendar. The Patriots just lost their first game to Danvers the other day, while St. John's sits at 7-0 with a nice win over St. John's Prep. This is building into one of the best regular-season matchups in Central Mass., but I'm going to go with Burncoat in the upset.

John Botelho: On April 26, when No. 16 Barnstable comes to town, Bridgewater-Raynham will take a big step toward winning the Old Colony League by knocking them off in a pitcher's duel. The Trojans have to deal with league foe Dartmouth just two days before, and if the rotation stays the path it's on lefty Pat Chalmers will be throwing that game. That means fellow southpaw Shane Holmes, who has been piling up strikeouts and shutting offenses down, will take the mound against the Red Raiders. The lefty is one of the toughest in the area and B-R could come away with this one without needing much in the way of run support.
April, 6, 2012
4/06/12
4:28
PM ET
By
Shawn Myrick
| ESPNBoston.com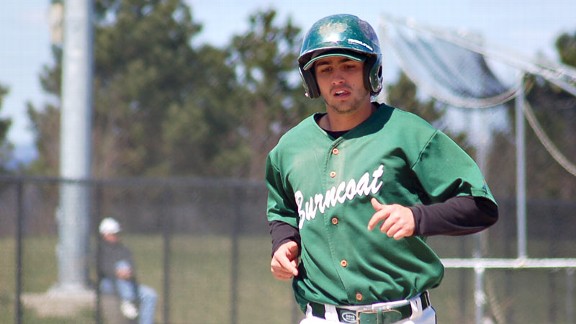 Brendan Hall/ESPNBoston.com Rhode Island commit Regan Aghdam (three hits, two runs) was part of a 15-hit parade for Burncoat in a Friday morning win over Worcester Tech.
WORCESTER, Mass. -- One inning meant all the difference for a seasoned Burncoat boys' baseball team on Friday afternoon.
After battling with Worcester Tech for five innings, the senior-laden Patriots (4-0) burst out for eight runs in the sixth to help put away their crosstown host, 13-4.
"Their pitcher did an awesome job of (pitching) different speeds," said Burncoat coach Brian Sargent. "We went through the order (that inning). We made them make plays or not make plays."
Returning 11 seniors from a team that had reached the Division I central semi-finals last year, the Patriot upperclassmen stormed through the sixth inning with ten knocks. Planting a pair of long drives a few yards out of reach for their opponents and capitalizing on six total errors, Burncoat began the run with nine straight hits.
A frozen rope left-field single by Ryan O'Connor started the scoring for the Patriots, while a dropped pop fly hit from Regan Aghdam and a low slicing drive by Sean McGrail put the Inter-High League sluggers up 10-0.
"Seeing first pitch strikes," said Sargent. "They were kind of waiting for the curveball and different stuff. Just get up in the box and swing."
Worcester Tech (0-3) responded in their next at bat by putting the first seven batters on base, but were unable to topple such a large deficit. Short outfield singles by senior Jake Dacri, junior Brenden Matthews, and sophomore Brandon Hanlon loaded the bases early for the Eagles.
A thrown away pitch and a left outfield dribbler by junior Anthony Rovezzi helped clear the plates for a 10-3 deficit. A double RBI by senior John Lakaitis in two at bats proved the Inter-High clubs final run.
"Not catching a few fly ball, a couple mental mistakes here and there, and us not getting the key hits when we needed them," said first-year Worcester Tech coach Patrick McKeon. "I told them to 'Stay aggressive and go up to get your swings. We just could not get the runs across in the last inning."
O'Connor (RBI, one run), Aghdam (two runs), and senior Joe McCarthy (RBI) all had three hits for Burncoat. Fellow upperclassmen Charles Barbon, who lead the Patriots with a .532 average last year, was perfect at the plate with four singles and two runs.
"We were trying to go the other way so we did not get in front of the ball," said Aghdam. "Let the ball travel."
A botched throwout at first, an on-the-wall triple by senior Quinn Moynihan and a powerful single by Aghbam added three runs of insurance in the Patriots' final at bat.
Burncoat had edged ahead 2-0 earlier off a low-driving double from senior Ryan O'Connor in the fourth to bring home Aghdam and a ground-out to first with two runners on by senior Quinn Moynihand in the fifth.
"I got three straight curves and a fastball," said Aghdam. "I was trying to not do too much and let the ball travel. We had to wake up sometime."
Senior starting pitcher Sean McGrail went six innings with five strikeouts for the win for Burncoat, while giving up four runs, sevens walks and 11 hits. Eagles senior Andrew Montiverdi battled six innings for five strikeouts, while dropping 15 hits, 12 runs, and three walks.
"Mentally (McGrail) knows he has to get outs," said Sargent. "He walked a lot today, but he knew just to hold off and give our offense a chance."
July, 8, 2011
7/08/11
12:46
AM ET
Courtesy of Bay State Games media relations director Peter Cohenno:

BASEBALL
Bentley University – Waltham, MA

Metro 15, Central 7

In an offensive showcase, Metro earned a decisive 15-7 victory against Central in the opening game on Thursday.

Metro scored six runs on six hits in the top of the first inning to help propel the squad to an early lead, however, Central retaliated in the bottom of the inning, plating five to pull within one.

Metro pulled ahead, 7-5, in the second, as sophomore leftfielder Malcolm Nachmanoff (Boston, Boston Latin) drilled a RBI single, which scored junior right fielder Bartley Regan (Boston, Boston College HS), who had singled up the middle.

In the bottom of the third, sophomore first baseman Zackary Tower (Auburn, Auburn HS) nailed a RBI single and sophomore leftfielder Jake Ryan (Northbridge, Northbridge HS) drew a walk for a RBI to help Central knot the game at 7-7.

Metro put the game out of reach with seven runs in the fourth inning and added one more in the fifth to earn the 15-7 victory.

Nachmanoff and junior second baseman Austin Teal (Malden, Malden HS) led the offensive effort for Metro, going 2-for-2 with one RBI apiece. Sophomore shortstop Michael Woll (Milbury, Holy Name Central Catholic HS) was 1-for-1 at the dish with two RBI for Central.

Junior pitcher James Mulry (West Roxbury, Boston Latin) registered the win for Metro, hurling 21/3 scoreless innings, while tallying four strikeouts and allowing just one hit.

Northeast 8, West 0

A complete game shutout from junior pitcher Ryan McDonald (Boxboro, Acton-Boxboro Reg. HS) propelled Northeast to an 8-0 victory against West in game two on Thursday. McDonald tallied seven strikeouts and allowed just one hit in the solid outing.

Northeast jumped out to an early 2-0 lead in the first, thanks to RBI from junior designated hitter Peter Franchi (Lynnfield, Lynnfield HS) and junior right fielder Sean Glabicky (Peabody, Malden Catholic HS).

The only hit of the game for West came in the fourth, when junior centerfielder John Kinne (Great Barrington, Monument Mountain HS) sent a leadoff single to left field.

The Northeast squad never looked backed, adding six insurance runs on seven hits in the sixth to secure the victory.

Southeast 5, Coastal 5

In the third game on Thursday afternoon, Southeast and Coastal played a hard fought, back-and-forth contest that ended in a 5-5 draw.

Southeast broke the game open in the second inning, when junior first baseman Sean Greene (Hingham, Hingham HS), junior third baseman Mark Pomella (Marshfield, Marshfield HS), and junior centerfielder Jake O'Rouke (Medway, Medway HS) recorded consecutive singles to put their squad up, 1-0. Pomella scored on a wild pitch, giving Southeast an early 2-0 lead.

Southeast added a third run in the third, but Coastal would not go quietly. Sophomore centerfielder Dan Dougherty (Pembroke, Boston College HS), who singled to right field, set up a rundown, which allowed sophomore leftfielder Spencer McCaffrey (South Dennis, Dennis-Yarmouth HS) to score in the bottom of the third. In the squad's next at bat, Coastal registered three runs on four hits to take a 4-3 lead through four innings of play.

Southeast tied the game at four in the fifth on a RBI triple from junior designated hitter Phil Sciretta (Duxbury, Nobles & Greenough HS), but Coastal pulled ahead in the following inning, as junior leftfielder Aaron Chouinard (Swansea, Joseph Case HS) tallied a sacrifice fly to score junior catcher Brian Hocking (Duxbury, Boston College HS).

Southeast plated the tying run in the top of the seventh, when Sciretta lifted a RBI sacrifice fly to right field. The squad then shutdown Coastal in the bottom of the inning to end the game deadlocked at five a side.

West 3, Central 1

West used a seventh-inning rally to defeat Central, 3-1, in a defensive showdown on Thursday afternoon.

The squads were deadlocked at zero until the fourth inning, when junior centerfielder Steve Moyers (East Longmeadow, East Longmeadow HS), drew a walk to get on and scored on a throwing error by the Central pitcher to break the game open for West.

Central retaliated in the fifth, as junior first baseman Adam Goldstein (Worcester, Doherty Mem HS) knocked in junior leftfielder Matt Lavin (Worcester, Burncoat HS) with a single to center, knotting the game at 1-1.

West earned the go-ahead runs in the top of the seventh, as junior first baseman Brenden Geary (South Hadley, Tabor HS) and Moyers registered RBIs to put the squad on top. The West then retired the Central side in the home half of the inning to take the 3-1 victory.

The squads were led by outstanding showings from their pitchers, who each turned in complete game performances. West's junior Rory Ziomek (Amherst, Phillips Andover) allowed just two hits and one run, while striking out six in seven innings of work. Junior Tyler Wager (Uxbridge, Uxbridge HS) struck out seven for Central.

ICE HOCKEY
New England Sports Center – Marlboro, MA

Boys Scholastic

Northeast 5, West 1

Junior forward Joe Czarnota (Reading, Reading HS) tallied two goals and an assist to lead Northeast over West, 5-1. Pat Flanagan (Westford, Westford Academy), Brett Buckley (Wakefield, Wakefield HS) and Blaise Heally (Melrose, Tilton School) also potted scores for the winners. Sophomore David Senecal (North Adams, Drury HS) lit the lantern for West's only goal.

Southeast 9, Central 7

Southeast's Dean Chandler (Hanover, Hanover HS) and Jason Riley (Dedham, Dedham HS) each scored a pair of goals to help their team fend off Central, 9-7. Junior Paul Curran (Milton, Milton HS) chipped in with a goal and three assists. For Central, Tyler Kirby (Hudson, Hudson HS) and Brett Lawson (Milford, St. Mark's School) potted two goals apiece with Kirby also dishing out an assist.

Metro 4, Coastal 1

Junior forward Conal Lynch (Charlestown, Boston Latin) had a hat trick and Kevin Cotrone (West Roxbury, Boston Latin) tallied four points with a goal and three assists to lift Metro over Coastal, 4-1. Defenseman Max Sherman (Rochester, Old Rochester Reg HS) potted the lone goal for Coastal. In net, Peter Cronin (Norwell, Boston College HS) and Ryan Ciavette (Medford, Matignon) combined to 43 saves for the winners. Sean Cleary (Centerville, Barnstable HS) came on in relief for Coastal to make 18 saves while allowing a single goal.

Northeast 5, Southeast 2

Northeast jumped out to a three-goal lead in the first half and held on to defeat Southeast, 5-2. Forward Kevin Doherty (Wakefield, Wakefield HS) potted Northeast's second and third goals. Also chipping in on the Northeast attack was Blaise Heally (Melrose, Tilton School) who registered a goal and an assist. Southeast came out storming in the second half and began its comeback with two quick strikes by David Consigle (Medway, Catholic Memorial) and Brian Higgins (Milton, Milton HS) in the fourth and ninth minute, respectively. Southeast goaltender Stephen Jenner (Abington, Archbishop Williams) made 19 saves including two spectacular diving saves.

Girls Scholastic

Southeast/Coastal 4, Central/West 4

Southeast/Coastal scored twice in the final three minutes to salvage a 4-4 tie with Central/West. Southeast/Coastal got two goals apiece from freshmen Emily Kelly (Norwood, Norwood HS) and Brooke Matherson (Walpole, Walpole HS) including a score from each in the critical final minutes. Kelly also added an assist. Central/West had a balanced offensive attack that was lead by Shannon Reynolds (Belmont, Belmont HS) who had an assist on Colleen Lynch's (Worcester, South High Community School) strike in the first period, and scored in the third period to push the score to 4-2.

SOCCER
Waltham High School – Waltham, MA

Boys Scholastic

Northeast 0, Southeast 0
Great two way game by both teams.

Metro 8, Central 1
Dumbuya (ME) (unassisted) at 2min
Nichole (CE) from Lajoie at 12min
Chajon (ME) from Desouza at 15min
Chajon (ME) from Lo at 17min
B. Pires (ME) from Rolim at 24min
Dumbuya (ME) from Chajon at 45min
B. Pires (ME) from Teixeira at 55min
Murrill (ME) from Irazo at 66min
Murrill (ME) from Irazo at 68min

West 2, Coastal 1
Oupka (WE) unassisted at 33min
Thompson (CO) from Phillips at 55min
Merdcer (WE) from Friedman at 62min

Girls Scholastic

Northeast 2, Metro 0
Havelinan (NE) on assist from McDonough at 20min
McDonough(NE) from DesRosiers at 27min

Central 2, Southeast 0
Miele (CE) from Costa at 6min
Kane(CE) from Adams at 18min

West 3, Metro 0
Delasco0 (WE) from Caney at 22min
Caney (WE) from Bates at 27min
Bovat(WE) at 60min unassisted

Northeast 3, Southeast 0
McDonough(NE) from Cunnerty 10min
May(NE) from Newhall 30min
Digiacomo (NE) from McDonough 44 min

SOFTBALL
Regis College – Weston, MA

Coastal 4, West 3
Northeast 8, Central 1
Southeast 7, Metro 4
Metro 7, Central 0

Northeast v Southeast
Results not available
July, 5, 2011
7/05/11
10:25
PM ET
The Bay State Games are finally here, and we've got today's baseball scores.

Courtesy Bay State Games media relations director Peter Cohenno:

Baseball
Bentley University - Waltham, MA

Southeast 10, Northeast 1
Southeast scored nine runs in the third inning and never looked back to knock off Northeast, 10-1, in the 2011 Bay State Summer Games baseball tournament opener. Nine consecutive Southeast batters reached and scored in the third, highlighted by junior first baseman Phil Sciretta's (Duxbury, Noble and Greenough School) bases-loaded double to right-center field that brought home all three runners. Sophomore left fielder Cameron Hanley (Walpole, Walpole HS) and junior pitcher Nick Ahearn (Norfolk, Xaverian Bros HS) also doubled in the frame to knock in a pair of RBI. It was Ahearn's second double of the inning as he finished as the only batter to record multiple hits in the contest. The squads traded runs in the sixth inning as Northeast avoided the shutout. For Southeast, junior right fielder Jake Petruzzelli (Abington, South Shore Voc Tech) knocked in junior pitcher Ben Amate (Hanover, Hanover HS) with a single. Northeast followed up in the bottom of the frame, as junior designated hitter Sean Glabicky (Peabody, Malden Catholic) crossed the plate on a double by junior first baseman Peter Franchi (Lynnfield, Lynnfield HS). Ahearn also earned the win on the mound as he started and went the first two innings. He faced the minimum number of batters over his perfect two frames while fanning one. Junior Zack Hellested (Braintree, Braintree HS) handled the next two innings and allowed two runners to reach on a hit and walk. Junior pitcher Kurtis White (Nahant, St. Mary's) was strong in five innings of relief for Northeast, allowing two earned runs on six hits with a pair of strikeouts.

Central 6, Coastal 1
Central stole six bases and got hits from eight different batters on the way to a 6-1 victory over Coastal. After two scoreless frames, Central struck for three runs in the third. With one out, junior right fielder James Smith (Worcester, St. John's HS) singled to left field and stole second. Sophomore second baseman Zachary Twitchell (Shrewsbury, Saint Mark's) then reached on an error that pushed Smith home. After a single by junior left fielder Timothy Beaudette (Uxbridge, Uxbridge HS), junior centerfielder Chris Casey (Milford, Milford HS) doubled to left field to knock in both runners which gave Central a 3-0 advantage. Central added a quick run in the fourth when junior designated hitter Tyler Geffert (Hopedale, Mt. St. Charles Academy) led off with a triple to left center and then came across on a ground out by the next batter, junior catcher Andrew Montiverdi (Worcester, Worcester Tech HS). In the fifth inning, Central tacked on a pair of runs to extend the lead, 6-0.Junior left fielder Scott Hubener (Mendon, Nipmuc Reg. HS) singled to center field, stole second and advanced to third on a wild pitch. Junior centerfielder Matt Lavin (Worcester, Burncoat HS) singled to left field to drive in Hubener. Lavin then stole second and scored on a double to right by junior third baseman Sam Ashline (Clinton, Nashoba Reg. HS). Coastal salvaged a run in the bottom of the fifth when sophomore centerfielder Dan Dougherty (Pembroke, Boston College HS) tripled to left center and then scored on an error off the bat of junior right fielder Keaghan Austin (Lakeville, Coyle and Cassidy HS). On the mound, juniors Steven Flynn (Worcester, St. Peter - Marian) and Ronny Sampson (Jefferson, West Boylston HS) each pitched a pair of scoreless innings for Central, allowing just one hit apiece while Sampson struck out three. Junior Eric Proulx (Brookfield, Tantasqua Reg. HS) tossed the final three innings and gave up one run while striking out five.

Metro 9, West 6
Metro battled back from two early deficits with the help of a five-run fourth inning to shock the two-time defending champion, West, in a 9-6 victory that was called after the fifth inning due to the two-hour time limit West jumped out to a quick 4-0 lead in the first. Junior centerfielder Adam Gutierrez (Central HS, Springfield) walked and junior second baseman Chad Adams (Ware, Williston) singled through the right side to put two on for junior left fielder Steve Moyers (East Longmeadow, East Longmeadow HS) who blasted a three-run homer to left field. Junior first baseman Kyle Platner (Greenfield, Pioneer Valley Reg HS) doubled to left field, junior third baseman Gregory Heineman (Wilbraham, Minnechaug HS) walked to put two runners on again with no outs. Junior designated hitter Nicholas Greenleaf (Pittsfield, Monument Mountain HS) then reached on an error that also allowed Platner to score. However, the bases were left loaded which proved costly down the road. Metro cut into the lead in the top of the next inning with three runs to make it 4-3. Junior left fielder Bartley Regan (Boston, Boston College HS) singled through the right side and then sophomore designated hitter Jake Porrazzo (Medford, Malden Catholic HS) doubled to center field. Junior short stop Connor Murray (Lexington, Lexington HS) singled up the middle to drive in Regan. Porrazzo then scored on a passed ball. With Connor Murray on second, junior first baseman Daniel Fitzgerald (Arlington, Arlington HS) walked and junior second baseman Eric Dumas (Chestnut Hill, Brookline HS) singled to load the bases. Nick Murray's sacrifice fly to left scored his brother, junior catcher Connor Murray (Lexington, Lexington HS), with the third run. West extended the lead to three runs, 6-3, in the third inning. Junior catcher Todd Kosel (Wilbraham, Minnechaug HS) singled to right field, stole second and came around to score on a double by junior shortstop Frank Crinella (East Longmeadow, Cathedral HS). With two outs, Crinella scooted home on an error committed off the bat of Adams. Metro struck back for five runs in the fourth inning to take the lead for good, 8-6. With one out, Nick Murray walked and then junior centerfielder Matt Pugh (Watertown, BB&N) reached on an error. Junior third baseman Justin Silvestro (Waltham, Boston College HS) doubled to right center to drive in Nick Murray. Regan then singled through the left side to plate Silvestro and Pugh. After reaching on a fielder's choice, Porrazzo came around from first on a triple by Connor Murray. Junior right fielder Ken Runge (Saugus, Malden Catholic) singled in Connor Murray to score the fifth run of the frame. Porrazzo walked with the bases loaded in the fifth inning to push home Nick Murray and make the score 9-6. The pitching was less than stellar for both teams with Metro's junior James Mulry (West Roxbury, Boston Latin) being the only hurler to escape without allowing a run. He went two innings and allowed three batters to reach while striking out three.

Northeast 11, Coastal 5
Northeast smashed 15 hits led by junior third baseman Ben Panunzio (Middleton, Masconomet Reg. HS) who went 3-for-3 with a RBI and two runs scored on the way to an 11-5 win over Coastal in the final game of the tournament's opening day. Northeast plated three runs in the opening frame to jump out to an early 3-0 advantage. Junior outfielders Derek Reed (Lowell, Lowell HS) and Robert Losanno (Peabody, Peabody Vet Mem HS) each singled to center field to start the inning. Junior right fielder Peter Franchi (Lynnfield, Lynnfield HS) drove in both with a double to left center and then scored on a ground out by junior first baseman Sean Glabicky (Peabody, Malden Catholic). The lead swelled to 9-0 as Northeast plated six runners in its half of the fourth inning. The frame started poorly for Coastal as junior centerfielder Genaro Ciulla (Peabody, Peabody HS) reached on an error. Junior designated hitter Kurtis White (Nahant, St. Mary's HS) and Panunzio each followed up singles. Panunzio's base hit pushed home Cuilla. After a walk to junior catcher Teghan Malionek (Salem, Salem HS) loaded the bases, Reed knocked in a pair of runs with a single. Junior shortstop Richard Fecteau (Newbury, Triton HS) followed with a sacrifice fly that was deep enough to score Malionek from third and allowed Reed to tag up and move to third. The advancement would come up big as he scored after Franchi walked and Northeast pulled off a pretty double steal. Junior first baseman Thomas Palleschi's (Haverhill, Phillips Academy) single plated Franchi to cap the scoring. Coastal broke the Northeast shutout with a run in the fourth inning. After two quick outs, junior catcher Bryan Rocha (Rehoboth, Dighton/Rehoboth), third baseman Evan Mondor (Rehoboth, Dighton-Rehoboth) and right fielder Keaghan Austin (Lakeville, Coyle and Cassidy HS) singled in succession. Rocha scored on Austin's base hit to right center to put Coastal on the board. Northeast added two runs in the fifth inning to open the lead to 11-1 before Coastal came back to post four runs over the final two frames to make the score a more respectable 11-5. Junior Robert DiFranco (Melrose, St. John's Prep) earned the victory on the hill for Northeast as he went the first five innings and allowed just one run on four hits while striking out two. Coastal's sophomore hurler Danny Holzman (Martsons Mills, Barnstable HS) tossed 3.1 innings in relief and scattered seven hits while allowing just one earned run.
May, 25, 2011
5/25/11
12:01
AM ET
We've updated the
MIAA Baseball Top 25
poll, and there is little movement at the top once again, but some fresh faces at the bottom.
Lexington holds the top spot in the poll for the third week in a row, while Northbridge maintains the No. 2 spot after winning its state-best 40th consecutive game this past weekend. St. John's Prep, East Longmeadow and Plymouth North round out the top five.
Peabody makes its return to the Top 25 for the first time since the second week of the season, while Hopkins Academy makes its return after a one-week absence. Also say hello to North Attleborough (23), Acton-Boxborough (24) and Burncoat (25), the latter of which stands at 6-0 in the Inter-High League -- including a surprising sweep of intra-city archrival Doherty.
As always, let us know how we're doing in the comments section below, or by emailing Brendan Hall at bhall@espnboston.com or Scott Barboza at sbarboza@espnboston.com.