Boston High School:

C.J. Okafor
November, 16, 2013
Nov 16
10:02
PM ET
By
Paul Lazdowski
| ESPNBoston.com
BROOKLINE, Mass. – Together they formed an unstoppable gridiron duo.

The Milton Academy senior running back – a proven ground gainer capable of wearing down opposing defenses and the reigning Independent School League MVP – amassed 205 rushing yards on 25 carries that included four second-half touchdowns. And, despite a hamstring injury that sidelined him in the Mustangs season finale and nearly relegated him to decoy status against Dexter School, he committed only one miscue: a fumble on the second play from scrimmage.

The other – an upstart sophomore identified early in the season by Milton's 18-year head coach Kevin MacDonald as 'special' – positively dominated the air attack on both sides of the ball. He contributed four catches for 87 yards on offense and two interceptions defensively, production that netted him three touchdowns overall.

On Saturday afternoon, this tandem, otherwise known as Drew Jacobs and Domenic Cozier, provided the collective punch necessary to propel Milton to a 62-18 victory over host Dexter in the Tom Flaherty New England Championship Bowl game.

"We have more confidence and swagger when he's out there," said MacDonald of Jacobs' questionable status. "He fumbled the first one. He literally had maybe taken one handoff in practice.

"I thought this was maybe just going to be a ceremonial thing where he got a few snaps and then we put somebody else in. So I was shocked when he actually did what he did. That was pure guts."

As for Jacobs' heir apparent, Cozier, MacDonald was far less surprised with the underclassman's breakout performance.

"He had an unbelievable game," said MacDonald of the sophomore. "I've said all year that I think he's a special player because he never gives up and he's super athletic. He can sky. He runs a four-five forty, he's got a 39-inch vertical (and) he's just a very athletic kid. Plus, he has a terrific attitude.

"Maybe we've underutilized him a little bit this year, but today he just didn't allow us to underutilize him. He made plays."

TURNING POINT: With Milton leading 27-12 at the half, Dexter received the kickoff to start the second-half. On the second play from scrimmage, senior quarterback Luke Cuneo hit senior wide receiver Mark Webber for what appeared to be a short gain along the right sideline. But Webber wrestled through four arm tackles and raced 72 yards for what turned out to be a 78-yard touchdown only 50 seconds into the frame.

It was a play that seemed to awaken Milton and, in particular, Jacobs.

"I was pissed when they scored," he admitted. "We all were."

The response from Milton was emphatic. The Mustangs – behind three touchdown runs by Jacobs – reeled off 28 unanswered third quarter points to turn a 27-18 advantage into a 55-18 blowout 11:10 later.

Jacobs ripped off scoring runs of 35, 18 and 10 yards using a series of stutter steps and cutbacks to evade defenders. And while his trademark burst wasn't there given his lingering hamstring woes, the senior displayed know-how to be productive even with his health at less than 100 percent.

"The line in the second half," he explained," those holes were huge. Coach (Paul) Healey said, 'Anybody could have run through those holes in the second half.'

"I started slow. I was a little nervous about the hamstring. But it felt good towards the end."

And sandwiched in between Jacobs' first and second touchdown was Cozier's pick-six, a play in which he corralled the interception off a deflection and zigzagged 38 yards for a touchdown that gave the Mustangs a 41-18 lead with 6:58 left in the third quarter.

Jacobs went on to add a fourth touchdown on a three-yard, which effectively closed out the scoring, midway through the fourth quarter.

HE'S ONLY A SOPH-O-MORE!: While Jacobs carried the load over the final 24 minutes, Cozier's first-half play was paramount in keeping the Mustangs competitive.

After Dexter scored by way of a Luke Cuneo three-yard draw on its first possession – a drive set up at midfield by Jacobs' fumble – to take a 6-0 lead, Cozier hauled in a 45-yard touchdown pass that included 25 yards after the catch, which he gained using a collection of spin moves, jump cuts and head fakes to outmaneuver Dexter's secondary.

"We watched film on them and they couldn't really control the pass," he said. "So we had a game plan of just throwing over a lot . . . the post wheel, and we got it."

Cozier's second touchdown reception was even more impressive.

With Milton clinging to a 13-12 lead halfway through the second quarter after Cuneo connected with C.J. Okafor for a 51-yard scoring strike, Cozier made an acrobatic 22-yard catch along the right sideline of the end zone in which he turned and out-jumped two defenders. His deft body control somehow kept him inbounds when he landed from his jump.

On the whole, Cozier's performance had more than just his coach raving.

"Dom played unbelievable," Jacobs said. "I think he was the MVP. That's who you should be interviewing."

COSTLY MISCUES: Lost amidst the dominant performances of Jacobs and Cozier were the mistakes made by Dexter.

In addition to Cozier's pick-six in the third quarter, Dexter also had both a blocked punt and strip sack returned for touchdowns.

The blocked punt occurred with 4:18 left in the first quarter when deep in its own territory, Milton's Ethan Webster-Zinn deflected the punt at Dexter's 10-yard line and teammate Matthew Morin scooped up the ball and rumbled into the end zone.

Trailing 20-12, Dexter again committed a turnover which resulted in points.

With time winding down in the first half, Milton's Morin broke through the defensive line and flushed Cuneo to his right. As Morin pulled Dexter's QB to the ground the ball popped out. In one fluid motion, Milton's Sean Sylva grabbed the ball and raced 51 yards for the score and a 27-12 lead with 53.2 seconds left.

"That's a great team over there," said Dexter coach Casey Day of Milton. "They capitalized on every mistake that we made today and that's what champions do."

HISTORICAL SUCCESS: In MacDonald's tenure, Milton, which finished the season with an 8-1 record, has established itself as a perennial NEPSAC football power.

On Saturday, MacDonald picked up his third bowl win in his 18 years leading the Mustangs program, and first since 2008. Milton also captured a title back in MacDonald's inaugural season (1996) coaching in the ISL.

Meanwhile, Dexter (7-2), which is only in its 11th season competing at the varsity level, reached a bowl for the first time in school history.

And while only one school received the Tom Flaherty New England Championship Bowl, the success of the upstart, albeit defeated, program was not lost on either coach.

"Casey's done a great job with that program," MacDonald said. "They've probably played football for 10 years or less. And to get to a New England Championship game . . . he's really got some athletes. I think he's really just done a tremendous job. Things just went our way today."

"I couldn't be prouder of our guys," Day said. "Things didn't turn out how we wanted them to today. But we have an unbelievable group of seniors that got us to this point. I tip my cap to those guys. They've built this program basically from the bottom. When they were freshmen we were at the bottom of the barrel and now we're up near the top."

MILTON 62, DEXTER 18
M - 13 - 14 - 28 - 7 --- 62
D - 6 - 6 - 6 - 0 --- 18

First Quarter
D - Luke Cuneo 3 run (pass failed) 9:47
M - Domenic Cozier 41 pass from Anthony Scurto (kick failed) 5:08
M - Matthew Morin 10 blocked punt return (Jaejung Joon kick) 4:18

Second Quarter
D - C.J. Okafor 51 pass from Cuneo (pass failed) 6:50
M - Cozier 22 pass from Scurto (Joon kick) 4:04
M - Sean Sylva 51 fumble return (Joon kick) :53.2

Third Quarter
D - Mark Webber 78 pass Cuneo (pass failed) 11:10
M - Drew Jacobs 35 run (Joon kick) 7:47
M - Cozier 38 interception return (Joon kick) 6:58
M - Jacobs 18 run (Joon kick) 4:11
M - Jacobs 10 run (Joon kick) :24.6

Fourth Quarter
M - Jacobs 3 run (Joon kick) 6:55
October, 12, 2013
Oct 12
11:04
PM ET
By
Paul Lazdowski
| ESPNBoston.com


BROOKLINE, Mass. -- Gridiron history is being made at Dexter School.

After defeating Evergreen-Bonnefond League foe Hyde School (Bath, ME), 38-28, at home on Saturday afternoon, Dexter is 4-0 for the first time and sitting atop the standings.

"Yeah, we're making history," said Dexter head coach Casey Day. "But, obviously, it wasn't easy."

Hyde proved Dexter's most challenging opponent this season. After collectively outscoring its first three adversaries 107-49, the hosts were repeatedly forced into situations versus Hyde which tested their mental and physical resilience.

Every time the home team responded.

Early on, however, it did not appear the contest would turn into such a battle.

A little over a minute into the first quarter Dexter struck for two quick scores, hinting that a blowout might follow.

First, Luke Cuneo, who completed 18-of-30 passes for 274 yards, three touchdowns, three two-point conversations and two interceptions, connected with Mark Webber (six catches, 83 yards, TD) down the right sideline for a 27-yard scoring strike. Opting to go for two-points, Cuneo then found Justin Smith for an 8-0 lead.

Dexter retained possession when it successfully recovered its onside kick off. On the next play, Cuneo again went deep this time finding Colin O'Brien (four catches, 115 yards, TD) down the right sideline for a 38-yard touchdown. Another two-point conversation – this one to Chris Kinney – extended Dexter's lead to 16-0 only 1:06 into the first quarter.

"More often than not we're an onside kicking team," Day explained. "Maybe in the past we didn't have the guys to cover the thing. We have the guys that can cover the thing now and a guy that can punch it down deep. We feel like if we can get one or two a game, and we've got a good shot at it, we'll take a crack."

As opposed to Dexter's ultra aggressive, spread, no-huddle, up-tempo and frenetically paced offense, Hyde instead opted for a more methodical, grind-it-out approach reliant on a ground attack and passes to its 6-foot-4 tight end, Chris Collins (eight catches, 156 yards, two TD, two-point conversion), across the middle which utilized both his height and athleticism.

"We've been working on that a lot during practices," said Collins of the numerous jump ball catches he made against opposing defensive backs. "I have a lot of height on kids and I used to play basketball. Like I said before, I can just go up and grab it. I love going to get the ball."

The philosophy worked as Hyde settled in before eventually scoring with 9:52 to play in the second quarter. Evander Lenardson hit Collins for a 35-yard touchdown. A fake point-after attempt resulted in Collins catching the two-point conversion from Deker Adelman.

Leading 16-8 at halftime, Hyde had opportunities to further close the deficit. However, the Dexter defense held.

It was a spark that also seemed to propel an offensive unit that had gone stagnant since the game's opening 76 seconds.

What followed was a seesaw scoring battle throughout the third quarter. Dexter scored first en route to 22 points over a 12 minute span, while Hyde added 14 points of its own.

Cuneo picked up his third touchdown on a 22-yard pass to C.J. Okafor with 8:43 to play in the frame. After Hyde responded with a Jared Jenson 9-yard touchdown run to cut the deficit to 22-14, Okafor returned the ensuing kickoff 85 yards for a touchdown. Matt Cuneo converted the 2-point attempt with a run up the middle.

Trailing 30-14, Collins snagged his second touchdown with 2:27 remaining in the quarter. Lenardson hit Jensen for the 2-point conversion to bring the score to 30-22.

Then, with three seconds remaining in the quarter, Matt Cuneo took the handoff from his brother Luke and ran it into the end zone from 15 yards out. Owen Martinson corralled Luke Cuneo's pass for the two-point conversion and a 38-22 advantage.

"We kind of let up a little bit, which disappointed me," said senior quarterback Luke Cuneo. "Myself, I made a couple bad decisions. But going into halftime leading 16-8, Coach kind of said, 'Boys, we have to pick it up or this team is going to creep back into the game.' We knew we had to come out in the second half and put one in right away, and we did. Nice touchdown pass to CJ and a good catch."

Hyde's Caleb Jones scored on a 16-yard run early in the fourth quarter, but it would be all the offense the visitors would muster.

As Hyde drove deep into Dexter's territory with less than two minutes remaining, junior linebacker Nick Strand dropped back into coverage and snared an interception to effectively seal the win.

Still, with four games remaining, including one against an undefeated New Hampton School squad, Dexter is focused on achieving bigger goals besides simply making school history through four games.

"We didn't have the best week of practice this week," Luke Cuneo said. "But, like I said, if we keep practicing 100 percent every week there's no team that we can't beat. If we keep working 100 percent and playing hard, there's a chance that we could go undefeated. We're looking forward to it."
September, 17, 2013
Sep 17
2:02
PM ET
By
Bob McGovern
| ESPNBoston.com
The 2013 season is going to be a big one for the Dexter School — on a number of levels.

Casey Day's team is anchored by seniors James Hendren and Dan DiNicola, two of the best offensive linemen in New England. Both have already verbally committed to Division I colleges: Hendren is heading to Boston College, while DiNicola plans on attending the University of Massachusetts.

Dexter's big boys have had a busy 12 months. Between school and the grueling recruiting process, Hendren and DiNicola have spent hours honing their skills against each other. Both athletes are 6-foot-7 and nearly 300 pounds, so in order to get better, they have to pick on someone their own size.

"Both guys have come into the season in tremendous shape," Day said, adding that Hendren is down to 280 pounds after tipping the scales at 310 last year. "Both of them really work well with each other in different situations. They work together, one-on-one, on different skills and fundamentals. It's paid off, and both have really improved."

Hendren and DiNicola will buy time for Dexter's stable of speedy skill players, who are getting more accustomed to Day's spread offense, which is now in year two of its implementation.

"We'll line up in different personnel packages, but we're pretty much in a full-blown spread attack," Day said. "We will come out in a traditional spread with one back, or we'll line up in the Pistol package with two backs and a tight end. We feel like it's the best approach for our skill guys."

Dexter's spread is specifically designed for starting quarterback Luke Cuneo. At 5-foot-7, Cuneo looks tiny behind his towering tackles, but his diminutive size hasn't held him back. A three-time captain, Cuneo had more than 1,500 total yards and 20 touchdowns last year. While he has good speed, Cuneo also has a "real live arm," which he has honed as a varsity baseball player.

"He's another kid who has made huge improvements over the years," Day said. "Considering his size, he takes people by surprise when they see him throw the ball. He can really air the ball out pretty well."

Cuneo's main target is C.J. Okafor, a speedy receiver who has drawn interest from the University of New Hampshire and Monmouth University. He had 600 receiving yards and eight touchdowns last year for Dexter – including three game-winning catches.

"He kind of has a knack for making the big plays in the big situations. He's got explosive speed and great ball skills. We're going to need him to get down the field for us and stretch the field," Day said. "He's been just tremendous for us."

Day is also looking forward to watching Colin O'Brien, a senior transfer from Milton High School. O'Brien doesn't have a defined position, but it Day thinks he can cause damage as a receiver or on the ground.

Defensively, Dexter's base is a 3-3 stack, but Day indicated that his team will jump into a 4-3 on passing downs. The defense, much like Dexter's offense, is based on the play of DiNicola and Hendren in the trenches. Day said he likes to "move them around a little bit" based on the opposing offense and will play them either inside or outside to cause mismatches.

"College-wise, they're offensive linemen, but in high school, at this level, they are really good defensive linemen," Day said.

Day, who is in his fourth year with Dexter, knows the 2013 campaign is particularly important. Large portions of his 16-member senior class have been starting since they were freshman and have gone through a trial-by-fire growing process.

"We've been on the verge, but we just haven't been able to get over the top," Day said. "This is the biggest senior class in school history, and they're a tight group of kids. We also got a few seniors who haven't been around to come out, and that should give us some added depth."

THE DEXTER SCHOOL AT A GLANCE
Coach: Casey Day (4th season, 10-14)
Last season: 4-4
Returning Starters: 19
Key Returnees: Sr. OL/DL James Hendren, Sr. OL/DL Dan DiNicola, Sr. QB Luke Cuneo, Sr. CB/WR C.J. Okafor, Sr. ATH Colin O'Brien.
Strengths: Senior leadership, veteran playmakers, offensive/defensive line.
Weaknesses: Depth on offensive/defensive line.
Overview: Division I linemen don't come around very often at schools with less than 500 boys. So, it's quite the anomaly for the Dexter School to have two FBS-level tackles. Both Hendren and DiNicola have greatly improved during the past two years and will be asked to carry Dexter to what could be its best season, ever. The big fellas' aren't alone – Dexter has 19 returning starters and bring in a big-time transfer in Colin O'Brien, a kid who Day sees as a FCS-level talent. Okafor is still fighting for a verbal offer and will look to turn some heads during his final year. Pair that with do-everything Luke Cuneo, and Dexter should have no problem putting points on the board. Day's defense will be stout up front, and he will need a linebacker to step up to solidify the middle of the field. Okafor, a spectacular receiver, can also make opposing offenses pay from the cornerback spot. 2013 should be Dexter's year to jump above the .500 mark. It won't be an easy ride, but with nearly 600 pounds of Division I linemen in the trenches, Dexter won't be pushed around.
September, 19, 2012
9/19/12
10:21
PM ET
By
Tom Layman
| ESPNBoston.com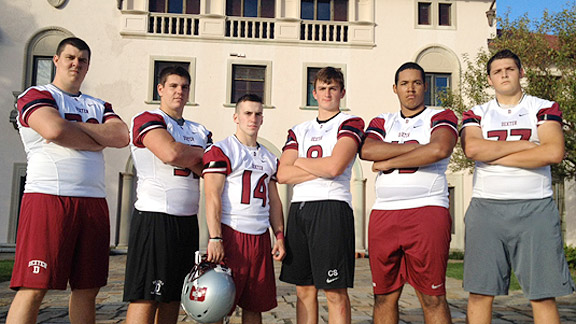 Courtesy of Dexter SchoolDexter's (L to R) Jed Hendren, Costa Toubekis, Luke Cuneo, Craig Strand, Lucas Hinds and Dan DiNicola will look to fill the holes Maryland freshman Abner Logan left behind.
It's a quandary that every coach has to face, when time essentially is up and a star player's high school football career comes to a close.
Casey Day is no different at Dexter School, as Abner Logan will no longer be donning the "D" on the side of his helmet. Logan rushed for 1,200 yards and scored 19 touchdowns as the feature back in Brookline, and his physicality on defense put Day's group in the hunt for the Evergreen League championship a year ago.
Logan is now a Div. 1 prospect redshirting at the University of Maryland, and Day knows that not one man is going to fill the very capable shoes of the former stand out.
"He was a dynamic player on both sides of the ball," said Day. "We counted on him and he was always the guy who made the plays for us, offensively or defensively. We are in the process (of filling the spot) and we have a group of three or four guys who can pick up the slack collectively and contribute."
The scheme will change a little bit for Dexter, as the power-I, which was the alignment of choice with Logan in the backfield, might yield to a few more situations where quarterback Luke Cuneo is working out of the shotgun in spread formations.
The 5-foot-7-inch Cuneo threw for nine scores, and rushed for 400 yards in the limited amount of times he carried the ball, and getting him in space behind a big offensive line will be key to sustaining drives on offense.
"We want to give him a little bit more freedom to run the ball," said Day. "His arm strength has improved significantly as well. He's been able to throw the ball around pretty good this preseason and if there is a guy who is going to get the majority of the carries it would probably be him."
C.J. Okafor could emerge as a speedy option out of the backfield and at the wide receiver position, plus look for the junior to double up at cornerback duties.
Craig Strand will be back in his usual fullback duties plowing the way for Jimmy Venuto and other running backs. Strand will also figure in heavily as a ball-hawking linebacker who will need to fill the "big-play" role that Logan filled so well on the defensive side of the ball.
The line is probably the strength of the team for Day, as he has four guys 270 pounds or more. James Hendren is a mammoth 6-foot-7-inch, 300-pound tackle who is a heavily recruited and sought-after offensive tackle.
Filling Logan's role will be No. 1, but day is hoping that some of these new looks will catch his ISL counterparts off-guard this year as his team tries to build on a 4-4 season from a year ago.
"The dynamic we have now, we do become a little bit harder to defend, because we are doing a few different things," said Day. "We will be distributing the ball through the air and on the ground a lot more evenly than we have in the past."
DEXTER AT A GLANCE
Coach:
Casey Day (3rd season, 6-10)
Last year:
4-4
Strengths:
Experience, size on the lines
Weaknesses:
Depth at skill positions
Key returnees:
Craig Strand, Sr., LB/FB 6-3, 210 pounds; Costa Toubekis, Sr., OL/DL, 6-2, 275 pounds; Luke Cuneo, Jr., QB/DB, 5-7, 180; Lucas Hinds, Sr., OL/DL, 6-5, 275; James Hendren, Jr., OT/DT, 6-7, 300.
Outlook:
They key for Dexter is to fill Abner Logan's production, which is easier said than done. Luke Cuneo is going to have to fill that role as the main offensive weapon behind a huge line. Cuneo should be able to hide behind a massive offensive line with his 5-foot-7-inch frame to pick up yards and full defenses out of the spread. It will be different and the adjustment will have to be quick as Dexter looks to fill the void left behind by its best player that's come through the program in quite some time.