Boston High School:

Cam Latta
November, 3, 2012
11/03/12
12:43
AM ET
By
Andy Smith
| ESPNBoston.com
ANDOVER, Mass. -- If you can believe it, things just got crazier in the Merrimack Valley Conference.

Coming off an eight-point loss to Central Catholic the week before that essentially knocked it out of contention for the MVC Large title, Lowell came from behind with a minute left to beat previously-unbeaten No. 13 Andover, 42-35. And with it, the fight for the division's playoff berth just got more interesting.

"Whatever the kids have gone through all year, they've had a real good attitude," said Lowell coach John Florence. "It's a great group of kids, and we talk about whether it was a win, we put it behind us, if it was a loss, put it behind us and move on to the next week."

Andover (8-1, 1-1) led 28-26 to star the final quarter, when the game became very MVC-ish, in that the offenses completely took over. Minutes after taking over at its own 40-yard line, Lowell quarterback Cam Latta hit Jack Galvin on a short swing pass that he took up the left sideline to give Lowell (7-2, 2-1) its first lead of the game.

Andover would come back and answer on its next possession. After a defensive pass interference penalty put the ball in Lowell territory, Andover quarterback CJ Scarpa (16-of-27, 282 yards, 3 TDs, 1 rushing TD) hit Will Heikkinen (7 catches, 138 yards, 1 TD) on a 35-yard go route down the sideline to put the ball on the six. Seconds later, Scarpa connected with Cam Farnham (6 catches, 99 yards, 2 TDs) for a touchdown.

The away team wasn't phased, however. With 3:33 left and down by a point, Lowell methodically moved the ball down the field, utilizing its running game and timeouts along the way.

"We were pretty confident, we knew we were running the ball well all second half, so we just kept running it down their throats," said Latta. "The offensive line stepped up big. They were moving guys off the ball, and we just kept going."

Finally, with 1:04 left, Latta hit his favorite target, Galvin (15 catches, 159 yards, 4 TDs) on a 10-yard rub route in the back of the endzone for the go-ahead score.

"That's what we do every day on Thursdays, we go through that two-minute drill," said Galvin. "We just work on it. It was the offensive line, it was everybody. Cam did a heck of a job. He didn't quit. That's what we've been saying all week: no quit. That's what we did tonight."

Andover got another crack at things with under a minute to go, and it seemed like they could possibly at least extend the game. Scarpa hit Farnham for 18 on the first play of the drive, and a roughing the passer penalty tacked on 15 more yards on the end of the play. This put the ball at the Lowell 35 with about 45 seconds to go. However, a sack brought the offense back 10 yards, then a personal foul brought things back 15 more, erasing all the positive yardage just gained.

Scarpa was sacked on 4th and very long, ending the game and Andover's any hopes of keeping its undefeated streak alive.

Skipped a beat: The normally efficient Andover offense had some bumps in the road Friday. In the first quarter, with the team driving deep in Lowell territory, running back Jack Sylvester fumbled, and Lowell scooped it up.

Coming off a Will Heikkinen interception with less than a minute left in the first half, it appeared Andover called for a reverse of some kind, but Lowell sniffed it out quickly. When the ball was handed off to Sylvester, a Lowell defensive lineman met him in the backfield. Facing the possibility of lost yardage if tackled, Sylvester tried to make the pitch to a wide receiver anyway. The exchange was bobbled and eventually secured by a defender.

In the third quarter, Sylvester fumbled the ball away again. On Andover's next offensive possession, with the ball deep in its own territory, the center sent a high snap over CJ Scarpa's head. With players from both sides converging trying to get the ball, it was eventually recovered in the endzone by Lowell's Ngiiva Mason for the defensive touchdown.

Scarpa fumbled another snap in the fourth quarter, capping off a tough night for a usually sure-handed offense.

Ground and pound: One of Lowell's biggest halftime adjustments was its reliance on its run game. Latta was 11 for 19 for 106 yards, 2 TDs and 2 INTs in the first half, and the team was down 22-13. So in an attempt to not put the entire game on the quarterback, and to neutralize the Andover offense by taking the ball out of its hands, Lowell turned to the run game.

After lining up in the traditional Pistol formation with a quarterback in the shotgun and a running back lined up behind him, Lowell started the second half with another running back lining up next to the quarterback to act as a lead blocker for back that was behind the quarterback.

On its first offensive possession, the offense went 49 yards in 13 plays, all runs, for a touchdown. The lead back was working the same way a fullback would in a traditional I-formation.

"We're fortunate enough to have five senior offensive linemen," said Florence. "We just said, 'Hey, we gotta ride you guys,' and kinda keep the ball out of Andover's hands. That was big too. So getting some drives, killing some clock, but also putting the ball in the endzone and the end of the drives."

Ngiiva Mason, who had two carries for 0 total yards in the first half, had 16 carries for 80 yards and a touchdown in the second.

Latta helped himself immensely with his feet, finishing the game with 28 carries for 160 yards to go along with his 179 yards and 4 passing touchdowns. He finished with 339 total yards of offense in the game.

LOWELL 42, NO. 13 ANDOVER 35

LOW --- 7 6 13 16 --- 42
AND --- 8 14 6 7 --- 35

1st quarter
A - Cam Farnham 48 pass from CJ Scarpa (Cam Davey pass from Scarpa)
L - Jack Galvin 44 pass from Cam Latta (Zach Noel kick)

2nd quarter
A - Jack Sylvester 49 run (Will Heikkinen pass from Scarpa)
L - Galvin 36 pass from Latta (kick failed)
A - Scarpa 1-yard run (rush failed)

3rd quarter
A - Heikkinen 34 pass from Scarpa (pass failed)
L - Ngiiva Mason 5 run (Noel kick)
L - Quintero Alex 0 fumble recovery (pass failed)

4th quarter
L - Galvin 20 pass from Latta (Galvin pass from Latta)
A - Farnham 6 pass from Scarpa (Oliver Ebert kick)
L - Galvin 10 pass from Latta (Latta run)
November, 2, 2012
11/02/12
2:58
AM ET
ACTON-BOXBOROUGH (6-2) AT LINCOLN-SUDBURY (7-1)
The Skinny: Although the Colonials enter this rivalry game after a letdown against Waltham last week, these teams always have a say in the determination of the Dual County League crown. The Warriors have worked toward reclaiming the division title with help from a talented cast of seniors who have two-way success with the football and the lacrosse teams, including Chris Giorgio, Henry Guild and John Sexton. A-B's wing-T attack is led by a pair of promising juniors in William Tejada (14 TDs) and Tom Saponaro.

Scott Barboza: Bill Maver has the building blocks for a strong group next year, but this senior group from L-S has been primed to make their run during the last two years. The seal the deal for the division, but it's a rivalry game, so throw the records out. L-S, 20-14.

Brendan Hall: The Warriors take the inside track to their third consecutive postseason berth, but because it's A-B they do it in knock-down, drag-out fashion. L-S, 17-10.

DIGHTON-REHOBOTH (6-1) AT WAREHAM (7-1)
The Skinny: Both teams sport a perfect South Coast Conference record entering Friday's tête-à-tête and their only loss came against a common non-league opponent in Somerset-Berkley. Since their opening day loss, the Falcons have run off six straight wins, including a 5-0 record in the SCC. D-R's ground attack is keyed by 6-foot-7 tackle Chuddy Nwachukwu, but the Falcons have also seen dividends in the passing game behind sophomore quarterback Nathan Kowalski. The Vikings, also undefeated in the SCC, have big-play ability with the electrifying Darien Fernandez in the backfield. Yet, Wareham has also brought the lumber on defense, surrendering just 26 points through five league games.

Barboza: In big SCC games, it's hard to pick against a Dave Driscoll-led team. D-R, 16-14.

Hall: As usual, our loyal correspondent Corey comes up with some innovative names, this one "The Fernandez Express". As long as Darien's legs keep churning, the Vikings will stay ahead. Wareham, 17-13.

STONEHAM (7-1) AT BURLINGTON (7-1)
The Skinny: The Red Devils can sew up the Middlesex League Freedom division title with a win over the upstart Spartans. Stoneham saw its undefeated record blemish last week in a 42-28 loss to Wakefield, but the Spartans are capable of throwing a monkey wrench into the race behind Aaron Louis and Darius McPherson. Meanwhile, Burlington's backfield tandem of Anthony Cruz and Marcus O'Diah has few equals in Eastern Mass.

Barboza: Cinderella's ball comes to a halt. Burlington, 33-24.

Hall: Stoneham appears to have a quality foundation for the long haul, but in the short term this Burlington rushing attack will be too much for the Spartans to handle. Burlington, 28-14.

GOVERNOR'S ACADEMY (6-0) AT MILTON ACADEMY (4-2)
The Skinny: The defending ISL champs put their undefeated record on the line in a road game. Gov's 40-6 win over Brooks last week kept its point-per-game average above 41 points a game as Tate Jozokos and Eli Morrissey continue their assault on opposing defenses. Mustangs junior running back Drew Jacobs continued his breakout season with four touchdowns last week in a throttling of Belmont Hill.

Barboza: Opposing teams better hope they have Jacoby Jones or Ellis Hobbs returning kicks for them because it's a 108 yards or bust with Justin Yoon kicking off. Still, Gov's offense takes over. Governor's, 31-24.

Hall: The Governators haven't lost a game since Jim O'Leary took over in 2011. How crazy is that? Governor's, 30-20.

WAYLAND (5-3) AT CONCORD-CARLISLE (4-4) (
The Skinny: Wayland looks for the inside track in the Dual County League's Small division, entering the game with one of the league's stingiest defenses (10.6 points allowed), and two versatile targets in senior wideout Mark Bonner and junior tailback Robert Williams. C-C, the defending league and Super Bowl champs, lost Tim Badgley in the preseason, but running backs Evan Boynton and Shayne McCloskey have picked up the slack.

Barboza: Yeah, I went with the Patriots winning a long time ago, in fact before we learned Badgley would be out for the year. It's political season, so consider me a swing voter here. Wayland, 14-7.

Hall: I have the feeling this game is going to be possession-based. In that case, give me the better defense. Wayland, 10-6.

LOWELL (6-2) AT ANDOVER (8-0)
(The Skinny: Lowell has been on an offensive tear the last four games, going 3-1 and averaging 43 points per game over that span. Cam Latta has spearheaded the surge, but can he outduel Andover's C.J. Scarpa? The 5-foot-8 senior hasn't thrown an interception since Oct. 6, meanwhile the Golden Warriors are averaging over 370 yards of offense a game.

Barboza: Calculators ready? Andover, 46-38.

Hall: Remember the 88-80, eight-overtime game between these two in 2010? Let's do the honorable thing here and move the venue to the Tsongas Center. Andover, 45-40.

NORTHBRIDGE (7-1) AT AUBURN (8-0) (
The Skinny: Auburn, one of the state's stingiest defenses (5.1 points per game), holds first place in the SWCL A division, and can put a vice grip on it with a win over the Rams. Offensively, the Rockets have rode one of the state's biggest lines to bull their way to over 2,000 yards rushing and over 2,700 yards of total offense, led by quarterback Drew Goodrich and Tyler Desjardins. But Northbridge quarterback Matt Phelan (1,344 passing yards, 11 TD; 673 rushing yards, 19 TD) will be one of the more slippery athletes the Rockets will have seen all season long. Can they contain him?

Barboza: Again, more than the score, I'm wondering what the line would be set at on these occurrences: how many times the Rockets venture to pass versus the Rams keeping it on the ground. Think it's a push, but … Auburn, 31-27.

Hall: Classic clash of philosophies here: Jeff Cormier's power running scheme versus Northbridge guru Ken LaChapelle and his pioneering run-and-shoot. Give me the team with the better line, in a physical battle. Auburn, 20-13.

BC HIGH (3-4) AT XAVERIAN (2-6) (
The Skinny: What would you have said if we told you back in August these two teams would be meeting in November with a combined 10 losses? But that's what we have here, as the two Catholic Conference foes will fight to stay alive in a conference that St. John's Prep is favored to take a hold of. If linebacker Luke Catarius is a go for BC High, that should provide an interesting matchup for Xaverian and its talented skill corps of Austin DeCarr, D.J. Pagliuca and Hunter Taute. The key matchup will be in the interior, where two close friends and Division 1 commits will square off – Xaverian defensive tackle Maurice Hurst (Michigan) versus BC High guard Jack McDonald (Virginia).

Barboza: Going with my preseason Catholic Conference pick in this one for whatever that's worth – though it's still probably worth more than Facebook stock. BC High, 21-17.

Hall: Give both teams credit here, they're still fighting hard. But at this point, the Eagles have a little bit more momentum. BC High, 21-10.

BARNSTABLE (7-0) AT BRIDGEWATER-RAYNHAM (5-3)
The Skinny: Once again, these teams engage in a winner-takes-all battle for the Old Colony League crown in this week's Game of the Week. Some elements to watch entering this one will be to see how the Red Raiders secondary is able to shake off a lackluster performance last week against Billerica. Similarly, B-R had its troubles with La Salle Academy and its spread attack a couple weeks back, so we'll see how the Trojans' secondary is able to deal with Barnstable quick and nimble wideouts. Let's not overlook the running backs in this one, however. Hayden Murphy figured prominently into last year's win by Barnstable in this game and Trojans sophomore sensation Brandon Gallagher (12 TDs) will be one to watch for years to come.

Barboza: Because it's what Dan Buron wants us to do anyway, and for the fact I think the Red Raiders repeat. Barnstable, 30-24.

Hall: Any time you have an NFL veteran coaching the secondary, you have to think things will shore up after a bad week. Barnstable, 35-28.
October, 27, 2012
10/27/12
1:34
AM ET
By
Tom Layman
| ESPNBoston.com
LOWELL, Mass. -- Central Catholic's season could look a lot different right now, and Chuck Adamopoulos would probably be the first one to tell you.

The Raiders took an early season test against St. John's Prep and failed, rather miserably at that, with a lopsided loss and a probably a lot of empty feelings after they could muster next to nothing offensively against one of the premier defenses in the state.

There are usually one of two ways a team can go after a demoralizing loss like that; keep digging youself deeper and deeper, or pick yourself out of the funk.

It's easy to say that Adamopoulos's crew took road No. 2 after defeating Lowell last night, 42-34, for its sixth victory in a row at Cawley Stadium on the road. The Prep game was the turnaround for the Raiders, and now they find themselves right at the top of the heap in the very crowded Merrimack Valley Conference.

"In that [Prep] game, I thought our defense actually played pretty solid," said the Raiders head coach, whose team moved to 7-1 on the year. "We just went three-and-out all day and our defense really got tired. I think we only had three offensive plays in the fourth quarter. We had fumbled twice in the fourth quarter. But I saw enough in our line that day that I felt good about that. Michael [Milano] showed a lot in our scrimmages that we didn't panic about that game.

"I thought we learned a lot from that game. The next week we had North Andover, who is a good team, and we were down in the first half. I think we had a hangover from the Prep game. We rallied and had a really good second half and we just kind of used it as a springboard from there."

SECONDS TO SPARE
Things were almost going too swimmingly for the Raiders last night, and all it took was a holding call that negated a drive to wake up the home team. Lowell bounced back from a 20-7 hole to score 14 unanswered points after Cam Latta (four touchdown passes) found Alex Kasirye for a 21-20 lead.

The referees said there were two or three more seconds on the clock despite the scoreboard posting all zeroes after a Raiders punt right before halftime. Adamopoulos argued that the teams should be in the locker room for the half, but it's lucky those extra seconds stayed with the referees.

Latta tried throwing a pass to the right flat and D'andre Drummond-Mayire picked it off and took it 45 yards the other way for the 28-20 lead after a Milano two-point conversion rush.

"We caught a break on that last play with the interception for a touchdown," said Adamopoulos. "It kind of changed the way we were going into the half. We were definitely down at that point."

CHANGING HANDS
Lowell would take back the lead in the third quarter lead after Ngaiiva Mason sprinted 44 yards for the 34-28 lead. But Milano avoided the rush on a fourth-and-17 and found Cody Demers in the end zone for the go-ahead touchdown.

Lowell would have several more chances to get points on the board, but the Raiders defense forced Latta into incompletions on nine of his last 10 throws, including an interception by Ryan Doherty to end the game.

CENTRAL CATHOLIC 42, LOWELL 34
Central Cath. (7-1) 20 - 8 - 0 - 14 -42
Lowell (6-2) 7 - 14 - 13 - 0 - 34

CC - Michael Barry 30 pass from Michael Milano ( Thomas Jenoski kick)
LO - Jack Galvin 46 pass from Cam Latta (Zach Noel kick)
CC - Milano 1 run (Jenoski kick)
CC - Cody Demers 25 pass from Milano (kick failed)
LO -Galvin 34 pass from Latta (Noel kick)
LO - Alex Kasirye 25 pass from Latta (Noel kick)
CC -D'andre Drummond-Mayire 45 INT return
LO - Kasirye 67 pass from Latta (Noel kick blocked)
LO - Ngaiiva Mason 44 run (Noel kick)
CC - Demers 34 pass from Milano (Jenoski kick)
CC - Santino Brancato 34 run (Jenoski kick)
October, 26, 2012
10/26/12
1:04
AM ET
NO. 23 CENTRAL CATHOLIC (6-1) AT LOWELL (6-1)
The Skinny: Both teams enter with a 1-0 MVC record, coming off their first league games last week. Lowell rolled over Billerica 56-34 while Central Catholic slipped past Chelmsford 28-21. Cam Latta has picked up where R.J. Noel left off at quarterback this year for Lowell at quarterback, throwing for 12 touchdowns and running for seven more. Central Catholic running back Santino Brancato leads the Raiders with eight touchdowns on the season, none bigger than his final score last week with 41 seconds remaining which was the game-winner over Chelmsford.

Scott Barboza: This will be high-scoring, but relatively tame by MVC standards. Central, 34-28.

Brendan Hall: Because Lowell can score in bunches, and because it's the MVC, take the over. Central Catholic, 38-31.

NO. 13 ANDOVER (7-0) AT CHELMSFORD (4-3)
The Skinny: After a hot start, Chelmsford is trying to snap a three-game losing streak and risk falling behind in the competitive Merrimack Valley Conference's large division. They'll have their hands full against one of the state's most prolific offenses, averaging nearly 400 yards and 39 points per game, between quarterback C.J. Scarpa and receivers Andrew Deloury, Will Heikkinen and Cam Farnham.

Barboza: I think the Lions will try to play ball control for a while, but that can only last so long against the high-octane Andover offense. Andover, 42-31.

Hall: Do you see a recurring theme with our MVC picks? Offense, offense, offense. Andover, 40-35.

LINCOLN-SUDBURY (6-1) AT WESTFORD (6-1)
The Skinny: Like several other key league matchups this weekend, this matchup can potentially put one team in the driver's seat for the Dual County Large title. It's no secret what L-S brings to the table, but workhorse Chris Giorgio is among the league's toughest running backs. Westford counters with jack-of-all-trades athlete Justin Mount, who fills multiple roles on both sides of the ball.

Barboza: Picked the Warriors to win the DCL Large in the preseason and I'm not about to step back now. But the Warriors get it done by a chin. L-S, 14-13.

Hall: Flip a coin in this one. I landed on the Ghosts. Westford, 24-17.

NO. 9 BROCKTON (4-3) AT NO. 14 LEOMINSTER (5-2)
The Skinny: Each of these teams received a boost in different ways last week. The Boxers saw the return of their starting quarterback and emotional leader Auggie Roberts in a drubbing of Big Three rival Durfee. Meanwhile, a Blue Devils offense that has had its troubles in recent weeks, shook off the rust to muster a gut-check, two-minute drive to pull out a last-second victory at Central Mass. rival St. John's of Shrewsbury, led by quarterback Garrett DelleChiaie. Now, both teams meet in a non-league, late-season measuring stick game to see just how far these offenses have come. Not to mention, both teams can really lay the lumber on defense.

Barboza: Blue Devils ride the wave of momentum. Leominster, 28-20.

Hall: It won't be a shutout, but it won't be as shocking an upset when the Blue Devils take two straight for the first time in...help, anyone? Leominster, 21-14.

HINGHAM (6-1) AT NO. 6 DUXBURY (7-0)
The Skinny: An eagerly awaited battle for the inside edge at the Patriot League Keenan division title, the competition should be as fierce at the tailgate as it will be on the field when the Dragons put their Eastern Mass. best 33-game winning streak on the line. A stout Duxbury defense, led by Mr. Football Award challenger Marshall McCarthy will have its hands full with the Harbormen's wing-T and backfield led by Ricky Sullivan.

Barboza: The Dragons run their streak to 34 games, but it won't be without difficulty. Duxbury, 13-7.

Hall: As usual, the Dragons will pull something together in the second half and do just enough to win. Duxbury, 20-17.

NEEDHAM (5-2) AT NO. 10 NATICK (7-0)
The Skinny: After a solid start to the season, Needham is now looking to avoid a two-game losing skid and dropping three of its last five. What better an opponent to try to snap the skid than against one of the state's prolific offenses, led by quarterback Troy Flutie (1,477 passing yards, 19 TD, 4 INT; 555 rushing yards, 7 TD) and receiver Brian Dunlap (41 catches, 784 yards, 11 TD). Needham is also coming off a 31-0 shutout loss to a Walpole squad that was missing its top running back to injury.

Barboza: No chance the Red Hawks aren't undefeated setting up a winner-take-all against Walpole. Can't wait. Natick, 31-17.

Hall: Every time we predict a high-scoring affair involving a Bay State team, it never goes as planned. So I'm going with something fairly pedestrian. Natick, 21-12.

NO. 19 MANSFIELD (5-2) AT NORTH ATTLEBOROUGH (4-3)
The Skinny: The Red Rocketeers will need a win to keep pace with Mansfield (2-0) in the Kelley-Rex division race. The X-factor will be the availability of senior running back and defensive back Alex Jette. While it's expected Jette will play, the extent to which he'll be able to contribute is very much up in the air. Still, North is readily able to move the ball on the ground thanks to a physical offensive line anchored by left tackle Eric Beckwith. Mansfield got off to a great start in last week's blowout of King Philip and the Red Rocketeers' secondary will have its hands full with playmakers Brendan Hill and Mike Hershman. The Hornets have seen junior linebacker Alexander Ruddy (team-leading 55 tackles, 8 TFL) embrace a larger role this year.

Barboza: In each of the team's last four meetings, the AWAY team has collected the victory. Not about to buck the recent trend. Mansfield, 26-21.

Hall: Per tradition, the away team wins this one with an epic possession in the final five minutes. Mansfield, 20-13.

NO. 22 KING PHILIP (6-1) AT ATTLEBORO (4-3)
The Skinny: King Philip was soundly delivered a rude awakening a week ago at Mansfield, in a 46-33 loss, and now looks to avoid falling behind in the Hockomock's Kelly-Rex division by extending Attleboro's losing streak. The skid currently stands at three games for the Bombardiers after a 4-0 start, and can't seem to get over the hump -- take, for instance, Malique Clark's nearly 300-yard rushing performance in a 44-41 loss to Franklin last week. An Attleboro win would surely create even more confusion at the top of the division.

Barboza: Warriors defense gets back on track, but it won't be easy against Clark. KP, 21-14.

Hall: I'm all for chaos when it comes to Hockomock bracketology. Get out your TI-83's, folks. Attleboro, 30-20.

WAKEFIELD (6-1) AT STONEHAM (7-0)
The Skinny: It's been a long time since Stoneham has had this good of a start, but the Spartans still face questions about a perceived weak schedule. This is their chance to prove doubters wrong, with defensively-sound Wakefield coming off a 33-0 shutout loss to Burlington.

Barboza: In a word, "SPARRRTAAAHHHHHH!" Stoneham, 20-16.

Hall: Because what the heck, I love rolling the dice, and I want to keep my boss and resident Stoneham-ite Dave Lefort happy. Stoneham, 17-13.

MILTON ACADEMY (3-2) AT BELMONT HILL (3-2)
The Skinny: The Mustangs and Hillies are looking to break free from a logjam of 3-2 teams in the middle of the ISL standings. Milton Academy is led by junior Drew Jacobs, who already has four multi-touchdown games this season. The Mustangs also have one of the biggest offensive weapons in the ISL on the foot of place kicker Justin Yoon.

Barboza: Yoon's foot provides the difference. Milton Academy, 13-10.

Hall: Let me preface this by saying Justin Yoon can kick for anyone any day of the week. Belmont Hill, 14-10.

ROXBURY LATIN (4-1) AT BB&N (3-2)
The Skinny: Its hopes of an undefeated season no more, Roxbury Latin looks to get back on the saddle and stay in contention for the ISL championship and a NEPSAC Bowl berth. A win here over the Knights, with its solid line and elite target in Wake Forest-bound tight end Brendan O'Neil, would bolster those odds. And the Foxes have the horses to do it, led by Boston College-bound quarterback MacKay Lowrie.

Barboza: Knights can take advantage of the matchup along the line of scrimmage. They'll win the point of attack battle. BB&N, 28-27.

Hall: I'll never count out a John Papas-coached team as long as the guy is in the business, but Latin can win track meets. Roxbury Latin, 35-30.
June, 13, 2012
6/13/12
2:11
AM ET
By
Brendan Hall
| ESPNBoston.com



BROCKTON, Mass. -– Simply put, this was a scary situation for Xaverian lefty Mark Stefaniak to launch himself into. Or to be more polite, one that demanded gumption.

Clinging to a 3-2 lead in the top of the seventh inning, under the lights at Campanelli Stadium, and with the meat of one of the state's most feared lineups coming up, the senior came in to relieve Fairfield-bound lefty Tim Duggan. He promptly let Lowell load the bases up with no outs.

Stefaniak could have cracked after fielding Derek Reed's bunt wildly with a bad relay to first to load the bases. And you couldn't blame him if his heart skipped a beat when cleanup hitter Chad Gens, one of the state's most feared deep-ball hitters, launched a 2-1 fastball over the left field fence -– but about 10 feet into foul territory.

Instead, Stefaniak went fastball again -– "I just thought hey, two strikes for me," he later explained. Gens dunked the ball to third base, and the 5-2 putout at home was made cleanly. And then, an unreal sequence of events unraveled.

Matt Tulley popped up a fly ball to Xaverian second baseman Chris Hoyt. With the infield fly rule in play, Hoyt intentionally bobbled the pop-fly into the shallow infield grass, freezing pinch-runner Ricky Rosado at third with a quick throw to home.

Only, Hoyt's throw sailed about 30 feet above catcher Andrew Elliott (unintentionally, of course), so Rosado gunned it for home after a split-second hesitation. First baseman Mike LaVita was there to cover, however, and Elliott fired from the backstop to make the 4-2-3 inning-ending double play.

And like that, the best threat of the night from Lowell (20-5) had been nullified. Six outs later, Xaverian (17-8) wrapped up its second Division 1 Eastern Mass. title in three years with a 3-2 win.

"We were all extremely fired up after that," Hoyt said. "It was really, I thought, the momentum changer for them and for us. We were talking up real loud. It just changed the game, that whole entire play."

Xaverian head coach Gerry Lambert commended his players for not giving up on the play.

"It's hard to put into words," he said. "You always hope that the guys have the presence of mind to realize something like that's happening. Even as a coach who's into the game and yelling all the time, I don't have the time to communicate that. Guys just have to be able to react.

"You can't practice that play right there, that situation. I'm proud of Mike, Andrew Elliott for getting back to the ball, Chris Hoyt for being able to initiate the play, and it just barely worked out in our favor. We'll take it. It wasn't executed picture-perfect, but we just did enough to get it done."

Hoyt sends 'em home: Years from now, Xaverian faithful are probably going to remember Hoyt's throw to home more than they are the two-run single the inning prior that put the Hawks ahead for good. But it's no less important.

With two outs, and runners on first and second, pinch-hitter Aaron Drummey got hit by a pitch from Cam Latta to load up the bases. Hoyt then shot a 1-0 dribbler through the left side of the infield, just out of reach of the outstretched arms of Gens, to score LaVita and Aidan Desrosiers. Wolfe was caught in a rundown trying to take an extra base during the sequence, but the runs came across before he was tagged out.

Hoyt finished the evening 3 for 5, with 2 RBI, a run and three stolen bases.

"He's the guy we want," Lambert said of Hoyt's two-run single. "I remember when he stepped up with the bases loaded, I thought, you know, if I had to pick anybody on the team…that's the guy. For him to come up the way he did, he's done it for me for three years, and he did it again today. Obviously, that was an enormous single -- not his hardest-hit ball, but we'll take it."

Just Short: The Red Raiders came into this contest having completed one of the most impressive defensive runs in recent memory of the Division 1 tournament. Capped with two superb starts from Tulley, a Virginia Tech signee, the Raiders allowed just two runs in four games.

But on the flip side, they scored just 10 runs in the North sectional, with five of them coming in their semifinal win over Malden.

"The pitching, I couldn't have been happier with," head coach Danny Graham said. "Defense was good. It's just, it would have been a little nice…I said, and my coaches agreed, at some point offense is going to have to win a game for us. Your luck's going to run out."

June, 10, 2012
6/10/12
1:31
AM ET
By
Shawn Myrick
| ESPNBoston.com
LOWELL, Mass. -- A runner in scoring position, one out left in the game and a full count left closer Cam Latta unfazed.
Working the outside edge, the junior caught Tigers' freshman Ben Porter swinging high, pumped his fist, and celebrated an MIAA Division 1 North championship.
Pitching has been the strength for the top-seeded Red Raiders (21-4) all season and was no different in their hometown on Saturday night. Lowell continued its throwing dominance allowing only two runs in its past four games, as they edged No. 22 seed Newton North (14-11) by a 2-1 margin at LeLacheur Park to advance to Tuesday's state semifinals.
[+] Enlarge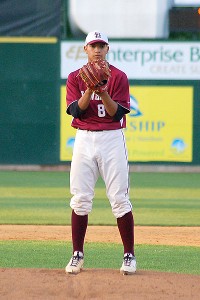 Brendan Hall/ESPNBoston.comVirginia Tech-bound righty Matt Tulley tossed another gem for Lowell, striking out nine and allowing just one run as the Red Raiders won the Division 1 North title.
"To do it in our city was a great thing," said Lowell senior starter Matt Tulley. "It is getting a little late in the season (and) I am a little fatigued now. You just have to bear down."
Tulley tossed seven innings allowing only one score and four knocks with 104 throws, while striking out nine. Latta, gave up zero hits in relief and struck out a pair for the save.
"We have a new pitching coach," said Lowell coach Dan Graham. "(He) looks like a genius now. Tulley threw 129 pitches on Sunday and I told him I only wanted one more inning and that was the seventh."
Lowell pulled ahead in the fourth off a thrown away pitch and a single by senior Andrew Marasa.
A pair of low rips by fellow upperclassmen Derek Reed and Chad Gens put a runner on first and third with one out in the fourth, while a
missed toss to third by Tigers' starter Tommy Clarke slipped Reed home for the first score.
Tulley singled to push Gens to third and Marasa knock a short drive into the outfield to edge Lowell ahead 2-0 at the end of the inning.
"Derek wasn't sleeping there and the ball gets by," said Graham. "Andrew has been swinging the bat really well lately. I have been
tempted to move him up."
Newton North had loaded the bases with one out in the previous half inning, but a pair of strikeouts by Tulley prevented scoring.
A double by sophomore Alex Joyce and a sacrifice outfield pop by junior Ryan Brendan finally broke the shutout with one out in the
first.
"Our strategy is work the pitcher," said Newton North coach Joe Siciliano said. "Foul off until he gives us our pitch. Our kids battled."
Tigers junior centerfielder Dan Swain back stepped to force an out falling over with a runner in scoring position in the six, while Marasa dove to snag a left field knock from senior Roger Roman in the seventh. Clarke chucked 105 pitches for five strikes and eight hits in a complete-game effort.
Newton North, which qualified for the tournament with a 3-1 win against Waltham in its final regular season game, came into the
postseason as the North tournament's second-lowest seed. It had previously rolled off four wins against the top 11 seeded teams.
"The game could have gotten out of hand, but Clarke is a bull," said Siciliano. "The pressure in that game and the kids are still having
fun."
June, 5, 2012
6/05/12
9:46
PM ET
By
Andy Smith
| ESPNBoston.com
LOWELL, Mass. -- For its second straight Division 1 North tournament game, Lowell kept its opponent off the scoreboard entirely.

With strong defense and a complete game by Cam Latta, Lowell advanced to the tournament semi-finals with a 2-0 victory over Malden Catholic Tuesday.

While Latta was not overpowering hitters (7 strikeouts over 9 innings), he relied on the team behind him to take care of the balls in play. This allowed him to work quickly and efficiently throughout the game, while allowing only four hits and stranding 7 MC runners.

Malden Catholic (14-8) led off the second and third innings with doubles, but each time, Latta was able to work around them and not let the runner advance beyond second base.

"I knew my defense would help me behind me, so I just tried to throw as many strikes as possible and not put too many guys on base," he said.

Lowell (19-4) got on the board in the second after having runners on the corners with one out. Dylan Dennis, the MC starter, threw to first to check on Roger Roman. The ball ricocheted off the first baseman's glove and got away from him.

This allowed Andrew Marasa to score from third and for Roman to advance to third.

It's other run came in the fifth on a bases loaded Chad Gens sacrifice fly.

"What's encouraging for me is, I still think we have better days ahead, especially from an offensive standpoint," said Lowell coach Dan Graham. "I think we're capable of doing a better job, and I think we will."

MC's threatened in the third inning when it had runners on first and second with two outs, but Latta was able to induce two flyouts to end any scoring chance MC had.

Sixteen of MC's 27 outs came on fly balls.

Lowell warmed up three pitchers during the eighth and ninth innings, but they weren't needed. He struck out Manny Powers looking to end the game and helped his team move on to the semi-finals.

Under the Radar: Latta's quiet emergence as a reliable starting pitcher gives Lowell more potential arms to throw at teams as the postseason rolls on. While Matt Tulley is the well-publicized ace of the staff, Latta has earned the trust of his coach and his teammates to be put on the mound as the team's No. 2 starter.

"He's a kid that, early in the year, pitched in relief, and pitched in relief a lot," said Graham. "I think like 15 games into the season, the kid had 12 appearances. He was doing so well in relief, we put him into the rotation, then he put three great starts together. Seeing that, with a kid like Matty, I have all the confidence in the world with Cam, against anyone, to give us a shot to win.

"So for him to come out of the bullpen and establish himself in the rotation, to prove everyone right, and to come out and pitch the way he pitched today, is awesome."

After warming up arms in the late innings, it appeared Graham was waiting for the opportune time to make a move. He decided to ride the wave and keep his starter in, even after he approached -- and eventually went over -- 100 pitches.

"That means a lot to me," said Latta. "He believes in me and we're trying to go far in this tournament."

Latta was assisted by MC's tendency to jump on pitches early in the count and try to drive them. In 10 of its 15 at-bats between the third and sixth innings, he had to throw at most two pitches to each hitter. That quick work helped keep the fatigue at a minimum, and helped him go farther in the game.

"It was good because they were first-pitch swinging," he said. "They were getting pop-ups, so they were quick and easy outs."

No tax on the staff: Because Latta and Matt Tulley combined to pitch 17.1 innings for Lowell over the past two games, the rest of the team's arms are available for Thursday, when it is expected to play Malden in the Division 1 North Semi-finals.

R.J. Noel, who pitched two-thirds of an inning Sunday against Westford, has been the only non-starter arm Lowell has used in the state tournament so far.

"Eighteen innings of tournament baseball, we haven't given up a run yet," said Graham. "We've gone to the pen one time, that's it. Our defense has been great. To see the pitching in the first two games be the way it was, you have some arms rested. You have some other kids you can go to. (Cam) was unbelievable today."
October, 7, 2011
10/07/11
11:58
PM ET
By
Andy Smith
| ESPNBoston.com
LOWELL, Mass. -- The Dracut football team found itself down by two touchdowns going into the fourth quarter Friday. It was faced with an arduous task of a 3rd-and-goal from the Lowell 19-yard line.

Dracut quarterback Jimmy Ryan dropped back to pass and surveyed the field. Seeing only a few defenders in the middle of the field, Ryan decided to run for it, figuring it was two-down territory anyway, so picking up even half that yardage would put his team in better position on fourth down.

He ran past one defender and then another, all the way down to the 1. Fourth-and-goal from the 1 was more than manageable. Ryan got up in pain after the play, holding his arm. He had to come out for the next play, preventing Dracut from having its starting quarterback on the field for the biggest play of the game.

Dracut went to a Wildcat-style formation where wide receiver Zach Bassett lined up as quarterback. Someone on the offensive line was called for a false start on the 4th-and-1 play, backing the Middies up five yards.

Now needing a touchdown from six yards away, Dante Torres took over at quarterback for Dracut. He rolled to his right on the fourth down play, but threw an incomplete pass, giving the ball back to Lowell.

The Red Raiders held on for a 35-20 victory.

GETTING IT DONE ON BOTH SIDES
Lowell (4-1) came into the game Friday known as a team that could put up a lot of points on teams, but it was its defense that made big plays in this game. On Dracut's first offensive possession of the game, it was using the running game to attack the defense. It got out to midfield, but running back Leo Lakmany fumbled the ball going down to the ground, which was recovered by Lowell.

In the second quarter, with Dracut (2-3) punting deep in its own territory, Lowell made the decision to go after the punt with a heavy rush and try to block it. R.J. Noel was able to burst through the protection and block it. Cam Latta picked the ball up at the 8-yard line and ran it in for the touchdown.

Later in the quarter, with about a minute to go, Dracut was facing a 3rd-and-22 at midfield. Ryan dropped back and tried to throw, but was intercepted by Nyakeh Koroma. He ran it back all the way to the Dracut 13-yard line. Noel hit Gilberto Brown for a touchdown on the very next play, giving Lowell a 21-8 lead going into halftime.

The defense recovered a Ryan fumble in the last quarter when he dropped back to pass on 4th down. A few plays later, Noel ran a quarterback keeper up the middle 47 yards for a touchdown, making it 35-14.

BOUNCING BACK
The defense was able to get consistent pressure on Ryan throughout the night. It has been a key point of emphasis after giving up 44 points to Nashua South in the team's only loss of the season.

"We said after the Nashua game that we wanted to make a name for the defense," said linebacker Ryan Garrigan. "We came out and just played as hard as we could from the moment the ball was snapped."

"Normally it's just the offense doing their job but hey, we have to do our job. We did a great job today. We had three turnovers, which are huge. They ended up making the game go in our favor."

DOUBLE TROUBLE
This was a game of two teams notorious for their spread offenses and their dual-threat quarterbacks. Noel had 18 carries for 127 yards and a touchdown, while Ryan had 25 carries for 93 yards. Through the air, Noel was 8-of-12 for 96 yards and two touchdowns, while Ryan was 11-of-23 for 142 yards, a touchdown, and an interception.

Garrigan felt that playing against a spread offense like Dracut's so often in practice gave the defense an upper hand when playing a quarterback like Ryan.

"They run the same stuff that we do, they just give it a different name for it," he said. "When we practice it's like the same thing that the offense is going to run against us, so it was nice and easy for us. It was just a matter of who was going to execute better, and we executed better tonight."

Lowell coach John Florence said that facing the speed of a spread offense in practice helped his team immensely for Friday.

"Our ability to go no-huddle matches theirs, it's not something different we have to prepare for, " he said. "It's not just spreading out the field, but it's the speed at which they go."

THE ROAD AHEAD
With the loss, Dracut falls to 2-3 with a difficult three-game stretch ahead of it. In consecutive weeks, they play a scrappy Tewksbury team, Chelmsford, and Andover. It will not be easy for a team hoping to be a prominent player in the Merrimack Valley Conference.

Lowell will take its 4-1 record into games against Central Catholic, Tewksbury, and Billerica.

LOWELL 7 14 7 7 -- 35
DRACUT 0 8 6 6 -- 20

1st quarter
L - Jack Galvin 2-yard pass from RJ Noel (Connor McHugh kick good)

2nd quarter
D - Dante Torres 4-yard pass from Jimmy Ryan (2-pt conversion good- Ryan pass to Jeff Breen)
L - Cam Latta 8-yard punt block return (McHugh kick good)
L - Gilberto Brown 13-yard pass from Noel (McHugh kick good)

3rd quarter
D - Zach Bassett 2-yard run (Jack MacShane kick failed- hit upright)
L - Brown 10-yard pass from Galvin (McHugh kick good)

4th quarter
L - Noel 47-yard run (McHugh kick good)
D - Bassett 2-yard run (kick failed)