Boston High School:

Cam Peritz
January, 18, 2015
Jan 18
12:53
AM ET
By
John McGuirk
| ESPNBoston.com
WEST SPRINGFIELD, Mass. – Maybe it is time of accepting the fact that not all of the state's best high school hockey talent resides within the I-95 corridor.

Saturday afternoon Bishop Hendricken, a top echelon team from Rhode Island, discovered early and often just how lethal a team the Springfield Cathedral can be. The Hawks offered up little resistance and, in the process, were stomped 5-0 at the Olympia.

"That is a very good hockey team that plays unselfish," said Hawks head coach Jim Creamer, who has guided Hendricken to three state titles since taking over in 2002. "They have a lot of skilled kids. Clearly, we are not going to see a better team than them the rest of the year. I would imagine they are going to have a lot of success the rest of the way."

Leading by a goal after the opening period, Cathedral poured in on in the middle stanza, striking for three goals to put this border battle in the bank.

Junior forward Johnny Leonard scored a pair of goals for the Panthers, who improve to 10-0-2. Sophomore goaltender Keith Petruzzelli was hardly tested, stopping all 14 shots he faced to earn the shutout. Petruzzelli, who will play for Quinnipiac University once his high school career is finished, has allowed a paltry eight goals against 391 scoring opportunities this season.

Leonard, who has accepted a scholarship to play for UMass-Amherst, put Cathedral ahead 1-0 after whipping a hard wrist shot past Matt Kenneally in the closing minute of the first. The Panthers would undoubtedly carry the momentum from that goal into the middle frame. Early in the period, with Hawks' defenseman Matt Rickard sitting in the box for tripping, sophomore defenseman Dan Petrick capitalize on the man-advantage opportunity by sending a laser which eluded Kenneally (who entered with a 1.59 goals-against average) just 1:53 in to increase Cathedral's advantage to two goals.

Not since an overtime victory over BC High in late December in the final of the Pete Frates Classic have the Panthers faced formidable competition before Hendricken came calling.

"I thought this was our most-complete game of the year," Cathedral head coach Brian Foley said. "It was good for us to face a team that good and play as well as we did. All four lines played well, our six defensemen played well as well as our goalie. I think these kids feed off of one another shift after shift. I was really happy with our full-game performance.

"Sometimes it is hard with high school kids to get a consistent performance from start to finish. But today, I thought they did a very good job of that. I could sense over the last three weeks that we were improving. We have come a long way in the past couple of weeks and I felt today confirmed that. Hendricken is a high-quality team so this was a solid win by us."

Cam Peritz, a sophomore, added to the Hawks' misery midway through the final period with a hard wrist shot from the right point, accounting for Cathedral's five goal margin of victory.

Throughout the contest, Bishop Hendricken (9-2-0) had much difficulty maneuvering the puck up ice due to a stellar effort from the Panther defense and the forwards who slid back to create havoc for the Hawks once they moved past the red line.

The Panthers, who since New Year's Eve have out-scored the opposition 51-4, continued to press the issue on offense. Surprisingly, they were given space to work the puck around inside the offensive zone. Several minutes after Petrick's tally, Cathedral found the back again after Riley Prattson pushed in a rebound off of Kenneally's stick at 12:48 to make it 3-0.

Two minutes later, Leonard notched his second marker. After taking a pass from Peritz off the boards, the forward skated in alone on Kenneally, beating the senior stick side putting the Panthers in front by four goals after 30 minutes.

"The bottom line is we want to win," said Leonard, who leads the club with 24 goals. "You cannot be selfish if you want to win and need to be able to move the puck. That's what we did today and we were able to score goals off of it. There is great chemistry on this team and we know where each other is on the ice at all times.

"Everyone here is shooting for one goal and that is to win the Super 8. To do that, we have to continue to work hard and push each other during practice. When you do that you end up getting results like today."

Peritz would add to Hendricken's misery midway through the final period after scoring on a wrist shot from the right point thus accounting for Cathedral's five goal margin of victory.

"I thought we came out and mostly stayed with them in the third period," Creamer said. "So little things like that mean a lot for us. In our league (Championship-Cimini Division) we won't see anyone of Cathedral's caliber. So for us to stick with it I feel we can take a little successes out of it. Our kids could've easily rolled over, but didn't, so we take some pride in that."
March, 2, 2014
3/02/14
7:13
PM ET
By
Jeff Cox
| ESPNBoston.com


BOSTON – Springfield Cathedral has had trouble getting over the hump in the first game the past few Super 8 tournaments, but the Panthers had no such problem this year.

The Panthers defeated Duxbury, 4-1, in the first game of the best-of-three series on Sunday afternoon at the TD Garden. It was a closer game than the final score would indicate with two late goals skewing the appearance.

"There are always so many nerves in game one of this tournament," said Cathedral head coach Brian Foley. "We got a game one win and that's something we've been searching for the last couple years. We're happy with the result."

"We played a great game as a team. We came out hard in the beginning," said junior forward Zac Prattson.

Brotherly connection: Springfield Cathedral has three pairs of brothers on its team and one of those pairs came up with the first two Panthers goals.

Zac Prattson, the older of the two Prattson brothers, scored the game's first goal on a shorthanded bid at the 2:36 mark of the opening period. Holy Cross commit Peter Crinella broke up a pass in the neutral zone and led Prattson who took a step inside the blue line before taking a slap shot on goal that found the five-hole.

"I was busting down the side and saw a shot opportunity. I just threw it on net and slipped it five-hole," said Zac Prattson.

After Duxbury had tied the score in the second period, younger brother Riley helped Cathedral regain the lead for good. Just after a power play had expired, Riley Prattson found himself alone on the right side. UMass recruit John Leonard sauced the puck over a Duxbury defender's stick to Prattson who took a step in before raising the puck past Duxbury goaltender Tucker Kelly.

"[Riley] always steps up to the challenge. He played really well today," Zac Prattson said of his brother's play.

"They're great," Foley said. "Zac got the first goal for us, which was huge. He's a captain and a leader. He's more of a lunch pale, blue-collar type guy where his brother Riley is more of a skill guy. I was happy to see them both score."

The other two sets of brothers are Bryce and Cam Peritz and D.J. and Keith Petruzzelli.

Goaltending controversy: Springfield Cathedral has the luxury of having two very good goaltenders. Freshman and Quinnipiac commit Keith Petruzzelli got the nod in goal Sunday. He made several very nice stops, including a flurry in the second period where he stuck his toe out for a nice kick save.

"Keith was 5-0 as a starter coming into today," said Foley of his freshman. "He's now 6-0 on his young career. He stepped up today and played really well for us."

"Game two is up in the air. I can't tell you that one yet," said Foley when asked who his game two starter would be. "[Senior] John Liquori is a great goalie and they both had a great week of practice. You talk about competition. To see how they competed this week was really good."

"I wouldn't be surprised if Johnny [Liquori] takes game two," added Foley.

Power forward: Crinella, a junior captain, might not be the fastest player on the ice, but his physical presence along with his heavy shot make him one of the most dangerous players with the puck in high school hockey.

His third period tally put the game out of reach when he once again used his body to fend off a Duxbury defender after having received a home run pass from defenseman Matt Cieboter.

He shot the puck high and wide on a power play attempt in the second period after he was left alone in the slot, but it was the type of play that shows his ability to make space and create havoc for the opposition.

Youth is served: Springfield Cathedral is without a doubt the youngest team in the tournament. Foley's team dresses just one senior and he doesn't play when Petruzzelli occupies the crease.

The starting lineup consisted of four freshmen and two juniors, and many more young players, including eighth grader Devon Tongue, see significant ice time.

"You never know how your kids are going to come out," Foley said. "I thought we played a little nervous early on, but as the game moved along we had some good moments.

"We talked about being here before and not accomplishing our goal. That was a big thing before the game. We just wanted to play a solid hockey game and block out where we are."

Dragons see some positives: Despite losing 4-1, Duxbury head coach John Blake felt there were several positives to take away from Sunday's Super 8 opener.

"I think our guys have a sense of confidence that we can play with these guys going into Thursday now," Blake said. "We were in the game late, but we'll need to get it going right away."

The Dragons might have needed a period to get their legs under them and let the magnitude of the game sink in, but a whole different team took the ice for the second stanza.

"I thought the first period, whether it was nerves a little bit, we were off as a team," said Duxbury head coach John Blake.

Dragons senior forward Matt Saia scored his ninth goal of the season just 48 seconds into the second period on a nice individual effort. He stole the puck away from a Cathedral defender and beat him off the boards before roofing a shot over Petruzzelli's blocker.

Duxbury will need to be focused right from the get-go and concentrate on some of the minor details of the game in order to be more successful in game two.

"I think it's got to be a full 45-minute effort on Thursday. We've got to play mistake free hockey in order to beat Springfield. We made a few mistakes and they made us pay," said Duxbury head coach John Blake.

The two teams will meet again in the second game of the best-of-three series on Thursday night at 6 p.m. at the Tsongas Center on the campus of UMass-Lowell.
January, 29, 2014
1/29/14
12:23
AM ET
By
John McGuirk
| ESPNBoston.com
TEWKSBURY, Mass. -- During this past week, Austin Prep has been living life on the edge. If you think that is something the Cougars are rejoicing in, think again.

For the second time in as many games, No. 3 Austin Prep needed to crawl out from under the weight of a two-goal deficit, this time salvaging a 3-3 tie against No. 7 Springfield Cathedral Tuesday night at Breakaway Ice Center.

On Saturday night, the Cougars were held scoreless during the first 30 minutes before storming back with three third period goals to slip by Arlington Catholic. Austin Prep head coach Louis Finocchiaro realizes his club is playing with fire right now, and falling behind early, especially come playoff time, is something that needs to be fixed rather quickly.

"It's going to catch up to us eventually and we all know that," said Finocchiaro, his team standing at 8-2-3. "Obviously I'm proud of the kids and the character they've showed in that we don't quit.

"But we cannot keep spotting teams two-goal leads like this. It's something that we need to keep on talking about and we have to learn to fight through it fast. We know how to play coming from behind but I want us to learn how to play with a lead."

Austin Prep trailed by a pair until late in the second period. That is when junior forward Bobo Carpenter, at 11:14, beat Panther goaltender John Liquori (18 saves) with a quick wrist shot to get the Cougars on the board.

"Our motto is to keep on working hard all the time," Carpenter said. "That's the only thing we can control so that is what we want to work off of every game. Coming back like this shows how great a team we can be when we want to be. Our next goal in what all of us believe is we need to come ready to play in the first period and keep it going from there."

But just 1:12 into the final frame, sophomore Johnny Leonard netted his second goal of the evening after blistering down the left lane and beating Cougar goalie Elijah Harris glove side, giving the Panthers back their two-goal margin. Leonard's two goals now gives him 18 on the season and ties him with Peter Crinella for the team lead.

But as they did against Arlington Catholic three days earlier, Austin Prep never showed panic. The Cougars stuck with their method of cycling the puck inside the Cathedral zone and putting as many shots possible on Liquori. With nearly a full period remaining, Austin Prep's objective was to create traffic in front of the senior netminder in the hopes of picking up a loose rebound.

The strategy came to fruition after Liquori could not snag a shot with his catching glove. As the puck rolled out to the crease, Dan O'Toole pushed it into the net at 5:20 to make it a 3-2 contest.

Although the Panthers got caught puck watching, they too, kept constant pressure inside the Cougar zone. But Harris was able to turn aside all 10 shots he faced in the frame to keep his team in it.

Only a minute after O'Toole's score, Cougar center Cam Russo forced a takeaway just inside the Austin Prep blue line. The junior then found Ryan McDonough open in the lane and delivered a perfect lead pass. McDonough did the rest, beating Liquori with a backhander to deadlock this tilt.

"There were some coverage breakdowns in the defensive zone," Cathedral head coach Brian Foley said. "We've got to do a better job on the defensive side of the puck. We played good and didn't make a ton of mistakes but when we did they capitalized. All we can do now is keep working. I like this team and the way they are working. I think we'll continue to get better and I think we'll be a very good team by the end of February."

Cathedral (10-2-3) grabbed the opening period lead after Devan Tongue put in his own rebound from the short side at 4:15. The score stayed that way until the early moments of the second. With Austin Prep's J.J. Layton in the box for cross checking, the Panthers' line of Leonard, Zac Prattson and Cam Peritz played tic-tac-toe with the puck in front of Harris (27 stops), before Leonard finished it off by roofing a shot over Harris' glove, extending the lead to 3-1.

"Springfield is a very good team,'' Finocchiaro said. "They are very patient with the puck and never seem to panic. They were much-better defensively than I first thought as well."

Following Leonard's second tally, Cathedral's offense went stone cold silent from that point. Much of that had to do with the Cougar's tight defense and the play of Harris. While this was taking place, the Cougars finally decided to awaken their offense, enough so, to grab a point in this one.

"It all begins in the net and Elijah made some very nice saves for us tonight at crucial times," Finocchiaro said. "We knew Springfield is an explosive team with some very quick forwards so credit Elijah [Harris] in how he played them."
January, 19, 2014
1/19/14
12:06
AM ET
By
John McGuirk
| ESPNBoston.com
WEST SPRINGFIELD, Mass. -- If somehow Springfield Cathedral can find a way to bottle up its performance during the first two periods of Saturday's matinee match-up against Mount St. Charles Academy, then the Panthers could punch their ticket for a trip to the Super 8 tournament in March.

No. 8 Cathedral put on a virtual clinic for most of the opening 30 minutes of this tilt, building a 5-goal lead before settling for a 6-2 victory at the Olympia Ice Center.

"I think we're playing pretty good right now," said Panthers head coach Brian Foley, after his team improved to 9-2-1. "Mount is a very good team and came out with a lot of energy at the beginning. They out-shot us 6-0 to start the game before we kind of got it together. It was nice to have a 5-0 lead after two periods.

"Our kids are doing a good job finishing opportunities. Overall, we played a pretty-solid game today."

Cathedral did a lot of the little things right in this one. They won many of the small battles up and down the ice and took control of the larger ones as well. They were able to imposed an aggressive style by pressuring the Mounties defense into making countless ill-advised passes up the ice to their forwards. Once MSC was able to clear its own blue line, they ran into a bevy of trouble as the Panthers were waiting for them at mid-ice and beyond, forcing them off of their projected paths towards the net.

Although the Mounties were able to send 10 shots in goaltender Keith Petruzzelli's direction during the opening frame, most came from the perimeter. Petruzzelli, a freshman, got the nod over senior John Liquori, who surrendered three goals in a loss to Central Catholic on Wednesday.

The move may have surprised some people, considering the strength of MSC's offense. However, Foley was quick dismissed any notions of a goaltender controversy brewing.

"This is Keith's second start of the year," Foley said. "We have two very good goalies which I consider to be a luxury. We are going to keep playing both of them and try to find the right combination. For a coach, it really is a luxury knowing you have two goalies that you are completely comfortable with."

Keith Petruzzelli, along with his brother D.J., has already given a verbal commitment to play for Quinnipiac University once their high school careers are over.

D.J. Petruzzelli was equally instrumental in this victory, recording a natural hat trick.

The Mounties (9-5), who played just 18 hours earlier, beating Coventry and then having to endure a two-hour bus ride here, showed no signs of fatigue at the start. They dictated the offensive tempo from the opening face off and move the puck around the Cathedral zone with relative ease for the first four minutes. But Petruzzelli (26 saves) was able to survive the early onslaught before Cathedral started to find its legs.

Following the MSC flurry, the Panthers, sticking with their effective on-the-mark passing and speed skills, began to find gaps within the Mounties defense. They were able to create space in the neutral zone and continue to keep distance once inside Mountie territory. At 8:57 of the opening period, Cathedral capitalized on its efforts. Johnny Leonard, a sophomore, sent a cross-ice feed from the right circle over to Cam Peritz. The freshman was able to get a step ahead of the defense and flipped a shot past Brian Larence for a 1-0 lead.

Larence has been a valuable commodity in MSC's arsenal. The senior had posted three shutouts in his last four games coming in. On this day however, he wasn't as fortunate, stopping 23 of 29 shots.

"We gave up way to many odd-man rushes today," said Mounties assistant head coach David Belisle. "It seemed like it was happening on nearly every shift. I think we were over-anxious at times. Our concentration, especially in the second period, was awful."

Despite the change in momentum that Cathedral enjoyed over the final 10 minutes of the first period, putting up 13 shots, it appeared as though MSC would only be down by a goal heading into the first intermission.

But with just 3 seconds remaining, Leonard was left unattended on the short side of the net and beat Larence with a hard wrist shot under his catching glove, giving his team a two-goal lead.

"We were kind of scrambling around during the second half of the first period," Belisle said. "Giving up that goal late got [them] in their game and got us way off of our game."

The Panthers carried their opening period resurgence into the middle frame. In spite playing a man down, it didn't seem to matter. Leonard chalked up his second goal (No. 14 this season) at 6:45 by finishing off a 2-on-1 break, firing a shot just under Larence's glove to make it 3-0.

Four minutes later, it was D.J. Petruzzelli's time to shine. Another turnover resulted in a hard rush down ice for Cathedral's top line. Forward Peter Crinella started things before handing the puck over to Leonard, who then found Petruzzelli in front of the crease. The junior finished off the drive by stuffing a shot between Larence's leg pads for a four-goal advantage.

Petruzzelli was not finished. With under a minute remaining in the period, another odd-man rush by the Panthers set the stage for his second goal and a 5-0 lead.

"I think we had a top-to-bottom team effort today," said D.J. Petruzzelli. "All of our lines jumped in and played well. Keith played really well in net and I think we just kept pouring it on. All in all it was a good team effort."

MSC opened the final period with a concentrated effort of shoring up its patented 1-2-2 zone in the hopes of slowing down the Panthers. For the most part, it seemed to work as Cathedral was now finding things a bit more difficult in its attempts to work the puck inside the Mounties' zone. In turn, that finally opened things up for MSC's offense. Within a span of 20 seconds, the Mounties found the back of the net twice on goals by Devin Votta (team-high 13) and Patrick Holmes, cutting the deficit to 5-2.

But the hole MSC dug for itself was too deep to crawl out of. With less than two minutes to go, Petruzelli notched his third tally after ripping a shot from the right point, which sailed past Larence, putting an end to any comeback hopes by the Mounties.

"The good thing we can take out of this moving forward is we can't win many games against good teams like this by giving up that many odd-man rushes," Belilse said. "I think we'll be alright. We try to play our best hockey in February and that is the hope again for us this year."
January, 16, 2014
1/16/14
3:25
AM ET
LAWRENCE, Mass. – Central Catholic senior forward Lloyd Hayes emerged from the room, hobbled but no worse for the wear. With a large ice pack strapped around his right shoulder, the Raiders' veteran has been in these kinds of spots before.
No. 5 Central played a nearly flawless game through a period-and-a-half, only to watch a three-goal lead evaporate midway through the third period against No. 8 Springfield Cathedral.
That's when Mr. Reliable came through again.
Not even a bad wing could prevent Hayes from netting the game-winning goal with less than two minutes to play, before adding a second with an empty-netter, while leading the Raiders to 5-3 win in a duel of Super 8 hopefuls at Valley Forum.
"How he carries himself is a true testament to how we came back and it's fitting that he got that goal," Central head coach Mike Jankowski said of Hayes. "We could have created a little distance early on, but we couldn't finish. But that's a great team we let come back. They made some plays, capitalized on the power play and got us on our heels a little bit."
[+] Enlarge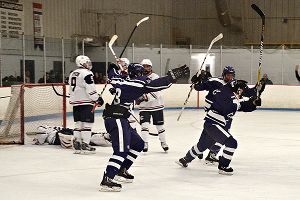 Scott Barboza/ESPNBoston.comCathedral erased a 3-goal deficit behind the first career hat trick from freshman winger Riley Prattson before Central Catholic pulled away for a 5-3 win.
In a matchup of two of the state's best top lines, Cathedral freshman Riley Prattson shone brightest.
Playing alongside the state's top two scorers entering action – in Division 1 commits Peter Crinella and D.J. Petruzzelli – Prattson almost single-handedly pulled the Panthers out of a 3-0 hole, scoring three straight goals for his first career hat trick.
Cathedral (8-2-1) controlled early play, however, Central (8-1-1) took a 2-0 lead to the room at the first intermission. Eric Robbins buried Richie Greenberg's feed for Central's first goal at 5:26, before Alex Lester was the beneficiary of some precision passing from David Sheehan and Corey Webber with 2:05 remaining.
The Raiders extended the lead to three in the second period, when Christian Thompson snuck down the wing and put one short-side with assists from Cam Smith and Zack Cote at 2:29.
It was at that time Panthers head coach Brian Foley made a goaltending change, lifting starter John Liquori for freshman Keith Petruzzelli.
"You're just trying to change the momentum," Foley said. "It's not that John was to blame for any of the goals, but I think Keith came in and did a good job."
The move seemed to lift Cathedral, as the Panthers struck for their first of two power-play goals on the evening with 8:27 remaining in the second.
The onslaught from Prattson continued into the third period. He scored his second at 5:46 with an assist from Crinella, before striking again on the man-advantage with 7:23 to play. Crinella picked up his second point of the game with the assist.
"We had Zack [Prattson] there originally," Foley said of his top line, "but we then put Riley there because we wanted Zack's size on the second line. The three of those guys, Peter, D.J. and Riley, every night someone else is scoring the goals. And then, Johnny Leonard, Cam Peritz and Zack are scoring goals. Then, our third line recently started scoring goals."
But even when it appeared Cathedral had momentum squarely on its side, Central came with the counterpunch – that being Hayes.
"We're the type of team that we just keep at it and keep pushing," Hayes added.
Hayes did just that, intercepting a Panthers' clearing attempt out of their own end and pushing it past Keith Petruzzelli with 1:54 to play. He then added the empty-netter with 38 seconds remaining.
Cracking the code:
Both teams can play an aggressive style at times, and with a Cathedral forward frequently hanging high on the Raiders' blue line, pressure was constantly being applied on Central's defensive corps.
Of course, with a returning All-State goaltender in Colin Soucy (30 saves) returning, that pressure has been somewhat alleviated this season, but Central did well to shut out Cathedral's second and third lines in a deep and talented forward crop.
"We lost [Nick] Gorski and [Derek] Vaillancourt from last year, but we had a lot of kids that worked hard in the offseason and we're working well together," Soucy said of Central blue-liners. "Our shots on goal against is actually down from last year, surprisingly. I thought I was going to see more shots, but everyone's doing their job."
Yet, even if the opposition is able to circumnavigate the Raiders' defense, there's also the matter of beating the netminder.
"Colin's a good goalie and I thought he played great," Foley said. "We weren't scoring on the first shot, so we needed to create second and third chances, but he did a good job all game of controlling the puck and not giving us those chances. But the kids kept working hard and they were rewarded with a couple power play goals."
The road ahead:
While neither coach was looking too far down the road, it wouldn't be a surprise at all to see the two teams meet at some point in the Super 8 tournament.
In a moment of candor, following his team's dramatic win, Jankowski assessed where his group is at, both in the season and in the greater picture of building Central's program to that of a statewide power.
"We've enjoyed playing that darkhorse, it's been our baby," he said. "But now I think it's finally time where we've had these guys like Lloyd [Hayes], [Zack] Cote, [Alex] Lester, [Conrad Jepson] and Colin [Soucy], and now it's time that they're main guys. They've proven that they deserve the attention and the limelight and the accolades that comes with being a top team."
December, 28, 2013
12/28/13
4:28
AM ET
By
Phil Garceau
| ESPNBoston.com
HYANNIS, Mass. – Less than a week removed from a tough loss to Archbishop Williams, Springfield Cathedral showed they still belong amongst the elite.

The No. 8 Panthers turned in a complete game effort in the 6-0 win, dominating 22nd-ranked Braintree in the opening round of the Cape Cod Freeze Out.

The path doesn't get any easier as Cathedral gets their third ranked opponent in as many games when they play No. 19 Barnstable Saturday evening in the championship game.

"The kids were pretty upset after losing the game on Saturday and I had a feeling they would be really hungry today and they came out strong and played well for three periods," Cathedral coach Brian Foley said of his team following the game.

Cathedral jumped out to a 2-0 lead in the first period on goals from D.J. Petruzzelli and Cam Peritz but it wasn't until the second period that the Panthers found out everything was going to go their way.

Less than four minutes into the period, Cathedral went on the penalty kill and withstood a brief attack from the Wamps.

The Panthers then countered and set up offense in the attacking zone, and 3:44 into the period Cam Griffin put his team up 3-0 when he ripped a shot from the point and tallied a goal for the shorthanded column.

Riley Prattson added a goal with 4:19 in the second and Johnny Leonard put home a beautifully set up puck from Prattson on a power play with 55 seconds left in the period as the Panthers skated back to their locker room with a 5-0 lead.

"No excuses we just didn't answer the bell," said Braintree coach Dave Fasano. "We were coming off a big win against St. Mary's and right from the get go we were flat. We made too many mistakes against a good team. And when you make mistakes they are going to capitalize and they did."

Peter Crinella added to his team-high 12 points with an unassisted goal a little over a minute into the third period when he beat new goalie David McDonough high to his glove side.

Dual-threat: Cathedral went into the game with Braintree with the game plan of letting both of their goalies play for half the game. Senior John Liquori got the start and Keith Petruzzelli took over with 6:59 left in the second period.

The result? A combined shutout between the two. While a strong Panther fore-check neutralized any sort of Braintree attack, the two made the saves when they needed to.

"They're both good goalies and we try to find a way to get them both in," said Foley. "We decided before the game to split them and see how that works and it worked well today so we might roll with that for a bit."

Looking ahead: For Braintree, they'll get things started with a game against Newburyport at 3 p.m. Friday night's game is something that would like to forget about quickly. Luckily for Wamps, they don't have a lot of time to dwell on this loss as get thrown right back into the fire.

Newburyport is also coming off a 6-0 shutout loss but Braintree will be looking to prove that they still belong in the Top 25 rankings.

"I thought we battled hard in the third period but the game was in hand at that point," said Fassano. "We need to go home, get rested and be ready to take the ice tomorrow. We can't have our heads down sulking and I think we'll answer the bell tomorrow."

As for Cathedral, they will have their hands full with the Red Raiders. The Barnstable forwards can score and their goaltending situation is concrete.

"Hopefully, we can put together another complete game. It's going to be a tough opponent," said Foley.
January, 21, 2013
1/21/13
9:02
PM ET


WORCESTER, Mass. -- It was one of those kinds of periods of hockey.

After spotting three goals to No. 1 Springfield Cathedral in the second period of Monday's holiday matinee at Holy Cross's Hart Center, Central Catholic head coach Mike Jankowski had some choice words for his team at intermission.

As to what those words were? Jankowski referenced the Constitution and one of Dave Chappelle's finest sketches.

"I should plead the Fifth to that one," Jankowski said coyly.

Whatever coach communicated to his team was taken to heart, as the Raiders erased a 3-1 deficit to come back and tie the Panthers, 3-3.

After falling behind 1-0 after one, Cathedral (9-0-2) mounted a three-goal outburst in the second, thanks to a two-goal effort from freshman forward Johnny Leonard.

However, No. 9 Central (8-2-2) reemerged from the room a different team. Mike Kelleher scored just eight seconds into the third to make it a one-goal game and Lloyd Hayes netted the equalizer with 6:20 remaining in the game.

"We knew we had to start the third pretty strong because we all know Springfield Cathedral's a good team," Raiders senior defenseman and captain Nick Gorski said. "We wanted to start strong, pound the net, get shots and battle for rebounds."

Central climbed to an early lead at 2:40 of the first, with Alex Lester's goal, assisted by Zach Cote.

The Panthers responded with a string of three straight goals in the second, started by Leonard's first at 1:14. Peter Crinella scored Cathedral's third goal of the period at 11:58, with assists from Cam Peritz and Artie Potter.

"They were all over us in the first period, even though we played well," Panthers head coach Brian Foley said. "But the second period we just skated. We didn't compete too well in the first period, but in the second period we picked it up. We started moving our feet, with or without the puck. We started getting shots on the net and crashing the net."

Central responded in the third, playing with the confidence gained from Kelleher's early goal. The Raiders blue-liners got into the action, jumping up into the play, while their forwards began dominating down low and looking to generate opportunities funneled back into the slot.

"We definitely felt like we could control the action down low," Jankowski said, "and I think we made the adjustments with the defenseman to be a little bit more aggressive and play a little bit more offensively."

FROSH OUT OF THE BOX
Leonard, with his two-goal game, increased his standing among the Panthers' top scorers, building his season goal total to 10.

Foley said he was expecting big things from the "natural goal-scorer," but was surprised by his impact this quickly.

"He's been great for us. He had two today and now he has 10 on the season. That's great production for a freshman at this level. He's got a lot of poise with the puck … He's playing great and he's building confidence."

MIND THE GAP
The Raiders agreed that they allowed Cathedral too easy an entry into their zone during the second period and, conversely, the Panthers put too many pucks in the back of their net.

"We knew we need to shorten our gap," Gorski said.

That issue was addressed at intermission and Central responded with a much tighter effort in the third, when they held Cathedral to five shots on goal.

Gorski was part of the equation, meeting several Panthers forwards with body checks while trying to come over the blue line.

While stepping up on defense, the Raiders' blue-liners were also able to move into the rush, creating several high quality scoring chances in transition during the third.

Much of that, as well, was due to the Raiders' captain.

"He sees the ice so well, both offensively and defensively," Jankowski said of Gorski. "He's a two-way defenseman. He's a kid that started from JV from freshman year, and he's just an unbelievable story. He's gotten better and better, year to year."
December, 27, 2012
12/27/12
4:47
AM ET


HYANNIS, Mass. – Matt Foley thinks there's no better feeling in the road than being in a hostile rink, game placed on the blade of his stick.

"You can't play in a better atmosphere than on the road," the Springfield Cathedral senior defenseman and preseason ESPN Boston All-Stater said.

With his shootout goal in Panthers' first-round game in the Cape Cod Freeze Out against host Barnstable, Foley was able to silence an otherwise rowdy barn.

No. 5 Cathedral, although dropping their first point of the season in a 3-3 tie with the Red Raiders, won the shootout 3-2 on Foley's game-clincher to advance to Thursday's tournament championship game against Newburyport.

The shootout goal was Foley's second of the evening, having knotted the score 2-2 late in the second period.

Barnstable (2-0-2) came back to grab a point from the contest as junior winger Connor Fries netted his second goal of the game at 9:53 of the third period.

The teams skated to a scoreless overtime period before heading to the shootout. Then, Barnstable and Cathedral volleyed goals back and forth through two rounds before Panthers goaltender Adam Mercer (who replaced starter John Liquori in the shootout) made the first and only stop of the shootout session. Foley then ended it with a pretty back-handed finish.

Eighth-grader Cam Peritz had the Panthers (3-0-1) to a 1-0 lead just 2:28 into the game on Artie Potter's set up from the wing.

Barnstable countered with Fries potting his first of the game, coming on a partial break. Working the left wing boards, Red Raiders leading scorer Max Willman lofted a perfect pass through the neutral zone, settling near the Panthers' blue line on the tape of Fries' stick. Fries took care of the rest with a deke and a back-hander past Liquori.

The Red Raiders then took a 2-1 lead just before the first intermission with Christian Holmes banking in a shot from the right-wing boards near the goal line.

Cathedral pulled even on Foley's goal in the second before netting the go-ahead with Dominic Blad's wrister at 2:54 of the third, with assists from Johnny Leonard and Jack Williams.

STACKING UP
With a talented returning group this season, Barnstable head coach Scott Nickerson has bulked up the Red Raiders' schedule with some of the state's top programs.

Considering his team's performance in their first "Super 8" challenge of the season, Barnstable could be primed to make some noise this postseason.

"They're a perennial powerhouse as far as I'm concerned," Nickerson said of Cathedral. "We've had good years in the past, but we haven't had the schedule too often. So we've loaded up our schedule and try to get games like this every night. I think it can only make us stronger. I thought it was a very good showing for us."

Of course, a big part of any Red Raiders run this season will be galvanized by a talented troika on their top line.

Fries and his two-goal game is just the latest cog in Barnstable's top group to rack up the goals. Willman (2 A) has come out of the gates charging with nine goals scored in the Red Raiders' last three games. Senior Eric Rogorzenski centers the line and is an adept passer with good vision.

"I think our top line is as good as any line that we've seen so far," Nickerson said. "I think they can control the game. We count on them a lot. But I think in a game like that, my first line matches up very well against everybody, but I thought they had a little bit more depth than us."

STEPPING INTO THE RUSH
Cathedral's offense is rooted in its defense, in that the Panthers' blue-liners (led by Foley and Williams) are comfortable stepping up into the rush and pushing play into their opponents' zone.

Foley showed off his offensive acumen on his second-period goal. After gloving down a failed clearing attempt at Cathedral's blue line, Foley coolly batted down the puck and started a slaloming run toward the Red Raiders' crease. He also showed a strong finish on the backhand from low in the right side faceoff circle.

While natural ability takes care of so much, Foley credits Cathedral's coaching staff with his development and comfort turning defense into offense.

"We've always had great defensive coaches, we have Coach [Mike] Rousseau, who was a great player at Holy Cross and a great coach. There's Coach Mike Ashe, who played at Clarkson," Foley said. "Offense has always been in our heads, Jack [Williams] and I, that's the type of players we are. We're not big bricks on the D end, we go both ways."

Panthers head coach Brian Foley has seen a gradual progression through the years leading up to their senior season.

"They're a big part of our offense, a big part of our team," Brian Foley said of Matt Foley and Williams. "They're veterans, they're seniors and have been around for three years. They recognize when the play's going up-ice that they can join in and maybe add some offensive opportunities. They're hungry for points and they're offensive-minded. I think that just comes through experience."