Boston High School:

Cam Shaheen
February, 16, 2013
2/16/13
6:25
PM ET
By
John McGuirk
| ESPNBoston.com
WEST SPRINGFIELD, Mass. -- The contrasting styles in demeanor following Saturday's 1-1 tie between No. 1 Springfield Cathedral and No. 2 St. John's Prep was not hard to witness.
On one side, you had the Eagles visibly dumbfounded and discouraged. On the other side, the Panthers presented a look of sheer relief.
For all but the final two-and-a-half minutes of this battle played at the Olympia Ice Center, St. John's Prep owned Cathedral. The Eagles suffocated the Panthers offense, giving them no time or space to generate the kind of offensive they are use to.
The one time the Eagles did give the Panthers a bit of room, it ended up biting them.
[+] Enlarge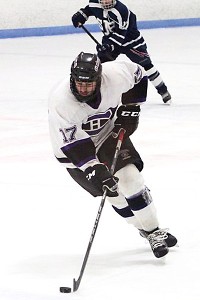 Courtesy of Alfredo DiLasciaSpringfield Cathedral escaped with a 1-1 tie against No. 2 St. John's Prep Saturday, thanks to a third-period goal from winger Dominic Blad.
At 12:33 of the third period, Cathedral senior forward Dominic Blad was left all alone inside the right circle. His hard wrist shot through traffic beat Eagles' goaltender Billy Price keeping the Panthers unbeaten as they improved to 15-0-4.
The Eagles (15-2-1) will come away from this one literally kicking themselves, knowing they let a golden opportunity at victory slip through their fingers.
St. John's Prep proved the aggressor throughout, putting up 35 shots, while its defense blanketed the Panthers, holding them to a mere five over 45 minutes.
"We had a bit of a defensive breakdown with two-and-a-half minutes to go and it was the wrong time to have that," Eagles head coach Kristian Hanson said. "Then we have Billy [Price] sitting there all day not facing many shots and he's cold and it put him in a tough situation. We play strong team defense with our forwards coming back and our defense closing gaps. I thought we did a nice job with that. We didn't want to give them room to move and fortunately for the most part we were able to do that but we just couldn't get the win."
Had it not been for the spectacular play of Cathedral goaltender John Liquori, who knows how many goals the Eagles might have scored. The junior, perhaps, played his best game as a Panther, finishing with 34 saves despite the consistent onslaught put forth by the Eagles.
"It kept me on my toes because I like a lot of shots," Liquori said. "I was able to put the team on my back and ran with it. When you are getting that amount of shots you sort of get into a rhythm. Today the puck looked like a beach ball to me."
Following a scoreless first period in which St. John's Prep put up nine shots to Cathedral's two, St. John's Prep finally solved the Liquori puzzle in the middle frame.
At 7:30, senior forward Cam Sheheen, taking a centering pass from Paul Crehan, slipped a shot past Liquori to give the Eagles the lead.
Despite the many other chances St. John's Prep had in the period, it settled for the one goal lead heading into the second intermission.
Realizing their quest to remain unbeaten was in serious trouble, the Panthers took their level of play up a few notches in the third. Even though it still had problems breaking free from the Eagles' defense, Cathedral appeared to be doing a better job moving the puck away from its own zone. As a result it would pay off thanks to Blad's goal to salvage the tie.
"St. John's played real well and from a skating standpoint I thought this was the fastest tempo game we played this year," Panthers coach Brian Foley said. "For whatever reason, we weren't up for it during the first two periods, but the kids came back Liquori kept us in it. I thought we played with little more emotion in the third period and Dom [Blad] had a nice goal for us."
January, 31, 2013
1/31/13
1:22
AM ET
By
Richard Murray
| ESPNBoston.com
WILMINGTON, Mass. -- Andrew Brandano scored twice for St. John's Prep as the Eagles shut down Liam Coughlin and Catholic Memorial's lethal offensive weapons, 4-1, Wednesday night, in a Catholic Conference clash.

St. John's Prep (12-2-0, 6-1-0 Catholic Conference) goalie Billy Price continued his stellar play turning away 18-of-19 shots. Price made several big saves, including robbing Coughlin from point blank on several scoring chances.

"A lot of his saves were quality stops," St. John's Prep coach Kristian Hanson said. "Billy has been solid for us all season, and that was no different tonight."

Although Coughlin was held off the score sheet that didn't mean he played poorly because he was still a force in the offensive zone.

"He is one of the best players in high school hockey, and I think he stood out there tonight because he did a terrific job," Catholic Memorial head coach Bill Hanson said. "It takes more than one player to win hockey games."

Catholic Memorial (8-5-2, 2-4-0) has run into a bit of a rut going 0-4-2, but there is one thing it must do differently next game:

"Score more goals," Bill Hanson said.

In the first period, both teams came out like a house of fire throwing bodies around on occasion. St. John's Prep challenged Catholic Memorial goalie, Brandon Collett early and often. Collett turned away several one-time attempts from point blank, which included a sliding pad save on Justin Longo. Collett had 26 saves on the night.

"They have a young goalie [freshman], so we knew that we needed to get a lot of shots on goal (30)," St. John's defenseman Ean Mendeszoon said.

In the second period, St. John's Prep scored two early goals inside of the first three minutes. Brian Pinho started the scoring sliding the puck through Collett's five-hole on a breakaway.

"[That goal] absolutely got us going because we had a poor first period," Kristian Hanson said. "We needed something to get us going, so what was a big goal for us."

Only 1:13 later, Cam Shaheen flung a perfect pass to Paul Crehan, who was waiting by the back post. Crehan buried the puck on a bang-bang play.

Catholic Memorial would answer on the power play though as Beau Starrett buried a rebound past Price, cutting the Eagles lead to only, 2-1.

"After they scored that power play goal it kind of put us in a little bit of a funk," Kristian Hanson said.

Catholic Memorial's Kevin Hock came right back on a breakaway following the Starrett goal. Hock fired a shot and followed his own rebound, but Price was able to turn away both shots.

In the final seconds of the third, Brandano tallied his first goal of the night on a play set up by Jimmy Currier. Brandano looked as if he was going to shoot as he charged the goal, but he went to the backhand.

"I thought about just shooting, but I went backhand because I saw the goalie sliding over," Brandano said.

Brandano put the game out of reach midway through the third period, as he followed his down rebound and beat Collett.

"It was a really nice team play," Kristian Hanson said. "We got the puck up to Currier, and he found Andrew [Brandano]. He was calm and patient with the puck because he didn't just shoot out, and he buried it on his own rebound.
January, 27, 2013
1/27/13
12:05
AM ET
By
Bruce Lerch
| ESPNBoston.com


WILMINGTON, Mass. -- Jimmy Currier had scored but one goal all season for St. John's Prep entering Saturday's Catholic Conference showdown with league-leading BC High.

It's safe to say Currier is officially "off the schneide."

The junior delivered a pair of highlight reel goals in the second period, one to tie the game, the other serving as the eventual game-winner as the third-ranked Prep claimed a 3-2 victory over No. 2 BC High at in the Fifth Annual 1st Lt. Derek Hines Memorial Game at Ristuccia Arena.

"Jimmy's capable of that and we've felt that way all year," praised Prep coach Kristian Hanson. "He's a really talented offensive player. I see it in practice and sometimes it takes one out there to give a kid confidence to go out and do it again. After he got that first one today, you could see it in him - he was confident handling the puck. It was a beautiful shot on that third goal. Jimmy had a great offensive day today."

The victory pulls the Prep (11-2-0 overall; 5-1-0 CC) into a tie with BC High (9-2-2; 4-1-2) atop the league standings with ten points apiece with a game in hand. Thanks to Malden Catholic's 4-3 victory over Catholic Memorial Saturday evening, St. John's can clinch its first league title since 1994 outright with wins over the Knights and Xaverian next week.

Currier's work on both tallies was a thing of beauty. Just one minute after BC High took a 2-1 lead on a goal by Tom Besinger, Currier went end-to-end, weaving around a pair of defenders like pylons before switching back to his forehand just in time to stuff the puck inside the far post at 6:12.

"When I was coming down, I had my feet moving a lot and after I cut to the middle I saw [linemate Andrew] Brandano and I was like, 'I should have gave it to him' and I just ended up going around him and putting it in," Currier described.

Just under five minutes later, Currier found himself with the puck in the right wing corner deep in the BC High zone. He floated out high and left, all the way over the top of the circle and fired a wrist shot through traffic back to the right side to give his club a 3-2 lead it would not relinquish.

"When I come out of the corner there it brings up so many options," the junior recalled. "I was coming across, moving left to right and the goalie was moving left to right. I just shot it far side and he didn't see the shot because there was a screen in front."

The Prep scored the game's first goal in equally spectacular fashion. Sprung loose up the right wing by one of his defensemen, Cam Shaheen worked his through the BC High zone, pushed the puck between the skates of his defender, then whirled around him and fired a wrist shot while dropping to one knee at 6:49 of the first.

BC High responded just over two minutes later as freshman defenseman Ryan Shea unleashed a rocket from the point for a power-play marker. BC High grabbed its first lead at 5:12 of the second when Besinger swooped in and buried the rebound of a shot by Sam Topham.

"They are a very good team and we knew that coming in and we skated with them," BC High head coach John Flaherty said. "They're a junior-senior team and they are very good. Brian Pinho, Jack McCarthy, Tyler Bird - those kids are as good as any kid around."

"You know they're coming at you and you know you've got to hang in there for the ride," he continued. "The fact that we skated with them for three periods and we were able to hang around and almost have a chance to tie the game at the end, that's a positive. It's an emotional game for them. A tribute to one of their all-time good players at St. John's Prep so its an emotional game for them. We knew that coming in and I'm proud of my guys for hanging in there for three periods and giving ourselves a chance at the end."


January, 23, 2013
1/23/13
2:59
PM ET


MALDEN, Mass. – When hockey coaches talk about rolling four lines, there's usually an assigned order that comes with such a statement. The top six forwards are called upon to score, and the third and fourth lines are supposed to bring the grit and, at times, shoulder the responsibilities of shutting down the other team's top offensive threats.

Yet, St. John's Prep head coach Kristian Hanson views his four lines not as ranked No. 1 through No. 4. Instead, they bear colors. The Eagles' "Green Line" of Paul Crehan, Justin Longo and Cam Shaheen might not be viewed as Prep's top offensive line by opposing teams, but they were the difference in Tuesday's 5-2 win over Catholic Conference rival Malden Catholic.

"The Green Line played really well for us tonight, that's the line of [Justin] Longo, [Paul] Crehan and [Cam] Shaheen, they were possibly our best offensive line through the first couple of periods. Obviously, Paul getting that goal in the third period was really big for us."

Crehan scored what proved to the game-winning goal, igniting a three-goal outburst in the third period.

The teams skated 2-2 after two periods, but the Eagles (10-2-0, 4-1-0) ran out to an early 2-0 lead, scoring on two of their first three shots on goal.

Despite the early deficit, MC (4-5-3, 0-4-2) controlled the possession game in the first period, outshooting Prep, 12-5. Eagles goaltender Billy Price stood tall in face of the Lancers' first period onslaught, highlighted by a string of three straight point-blank chances on the power play.

Derek Osbahr had Prep to a 1-0 lead at 1:53 of the first, scoring on a partial breakaway. It was the Eagles' first shot on goal. Shaheen increased the lead to two goals at the 12-minute mark of the first, breaking in off the left wing and going stickside with the wrist shot.

The Lancers rallied to draw even, scoring their first in the final minute of the first on Ara Nazarian's power play goal and then on Matt Filipe's equalizer at 11:12 of the second.

"It's always a big game when we play MC," Shaheen said. "We've had such a big rivalry with them the last three years we've played them. We know they're a third-period team, so we said in the locker room, before we came out … We needed to be the team that stepped up and made plays in the third period. That's what we did. We made big plays and that's why we won the game."

Crehan gave Prep the lead for good, knocking in a rebound while driving the net, scoring on the backhand while going tumbling into the end wall.

Tyler Bird closed out the victory two goals later in the third, his first coming on a tip attempt on the power play.

The Lancers earned two misconduct penalties in the game's final minutes, including a game misconduct.

GOING THE DISTANCE
With Tuesday's victory, Prep tied BC High atop the Catholic Conference standings with their eighth point. BC High is in action again Wednesday night against Xaverian and Saturday's featured bout is the second round of Eagles vs. Eagles.

"Every point is important," Hanson said. "Whether it's Malden Catholic, or Xaverian, whatever team it is you have to bring your best effort."

The Eagles know what's ahead of them, and they'll need to bring their best effort to erase a 2-0 loss to BC High on Jan. 9. But Prep also has the goal of winning its first Catholic Conference title since 1994 on the horizon.

"We have a lot of seniors on this team, we all have the same goals," Shaheen said. "We want to make it far as we can in the playoffs and we're on the road right now. We just want to make it to our best potential."
January, 20, 2013
1/20/13
12:46
PM ET


STONEHAM, Mass. -- Reading a 5-1 box score on paper looks as though the winning team had its way offensively. But, in hockey, as in many team sports, numbers can belie how important a sound defense is to influencing offensive prowess.

That was certainly the case Saturday night in No. 3 St. John's Prep's 5-1 non-league win over No. 6 Austin Prep, dealing the Cougars their first loss of the season. The Eagles' victory was enabled by a stifling defensive display by their blue-liners. St. John's held the Cougars in the single digits in shots on goal for the game, outshooting the Cougars 31-9 and controlling the flow of the game.

The Eagles were so effective in their own end, at times, it was easy to overlook them.

"We just played solid D and kept it simple, getting the puck up to the forwards, grinding, getting the puck out," junior defenseman Evan Leclerc said. "We were just playing simple, true hockey."

The Eagles (9-2-0) also played with the lead nearly from the get-go, as Tyler Bird opened scoring at 2:43 of the first on a partial break, sprung by an outlet pass from Ryan Byrne. St. John's went to the room after the first with a 2-0 advantage after Cam Shaheen's third goal of the season, with assists from Justin Longo and Paul Crehan.

They kept the pedal to the medal, starting the second period with a goal just 58 seconds in. Leclerc tallied his first of the season after some nice work down low by forwards Brian Pinho and Andrew Brandano.

The Cougars (6-1-3) broke up the shutout bid at 8:22 of the second with Brent Hill setting up a snipe from George Sennott.

The Eagles rounded out the second with Longo tallying his second point of the game, tallying an unassisted goal on a broken play.

Jack McCarthy increased St. John's lead to four at 1:53 of the third.

"Coming in, Austin Prep was undefeated, so we knew it was going to be a tough game," Eagles head coach Kristian Hanson said. "I think the kids really rose to the challenge tonight. I think from the first shift that our energy was pretty good. We have good team speed, but when we want to be physical, I think we can be a dominating physical team. I think we did that well tonight."

IN THE CLEAR
Even with a goal in two, the most impressive part of Leclerc's game came in the Eagles' defensive zone. Leclerc thwarted a couple of Cougars rushes with bone-rattling hits.

"He was very physical," Hanson said. "Yeah, he had the goal, but we thought he did a lot of little things. He was quick, he was physical, he made good decisions with the puck. He was one of our best guys out there tonight."

Along with the all-around solid effort of its defenseman, including Brent Murray and Ean Mendeszoon, St. John's also saw its depth in play.

Longo, a fourth-liner, chipped in with a two-point game (1G, 1 A).

"He's an unsung hero type, but he's had some huge goals for us this year," Hanson said of Longo. "He's a fourth-line guy, but he has the skill level of a first or second line guy. That fourth line has really played well this year. They play well in any kind of situation."