Boston High School:

Cam Williams
January, 23, 2014
Jan 23
9:16
PM ET
For Catholic Memorial senior Kevin Bletzer, the changing of the seasons is marked with an exchange of sporting equipment.
A three-sport captain who'll graduate to Boston College next year and play football, the Medfield native makes – what appears to be – a seamless transition from one to the next.
But even for a Division 1-caliber athlete, there's one time of the year that's particularly challenging. It comes the week after Thanksgiving, when the football spikes go in the closet and the skates come out.
"It's like walking on water," Bletzer said. "It's brutal."
[+] Enlarge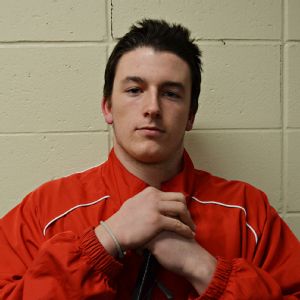 Scott Barboza/ESPNCatholic Memorial senior Kevin Bletzer passed up opportunities to play Division 1 college lacrosse to pursue his dream of playing Division 1 football at Boston College next year. He's still playing one more season of high school hockey.
The 6-foot-2, 200-pounder is a jack-of-all-trades.
On the football field, Bletzer has been a Swiss Army knife for the Knights – lining up at cornerback, safety and inside and outside linebaker on defense, while playing running back, full back, tight end, wide receiver and even a little quarterback. He even returned punts during his high school career.
When lacrosse season comes, he's heat-seeking missile in the defensive midfield while enough stick still to play in the offensive half as well. Earlier in his high school career, Bletzer had offers in hand from UMass-Amherst and Penn State for lacrosse.
Then there's Bletzer's "first love."
"I remember my dad putting me in Learn to Skate and I absolutely hated it," Bletzer said of his earliest hockey memories. "My feet hurt in the skates, and we weren't actually playing hockey, we were just skating around. It was brutal.
"But then, when we started playing, a lot of my friends that I'm still playing with now were the ones I played with then. I was hooked."
Since around the age of 3, when his father, Kurt, first laced up his skates, Kevin's been a rink rat in the winter. That also extends to the Bletzer family's ice sheet in the backyard, where Kevin, younger brother, Kurt, and members of CM's hockey team can be found just about any afternoon.
With a program rich in tradition as Knights hockey is under the direction of Bill Hanson, many Boston-area skaters dream of pulling on Montreal Canadiens' style "CM" sweater. For many, it's the zenith of their life in the game.
But, for Bletzer, with a promising future on the gridiron ahead of him, a major decision came during his junior season, last year, when he considered giving up one of his passions in order to pursue a full-fledged shot at big time college football.
"I asked him if he could do me a favor, I told him I needed him in the locker room," Hanson said of a conversation he had with Bletzer during tryouts last year. "He hadn't developed as a hockey player that way we thought he would, but that's because he hasn't played as much as everybody else. But I knew we were going to be young last year and we needed him in that room."
Bletzer had resigned himself to running track and putting extra time in the weight room, preparing for football season. That experiment lasted a couple of days before his hunger to return to the ice took over.
"I was like, 'This is all we do?'" Bletzer said. "I was missing it too much."
Bletzer rejoined the team, contributing to a Knights team that endured a first-round, best-of-three Super 8 tournament duel with archrival BC High, before bowing out to eventual champion Malden Catholic in the semifinals.
"He ended up having a hell of a year," Hanson added.
And so the challenge for Bletzer and Co. entering the 2013-14 season was how to keep that momentum going. For Bletzer, himself, naturally, it takes a little while to get going.
"It takes about a month to get your skating legs back," Bletzer said after a recent practice at the Cleveland Circle rink, a stone's throw from BC's Alumni Stadium. "The hardest part of the transition is getting to the point where I was at the end of the last season."
Not matter how the Knights season might end, however, this will be Bletzer's last go playing competitive hockey. And, as soon as lacrosse season concludes, he's divesting his former interests to jump into football entirely.
While those elements of Bletzer's athletic career will go away, it's part of what made him alluring to BC's coaching staff.
Bletzer first's Division 1 FBS scholarship offer was his last, as he gave his
verbal commitment
to the Eagles following their camp in June. He received the call that the Eagles intended to offer him from assistant coach Ryan Day while he was at a lacrosse tournament with his Laxachusetts travel team.
Even though Bletzer has yet to sign his National Letter of Intent, Steve Addazio and staff didn't want him to deviate from his original plan.
"They were more than OK with me playing every single sport because they liked that about me," Bletzer said. "Just as long as I know, after lacrosse season, that's it's all football, and just to be ready for that."
The intent is for Bletzer to work with Eagles defensive backs coach Kevin Lempa as a safety when he arrives at the Heights.
It will mark yet another transition for Bletzer. But for a player who's prided himself on versatility and doing whatever is required for his team, it seems a natural progression.
"Not very many freshman make the varsity football team at CM," Knight football head coach and athletic director Alex Campea said. "At the time he made the team, we had some pretty talented kids on that team -- Cam Williams, Armani Reeves, A.J. Doyle. They really took him under his wing and were great teammates to him. They showed him the ropes.
"Now, in his time, he's done that for his teammates, too, which is really an indication of his leadership qualities."
For now, Bletzer's focused on making the most of hockey season, taking advantage of even the smallest time with his younger brother. With a sizeable contingent of players from Medfield on this year's roster, Kevin Bletzer's led the morning caravan to West Roxbury, then to the rink, then home, and then maybe some time for a little pond hockey.
"I think this hockey season has been a breath of fresh air for him," Hanson said. "He's playing with his brother, he's captain of the team and playing for a team that is really a great group of kids to be around.
"This team is kind of like a group of kids who play pond hockey, that's how they approach the game together, in games, too – they're having fun."
July, 30, 2012
7/30/12
2:49
PM ET
By
Andy Smith
| ESPNBoston.com
On Monday morning, Archbishop Williams Class of 2015 forward Jaylen Williams verbally committed to play basketball at Penn State. ESPNBoston.com caught up with the 6'3 Easton native this afternoon to discuss her decision:

Why Penn State over Delaware and Ohio State, the other schools that were recruiting her: "Since I've been in eighth grade, they've been recruiting me and unlike most freshman going into their sophomore year girls, I've been visiting schools since I was nine and I've always loved Penn State.

How she has been visiting schools since she was nine: "Ever since my brothers have been going through the recruiting process, and the other coaches have heard that I'm pretty good at basketball, they invited me to go to schools, and that's just how I started (visiting)."

If the Penn State coaches have told her what to improve on before she gets on campus: "They just say I'm going in the right direction. From the first time they saw me at the beginning of my eighth grade year until the end of my freshman year, they just say I'm going in the right direction and just to keep improving on what I've been improving on. They haven't really given me a specific thing to improve on, just my all-around game.

If there is anything she wants to improve on: "I would prefer to have a better face-up game because right now I'm mainly in the post. But I'm improving very much on that, thanks to my coaches."

How her brother Cam (incoming freshman linebacker at Ohio St. and Catholic Memorial grad) feels about his sister committing to a Big 10 school: "He was a little mad at first, but he's proud of me and he's excited that I'm getting my chance to go to a different school."

If a sibling rivalry will develop since they are going to Big 10 Conference schools: "Yeah, kind of. He's already trying to put the rivalry on me. He'll say 'Go Bucks!' every once in a while when I'm talking about Penn State."

How he helped her in the recruiting process: "He just gave his input on how he was in the recruiting process. Even though it's a different sport, they're also very alike, so he just gave his view on the whole process."

If the negative attention surrounding the Penn State football program effected her decision to commit to the school at all: "I don't think it really mattered for me because it's a completely different sport. I still love the school. I love the basketball program, the academics, it didn't really matter to me that the football program had such a bad break. It was sad, but it didn't effect my decision."
January, 21, 2012
1/21/12
6:47
PM ET
By
Brendan Hall
| ESPNBoston.com
BOSTON -- We caught up with Catholic Memorial linebacker Cam Williams this afternoon at the Knights' basketball game at Boston Latin School, where he was watching his close friend Armani Reeves help the Knights to a winning cause.

Williams, a 2011 ESPNBoston All-State selection, verbally committed to Ohio State yesterday afternoon. He initially committed to Penn State last spring, but re-opened his recruitment in the wake of the scandal with former defensive coordinator Jerry Sandusky that led to the firing of legendary head coach Joe Paterno.

The Buckeyes were among the first on the scene following the end of the Knights' football season; the day after the MIAA Super Bowls concluded at Gillette Stadium, Buckeyes assistant coaches Mike Vrabel and Luke Fickell were at the West Roxbury school to meet with Williams.

On visiting Columbus this week, his second unofficial visit to the campus in as many months: "It was a great visit. We got to look at everything again. My mom came down for the first time, and I was really looking forward to just getting her on campus, and she could give me the input. I really liked it the first time (in December), so I just got to see what she thought of the school academically, athletically, what she thought of the coaches and everything. She loved it, I fell in love with the school again, and I knew it was the place for me."

Selling points of OSU: "Just the environment, how they feel about me and the opportunity to play early. They need linebackers really bad. Not including my freshman class, they're going to have five linebackers on scholarship, so they need me to play right away. Just keeping that in mind, and knowing that it's Ohio State football, Urban Meyer's one of the best coaches in college football, and being able to play early, play under him, and then get a great education -- they have one of the best kinesiology schools in the country, and great facilities -- it was just the best of both worlds. It was a perfect fit."

What Urban Meyer told him to expect: "He said it's going to be tough. Mickey Marotti is the highest-paid strength and conditioning coach in the country, and he's going to work you. He's going to get my body into the best shape that I could possibly be in, and really maximize my potential. It's going to be tough, but it's going to be a fun ride, and we're going to win a National Championship with the players that are around me, and the defensive linemen that are around me. So it's going to be a real good environment."

On if he will be redshirting: "No, they told me already that I can't. They don't have enough bodies, so I will play right away. It's a good opportunity."

What he'll be doing from now until he reports to campus in June: "Working out with my trainer, Brian McDonough, who trains 17 of the Patriots during the offseason. During the lockout, he trained Brandon Spikes, Jerod Mayo, Pat Chung, Wes Welker, [Danny] Woodhead, all those guys. He's a real good trainer, he's going to talk to coach Marotti and get the system going, get to know what he's doing up at Ohio State so my transition to the strength program will be a lot [easier]."
January, 20, 2012
1/20/12
4:38
PM ET
By
Brendan Hall
| ESPNBoston.com
Catholic Memorial linebacker Camren Williams has decided to switch his commitment from Penn State to Ohio State, he wrote on his Twitter account.
"
It's official. I'm a Buckeye!
" he wrote in a tweet this afternoon.
Williams initially committed to Penn State back in the spring of 2011, but began looking into his other schools of interest following the Knights' Thanksgiving Day loss to archrival BC High, which ended their season. Williams took an official visit to Columbus this week, and had dinner with new head coach Urban Meyer last night.
The 6-foot-1, 210-pound Easton native also had offers from Boston College, UConn, Maryland, Michigan, Missouri, North Carolina, Virginia and Wake Forest.
Williams is the son of former New England Patriots lineman Brent Williams, and was a member of
ESPN Boston's MIAA All-State Team
this past fall for the 7-2 Knights.
January, 9, 2012
1/09/12
10:38
AM ET
ESPN's Roger Brown
checks in today on the East Football Recruiting Blog
with Catholic Memorial's Armani Reeves and Cam Williams, the state's No. 1 and No. 2 prospects respectively, who are both committed to Penn State.
Patriots offensive coordinator Bill O'Brien was officially introduced as the Nittany Lions' new head coach on Saturday. Yesterday, the Andover native and St. John's Prep graduate reached out to both Reeves and Williams; both are trying to schedule an official visit to Happy Valley.
Speaking to CM assistant coach Brent Williams -- the father of Cam and godfather of Reeves -- Brown writes:
Brent Williams, Camren's father and Reeves' godfather, has been the point man during each player's recruitment. He said both players are currently trying to schedule an official visit to Penn State.

"I think he just called to introduce himself," Brent Williams said. "Now that Coach O'Brien is in place we are trying to learn as much as we can about him and the new staff."

Camren Williams, the No. 2 prospect from Massachusetts in the Class of 2012, took an official visit to Ohio State last month. He is expected to choose between the two schools.

Reeves, the top prospect from Massachusetts, also heard from Ohio State on Sunday night. Michigan coaches met with Reeves last week, and Notre Dame has asked him to visit as well. He is expected to play defensive back at the college level.

"Camren is pretty easy, as he with either stay with his [Penn State] commitment or switch to OSU," Brent Williams said. "We are trying to learn as much as we can about OSU.

"Armani is a little more difficult. His basketball schedule makes it tough for him to visit. Right now Michigan is a priority visit. With Ohio State just entering the picture we are trying to schedule a visit."
Both Reeves and Williams were named to
ESPN Boston's MIAA All-State Team
last month.
January, 6, 2012
1/06/12
1:33
PM ET
By
Brendan Hall
| ESPNBoston.com
With Patriots offensive coordinator Bill O'Brien set to be named the new head coach of Penn State tomorrow, according to multiple reports, a decision for two of Catholic Memorial's football stars on whether to stick with their commitment to the Nittany Lions or not should be forthcoming.
This morning Brent Williams, the father of one Penn State commit (linebacker Cam Williams) and godfather of the other (athlete Armani Reeves), told ESPNBoston.com that a decision should come before February 1, the first day high school seniors can officially sign a National Letter of Intent for football.
"I don't think we drag this out," said Brent, also an assistant coach at CM as well as a former Patriots defensive lineman. "Now that Penn State has a coach in place and is working on putting a staff together, they should be able to make an educated decision after more information comes out on the staff, system, all of the above."
Cam and Reeves were both named to ESPN Boston's
second annual MIAA All-State Team
last month, as the Knights went 7-2 and missed out on a Division 1 playoff berth. Reeves was also named
ESPN Boston's Offensive Player of the Year
after recording 15 touchdowns and 1,302 all-purpose yards on less than 70 total touches.
Just a day after the MIAA Super Bowls concluded, Ohio State coaches Luke Fickell and Mike Vrabel were at the West Roxbury campus to meet with both players. Cam took an official visit to Columbus a week later.
Yesterday morning, Michigan met with Reeves, and then swung by Everett High to meet with junior All-State offensive tackle John Montelus. Reeves will visit Ann Arbor either next weekend or the following weekend, Brent said -- "We haven't finalized that yet," he said.
Brent said neither Cam nor Reeves will be taking any other visits.
December, 29, 2011
12/29/11
1:38
PM ET
The Massachusetts High School Football Coaches' Association unveiled its annual "Super 26" All-State Team today. Those honored will be presented this spring at Lantana's Restaurant, in Randolph.

Below are the selections. Italicized names indicate they were also a selection to ESPN Boston's MIAA All-State Team.

OFFENSE

Quarterback
Jonathan DiBiaso, Everett
Cam McLevedge, Weymouth
Matt Montalto, Dennis-Yarmouth

Receivers
Armani Reeves, Catholic Memorial
Don Webber, Duxbury

Offensive Line
Brendan Melanson, St. John's (Shrewsbury)
Dan McCourt, Pembroke
Jameson McShea, BC High
Andrew VanderWilden, Concord-Carlisle
Chad Woodfine, Chicopee

Running Back
Sacoy Malone, Springfield Central
Quinton Perkins, Fitchburg
Melquawn Pickney, Springfield Putnam

DEFENSE

Defensive Line/Linebacker
Henry Bumpus, Concord-Carlisle
Nick DiChiara, BB&N
Tim Joy, Chelmsford
Vondell Langston, Everett
Max Randall, Duxbury
Zack Schafer, Mansfield
Nick Schlatz, Bridgewater-Raynham
Will Twyman, Lincoln-Sudbury
Camren Williams, Catholic Memorial

Secondary
Todd Collier, St. Mary's (Lynn)
Jack Connolly, St. Sebastian's
Joe Epps, Bourne
Charles Ruffin, King Philip
November, 7, 2011
11/07/11
10:12
PM ET
By
Brendan Hall
| ESPNBoston.com
Catholic Memorial athlete Armani Reeves told ESPNBoston.com earlier tonight he is "100 percent" committed to Penn State in light of the recent disturbing news over the weekend regarding criminal charges against a former coach.
Reeves declined further comment.
Former Nittany Lions defensive coordinator Jerry Sandusky was charged with 40 criminal counts stemming from numerous alleged sexual assaults of boys over a 15-year period. Penn State athletic director Tim Curley and Gary Schultz, vice president for finance and business, were both charged with perjury and failing to report what they knew about Sandusky's behavior to authorities, and both men stepped down late Sunday after an emergency meeting of the university's board of trustees.
Earlier today, both Reeves and his Penn State-bound teammate Cam Williams spoke with ESPN's Jared Shanker and were affirmative in their commitment to the Lions. The full article
can be viewed here
, and is excerpted below:
West Roxbury (Mass.) Catholic Memorial four-star athlete Armani Reeves is troubled and disappointed with the news coming out of Penn State, but that doesn't mean he is wavering on his commitment.

"You don't want anything like that to happen no matter who they are or what the situations is," Reeves said. "As far as my decision of staying there, it doesn't affect me at all. You just wish something like that wouldn't happen to kids like that."

Reeves said it would take wholesale changes among the Penn State coaching staff to cause him to reconsider his commitment. If Paterno leaves for any reason, Reeves said he would still be solid. If the rest of the staff is also forced out or a new coach doesn't retain them -- the likely scenario -- Reeves could open things back up.

"Definitely," Reeves said when asked if he would be forced to reconsider if assistant coach Bill Kenney, his lead recruiter, was let go.

For now, Reeves said he and his parents are on the same page. Unless there are changes to the 10-person coaching staff, Reeves doesn't feel he is taking any risks by sticking with his commitment since it isn't an NCAA issue.

"It won't affect my time there as far as playing football and schoolwise," he said.

The fact that a grand jury said Paterno did his job by giving the information he received regarding Sandusky's behavior to administrators has helped alleviate Reeves' teammate and three-star linebacker Camren Williams' concerns about his commitment to Penn State.

"It was the old coach and Coach Paterno actually turned him in to the athletic director," Williams said. "He did his job. It's the AD under investigation for lying and not turning him in.

"I'm not concerned at all."

Williams has been committed to Penn State since March and is one of the Lions' most active supporters.

"I've always known [Paterno], since he started recruiting me, as doing everything the right way," Williams said. "That's the kind of coach Paterno is. He created the football program and such a prestigious place and 'Success with Honor.'"

Paterno's future as coach is always muddled -- usually because of age or health -- and Williams doesn't care if Paterno is the coach next year.

"I chose Penn State for so many reasons," Williams said. "That's a minor thing that doesn't affect me."

Williams talked about his relationships with assistants Ron Vanderlinden and Bill Kenney as being key in his commitment. Both were on staff in 2002, when another assistant said he witnessed Sandusky sexually assault a boy in the team's locker room shower. Williams said he did not think of that.

"I'm confident they didn't know about it," he said. "They're genuinely good people."

While Reeves is more cautious about the coaching staff leaving if Paterno leaves, Williams is confident the staff will remain in place.

"I know those coaches don't leave," Williams said. "They've had so much success there. They won't get rid of them. An internal person will step up [to head coach], like the defensive coordinator or one of those guys.

"If an outsider comes, he'll keep the same position coaches. That's my view on it."
November, 1, 2011
11/01/11
11:52
AM ET
ESPN Scouts Inc. has updated its player rankings in its football recruiting database, and there is a new No. 1 at the top. Catholic Memorial athlete Armani Reeves, a Penn State commit, has been named the state's new top prospect for the Class of 2012, and it's a well-deserved spot based on the returns this year so far. Reeves -- who, along with CM teammates Cam Williams and A.J. Doyle were named to the ESPNU 150 Watch List earlier this year -- has 11 touchdowns in four different ways thus far for the 5-1 Knights, who are ranked No. 9 this week in our statewide MIAA Top 25 poll.
You can view the full database rankings
by clicking here
.
Here's how the new Top 10 looks, with college commitment in parentheses:
1. Armani Reeves, ATH, Catholic Memorial (Penn State)
2. Cam Williams, LB, Catholic Memorial (Penn State)
3. Abner Logan Jr., ATH, Dexter
4. Canaan Severin, ATH, Worcester Academy (Virginia)
5. Eric Olson, OT, BB&N (Northwestern)
6. Jameson McShea, TE, BC High (Temple)
7. Vondell Langston, RB/LB, Everett
8. Tim Joy, LB, Chelmsford (Boston College)
9. Jason Sylva, LB, Tabor Academy (UConn)
10. Preston Cooper, RB, BC High
October, 29, 2011
10/29/11
1:51
AM ET
By
Brendan Hall
| ESPNBoston.com



WEST ROXBURY, Mass. -- "Read the papers!" shouted Brent Williams as he descended the ladder from the roof of the press box at the soon-to-be named O'Connor Stadium, the Catholic Memorial defensive coordinator wearing his emotions emphatically as he exited the box with 26 seconds left in the first half.

Forgive the former New England Patriot if he seemed a little jumpy. His godson, Penn State commit and returning All-Stater Armani Reeves, had just ripped off a 72-yard punt return for a touchdown that swung momentum in what was a tie ball game with Catholic Conference foe St. John's Prep.

That made it 14-7, and after a shutout second half, the Knights (5-1) walked away with their first Catholic Conference victory of the season, a 26-7 decision over the Eagles.

"I knew I had to get past the first guy, and then pretty much from there, I knew I could just outrun everybody to the sideline," said Reeves, who clocks in the 4.4's on his 40-yard dash. "I almost ran out of bounds at the sideline there, but luckily my feet were there. I stayed in, and gave it everything I got in me into the end zone."

Said head coach Alex Campea of Reeves, "Listen, he's a gamebreaker. He makes plays, whether you're throwing the ball or punting the ball to him, he's a heck of a player. He's just a difference maker."

Meanwhile, a defense led by Penn State-bound linebacker Cam Williams and junior defensive end Peter Ngobidi (16 tackles) forced three turnovers, and allowed just 51 yards of offense from the run-heavy Eagles (3-4) over the final two quarters.

"Prep's really known for running the ball all the time," Williams said. "The key is just to stop the run. We have great defensive backs and we always stop the pass, but we're known to let up 200 yards a game rushing every year. We've been doing that [stopping the run] all year, and then this year [with the Eagles] the defensive coordinator, my dad, was talking about getting turnovers, and we got that this week too...we try to be versatile against the run and pass, and we did well on all cylinders."

Armani Exchange: Plain and simple, ESPN Boston Mr. Football candidates repeatedly make plays that change the direction of the game, and Reeves showed why he's on the short list tonight.

His first two carries, toss sweeps to the left then right, went for 33 and 35 yards respectively -- the second one opening up the scoring on the evening. He then brought a sleepy game on Baker Street to life with his electric punt return, shedding a few arm-tackles at midfield and burning by the personal protector at the 30-yard mark on the left sideline.

After going for 68 yards on his first two carries, the Eagles' defense adjusted their responsibilities on the outside holes, blitzing both outside linebackers and forcing a quicker reaction from the player who's arguably the state's most dangerous coming around the end.

"That forced me to cut it up sooner," Reeves said. "It wasn't really much of an adjustment, but just something I had to pay attention to."

But Reeves merely came around and made them pay in multiple ways. First, there was the punt return. Then, early in the third quarter, he went up for jump ball at the left sideline and ripped the ball out of defensive back Gerald Kahari's hands (think Miles Austin vs. Antonio Cromartie). It was done so furtively that half the players on the field had already begun walking back to the huddle as if it were an interception -- instead, it was a 34-yard gain that set up first and 10 at the Prep 19.

In all, Reeves finished with 238 all-purpose yards, including 98 rushing on eight carries.

Thomas a stud in the making: In our midseason report last week, we named Prep sophomore tailback Jonathan Thomas one of the second-half breakouts to watch. He proved it again tonight, with 131 yards on 20 carries and the Eagles' lone score of the night, a 71-yard counter trey up the middle in which he followed a trap block up through to the second level and outran the secondary to paydirt.

"He's going to be a good player," Williams said. "Once he gets some weight on him...he's a pretty quick back. He slips underneath his big old offensive linemen, so he's going to be a good player. I told him 'Keep working' when I shook his hand [after the game]."

Prime Time Peter: Against the run-heavy Prep offense, which toys with looks out of both the traditional I-formation and various Georgia Tech-style triple option looks, angle pursuit is key. Head coach Jim O'Leary isn't afraid to repeat the same sequence of plays should it work, and tonight the Eagles were looking to run up the outside holes with their stable of speedy backers in Thomas, Kahari and Alex Moore.

Enter Peter Ngobidi, a junior from Hyde Park who should continue to climb on the college recruiting radar with performances like tonight. The 6-foot-2, 205-pounder might be a more natural fit out of a two-point stance, but with his hand planted in the turf he's proven just as efficient. With a quick first step and long, lean frame, Ngobidi made himself compact while also keeping his shoulders square, totaling 16 tackles on the night.

His biggest stop of the night came with nine minutes and change left, and the Knights holding on to a 20-7 lead. Ngobidi jarred the ball loose from the Eagles running back at the line of scrimmage, and Jon Schneider fell on it for a first and 10 for CM at the Prep 20. The next play, quarterback A.J. Doyle (9 of 19, 159 yards, 2 total TD) hit Brandon Hamel coming across the shallow middle end zone on a post route for a 26-7 score.

"I think I started off rough," Ngobidi said. "I got dropped a couple of times and I messed up on that counter trey (Thomas' touchdown). After that, my teammates picked me back up. I kinda fixed my own head, and kept pushing forward."

CATHOLIC MEMORIAL 26, ST. JOHN'S PREP 7

SJP (3-4) 0 7 0 0 --- 7
CM (5-1) 7 7 6 6 --- 26

First Quarter
C - Armani Reeves 35 run (Michael Keane kick) 4:50

Second Quarter
S - Jonathan Thomas 71 run (Connor Shaw kick) 9:18
C - Reeves 72 punt return (Keane kick) 0:23

Third Quarter
C - A.J. Doyle 1 run (kick failed) 4:20

Fourth Quarter
C - Brandon Hamel 20 pass from Doyle (8:40)