Boston High School:

Capital Prep (Conn.)
February, 15, 2013
2/15/13
12:49
PM ET
By
Chris Bradley
| ESPNBoston.com
On Thursday night, Captial Prep (Conn.) point guard Kahlil Dukes became the 17th player in the history of Connecticut boys high school basketball to score 2000 points. The milestone was just another on the long list of awards and accolades that he has achieved over the course of his career.
Dukes has been a mainstay in New England high school basketball for the last four years -- and he didn't waste any time either, scoring a combined 62 points in his first two high school games as a freshman. He kept those high scoring totals up, averaging 29 per game as a freshman and going on to score his 1000th point as a sophomore. He was also named to the Connecticut High School Coaches' Association's All-State Team the last two seasons.
The University of Southern California offered him a scholarship last April. His AAU club Connecticut Basketball Club (CBC) was in Las Vegas in July, and that was when Dukes made the decision to commit to the Trojans. One of the first people he told was Montverde Academy guard Kasey Hill. The Florida-bound Hill, the ninth-ranked player in ESPN's Class of 2013 rankings, befriended Dukes on the AAU circuit last summer.
[+] Enlarge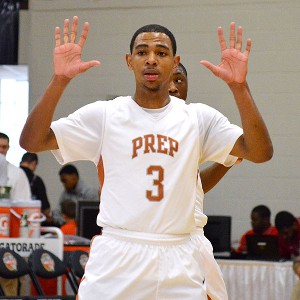 Jimmy Kelley for ESPNBoston.com Kahlil Dukes is headed to USC to play college basketball.
"I was just happy for him, I knew how much he wanted that. I just told him to keep working," Hill said.
Dukes' commitment was partly a basketball move, certainly. The Trojans play in one of the nicest venues in all of college basketball, the $150 million Galen Center. USC's athletic programs are consistently some of the most successful, and most well funded, of any athletic department in the country.
He couldn't hide his excitement with the facilities on his official visit this past fall. While other recruits went to house parties after they watched the Trojans' football team trounce Pac-12 rival Cal, Dukes went to the gym to get shots up at 11 p.m.
"I was there alone. A high school kid on his official visit, and I was the only person in the gym," Dukes said.
His high school coach, Levy Gillespie, Sr. has known Kahlil since he was a kid. Gillespie's son, Levy, Jr., is a junior on Capital Prep's squad who is quite the talented guard himself, scoring his 1000th point against famed Brooklyn, N.Y. power Lincoln last month at the Hoophall Classic in Springfield.
"He's always been a focused kid," Gillespie Sr. said, "He's in the gym all the time, he's not a party guy. He's not hanging out late with guys. He goes to the gym at 6 A.M., goes to school, and works out afterwards. Then he goes home, washes his practice gear, does homework and goes to bed. He's a creature of habit."
On his relationship with the Gillespie's, Dukes added, "I've known Levy and his did since I was like seven or eight years old. We've won and lost by 40 together. They were there when I committed [to USC] and when we traveled everywhere. They've been with me since I was little."
Even despite all the long nights in the gym, the hundreds of hours that he has spent studying his own gametapes—a habit he has exercised most of his high school career, Dukes has developed goals for himself that stray far beyond the basketball court. When he enrolls at USC this August, he will do so with the intention of studying at USC's School of Cinematic Arts.
Yes, the lightning quick guard with the smooth jumpshot and killer crossover wants to be a filmmaker.
"I like the writing part, I do a lot of writing and spend a lot of time on that in my free time," he said. "I like to express myself and tell a story that I see through my eyes. That has a lot to do with how directors make films, and I think I have a talent in that."
"I always wonder what the director was thinking [when I watch a film]," Dukes continued. "How did he think a part of his film would effect people?"
He knows the ball will stop bouncing eventually, and when it does, he wants to have a plan for the rest of his life.
"I think it's fair to say that I have goals outside of basketball," he said. "This game doesn't last forever. My body is killing me already—I'm a senior in high school, so I know one day my time [as a basketball player] will be over."
He's also done a number in reaching out and mentoring some of Capital Prep's younger talents. As a part of his senior justice project at Capital Prep, he started the Kahlil Dukes Basketball Academy, a program that he created himself to mentor some of the promising young freshmen on Prep's varsity team. At weekly sessions with the freshmen players, Dukes would work them on skill development, stress the importance of academics, and teach the young players how to become people of high moral character.
"There's a lot the game can do for you. I talked to academic counselors about what they liked in students. I taught the kids that with things they are good at—master them, things they aren't good at--get better at it. I taught them about training right, and having the right attitude, too."
Learning the right attitude was admittedly a process for Dukes, but being mentored by Gillespie and learning from other star players like Hill and his good friend Kris Dunn, a former McDonald's All-American who is now a freshman at Providence, has humbled him and brought to light in his own eyes what is important. Hill, for example, wasn't surprise in the slightest when he heard about what Dukes wants to study at USC.
"A lot of guys like us, we try to not to get cocky," Hill said, "We just love to play basketball. People may look at us differently or look at us a different type of way [because of stardom], but really we just happen to be regular guys who are good at basketball."
The only thing on Dukes' mind this basketball season is winning a state championship. Capital Prep made it to the Class S state championship last March, but fell to Immaculate in a hearbreaking loss. It was a day Dukes will never forget, partly because he had a bad shooting day and was never able to get any type of rhythm going offensively. Through a lot of film studying in the offseason, he realized he needed to tweak his game a little bit.
"I just try to be very efficient now," he said. "Freshman year I was averaging 29 a game, but the thing is I was taking 22 shots a game. I've scored 28 points or more a lot this year, but I'm taking a lot less than 20 shots."
Last week Dukes had his biggest game of the year against University High, a game that he and his teammates knew would be a war given both teams' regular season success thus far. His efficiency was on full display, as he scored 40 points on 15-for-27 shooting from the floor. He also dished out 10 assists, many of which went to Gillespie Jr., who scored 33 points and had eight assists of his own.
Even following his best game of the season, Dukes expected more out of himself.
"I watched the game tape, I had 40 points and I missed five layups and two free throws," Dukes said. "The thing is, I should have had 60. I missed five threes, two of which were wide open, and those five layups. One of the layups was so clean that I missed it -- like I was too open, it made me so mad. I want to be a winner, I want to win."
Now moving to 16-2 with the win last night, Capital Prep has emerged as one of the best teams in Connecticut. They've made it clear that if they advance to another state title game this year, the leadership of Dukes and his captains will be solely focused on the state title. The vocal leadership, Gillespie says, is an aspect that Capital Prep needed from Dukes.
"A couple years ago he wasn't a vocal leader," Gillespie said, "He was a scorer who went and did his own thing. But I think with helping and giving back to people, he's bought into that [leadership]. Kahlil is a deep kid if you get to know him and talk to him."
January, 19, 2013
1/19/13
4:04
PM ET
By
Chris Bradley
| ESPNBoston.com
SPRINGFIELD, Mass. – Brooklyn power Lincoln High didn't really know what to expect coming into Saturday's Hoophall Classic showdown with Hartford, Conn.'s Capital Prep.

The Railsplitters (16-3) were a late addition to the Hoophall field, after previous entrant St. Joseph Central of Pittsfield had to back out because several players on the team have the flu.

USC commit Kahlil Dukes was the lone bright spot for Capital, scoring 29 points in a losing effort. Shaquille McFarlan led Lincoln in the scoring column, finishing with 16 as the Railsplitters picked up a 95-68 victory.

Isaiah Whitehead, ranked No. 41 player in ESPN's latest "Super 60" Class of 2014 rankings, finished with nine points. At 6-foot-4, the strong-bodied junior guard demonstrates a lengthy motor and consistent outside jumper. He told reporters after the game that he holds offers from Arizona, Florida, Kansas, Kentucky, Lousiville, Syracuse, and UCLA, amongst several other high-major Division 1 offers.

Coming into the game, he said Lincoln knew keying on Dukes defensively would give them a good chance of winning the game.

"After the first quarter, we were hoping to stop Kahlil on the break, he's super quick," Whitehead said. "We felt like we had a good chance of winning if we did that."

Lincoln did just that, holding Dukes to just six points in the first half. Down 51-24 at halftime, the lead Lincoln had built in the second quarter turned out to be insurmountable.

Gillespie scores 1,000th: Still only a junior, Capital Prep guard Levy Gillespie, Jr. notched his 1,000th point late in the fourth quarter.

"It was pretty good, I just wish we could have won the game, or a close game at least," Gillespie said.

Gillespie scored his 1,000th point on the first of two free throws with a few minutes left in the game. Quickly between free throws, he ran over to the sideline for a quick embrace with his father, head coach Levy Gillespie, Sr.

"He just said 'good job'," the younger Gillespie said of the exchange.

Gillespie's scoring total was something that had been highly anticipated by Capital Prep for the last few games. Dukes hinted that reaching the milestone was most likely a relieving moment for Gillespie.

"It was huge, long season and we were trying to get it out of the way for him so he wouldn't think about it so much," Dukes said.

Dukes holds firm to USC commitment: USC head coach Kevin O'Neill was fired earlier this week, but Dukes left no uncertainty in regard to his commitment to the Trojans program. The 5-foot-11 guard committed to USC late last July, and signed a National Letter of Intent during the NCAA's early signing period in November.

Trojan assistant coach Bob Cantu, whom Dukes developed a close relationship with over the course of his recruitment, was picked as interim head coach following O'Neill's firing.

Under NCAA rules, once a player has signed a National Letter of Intent, he or she must ask permission from the school to be released from their scholarship. But generally, when there is a coaching change, players are usually granted their request.

"I was pretty much in, I didn't know [O'Neill] well, Coach Cantu recruited me," Dukes said. "For me it was just a matter of staying loyal to the program and loyal to the team. I'm a Trojan all the way."

He added, "Sometimes it's hard to stay together when stuff like that comes up, but after I spoke to Athletic Director Pat Haden and Coach Cantu, they told me about their plans going forward."

Dukes, who also has high aspirations as a filmmaker, mentioned that he has a lot that he wants to accomplish at USC, on and off the court.

"It's the number one school in the country for film majors, I wasn't really worried about the [O'Neill] situation."
January, 6, 2013
1/06/13
10:25
PM ET
By
Chris Bradley
| ESPNBoston.com
He's the leading scorer on the number-one ranked team in Connecticut, the next great player out of the Connecticut Basketball Club AAU program, following in the footsteps of Detroit Pistons forward Andre Drummond, former McDonald's All-American Kris Dunn, and Capital Prep's USC commit Kahlil Dukes. Jared Wilson-Frame has led the Warriors to a perfect 8-0 record so far this year -- including a tight win over New Mission, the third-ranked team in ESPN Boston's boys hoop top 25 poll, at the BABC Holiday Classic.

Wilson-Frame came onto the scene on a regional and national scale last January at the Hoophall Classic, where he scored 16 points to lead Windsor to a win over Springfield Central, the eventual state champion in MIAA Division 1. To further that reputation, the muscular 6-foot-5 junior forward scored 45 points last year against Kuran Iverson's Northwest Catholic squad, finishing the game with 9 three-pointers in all. In the quarterfinals of the CIAC Class LL state tournament, Windsor fell short of Dunn's New London team despite a double-digit second half lead; the Warriors finished the season 25-3.

Since his big year, as well as breaking out this summer on the AAU circuit, he has heard college interest from Division 1 programs such as Connecticut, Georgetown, Providence, and Virginia Tech. We sat down and talked with him about playing against New Mission, AAU friendships, his father-son relationship with Windsor Coach Ken Smith, and what he likes to do in his free time.

Q: You guys were recently ranked as the top team in the state of Connecticut by the Hartford Courant. How much stock do players take in team rankings like that?
A: "When it comes to rankings, we understand what we are, that we're number one, we see it. But we don't take it as 'Oh we're number one so we can turn it on or off whenever we want.' We take it a different way, knowing that were number one, teams are coming to play us every night like it's a championship game. Every team, every time we step up on the court, we have to take it like it's our biggest game of the season because who doesn't want to beat the number one team in the state? I know I sure would if we weren't number one."

Q: How does having that target on your back change your mindset going into each game?
A: "Well, in Connecticut basketball, Windsor has always had a target on their back because we're so known for being successful every season, we're known for beating teams that we weren't supposed to, winning so many games each year. We already have a target on our back, now this just makes us realize it even more than we're ranked number one."

Q: When you aren't playing high school ball, you play AAU with CBC (Connecticut Basketball Club) in the summer, what kind of friendships evolve within an AAU team when you guys are with each other all summer like that?
A: "I've made a lot of friendships; I first played for CBC before they even had a sponsorship when I was like 9 or 10 years old. That's where I first met Levy[Gillespie], Kahlil [Dukes], Andre [Drummond]. From there it was a family environment, the whole organization, they realized that we all have to play for the same team. Whenever Andre was gone Kahlil had to step up and be that guy, when Kahlil is gone, me and Levy are going to have to step up. We just learned from each other, really just have a lot of love for each other as brothers."

Q: How often to you see your AAU teammates on the court during the season, and what's it like going head-to-head against your friends?
A: "We don't see Kahlil or Levy at all during the season [Windsor is in Class LL, for the state's largest schools, while Capital Prep is in Class S, the state's smallest], but I played against Kris [Dunn] last year in the state playoffs, and you just don't really look at them as your friend anymore. Off the court we have a strong relationship, and I still talk to Kris once in awhile to see how he's doing. But that game when you're going up against somebody who you already know, there are no friends on the basketball court. You can't let that get to you and you can't give them an advantage just because you have a close relationship. When it comes to the court, it doesn't matter who you are, you're still my opponent, you're trying to beat me as badly as I'm trying to beat you."

Q: You have a close relationship with your high school coach, Ken Smith. What are some things you have learned from him?
A: "Only people who really know me know this, but Coach Smith, for all purposes necessary, is my father for me in my life. He looks out for me, he takes care of me when I may not be feeling good, he's let me stay at his house for weeks because things at home for me weren't going great. He's just a great person to me, all my life. My older brother played for Windsor, and ever since he's just brought me in, taught me the game, taught me situations, and really taught me how to be a man, period. He's taught me basically everything."

Q: Being one of New England's top public school players obviously didn't come easy, what kind of workouts do you do in the off-season?
A: "Being around Kahlil [Dukes], Kahlil is probably the hardest working basketball player I know, and the hardest working person I know, period. Talking to him, I used to rarely do anything once I got back from AAU in the summer, and now you would never catch me anywhere but the court. Even if it's outside, I don't care, I have a park near my house where I go when I get back from the summer. Losing to Kris Dunn and New London last year in the playoffs, I missed two free throws that could have won the game. I had that in the back of my head all summer, and every time I went to the park this summer I'd make 500 free throws before I even started my actual workout.

"Coach wants me to become a more well-rounded ballplayer, so my workout was a lot of ball handling, a lot of shooting drills, doing box-out drills with some of our big men. Every basic skill that comes with playing basketball, I worked on it."

Q: What kind of things have you, as a leader on your high school team, done to create chemistry?
A: "Usually the story with public school is that the kids grew up there and know each other already. I'm not going to lie, some of the guys on our team didn't really like each other, didn't hang out, and we didn't know each other personally much. But the motivation of playing for Windsor and playing for Coach Smith really brought us together. The tradition creates a bond for us. We realize now, that at the end of the day that to stop playing with each other is to quit, and none of us are going to quit, so we came together.

"Before out actual scrimmages, I called the team in the locker room and we had a team-only players meeting, coaches didn't even know about it. And the thing is we were supposed to be practicing, but we were in the locker room talking it out, for like an hour and forty minutes, just expressing to each other how we need to be a family because there have been a lot of great Windsor teams that could have won championships and didn't, and we don't want to be one of those teams that could have won a championship. We want to get it done this time."

Q: Who is the toughest team you guys have seen so far this season?
A: "The team up in Massachusetts we played, New Mission, they're definitely the toughest team we've faced. They have size, they kids who can score the ball, and they're just gritty, grimy, and their playing style reminds me a lot of our playing style: we're going to get after it on defense, and then do whatever we want on offense because you just aren't going to stop us. They came out the same way we came out, they didn't really know who we were, and they didn't care who we were, just like we didn't care who they were. We just came out and played basketball. At the time, one of starting bigs wasn't even playing, so that was tough early on in the game."

Q: What teams or players are you particularly looking forward to playing against?
A: "I say this to my team all the time: every team that we play has to be our rival. Every team we play has to be that team we hate that beat us last year. We have to play hard against everybody because every team is going to play us like it's their last game. I'm not really looking in particular to play a certain team, whatever team is on the opposite side of the court, that's it."

Q: Outside of basketball, what other interests do you have?
A: "One of my biggest things is writing, I like writing a lot and I do it all the time. After games I'll go home and write about how it went. I like to write my thoughts, I have poems in my journal and stuff like that allows me to be free and express myself. I like to draw too, I draw a lot of basketball related things."
July, 29, 2012
7/29/12
12:50
PM ET
By
Brendan Hall
| ESPNBoston.com
Following his commitment to the University of Southern California this morning, Capital Prep (Conn.) point guard and Hartford resident Kahlil Dukes spoke with ESPNBoston.com for a few more comments:

Motivating factors for his decision today, after telling reporters yesterday he'd visit campus in September: "The head coach, Kevin O'Neill, spoke to my mom and my high school coach about it, just to make sure they know this is an environment where they want me, and went from there. Basically, I have an opportunity to play at the highest level and play alot of minutes for a school at the next level. They also have the degree I want to major in, which is cinematic arts, they have all that stuff on campus in LA."

What kind of film he's interested in: "I'm not sure yet what I'm interested in. I like comedies, I like action, but I think I like action more than comedy, I like all of the the special effects and stuff. I might want to do directing, I might want to write some. I don't know yet."

Motivating factors for him heading into July period: "I wanted to prove I can play at that level. I think I got there, I proved that I could do it. They noticed me at a time when I was working to make that goal happen."

Where he's improved the most since the end of high school season: "Being more efficent, making better decisions with the ball. I'm not just a scorer now, I think I do everyting pretty well. That's what I wanted to become."

His role at USC, and what they like most out of him: "A point that can score. They just like that I'm a killer. I'm going to go out there and score, get guys invovled, and I'm going to win. That's what they like about me. My scoring is kind of an NBA game."

Goals for his senior season: "Win a state championship. I want to have that at my school. Develop relationships with the coaches already on staff at USC. And have fun my senior year."
July, 29, 2012
7/29/12
12:10
PM ET
By
Brendan Hall
| ESPNBoston.com
Following an explosive July campaign at several high-profile showcases, Captial Prep (Conn.) Class of 2013 point guard Kahlil Dukes is bringing his recruiting to a close. This morning, in a mass text to media members, the Hartford resident announced his verbal commitment to the University of Southern California.

His commitment comes on the heels of back-to-back 40-point performances at the Adidas Super 64 this weekend in Las Vegas, with his AAU club the Connecticut Basketball Club. Last high school season, Dukes made a name for himself as one of the Nutmeg State's most elusive guards, leading the Trailblazers to a 22-4 record an an appearance in the Class S state title game. With Dukes leading the way at an average clip of 22 points, Capital averaged nearly 85 points per game.

At the time of his commitment, the 5-foot-10, 160-pound Dukes had a slew of other offers pile in recently, among them Loyola Marymount, Drexel, UTEP, St. Bonaventure, Ohio, Vermont, Lehigh, Sacred Heart, St. Peter's, Quinnipiac, Robert Morris, and Rice.

Yesterday, Dukes told New England Recruiting Report's Chris Bradley that he planned on taking a visit to the USC campus in September.

"I really just want to go somewhere where I can work hard and get better," he told Bradley. "I'd like to play for [a coach] who wants to help me accomplish my goals, and in return hopefully I can help them accomplish their goals."
May, 28, 2012
5/28/12
3:04
PM ET
By
Brendan Hall
| ESPNBoston.com
ESPN's Adam Finkelstein recaps the Memorial Day Super 16 Showcase in New London, Conn. today on ESPN's College Basketball Recruiting Blog, and makes note of the local flavor.
To read the full entry
CLICK HERE (Insider only)
. Below are some excerpts of Finkelstein's analysis:
STANDOUT PERFORMANCES

Noah Vonleh (Haverhill, Mass./New Hampton)
2014, PF, 6-8, 220 pounds
Vonleh's dominance continued on Sunday as his versatility and overall talent shined above the rest of the field. He seems to highlight a new weapon in his arsenal every weekend and this weekend it was his ability to rise to the occasion in big moments. In the semifinal, it was a buzzer-beating tip-dunk that saw him rise above a pack of traffic to throw down a vicious dunk just as time expired in what was an incredible display of his explosiveness.

Kahlil Dukes (Hartford, Conn./Capital Prep)
2013, SG/PG, 5-11, 160 pounds
His game and recruitment have been on a steady rise all spring. His DNA is that of an undersized scoring guard and while he may never be a pure point guard, he's more of a new-age lead guard who uses his individual playmaking abilities to create offensive opportunities for his team. This weekend, he continued to get better as the tournament went on and his efficiency improved with his decision making.

EYE ON THE UNDERCLASSMEN

Chris Baldwin (Springfield, Mass./Hillside School)
2015, PF, 6-6, 185 pounds
Baldwin's name is far from a new one in the Northeast. His natural ability has been well- known for some time, but in many ways this weekend was still his breakout performance as it was the first time that he made a heavy impact on a high-level game. Playing up at the U-17 level, Baldwin stole the show on Saturday, showing his powerful athleticism to throw down back-to-back hammer dunks.

Bruce Brown (Wakefield, Mass./Wakefield)
2015, SF, 6-3, 175 pounds
Brown is a young, up-and-coming swingman with a very high ceiling. He is a high-level athlete who is already playing well above the rim and has good size and a naturally-strong body. While he's a constant threat to get to the rim, the two other things that could make him special are his motor and defensive instincts.

Jeremy Miller (Milton, Mass./New Hampton)
2015, C, 6-9, 200 pounds
He's the type of young big man who has clear potential, but hasn't yet been able to deliver the consistent production. That wasn't the case on Sunday when he showed his skill set out to the 3-point line and even knocked down a dagger 3 to tie the game with 5 seconds left in the junior division final.
May, 1, 2012
5/01/12
2:21
PM ET
By
Brendan Hall
| ESPNBoston.com
ESPN's Adam Finkelstein recaps last weekend's Hoop Group Northeast Jam Fests in Providence and Philadelphia, today on ESPN's Basketball Recruiting section,
which you can find here
.
Finkelstein highlighted several locals that stood out over the weekend, including New Hampton (N.H.) forward Noah Vonleh, Worcester Academy forward Matt Cimino and Capital Prep (Conn.) guard Kahlil Dukes.
Here's what he had to say about each:
STANDOUT PERFORMANCES

Noah Vonleh (Haverhill, Mass./New Hampton)
2014, PF, 6-8, 220 pounds
Still nursing a sprained ankle suffered last weekend in Las Vegas, Vonleh turned what should have been a limitation into an opportunity to showcase his developing versatility. While still showing his trademark playmaking skills off the dribble, he also went to work with his back to the basket. The Rivals took the title in Providence with a decisive second-half run, all of which came when running the offense through Vonleh in the post, as he not only scored with jump hooks and double pivots but also passed out of double teams to find shooters, punishing the defense for whatever coverage they attempted.

SURPRISE PERFORMANCES

Matt Cimino (Falmouth, Maine/Worcester Academy)
2014, PF, 6-9, 200 pounds
Cimino put on a show in the second half of the U-17 championship game in Providence, knocking down five second-half 3s by working the inside-out, two-man game with Vonleh. He's a good post feeder from the perimeter, with agility and touch to throw soft bounce passes and the size to throw over top of pressure as well. His combination of size and skill also forced the opposition into defensive mismatches, as the Westchester Hawks had to use their longest defender to contest Cimino's 3-point shot, leaving Vonleh free to operate against a smaller defender on the block.

PLAYER TO WATCH

Kahlil Dukes (Hartford, Conn./Capital Prep)
2013, SG/PG, 5-11, 160 pounds
If you like the comparison game, you'll appreciate this reference from one on-looking college coach who compared Dukes to a poor man's Eddie House. The former Arizona State sniper was an undersized 2-guard who did his best to slide over to the point but eventually embraced his identity as a scoring guard and played over 10 years in the NBA because of it. Dukes is cut from a similar cloth. He's transitioning to the point and showing some growth with his decision making, but his niche is his ability to make shots in bunches and he owns the special skill of being able to make tough shots with high degrees of difficulty.
January, 2, 2012
1/02/12
11:40
AM ET
By
Lucas Shapiro
| ESPNBoston.com
Scoring is in Capital Prep junior Kahlil Dukes' DNA. He reached 1,000 career points as a sophomore. He dropped 51 points in a game against Classical Magnet recently. Dukes has always been a scorer. You can go on YouTube and find videos of him from middle school doing exactly what he does today: embarrassing defenses.

There have been questions about Dukes too. Many scouts consider him to be an undersized two guard at 5-foot-11. Some question his upside at the next level as well.

After seeing him go up against West Roxbury, here are some observations I made:

Scoring

Dukes had an effortless 31 points against West Roxbury last Wednesday in the BABC Holiday Classic. He was scoring in every imaginable way, whether it was acrobatic drives to the hoop, pull-up jump shots, or deep three-pointers. Here are some clips of Dukes' field goals:



The first two clips show Dukes' great body control. He is that type of player that never is out of control. He's always on balance and driving to the basket with a purpose. In the third clip, Dukes gains separation from the defender with a nice step-back move to get a pull-up jump shot. In the fourth, fifth, and sixth clip, Dukes demonstrates his superior basketball I.Q. Part of the reason why he is such a good scorer is that he knows defensive tendencies and how to take advantage of them. I made the last clip in slow motion to show just how good Dukes' shooting form is. He has serious range on his jump shot and shoots a great percentage from everywhere on the floor.

Passes

There is no getting around the fact that Kahlil Dukes is a combo guard. He is by no means a point guard. At the high school level, he can play the point. At the next level he will need to improve his ball-handling and quickness to play any minutes at the point. He has the court vision and passing ability, which is key to his development into a point guard.



In all of these clips, Dukes does an excellent job of feeding the post. As a wing and a point guard, this is critical to a team's success.

Shot Selection

For the most part, Dukes has good shot selection. As one of the Nutmeg State's finest scorers, it is Dukes' role to take the most shots on his team. There were a few shots, however, there were questionable decisions.



Look at where Dukes is standing in the first clip. That is a three-pointer well beyond the NBA three-point line. This is a bad shot. Yes, Dukes did hit the back of the rim proving that he can hit that shot, but with 25 seconds left on the shot clock, he could have found a better shot. When he faces tougher defenses, Dukes cannot settle for deep range shots like this. In basketball, every possession counts and it is imperative for players to capitalize on every possession to get the highest percentage shot as possible.

In the second clip, Dukes makes a nice move around his first defender but gets his shot partially blocked because of the second defender. On a fast break, it would have been a better decision to pull the ball out and run a play rather than forcing a difficult shot on two defenders.

Observations

There were some things that stood out about Dukes that could not be seen on video.

-- Dukes has the poise of a Division I player. He never talks to the refs. He never talks back to his coach. He always supports his teammates. Dukes has the intangibles to play at the next level, which is why he has had a solid dose of low Division I offers.

-- Upside seems to be one of the main concerns with Dukes, but if he can develop into a point guard, what is there to worry about? This past summer, Dukes performed well on the national level with the Connecticut Basketball Club alongside superstars like Andre Drummond and Kris Dunn, proving that he can score on more than just the competition he faces in Connecticut.

-- The main concern at this point may be on the defensive end. Dukes has to play a less aggressive role on Capital Prep because they need him to stay out of foul trouble. As a small guard, he will need to work on his build (while maintaining his coordination and quickness) if he wants to play serious minutes at a Division I school.

Conclusion

Every high school team in America could use a guy like Kahlil Dukes. He can flat out score and has an unbelievable feel for the game. Sure, he is doing this type of damage on a team that is not a Top 35 team in Massachusetts, but Dukes does this to nearly every team he faces, regardless of the level.

With his elite scoring ability and underrated potential, Dukes could be a diamond in the rough on the New England basketball scene.

December, 31, 2011
12/31/11
4:14
PM ET
On ESPNHS' Connecticut blog, Mike Grimala checks in with Capital Prep junior guard Kahlil Dukes and Ledyard senior running back Alex Manwaring, to talk about the best moments of 2011.
The full Q&A session
can be found here
. Below are some excerpts:
Best High School Team
Manwaring: Xavier. The way they churned out good teams in just about every sport, whether it was football or wrestling, was kind of amazing. They're good at everything.
Dukes: New London basketball, because I'm a big Kris Dunn supporter.

Best High School Athlete
Manwaring: This is a tough one, but I have to say [Ansonia running back] Arkeel Newson. He had something like 3,500 yards this year, and he's definitely tough to stop.
Dukes: Definitely Kris Dunn. Nobody knew who he was last year, then he went out during the summer and played against all the best players and really made a name for himself.

Your Best Moment of 2011 (On the field)
Manwaring: I guess I would have to say our game against Bacon this year. I ran for 317 yards, which was a school record.
Dukes: I'd say the live period in July when all the college coaches could watch me play. I think I made a lot of progress and let everyone know what kind of player I am.

Your Best Moment of 2011 (Off the field)
Manwaring: My best moments were all sports-related! I'm going to say Thanksgiving Day when I scored four touchdowns.
Dukes: When I got my first offer. I was in the airport, it was August 1st or 2nd. It was from Vermont.

Your New Year's Resolution (On the field)
Manwaring: The same as always -- to work my butt off, especially since it's my senior year. I want to win the state open in wrestling.
Dukes: Win.

Your New Year's Resolution (Off the field)
Manwaring: Do the best I can every day, and the rest should be good.
Dukes: To be the best person I can be.
December, 28, 2011
12/28/11
10:55
PM ET
By
Zach Cox
| ESPNBoston.com
CHELSEA, Mass. -- Connecticut power Capital Prep may not have the size of many elite high school basketball programs, but –- as the Raiders of West Roxbury can attest –- they sure can run.

Led by standout guard Kahlil Dukes, Capital (4-1) used its speed to overpower Westie on both ends of the floor, en route to an 83-65 win at the BABC Holiday Classic Invitational, at Chelsea High School.

"That's the way we play," Capital head coach Levy Gillespie said. "It gives us an advantage because we don't have a particularly big team, but we have a quick team. We can pressure people full-court most of the game … and on offense these guys love to score."

Providing the greatest chunk of this scoring was Dukes, who led all scorers with 30 points. Coming off a 51-point performance in the Trailblazers' double-overtime win over Classical on Monday, the junior showed tremendous pace on, using quick moves to slice through the Raider defense for easy layups.

Dukes also showcased his range, knocking down several 3-pointers from the baseline. He was also seen hitting three's from beyond NBA range with ease during halftime.

The Capital speed was evident not only on the fast break, but on the defensive end as well, as the Blazers employed a full-court press for almost the entire game, frustrating the larger Raiders team into forcing errant passes.

While Capital held a comfortable lead for a majority of the game, the nail in the coffin was hammered in during the third quarter.

Trailing by nine after one period, West Roxbury remained in striking distance with clutch outside shooting by sophomore Markus Neale and a strong presence under the basket in senior Sterling Brown.

Neale and Brown, the Raiders' two captains, led the team in scoring with 18 and 15 points, respectively, and the deficit remained at 10 at half.

The Blazers brought the hammer down in the third, however, as Dukes (9 points in the quarter) got some help down low from bruising senior forward DeWayne Wynn (12 points in the third, 20 total).

"I think we came out of the half feeling kind of confident, we had a 10-point lead," Gillespie said, "and the objective obviously was to push the ball. I think after halftime we were able to do that much more; we had guys that were open and [we got] four or five layups right under the basket, which really worked in our favor."

Capital built a 67-42 lead after the third frame before bringing in its reserves and coasting to an 83-65 victory.

The Trailblazers return to action Friday when they host Bullard-Havens Regional (Conn.). West Roxbury will play New Bedford on Thursday in Chelsea for its final game of the BABC Invitational.

Windsor (Conn.) 98, New Bedford 71

The theme of Connecticut dominance continued in Game 2 of the Invitational, as Windsor (Conn.) High shot the lights out in a 98-71 rout of New Bedford.

Eight different players scored in the first half for the Warriors (12 total), as Windsor built a 23-10 lead after the first quarter. An 11-point halftime margin ballooned further in the third, as senior guard Andrew Hurd nailed four 3-pointers, the last of which gave Windsor a 66-40 lead with 2:30 left in the third and brought the New Bedford reserves into the game.

Hurd (20 points) was one of five Warriors to finish in double figures.

Junior guard Rylin Collazo carried the Whalers, leading all scorers with 24 points, including a bucket from beyond half court as the first half expired.

New Bedford will face West Roxbury on Thursday at 4 p.m. in the final game of the tournament for both teams.
December, 21, 2011
12/21/11
1:52
PM ET
The Boston Amateur Basketball Club released the schedule for next week's annual Holiday Classic at Chelsea High School.
Courtesy BABC Director of Operations Jay Demings:
BOSTON, MA - The Boston Amateur Basketball Club (BABC) is proud to host the 2011 Holiday Classic Basketball Tournament from Tuesday, December 27 through Thursday, December 29th at Chelsea High School in Chelsea, MA.

This year's Holiday Classic will feature 11 teams throughout three divisions with schools representing Massachusetts, Connecticut and New Hampshire. Proceeds from the tournament are donated by the BABC to create scholarships for Chelsea High students. To date, Chelsea High School has been the recipient of nearly $70,000 in scholarships since the tournament's inception in 1996.

This year's tournament schedule is as follows:

Tuesday 12/27
4:00 PM - Gm 1 - Malden Catholic vs Everett
5:30 PM - Gm 2 - Cambridge vs Bishop Guertin (NH)
7:00 PM - Gm 3 - New Mission vs St. John's Prep

Wednesday 12/28
4:00 PM - Gm 4 - West Roxbury vs Capital Prep (CT)
5:30 PM - Gm 5 - New Bedford vs Windsor (CT)
7:00 PM - Gm 6 - Reading vs Loser Gm 1

Thursday 12/29
2:30 PM - Gm 7 - Winner Gm 1 vs Reading
4:00 PM - Gm 8 - New Bedford vs West Roxbury
5:30 PM - Gm 9 - Loser Gm 2 vs Loser Gm 3 (Class A Consolation)
7:00 PM - Gm 10 - Winner Gm 2 vs Winner Gm 3 (Class A Final)