Boston High School:

Casey Kesselring
April, 12, 2013
4/12/13
11:24
PM ET
By
Brendan Hall
| ESPNBoston.com
New Hampton (N.H.) School today announced the hiring of Pinkerton Academy's Casey Kesselring as its new head boys ice hockey coach. Director of Communications Will McCulloch sends along the following release:
NEW HAMPTON, NH. -– A familiar face in the New England hockey world will bring his expertise to Lindsay Arena and the tradition-rich men's ice hockey program at New Hampton School next season. The School announced on Friday that Casey Kesselring will be the next Head Men's Ice Hockey Coach for the Huskies. Kesselring will replace four-year head coach Matt Wright, who led the Huskies to a NEPSAC title game in 2011.

A former standout Division-I and professional player, Kesselring has been the Head Coach of the Pinkerton Academy (Derry, New Hampshire) hockey team for the last 10 years. He built Pinkerton's program into a public school power during his tenure, winning state titles in 2009 and 2012.

"We are extremely lucky to get someone like Casey here at New Hampton School," Director of Athletics Jamie Arsenault said. "With his knowledge of the game, passion for kids, ties in the hockey community, and enthusiasm for helping young men grow on and off the ice, he's an ideal fit for New Hampton School. I believe he can help the program achieve great success and create wonderful opportunities for our student-athletes."

Kesselring has a knack for developing players. As a club director, he has worked with 20 players currently competing in college hockey. At Pinkerton, he has coached standout players including former Hockey East Player of the Year Paul Thompson (UNH), 2013 NHL Draft prospect Zach Sanford (Junior Islanders), and JD Dudek (Boston College commit). Kesselring was named the New Hampshire Coach of the Year in 2005 and the Hockey Night In Boston Coach of the Year in 2009.

"This is a chance to move to a higher level of hockey and put more kids into the college game," Kesselring said, "I want to build on the tradition here and put my stamp on it. This is a great opportunity for my family to move up here and be a part of community that has great academics and athletics. It made it a good match. I'm looking forward to working with the student-athletes at New Hampton."

Kesselring is known for producing fundamentally sound players. He thinks players at New Hampton will embrace his coaching style.

"I have certain systems I like to play, but I like to adapt the system to the personnel," said Kesselring. "I like to have an open door policy with my players. When you get on the ice, we're very focused. When you're off the ice, I want to be approachable. I like building relationships with the players."

Kesselring is a fixture in Southern New Hampshire hockey as the owner and operator the New Hampshire Knights, a program of elite spring tournament teams. He is also the Director of the New Hampshire Avalanche, one of the top youth programs in New England.

A former standout at Merrimack College, Kesselring is fourth on the School's all-time Division-I scoring list. He was a part of the Hockey East All-Rookie team in 1995, his team's leading scorer in 1997, an assistant captain in 1998, and a Hockey East All Star as a senior.

A native of Kitchener Ontario, Kesselring played his junior hockey for the Notre Dame Hounds in Wilcox SK before earning a full hockey scholarship to Merrimack. After signing with the Calgary Flames, he spent the next five years playing minor league professional hockey in the ECHL and AHL. In his rookie season, he made the ECHL All-Star Team.
September, 28, 2012
9/28/12
5:04
PM ET
By
Marc Thaler
| ESPNBoston.com
Rising star J.D. Dudek was considering verbal full-scholarship offers from Hockey East schools Maine and New Hampshire when the league-rival Eagles swooped in.

Boston College matched the offer. Dudek didn't hesitate to accept.
"The hockey is, obviously, pretty incredible there," Dudek said of BC, the defending NCAA Division I national champion and rink king in three of the past five years. "I'd love to pursue my career there."
[+] Enlarge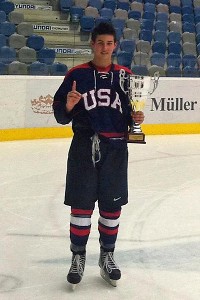 Courtesy of Dudek familyBC hockey commit J.D. Dudek
The 16-year-old resident of Auburn, N.H., verbally committed to BC on Aug. 23. It was shortly after he returned from a sensational performance at the Five Nations Tournament in Chomutov, Czech Republic.
Dudek – whose father is New Hampshire college football legend Joe Dudek – scored three goals for the United States Under-17 Select Team. The 5-foot 11-inch, 175-pound forward twice scored game-winning goals.
Team USA went 4-0 and won the tourney featuring clubs from the Czech Republic, Germany, Slovakia and Switzerland.
"The showing I had ... I'm just ecstatic with what the coaches and people think of me now," said the high school junior, who transferred to Kimball Union Academy in Meriden, N.H., after two year's at Pinkerton Academy.
The talented teen helped lead the Derry, N.H., school to its second NHIAA Division I boys' hockey title as a sophomore. He scored 20 goals and 34 assists, played the point on the power play and served as the team's top penalty-killer.
Pinkerton coach Casey Kesselring, a former hockey standout at Merrimack College (Class of 1998), said the attention his former player received was strictly from skating with the national team.
"USA hockey has a pretty good model to identify players," Kesselring said. "You try out for Team New Hampshire. They pick the team. Then you go to the New England festival. They pick Team New England. I know he was one of the highest-rated at that camp.
"When you're at a national camp," Kesselring added, "all the Division I coaches are there."
Dudek said he plans to complete his junior and senior years at KUA. He will remain in contact with BC coaches, and decide whether to join the Eagles directly out of high school or play junior hockey for a season.
Dudek's father – who became a national name at Division III Plymouth State University – said he never received Division I college interest as a high school athlete. The elder Dudek, of course, graced the Dec. 2, 1985, cover of
Sports Illustrated
as "The thinking fan's vote for the 1985 Heisman Trophy."
"It all happened so quickly," the former PSU star said of his son's recruitment. "A year ago, if you told me J.D. would have schools interested in him playing Division I hockey, I'd say you were crazy. He stepped it up at the USA camp, and it was fast forward from there."
QUEEN CITY CONTROVERSY
The fact there's only one regular-season all-Manchester matchup per year – the result of the Queen City's four high schools no longer all playing Division I football – generates considerable buzz.
But this year, talk leading up to the Week 5 Central-Memorial clash focused on possible sanctions related to a player's transfer between schools.
A sophomore living in Central's district transferred to Memorial. The boy's father, in an unpublished interview with the
New Hampshire Union Leader
, said the reason was related to playing time – specifically, receiving it.
Transferring for athletic purposes violates Section 4 of By-Law Article II in the "NHIAA Handbook."
The rule "assists in the prevention of students switching schools in conjunction with the change of athletic season for athletic purposes; (and) impairs recruitment and reduces the opportunity for undue influence to be exerted by persons seeking to benefit from a student-athlete's prowess."
The schools are under investigation by the New Hampshire Interscholastic Athletic Association (NHIAA), the state's governing body for interscholastic athletics. Officials from both schools were instructed to submit reports that NHIAA executive director Pat Corbin will review.
Corbin, who said he has received conflicting reports from several sources, is expected to make a decision on possible punishments before Week 6 games on Oct 5 and 6.
Forfeiting wins is a possible penalty, as is a three-year postseason ban for either or both schools.
The bulk of responsibility lies with the school receiving a transfer student. In this case, Memorial needed to file a waiver affidavit for NHIAA approval.
Central principal Ronald Mailhot said his school followed student-transfer procedure.
Memorial principal Arthur Adamakos, who took a sick leave last spring and did not return until the 2012-13 school year started, told the
Union Leader
"we goofed on" the paperwork process. Adamakos, a longtime Queen City principal, said he has always abruptly ended any conversation with individuals seeking a transfer for athletic purposes.
The player – whose name was withheld from publication in the statewide newspaper – was deemed ineligible to play in the Central-Memorial game.
'COMPETITION FOR A CAUSE'
Windham's Jaguars sold "Black Out Cancer" t-shirts and purchased alternative jerseys for their Sept. 24 Division IV football game against St. Thomas Aquinas.
The Jags – donning all-black uniforms with green numbers – won the Week 4 clash between last year's Division V finalists, 51-16. They also raised $3,000 for the American Cancer Society's "Coaches vs. Cancer" program.
The fundraising goal was $2,000, said Bill Raycraft, Windham's head coach and athletics director.
STA head coach Eric Cumba, whose team's many supporters wore white t-shirts in support of the fight against cancer, called the game "competition for a cause."
Windham used portable lights to play the Friday night game. Raycraft said the head count was tough to estimate.
"It was deep around the field," Raycraft said. "I know the principal said there were no parking spots left. It was a packed house."
Marc Thaler is a reporter for the New Hampshire Union Leader. He co-hosts the "N.H. High School Football Show" on WGIR-AM 610 and WQSO-FM 96.7. Read his blog at NewHampshireGameDay.com and follow him on Twitter: @marc_thaler.
December, 16, 2011
12/16/11
12:19
PM ET
By
Marc Thaler
| ESPNBoston.com
The immediate goal for Pinkerton Academy's Astros is straightforward: Finish atop the regular-season standings this winter in Division I boys' hockey.
Sounds cliché, right?

Turns out this very dangerous squad from Derry – the preseason pick to finish as rink royalty – has yet to earn a No. 1 playoff seed under nine-year coach Casey Kesselring.
"We've never finished first," Kesselring confirmed before adding that his 2008-09 title team emerged from the bracket as the No. 4 seed.
Kesselring's club a year ago earned the No. 2 seed. But the Astros were a quarterfinals casualty, stunned at home by arch-rival Londonderry, 3-2.
Considering the talent returning on Pinkerton's roster, expectations are extremely high.
First-line wingers Zach Sanford and J.D. Dudek fuel Pinkerton's high-octane attack. Sanford, a junior, and Dudek, a sophomore, led the team in points a year ago.
Further illustrating the talent this team possesses: Freshman Devin Moore centers the top line.
There's no drop-off with the second line. Junior center Dominic Corsetto skates with classmate Connor Brady and sophomore Brendan Philippon.
Kesselring believes the trio would be the top line for most clubs in the state.
Clearly, Pinkerton's strength is potting pucks. Offensive output should provide insurance for the team's junior goaltenders. Nate Mitchell and Matt Marchman are first-year varsity stoppers.
Of course, the coach isn't the least bit worried about the lack of varsity experience his goalies possess. Nor is he concerned about the preseason bull's-eye painted on Pinkerton.
"It doesn't bother me. It gives the school recognition. It gives the kids recognition," Kesselring said. "But they don't hand out rings in the preseason."
December, 16, 2010
12/16/10
1:30
PM ET
By
Marc Thaler
| ESPNBoston.com
Concord High caught a few teams by surprise during its postseason run to the Division I boys' hockey championship a year ago.

"We certainly got hot in the tournament," said Concord coach Duncan Walsh, recalling his team's run to the title as the No. 4 seed. "I don't think anyone thought Concord was going to win it."
The Crimson Tide's rink rivals won't be fooled this time around. The Tide is the preseason team to beat.
"You've got to start with Concord. They've got a lot of guys back," said Pinkerton Academy of Derry coach Casey Kesselring, whose Astros, as defending champs last season, were ousted in a wide open semifinal round that also featured Nashua's Bishop Guertin and Exeter. "They lost a key piece in (Division I Player of the Year) Kevin Marceau. But they have the Lacasse brothers back."
Pat Lacasse is Concord's top returning playmaker. Nick Lacasse leads a veteran defensive group. The twin brothers are among 16 of 20 returning players from the program's first title team since 1999.
"Goals are going to come harder than last year," Walsh said. "Last year, we had a dominant first line. There weren't many games they didn't get two or three goals. I don't think we'll get four or five goals (per game), but we might get two or three."
Concord's first line projects to be Pat Lacasse, the lone returning first-liner from last season, and Chris Acres and Pat Cannon. It's on the other end of the ice where the Tide has fewer question marks.
Nick Lacasse, Taylor Lebell and Dustin Walsh earned the bulk of ice time along the blue line during the 2009-10 campaign. Goaltender Brendan Garrett is also back from the surprise squad that ousted top-seeded BG, 4-3, in the semifinals and blanked No. 3 seed Exeter, 1-0, in the final.
"In my opinion, it's Concord, Hanover, Pinkerton and Bishop Guertin. Those are the usual suspects," Exeter coach Jim Tufts said. "But Concord is the defending champ. Their starting goalie is back, and those twins are really good."