Boston High School:

Catholic Central Conference
February, 15, 2013
2/15/13
3:58
PM ET
As advertised, here's our initial Super 8 hockey tournament, 10-team projection.
We still have a pivotal week ahead for the teams looking to qualify, including some must-see holiday week tournaments, so there could be plenty of movement on this list.
We'll have Version 2.0 to you next Friday, following the completion of the remaining games of note and before Saturday's Super 8 selection committee meetings.
Of course, we'd like to hear your input, and feel free to give us your 10-team field below in the Comments field or via Twitter (@espnbostonhs).
1. Springfield Cathedral (15-0-3)
Current ESPN Boston Top 25 ranking:
1
Why they're in:
No matter what happens this weekend and at their host holiday tournament next week, carrying an undefeated record into final week of the season and playing a schedule that includes nearly all the teams that will be mentioned in this piece there's no question about the Panthers' resume. The question is where they'll end up and it most assuredly will be in the top six.
Why they're in this spot:
For now, they hold the poll position as the lone Super 8 Watch List team without a loss to date. But Saturday's test against No. 2 St. John's Prep will open the debate.
2. St. John's Prep (15-2-0)
Current ESPN Boston Top 25 ranking:
2
Why they're in:
The Eagles captured their first Catholic Conference championship since 1994, going 7-1-0 in the state's elite league, so they're a shoo-in. They are perhaps the state's deepest team from the goal out.
Why they're in this spot:
Prep has been perhaps the state's most consistent team and enters Saturday's pivotal matchup at Cathedral with a 10-game winning streak in tow. The No. 1 spot is in sight.
3. BC High (11-2-3)
Current ESPN Boston Top 25 ranking:
3
Why they're in:
The Catholic Conference runners-up led the state in RPI ranking in terms of strength of schedule with their only losses of the season coming against the two aforementioned teams.
Why they're in this spot:
Again, there's nobody ahead of them that hasn't beat them and there's nobody behind them they haven't beat.
4. Reading (14-1-5)
Current ESPN Boston Top 25 ranking:
4
Why they're in:
The Rockets claimed the Middlesex Liberty (Large) Division title, compiling one of the state's best goals scored to goals allowed ratio (77-25). While Reading's strength of schedule might not compare to some of the parochial schools making this list, as the top team in the state's best public school conference, that's reason enough for automatic entry into The 8.
Why they're in this spot:
The Rockets skated with No. 3 BC High (a 2-0 loss at UMass-Boston) in a competitive December game. That's why they should be right there with them in seeding. However, they do have some unfinished business with a Middlesex League matchup against fellow Watch List team Wilmington.
5. Archbishop Williams (11-2-4)
Current ESPN Boston Top 25 ranking:
9
Why they're in:
The Bishops earned the Catholic Central Large championship with Wednesday's 4-4 tie against Austin Prep, their first outright league title since 1997. While Archies (7-0-3 in CCL) claimed the title over AP (6-0-4) by just one point, laying claim to the title all but assures the Bishops a seat at the Super 8 table.
Why they're in this spot:
The Bishops have just one "quality win" over a fellow Super 8 watch list opponent (Barnstable on Jan. 9), so putting them much higher than here would be a stretch. However, Archies will have at least one shot at another Watch List-er at the Cape Cod Classic this week. A victory in such a game should all but do it for the Bishops.
6. Hingham (12-5-1)
Current ESPN Boston Top 25 ranking:
6
Why they're in:
Because we couldn't feasibly have Super 8 tournament without the Harbormen, right? On this week's podcast (
LISTEN HERE
), Bruce Lerch and I discussed Hingham's troubling lack of a marquee win to date. I think the Harbormen will emerge with at least one of those in the upcoming Cape Cod Classic. But, even still, going it alone, playing as an independent, Hingham takes on all the best the state (and other states) have to offer. They're in; it's just a matter of where.
Why they're in this spot:
Again, the lack of a marquee win prohibits them from moving much higher than here (at least for now), but again, I'd like to see at least one quality win from the Harbormen in the final week to feel safe about this pick.
(Play-in seeds, determined by team records):
7. Austin Prep (10-1-6)
Current ESPN Boston Top 25 ranking:
5
Why they're in:
A 2-2 tie against Matignon last week cost the Cougars a share of the CCL title, and it could cost them a top-six spot. I still believe the Cougars will carry a second CCL selection into the tournament. After all, it would be mighty hard to shut out a team with one loss on the season. Yet again, I'd group AP in with the teams that would be greatly advantaged by a win in Falmouth in the final week because they're just a tad shy (to date) in the marquee win category.
8. Central Catholic (13-3-3)
Current ESPN Boston Top 25 ranking:
10
Why they're in:
The DCL/MVC champions (11-0-0 in league play) will almost assuredly be the conference's lone representative, having swept the season series from fellow Watch List-er and league rival Chelmsford. While it happened at the beginning of the season, the Raiders hold one of the more impressive wins on their resume of all Super 8-considered teams – a 2-1 victory over St. John's Prep in December. Still, there will be many sets of eyes on Central's Monday matinee matchup with Catholic Memorial at Walter Brown.
9. Catholic Memorial (8-6-2)
Current ESPN Boston Top 25 ranking:
7
Why they're in:
Once again, the Knights find themselves near the end of their schedule and haven't yet clinched a postseason tournament berth. I think that will occur early next week, but CM would be woe to head into Friday's Catholic Conference finale with Xaverian having not done so. Again, as it has been in the last two seasons when the Knights have failed to qualify, if they qualify, they're in. Yet, CM would do well to run the table in its remaining four games against fellow Watch List-ers Braintree, Central Catholic and Xaverian, in addition to Connecticut power Fairfield Prep.
10. Malden Catholic (8-6-3)
Current ESPN Boston Top 25 ranking:
8
Why they're in:
As in CM's circumstance, if the Lancers qualify, they're in. The two-time defending Super 8 champions have been hovering around .500 for most of the season and fighting for their playoff lives. Last week's emphatic 4-0 win over Central Catholic was a huge shot in the arm. But again, the Lancers are looking at winning out (remaining schedule: Mount St. Charles, St. Mary's of Lynn, and Springfield Cathedral/ Needham at Cathedral tournament) as their best chance at making it in. Just imagine the disgust of a potential No. 1 seed that could be staring at an opening-round, three-game series against this group. No thanks.
February, 14, 2013
2/14/13
2:05
AM ET
STONEHAM, Mass. -- There was no difference between No. 5 Austin Prep and No. 9 Archbishop Williams in their regular season meetings, skating to a pair of ties.

However, Wednesday night's 4-4 draw between the teams at the Stoneham Arena was enough to net the Bishops their first Catholic Central Large crown since a share of the title in 2009-10.

It was all there for Archies (11-2-4, 7-0-3), which held a 4-1 lead early in the third period. But the Cougars (9-1-6, 6-0-4) came alive in the third period, scoring three goals in a span of two minutes, 25 seconds to pull into a tie.

"You have to be happy that you won the league, but it's very disappointing," Bishops head coach Derackk Curtis said.

He added, "Hopefully, we learn from it. You can't get caught up in it."

The teams traded goals in the first period (Nolan Vesey for AP and Mike Jessman for Archies), but the Bishops broke loose in the second. Archies claimed its first lead of the game at 2:22 of the second with a power-goal at Jake Reardon tipped home Kyle Leonard's point shot. Ryan Dunn padded the Bishops' lead with 22 seconds remaining in the period with Reardon picking up his second point of the game on the assist.

"In the second period, we got back to doing what we do well – taking the body, getting pucks in deep and cycling it," Curtis said. "I though we carried the play."

Archies was off to fast start in the third as well with Mike Davis stuffing a shot in shortside on a broken play 1:08 into the period.

AP took over from there. Just 36 seconds later, senior captain Frankie Candelino put the Cougars on the comeback trail and Jake McKenelley brought AP within a goal 24 seconds later.

George Sennott scored the equalizer with 10:52 remaining on a beautiful feed from Vesey (2 points) on the power play.

MINOR SETBACK, SUPER FUTURE?
While the Cougars ultimately couldn't find the go-ahead and fell short of the league title, all wasn't lost.

"I liked our effort in that there was no quit and we came back," AP head coach Louis Finocchiaro said.

Finocchiaro admitted he'd considered pulling goaltender Elijah Harris in the game's waning moments, searching for the go-ahead goal. But he was content to take the point and take his chances that his team's resume to date will be enough to gain entry to the upcoming Super 8 tournament.

"We'll take the point," Finocchiaro said. "We have a very strong strength of schedule if that comes into effect when they look at us. …

"We have to finish. We have some games in front of us."

SEE YOU SOON?
And with that, there's also the possibility that the Bishops and Cougars could cross paths for the third time this season in next week's crucial Cape Cod Classic in Falmouth. Both teams will play in the 8-team tournament which features six Top 25 teams and five teams featured on the Super 8 Watch List.

Archies opens the tournament with Waltham in a 5 p.m. faceoff on Saturday, while AP skates with Hingham in a potential Super 8 preview matchup at 3 p.m.
February, 12, 2013
2/12/13
9:59
PM ET
While teams at the top of our poll continue to jostle for position as the Super 8 selection meeting nears, there was some movement at the back end of our latest
MIAA boys' hockey Top 25 poll
.
Medfield returned to the poll at No. 23 after claiming the Tri-Valley League title and repaying rival Medway (while knocking the Mustangs from the Top 25) for the Warriors' lone loss of the season. Canton also marked its return to the poll since the 2010-11 season, entering with a 13-3-0 record.
Also, this week, Archbishop Williams makes its first-ever Top 10 appearance, ahead of its penultimate Catholic Central matchup with Austin Prep on Wednesday. In addition, Malden Catholic forged its way back into the Top 10, following a Super 8-caliber, 4-0 win over No. 10 Central Catholic.
January, 13, 2013
1/13/13
12:43
AM ET
By
Josh Perry
| ESPNBoston.com
CANTON, Mass. -- When the first period ended and the score was only 1-0, it felt as though No. 15 Arlington Catholic has missed a golden opportunity to put away its Catholic Central League rival and claim two points.

Archbishop Williams relied on goalie Joe Vinay's 16 first-period saves to stay in Saturday night's physical encounter at the Canton Sportsplex and finished with a strong couple of periods to earn a 1-1 tie.

In fact, Archies (4-2-3) had the best chances to win the game in the third period.

On a quick transition off a Vinay save, junior Mike Jessman paused to allow a defender to slide by before ringing a shot off the crossbar. With 1:46 remaining in the game, the Bishops (4-2-3, 1-0-2) were awarded a power play, but were stymied by aggressive Arlington Catholic defending and a great kick save by goaltender Bryan Hunt.

Cougars head coach Dan Shine credited his penalty kill unit for being able to hold on to the point in the final moments and noted that his team practices blocking shots to be prepared for those situations.

"It's been a strength of ours all season," he said. "It's nice when you know that you have guys that specialize in something and they specialize in that. They love it and they thrive on it and they love to block shots. We keep track of those stats and I'm sure someone has taken the lead tonight."

Sophomore forward Ryan Spagnoli wasted no time giving Arlington Catholic (4-1-3, 2-0-2) the lead when he took hold of a rebound and roofed the opening goal inside the opening 30 seconds. The first period was a shooting gallery for AC, which outshot Archies 17-5, but could not find a way past an inspired Vinay (29 saves overall).

Archies head coach Derackk Curtis spoke afterwards about how important the play of his senior goalie was in keeping the team in the game.

"To be honest with you, he has been playing awesome this year," Curtis said. "He kept us in the game. That's what a good goalie does. He gave us an opportunity to get back in the game and maybe even win it."

After the intermission, Archies stormed back into the game with a strong second period. They outshot AC 9-5 in the period and took the initiative to keep the puck in the Arlington Catholic zone. The pressure paid off when sophomore Tyler Bradford stole the puck at the blue line and slid a shot under the pad of Hunt to tie the game at one apiece.

Curtis admitted to having some choice words for his team at the break and was pleased to see a reaction in the final two periods.

"You look at the maturation process of the players and sometimes the kids come into the game not fully committed to playing the game," he explained. "I want to be clear with the kids that if they go out and play to their full potential, they have the opportunity to do great things. We have a good hockey club and we had to figure it out."

Shine also praised the Archies goaltender and credited his opponents for making it a great league game.

"I thought that it might come back to bite us that we didn't pop another one," he said of Vinay. "Give credit to their goalie, I think he played terrific. I thought we played very, very well. It was a great game between two real good hockey teams. We'll both be in the mix come the end of the season."

Arlington Catholic will travel to Worcester on Monday to face off against St. John's (Shrewsbury) and Archbishop Williams will host St. Mary's (Lynn) on Wednesday.
May, 5, 2012
5/05/12
1:09
AM ET


BRAINTREE, Mass. -- The Archbishop Williams boys' lacrosse team has brown bagged it to an undefeated record through the first half of the season.

So it was no surprise the Bishops put in a little overtime to extend their season-long unbeaten streak to 12 games in a 6-5 triple-overtime win over Catholic Central rival Austin Prep on Friday.

"We talk about coming to work and punching in," Archies head coach Bob Joyce said. "Your lunch break is halftime and you punch back in for the third quarter."

Senior attack Cam Dillon used some extra elbow grease not only to notch the game-winner, but also to tie the game for the Bishops late in the fourth quarter. While the Bishops' offensive chances were few and far between in the first two overtime periods, Dillon wasted little time in the third. Just 19 seconds in, he swooped around the Cougars cage to deposit the game-winner.

"I made my fake to Nick Menzel on the wing, then I just went to the cage and scored.' Dillon said.

Archies took a commanding 3-0 lead through the first, but AP (5-4) came back in the second with back-to-back goals, including Drew Landry's first of two tallies. However, the Bishops struck back seconds after Landry's strike, with Cam Joyce reestablishing a two-goal lead.

The Cougars' comeback charge came in the second half and they went on to take a 5-4 lead on Landry's second of the game, which came a man-down and with a nice dish from Will Kramer.

CHECKMATE FOR BISHOPS
Although they were held in check by the Cougars' defense, the Bishops have thrived this season behind attacks Nick Menzel, Cam Joyce and Dillon.

"They work well together," Bob Joyce said. "We're usually able to score more than today, but hats off to Austin's defense."

According to Dillon, the trio's success all comes down to communication – some of which is nonverbal. He set the game-winning goal in motion with a perfect fake, selling the outlet pass to Menzel while darting to the cage.

That's all an effect of everyone knowing just what to do.

"We're always there, and we always finish," Dillon said.
March, 11, 2012
3/11/12
12:30
AM ET
By
Mark Goodman
| ESPNBoston.com


STONEHAM, Mass. -- Between the end of the third period and the first five minutes of overtime, Arlington Catholic freshman Adrieana Rossini had four breakaways without a goal.

The fifth, however, did the trick to send the Cougars to the TD Garden next Sunday.

Rossini took a pass from senior Allie Stone, stormed into Braintree's zone and put a backhanded shot past Wamp freshman goalie Rachael Brazil to give AC a 3-2 win in Saturday night's MIAA Division 1 girls' hockey state semifinal at Stoneham Arena.

After so many opportunities to put the game away earlier, the game-winner -- which came with 4:37 left in the 12-minute overtime -- clearly came as a relief to Rossini.

"It was a long wait to get it. It took way too long," she said. "I went on four breakaways with teammates and none of them would go through, and finally one just went in."

Brazil (33 saves) was brilliant throughout the night, and saved some of her best for last. Rossini dangled past two Wamps with just over a minute to go in regulation, only to be denied at the doorstep by Brazil. Braintree's net-minder stoned Rossini again at 4:06 of the overtime on almost the exact same play. Two minutes later, Rossini tried to find sophomore Duggan Delano on another break, but Braintree senior Tori Machado did just enough to put Delano off and the shot went wide.

Brazil stopped Rossini on yet another breakaway with 7:18 to play, but was finally beaten a few minutes later. AC head coach Maggie Taverna she had to keep Rossini's spirits up after those missed chances, and it certainly paid off.

"She would come back after every shift to the bench so angry at herself, and I'm like, 'Kid, you just gotta keep going. It's going to come,'" Taverna said. "Eventually, one went in for her, so that was a good thing."

Braintree (16-6-2) was out-shot 36-17 for the game, but played hard and fought off AC for the most of the contest. The Wamps took a 2-1 lead 1:03 into the third period when junior Brittany Yaxter finished a rebound off a shot from senior teammate Ally Perdios.

Taverna came away impressed with the Wamps, who had just knocked off top-seed Acton-Boxborough in the quarterfinals.

"They're a very interesting team, because if you just look at them at a practice, maybe they're not the best skaters," Taverna said. "But they work hard, they're gritty, they're aggressive, and I think any team is gonna have a problem with them. I think that's why the've been so successful in this tournament."

The Cougars immediately went back on the offensive after Yaxter's goal, and tied it back up just 3:14 later. Senior Natalie Flynn found freshman Jessica Piracini on a well-executed 2-on-1, and Piracini finished it off to make it 2-2.

Perdios had a great chance to put the Wamps back ahead with 2:23 to play in regulation after skating past two Cougars on a break, but AC sophomore goaltender Megan Messuri came up with her biggest stop of the evening.

Stone opened the scoring at 4:48 of the second period on a shorthanded breakaway, collecting the puck on the right wing and speeding in on goal before backhanding a shot through the 5-hole.

Braintree freshman Haley Payne nearly tied it just over two minutes later on a nice tip from junior Lauren Connelly's shot from the point, but Messuri made an even better kick save to keep the puck out of the cage.

Braintree eventually did tie it up with just 50.2 seconds left in the frame. Senior Jessica Hasson fired in a wrister from the right point that Messuri had a beat on, but the puck took a wicked deflection off an AC player and looped over Messuri's shoulder into the net.

The Cougars (19-3-1) out-shot Braintree 10-2 in a scoreless first period, as a penalty on Hasson just 24 seconds into the game gave AC early momentum. One of AC's best chances came 6:14 into the period, when senior defenseman Rebecca Zappala fired a great pass from her own blue line to Flynn, who was in alone on Brazil but put her backhand shot just over the crossbar.

Brazil was up to the task on all 10 shots on goal, including shots from in front by sophomore Duggan Delano and Rossini.

In the end, though, it was the Cougars' night. And now, they head to the Garden March 18 to take on St. Mary's (penalty shootout winners over Hingham in Saturday's other semifinal) for a state title. The Spartans beat AC twice during the regular season (by 4-2 and 5-2 scores), and the Cougars' current senior class has never defeated their Catholic Central League rivals.

Stone, the Cougars' assistant captain, is confident that will change.

"What it's going to come down to is out-working them," Stone said. "We're not gonna lose to them again. We're not ready to do that. This is the one team that I've always wanted to beat in my four years here, and I know that the other 10 seniors on the team feel the same.

"We're ready to go. We're gonna come at them with everything we have."


February, 6, 2012
2/06/12
7:03
PM ET
Lost in the fuss of Super Bowl mania this weekend, the Massachusetts High School Hockey Coaches Association unveiled its Super 8 Watch List.

It's a comprehensive list, with 27 teams, including four Division 2 squads (Boston Latin, Canton, Franklin and Wilmington), gaining mention.

While the next three weeks play out to reveal who the final 10 teams will be, here's a crack at our Super 8 field while gazing into a crystal ball, predicting how the teams will stack up a few weeks before the committee makes its ultimate decision.

(Teams are ranked in order of 'Power Seeding' so as to determine the field of six, plus four play-in teams, records are as of time of publication)

1. Malden Catholic (10-1-2)

Current ESPN Boston Top 25 ranking: 1

Why they're in: The Lancers have been No. 1 wire to wire thus far in our poll and their lone loss comes to an out-of-state opponent (Delbarton of N.J.). As the presumed Catholic Conference champions, there's no reason why MC will not take the top seed in the state's biggest tournament.

Why they might not be in: Um, seriously?

2. St. Mary's of Lynn (14-1-2)

Current ESPN Boston Top 25 ranking: 2

Why they're in: The Spartans are scheduled to be Catholic Central Large champions, and we feel that, in itself, should always gain entry into the Super 8.

Why they're in this spot: We hate to look too much into individual games, but the Spartans are one of just two teams (the other being BC High) to take the Lancers to the limit and salvage a point against the No. 1 team.

3. Hingham (12-2-1)

Current ESPN Boston Top 25 ranking: 4

Why they're in: Playing one of the toughest schedules in the state as an independent, the Harbormen are takers of the best challenges from the state's best, night after night. Not bad considering a young team had even head coach Tony Messina wondering what he had entering this season.

Why they're in this spot: Pound for pound the toughest schedule in the state of any non-Catholic Conference team.

4. St. John's Prep (10-5-0)

Current ESPN Boston Top 25 ranking: 3

Why they're in: Even though they're behind BC High in the Catholic Conference standings, still feel their body of work constitutes them as the second Catholic Conference team to gain entry.

Why they're in this spot: We slot them after the Harbormen, despite taking a 2-1 win early in the season, because of their four league losses, including a real head-scratcher against Xaverian.

5. BC High (9-3-3)

Current ESPN Boston Top 25 ranking: 5

Why they're in: Shoo-ins as presumed second-place finisher in the Catholic Conference.

Why they're in this spot: Eagles are 3-1-2 in their last six, and while it's nothing to slouch at, they haven't been playing their best hockey of the season when other teams are peaking.

6. Central Catholic (9-2-3)

Current ESPN Boston Top 25 ranking: 7

Why they're in: We're going to go all Wolf Blitzer and project the DCL/MVC race for the Raiders, despite trailing Westford Academy by a point (Central has games in hand). That, combined with their aggressive out-of-conference scheduling has them back in a top six slot.

Why they're in this spot: The formula presented above is enough to give the Raiders the final guaranteed position.

THE FINAL FOUR (PLAY-IN TEAMS)

7. Catholic Memorial (6-6-1)

Current ESPN Boston Top 25 ranking: 6

Why they're in: The Knights split their remaining Catholic Conference games against Prep and MC (we won't tell you which game they win, however) and take care of the balance of their schedule to qualify. The committee slots the Knights here to make them sweat through a play-in game because of their near .500 record.

Why they might not be in: Simply put, as last year, the Knights fail to qualify for ANY tournament.

8. Burlington (10-1-3)

Current ESPN Boston Top 25 ranking: 10

Why they're in: The Red Devils wrap up the Middlesex League's small division and survive any hiccups down the stretch. Given their convincing wins over Woburn, they go on to represent the league over any other squad from the Middlesex (read: Woburn).

Why they might not be in: They cough up few more points, like the 2-2 tie against Melrose on Saturday, and the bubble is burst.

9. Springfield Cathedral (7-4-4)

Current ESPN Boston Top 25 ranking: 8

Why they're in: Another squad, akin to Hingham, that takes on all comers. Our crystal ball sees the Panthers coming up with some big points in their host tournament in two weeks, solidifying their resume.

Why they might not be in: Given that they came away with two ties against Catholic West rival St. John's of Shrewsbury, it might be hard to pick the Panthers over the Pioneers and could create a wash.

10. Norwood (12-2-4)

Current ESPN Boston Top 25 ranking: 12

Why they're in: Consider us among the believers after witnessing the Mustangs' methodical win over perennial Bay State Super 8 entrant Needham. Coupled with Norwood's earlier win over Braintree (also listed on the Association's Watch List), hard to argue it should be anyone but the Mustangs representing the Bay State.

Why they might not be in: Is the out-of-conference schedule (a 2-0 L to Hingham and 6-0 win over Archbishop Williams) enough?
January, 30, 2012
1/30/12
4:09
PM ET
The MIAA boys' hockey Top 25 poll has been updated for this week
here
.
There was a little movement to our Top 10, with St. Mary's of Lynn falling a couple of spots to No. 4, after an unexpected tie against Archbishop Williams. St. John's Prep assumes the No. 2 position.
Falmouth shfited up to No. 15 after a tremendous 7-1 thumping of No. 24 Marshfield, opening up the Atlantic Coast League title race again. Braintree was the big mover of the week, as the Wamps move to their high-water point for the season, jumping six spots to No. 16.
Arlington Catholic also vaulted back into the poll, after a two-week absence, after beating Catholic Central rival Austin Prep, 6-4.
March, 2, 2011
3/02/11
11:18
PM ET
BILLERICA, Mass. – Before taking the ice in Arlington Catholic's Division 1 North hockey first-round playoff game against Catholic Central rival Austin Prep, Cougars goaltender John Michael Busa told head coach Dan Shine that they would only need one goal.
"He told me, don't worry about it," Shine said.
Busa truly did have everything in control, making 31 saves in the 11th seed's 3-0 win Wednesday night at Chelmsford Forum.
Senior captain Dan Graham took care of the rest with a three-point game, including two goals.
[+] Enlarge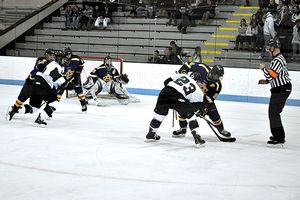 Scott Barboza for ESPNBoston.comJohn Michael Busa made 31 saves and Daniel Graham turned in a three-point game (2 goals) in a 3-0 victory over Austin Prep in the first round of the Division 1 North playoffs.
"It's Austin Prep, so we know each game's a battle," Busa said. "We knew we had to play good defense all game and we couldn't take any shifts off."
Sixth-seeded Austin Prep outshot Arlington Catholic, 12-9, in the first period and got the better of the scoring opportunities.
However, the AC defense, led by Busa, was up to task, killing off two AP power play chances in the first. AP (10-7-4) was held to just one shot combined on those man-advantages.
Although AP again had the higher quality chances in the second, AC (9-5-8) got on the board first. As time expired on an AC power play, senior captain streaked across the blue line, first deking an AP defender out his skates before putting another move on Cougars netminder Nick Luise in close. Graham finished on the backhand to give AC the lead on the unassisted goal with 2:17 remaining in the second.
"They have a tendency to chip it into the middle of the rink," Shine said about Graham's goal, "so I told them if they stay in the middle, they could end up with some chances."
Busa continued to shine during the second, providing several high quality saves. He robbed AP defenseman Michael Guiliano, flashing the pad with a left toe save on a one-timer blast from the point. Busa later robbed Ryan Quinn on a short-handed breakaway.
"He's showing who he really is," Shine said about Busa. "He's been terrific for us the last couple of weeks and tonight, he was playing at a whole different level. He was focused, he was attacking the puck."
Graham added his second of the game 6:46 into the third period, knocking home a rebound from the doorstep off Timothy Conroy's shot.
Jon Byrne added the empty-netter with 25.8 seconds remaining with Graham picking up his third point of the game on the assist. Graham was checked on the play while dumping the puck toward goal at center ice and took an inadvertent stick to the chin. He left the rink with a bloodied jersey and bandaged, but no worse for the wear.
It's all been part of the story for AC, which has been shorthanded of late and is playing without one of its top scorers, Shaun Teeven, who is out for the season with a shoulder injury.
"With Shaun out, that hurts," Graham said. "He was a big part of what we did on the ice. But we've got a great bunch of young kids who got experience throughout the year. So they've definitely stepped up."
AC advances to play Billerica in the quarterfinals.
AP head coach Louis Finocchiaro, while disappointed, took positives from his team's season, which included an appearance on the Super Eight Watch List.
"We outshot them and we did that often this season, but we just weren't a goal-scoring team," Finocchiaro said. "I thought we had effort tonight, but 14 out of our 19 players are first-year varsity players. I thought for the most part this season, we did better than I anticipated. We played pretty well toward the end of the season, but we just needed to be more consistent."
February, 15, 2011
2/15/11
5:32
PM ET
Over the weekend, the Super Eight "Watch List" was compiled by the Massachusetts State Hockey Coaches Association. In what has proved to be a particularly wild year, 21 teams made the initial list for observation during the final two weeks of the season. The mere number of teams on the list is a testament to how truly even competition has been through the year.

Aside from our weekly Top 25 state hockey poll, we're going to take a little time to break down the Watch List, making a case for each team and their chances at the big dance while ranking the likelihood they will be among the field in addition to couple of X-factors to their postseason success.

It goes without saying that there's a lot of hockey left to be played, but here's how we see them stacking up as of right now.

As always, feel free to sound off and leave a copy of your rankings in the comments section.

TOP OF THE HEAP
1. Malden Catholic (13-2-2)
Why they're in: Wire-to-wire, the Lancers have been the state's most consistent team, minus one hiccup against Hingham. The top line of Brendan Collier, Ryan Fitzgerald and Mike Vecchione is without parallel. Not only that, the Blue Blades have depth throughout. Simply stated, they're the team to beat.

X-factor: So much has been written (we're included) about the Lancers offense, but they have a defensive corps to boot led by Connor Evangelista and Colin MacGillivray, not to mention the very steady Pat Young in net.

TOP GUNS
2. Hingham (10-4-4)
Why they're in: There's been some turnover from last year's Super Eight championship team, but the Harbormen still have some important cogs in the fold from that squad starting with their captains: winger Tim Driscoll and defenseman Alex Pompeo. They form the nucleus of a group that's been there and done that, evidenced by some clutch late season wins, like last week's comeback win against St. Mary's of Lynn.

X-factor: Rangy junior winger Matt Hughes (6-foot-2) has exhibited a quick release and knack for finding the back of the net. The Harbormen have gone through stretches where they've struggled to score. If Hughes is on his game, Hingham will be all that much tougher to beat.

3. St. John's Prep (10-5-1)
Why they're in: The Eagles have assured themselves a second-place finish in the Catholic Conference with a 4-3-0 record thus far. Quite frankly, that should be a good enough resume to gain Super Eight entry in any season. In addition, Prep has Top 25 wins out of conference against Austin Prep, St. John's (Shrewsbury), Springfield Cathedral and Woburn.

X-factor: The question entering the season was how far Harvard commit Colin Blackwell could lead the Eagles. But he hasn't just had to do it alone. Freshman Shane Eiserman could soon follow Blackwell's footsteps as a D-1 recruit. In net, Prep has it covered with junior David Letarte who's underrated.

4. St. Mary's of Lynn (12-3-3)
Why they're in: The Spartans aced their Catholic Central schedule with a 7-0-3 record, out-scoring their opponents 37-12. It all starts from the goal out with netminder Donald Hesse sporting a sub-2.00 goals against average. Sophomore Bobby Mullins has stepped up to shoulder the offensive load and leads the squad with 12 goals.

X-factor: The Spartans don't have too many marquee out-of-conference wins, but we're looking past that in this panel's consideration of their merits on the strength of their conference schedule which includes three Top 25 squads in Archbishop Williams, Arlington Catholic and Austin Prep. St. Mary's pushed Malden Catholic on Monday before losing, 3-2, but the Spartans have a couple more high profile non-leaguers on the docket with Springfield Cathedral and Weymouth.

TOP EIGHT BUBBLE
5. BC High (9-4-3)
Why they're in: First-year head coach and longtime Eagles assistant John Flaherty set a goal to get his team back into the postseason this season. Not only has BC High qualified for the state tournament, it very well looks like they're Super Eight bound. The Eagles started Catholic Conference play 0-3-1, but were able to salvage two wins down the stretch. Their 3-3 tie against Malden Catholic seemed to be a springboard for the team to believe in itself.

X-factor: A big tip of the cap goes to the Eagles' senior leadership in keeping the young squad together, led by captain Mike Cashman, and assistant captains Jack Buckley, Brendan O'Malley and Andrew White.

6. Weymouth (15-2-1)
Why they're in: We expect that the Wildcats will put their finishing touches on Bay State Carey league title on Wednesday against Braintree despite a recent bump in the road with a loss to Needham. It's hard to imagine Weymouth not being a shoo-in for the field of eight having been so dominant wire-to-wire. We could get a glimpse at how the Wildcats could play in the field with a string of late season tests against Catholic Memorial, Central Catholic and St. Mary's in the next two weeks.

X-factor: It all comes down to defense in the postseason and with defensemen Andy Sheridan and goaltender Brian Brady, the Wildcats have senior leadership covered.

7. Woburn (12-3-1)
Why they're in: The Tanners hold a slight 1-point lead over Winchester in the tight race to the Middlesex League crown. Their demonstrative 4-1 win over Reading on Saturday could go a long way toward punching their ticket. The Tanners control their own destiny with two more scheduled league games (Stoneham and Winchester) and, if they take care of business, they should be in.

X-factor: Woburn seems to be peaking at the right time and hasn't lost since their first meeting against Reading on Jan. 8. Juniors Eddie Aprile and Bobby Smith played up for their latest big game against the Rockets last week.

HARD TO FIGURE
8. Catholic Memorial (7-7-1)
Why they're in: Bar none, nobody plays a harder schedule in the MIAA than the Knights every year. They're accustomed to playing Super Eight-caliber hockey every time out and they get everybody's best. For a CM team, they're young, but they're also plenty talented with defenseman Marc Hetnik leading the way. Sophomore Liam Coughlin (8-8-16) has been a revelation.

X-factor: Quite frankly, whether or not they have enough points to get to the tournament. It's not often you're taking a serious look at a .500 club come this time of year, but it again speaks to the quality of schedule in the Catholic Conference as well as out-of-conference. So here's the gauntlet, five points in five games and they're in.

9a. Central Catholic (12-4-1)
Why they're in: Less than a week ago, we had the Raiders ticketed for the top four of the eight-team field. After a lack-luster 1-1 tie against Billerica last Wednesday, Pandora's Box opened. Now, as it stands as of publication time, the Raiders hold a 1-point lead over Billerica in the DCL/MVC with four games to play. The Indians also have four games to play. We'll hedge that the winner of this pre-postseason mini tournament will have a chance at the Super Eight.

X-factor: Kyle Williams is that type of goaltender that can carry a team on a postseason run, but the Raiders can be dangerous if Tommy Evangelista and playmaker Nick Leonard are on point.

9b. Billerica (7-1-7)
Why they're in: If the aforementioned Raiders tail off and the Indians can pull of the DCL/MVC title, that's it. On the plus side, the Indians have lost only one game, a 3-2 loss to Burlington. On the negative side, they've also only won less than half of their games as well.

X-factor: Health. The Indians were down five players in their 1-1 tie against Central Catholic, but the job head coach Mike Mastrullo pulled mixing and matching lines was masterful, plus his team came to play. It's that side of Billerica that makes you believe.

ON THE FRINGE (WORD ASSOCIATION ROUND)
11. Needham (10-5-3)
Why they're in: Building steam.

X-factor: Experience, Super Eight that is.

12. Springfield Cathedral (11-7-0)
Why they're in: Aren't the Panthers always in?

X-factor: Zac Rondeau = game-changer.

13. Winchester (10-5-1)
Why they're in: Surviving the Middlesex League.

X-factor: Ryan McGoff.

14. Xaverian (8-5-2)
Why they're in: A Catholic Conference team on the outs?

X-factor: Dave Michaels.

BEST OF THE REST
15. Braintree (10-4-3)
16. Reading (12-4-1)
17. Arlington Catholic (8-3-6)
18. St. John's Shrewsbury (10-6-1)
19. Barnstable (11-1-3)
20. Austin Prep (9-5-3)
21. Marshfield (10-2-4)
December, 30, 2010
12/30/10
1:07
AM ET
SAUGUS, Mass. – No. 1 Malden Catholic hockey flexed its muscles throughout the Kasabuski Christmas Tournament. After throttling St. Bernard's, 18-0, on Tuesday, the Lancers capped off the tournament championship with a convincing 8-0 win over No. 6 St. Mary's of Lynn Wednesday night.

Malden Catholic (5-0-0) had six players finish with multi-point games, including tournament MVP Brendan Collier (2 G, 2A) and Ryan Fitzgerald (2G, 2A), who led with four points apiece. Mike Vecchione and Mike Iovanna each had three-point games while Colin MacGillivray and Nick Roberto (2 G) each had two points.

St. Mary's (2-1-2) endured a tough first period, when the Lancers scored five times. Malden Catholic struck for three goals within 32 seconds of each other midway through the first.

"In the first period, I thought we really only played seven or eight really good minutes," Lancers head coach Chris Serino said. "Fortunately, we put four, five goals in during that time."

While Malden Catholic's is indeed potent offensively, Serino also reminded that you cannot overlook the efforts of his defensemen. The Lancer blue-liners, led by the top pair of Connor Evangelista and MacGillivray, were instrumental in limiting the Spartans to nine shots on goaltender Pat Young.

"I thought we did a pretty good job in our own end, getting the puck out," Serino added.

"People look at our forwards and our top line, but we've got pretty good defensemen, too. I think especially our top four are as good as anybody."

On a night when many things didn't go well for the Spartans, bench boss Mark Lee was encouraged by the way his team competed in the third period, holding the Lancers off the board.

"Every mistake you make, they're there to capitalize on it," Lee said. "Each one of their goals was a breakdown by us. They're one of the most talented teams I've seen in years.

"But I'm very proud of our third period, we came out and played like men. We skated up and down with them and we had some chances. I'm happy with how we finished the game, taking the score away."

SAUGUS TAKES D-2
It was a banner day all-around for Serino as his alma mater captured the Division 2 championship earlier in the day.

Saugus blanked Lynnfield, 3-0, on the strength of a pair of two-point performances from Kurt Roderigues and Drew Oxley.

"We've had some games this year that we've learned from," Sachems head coach Jeff Natalucci said. "We were up 3-0 against Winthrop and we let them back in because we stopped working, but tonight we didn't stop working. Hopefully, we continue to grow and go from here."

After Ralph Pagliucca put the Sachems (2-0-3) ahead 1-0 in the seond period, Roderigues added some cushion, beating talented Lynnfield netminder Craig Cataldo on a snipe from the circle. Roderigues was set in motion on the play by a laser cross-ice pass through the neutral zone form Oxley.

Roderigues later returned the favor, setting up Oxley's goal three minutes into the third period.

Saugus showed some grit in the tournament, working back from a two-goal deficit against Pentucket on Tuesday to earn a 5-2 win and advance to Wednesday's final. The Sachems also played with plenty of jam with an aggressive forecheck. And it would be hard to recall loose puck in the corner that wasn't first fished out by a Saugus skater.

Even Roderigues' goal was started by some dirty work done in the corner. Freshman Steven Kay snaked the puck out of the Sachems' end, pushing the puck to Oxley who let Roderigues off to the races.

All encouraging signs for their first-year head coach.

CATHOLIC CENTRAL LOGJAM
Earlier in the day, No. 5 Austin Prep collected a 4-0 win over Catholic Central foe St. Bernard's in the Division 1 consolation game.

However, the Kasabuski tournament just reinforced the fact that the Catholic Central is shaping up to be a very even three-horse race this season.

On Tuesday night, the Cougars skated to a 1-1 tie with St. Mary's (the game is counted as a tie in MIAA standings), but the Spartans had the last laugh, scoring with 50 seconds remaining in the overtime period to set up their matchup with Malden Catholic. The tightly-battled game has been indicative of the early season meetings between the Catholic Central powers. Before Christmas, No. 4 Arlington Catholic skated to a 4-4 tie with St. Mary's. So no definitive favorite has emerged in one of the state's most tightly contested conferences.

"It's nice to take three points away from the tournament, but we were still a little sloppy," Austin Prep head coach Louis Finocchiaro said. "There are still things we have to work on. We can be a little careless with the puck at times. But we're a young team and you expect those things to happen."
December, 19, 2010
12/19/10
2:16
PM ET
ARLINGTON, Mass. -- For a while, it looked as though No. 10 Archbishop Williams would have the last laugh over No. 4 Arlington Catholic, holding the Cougars scoreless over two-plus periods. Before Saturday night's game at Veterans Memorial Skating Rink, Arlington Catholic hoisted to the rafters a banner commemorating last year's Division 1 state title win, which also came over the Bishops.
So was a little revenge in the cards? Not so.
The Cougars had to battle back from two one-goal deficits and didn't hold the lead until the final two minutes of play, with Dan Graham's marker making the difference in a 3-2 win over their Catholic Central rival.
The Bishops (0-1-0, 0-1-0) took an early lead on Ryan Dunn's power-play goal assisted by Mike Thiesing in the first period. Sophomore Brian Nazzaro made Dunn's goal stand up, keeping the Cougars (1-0-0, 1-0-0) off the board through the first 30 minutes of play.
Arlington Catholic finally got on the board 2:38 into the third on Christopher Sadler's strike set up by Brendon O'Connell and William Cooke. The Bishops quickly regained the lead on Mike Sorenti's tally with their second goal of the evening on the power play.
However, some undisciplined play would have the Bishops shorthanded less than a minute later and the Cougars broke through on the man-advantage. Jon Byrne redirected Brian McCoff's blast from the point to tie the score, 2-2. Cooke also added his second assist on the play.
Arlington Catholic seized the momentum, with Graham tallying the game-winner on a pretty set up from Shaun Teeven. Graham buried the one-timer top shelf on the play that was set in motion by a good outlet pass by defenseman Matthew Dee.
Here's a couple of passing thoughts from the rematch between old rivals:
It's no secret that the team Arlington Catholic returns this season is much different from last year's squad. But Cougars head coach Dan Shine was encouraged by his young team's resiliency exhibited during their season opener. Although they might not have played their best game, it's very early in the season and the Cougars showed mettle when it mattered most. "Replacing 17 players is an enormous task," Shine said. "In a game like this, coming back to from a goal down, coming back and scoring late goals in the game to win is a huge confidence booster. And that's what we were hoping to get out of tonight."
The area where Arlington Catholic's roster has seen the greatest turnover is on the blue line. All six of the Cougars' D-men graduated last year. That has provided an opportunity for Cooke and McGoff, two transfer students, to seize the job comprising the Cougars' top pairing. Through the first game, both showed good discipline on the power play, maintaining space and creating shooting lanes. That paid off handsomely with Byrne's power-play goal that tied the game, 2-2. "I think our defense played well," Shine said. "They played a lot in the end, they were real steady. And again, they're learning every day."
Archies finds itself in much the same situation as Arlington Catholic this season. Bishops head coach Derackk Curtis estimated that 90 percent of his roster was playing in their first varsity game Saturday. "Overall, I'm pretty happy with the way we played," Curtis said. "We didn't finish, we have to finish. I thought overall our compete level was there."
December, 10, 2010
12/10/10
1:10
PM ET
TEWKSBURY, Mass. -- Tim Bennedetto sat in an otherwise empty locker room at the Super Skills hockey complex after practice with his Austin Prep teammates.
The Cougars' senior captain realizes they are going to look much different than they did last year, when they were Super 8 semifinalists. Gone from that team are the flash of forward Brendan Silk, who was welcomed into the U.S. National Team Development Program last year, and goaltender Brendan Leahy.
Coupled with a handful of other prep/private defections since last March, Austin Prep will take the ice a new look in 2010-11.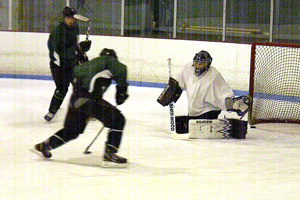 Scott Barboza/ESPNBoston.com No. 5 Austin Prep was Super 8 semifinalists last year, but several key departures have the Cougars a little short in the teeth. However, they have history on their side, having won six of the last eight Catholic Central titles.
That doesn't mean you should count out the No. 5 Cougars though.
"I feel confident going into battle with these guys," said Bennedetto, a resident of Peabody. "I feel we have a good squad here regardless of who stays or leaves. We have a good group of guys."
After going 18-3-3 last year, the Cougars claimed their sixth Catholic Central League championship in eight years. Austin Prep also has participated in the Super 8 tournament seven times in the last 10 years.
Cougars head coach Louis Finocchiaro is no stranger to deep postseason runs, but for now his team is focused on playing their own brand of hockey.
"Even with the turnover that we've had, we still have a good nucleus of guys who've been in our program for a while," Finocchiaro said. "I think once we get to midseason we'll be very competitive team."
To remain among the best in the state, the Austin Prep is going to need players to step up. The offseason departures have left Finocchiaro with a team that's inexperienced in terms of game action. It's up to players like Bennedetto to fill the roles that have been left open.
"We're not going to be the finesse team that we were last year," Bennedetto said. "We're not going to get a lot of pretty goals this year, we're going to have to dump the puck in, work, cycle it, forecheck and get all the goals we can get.
"What it all stems back to is defense. We have to play good defense because a good defense translates into good offense."
The Cougars strength lies on the blue line, where mainstays Riley MacEachern, Shane Hurley and Robby Hardy return. Catholic Central All-Star junior Ryan Quinn will be counted on to lead the attack up front.
"Of course we'd like to get back to the Super 8," Bennedetto said, "but you really just have to come out and play one game at a time, one period at a time, one shift, and just keep short-term goals in mind and not look down the calendar into tournament time."
With a crowded house at the top of the Catholic Central, there are a host of clubs clamoring to assume Austin Prep's perch at the top. Returning Division 1 state champion Arlington Catholic, Archbishop Williams and St. Mary's of Lynn are among the group likely to have a say in who claims the league crown this year.
"It's anybody's ball game," Bennedetto said, "anybody could come out on top."
AUSTIN PREP AT A GLANCE
2009-10:
18-3-3 (Super 8 semifinalists)
Head Coach:
Louis Finocchiaro (98-41-25)
Players to watch:
F Ryan Quinn, Jr.; F Steve Caruso, Sr.; D Riley MacEachern, Jr.
Outlook:
Finocchiaro is looking for the Cougars to build as the season progresses. "I think we're going to feel our lumps during the first half of the season, but I have lot of confidence in the guys that are here and I think that as the year goes on, we'll get better." He has a healthy core of players who are familiar with the Austin Prep system but who are green in game experience, so what the Cougars achieve in 2010-11 is largely left up to their seniors up front – like the line of Caruso, Bennedetto and Scott Corcoran – being able to score consistently.