Boston High School:

Catholic Central League
December, 8, 2014
Dec 8
10:58
AM ET
By
John McGuirk
| ESPNBoston.com
MARLBOROUGH, Mass. _ The task at hand is a dubious one for Chris Kelly, but there is no doubt the first-year Matignon head hockey coach has the pedigree and knowledge to put this program back on the map.
In spite the Warriors reaching the postseason a year ago under, then head coach, Dan Lupo, this once-fabled program has not basked in much glory since the days of legendary coach Marty Pierce, who stepped down in 2004, having won eight state championships and responsible for sending a number of players to the NHL, including Steve Leach, Shawn McEachern, Niko Dimitrakos and Tom O'Regan.
Kelly was a member of two of those state title runs in 1982 and '83, serving as team captain on the latter. With Lupo forced to depart due to work commitments, Kelly was brought on board last August following a successful stint at Wayland High School.
"What I am trying to accomplish here is to not worry too much about what has happened in the past," said Kelly, during Sunday's Garrett Reagan Hockey Summit at New England Sports Center. "We are trying to build a future of our own. I don't ever like to compare myself to Coach Pierce because I have too much respect for him. I am trying to build a future here, but always be thinking about the tradition of Matignon. I want to get these kids on board to begin a tradition and hopefully people outside the Matignon community can understand what we are trying to accomplish."
Kelly points out the life lessons he learned as a player under Pierce's tutelage, and now as coach, are immeasurable. Learning from one of the best hockey minds this state has ever produced, far-exceed the basic game fundamentals and strategies.
"I wouldn't be in this position if it wasn't for Coach Pierce," Kelly said. "He is a mentor and a role model of mine. I wish everyone knew Marty the way I do. He has helped so many people inside the hockey community and outside. I just think the world of him. What I instill into my players is what I have taken from Marty and that is the three D's _ discipline, desire and defense. That is what he preached and that is what I am now preaching. I started using that method when I was at Wayland."
The Warriors will have their hands full playing in the highly-formidable Catholic Central League, playing the likes of Arlington Catholic, Archbishop Williams, Austin Prep and St. Mary's of Lynn.
"I would like to see us be competitive in our league," said Kelly. "I would like to see us get into the postseason tournament this year and win a game or two to start. But it is a very tough league with some very good coaches."
A few years back Matignon was in the midst of a numbers crunch as the enrollment dwindled. In fact, under former coach Angus Means, the team managed to dress just 11 players on a nightly basis. At one point there was even discussion to close down the school entirely. But during the past couple of years, a revitalization has taken place as enrollment figures are on the upswing.
"The numbers are there," said Kelly. "We did a lot of work back in August to now of getting kids to come to the school. Some kids were on the fence when Coach Lupo left but I worked the phones, went to tournaments over the summer and met with parents to try to get those kids to come here. It has been quite surprising in terms of our talent level right now. We have a lot of senior leadership and things have projected a little faster than I had first anticipated."
Matignon will be led by goaltender Ben Parker, winger Johnny Andrews, center Mike MacPherson and defenseman Cam Monagle.
MC stockpiled on defense:
There is no mistaking the fact that Malden Catholic head coach John McLean has enjoyed the fruits of his labor, having now won the last four Super 8 Tournament titles.
Known for its well-balanced play at both ends of the ice, most are quick to identify MC's quick-strike offense as the reason why the Lancers are considered the best team state-wide. But don't sleep on the defense. Especially this year.
[+] Enlarge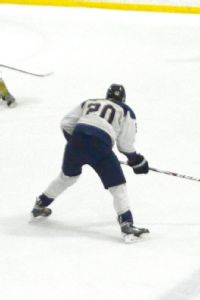 Scott Barboza/ESPNMalden Catholic senior captain John McLean leads the Lancers on their run for a fifth straight Super 8 championship.
The Lancers are the deepest in that department for the first time in McLean's nine years at the helm.
"This is the strongest defensive corps that I've ever had here," said McLean. "We go six deep. We have five returnees and a transfer (Matt Ciulla) from Dexter Southfield School. I'm very excited and having that many defensemen will certainly help us. My biggest thing right now if figuring out what our lines will be. We have four or five games over the next two weeks so we will mix and match and go from there."
The defense will be led by McLean's son, John III. The 6-1 senior has been nothing short of brilliant during his tenure here, well-regarded for his physicality and his penchant of knocking opponents off of their lanes.
"We've got some new guys in this year and I think Matt Ciulla is going to be a huge asset for us," he said. "Also, all of our forwards come back and help play defense so it is all one unit out there."
With the departures of center Ara Nazarian and forward Tyler Sifferlen (both now playing in the USHL), McLean will be looked upon to provide much of the leadership for this year's club.
"I want to represent MC in making sure we continue to be a very good hockey program," the younger McLean said. "Everyone on our schedule is good so we haven't won a thing this year and basically this is a new team. We are starting at square one again. We have lost a lot of senior leadership from last year so I just want to be a good leader on and off the ice and help our younger kids develop so they can be our future leaders both in school and on the ice."
Cathedral set for new heights:
Three straight years Springfield Cathedral has arguably had the most talent team, top to bottom, over all other programs in the state. Having reached the Super 8 Tournament in all three of those years, the best the Panthers could do was reach the semifinals before bowing out.
This season, once again, SC has all the weapons in place for a return trip to the Super 8. The question is how far can they go this time? Losing just one player from last year (goaltender John Liqouri) to graduation, there is no reason why the Panthers cannot advance to the finals this season.
"I do think it is our year," said stellar senior forward Peter Crinella. "Everyone is back but John. We're looking good and it is our hope we can break past the semifinal round this time around and make it to the championship and take it home with us."
Panthers coach Brian Foley says the team has spent a majority of the off season working out together in the weight room, and building leg strength through plyometrics and speed drills in an effort to enhance strength, speed and endurance.
"We're still trying to figure out who is who right now," Foley said. "We've got a little competition going on our fourth line. We have 12 forwards, seven defensmen and three goalies back. The biggest thing I have seen this year is the size and strength difference from a year ago with everybody. All committed to the off season workouts and physically, everyone seems to be bigger, stronger and faster."
Shrewsbury back for seconds?:
Steve Turnblom wants it. So too, does his team. Having hoisted the Division 3 state championship trophy a year ago, the Colonials have a taste for another crown three months from now. Who can argue that notion?
Gone from a year ago are several key components, especially on the defensive side. Following the departures of defensemen Sean Hallice, Cole Ambach, Cole Vincequere and Matt Dillon, who transferred to Cushing Academy, Shrewsbury has left a huge void. Offense took a hit as well with the graduations of forward/center Dave Belbin and forward Derrick Dell'Olio.
"We lost some solid players but 8 of our 9 forwards are back," said Turnblom. "We continue to stress defense more than anything here. Last year we limited teams to 10-15 shots per game which gave us a big advantage. We need to play well in our own end."
But all is certainly not lost. The Colonials return seniors Dan and Jack Quinlivan, Tyler O'Keefe and Joe Buduo on offense. All of whom well-capable to score from anywhere inside the offensive zone.
"We know we've got some holes to fill but I think we will be better in certain areas," said co-captain Dan Quinlivan. "I don't think we'll be as talented as we were but I do feel we will be more-prepared for each game that we play. The intensity here is going to be high. The goal is to get back to the state finals and we feel we can get there. It was the best thing that happened to us last year and we want it again."
Shrewsbury has upgraded its schedule this year by adding Springfield Cathedral and Newton South, as well as its annual grudge match versus St. John's (Shrewsbury).
"The kids want to win another title and they know how to do it," Turnblom said. "But I told them we are starting from scratch again and everyone is going to be gunning for them. They need to work hard all the time and continue getting better. Our kids wanted a better schedule because they want to play some of those better teams. You play better competition then you, yourself, will get better."
Pioneers looking to stay the course:
Under the direction of first-year head coach Mike Mead last season, St. John's (Shrewsbury) reached the Division 1 North tournament. After knocking off Burlington in the quarterfinals, they fell to Arlington in the next round.
Two major components from that team (defensemen Bryan Nelson and goaltender Mario Pizzeri) are gone. Both, no doubt, will be sorely missed but Mead says you cannot dwell on the past and it is time to move forward.
"We have some good seniors coming back so I'm very excited as we head into the season," Mead said.
Players like defenseman Brendan Doherty and Michael Parente will be expected to handle the brunt of action inside their own zone, while Kevin Quinlivan, Patrick Storer and Dan Barlok will be responsible for putting the puck into the back of the net. Goaltending will still be this team's primary concern as sophomore Matt Mongeau and junior Alex Franchi will begin the year platooning between the pipes.
"Both are young goalies who are battling it out," Mead said. "Neither has any varsity experience because Mario played every game last year for us. But I think both paid close attention to what Mario was doing in his preparations for every game and hopefully some of that has rubbed off on both of them. We shall see."
The Pioneers have added powers Central Catholic and Catholic Memorial to an already grueling schedule that also includes Springfield Cathedral, BC High, Xaverian and St. John's Prep.
April, 7, 2014
Apr 7
11:59
PM ET
By
Jeff Cox
| ESPNBoston.com
BRAINTREE, Mass. -- A hot start propelled Archbishop Williams to a 15-7 victory over Catholic Central League rival Arlington Catholic on Tuesday afternoon at Memorial Field.

An experienced Archies squad jumped out to a 9-2 lead early in the second quarter before the Cougars could really settle into the game. Archbishop Williams utilized its team speed and skill as well as terrific play on faceoffs to cruise past a frustrated AC team.

Seniors Colin Higgins and Nick Menzel led the way offensively for the Bishops while Jack Dunford was solid in goal when called upon.

"[Archbishop Williams] came out really strong," said an impressed Arlington Catholic coach Dan Brothers. "We got in a hole. They're pretty good and they played really well today."

Quick Start: Archbishop Williams hopped out to a 4-1 lead midway through the first quarter and then scored four goals in the first couple minutes of the second quarter to hold a commanding 9-2 lead.

Midfielder Luke Bernasconi scored just 1:53 into the game on an unassisted goal. Menzel, James and Steve Righini, and Higgins added goals later in the first stanza to give the Archies a 5-2 lead after the first quarter.

Menzel, Higgins and James Righini each scored less than a minute apart to extend the lead to six goals in the opening two minutes of the second quarter. Menzel added his third of the game shortly there after for a 9-2 Archies' lead.

"We knew we have a couple big games coming up in a row here," Archbishop Williams head coach Steve Rotondi said. "In practice we've been working on moving the ball in game speed and getting everything going right away. We just want to open up the offense."

Senior Leadership: Archies is off to a 4-0 start after Tuesday's victory over AC in large part due to a core leadership group of experienced and chiseled veterans.

Three seniors, Menzel, Higgins and Steve Righini, combined for 10 of the team's 15 goals and another senior, Dunford, was very solid in goal. In addition to his four goals, Higgins also assisted on four scores. Menzel added three helpers as well.

According to Rotondi, it is the experience of being a four-year varsity player that has helped Menzel become one of the biggest scoring threats in the CCL. More importantly, it has given him the maturity and awareness to know what it takes to win big league games.

"Nick's been a four-year starter," Rotondi said. "He's a senior captain. He's our leader. He knows what to expect in these games. We've been on the losing side of these games in the past, but we've also been on the winning side. He really knows what level we need to get the team to. His compete level is just awesome."

The coaching staff is also pleased with the progression of the team – even this early in the season.

"We're getting better every day," explained Rotondi, the first-year head coach. "We have things we have to work on, but we've seen a difference every day defensively and offensively. We're doing a lot of the little things and we're just gelling as a group."

No quit in Cougars: Falling behind on the road can be demoralizing for any team, but Arlington Catholic did a good job of competing hard until the final buzzer. Despite the lopsided score, the Cougars showed intensity and passion in the final quarter.

"We asked them not to quit and they didn't," said Brothers, whose team was paced offensively by Billy Barrett and Luke Amato.

Brothers said a few in-game adjustments helped his team level the playing field somewhat, but the slow start wasn't for a lack of preparation.

"We made some adjustments after the first quarter," Brothers said. "We were ready. We had a great bus ride down here, which we usually don't have. The kids were loose and relaxed, but [Archbishop Williams] is just pretty good.

"It's back to the drawing board. We'll be ready for the next one."

Notes: Rob Beaton and Justin Mancovsky also scored goals for the Archies…In addition to his two goals and two assists, Bernasconi, a sophomore, led the team with nine ground balls… Up next for the Bishops is a meeting with Cardinal Spellman on Wednesday… The Cougars' next opponent is also Cardinal Spellman, an away game in Brockton on Saturday.
February, 11, 2014
Feb 11
2:53
AM ET


ARLINGTON, Mass. – Although Arlington Catholic girls' hockey has twice hoisted a state championship trophy, there was one honorific that had eluded the program altogether. Even in their championship seasons, the Cougars never had laid claim to the Catholic Central League title.

Entering Monday's action against league foe of fellow ESPN Boston state poll Top 10 squad Austin Prep, AC had the opportunity to finish out its first league championship.

AC delivered, as Adrieana Rossini tallied both goals and junior goaltender Katherine Crane made 15 saves for 2-0 shutout win.

"We were so excited for this game, even though half the team is sick," Rossini said, in between sniffles.

AC (12-2-1, 5-0-1 Catholic Central) played at less than 100 percent, as senior forward Danielle Kelley missed the game due to illness, in addition to the rest of the Cougars' room, which has been battling various ailments.

Perhaps due to AC's physical state, AP (10-4-2, 1-4-0) was the aggressor early. While the teams were scoreless through the first period and matched each other with six shots apiece, AP had the better scoring chances in the first.

After being shut in two of its previous three games entering Monday's action, a solid start was a point of emphasis for AP.

"We had a lot of good chances, but the last couple of games we haven't been finding the back of the net like we did earlier in the season," AP head coach Stephanie Wood said. "We're still getting good opportunities, good chances, but we're just not burying it when we need to."

The game remained scoreless until the 8:13 mark of the third period, when Rossini clubbed a home run. Playing a bounding pass from linemate Duggan Delano out of midair and past AP goaltender Caty Flagg (22 saves).

Rossini closed the game with an empty-net goal with virtually no time remaining on the clock.

For everything in between, Crane, a first-year starter in AC's net, showed an increasing confidence in the paint, clamping down on rebounds and snuffing out any second-chance ideas.

"I think she's on Cloud Nine right now," AC head coach Maggie Taverna said. "She's such a competitor. Even in practice, she'll deny Ardieana [Rossini] a goal and she'll chirp her in practice. She just hates to get scored on."

Crane's play is part of the momentum that AC has built up entering the final weeks of the regular season.

With an eight-game winning streak in tact, AC is again building at the right time of the year.

"We hit a couple of rough points in the middle of the season, around Christmas break, but we got back on track," said Jess Piracini, who also picked up an assist on Rossini's first goal. "We've got a win streak going."
February, 5, 2014
Feb 5
7:17
PM ET
The latest ESPN Boston MIAA boys' hockey Top 25 poll has been updated, and it has St. Mary's (Lynn) making its move into the Top 10.
This week's complete poll can be found by clicking
HERE
.
(Note: Records are as of Tuesday, Feb. 4.)
Super 8 shuffle:
After the Massachusetts State Hockey Coaches Association preliminary Watch List was released this week, teams have ratcheted up their intensity entering the final month of the regular season.
Archbishop Williams was the big mover this week, vaulting up four spots to No. 12, after managing a season split with Catholic Central rival Arlington Catholic. Meanwhile, fellow CCL hopeful St. Mary's made a move to No. 9, up three spots from last week, after coming with a hard-earned point in a 3-3 draw with Austin Prep in a battle of the top two teams in the Large division.
Breaking and entering:
There was also movement to the back end of the poll, as Super 8 Watch-Lister Milton dropped from this week's poll, following Monday's loss to No. 25 Barnstable. However, the Red Raiders will have their hands full on Saturday, as they play Cape rival No. 24 Falmouth, as the Clippers look for a season sweep.
Braintree returned to the poll at No. 22, after falling out one month ago. The Wamps turned in a statement win, kicking Super 8 hopeful Duxbury from the Top 10 after a win over the Dragons on Monday.
February, 1, 2014
Feb 1
10:18
PM ET
By
John McGuirk
| ESPNBoston.com
STONEHAM, Mass. -- Austin Prep head coach Stephanie Wood doesn't need to be reminded. Neither does her team.

The Cougars realize that for them to make any kind of headway in the upcoming Division 1 postseason tournament later this month, they need to get better production out of their power play unit.

On Saturday night, and facing Catholic Central Large Conference rival Arlington Catholic inside Stoneham Arena, AP had multitude of player-advantage opportunities, including a pair of substantial 5-on-3 chances. But not once did the Cougars capitalize as AC prevailed 2-0.

"We had a lot of chances on the power play but couldn't take advantage, but I also thought their goalie played really well for them tonight," said Wood. "We had a couple of 5-on-3 as well as some other chances to come back in this one but we just couldn't. This season we haven't had much trouble finding the back of the net but today for some reason it didn't happen for us."

With the victory, AC (11-2-1, 4-0-1), winners of the seven straight, moves one step closer to clinching its first CCL title. Coming off a tie two nights ago versus Notre Dame Academy (Hingham), AP drops to 9-2-2 (1-2-0). These two combatants will meet again on Wednesday at Ed Burns Arena in Arlington.

Despite her team doing her no favors by committing a plethora of infractions, AC goalie Katherine Crane played superbly. The junior stopped all 20 shots she faced, including a couple of breakaway chances.

"From the net out, I feel we played our hardest tonight," Crane said. "My mind was telling me don't let them score. It got a little nerve-racking at times out there. [Former AC goaltender] Megan Messuri has been a great role model for me. During practices, she tells me what to do in these types of situations. I feel like she has really prepared me well. Throughout every game I feel like I have gotten better and we have gotten better as a team."

AC controlled the opening period. Working the puck up quickly along the boards, and continuously cycling inside AP's zone, the visiting Cougars would take a 1-0 lead at 9:26. Duggan Delano, a junior forward, standing in the right slot, sent a shot through the leg pads of AP goalie Caty Flagg.

Despite putting up 14 first period shots, AC would have to settle for its one-goal margin heading into the first intermission. The remainder of this tilt turned into a whistle fest. With no penalties called in the opening period, officials made up for it over the final two frames. In all,14 penalties were called over the final 30 minutes, including eight against AC.

The constant stoppage in play, in turn, took away from a relatively entertaining contest. Early in the second period, AP was awarded its first 5-on-3 chance, but failed to get anything past Crane. A brief two-player advantage ensued shortly thereafter with still nothing to show for it. As second period concluded with no scoring from either side, AP knew it needed to put everything on the line coming out for the third.

But early in the frame, AC junior forward Adrieana Rossini had a chance to pad her team's lead after breaking in on Flagg all alone. But the sophomore held her ground and was able to kick aside Rossini's low right side attempt keeping it a one-goal contest.

Moments later, AC sent two more in the penalty box, giving AP a 30 second 5-on-3 to work with. But the result proved no different as the earlier ones as AC's defense and Crane continued to keep AP at bay.

"Katherine has played well for us pretty-much the whole year," AC head coach and former Boston College standout Maggie Taverna said. "Her taking Messuri's spot this year was a worry at first but she has really stepped up to the plate. She has been making some big saves for us. As a team we have practicing a lot on our penalty kill. I'm trying to teach them the rotation that I learned in college from my coaches Katie King-Crowley and Courtney Kennedy. I'm hoping that is going to work. These kids are willing to learn and when they see something they are taught work for them, then they're like OK let's do that. When they start to execute things properly that is when things start to click in their heads."

With time winding down, AP was dealt a crushing blow after sophomore Juliana Dolan managed to put in a backhand shot past Flagg after a mad scramble in front of the crease. The tally extended AC's advantage to two goals with under three minutes to go. AP could do little after that as the Cougars went down quietly.

"The depth of our team is what makes up strong," Taverna said. "We are fortunate where I have six pairs of forwards that I can throw out there at anytime and I have a seventh forward I trust as well."
January, 25, 2014
Jan 25
11:14
PM ET
By
John McGuirk
| ESPNBoston.com
ARLINGTON, Mass. -- The postseason is still a few weeks away, but Catholic Central League rivals Austin Prep and Arlington Catholic may have given the large throng of vocal fans inside Ed Burns Arena Saturday night a taste of things yet to come. We can only hope the dramatics that were on display will be seen again in late February.

Arlington Catholic was in control of a two-goal lead through the first 30 minutes only to watch in anguish as Austin Prep stormed back with three unanswered third period markers to squeak out a 3-2 triumph.

"It shows we've got some character," Austin Prep head coach Louis Finocchiaro said. "This is a tough building to come into and win a hockey game in. Not to mention going into the third period losing 2-0. The kids showed no quit and those are the type of kids you want on your hockey team. We played a God-awful second period but were able to rebound in the third. We just need to find it for three periods instead of one."

Sophomore winger Mike Egan's goal at 12:12 proved to be the difference as No. 3 Austin Prep, winners of five straight, improve to 8-2-2 and 5-0-2 in the CCL. Egan's tally was the pinnacle of a dominating closing period by the visiting Cougars. For the first two periods, Austin Prep's offense was at a standstill as ninth-seeded Arlington Catholic (8-2-1, 3-2-1) was in constant check mode, knocking Austin Prep off its skates along the boards and in the open ice.

In between, the hometown Cougars were able to find the back of net twice. At 10:05 of the first period, forward Ryan Tierney got a gratuitous bounce of the puck off the blocker of Austin Prep goaltender Elijah Harris and swiftly knocked it past the junior while on the power play. Despite being out-shot in the frame, Arlington Catholic dictated the tempo for much of it.

Junior Ryan Smith increased Arlington Catholic's lead to two goals at 8:40 of the middle period. The goal was set up by sophomore forward Andrew Somerville, who stole the puck along the left half wall, skated behind the Austin Prep goal and dished a pass to Smith in front of the net, who sent a one-timer past Harris (21 saves).

"During those first two periods I thought we played as well as we had in a long time," said Arlington Catholic head coach Dan Shine, who was denied career win No. 500 and will try again on Wednesday when Arlington Catholic travels to Archbishop Williams. "Credit to Austin Prep, they were down 2-0 and waited for their opportunities to capitalize. It was a great high school hockey event and obviously our kids are disappointed. I told them that we have to learn from this, be willing to accept what happen and move on from it. We can't do anything about tonight. It's over and we have to be ready for Wednesday. As much as we took it to them in the first two periods they obviously took it to us in the third."

Shine, who celebrates a birthday on Sunday, downplayed the quest for 500, stating he is more concern about his team attaining victories and doing well in the postseason instead of personal accolades.

Coming into the third, you had a sense that Austin Prep would not go down quietly. There is too much talent on this club for that to happen. Just 1:24 into the period, Austin Prep proved it. Ryan McDonough, a junior forward, was able poke in a rebound to put his team on the board.

A few minutes later, with Arlington Catholic defenseman Jon-Luke Dee sitting in the penalty box for interference, Austin Prep sniper Bobo Carpenter knotted things at 2-2 with a blast coming from just inside his own blue line that sailed over goalie John Richard's right shoulder.

Suddenly, every ounce of momentum inside this old barn had shifted to the side of Austin Prep.

But it didn't last long. Just seconds after Carpenter's goal, Austin Prep's J.J. Layton (roughing) and Anthony Cieri (interference) were whistled into the box simultaneously giving Arlington Catholic a 5-on-3 opportunity. Austin Prep did a yeoman-like job killing it off.

Then, moments later, Mike Disciullo was nailed for a tripping violation putting Arlington Catholic back on the power play. Once again, Austin Prep rose to the challenge, frustrating Arlington Catholic inside its defensive zone, blocking shots out front and allowing Harris to become a stop-gap between the pipes.

"Our penalty kill was phenomenal at the end," Finocchiaro said. "We rolled into a diamond defense and took the shooter away from the middle and we defended off of the shot. Decent teams will get shots off, especially in 5-on-3 situations. What you have to do is defend off the shot afterwards, clear out, pick up the rebounds and let the goalie get a clear look at the shooter.

"This is a big win for us because it is against a league rival and a big league game. We could've easily rolled over tonight and gotten blown out but we didn't."

With time winding down and all indications pointing to a well-deserved tie by these two state powers, Austin Prep had other ideas. Egan received a long pass from Andrew Cross at Arlington Catholic's blue line and out-worked defenseman Brian Goggin inside the zone toward the net before beating Richard (24 saves) with a backhand shot sparking a wild eruption from the Austin Prep bench. Arlington Catholic worked in vain to notch the equalizer but would be denied as time ran out on them.

"After the second period our coaches told us that we needed to pick it up," Egan said. "We needed to come out and play with more heart. We did that and we were able to finish. After Bobby's goal, the intensity off of that really carried us from there. We just need to continue to play hard from here on out and let things come together."
January, 5, 2014
Jan 5
5:13
AM ET
STONEHAM, Mass. – Any tie leaves the game's competitors wanting more. And in the case of Saturday's contest between Catholic Central Large rivals Arlington Catholic and Austin Prep, both squads could have found things that were lacking.

Arlington Catholic squandered a two-goal lead and had just one power-play goal on seven opportunities with the man-up. On the flip side, Austin Prep took too many penalties, spending too much time holding off AC's rush.

"When you've got to come back after giving up a lead, you have to battle," AC head coach Dan Shine said. "We did that and I'm really pleased with that."

Conversely, AP head coach Louis Finocchiaro's group is looking to find an identity, having compiled an 0-2-2 record in its last four games.

"We're fighting it right now," Finocchiaro said. "We're not playing well, we're not playing with confidence. We can say we have some guys out of the lineup, you try to maintain, keeping things simple and playing as a team, but we're fighting it."

AC (5-0-1, 3-0-1) claimed an early lead with John Rogers' point-shot bomb on the power play at 4:17 of the first. Andy Somerville then padded AC's advantage on a one-timer off of Ryan Smith's feed at 3:33 of the second.

However, AP (3-2-2, 1-0-2) rifled back just 21 seconds later with Cam Russo's first of two points on the evening – a goal at 3:54.

Not soon thereafter, AP stole a bit of momentum as goaltender Elijah Harris (20 saves) shut down Jason Smith's breakaway bid.

AP finished the period on a groundswell, with a Ryan McDonough tally from an extreme angle at the right-wing circle.

AC reclaimed the lead at the seven-minute mark of the second as Ryan Spagnoli beat Harris on a partial breakaway.

But again, AP found a way. Bobo Carpenter tied the score, 3-3, on a short-handed bid with 2:19 to play.

It was the seventh AC power-play opportunity AP was tasked with defending, but after a nice cross-ice feed from Russo (1 G, 1A), the point was preserved.

"We have to build on the positives," Finocchiaro said. "We were down 2-0 and we came back when we very easily could have quit to tie it, 2-2. Then, when we went down 3-2, we didn't quit either. We have to build on that."
December, 20, 2013
12/20/13
1:41
AM ET
Arlington Catholic takes the top spot in our first MIAA girls' hockey Top 25 poll of the season.
For the entire poll, click
HERE
.
Here are few thoughts from the poll and the new season:
Dragons' lair:
No matter what, there will be a new champion in Division 2 this year, as three-time reigning title-holder Duxbury moves up to D1. The Dragons, who start the year at No. 2, will have a crack at the ultimate prize in their first season at the state's top level, but that could mean that it's finally No. 5 Falmouth's time to assume the throne in D2. The Clippers have been runners-up to Duxbury in the state title game in each of the last two seasons.
League races in focus:
Both the Catholic Central and Middlesex Leagues are well-represented in our Top 10.
The Catholic Central should be the race to watch this year, with AC, St. Mary's of Lynn (No. 4) and Austin Prep (No. 8) all represented in the Top 10, in addition to Archbishop Williams, which checks in at No. 19.
However, the Middlesex leads all leagues with five entrants to start the year, with Woburn topping off at No. 6. However, a considerable amount of preseason buzz has surrounded No. 7 Reading, with a young nucleus that could be capable of skating away with the hardware at the Garden in March.
June, 4, 2013
6/04/13
2:25
AM ET


PEABODY, Mass. – Both sides were prepared for the photo finish. It's how they got there that came as a surprise.

Catholic Central League lacrosse rivals Austin Prep and Arlington Catholic play each other twice during the regular season and a third installment came Monday at Bishop Fenwick High in a second-round matchup of the Division 3 tournament. For the fourth time in the teams' last five meetings, they played to a carbon copy 9-8 result. And, while they split the season series, Austin Prep saved the best for last, coming back from a two-goal, fourth-quarter deficit to advance to the tournament quarterfinals.

"We were luck to have the run at the end," said a relieved AP head coach Peter Smyth.

Holding on to a 6-3 lead early in the third quarter, AP (18-2) watched its lead turn into a deficit by the fourth, as AC (12-8) rattled off a string of five straight goals in the next 11 minutes.

Then, AP got on a run of its own, rallying to score two quick goals within 18 seconds and tie the game, 8-8, with 4:05 remaining. Justin Demichaelis tallied the game-winner with 2:50 remaining.

"Bobo Carpenter's done a great job cutting from the top of the box all year, so I thought they thought he'd probably do the same thing," the senior attackman said. "But I saw the open lane, he put it on my stick and that's really all it was."

While AC had taken the only "blow-out" decision in the teams' recent history (an 8-3 win in April), the Cougars started slow on Monday.

"When it was 4-1, I said, 'I think we're in trouble,'" AC head coach Dan Brothers said. "We didn't seem to have much. There were breakdowns, we were missing passes, missing slides, missed a couple shots here and there."

After Carpenter tallied his game-high fourth of game at 8:53 of the third quarter, AC closed with three goals, including two from Billy Barrett (hat trick) to tie the game, 6-6, at the end of the period. Bryan Hunt provided the go-ahead goal at 9:26 of the fourth before Bryan Daly made it a two-goal game.

Charley Shippee and Sam Morgan brought AP back even before Demichaelis' eventual game-winner.

AP finished the comeback victory with an impressive possession display after winning the final faceoff. They cycled through the box for more than two minutes to ensure AC would not touch the ball again.

"We work on that every practice, our two-minute drill, we call it," Smyth said. "I have a stopwatch, set it to two minutes and they have to keep it in the box for two minutes against our defense, which is throwing everything at them. Sometimes we'll put seven guys out there trying to kill it."

AP advances to host No. 10 seed Hanover Wednesday at 5 p.m.

Brothers hoped for a better ending for his senior-laden group, but considered the larger picture

"They've been a big part of the program, a lot of them have been with us for four years," he said. "This will hurt them for a while, but tomorrow we'll all wake up, put our feet on the ground and realize this was a great four years."
May, 19, 2013
5/19/13
2:49
PM ET
With many teams suffering losses in the last week, there was plenty of shakeups in this week's
MIAA softball Top 25 poll
.
This week's changes are marked by plenty of up-and-down movement, in addition to four teams entering the poll this week, including a couple of newcomers.
Both No. 24 Arlington Catholic and No. 25 Apponequet make their first-ever Top 25 showings, after some critical league wins. The Cougars claimed their first Catholic Central Large crown after beating Archbishop Williams last week. Meanwhile, the Lakers now stand atop the South Coast Conference standings, thanks to an extra-innings, walk-off win over Fairhaven.
Also moving back into the poll this week was No. 15 Bellingham and No. 20 Taunton on the heels of significant divisional victories. The Blackhawks split their season series with defending Tri-Valley League champion Hopkington while the Tigers nipped former No. 2 North Attleborough in an extra-innings Hockomock League battle.
(Editor's note: Records are as of Friday.)
May, 9, 2013
5/09/13
3:15
AM ET
ARLINGTON, Mass. – Archbishop Williams – like many lacrosse teams at this stage of the season – has been fighting the injury bug of late. The Bishops were playing with four regulars heading into Wednesday's Catholic Central League tilt against Arlington Catholic.

But there's no such thing as excuses. "We'd play with eleven," Archies head coach Bob Joyce said. And so the Bishops tried their best to deal in the interim.

Perhaps more troubling, continuing another recent trend, the Bishops again found themselves in an early hole. They trailed the Cougars 5-2 at the half and had to dig out from a two-goal deficit to start the fourth quarter. Archies tied the game with 30 seconds remaining in regulation on Steve Righini's fifth goal of the game.

But it was one of the Bishops' fill-in cast members who was the hero on the day.

Junior midfielder Colin Higgins, who's rotated to attack to make up for holes in the lineup, scored the overtime game-winner, giving Archies an 8-7 victory.

"We were trying to get [Nick] Menzel up top to draw a shorty and probably get a shot around to [Steve] Righini," Higgins said. "I just got the rebound off the shot."

Faced with the numbers pinch, the Bishops (10-3) have adopted an all-hands-on-deck approach. Higgins also credited the group's versatility as a factor in their continued success despite playing at less than 100 percent.

"We've tried different things, we'll have different people playing up top," Higgins said. "We're pretty interchangeable, attacks go to mids and we have [defensive] mids playing up."

Still, Archies has relied on its top scorers to weather the storm, evidenced by Righini's five-goal outburst. Menzel also chipped in a four-point game with two goals and two assists.

Zack Blanch and Andy Haytayan led AC (8-5) in the loss with two goals each.

COMEBACK KINGS
The Bishops have a penchant for slow starts, but they've also exhibited the ability to make early deficits disappear.

"We saw it in the Austin Prep game, we were down eight to nothing and we've showed we can come back, against any team," Joyce said.

However, Archies went on to lose that first meeting of the season with AP – their lone conference loss on the year. And while the Bishops maintain a lead on the Cougars, on the bulk of league games played to this point, it is likely the Catholic Central race will come down to the teams' rematch next Wednesday.

"This keeps up right up with Austin Prep, so we look forward to having them come to our place and hopefully come away with the CCL," Higgins said.
March, 6, 2013
3/06/13
2:59
AM ET


STONEHAM, Mass. – Alison Butler had the book on Austin Prep goaltender Shannon O'Neil. The St. Mary's of Lynn winger knew Tuesday night's opponent well, having battled the Cougars twice during the regular season. She's also been a teammate of O'Neil's, playing travel hockey together in summer and fall tournaments.

Still, beating the Cougars' senior netminder is easier said than done. O'Neil entered Tuesday's action leading the state in shutouts with 10, in addition to maintaining a Vezina-caliber 96.8 save percentage during the regular season.

Yet, the Division 1 state quarter-final matchup at the Stoneham Arena went to the shooter. Butler led the No. 4 seed Spartans to a 3-0 win over their Catholic Central League rivals. The senior captain figured in each of St. Mary's goals, netting two of her own in addition to dishing out the assist on the Spartans' final tally.

It all went to plan.

"We had to come out strong and get one quick on Shannon [O'Neil]," Butler said, reflecting on the team's game plan for the evening.

Butler did just that, forcing an AP defensive zone turnover behind the Cougars' net and finished out front on the back-hand, beating O'Neil top shelf 2:50 into the first. She followed suit in the second period with a power-play goal at 2:05 of the second with assists from Tatiana Doucette and Samantha Callahan.

St. Mary's (14-3-5) then struck 54 seconds later, with Butler throwing the saucer pass onto Madison Molea's stick on a 2-on-1 break.

In premiere matchup of one of the state's top forwards against one of its top netminders, Butler was on point.

"If she has an open opportunity," Cougars head coach Stephanie Wood said of Butler, "she'll rarely miss."

Spartans goaltender Lauren Skinnion was the one earning the shutout over her counterpart, making 14 saves in victory, seven of which came in the first period.

"Lauren Skinnion was awesome tonight," St. Mary's head coach Frank Pagliuca said. "She made some big saves in the third period, she really kept them at bay."

With the victory over AP, the Spartans set up another anticipated matchup, as they'll face top-seeded Woburn on Sunday at the Chelmsford Forum in a semi-final bout to determine who will skate on Garden ice.

END OF A RUN, START TO THE FUTURE
While O'Neil played her final game in a sensation season, the future certainly is bright at AP (12-8-4).

The Cougars will graduate just four players from their roster, including their starting goaltender. There are seven freshman on the roster, in addition to three eight-graders, so there's a youth movement afoot.

And they're talented. Two of AP's top six leading scorers (Michaela Boyle and Mauri Anthony) aren't even freshman. It's second-leading scorer, Maddy Ricci (8-9-17), is a sophomore and freshman forward Kathleen McHugh (8-8-16) was third.

The Cougars' bumper crop of young talent even prompted Pagliuca, after the game, to call AP a favorite for the league title entering next season.

While the maturation process will continue, it's doubtful the Cougars have hit their stride just yet.

"They're babies still," Wood said.