Boston High School:

Chad Gens
June, 13, 2012
6/13/12
2:11
AM ET
By
Brendan Hall
| ESPNBoston.com



BROCKTON, Mass. -– Simply put, this was a scary situation for Xaverian lefty Mark Stefaniak to launch himself into. Or to be more polite, one that demanded gumption.

Clinging to a 3-2 lead in the top of the seventh inning, under the lights at Campanelli Stadium, and with the meat of one of the state's most feared lineups coming up, the senior came in to relieve Fairfield-bound lefty Tim Duggan. He promptly let Lowell load the bases up with no outs.

Stefaniak could have cracked after fielding Derek Reed's bunt wildly with a bad relay to first to load the bases. And you couldn't blame him if his heart skipped a beat when cleanup hitter Chad Gens, one of the state's most feared deep-ball hitters, launched a 2-1 fastball over the left field fence -– but about 10 feet into foul territory.

Instead, Stefaniak went fastball again -– "I just thought hey, two strikes for me," he later explained. Gens dunked the ball to third base, and the 5-2 putout at home was made cleanly. And then, an unreal sequence of events unraveled.

Matt Tulley popped up a fly ball to Xaverian second baseman Chris Hoyt. With the infield fly rule in play, Hoyt intentionally bobbled the pop-fly into the shallow infield grass, freezing pinch-runner Ricky Rosado at third with a quick throw to home.

Only, Hoyt's throw sailed about 30 feet above catcher Andrew Elliott (unintentionally, of course), so Rosado gunned it for home after a split-second hesitation. First baseman Mike LaVita was there to cover, however, and Elliott fired from the backstop to make the 4-2-3 inning-ending double play.

And like that, the best threat of the night from Lowell (20-5) had been nullified. Six outs later, Xaverian (17-8) wrapped up its second Division 1 Eastern Mass. title in three years with a 3-2 win.

"We were all extremely fired up after that," Hoyt said. "It was really, I thought, the momentum changer for them and for us. We were talking up real loud. It just changed the game, that whole entire play."

Xaverian head coach Gerry Lambert commended his players for not giving up on the play.

"It's hard to put into words," he said. "You always hope that the guys have the presence of mind to realize something like that's happening. Even as a coach who's into the game and yelling all the time, I don't have the time to communicate that. Guys just have to be able to react.

"You can't practice that play right there, that situation. I'm proud of Mike, Andrew Elliott for getting back to the ball, Chris Hoyt for being able to initiate the play, and it just barely worked out in our favor. We'll take it. It wasn't executed picture-perfect, but we just did enough to get it done."

Hoyt sends 'em home: Years from now, Xaverian faithful are probably going to remember Hoyt's throw to home more than they are the two-run single the inning prior that put the Hawks ahead for good. But it's no less important.

With two outs, and runners on first and second, pinch-hitter Aaron Drummey got hit by a pitch from Cam Latta to load up the bases. Hoyt then shot a 1-0 dribbler through the left side of the infield, just out of reach of the outstretched arms of Gens, to score LaVita and Aidan Desrosiers. Wolfe was caught in a rundown trying to take an extra base during the sequence, but the runs came across before he was tagged out.

Hoyt finished the evening 3 for 5, with 2 RBI, a run and three stolen bases.

"He's the guy we want," Lambert said of Hoyt's two-run single. "I remember when he stepped up with the bases loaded, I thought, you know, if I had to pick anybody on the team…that's the guy. For him to come up the way he did, he's done it for me for three years, and he did it again today. Obviously, that was an enormous single -- not his hardest-hit ball, but we'll take it."

Just Short: The Red Raiders came into this contest having completed one of the most impressive defensive runs in recent memory of the Division 1 tournament. Capped with two superb starts from Tulley, a Virginia Tech signee, the Raiders allowed just two runs in four games.

But on the flip side, they scored just 10 runs in the North sectional, with five of them coming in their semifinal win over Malden.

"The pitching, I couldn't have been happier with," head coach Danny Graham said. "Defense was good. It's just, it would have been a little nice…I said, and my coaches agreed, at some point offense is going to have to win a game for us. Your luck's going to run out."

June, 10, 2012
6/10/12
1:31
AM ET
By
Shawn Myrick
| ESPNBoston.com
LOWELL, Mass. -- A runner in scoring position, one out left in the game and a full count left closer Cam Latta unfazed.
Working the outside edge, the junior caught Tigers' freshman Ben Porter swinging high, pumped his fist, and celebrated an MIAA Division 1 North championship.
Pitching has been the strength for the top-seeded Red Raiders (21-4) all season and was no different in their hometown on Saturday night. Lowell continued its throwing dominance allowing only two runs in its past four games, as they edged No. 22 seed Newton North (14-11) by a 2-1 margin at LeLacheur Park to advance to Tuesday's state semifinals.
[+] Enlarge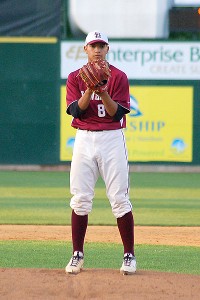 Brendan Hall/ESPNBoston.comVirginia Tech-bound righty Matt Tulley tossed another gem for Lowell, striking out nine and allowing just one run as the Red Raiders won the Division 1 North title.
"To do it in our city was a great thing," said Lowell senior starter Matt Tulley. "It is getting a little late in the season (and) I am a little fatigued now. You just have to bear down."
Tulley tossed seven innings allowing only one score and four knocks with 104 throws, while striking out nine. Latta, gave up zero hits in relief and struck out a pair for the save.
"We have a new pitching coach," said Lowell coach Dan Graham. "(He) looks like a genius now. Tulley threw 129 pitches on Sunday and I told him I only wanted one more inning and that was the seventh."
Lowell pulled ahead in the fourth off a thrown away pitch and a single by senior Andrew Marasa.
A pair of low rips by fellow upperclassmen Derek Reed and Chad Gens put a runner on first and third with one out in the fourth, while a
missed toss to third by Tigers' starter Tommy Clarke slipped Reed home for the first score.
Tulley singled to push Gens to third and Marasa knock a short drive into the outfield to edge Lowell ahead 2-0 at the end of the inning.
"Derek wasn't sleeping there and the ball gets by," said Graham. "Andrew has been swinging the bat really well lately. I have been
tempted to move him up."
Newton North had loaded the bases with one out in the previous half inning, but a pair of strikeouts by Tulley prevented scoring.
A double by sophomore Alex Joyce and a sacrifice outfield pop by junior Ryan Brendan finally broke the shutout with one out in the
first.
"Our strategy is work the pitcher," said Newton North coach Joe Siciliano said. "Foul off until he gives us our pitch. Our kids battled."
Tigers junior centerfielder Dan Swain back stepped to force an out falling over with a runner in scoring position in the six, while Marasa dove to snag a left field knock from senior Roger Roman in the seventh. Clarke chucked 105 pitches for five strikes and eight hits in a complete-game effort.
Newton North, which qualified for the tournament with a 3-1 win against Waltham in its final regular season game, came into the
postseason as the North tournament's second-lowest seed. It had previously rolled off four wins against the top 11 seeded teams.
"The game could have gotten out of hand, but Clarke is a bull," said Siciliano. "The pressure in that game and the kids are still having
fun."
June, 8, 2012
6/08/12
10:16
PM ET
By
Andy Smith
| ESPNBoston.com
LOWELL, Mass. -- After hours of start time uncertainty and an eventual postponement the day before, and another hour rain delay the next day, Lowell is headed to Saturday's Division 1 North Sectional Finals.

The Red Raiders beat Malden 5-1 at Alumni Field Friday, leaving only Newton North separating it from a sectional championship.

Lowell got strong pitching performances from R.J. Noel (5.1 innings pitched, 1 earned run, 3 hits, 3 strikeouts, 2 walks) and Nick Godfroy (3.2 innings pitched, 4 hits, 4 strikeouts, 2 walks).

With the team playing on back-to-back days, Lowell (20-4) coach Dan Graham was able to conserve most of the arms for Saturday, and any potential games next week.

"I take nothing for granted, but I knew coming into the game that R.J. was rested, Godfroy was rested, Chad (Gens) was rested, and if need be, I could use Matty (Tulley) too," said Graham. "There's no sense in holding anyone back today and planning ahead for tomorrow because if you don't win today, there is no tomorrow. Coming in with the arms, we felt good with where we were at."

The effort was aided in the second inning when Tulley, who was dropped into the No. 5 spot in the lineup, hit a bomb over the left field wall for the first run of the game.

Two batters later, Andrew Marasa hit a ball to right field that Malden's Nick Powers misplayed, which turned Marasa's single into a three-base hit. Roger Roman plated him with the third hit of the inning.

Lowell added another in the third when a Chad Gens sacrifice fly allowed Noel to cross the plate.

"We really wanted it," he said. "We were upset that we really didn't score as many runs as we should, but we definitely came ready to hit, play defense, and all that."

Gens helped out again in the fifth when he crushed a 1-0 pitch from Malden (17-6) pitcher Brad Applin off the centerfield wall for a double. He scored two batters later on a Joe Parisi single to make the game 4-0.

Malden got on the board in the sixth inning when the heart of the batting order hit four straight singles, which knocked in Austin Teal.

On to LeLaucher: Lowell will play Newton North Saturday, the No. 22 seed that not many people, if any at all, expected to be playing in the sectional finals. In contrast, it will be playing a Lowell team that many prognosticators had pegged for a postseason run before the season even started.

North did not get there by blind luck, however. With postseason victories over Lexington, Billerica, St. John's Prep, and Acton-Boxborough, it defeated four of the top 11 seeds in the tournament to get to where it is now. If it is able to defeat Lowell Saturday, it will add to that list.

Gens and the rest of the Red Raiders are confident they can keep this run going beyond Saturday.

"There's always a sense of urgency when you're playing in the North finals," he said. "We can beat them. We beat A-B, we beat all the teams they played, so we can do it."

Flawless on the mound -- and field: Lowell's pitching and defense has been as good as it could ask for over the past three games. It has now given up one run in 27 innings. While there were times in the later innings when Godfroy got behind in counts and seemed to struggle with his command, Graham stuck with him and the senior rewarded him by pitching out of trouble.

Instead of having a quick trigger and burning through pitchers, Graham left himself the opportunity to use his ace (Tulley) on six days rest Saturday, with other fresh arms (Gens, Cam Latta, etc.) to use if necessary.

"It worked out today," said Graham. "We only had one pitching change today. It took Nick a minute or two to get settled in once he got out there, but once he did he started doing his thing, changing speeds and throwing strikes. He was our No. 2 starter most of the year.

"I like our team, I think we've got talent," he added. "I'm very happy these kids are going in there and playing to their ability, not getting nervous, and executing. It makes my job a little bit easier."

No more delays: Saturday's games will mark the end of an unorthodox two-week stretch for most of the teams in the state playoffs. A week of inclement weather and end of the school year activities has brought about many scheduling conflicts for the remaining teams in the state playoffs, and Lowell is no exception.

"Those kids had their prom two weeks ago on Tuesday," said Graham. "It's been tough from the time the prom rolled around, through graduation this last Wednesday, and in preparation for the state tournament."

"Monday (May 28) we won the league. Tuesday (May 29) these kids had the prom, they had the day off. Wednesday, I didn't bring them back until late at night. Then the tournament's starting. We know we have a bye, we're waiting until Saturday to play. We got rained out on Saturday and ended up playing on Sunday.

"We win that game 1-0 (against Westford), then we're supposed to come back on Monday, and we end up getting rained out so we have a day to actually go indoors and get some work in and talk to the kids and work on some offensive stuff. We did a better job when we came back out on Tuesday (against Malden Catholic). We got a dynamite pitching performance from Cam Latta. Then these kids graduated on Wednesday (June 6) so we got a quick day of work. We were supposed to play yesterday, so we got out here and did most of our pregame out here on the field. We were waiting to take the bus to Fraser Field to play a game, it got rained out there, then we had to come back and get ready to go today."


Graham continued, "The good part about today was the kids got out of school early so, with a 4 p.m. game, we were able to get out here early, take a full pregame, and make sure we were ready to play. So it was a little bit more routine, which was nice, with not as many distractions, which is nice. I think the focus was where it needs to be."

The scheduling was more of an inconvenience to the players, but not anything that couldn't be worked around.

"It's a pain," said Gens. "We were ready to play yesterday, but I guess it was kind of good that it rained yesterday since we played well today. We got extra swings in in practice and we hit good today."
June, 4, 2012
6/04/12
1:54
PM ET
By
Brendan Hall
| ESPNBoston.com
Last Thursday, in the Red Sox' annual pre-draft press conference with the Boston media, general manager Ben Cherington was asked about the local talent, and declared "We bet there's a big leaguer this year out of New England, even if we don't know for sure who it is."
The MLB amateur draft kicks off tonight with the first round, followed by 39 more rounds over tomorrow and Wednesday, and there's probably one overwhelming guess as to who that individual might be. But the reality is it's anyone's guess –- and, with the new rules enacted by the latest Collective Bargaining Agreement, perhaps more so.
Most notable among the new rules is a tax penalty on teams that exceed the designated slot salary recommendation for the sum of their first 10 picks. Also, players taken after the 10th round cannot sign for more than $100,000 (including bonuses).
"I think the changes in the draft from an industry standpoint are generally intended to create more meritocracy, where the first player taken is the best player, and on down from there," Cherington said. "And in that, you know, spread the talent out more. I think that's part of the intent. The reality is, no matter what you do to create meritocracy in scouting, there's always going to be, you know, one player taken, and then 20 picks later a player taken that's better, no matter what the rules are."
That makes for an interesting situation for Buckingham, Browne & Nichols outfield Rhett Wiseman, the most high-profile of the bunch, with projections as high as the late first round. The state's Gatorade Player of the Year and a Vanderbilt signee, has explosive speed both on foot and at the plate, and drew as many as 75 scouts to a game last March during the Knights' spring training trip.
The Red Sox, Angels, and a slew of National League teams have shown significant interest in the Mansfield resident. But this morning, Wiseman confirmed to ESPNBoston.com that it is highly likely he will honor his commitment to Vanderbilt unless he is taken in the first 40 picks.
"I'm so excited about Vanderbilt, and I'm very fortunate with all the pro attention this spring," Wiseman said. "But what we're looking for as a family I don't think is there right now out of high school. Hopefully in three years the attention is still there and I can start my professional career after going to Vanderbilt."
Asked about a potential asking price, Wiseman said that wasn't the case.
"We took in a lot of questions about a possible asking price," Wiseman said. "But for a Vanderbilt education, it's tough to put a price on it, and a price on the college experience."
Wiseman is close friends with Tyler Beede, the Lawrence Academy righthander and 2011 ESPN Boston Mr. Baseball who turned down $2.5 million from the Blue Jays at the signing deadline last August. And he was with Beede the night he got drafted last June, watching from the living room with nearly 100 others as the Jays made him their 21st overall selection.
But tonight, the Wiseman clan is keeping it low-key. Rhett will likely head to one of the Hockomock region's favorite pizza joints, Town Spa Pizza in Stoughton, and hole up for a bite with another close friend and draft hopeful -– Lawrence Academy lefty and Wake Forest commit Max Tishman.
"We had 26 pro teams in the house over the winter, hundreds of guys come in during the season, and if I had to do it all again I wouldn't do it any other way, that's for sure," said Rhett's father, Mike Wiseman. "It is an incredible decision for a 17-year-old kid to make when you think about it. He did a great job handling it the whole way, and I've been proud of him from start to finish.
"He had some great games this year when a lot of people were in there to watch him. It was great to see everyone, I enjoyed it. I loved talking to all the scouts, talking real baseball with baseball guys."
Some other thoughts as we head into tonight's first round:
The skinny on Rhett
Wiseman put together a solid season in the ISL to win Gatorade Player of the Year, batting .444 with eight home runs, 24 RBI and 26 runs scored. But just what part of the outfield he ultimately lands on is not universally agreed upon in the scouting fraternity.
Two American League scouts offered different takes on how he projects.
"I don't know if he has the arm for right," says one scout. "I think ideally he'll end up in centerfield, because of his speed and it takes some pressure off the bat a little bit. He'll need to improve on his defense. He's not a finished product yet."
Says another, "Everyone was interested in seeing what he'd come out and do in the spring, making changes to his swing in the offseason, and I'd say he's pretty similar to the player he was last summer, but more advanced and with more years under his belt. His bat speed and running speed, there's two really useful tools right now, it's just a question of whether or not he can put it together against elite pitching."
Gens on the rise?
Virginia Tech-bound righthander Matt Tulley garners the most attention for Lowell High, and is a potential late-rounder, but the most interesting prospect to rise on the local radar this spring might be one of his teammates.
Chad Gens, a senior bound for College of San Mateo (Calif.) who roams the left side of the infield and pitches relief, doesn't have the impressive numbers of other more high-profile position players (.356, 20 runs, 14 RBI, 3 HR, 10 stolen bases; 1-1, 2 saves, 3.00 ERA, 20 K, 9 IP). But his physical tools are impressive, demonstrating power from the plate, and his athletic 6-foot-2 frame is almost prototypical.
Late last month, for instance, Gens came in for relief in the Red Raiders' game with Andover at Lelaucher Park, and was clocked at 90 miles per hour on his fastball –- and 62 on his curve.
"He's probably one of the most intriguing kids to pop up around here," says an American League scout. "His overall athletic ability makes him intriguing as a position player, he's got the raw tools and he's physical offensively.
"Going to a junior college he's viewed as more signable than a kid going to Vanderbilt, and I think that's the intriguing part. Gens is really raw and could learn a lot from the lower levels if you spend time developing him. So the question is, do you draft a kid like that this year with immaturity and raw tools, and hope you have a diamond in the rough, or do you wait?"
Lowell head coach Danny Graham says he's been told by scouts that day three is a possibility for Gens, just as it is for Tulley.
"Here's a kid who's never been in the right situation, but he eats, sleeps and drinks baseball, the whole nine yards," Graham said. "I was told by someone in the scouting bureau that talks to a bunch of people, Chad is going to get drafted somewhere around the 30th round. Whether or not any of that happens, I don't know."
Others on the cusp
At the beginning of the spring,
we targeted five players who could hear their name called
. Looking at that number again, there seems to be only one sure thing -– Wiseman, but where is anyone's guess. But there are a number of other players who could see themselves in the mix.
In addition to the aforementioned Tishman and Tulley, keep an eye out for Lexington's Chris Shaw and St. Sebastian's John Nicklas, who are both heading to Boston College.
Also keep an eye out for another one of Wiseman's future Vanderbilt teammates, Braintree rigthhander Pat Delano. Two years out from undergoing Tommy John surgery from world-renowned orthopedist Dr. James Andrews, Delano's velocity –- once clocked in the low-90's as a sophomore –- appears to be coming back. Standing 6-foot-7 and showing quality leg strength, the Bay State Conference MVP could develop into a draft-ready prospect in three years' time, if not this year.
June, 3, 2012
6/03/12
9:11
PM ET
By
Andy Smith
| ESPNBoston.com
LOWELL, Mass. -- As a blanket of dreary clouds rolled in overhead, Lowell's Matt Tulley toed the rubber and stared in at Westford's Luke Morse, Sunday's opposing pitcher.

A hit batsman, throwing error, and single put Westford players on every base with only one out in the sixth inning. Neither team could get on the board up until that inning. A pop fly, at the very least, a ground ball to either the second baseman or shortstop would plate a Westford run.

With the count 1-2, Morse swung and hit a soft ground ball back to Tulley. He flipped it to his catcher, Mike Hart, for the force out to keep the score tied at zero. After working the count full against Danny Cerullo, he threw a fastball down the middle that Cerullo took and started jogging down to first base. Except it was strike three. The inning was over, the crisis was averted.

It was that kind of a game for Westford: the Grey Ghosts got runners in scoring position, but could never get any to cross the plate. It took a 129-pitch effort from Tulley, but Lowell hung on for the 1-0 victory to move on to the Division 1 North Quarterfinals.

"I don't let anything bother me," said Tulley. "No matter what the situation is, I don't let it bother me, no matter what it is."

The only run for Lowell (18-4) came in the seventh inning. After Morse walked Andrew Marasa and Joe Parisi to start the inning, he was relieve in favor of John Troy.

Marasa got picked off second base after Matt Sullivan, the catcher for Westford (11-10), threw down to second after noticing Marasa took too big a lead off the bag. He then got RJ Gray to fly out to center for the second out of the inning.

Roger Roman came up next and sent a ball into centerfield a single. The ball got by Mike Bibinski and kept rolling towards the warning track. This allowed Parisi to score all the way from first and Roman to roll into third.

It was a tough game for Bibinski, who went 1-for-5 at the plate with four strikeouts to go along with the fielding error.

Tulley had nine strikeouts heading into the final frame, and added another before being relieved by R.J. Noel.

If it was up to the senior righthander, he would have stayed in the game. However, the team knew Noel was more than capable of getting the final two outs in the game.

"I definitely wanted to throw the complete game, but it was a certain situation where R.J. is quick to the plate, and I was getting up there in pitches, so it was smart decision," he said.

Rainy Day Fund: Due to inclement weather over the weekend, many of the remaining playoff teams have to play again on Monday, a back-to-back scenario rarely seen in high school baseball.

While having an extra day of rest would be preferred, Lowell coach Dan Graham doesn't think the immediate turnaround will be a detrimental to his team.

"It's not a bad thing," he said. "I'm sure some of these kids are anxious. I'm sure they'd like to get some more at-bats right now. I think it will be a good thing for us to get right back out here tomorrow and play."

Lowell plays against Malden Catholic on Monday at 4 p.m.

Morse leaves it all on the field: Morse deserved the standing ovation the fans gave him when he came out of the game in the sixth inning. He did everything he could to keep his team in the game against a powerful offensive team.

There was a stretch between the second and sixth innings when he allowed only two hits and four runners to reach base.

He ended his six-inning outing allowing four hits, three walks, one earned run, and two strikeouts. He pitched out of jams in the first and second innings where, each time, Lowell had runners on second and third with one out.

"He threw the ball well, credit him," said Graham. "He was starting kids off offspeed, getting it for strikes and getting ahead in the count. He had enough on his fastball where, if you show them offspeed early, you can sneak fastballs by people."

"I feel like we should've got out of those first couple innings with a run or two, which probably could have changed the complexion of the game. We probably would've settled in and been a little more comfortable at the plate. You're not going to win many state tournament games putting up only one run. But we feel fortunate that it didn't come back to bite us at the end of the game."

Draft Tracking: By the time Lowell's Division 1 North Quarterfinal matchup versus Malden Catholic is over Monday night, the Major League Baseball Player Draft will be underway.

The Red Raiders have two potential draftees in Tulley and infielder Chad Gens. Don't look for them to be distracted from the task at hand though.

"I don't think they'll be distracted," said Graham. "I don't think they're going to be bringing their cell phones into the dugout or anything waiting for a phone call. That's really out of their control. They've played the season up until this point, so if it happens for them, great, if it doesn't happen for them, it's not like they're finishing their college careers here. They're just finishing the tail end of their high school careers. They have a lot of baseball in front of them."

Tulley knows that even if he doesn't get that phone call in the next few days, it won't be the end of the line for him. The Virginia Tech commit will work to make the most of his time in the land of Division 1 college baseball.

"I'm just going to let it play out," he said. "I hope I do (get drafted). It would be an honor. If it doesn't happen, then I've got three years at Virginia Tech, and I'll try my best to do it then."
May, 18, 2012
5/18/12
11:35
PM ET
By
John McGuirk
| ESPNBoston.com



LOWELL, Mass. -- It is a known fact that big-time pitchers are usually at their best in big-game situations.

Lowell High's Matt Tulley certainly falls into that classification of big-time pitcher. Tonight the senior righty showed why, as he surrendered just four hits while striking out 11 in a complete game 4-2 non-league victory effort over BC High at Alumni Field.

"I knew this was the most-anticipated game of the year for us," said Tulley, who will play for Virginia Tech next season. "I was just very excited to play. Coach (Danny) Graham told me about a pitcher from this area named Jeff Allison (who played at Peabody High and was a first-round pick of the Florida Marlins) and how gritty a player he was and I just tried to follow that.

"Warming up in the bullpen I didn't feel that good. I don't know what it was but I wasn't to worried about it. I just knew I had to zone in more and get focused. Once I got out there I felt great."

Tulley mixed his fastball and cutter with a knee-buckling curve, which proved to be his most effective pitch of the evening as it kept Eagles (13-5) off-balanced throughout.

"We had chances but let to many opportunities go by," BC High coach Norm Walsh said. "(Tulley) is obviously one of the top 4-5 guys we've seen all year. Him changing speeds on his breaking ball was the biggest thing. It wasn't so much the fastball but the ability for him to change speeds on the breaking ball. He competes. That's what you want to see out of your pitchers -- to be aggressive and go after hitters like he did tonight."

With the contest tied 2-2 through 5 1/2 innings, the Red Raiders (13-3) put this one to rest in their half of the sixth. With John Arens in relief of starter Trent Berg (5 IP, 2 runs, 7 hits, 4 Ks) on the mound, Lowell's Roger Roman opened the frame with a single. After advancing to second on Matt Cassella's well-executed sacrifice bunt, the senior eventually came around to score the go-ahead run on a Chad Gens fielder's choice. The Red Raiders added another run moments later on a Tulley (2 hits, 2 RBI) single to left that scored Mike Hart, who walked.

"We knew it was going to be a good game," Graham said. "It was a great performance by Matt, and he was very gutsy right to the end. Credit our kids. This one was fun to watch. (BC High) is a helluva team and they compete hard. You could see at the end of the game how meaningful it was to beat a program like BC High. Anytime you win it's great but when you beat a quality team it's even better. Our kids were definitely up for the challenge."

The Red Raiders looked to put this contest away in their half of the first after loading the bases with no out. But Berg, who also used his 12-to-6 curveball with authority, pitched his way out of trouble by striking out Tulley and R.J. Noel before inducing Derek Reed to fly out. Walking the proverbial tightrope much of the evening, Berg, a junior, failed to escape trouble in the third.

Back-to-back singles by R.J. Gray and Gens started things. A Tulley sacrifice bunt moved both runners into scoring position. After Berg set Noel with a strike out, Reed next singled to plate Gray with Lowell's first run.

The Eagles tied it up in the fifth. Rich Roach opened with a double to left, took third on a deep fly out by Chuckie Connors and sprinted home on a wild pitch. Lowell got that run back its half of the fifth. Gens singled, stole second and came around to score on Tulley's double down the left field line which short-hopped over the glove of third baseman Justin Silvestro making it 2-1.

Showing great resiliency, the Eagles answered back to begin the sixth. Bobby Melley blasted a triple to right and scored moments later on a passed ball to deadlock this tilt yet again, 2-2.

But on this night, the Red Raiders simply had too much firepower offensively and it showed in the bottom of the frame after taking a two-run advantage. With Tulley in full command on the hill, that would prove to be more than enough run support for him to secure the win.

"We put some pressure on them," said Walsh. "When we kept it on them we scored but we just didn't get it done as often as we needed to do it."
April, 20, 2012
4/20/12
11:34
AM ET
In this week's edition of "Roundtable", ESPN Boston High Schools Editors Scott Barboza and Brendan Hall are joined by correspondent Bruce Lerch and Brockton Enterprise staff writer John Botelho as we discuss the best hitting lineups, the best faceoff specialist in lacrosse, and whether Milford is now the team to beat in softball.

1. AFTER BEATING KING PHILIP, IS MILFORD THE FAVORITE IN DIVISION 1 FOR SOFTBALL?

ESPN Boston High Schools Editor Scott Barboza: In a word, yes. Shannon Smith is simply pitching out of her mind right now, but it's not as though we haven't seen this before from the University of Kentucky commit. Two years ago, Smith was named Massachusetts Gatorade Player of the Year after recording a 0.36 ERA. This year, she's been dominant, including a 20-strikeout performance against Shrewsbury and 17 K's against KP. Not to mention, the Scarlet Hawks haven't even been playing with their opening day lineup, after All-State catcher Taylor Archer suffered a leg injury in the first week of the season. Freshman Taylor LeBrun has done a terrific job behind the plate in the interim, but MIlford will only be that much more potent with their top battery in place. I'm certainly not ruling out KP, as anything short of a rematch between the two teams in the state final would be unexpected.

Bruce Lerch, correspondent: While there are several teams with good enough pitching to shut down the Scarlet Hawks bats, how many are strong enough offensively to hit against Milford ace Shannon Smith? The only team that really comes to mind is...King Philip. The Kentucky-bound Smith two-hit the Warriors and struck out 17 Monday afternoon, so you have to think they are the lead horse in the race right now. KP has hit Smith before, however, as a 10-1 result in the state championship game two years ago proves. Of course, Smith was but a freshman then, and having faced King Philip several times since then her knowledge of that dangerous lineup has grown considerably.

Oh yeah...KP also has Meghan Rico. I've heard she's a pretty good pitcher too...something about a reigning player of the year? If both aces are on their game, then the state championship softball game may have to be scheduled for more than one day

John Botelho, Brockton Enterprise: Even with Milford knocking off K-P, it's still hard to call anyone but the Warriors - the two-time defending state champ - the favorite to win it all. This means Milford might have closed the gap, but until someone proves Meghan Rico is possible to beat in the playoffs, the Warriors remain the class of softball in this state. Keep in mind how difficult it is to beat a good team twice, and chances are Milford will have to do just that if they're to bring home the state crown.

2. SEVEN OF THE EIGHT TEAMS PARTICIPATING IN THE COACHES CHALLENGE CUP THIS WEEK ARE RANKED IN OUR TOP 25. WHICH OF THOSE TEAMS HAS THE BEST CHANCE OF WINNING A STATE TITLE IN THEIR RESPECTIVE DIVISION?

Scott Barboza: We might have seen a Division 2 Eastern Mass final matchup preview on Thursday when Concord-Carlisle and Hingham squared off in a Coaches Challenge Cup semifinal. The Patriots beat the Harbormen, 9-4, with Jackson Finigan, Tim Badgley and Kevin Delehey scoring two goals each. If both teams take care of business hereon out, we should expect to see both of them at Harvard Stadium. Of course, none of this makes mention of Dover-Sherborn. The Raiders fell just short of an upset over Lincoln-Sudbury before falling, 12-11, but they've proven their among the elite in Division 3.

Bruce Lerch: That team would Dover-Sherborn. Lincoln-Sudbury will enter the Division 1 tournament as one of the teams best suited to make a run at Duxbury, but betting against the Dragons has been mostly a losing proposition for the past decade. The six Div. 2 teams that participated in the tournament are perennially among the last teams standing in June, so while a state champion could come from this group, picking who it will be requires a crystal ball.

Dover-Sherborn has the talent to compete with the best teams in the state, something the Raiders proved three years running now at the Coaches Challenge Cup, and is likely going to snag one of the top four seeds in the Div. 3 tourney and will be included in the group of favorites that should also include Weston and Norwell.

3. IN BASEBALL, WHAT'S THE BEST HITTING YOU'VE SEEN SO FAR?

ESPN Boston High Schools Editor Brendan Hall: I have seen both BC High and Lowell multiple times, and I don't think you can go wrong either way.

BC High can mash 1 through 9, but at the top is where they're especially dangerous. UConn signee Bob Melley is the Eagles' most powerful bat out of the No. 3 spot, but he's surrounded by plenty of college-ready talent in seniors Chuckie Connors, Justin Silvestro, Brian Hocking, and juniors Ryan Tufts and Dan Dougherty. I will put the Eagles' top six hitters against any team's top six in the state...

...Unless that top six is Lowell. The Red Raiders are only going to get stronger as the season goes on, but they're showing some real nice stuff through the first three weeks of the season. Rory O'Connor, Derek Reed and Andrew Marasa form what is regarded as the state's best outfield, but they can manufacture runs from the plate, too. Matt Tulley is headed to Virginia Tech for his low-90's fastball, but he's got a heavy swing from the cleanup spot too. My favorite hitter to watch in this lineup is senior Chad Gens, who can square up and plant it deep as good as anyone. After Lexington's Chris Shaw, he might be one of the better power hitters in Eastern Mass. I expect him to be near the top in extra base hits this year.

Also of note, take a look at Dighton-Rehoboth, which comes in this week at No. 18 this week. With a top of the order led by Bryan Rocha, Adam Benvie, Evan Mondor and Mike St. John, the Falcons are averaging 11 runs per game, including shellackings over Somerset (22-0) and Case (17-6). When it comes to manufacturing runs, you can't forget Walpole, between leadoff shortstop Johnny Adams, catcher Dan King, and brothers Cam and Craig Hanley.

John Botelho: Despite getting shutout by Marshfield for their first loss of the season on Thursday, the East Bridgewater Vikings offense is certainly among the best in southeastern Mass, and could be the class of the D3 South Sectional later this season. Even with the setback against the Rams, E-B is still averaging just over 10 runs per game.

In the Hockomock League both Oliver Ames has emerged as a team with an electric pitching staff, but the offense is plenty capable of flexing muscle too. With sweet swinging David MacKinnon - whose emerging as one of the best hitters in the Hock - hitting third and powerful Matt Harding hitting fourth, the Tigers have one of the best 3-4 combos going. Matt Mancini, Ryan O'Shea, Mike McMillan and Jim Sullivan help bolster a lineup that features plenty of hitting ability.

4. AN UNDERRATED ASPECT OF LACROSSE IS THE "FOGO" (FACE OFF, GET OFF) POSITION. WHO IS THE BEST FACEOFF SPECIALIST IN THE MIAA?

Scott Barboza: I think there's no doubt that Clay Richard of Medfield is the best true FOGO in the state, but as we saw during Wednesday's matchup against No. 1 Duxbury, Dragons midfielder Henry Narlee might be the best faceoff man in the state. Sqauring off against Richard and the Warriors, Narlee won an amazing 21 of 28 draws.

Bruce Lerch: The two best were on display Wednesday night in Duxbury as Medfield's Clay Richard went to work against the Dragons Henry Narlee. Richard more than held his own against Narlee in their individual battle, but in addition to the Duxbury junior's elite skill, he also has the advantage of having James Burke and Reilly Naton flying off the wings to grab every loose ball in sight. Not only is Narlee at winning the draws to himself, but is deadly accurate when shooting the ball into space for his two LSM's to chase it down.

5. LOOK AT THE NEXT TWO WEEKS OF SPRING. CALL AN UPSET. AND FEEL FREE TO GO BIG.

Scott Barboza: Don't really know if this would count as such, but I'm calling Duxbury's take down of Garden City (N.Y.) this weekend. Looks like the Dragons' regained their top form in the last week. In softball, I have a feeling about Hudson taking down Shrewsbury this weekend.

Brendan Hall: Boston Latin has a two-game swing at the beginning of next month that could have big implications in the Dual County League: May 4 at Lincoln-Sudbury, and May 7 at Acton-Boxborough. The Wolfpack seem to be everyone's favorite little underdog in the league (no pun intended), but I wouldn't be surprised to see them take one of two here. L-S has some talent, but has been searching for that staff ace; meanwhile A-B has had a knack for the dramatic so far, twice winning one-run games, the latest a 1-0 decision over Waltham on Wednesday. Can Latin pull 1 of 2 here? It might depend on who's pitching.

Elsewhere, I've got May 10's matchup between No. 14 Burncoat and No. 3 St. John's of Shrewsbury circled on the calendar. The Patriots just lost their first game to Danvers the other day, while St. John's sits at 7-0 with a nice win over St. John's Prep. This is building into one of the best regular-season matchups in Central Mass., but I'm going to go with Burncoat in the upset.

John Botelho: On April 26, when No. 16 Barnstable comes to town, Bridgewater-Raynham will take a big step toward winning the Old Colony League by knocking them off in a pitcher's duel. The Trojans have to deal with league foe Dartmouth just two days before, and if the rotation stays the path it's on lefty Pat Chalmers will be throwing that game. That means fellow southpaw Shane Holmes, who has been piling up strikeouts and shutting offenses down, will take the mound against the Red Raiders. The lefty is one of the toughest in the area and B-R could come away with this one without needing much in the way of run support.
April, 9, 2012
4/09/12
10:10
PM ET
By
Andy Smith
| ESPNBoston.com
LOWELL, Mass. -- Roughly a dozen major league scouts were behind the plate at Alumni Stadium, radar guns at the ready, to watch Lowell's Matt Tulley go up against Lexington's Chris Shaw on Monday.
Lowell's hard-throwing right-hander got the better of the battle, holding Shaw to 0-for-3 during his at-bats against him.
He was also a big reason his team was able to come away with the 13-3 victory over the Minutemen (0-1). He struck out 10 batters, while allowing only two hits, over five innings.
"I've played against Chris for probably three or four years now," said Tulley. "I was with him in California [last summer at Area Code Games] and talked to him a bit and kind of got some hints from that. I just attacked him. No fear. I don't fear anyone."
[+] Enlarge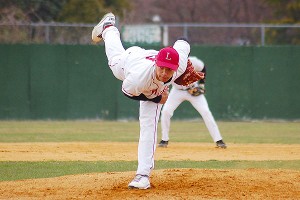 Brendan Hall/ESPN.comAfter allowing a sacrifice fly early, Matt Tulley buckled down and fanned 10 Lexington batters over five innings.
The only blemish to Tulley's box score came in the first inning. Lexington's Nick Murray lead off the game with a fly ball to right field. The right fielder, Roger Roman, made a play at the ball, but appeared to misjudge it in the wind. He spun around, missed the ball, which allowed it to roll all the way to the wall.
Murray was able to get to third on the play, and was driven by a Shaw sacrifice fly two batters later.
Lowell (3-0) answered back in the bottom of the first with hits by Derek Reed, Tulley, and Chad Gens. Reed hit a two-out triple, and was driven home by Tulley's double. Gens got up after him and hit a bomb to left-center that cleared the 365-foot wall with ease.
After that, Tulley got rolling. He struck out three batters in both the second and fourth innings. He did not allow an official hit until the fourth.
The Lowell offense tacked on three more runs in the bottom of the fourth, and blew the game open in the fifth with a four-hit inning that saw seven players cross the plate.
"I said in the beginning of the year that I really like our pitching, I like our defense, but what I really think could be a difference-maker for us is our lineup," said Lowell coach Dan Graham. "I think one through nine, if the kids have quality at-bats, we can get to any starter. That's what we want to do and see what happens from there. I expect offense. With a kid like Matty on the mount, I'll take 13 runs for sure."
What Pressure?
One could not help but be distracted by the bevy of MLB scouts stationed behind the backstop with their team-branded travel bags and team logos on their shirts. They had all arrived well before game time and made their way down the first base line to watch Tulley throw his pregame bullpen session.
As the game started, they each made their way back to their marked territory behind the plate. Some even took out handheld video cameras to watch Tulley's delivery or Shaw's swing at the plate and play in the field. The scouts were often scribbling in their notepads, checking their cell phones, or talking amongst themselves, but appeared to spring to life whenever Shaw came to the plate against Tulley.
Some even darted down the left field line, beyond the Lexington dugout, to get a side look at Shaw's swing.
Their radar guns rose and fell in unison after every pitch, like a section of a symphony orchestra preparing to play its part in a song.
If a group of scouts drew this much attention from onlookers, the players had to have noticed them too, right?
"No, I didn't notice," said Tulley.
"Really?" he replied after being told there was at least a dozen watching him. "I mean, I see them back there, but I just try not to think about it because last game, I struggled and I didn't really do good. That's probably why I didn't do good, because I was thinking too much."
Improved Outing:
While the final stat line for Tulley looks imposing, there were still things that Graham felt could have been better from his star pitcher. However, he is well aware there is a long season ahead.
While he ended the game with 10 strikeouts, he threw 3 balls to seven of the 21 batters he faced, including all four of the batters he faced in the fifth inning. However, when he was able to get ahead in counts, like in the second and fourth innings, he was able to attack the zone and come away with outs.
"He was better than his first time out," said Graham. "It's so early in the season too. If he's in 2-0 counts and kids are sitting dead-red fastball and they're going to be aggressive on it, they're going to put balls in play. When he gets ahead in counts and gets in a groove and he starts using his off-speed pitches, he's very tough. He had flashes of it in the middle innings, maybe the third, fourth inning it looked like he was getting in a little bit of a groove.
Even from a pitch count standpoint, I think he threw 97 pitches in five innings, which is kind of high for a point this early in the season. So he's better, but he's not where he's gonna need to be."
May, 28, 2011
5/28/11
12:23
AM ET
By
Andy Smith
| ESPNBoston.com
LEXINGTON, Mass. -- It appeared the Lexington and Lowell High School baseball teams were destined to play extra innings Friday, just as they did the first time they played each other April 8. That is, until the Minutemen broke the game open with a four-run sixth inning, giving them an 8-4 victory and securing an undefeated season at 20-0.

"No Lexington team has won 18 games and we won 20," said Will Marcal, who pitched a complete game. "It hasn't been done by a Middlesex League team in a long time. This is unbelievable, it's great to be a part of history."

Marcal, a tall, hard-throwing lefty, surrendered nine hits, including a home run, two walks, but had 12 strikeouts in the victory.

He ran into the most trouble in the second inning. After Ben Ruxin scored on a wild pitch to put Lexington on the board, 1-0, in the first, Lowell's Matt Tulley came back in the top of the second and homered off Marcal to start the inning. That was the beginning of a four-run inning that saw R.J. Noel, Roger Roman, and Richard Gary each single to put Lowell (14-6) up 2-1. Derek Reed knocked in the next two runs with a double to right-center to make it 4-1.

Lexington answered back in the bottom of the inning when Demetri Monovoukas hit a two-run homer off Nick Godfroy to center cut the deficit to one. The Lexington bats went quiet over the next two innings, but that was not a problem since Marcal kept Lowell off the board for the rest of the game.

"I was saying if we could just keep it to a one-run game, I thought we'd definitely have a shot," said Marcal. "We did it in the first game of the year [against Lowell]. We were down three runs going into the last inning and it just really showed the teamwork that we had and everything clicked and everything came together."

It was a strong performance by a pitcher who, admittedly, did not begin the game at his best.

"I didn't start off the game with my best stuff," Marcal said. "Towards the end of the game I really started to feel it. I felt like my fastball was really jumping and I felt like I could stay on top of it. I think the command of my fastball was really what got me over the hump."

Godfroy kept the Lexington bats quiet for the next two innings, and was relieved in the fifth by Kyle Edwards. Overall, Godfroy finished with four innings of work, giving up three runs, four hits, with five strikeouts.

Edwards walked the first two batters he faced, but settled down and got a strikeout and a flyout to the next two. It seemed he was going to get out of the inning when he got Chris Shaw to hit a groundball to second, but the second baseman made an error on the play, sending the ball into right field, which allowed a runner to score, tying the game 4-4.

The damage continued in the sixth inning after Chad Gens came in to pitch for Lowell. He hit Charlie Guthrie on the first pitch of the inning, then gave up a single to Monovoukas, putting runners on the corners with one out. A failed double-play brought Guthrie home to put Lexington ahead 5-4. A hit batsman and two walks later, Lexington went up another run, which got Gens pulled from the game in favor of Noel.

Noel was not anymore effective for Lowell, giving up a two-run double to Marcal to make it 8-4.

Lexington's performance was all that much more impressive when considering the two teams could potentially cross paths again in the upcoming state tournament.

"They're a great team, this was a much closer game than the score indicated," said Lexington coach Tom O'Grady. "We got some big at-bats in the end. I certainly don't think winning this game can hurt us [going into the state tournament]."
May, 20, 2011
5/20/11
11:39
PM ET
By
Andy Smith
| ESPNBoston.com



LOWELL, Mass. -- Matt Tulley pitched Lowell High School one game closer to winning the Merrimack Valley Conference outright with a complete game, two-hit, 10 strikeout, 2-0 victory over conference foe Chelmsford High School Friday.

"We shared (the MVC title) last year and we're still in a position where if we win, it's guaranteed ours," said Lowell head coach Danny Graham. "If we would have lost and they were to win their last league game, there would be a co-champ, but we want to take it on our own this year, we definitely want to win it."

Tulley's first two innings were quiet, but he found himself in trouble in the third. He walked Colin Clancy to start the inning, and Clancy then advanced to second on a passed ball, which put a runnier in scoring position with no outs. After Joe Gennaro grounded out to second, Clancy was on third with one out, seemingly able to score on a sacrifice fly or ground out to the right side of the infield. The next sequence showed why Tulley is considered one of the best pitchers in the Merrimack Valley, if not the state.

Even though he was facing the top of the Chelmsford lineup, he struck out the next two batters, defusing the strongest scoring threat Chelmsford had all game. He then came out the next inning, facing the Chelmsford No. 3, 4, and 5 hitters and struck out the side.

"He reaches back and gets the outs when he has to, I saw him do it early in the game and again in the middle innings," said Graham. "Once we got those runs (in the third), I always say you have to go out and have shut down innings, and he did that three times in a row. From a momentum standpoint, that obviously keeps us in a good position in the game."

Tulley was also responsible for Lowell's only runs offensively. Derek Reed lead off the third inning with a single, and then stole second. A throwing error by the third baseman allowed Rory O'Connor to reach base and put runners on the corners for Tulley. On the eighth pitch of his at-bat, he lined a single to right-centerfield, bringing in Reed and getting O'Connor to third.

"It was a long at-bat and I was watching something on Dustin Pedroia last night how he just fights every at-bat, and I just had that in mind," he said.

O'Connor was able to score because Tulley was caught in a rundown between first and second when he tried to take the extra base on the throw in to the infield. He was able slide back to first safely, beating the rundown, and letting O'Connor score the second run of the game.

Not happy with the two-run lead, Graham tried to manufacture a run in the fourth with Chad Gens on third and no outs. Gens made a dash for home with R.J. Noel squared around to bunt, but he missed the pitch, leaving the runner in the difficult position of getting back to third after running most of the way up the baseline.

"Our offense has shown a lack of consistency as of late but that's not because we're not capable, I think it's just because we need to buy in a little bit more and do what the kids are being asked to do," said Graham.

Regardless of the mistake, Tulley was able to keep Chelmsford off the board and not let a runner get beyond second base for the remainder of the game.

"This is the best I've felt after a game because the past three years Chelmsford has belted me around," he said. "Now that I've pitched well against them I feel good."
April, 28, 2011
4/28/11
1:36
AM ET
By
Andy Smith
| ESPNBoston.com
LOWELL, Mass. -- Lowell High head coach Dan Graham thought about taking his pitcher, Kyle Edwards, out before the seventh inning of his team's game Wednesday against Lawrence. But he ultimately decided against it, and the senior rewarded his coach by throwing a 1-2-3 inning, capping off a complete game, 7-3 victory against the Merrimack Valley Conference foe.

"I gave (taking him out) some thought there at the end," Graham said. "He went into the last inning with 93 pitches. He got a quick out at first and hadn't really gone deep in any of the counts, but 110 was definitely the number that we were definitely going to pull the plug on. We had someone ready to go too, but I think he wanted to stay out there.

"We had a situation earlier in the year when he was in line for a win and we took him out early against Lexington, but he didn't end up getting the win. He's been great his last two times out for us too, so I'm happy that he got to finish the game."

The Raiders (6-2) got to Lawrence pitcher Anthony Rodriguez early in the game, putting six runs on the board in the first two innings. Matt Tulley -- whose fastball topped 91 miles per hour on the radar gun in Monday's win over Central Catholic -- singled in the first run of the game. After a passed ball advanced runners to second and third, Chad Gens hit a double to right-center that hit off the wall of Alumni Stadium to plate two more runs.

It was a 32-pitch first inning for Rodriguez. He became more effective as the game went along, but that was after giving up seven runs. He had a quick third and fourth inning, but was pulled from the game after 5-2/3 innings, when Lowell loaded the bases with two outs. Carlos Ditren was able to come in and stop the bleeding, preventing any more runs from being put on the board.

Having a four-run cushion helped Edwards settle in to the flow of the game and really make the most of his outing.

"Even after the first inning I was still a little nervous, but once we put up that four-spot, it all just went away and I used my defense instead of trying to do it all by myself," Edwards said.

Tulley (1 for 4), along with shortstop Chad Gens, were active in the field most of the night, helping their team secure outs and keep Lawrence (7-2) off the basepaths.

"Tonight was probably the most balls that's been put in play all year, and for a defense to not make one error is pretty good," Edwards said. "I have all the confidence in the world in those guys."

Edwards kept the Lancers off the board until the third inning. He had a very effective curveball working, and could feel it early on.

"During the bullpen session before the game, I do a few to get it going, and that's when I know if it's going to work or not, and it was," he said.

He walked Edwin Brito on five pitches to start the inning, but came back and struck out David Quezada and Victor Mendez for two quick outs. During one of those at-bats, Brito was able to get to third on a passed ball. He scored when Lowell's R.J. Noel overthrew first when fielding a ground ball.

Edwards finished with six strikeouts, three walks, and left four Lawrence runners on base.