Boston High School:

Chandler Debrosse
May, 27, 2012
5/27/12
10:47
PM ET
By
John McGuirk
| ESPNBoston.com



SHREWSBURY, Mass. -- Although New Bedford and St. John's of Shrewsbury have already punched their respective tickets to the Division 1 baseball postseason tournament, there was still plenty at stake as the two powers met this afternoon in a non-divisional showdown.

In the final regular-season game for both teams, the last thing either wanted was to head into next month's tourney with a loss. With that notion in the back of their collective minds, something had to give.

From St. John's standpoint it did. Behind Mike Sullivan's 5 RBI outing, the Pioneers clipped the Whalers 9-3 at Pioneer Field to improve to 20-2 having now won 12 straight. St. John's, which lost to the New Bedford back on April 25th, avenged that defeat by putting this contest away early, scoring three times in the second inning and adding three more the following frame.

"We wanted to go into the tournament with some momentum," said Pioneers coach Charlie Eppinger, who team was playing its third game in as many days after defeating Algonquin and Wachusett on Friday and Saturday, respectively. "We had games Friday, Saturday and Sunday so we knew this weekend was going to be a testament to our mental toughness. You've got graduation going on here and other things and these guys are tired.

"But I thought we showed a lot of heart and a lot of self-discipline to win our last three ball games. I'm really impressed with my team in how they handled these last three days."

St. John's starter Ben White (5-0) was not as sharp as in previous outings. But nonetheless, the junior righthander had enough in the tank on this hot afternoon to last six innings, allowing 2 runs on 9 hits and striking out 4.

Like St. John's, New Bedford also had a grueling stretch of contests on its schedule. Playing their third game in 24 hours, having defeated Oliver Ames Saturday morning before falling to Brockton later that evening, the Whalers (13-7) were able to mount some pressure on White early.

They blew a chance to score a run in the opening inning after Chandler Debrosse was gunned down at the plate by St. John's center fielder Jimmy Smith after trying to score from second on a Rick Moraes single. The next inning New Bedford left three on base with nothing to show for it.




In the Pioneers' half of the second, they refused to let their opportunities on the base paths slip by. With two out and Owen Shea on second, Sullivan cracked a single to center plating Shea with St. John's first run. Connor Kurtz followed with a triple extending the lead to two, and moments later PJ Browne grounded a single past second baseman Jake Souza sending Kurtz home with the Pioneers' third run off of Whalers' starter J.T. Sylvia (3 IP, 6 runs, 7 hits, 1 K).

After coming away empty-handed in their first two times at bat, New Bedford finally answered the call in the third. Javier Lozada started things with a lead-off single. White would retire the next two batters before walking Jon Finnerty. Kyle Prudhomme came to the plate next and grounded a single off of Kurtz's glove at second base scoring Lozada. Finnerty would follow Lozada in a short time later thanks to Sylvia's single cutting the deficit at 3-2.

But any momentum gained by New Bedford had soon vanished in the bottom of the frame as the Pioneer offense continued to wreak havoc on Sylvia. Smith opened with a bunt single and proceeded to steal second and third. Two outs later Scott Manea lofted a soft single to center scoring Smith. Jake Byrne kept things alive with another single. Up stepped Sullivan, whose hot bat stayed that way, as he launched a shot off the top of the right field fence for an two-run double extending the Pioneers lead to 6-2.

"I saw the ball good today but we got the win and that's all that matters," said Sullivan, a junior. "In practice we work a lot on two-out, situational hitting. We do things like bunt runners over and then try to get them in. Today we were able to do that very well."

With Finnerty on in relief of Sylvia to open the fourth, the senior was able to stop the bleeding as he kept the Pioneers off the board over the next four innings. But in the St. John's eighth, the offense re-awoke. Sullivan blasted a two out, two-run triple and Kurtz followed with an RBI single which put the Pioneers ahead by seven.

"Mike has a great swing," Eppinger said. "Earlier in the year we saw a great swing during batting practice but not in games. It just wasn't translating. It was just a matter of confidence with him I feel and him going up to the plate with a mentality that I can hit and I am going to do this. He's been really swinging the bat well lately which is a credit to him and also a credit to his teammates for pushing him."

New Bedford managed a solo run in the ninth on a Mike Rapoza RBI single against Browne, who had come on in relief in the seventh. But the Whalers slim chances at a comeback were just that as they drew no closer.

"You can't give good teams extra outs and at times I thought we did that," New Bedford coach John Seed said. "We also left a lot of runners on base early on and couldn't come up with that big hit. That's going to hurt you. You need to take advantage of those opportunities.

"When we get chances to score like that we have to. St. John's is a good team and obviously you need to play at your best to beat them. But now the pre-season, as I call it, is over and it's time to get ready for the tournament. I think we'll be ok. Everyone is 0-0 to start so we'll see what happens."



May, 14, 2012
5/14/12
11:09
PM ET
By
Eric Adler
| ESPNBoston.com
HYANNIS, Mass. -– There were no words of wisdom, motivational message, or encouragement of any kind that Barnstable baseball coach Joe DeMartino offered pinch-hitter Tim Biliouris with the game on the line. He simply inserted his back-up first baseman, certain that the senior slugger would work his magic.
[+] Enlarge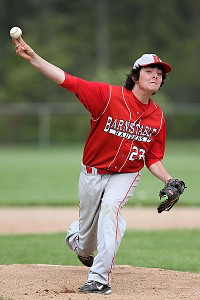 Eric Adler for ESPNBoston.comSenior righthander George Bent went the distance for Barnstable, scattering five hits and striking out nine.
With his coach's confidence behind him, Biliouris came through in the clutch, hitting a two-run single back up the box in the bottom of the seventh as the Red Raiders rallied for a 4-3 non-league win over New Bedford under cloudy skies on the Cape Monday.
DeMartino had eight other subs he could have called on to get the job done, but the decision to send Biliouris to the dish was an easy one.
"Tim has had a bunch of big pinch-hits for us the past couple of years, so I trust him in any situation to go up there and put a good swing on the ball, and he did," said DeMartino. "He's done it before so I knew he could do it again."
Biliouris' heroic hit made a winner out of classmate George Bent. The fast-working righty scattered five hits, two walks and struck out nine batters. He was also superb down the stretch, retiring the final nine batters he faced, six by way of the K.
"We've gotten walked-off twice this year [against Falmouth and Bridgewater-Raynham] and it felt awful, so it's nice to be on this side of it for a change," said Bent. "It's pretty awesome."
Righty Mike Rapoza absorbed the tough-luck loss for New Bedford. Up until the fateful final frame he carried the Whalers, allowing just six hits while also collecting two himself, including a towering two-run home run in the first inning.
"They got that bomb in the first, but we said we weren't going to let that sink us," said Biliouris. "We just kept chipping away and chipping away, and we got it done."
Barnstable (10-3) wasn't nearly as challenged in its previous meeting with New Bedford, cruising to an 8-0 win on April 5. But the Whalers (10-4) have improved ten-fold since then and came into Monday's match-up having won six of their last seven games.
New Bedford seemed intent on getting revenge and continuing its red-hot streak right from the start. Speedster Jon Finnerty connected to deep left and pulled in for a sliding triple, followed by Rapoza's 370-foot blast to left-center that gave the Whalers a 2-0 first-inning lead.
The Red Raiders cut the deficit in half when Luke Besse (2-for-3) singled in the home half of the first, moved over two bases on a botched pick-off and scored on a wild pitch. The Whalers got the run back in the third when Rapoza doubled to left and scored on Ricky Moraes' single to the same field.
Barnstable closed the gap to 3-2 in the fifth thanks to Dennis Beynor's sacrifice fly that plated Everett Walsh, giving the hosts a little hope.
In the seventh, Walsh ignited the Red Raiders' rally, drawing a one-out walk. Sam Holway then smacked a double to left, setting the stage for Biliouris.
After working the count to 2-1, Biliouris connected on a hanging curveball that skipped over second base, just past the diving glove of shortstop Chandler Debrosse for the game-winner, the first of his career.
"I've been called on to pinch hit for two years now, so I know you've got stay focused, keep it simple and try to rip it up the middle just like I did," said Biliouris. "We were on him [Rapoza] all day, it was only a matter of time until we got to him."
Barnstable wouldn't have been in a position to come back if not for Bent, who settled down after a shaky start. He struck out the side in the fifth before working a 1-2-3 inning in the sixth and seventh.
"When Rapoza hit the home run I just said 'whatever, I can't change it,' so I've got do what I can to help my team win," said Bent. "As a a pitcher, you've got to have a short memory."
Taking the advice of his coach to "stop throwing fastball over the plate," Bent used his curveball on "85 percent" of his pitches over the final few innings. "I was able to hit the outside corner with it and it that was huge," said Bent.
DeMartino was particularly proud of his playoff-bound club responded with its back against the wall.
"At the beginning of the season we really struggled to keep our focus throughout every inning," he said, "but we're coming into our own as a team now and are learning how to finish games."