Boston High School:

Charles Collins
February, 17, 2013
2/17/13
11:00
PM ET
By
Ryan Hannable
| ESPNBoston.com
WELLESLEY, Mass. -– Often times when an opponent forces you out of your comfort zone and into a style you're uncomfortable with you struggle. That is exactly what No. 7 BC High (15-3) did to No. 14 Newton North Sunday afternoon in the Comcast IAABO Board 27 Classic.

BC High's up-tempo, aggressive trap defense took Newton North (18-3) out of their game in the Eagles' 53-36 win before a capacity crowd at Babson College. It was Newton North's first loss since Jan. 8.

"I thought defensively we did play well," said BC High coach Bill Loughnane. "We had a lot of respect for them. I've seen them play and they can shoot the heck out of the ball and we just wanted to make sure we didn't give them many open looks."

Defense was the name of the game for BC High as their full court press and patented aggressive 2-3 zone forced 26 (unofficial) Newton North turnovers.

The Tigers had four turnovers before they recorded their first field goal of the game, but a 7-2 run to close out the opening quarter only had them trailing 10-9.

The second quarter was when BC High took over the game, outscoring the Tigers 20-11, including a 12-0 in the middle of the frame.

"Defensively we played well and were able to get some easy points," Loughnane said of the second quarter. "The defense was good."

In the quarter Newton North had eight turnovers, zero made free throws, and went over five minutes without a field goal as they entered the locker room trailing 30-20. It could have been worse if not for a 7-2 run to close out the half.

BC High didn't let the Tigers get back in the game scoring the first four points of the second half, and 12-5 overall in the third quarter to take a 42-25 lead into the final stanza.

The Eagles continued to employ their full court press and trap defense into the fourth quarter, continuing to force Tiger turnovers and frustrate coach Paul Connolly. At one point in the middle of the third, Connolly substituted an entire five players after calling a time out, visibly upset with his teams' performance.

The fourth quarter featured both teams emptying their benches and both teams scoring 11 points for a final score of 53-36.

Leading the way for BC High were their three senior captains, Pete Timmins (15 points), Charles Collins (14), and Jameilen Jones (12). The Eagles got contributions from the entire roster, as seven players recorded points, which was something Loughnane has been looking for all season.

"We wanted to try and develop a bench so that if we get in foul trouble or have to deal with injuries, guys can step up and perform well," he said. "I thought they did a good job tonight."

Newton North did not have anyone reach double figures. Junior Liam Bruno led the way with nine, followed by sophomore Tommy Mobley with eight.

The Tigers will face Danvers -- which suffered its first loss of the year in the nightcap, 74-66 to Brighton -- and BC High will take on Brighton in the championship. Both games will take place Monday back at Babson, with the consolation game at 4:45 p.m. and the championship at 6:30.

For Loughnane and his Eagles, he looks at this tournament as a chance to prepare for the upcoming Division 1 MIAA tournament.

"When you play against quality teams they are going to exploit your weaknesses," he said. "We like to do that so you know what you have to work on come tournament time, so in the tournament you're not going to see anything new to you."

FREE THROWS TELL THE STORY
A telling stat in a basketball game is usually free throws, and it was no different in this game as BC High's aggressive style of offense, taking the ball to the hoop and not settling for jump shots paid dividends as they got to the line 31 times, compared to the Tigers' 26.

This held true especially in the fourth quarter as BC High got to the line ten times before their first field goal of the quarter, with just under three minutes to play.

Although it wasn't a great performance from the line, 18-for-31 (58 percent), it set the tone of the game. For Newton North it was even worse as they went 11-for-26 (42 percent).
January, 22, 2013
1/22/13
11:23
PM ET
By
Ryan Hannable
| ESPNBoston.com
BOSTON -– The saying is defense wins championships and St. John's Prep is well on their way to a Catholic Conference title because of their defense, especially in Tuesday night's road win at BC High.
No. 5 St. John's Prep (12-0) limited No. 8 BC High (8-3) to just 19 second half points in their 57-43 romp, moving them to 12-0 overall, and in complete control of the Catholic Conference.
"We did a good job pressuring the ball and had good help side rotation," said Prep coach Sean Connolly. "Guys are stepping up and stopping penetration, and we held them to one shot for the most part. We work on defense probably 75 percent of our practice so tonight it definitely showed. Some nights it doesn't show, but they did a good job defensively tonight."
The game was knotted up at 24 at the half, but because of tenacious defense and poor shooting from BC High, the Prep was able to pull away and run away with the win in the second half.
St. John's went on a 13-0 run to begin the fourth quarter, but their run started midway thru the third quarter on sophomore Ben Judson's back-to-back three-pointers.
His sharp shooting began a 23-6 run which spanned until their were just under four minutes left in the game when BC High scored their first points of the fourth quarter. They finished the quarter with just two made field goals.
"We were a little more aggressive in attacking their zone in the second half," Connolly said. "We also did a good job defensively, especially in the third quarter along in the fourth where we got a lot of good stops defensively and hit some shots down the other end."
[+] Enlarge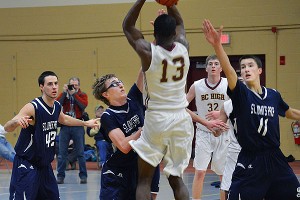 Brendan Hall/ESPNBoston.comSt. John's Prep turned up the defensive intensity in the second half, holding BC High to just 19 points over the final 16 minutes.
BC High used their patented aggressive zone defense, which did work at times, forcing 21 Prep turnovers, but St. John's learned to stay patient and were able to attack when given the opportunity.
It was a back and forth first half with BC High leading by two at the end of one, and then scoring the final five points of the half to tie it up at 24 going into the break. From there on in it was all St. John's, as they outscored BC High 33-19 in the second half.
Leading the way for the Prep was senior forward Josh Syska who had a team-high 15 points. Judson was the next leading scorer, finishing with 14, 12 of which came from behind the three-point line. He now has 23 three point field goals this year.
"He's up and down because he is young, but when he is shooting well he is very tough to stop," Connolly said. "He has a very smooth shot and is going to be a very good player. He is still coming into his own body and has gotten better everyday."
Max Butterbrodt, a junior, had a solid all around game, finishing with 11 points and made his presence felt in the paint all game long.
Senior Drex Costello came into the game as the Prep's leading scorer, but was limited to just seven points, all of them coming in the second half. This didn't come back to hurt the team, as other players stepped up, something which has a lot to do with the Prep's unbeaten record.
"That's why we're having such a good year -- everyone is stepping up," said Connolly. "We have eight or nine guys that are stepping up and giving us good minutes night in and night out so there isn't one guy you can focus on with us as we spread it out which is important."
BC High was led by its senior backcourt of Jameilen Jones and Charles Collins who finished with 18 and 12 points respectively, but needed other players to step up and contribute as the rest of the team only managed 13 points.
The win completes a season sweep for the Prep over BC High as just over two weeks ago St. John's edged BC High 67-58 back at their place.
Although the Prep is 12-0, and very close to wrapping up a Catholic Conference title, they are still taking it one game at a time and not looking too far ahead.
"The coaches have done a good job of keeping us focused and working at the task at hand," commented senior captain Tyler Dooley, who finished with seven points. "We're trying to win the Catholic Conference title right now -- that's our first step. Then, we're on to the state tournament where we want to win a state title. We have two more tough games in this conference.
"We need to beat Catholic Memorial, who is really tough at their place and then we have to beat Malden Catholic as well. So yes, it is nice to be 12-0, but the coaches are doing a good job of keeping us focused and we're looking forward to finishing up this conference and moving onto the tournament."
FREE THROWS MAKE A DIFFERENCE
Free throws were a major story in the game as St. John's was able to get to the line a lot more than BC High, and when they got there they shot the ball at a much better clip.
"We wanted to attack their zone," said Connolly. "We were trying to rotate into the gaps to try and get their zone moving and then attack it. I think we did a pretty good job of doing that and then we got to the line which is what we wanted to do."
The Prep got to the free throw line 28 times, going 22-28, for a 79 percent clip. On the other hand, BC High only got to the line 19 times, and made just 12, which equates to shooting 63 percent.
St. John's made their final nine free throws of the game, not giving BC High any chance of mounting a come back.
January, 10, 2013
1/10/13
12:46
PM ET
By
Chris Bradley
| ESPNBoston.com
A sculpted 6-foot-4 senior guard with skill and gifted athleticism, Jameilen Jones has emerged as one of the MIAA's best players after he was selected to ESPNBoston.com's preseason Super Team, after making its second annual All-State Team last March. His BC High squad took a quick exit from last year's Division 1 South tournament, falling to Franklin in the opening round, but the Eagles have come back with one of their strongest teams in recent memory.
A Dorchester native, Jones has led BC High back to statewide prominence -- just as they were two years ago when they were led by his friend Bryan Hurley, now a point guard at Bowdoin College. The Eagles sit at 5-2 overall and No. 9 in our top 25 poll, with their only losses coming to No. 7 St. John's Prep and No. 5 Mansfield. As one of the state's best pure scorers, it will be up to Jones to bring a Division 1 South title back to BC High, and so far, he's looked up to the task.
We sat down with him to talk about what he learned as a sophomore playing with Hurley, his off-season workout, his gameday superstitions, and plans for next year.
[+] Enlarge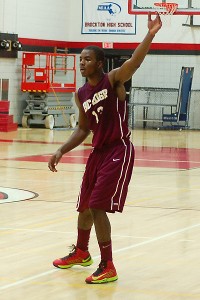 Brendan Hall/ESPNBoston.comBC High's Jameilen Jones, a preseason Super Team selection, has the Eagles looking sharp in the first half of the season.
Q: After you guys lost to St. John's Prep, what did you take away from it?
A:
"After that game we had to adjust a little because they figured us out. They basically spread the floor on us and had shooters all over the floor. So what we're going to do to counter that is to mix in some man instead of playing zone the whole game. But they just shot the lights out on us, honestly.
"We went more man-to-man against West Roxbury (the game following St. John's Prep). Lately teams have been picking me up at halfcourt and pressuring me with the ball, so what coach did is now we're going to run a few different plays, I'm going to go in the post and get the ball in the post a little more, we'll mix in man-to-man a little more too, so that other teams don't get comfortable with the defense we're in. Last year we were a little big longer and taller, so this year we have to do things a little differently."
Q: You often physically overpower opponents with your strength, what kind of workouts do you do in the summer time?
A:
"I didn't really touch weights this summer, I tried to do more calisthenic stuff like push-ups, things with body weight. With my AAU team, Metro Boston, we do a lot of up-fake, rip through, pull up, and mid-range shooting drills. I like to get my shot around the mid-range area, and we do a lot of drills like that. When we do our drills, they're very physical, we have people grabbing, hacking, all that stuff. For my high school team...Coach will give us medicine balls, and we have to try to touch the backboard with the medicine balls 10 times...stuff like that."
Q: What aspects of your game did you focus on this past offseason?
A:
"There were two things. My left hand had to get a lot better, in terms of full court. My left is pretty good in the half court when things aren't full speed, but I really had to work on my left the full length of the court. Because I have to help Charles [Collins, point guard] bring the ball up when teams press us. The other thing was that I wanted to get my shots more consistent, I felt like last year one game I'd be shooting well, then the next game nothing would drop. I had to get more shots up, take different kinds of shots besides just a set shot, and add some lift to it too."
Q: You mention Charles, your backcourt mate. How does your close relationship with him help you guys on the court?
A:
"It helps us communicate a lot better than if we weren't so close. We know where the other one wants the ball, we know when we should take initiative, things like that. He knows when I'm out he has to step up, and when I'm out he has to step up. In a way we kind of rely on each other differently from how we rely on the other players on our team because of the close relationship we have."
Q: You've already played against many of the state's best. Who would you say are some of the toughest players you've seen this year?
A:
"For Charlestown, I thought Allijah [Robinson] was very good. Brockton's guard, Jaylen Blakely was really tough. St. John's [Prep] had that lefty who shot the ball really well, Ben Judson. Honestly though, the toughest player that we played against, that we had to help off a little more and focus on a little more was Markus Neale from West Roxbury."
Q: What did you guys talk about at the beginning of the year, in terms of having goals and winning games? How do you as a leader keep your team motivated?
A:
"Our coach, he gameplans for every game the same...At the end of the day, it's all about getting a W. It's not so much me encouraging our team, I'll tell them we have to get our hands up or we need to play better defensively, but coach is really focused on winning every game. He believes we can win every game we play as well."
Q: What kind of habits or routines do you have for gameday?
A:
"The day before a game, I always try to have a lot of fluids and eat a lot of good food. The day of the game, I stretch a little extra. I also like to think I'm going to do good things, and hope it transpires on the court. I like to think positive. The mental aspect makes a big difference, when you believe and you envision it, I think I have a little bit of a superstition that it helps out."
Q: What have you been able to learn from your teammates, and who, whether it be family or coaches, has really helped you get to where you are now?
A:
"The first person I think of who helped me a lot is Bryan Hurley, who I played with two years ago. Brian is the best point guard I've played with. His leadership is really, really good. He always encouraged his teammates, and kept us in good spirits. As far as other people, my family always encourages me and tries to go to as many of my games as they can, they always want to know when I'm playing. The people around Dorchester always want to know too, so they can come see me play a game. So in terms of players, Brian Hurley really helped prepare me for where I am now, and my family and friends have helped me out a lot."
Q: Your high school coach, Bill Loughnane, has been around a long time. What kinds of things have you learned from him?
A:
"Definitely discipline. There has never been a player who has lashed out at him, or has done anything that was bad. He keeps us very disciplined, he listens to us, but nobody on this team acts out of line. We try to reflect what we want to produce as a school: good character, being a man for others, and things like that."
Q: Division 2 schools have shown interest in you, but you have yet to get a scholarship offer. What are you thinking in terms of plans for next year?
A:
"About a month ago, [Worcester Academy guard] Rene Castro told Coach [Jamie] Sullivan at Worcester Academy about me. I spoke to Coach Sullivan, and actually this Friday I'm going to finish the application to hopefully go there. Rene gave me a schedule so I can get to a game, and Coach Sullivan told me to finish the application and what not. I would really like to play at Worcester...It would be really fun. I believe I'm a scholarship player, but I know I have a lot to work on. If I was more consistent, I would have the scholarships right now. I just need to keep working, and it all will work out."
January, 6, 2013
1/06/13
11:04
PM ET
By
Chris Bradley
| ESPNBoston.com
With the majority of teams about a third of the way through their regular season schedule, we reflect on individuals who have stepped up for their team when the lights are bright, underclassmen who have exceeded expectations, and breakout players to keep an eye on for the rest of the season. Included also are comments from opposing MIAA coaches, on the condition of confidentiality.

***

REASSERTING THEIR TALENT

Nate Anderson, 6-7 Sr. F, New Mission
Anderson's improvement has been well documented this year, especially in his rebounding and effort on the defensive end of the floor. New Mission lacked floor leadership last year, as seen with their early bounce from the Division 2 North tournament, but Anderson has stepped up in a big way this year for the Titans, who have perhaps the toughest schedule in all of MIAA hoops. How far supremely-talented New Mission goes in this tournament this year will ride largely on the shoulders of their senior forward.
Opposing coach's take: "I always thought Nate was talented and wondered why he never played more. He's about 6-6, 6-7, which is a center at this level, but he handles the ball and is mobile like a guard. Now that he is a senior and he has become older, more experienced, and is coming out of his shell, I think he has the potential to be dominant."

Sam Dowden, 6-5 Sr. F, Andover
Expectations were high for Andover coming into this season, with several veteran guards back and one of the area's more formidable frontcourt duos in Dowden and sophomore Connor Merinder. Merinder has been out of action since mid-December with a wrist injury, and since then Dowden has stepped up in a big way for the Golden Warriors. Andover sits at 5-2, with their only losses coming by a point to top-ranked Central Catholic and by ten to second-ranked Lowell. Dowden has led them in scoring and rebounding thus far, but he and the Warriors have their toughest challenges ahead of them with four MVC teams ranked in the top 15.
Opposing coach's take: "A matchup nightmare because he can post up against smaller players and is extremely skilled on the perimeter when you try to match up with a bigger player on him. Sam never seems to get rattled or take bad shots during a game. Plays the game the right way and is always a class act on and off the court."

Tyler Nelson, 6-2 Jr. G, Central Catholic
Nelson is the most dangerous shooter in the state, undoubted and no questions asked, but what has made him stand out so far this year is how versatile he has become. Playing AAU this summer with BABC, Nelson had a significant opportunity to improve his ball handling, his ability to run an offense, and his defensive reliability. At the end of last season Nelson's name was always came accompanied by remarks about his shooting ability, but he has become one of the better all-around scorers in the area and a reliable floor leader for Coach Rick Nault.
Opposing coach's take: "I think he's very crafty. I think that he has high IQ. You cannot relax at any time, because he'll knock down three's. If you over-close on him, he's crafty enough to take that extra dribble and get by you and make a play for somebody else or use his pull-up. So that's what I'd say, very crafty, intelligent, high IQ, smart basketball player."

Derek Collins, 6-1 Sr. G, North Andover
Yes, another sniper from the Merrimack Valley. Collins came back and is having a solid year for the Scarlet Knights after missing the majority of last season with a back injury. North Andover is one of the best teams in Division 2 this year, currently sitting at No. 14 in ESPNBoston.com's poll, and while their strongpoint is in their frontcourt with Isaiah Nelsen and Chris Bardwell, Collins prevents other teams to be able to double down on Nelsen and Bardwell very often because that would leave the sharpshooting Collins open in his favorite part of the floor.
Opposing coach's take: "Extremely confident player who can take over the game at any point. Derek has learned how to move without the ball which makes him a much more dangerous offensive player. As a 6-2 guard Derek is much bigger and stronger than most guards he matches up with so he is able to to use his size and strength to score in the paint."

Riyadh Asad, 6-1 Sr. G, West Springfield
Springfield Central got a lot of the pre-season hype following their 24-1 state championship season, starting this season at No. 1 in our preseason poll. However, West Side has emerged in the opening weeks of the season as the potential favorite in Western Mass. Division 1, and Asad is a big reason why. He's averaging just over 21 points per game and has shown to be one of the best guards in Western Mass. With Central looking particularly unreliable early on, we could be in for an adventure in Western Mass the rest of the way, and if Asad can keep up with his high-scoring efficiency, West Springfield is a team to keep an eye on from here on out.
Opposing coach's take: "Asad is one of the more talented players in western Mass. His ability to create and make shots is what stood out to me. He's also been working on his off ball movement ( using screens, cutting hard. etc) which will carry over well for him at the next level. Preparing for him you have to tell your team to be prepared at all times because he loves to shoot!"

Brendan Hill, 6-5 Soph. F, Mansfield
Mansfield is one of the favorites to take Division 1 South, and Hill is a big reason why. Also a football star, Hill's strong hands, crafty footwork, and innate competitiveness have translated to the basketball court this winter season, as perhaps the most reliable player on one of the best teams in the state. Hill got minutes last year as a freshman, but really broke out this summer playing for BABC, where he was able to work on his post moves and improve his outside shot.
Opposing coach's take: "Brendan Hill is the most unselfish player in the MIAA. I don't know what kid comes off a summer playing with BABC and doesn't demand the ball every possession. He's a raw Pat Connaughton without the athleticism. He can stretch you, suck the help in and make the right kick out almost all the time. He can dominate offensively but has to get stronger to absorb the banging he will have to take in the Hock league."

***

FRESH ON THE SCENE

Kareem Davis, 5-8 Soph. G, Lowell
Like any sophomore, he needs to continue to hit the weights so that he doesn't get pushed around by stronger guards, but Davis has proven to be one of the state's best young point guards. Lowell sits as the second-ranked team in the state right now, with a showdown on Jan. 18 with top-ranked Central Catholic coming up quickly. Going up against one of the state's best guards in that game in Tyler Nelson, we'll soon see how for real Davis is.
Opposing coach's take: "Kareem is an excellent ballhandler who sees the floor well. He has complete confidence in his abilities and isn't afraid of anything. What makes him hard to cover is that not only does he push the ball up the floor so quickly, but he can also shoot."

Adham Floyd, 6-1 Fr. G, St. John's (Shrewsbury)
In going through the top 25 poll, there are few freshmen, if any, who are bringing more to their team right now than Floyd; through six games, he is the Pioneers' second-leading scorer with 9 points per game. With senior captain Ken Harrington out injured for the near future, St. John's will somehow need to make up for that productivity in the backcourt – the crafty freshman will take his lumps, but he'll be better for it in the Division 1 tournament, where the Pioneers are infamous for out-executing their opponents.
Opposing coach's take: "Adham is a very talented young man who works hard on his game. He has a very good skill set. He can handle the ball with both hands, he rebounds well and is not afraid to take the big shot. He also plays with poise beyond his years...He is going to be a handful for years to come."

Ben Judson, 6-4 Soph. F, St. John's Prep
Judson's coming-out party was Friday night against BC High, where the sharpshooting sophomore led the Prep with 20 points on their way to their most important win of the season -– he had five threes. This St. John's Prep team has bought into Coach Sean Connolly's system and has no problem scrapping on defense; if Judson can continue his standout scoring performances, this team is a legitimate contender to knock off Central Catholic in Division 1 North.
Opposing coaches' take: "He really didn't get a lot of time last year, they had a lot of older guys and he had to wait his turn. But already this year he has been one of the best shooters in the area. He's big and long for a guard. If he gets bigger and improves off the dribble, we're talking about a scholarship-level player."

Giulien Smith, 6-1 Soph. G, Catholic Memorial
Smith has been the scorer that Catholic Memorial needed this season, especially after the Knights graduated two thousand-point scorers in Dan Powers and Matt Droney. The crafty left-hander has been one of the state's biggest breakout stars thus far, scoring 21 against Lincoln-Sudbury, 16 against Rhode Island power St. Raphael's, and exploding for 28 points in a win over Bay State Conference favorite Newton North. The Knights have emerged as a legitimate top 10 team behind Smith, and have the potential to stay in the top 10 from here on out if their high-scoring sophomore can keep up his effort.
Opposing coach's take: "He's a terrific player, and is really, really smooth. He shoots it, handles it, gets to the basket, has great poise and a pretty good tempo to he's game. I think he's got a big upside."

***

PLEASANT SURPRISES

Allijah Robinson, 6-7 Jr. F, Charlestown
He's bounced around high schools, but it appears that Robinson has found his niche and is becoming quite the on-court leader at Charlestown. With forward Freddy Oliviera playing the post, Robinson has had the opportunity to play his more natural position on the wing -– where he can create his own shot and beat defenders to the rim off the dribble.
Opposing coach's take: "At 6-foot-7, Alijah Robinson is clearly a matchup problem for any opponent in the state. I was impressed by his nice shooting stroke. Once he beefs up a little more and bangs inside more, he will be even more of a force than he already is."

Charles Collins, 6-0 Sr. G, BC High
On most other teams in the state, Collins would be a star. The Eagles have their scorer in Jameilen Jones, but so far Collins has been the perfect complement to his good friend and backcourt mate. His outside jumper needs improving, but Collins has been a floor general for BC High at point guard, often showing to be an extension of Coach Bill Loughnane on the floor. Because of his high basketball IQ, matched with his gifted athleticism, he is one of the more college-ready prospects in the state.
Opposing coach's take: "Charles Collins is a consistent jump shot away from being the MIAA's most versatile player. He can beat you many ways off the drive as well. He is a coaches' point guard because he can not only put offensive pressure on another team, defensively he can take an opposing teams' point guard completely out of his game."

Drew Healy, 6-7 Sr. C, Lowell
Healy can block shots, hit the mid-range jumper, he rebounds at a high rate, and he runs the floor like a deer. Lowell has one of the most talented assortment of guards in the state, and Healy's low post skills make it difficult for opposing defenses to focus on one or two players. Veteran guards always win ballgames in the MIAA, but when thrown together with a 6-foot-7 big man with standout upper body strength, this Lowell team has state title potential written all over it.
Opposing coach's take: "Drew is interesting because he is nowhere near Lowell's top option. He played limited minutes in the Greater Lowell Holiday Tournament, but is very effective when he is on the court. He rebounds well and blocks shots well. He would score much more if Lowell focused on him in the paint and got him the ball. I understand why -- Jonathan Perez and the other Kareem Davis are the focus of the team."

Alex Cooper, 6-6 Sr. C, Wachusett
If you're Central Mass. team trying to earn respect, the one and only way to do that is to beat St. John's, and behind Cooper, the Mountaineers did just that, knocking off the Pioneers last week at the Laska Invitational. Cooper's game isn't always pretty, but he seems to have a knack for getting it done when Wachusett needs him the most, getting double digits in both points and rebounds in wins over St. John's and Doherty. Wachusett shot up the polls to No. 8 after beating the Pioneers, but they have plenty of challenges ahead, with Algonquin, Worcester South, Brockton, St. John's, BC High, and Cambridge still on their regular season schedule.
Opposing coach's take: "He doesn't get outworked. For what he lacks in skill, he makes up for in hustle, and he leads by example."

Dakari Hannahwornum, 6-7 Sr. F, Dorchester
26 points and 28 rebounds. Yes, you read that correctly, Dorchester's standout big man put up 26 and 28 when they beat previously-ranked Madison Park on Dec. 21. Hannahwornum can be an X-factor for the Bears in their run to a Division 2 South title, especially with his ability to take over games from the low block and overpower teams on the glass. Dorchester has been the breakout team in the Boston City League this year, and behind their skilled big man, they have the talent to be in a game with any given team in the state on any given night.
Opposing coach's take: "He's raw but has good potential, he needs to go to a juco or a D2 [college] where they can work with him year round. He erases a lot of defensive mistakes by tossing shots away from the rim."
January, 4, 2013
1/04/13
11:10
PM ET
By
Ryan Hannable
| ESPNBoston.com
DANVERS, Mass. -– Tied at 16 after the opening quarter and struggling offensively against No. 6 BC High's aggressive zone defense, No. 17 St. John's Prep needed a spark and someone to take over the game.

Sophomore guard Ben Judson stepped up and provided the lift they needed, scoring eight of his game-high 20 points in the second quarter, leading the Prep (8-0) to a 67-58 triumph over BC High (4-2) in both teams' Catholic Conference opener.

"I went into the gym earlier and just shot," Judson said. "Once in the game I just shot when I was open, I didn't force anything. I was trying to get my teammates shots too and look for them, not just myself."

Of Judson's 20 points, 13 came from behind the arc, including a four-point play late in the first quarter. The 6-foot-4 guard hasn't taken many shots this season, but once he gets going he can get hot in a hurry with a beautiful left-handed stroke.

"I haven't really shot as much, but once I get my shot going I can be a streaky shooter," the humble Judson said.

The first quarter was sloppy for both teams as they struggled offensively, but after the opening eight minutes Prep pulled away, outscoring BC High 20-6 in the second quarter. They used aggressive defense to get steals and then attacked the zone offensively to take a commanding 36-22 lead into the locker room.

"I think we were real tentative in the beginning throwing the ball all over the place," Prep coach Sean Connolly said. "I think we started the game with three straight turnovers."

Prep knew BC High would be attacking them with zone defenses -– it was just a matter of breaking them.

"We were coming into the game trying to break their zones, since they have a few different ones," Judson said. "On the offensive end we just tried to find the gaps as much as we could. We needed to stay strong the entire game and not fall for their pressure and that's what we did, staying patient and finding the open man."

The action picked up in the second half with both teams raising their intensity levels, but the Prep continued to maintain their lead, leading 53-36 after three.

BC High was able to mount a come back in the fourth quarter, cutting the deficit to as little as eight with less than two minutes to go, but the Prep made six-of-nine free throws in the quarter to hold on for the win.

Senior Charles Collins led BC High with 16 points, which had two other players reaching double figures as Jameilen Jones added 14 and Steve Young finished with 13.

Although St. John's Prep senior point guard Tyler Dooley finished with just six points, he had a very solid game running the show for the Eagles as he was able to find the open man all night long.

"He is the guy that makes us go, he is a very good point guard," Connolly said. "Without him we really don't have a point guard who can bring the ball up, so he is a big key to our success."

Senior Drex Costello, who came into the game leading the Prep in scoring, finished with 15 points.

This was the opening game for both teams in the Catholic Conference where teams know it is going to be a battle game in and game out. Despite jumping out to an 8-0 start, Connolly wants his Eagles to just take it one game at a time.

"It's just one game at a time for us, these guys have been working hard all year for us," said Connolly, the former Providence and Ohio State standout. "They are a great team to coach, they come to work everyday and keep getting better. I am very pleased with the way they are playing so far."

OFFSETTING BC HIGH'S SIZE
Coming into the game St. John's Prep knew it would be a battle going up against the height of BC High as they start two players at 6-foot-5 and another at 6-foot-4. The Eagles needed a way to make up for their lack of size compared to BC High.

"We used our quickness and wanted to move the ball on offense making it tough for them to cover," Connolly said.

The Prep's guards ability to penetrate to the basket, drawing BC High defenders, allowed for big men junior Max Butterbrodt and sophomore Jake Burt to get easy layups, finishing with five and four points respectively.

Prep also did an outstanding job of boxing out, as they were able to control the glass the majority of the game.
December, 23, 2012
12/23/12
11:38
PM ET
By
Ryan Lanigan
| ESPNBoston.com


BOSTON -- Mansfield basketball outscored BC High 21-6 in the third quarter Sunday afternoon and weathered the Eagles' comeback attempt on their way to a 69-57 win.

No. 3 BC High outscored the No. 6 Hornets 25-19 in the fourth quarter, but it wasn't enough to close the Hornets' 18-point lead inside of McNeice Pavillion.

"We started to move the ball with more efficiency and getting it to the right guys," Mansfield head coach Mike Vaughan said. "That's an extremely quick team. It took us a little while to get used to that. You don't have to play at the same speed they are. I think we ended up getting the ball in the right places and the right people. Clearly, when you can knock down threes the way we did tonight, it helps."

Senior Greg Romanko had 18 points and 11 rebounds (4 offensive) and sophomore Ryan Boulter added 18 points on six 3-pointers.

Mansfield, as a team, converted 12 threes on 29 attempts from behind the arc. They spread out four players around the perimeter and parked another at the high post. Their ability to move the ball and successful shooting were key offensively.

"We just tried to spread the floor," Vaughan added. "It's just guys making the proper pass."

The Eagles' fourth-quarter comeback attempt was led by junior guard Tom Galanek, who notched all seven of his points in the final frame, and assisted on two other 3-pointers. Senior captain Pete Timmins finished with 10 points and senior Brian Robinson also added 10 along with seven rebounds.

The Hornets (4-0) were able to keep BC High (2-1) backcourt tandem of Jameilen James (4 points) and Charles Collins (4 points) in check behind strong defense from Rocky DeAndrade and Michael Boen.

Mansfield sophomore Brendan Hill helped spark the Hornets' big third quarter. After sitting for the majority of the first half after picking up two early fouls, Hill filled the role on the high post and kept BC High's defense honest and his crisp distribution allowed for open threes.

"He's a unique player that's a tough match up because he's a bigger kid that can pass the ball so well," Vaughan said. "He's played in four games and he's been in foul trouble in all four. Hopefully I can get his defensive mind in the same set as his offensive mind."

The Eagles opened the game with the lead at 2-0 and again took the lead at 4-2, but never led in the game again. A Romanko three, moments before the halftime buzzer, gave Mansfield a 29-26 lead at the break.

As BC High cut the lead to single digits, it looked as though that had forced a turnover, but a tipped pass high into the air landed in the hands of Mansfield Kyle Wisnieski, who found a wide open Hill for a two-handed slam that extended the Hornet's lead back to 10.

LETTING LOOSE
Vaughan thought Romanko struggled through the first three games of the season because of the pressure he was putting upon himself.

So before Sunday's game with BC High, Vaughan had a simple message for the 6-foot-4 senior captain: Just play.

Romanko went back to basics and it worked, as he scored a season-high 18 points, including a flashy put-back layup late in the third quarter that gave the Hornets a 17-point lead.

"He played great," Vaughan said. "He's leading our team in rebounds and in blocked shots. Defensively, he's playing tremendous so he's doing everything we're asking him, too. He's struggling because of his shot but he doesn't realize he's helping us on the other end. Tonight, he finally got a little bit of rhythm scoring and it made a big difference."

As for sophomore Ryan Boulter, letting loose and shooting hasn't been a problem so far this young season. It's the third time in four games that Boulter has led the team in scoring.

Boulter was 6 of 13 from beyond the arc, accounting for half of Mansfield's threes -- more attempts than BC High took as a team.

"He's an unbelievable shooter," Vaughan said. "He's an exciting player because he changes the way your team can play and the way other teams have to defend him."
December, 19, 2012
12/19/12
1:47
AM ET
By
John Botelho
| ESPNBoston.com
BROCKTON, Mass. -– On Tuesday night, the No. 3 BC High boys basketball team demonstrated that stopping their guard play is going to be a tall task for any defense to handle this season.

They rolled past host No. 18 Brockton, 65-51, behind 43 points from a trio of guards -- including a game-high 20 from senior Jameilen Jones.

Jones, who netted 33 in the Eagles' (2-0) season-opening win over Charlestown last week, recognized how important the sharp-shooting of senior guard Mike McAuley was in the win.

"My shot wasn't really falling for me –- thankfully I have some abilities where I can catch one off the glass or run down the court and get some open lay-ups, but it's not going to be perfect every day," Jones said. "Mike stepped up today. I really liked what I saw today."

Added BC coach Bill Loughnane: "Mike's a senior whose been around and he knows how to step up. He's played well for us before.

"Last year he had a couple real good games for us, but in the third quarter tonight he executed our plays correctly and ended up with some wide open shots. He's a real good player, so he's going to make them for us."

While the Eagles won with relative ease, they needed a strong second half to fuel the runaway victory. Brockton jumped out early and led 14-12 after one. BC High didn't take its first lead of the contest until there was 4:40 remaining in the second quarter.

A defensive adjustment there made life tougher on the Boxers' (1-2) shooters.

"I think coach Loughnane had his guys attack us a little bit more," said Brockton coach Bob Boen. "He got his guys a little more aggressive and out front and into passing lanes. We were having trouble getting any attack to the basket. They made a good switch there."

Jones provided a spark that kept Brockton's offense at bay, coming away with four steals and pulling down seven of his 10 rebounds on the defensive end.

"He's Mr. Everything for us and he has to be," said Loughnane. "I thought they did a pretty good job on him defensively. He willed himself to a lot of those points and he didn't let the little frustration early affect him. He rebounded, he played defense -– he did what good players do -– help in anyway."

In addition to the 20 points from Jones and 14 from McAuley, the Eagles did a good job spreading the ball around as six players netted at least six points. Charles Collins and Pete Timmins each chipped in nine points, Phil Leotsakos added seven and Steve Young scored six in the win.

Brockton was led by 11 points from Nisre Zouzoua. They also got 10 points from Ridge Francisque, eight from Ian Wade, and seven a piece from Jaylen Blakely and Shakeen Smith.

The Boxers hindered their own comeback chances with a poor showing at the free throw line, going just 7-for-19 from the stripe.

"It seemed like every time we needed a big foul shot, we couldn't get it," Boen said. "There were a couple times they had five point leads and we got to the line and we missed. They had a seven point and my guy got to the line for three shots and only made one there.

"Not only did we a lot, we missed foul shots at keys time tonight."

A silver lining: After graduating four of their starters, as well as nearly every player besides Blakely who saw significant time during the Boxers' run to an EMass. crown last season, some growing pains were expected this year.

"Our theme right now is that we're a brand new team," said Boen. "We have exactly one player who played serious varsity minutes last year. (Marcus) Curry and Wade were on the varsity but they never played a lot of minutes in the big time games.

"We're a brand team and that's the idea we're sticking with. They're really angry right now because they're 1-2 and we're not usually 1-2. This year, I came in with the mindset that we're going to be building all year and to be ready in February was our goal."

From a talent perspective, at least, the Boxers should be just fine this season.

"I take form tonight, that physically, we can probably play with everybody," Boen said. "Our mental game really has to tighten up. We made some serious mistakes tonight -– just awful mistakes. Leaving their best shooters open sometimes, not being awake on some out of bounds plays. Things like that.

"I am pleased with how were able to physically play with BC High, and run up and down the court with them. We covered their big scorer pretty well."

The Boxers might even get better from a physical stand point, as they're still feeling out roles for everyone, especially senior forward Shakeen Smith, who played high school basketball last season in Georgia.

"He's new and he's only been with us a little bit," said Boen. "He actually got sick and missed the first week after tryouts, so we really don't try to run any plays for him yet. We don't try and get him the ball at all because it's just been such a short amount of practice time."

In addition to his seven points, Smith was a force under the basket, pulling down a game-high 14 rebounds while blocking three shots.

"He's a really hard-worker," said Boen. "He might not be as a big a force as Sayvonn (Houston) but he has a chance to be that type of guy. He will become much more of our offense as the year goes on."
March, 28, 2012
3/28/12
6:49
PM ET
By
Brendan Hall
| ESPNBoston.com
With the unveiling of our MIAA All-State Teams for Boys and Girls late last week, the 2011-12 basketball season has come to close. But before we officially slam the book on another exciting season of hoop, and move on to spring sports, I wanted to get out a few thoughts on the landscape for next season.

To whet your appetite for the 2012-13 season, here are my early projections on the state's must-see teams to watch:

BOYS

Central Catholic - Plenty of talent returning with this squad, which captured the No. 1 overall spot in Division 1 North despite missing Luis Puello (ankle) for most of the season. ESPN Boston All-State guard Tyler Nelson returns as one of the state's top shooters, but the Raiders also return all three of their regular bigs in Joel Berroa, Doug Gemmell and Nick Cambio.

New Mission – Apparently it's never too early for bulletin board fodder, because head coach Cory McCarthy is already making some barnstorming rounds, telling ESPNBoston.com this afternoon that if the Titans don't win the Division 2 state title next year, "I should be fired." Bold, yes, but it's hard not to like a lineup of Isshiah Coleman, Nate Anderson, Greg Bridges, Damion Smith and Shaquan Murray. There is some promising talent in those ranks.

Mansfield – Folks are talking about the Hornets being one of the South region's top teams in two years' time, between promising freshman Brendan Hill and sophomore Michael Hershman. I'm of the camp that believes with those two versatile parts, paired with a terrific coach in Mike Vaughan, the future is now.

Taunton – Shaquille O'Neal Davis. That's legitimately his full name, and one you certainly will not forget by this time next year, for reasons that have nothing to do with The Big Aristotle.

West Springfield – Terriers return virtually everyone, including Chris Lipscomb, Paul Bessette, Andy McNulty, Dewey King, and leading scorer Riyadh Asad. West Side is the early favorite next year in Division 1 West.

St. John's (Shrewsbury) – Junior transfer Tarik Octave was one of the nice surprises of the playoffs, and freshman Davon Jones has shades of former Pioneers great David White all over him (Doesn't hurt that Jones was also the Pioneers' starter at safety last fall, too). A boat load of underclassmen return, including Ken Harrington and T.J. Kelley, which should more than make up for the graduation of Matt Palecki.

Danvers – Falcons graduate 6-foot-7 center George Merry, an ESPN Boston All-State selection, but return some terrific guards. Nick McKenna, Nick Bates, Eric Martin and Dan Connors can all shoot the ball, and are perfectly-suited for John Walsh's four-out offensive system. My early pick to repeat at D3 champs.

BC High – Eagles return what ought to be one of the state's best backcourts in point guard Charles Collins and ESPN Boston All-State swingman Jameilen Jones. Throw into the mix one of the region's best basketball minds in Bill Loughnane (he of four state titles) and it's hard to think of the Eagles as anything but a favorite in the South.

Springfield Central – A plethora of talent graduates, including Chris Prophet, Lee Turner, Jevaughn McMilian, and ESPN Boston Super Teamer Tyrell Springer. But All-State forward Kamari Robinson should have another terrific season, and the way Cornelius Tyson exploded onto the scene in the Division 1 state final makes us all wonder if he's about to realize the potential that many in the Springfield area have been talking about for so long.

Stoughton – Super Teamer Aaron Calixte and Defensive Player of the Year Marcus Middleton formed the state's best backcourt in 2011-12. If all goes as planned, they'll be well-equipped to defend that notion next season.

Wareham – Vikings might not endure an unbeaten regular season again next year. But another year of All-State point guard Darien Fernandez means they're not going anywhere.

GIRLS

Braintree – Wamps started three freshmen this year: Ashley Russell, Bridget Herlihy, and 6-foot-1 center Molly Reagan. Expect them in conversation for state title contention from now until their time runs out in 2015.

Archbishop Williams – Ditto the Bishops, who have two 6-foot freshmen to look forward to the next three seasons. Add in sophomores Olivia Conrad and Leah Spencer, and their fiery mouthpiece Sara Ryan, and this could be another top-five team come December 2012.

Reading – The Rockets made a flawless run through the Division 2 gauntlet, winning their first Division 2 state title in school history as one of two final unbeaten squads in Massachusetts. Two-time Middlesex MVP and ESPN Boston All-State Olivia Healy returns, as does guard Morgan O'Brien.

Andover – Golden Warriors are expected to come down to Earth with the graduation of two-time ESPN Boston Miss Basketball, Nicole Boudreau, and UConn lacrosse commit Ally Fazio. What might be overlooked amidst Andover's unprecedented run to a third straight state title is that there were plenty of terrific complimentary backcourt pieces in the underclass.

Central Catholic – Raiders treaded water after some injuries early on. But once junior forward Casey McLaughlin was back to full strength, they made a run all the way to the Division 1 North semifinals. Have to imagine they'll be in conversation again next year.
March, 6, 2012
3/06/12
11:58
AM ET
Catholic Memorial head basketball coach Dennis Tobin forwards along this year's Catholic Conference All-Stars:
LEAGUE MVP: MATT DRONEY, SR., CATHOLIC MEMORIAL
Steve Haladyna, Sr., St. John's Prep
Freddy Shove, Sr., St. John's Prep
Mike Carbone, Sr., St. John's Prep
Bryce Boggs, Jr., Xaverian
Jared Lewis, Sr., Malden Catholic
Kyle Sangster, Jr., Malden Catholic
John Mastascusa, Jr., Malden Catholic
Oderah Obukwelu, Sr., BC High
Charles Collins, Jr., BC High
Jameilen Jones, Jr., BC High
Dan Powers, Sr., Catholic Memroial
Armani Reeves, Sr., Catholic Memorial
Aahmane Santos, Soph., Catholic Memorial
January, 17, 2012
1/17/12
11:18
PM ET
By
Tom Layman
| ESPNBoston.com



BOSTON — BC High head coach Bill Loughnane wanted his team to be mentally tough and battle for every possession against Catholic Conference foe Catholic Memorial, and that's exactly what he got.

The Eagles survived with a 61-59 victory last night in a physical showdown -- not to mention sloppy, with both teams recording over 20 turnovers -- for league supremacy last night at McNeice Pavilion. BC High now sits undefeated in the Catholic Conference and 9-2 overall, while the Knights bump down a spot with an 8-2 mark.

"We just told our kids to battle one possession at a time," said Loughnane. "We know that they are good and we know that they have good players, but we just had to battle. We had to play our game and our guys did a nice job."

The waters of the Catholic Conference are murky this season, and it will be one of those years when the front-runner probably won't be decided until February. But both of these teams will be a part of the mix with deep, talented rosters, and Knights coach Denis Tobin knows more than one matchup between the two schools could potentially be on the horizon down the road.

"It's a good learning experience," said Tobin. "We play in a couple of weeks in our gym, so we will see what happens. They are a very good team, though. I told my guys that I wouldn't be surprised if we end up playing them two more times, not just the one more time in the league."

Jones erupts in second half: Junior guard Jameilen Jones was held in check during the fist half, but he erupted for 20 of his team-high 24 points in the final 16 minutes of the game. He did his best work in the deciding quarter with the Eagles facing a two-possession deficit.

Jones (11 points in the fourth) tipped in his own missed shot, and he was fouled after driving hard to the rack for the hoop and the harm on the next possession. That give the Eagles their first lead of the second half, 52-51, with 3:22 left to go in the game.

"We wanted to get to the free throw line and get some easy baskets," said Jones. "We were breaking the press pretty well (in the second half) and me and (Charles Collins) wanted to get the ball up court and get some easy baskets."

Jones would finish off the streak of eight-straight points with a 3-pointer to turn a four-point deficit into a four-point lead, 55-51.

"He's our best player and we need him to play that well for us to win," said Loughnane.

Testy finish: The gripes will come from both sides of the court, but both coaches preached mental toughness out of their teams no matter which way the whistles were blowing in the final moments of the game.

Dan Powers was called for a technical foul after blocking an Eagles' shot, and Jones went to the line to stretch the lead to six with under a minute left to play.

The Eagles then were called for a foul before the ball was put into play giving Matt Droney (21 points, nine rebounds, seven steals) two free throws, which he successfully knocked down.

Collins was again called for a foul before the ball could be put into play and Droney found Gerard Adams on the baseline to cut the lead to 59-57. The Knights had an Eagles player trapped on the sideline in the backcourt, but Armani Reeves was whistled for a foul giving Jones a chance to hit 1-of-2 from the line. Aamahne Santos put in a bucket off the glass down low with 8.7 seconds left to go in the game, and after Oderah Obukwelu hit 1-of-2 from the line, Reeves last attempt was short at the buzzer.

Knights so cold: The outside shot, coupled with their ability to make quick turnovers out of their pressure defense, has been a staple in gaining separation from opponents, case in point their win over St. John's Prep and the way they closed out the first and second quarter against BC High.

But the shots weren't falling in the wide-open area that is McNeice Pavilion in the second half for the Knights.

CM finished 1-of-12 from behind the arc in the second half, and only shot 20 percent from distance during the game.

"They have terrific 3-point shooters, and that 3-point shot is a killer," said Loughnane. "So we just tried to make them bring it to the basket and make them work for everything."

Added Tobin: "I didn't think too many of them were contested 3's. They are shots that we sometimes make. It's a tough gym to shoot in. They play very well here and I can't think of one that I would consider a real bad shot off the top of my head."
January, 7, 2012
1/07/12
10:28
PM ET
By
Corey J. Allen
| ESPNBoston.com




DORCHESTER, Mass. -- Standing toe to toe with No. 9 BC High basketball, No. 20 Fitchburg tied the game up at 49 with 3:35 to go.

However, in the dwindling minutes of the game, the Eagles were able to tag on another 12 points, sending the Red Raiders away with a long ride home and a 61-52 loss, despite Quinton Perkins' 14 points Saturday afternoon.

"I told the guys you've got to respond," said BC High coach Bill Loughnane, referring to the Red Raiders' late run.

With the score tied, 39-39 going into the fourth quarter, Loughnane's message was clear and direct: "We've got to win the next eight minutes."

BC opened up the lead to six at 47-41 in the fourth, but by the 3:35 mark, Fitchburg had knotted the game up again at 49. A spate of field goals and free throws from Fitchburg's Abi Akanni (20 points, 7 rebounds, 2 assists, 2 steals, block) propelled the Red Raiders back into the hunt for an upset. But lack of offensive production from therein, coupled with BC's Charles Collins (21 points, six steals) and Oderah Obukwelu (12) dropping buckets for the Eagles, stymied any chances of that happening.

13-1 Run – Both Coaches Worried?
The game began with BC High playing steal, rebound and shoot, amounting to an early 13-1 lead over Fitchburg. It's clear why Fitchburg head coach Paul DiGeronimo was concerned about his team.

But with his team up 13-1, what could Loughnane have been thinking about?

"We were worried. We didn't want them to get happy with themselves because we've seen Fitchburg, we know how good they are and we knew there were going to be a couple of runs coming at us."

DiGeronimo hoped for the same thing, and got it.

"We came out like… they weren't taught anything, like they weren't prepared but they were well prepared for this."

After a couple of timeouts, the Red Raiders closed out the quarter on a 7-2 run, allaying DiGeronimo's fears some and making Loughnane's prediction come true. All else aside, DiGeronimo was not disappointed in his team. With BC High a ranked team, DiGeronimo thinks that his guys may have been intimidated in the beginning of the game, accounting for BC High's 13-1 opening run. "What started out as a bleak day turned into a tremendous effort to get us back into the game… Once they got over the shell shock, start talking on defense a lot more, stay aggressive, stay confident, nothing that they're not told all of the time."

Stamina
Although the Eagles nearly doubled up Wachusett (50-29) on Thursday, they also defeated St. John's Prep 53-47 on Tuesday night. A busy week for the Eagles, and playing on a Saturday afternoon, attributed to their play late in the game according to Loughnane.

"That was our third game in five days against three quality opponents. They dug down and they took care of business... Our legs were a little spent but they did a nice job of digging down and getting it."
January, 4, 2012
1/04/12
12:18
AM ET
By
Andy Smith
| ESPNBoston.com



DORCHESTER, Mass. -- Maybe the most effective way to slow down No. 1 St. John's Prep is to play a zone defense, because that is what No. 9 BC High did Tuesday night, and came away with a 53-47 victory.

When Prep's crisp ball movement was giving the BC High (4-2) defense fits early in the first quarter, BC High coach Bill Loughnane called a timeout.

From that point, his team played a zone defense that double-teamed the Prep (5-1)perimeter players whenever they caught the ball in the corner. This left a player open for a cross-court pass. When Prep tried those, the passes were in the air for so long it allowed BC High to rotate back to that side of the floor. To combat the defensive rotations, the Prep player would try to quickly throw the ball inside to either Isaiah Robinson or Owen Marchetti in the post.

There, they were often met by either BC High's Justin Roberts, Oderah Obukwelu, or Pete Timmins, who had 8 blocks between the three of them.

"Their zone and their length really bothered us," said Prep coach Sean Connolly. "We had trouble finishing in and around the hoop because they're so long. We didn't do a very good job reversing it against their zone. I thought BC High did a very good job of keeping us to one side and not being able to get ball reversals."

Prep fell down 43-33 midway through the fourth quarter, but they would not go away quietly. After a Mike Carbone 3-pointer and a Steve Haladyna and-one, the lead was quickly cut down.

It a 45-42 game with one minute left, but Prep could not seem to get that basket they needed to tie the game up. With time running out, Connolly called out for his players to foul to stop the clock.

That put the game in the hands Jameilen Jones and Charles Collins at the free throw line. Jones was a perfect 4-of-4 in the final minute, while Collins was 3-of-4.

While the two appeared poised at the line and ultimately put the game away, the same could not be said for the BC High sideline.

"We were very happy to his those free throws, believe me," said Loughnane. "We were biting our nails on the bench hoping they would go in."

Regardless of how unsettling it may have been down the stretch, Loughnane felt it was a good win for his team.

"I thought they played better than us this game, but I thought one of the things we had to show was that we could play with a team such as St. John's," he said. "It's just competing every play and finishing every play, and I thought, after a shaky start, that our guys did a nice job getting on that."

Prep poor from the line: One aspect of the game that did not help Prep's at all was their ineffectiveness from the free throw line. As a team, they were 10-of-22. Another problem was their inability to hit from beyond the 3-point arc. Sharpshooters Freddy Shove, Haladyna (15 points), and Carbone (eight) hit only five 3-pointers all game. Shove in particular had a quiet game. He had only one field goal in the game and was 2-of-7 from the free throw line.

"As a team, we were settling for way too many 3's instead of attacking more," said Connolly. "But you have to give BC High credit. They did a very good job. We didn't shoot it well from the free-throw line, but that wasn't really the issue. I think they out toughed us and they deserved to win tonight."

"The biggest key for us defensively was keeping them off the free-throw line," said Jameilen Jones (16 points). "Because Coach told us prior to that, they went 35-of-38 from the line [last week, against New Mission]. So we didn't want them to get to the free-throw line."

Swarming D: BC High's defensive effort was one that other teams around the MIAA ought to take notice of. It had eight steals and 12 blocks, which helped set the tone throughout the game.

"We have to take advantage [of the teams' height difference]," said Jones. "They were definitely confident coming into the game and ready to go. We play really aggressive defense and Justin [Roberts] and Oderah [Obukwelu] have great chemistry, so down in the post, they're fine."

The game-defining block came in the last minute of play. With Prep trying to close the deficit, Haladyna took a pass in the left corner and attempted to launch a 3-pointer. Seeing this, Obukwelu leaked out and jumped up just in time to block the shot and sent it out of bounds preserving the lead.

Ambitious schedule paying off: BC High might have two losses on the season, but it knows its best basketball is ahead of it. Especially when those two losses are against an undefeated team (Acton-Boxborough) and a one-loss team (Charlestown).

"We're definitely confident, beating a No. 1 team," said Jones. "I don't think we're going to go forward being nervous or anything like that. We've played pretty good teams coming up to this, so we should be fine."
February, 21, 2011
2/21/11
1:46
AM ET
By
Brendan Hall
| ESPNBoston.com
DORCHESTER, Mass. -- Five days before the unveiling of the MIAA Boys Basketball Tournament seedings, with Division 1 North looking as wide-open as it has in years, and with so many question marks, this much is evident: when St. John's Prep turns it on, it's quite the spectacle.
After a flop of a first half in which Prep's ESPN100 star
Pat Connaughton
went a measly 1 for 2 from the field -- the last time that's happened is anyone's guess -- and BC High sophomore Jameilen Jones notched a very loud, highlight-tape 15 points, the Prep buckled down. Behind a Connaughton-led third-quarter outpour, in which they outscored BC 27-11, the Prep erased a 14-point halftime deficit to win the Comcast IAABO Board 27 Tournament championship going away, 86-73.
"The main thing was defense," said junior Steve Haladyna, who finished with 38 points and 11 rebounds, and was named to the All-Tournament team. "Our coaches got on us, because that was some of the worst defense we'd played all season. We were letting guys in the lane way too easy, and then the help defense wasn't there. So we just had to pick it up in the second half."
In the first two meetings this season between these long-time Catholic Conference foes, Prep took care of BC like clockwork, winning by an average of 26.5 points. But this time around, BC (12-7) was the one throwing haymakers to start, taking a 19-7 lead after one quarter, including a 10-3 run to start that was capped with a powerful breakaway tomahawk slam by Jones (21 points).
Between Jones and senior point guard Bryan Hurley (16 points, eight assists), BC gave Prep (18-1) everything it could handle through the first 16 minutes. Hurley racked up seven assists in the second quarter; meanwhile, Jones went a near-perfect 7 for 8 from the field in the first half for 15 points, using crossovers and step-backs to create shots on the perimeter, and also putting a few nice finishes around the rim.
When all was said and done in the first half, BC had shot nearly 75 percent from the field.
"Hurley was just killing us," SJP head coach Sean Connolly said. "He was getting in the lane, doing whatever he wanted. When we were helping, when were collapsing, he was kicking. They shot very well, they shot unbelievable in the first half. It was a combination (of things)...but we had to keep Hurley out of the lane."
And with that, Steve Haladyna -- one of the few bright spots in that first half, with 21 points -- and Connaughton erupted, the latter going off for 13 points in the third quarter alone and closing the gap with the most dazzling finish of the night.
With 56 seconds to go in the quarter, Connaughton came up with a steal on the wing, and with the open floor but BC's Charles Collins coming up fast on the trail, the right-handed, 6-foot-4 swingman drove hard with a euro-step into a behind-the-back layup, finishing with his left and cutting BC's lead to 60-58. The next trip down, he sunk two free throws to tie it at 60-all.
"I heard coach yell to take it to the basket hard," said Connaughton, who ended up with 22 points and seven rebounds. "So I was going to try and take it and drag my right, but he kinda shut me off...I'd done it once or twice this year, so I was pretty confident with it, but usually I don't do it with a kid like him -- he's quick. He got back around, so I almost shot like almost a fadeaway lefty. It wasn't like a planned thing, it just kinda happened."
Haladyna gave Prep the lead for good as the buzzer sounded for the end of the third quarter, when reserve point guard Conor Macomber fed him with a darting pass from the top of the key to the left side of the baseline; the junior hesitated to the block, and stuck a two-handed floater over two defenders to make it 62-60.
Prep opened the fourth quarter up on a 9-0 run to seal this one. Junior Mike Carbone also added 13 points in the win.
Connaughton was named the tournament's Most Valuable Player after averaging 30 points in two games. In Saturday's semifinal win over Andover, an 85-67 decision, Connaughton had 38 points, 14 rebounds and eight assists.
ALL-TOURNAMENT TEAM
Michael Thorpe, Jr., Newton North
Joe Bramanti, Sr., Andover
Bryan Hurley, Sr., BC High
Jameilen Jones, Soph., BC High
Steve Haladyna, Jr., St. John's Prep
MVP: Pat Connaughton, Sr., St. John's Prep