Boston High School:

Charlie Eppinger
May, 14, 2014
May 14
12:36
AM ET
By
Chris Bradley
| ESPNBoston.com
SHREWSBURY, Mass. –- After watching his lefty workhorse dominate in one of St. John's Prep's biggest game of the year, Eagles coach Dan Letarte only had one response.

"Snyder's back!" Letarte exclaimed in the dugout.

The senior lefthander very nearly went perfect against the loaded St. John's lineup, throwing a complete game shutout with one walk and only a single hit: a base knock by P.J. Browne in the second inning.

The Pioneers boast one of the state's best offenses, which includes North Carolina State commit Scott Manea, Virgina Tech commit Jake Rosen, juniors Tyler Mckeon and Charlie McDonald, as well as Browne, a Merrimack commit. Yet Snyder -- who will do a postgraduate year next year at Salisbury School (Conn.) -- mowed down the talented Pioneers lineup, finishing off the shutout on just 67 pitches.

"For him I think it's his mental state," Letarte said. "He's ready, and to be quite honest he was a little banged up – he's fought through it the past few weeks. He's finally healthy, sometimes pitchers when little things are wrong, when you get them back healthy it's huge. It was a minor injury, nothing really big. It's good having him healthy and happy, it looked like he had fun today."

Being fully healthy allowed Snyder to show off his full repertoire, painting the corners with his fastball, getting ahead in counts, and placing his breaking ball accordingly to force a groundout or flyout. That's where Snyder credits Prep's stellar defensive play.

"I got ahead early so that I was able to mix in more off speed. I have a great infield, so I was able to let them hit the ball. I don't always have to strike kids out, that seemed to work today," Snyder said.

Snyder's fastball -- which comes in anywhere from low to mid-80's -- has a slight, but natural, late bite on it – making it a deadly pitch when he can place it on the corners. By getting ahead of hitters early with his fastball, he then puts the hitter in a situation where they're likely guessing about what pitch is coming in -– and a defensive swing is exactly what Snyder wants.

"I can usually dominate outside because I throw a little harder than most people so they can't get around as easy," he said. "But some days I have better feel going [inside] than I do going [outside]. I usually try to drop an offspeed pitch middle or in because it's harder to turn on and it usually makes them ground out. So if I can get ahead early and get groundouts, that's usually when I'll have success."

Snyder finished with a no decision when he pitched against St. John's a couple of weeks ago, but his command wasn't quite as precise, often getting behind in counts and totaling over 100 pitches over five innings -- a performance he admits wasn't his best. St. John's coach Charlie Eppinger had high praise for Snyder after the game, who outdueled Pioneers' star junior and Notre Dame commit Shane Combs.

"I was impressed with him, he came out here wanting to prove he could shut us down," Combs said. "He painted the corners well. He was getting ahead of our guys and he commanded that curveball back door, which helped him get ahead and stay ahead of a lot of hitters. It was a very fast game because both pitchers were just dealing."

The Eagles have the best case of any team in the state to make the highly anticipated Super 8 tournament, which will consist of the top eight teams in the state. With Snyder's emergence and senior lefty Evan Roberts' downright dominant performance on the mound this season, Prep possesses one of the best one-two punches in the state.

"Snyder's been a workhorse for two years ... That was definitely his best effort of the year," Letarte said, "That's a good hitting lineup up and down, all of them hit the ball extremely hard. Last time we played them, they hammered the ball at our place. That's quite a reversal for Justin from the outing at the Prep to the outing here."

Combs bringing it late for St. John's: The Pioneers knew they had something special on their hands when Shane Combs rushed for over 1200 yards and 16 touchdowns during football season, helping lead the Pioneers to the Division 2 state championship game.

Then they saw him on the mound.

Combs has made a legitimate case as the state's best pitcher in the second half of the year, throwing a no-hitter against No. 11 Leominster, shutting out No. 23 St. Peter-Marian, as well as a victory over Nashoba, last years' Division 1 state runner-up.

"Certainly he came with an advanced reputation, but he struggled a little in March and April with his command and has really gotten better every single start," Pioneers coach Charlie Eppinger said. "He works tirelessly in between starts with our catcher, Scott Manea. Scott has helped him improve his command."

Snyder said the dominant command was what made Snyder stand out: "He has great velocity, that's just the first thing that jumps out. He's got a great curve ball too, it comes from a down angle and it's real hard to see. And he's a competitor. Most of all, he's a competitor."

The bullpen sessions with Manea have significantly helped Combs. The big right-hander owns one of the state's hardest fastballs -- with the majority of his fastballs, even late in the game, coming over in the high-80's. Combs has a hard, sweeping curveball that is often good for a swinging strike even when it ends up in the dirt.

"He's throwing the fastball and the curveball for a strike now. I thought he pitched exceptionally well today. I was very, very impressed by what Shane gave us, we just didn't give him any offensive support," Eppinger said.


Letarted called Combs' curveball "Probably the best curve ball I've faced the past two to three years."

"The way it dropped, the location. It's tougher to hit, you're always thinking about what's coming next," he said. "You always tell guys to sit fastball and adjust for the curve, but when the curve is that devastating coming in it's tough to get a good piece of that. The approaches with kids like [Combs] is 'jump on that first fastball'."

Combs (7 IP, 11K, 3 BB, 3 hits) put in one of his best pitching performance of the year against Prep, the state's top-ranked team, which he credits completely as a result of all the time spent working with his ACC-bound catcher.

"I've spent a lot of time inbetween starts working in the bullpen with Scott," said Combs, "My focus has just been [inside] and [outside], hitting the corners with both pitches. Now I have much better command, especially late in games. My mentality is that I just have to come out and pitch my best every time. For me it's not about who's in the box, it's about me executing."
August, 13, 2013
8/13/13
9:04
PM ET
By
Brendan Hall
| ESPNBoston.com
St. John's of Shrewsbury Class of 2014 catcher Scott Manea gave a verbal commitment to North Carolina State earlier today, he told ESPNBoston.com tonight.

The 5-foot-11, 195-pound Manea was also considering New Mexico State, Maine, Boston College and Vanderbilt.

"It was the right fit, location wise, great conference in the ACC, great coaching staff, I'm really excited about the opportunity," he said.

He added, "Im extremely excited. I was waiting for the right school with the right offer to come, and when I found out about NC State it felt right, and I'm extremely excited."

Manea hit .320 with 20 RBI this past spring for the Pioneers, who reached the semifinals of the MIAA Division 1 Central tournament. At Area Code Games last week in Long Beach, Calif., Manea recorded pop times between 1.9 and 1.96, above average for his peers.

In talking about Manea's commitment, Pioneers head coach Charlie Eppinger brought past St. John's greats like John Andreoli (Cubs) and Garrett Smith (Rays), both currently toiling in minor league systems, and said that Manea "has got the same ceiling as those guys."

"He's a power hitter that just didn't show it for us [last spring]," Eppinger said. "He was hit by a ton of pitches too, because he was on top of plate, but his on-base percentage was up to around .500. He makes all of our pitchers better, he's an outstanding catcher that has potential to be a great hitter -- he's a four-tool hitter. Not the quickest of guys on the basepath but he's working to get better.

"He hits for average, hits for power, tremendous defensively, and calls a good game. I allow catchers to call -- I talk to them between innings, and that's about it -- and he calls a great game. He makes all of our pitchers better, they all enjoy working with him."
May, 25, 2013
5/25/13
5:46
PM ET
By
Chris Bradley
| ESPNBoston.com
With his car packed up and a baseball workout at Army on the horizon, Connor Kurtz dressed for St. John's first football scrimmage this past fall against Eastern Mass. power Brockton -- a scrimmage that would severely impact the rest of his senior year.
Kurtz -- the starting quarterback on the football team, expected contributor on the basketball team, and presumed starting second baseman on the baseball team -- pulled the ball on a read option on the second play from scrimmage. The charging defensive lineman pulled Kurtz to the ground, on a tackle that Kurtz reiterates was completely clean, and he heard a snap in his left knee.
[+] Enlarge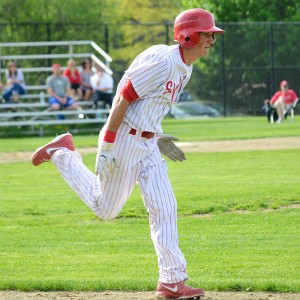 Brendan Hall/ESPNConnor Kurtz tore his ACL and PCL in a preseason football scrimmage and is finally contributing for St. John's baseball team, though he still isn't 100 percent.
The torn ACL and PCL would require surgery that would leave him unable to participate in athletics for most of the school year.
"I was supposed to go for a baseball workout, that night, right after the scrimmage. [Army] stopped talking to me after that. I was a kid with an injured knee," Kurtz said.
Following knee surgery last fall, he spent two months in a wheelchair. The majority of his time thereafter was spent at school, studying, sitting at football practice, and doing physical therapy three to four times a week.
"I went every day I didn't have a doctor's appointment," he said. "That was the hardest thing, it just really tightened up and it was pretty painful. My leg was up straight for over a month. I was in a wheelchair for two months, after that it was crutches and a little walking."
Kurtz' injury gave way for backup quarterback Drew Smiley to put up record-setting numbers, breaking the Central Mass. single-season passing record and earning a spot on ESPN Boston's All-State Team as the Pioneers led the state in offense (442.2 yards per game). Smiley, who led the Pioneers to the Central Mass. Division 1 Super Bowl, says he couldn't help but admire Kurtz' willingness to help him with plays and adjustments on a daily basis.
"When he was on the bench with ice on his knee after he got injured, I asked him if he had any advice or what he thinks I should try and improve on," Smiley said. "He told me to not worry about it and that he knows I'm ready to play and I'll be fine. Even though we were battling for the spot in the beginning of the year, as soon as he got hurt he was rooting for me 100% and just wanted the team to be as success as possible."
The Pioneers came up just short of Leominster in the Central Mass. Division 1 Super Bowl, Kurtz watched from the sideline as the Blue Devils' star quarterback Garrett DelleChiaie had 392 all-purpose yards to lead Leominster to a 42-32 Super Bowl victory.
Expected to be a contributor off the bench at the guard spot during hoops season, Kurtz sat on the bench for every game and practice for the Pioneers' run to WPI. With Kurtz out for the season and senior captain Ken Harrington out for a large chunk of games in the middle of the regular season, Pioneers' Coach Bob Foley often started sophomore Davon Jones and freshman Adham Floyd in his backcourt.
St. John's advanced to the Central Mass. title game, but once again, Kurtz could only watch as his team came up just short of a district title, losing 56-54 to Milford.
"That was difficult...Coach Foley doesn't say much after a loss, we just kind of sat there for awhile, everyone was quiet and saying their goodbyes," he said.
For the fall and winter seasons of his senior year, Kurtz was an innocent bystander as his football and basketball teams came up just short of a championship. St. John's baseball Coach Charlie Eppinger, also a Math teacher at the school, would often see Kurtz wheeling around in the hallways at school while joking with friends or hear stories of his second basemen schooling Smiley on coverages.
"He's stoic, he'd be a great poker player," Eppinger joked. "He never led on when he was discouraged, even though he was having a hard time running like he used to, he never has shown discouragement. Everyone knows he's had wonderful days, and he's had some really tough days, too. But he doesn't call attention to himself. Connor's a great example of overcoming adversity and perseverance."
This year, Kurtz has embraced his role as mildly-used reserve second and third baseman. Eppinger estimates that Connor has had 15 to 18 at-bats this season, but he has been a reliable presence in the Pioneers' infield. He isn't too close to 100 percent, he still can't run the bases with the speed that he could in year's past, but his attitude quickly earned the respect of his teammates.
"You can hear everybody [on the bench] when he comes up to the plate. When something good happens to Connor, you can hear a little bit extra," Eppinger says.
With a true poker face that Eppinger so admires about his senior, Kurtz downplays any disappointment that comes in his direction.
"It's definitely a different role going from playing every inning to not playing as much, I just try to stay positive and cheer guys on as much as possible," Kurtz says.
On July 1, Connor will report for a six-week boot camp to the United States Coast Guard Academy in New London, Conn. Based on his remarkable academic record and achievement on the athletic field, he was appointed an invitation to attend the school. While studying Mechanical Engineering, he will also play baseball for the Bears.
"Baseball's a tough game, it's a game of failure," his coach says. "He knows how to be able to deal with that failure, not have it be the end of the world, and understand we're lucky to play the game every day. It's disappointing for him this year, but he's handled it with tremendous grace and dignity."
He does have a little bit of unfinished business before he heads to Connecticut in July, though. The Pioneers baseball team, now 16-5, is the third-ranked team in the state in the ESPN Boston top 25 poll. With the tournament coming up next week, he won't have to sit on the bench in a cast and sweatpants this time around.
"Winning...that's been our goal since the district loss last year," he said. "We just want to get to the championship and see what we can do."
May, 10, 2013
5/10/13
10:31
PM ET
By
John McGuirk
| ESPNBoston.com
SHREWSBURY, Mass. -- A year ago, Ben White was not considered a marquee pitcher for the St. John's Pioneers. With two outstanding pitchers in front of him, he didn't need to be.
White was slotted as the team's No. 3 pitcher, overshadowed by two senior hurlers who left an indelible mark in their careers here. Anthony Perry and Mike Badjo were the straws that stirred the drink for this club last season, helping guide the Pioneers to a 22-3 mark. With the departures of Perry and Badjo to graduation, this season White, now a senior, was catapulted to the forefront of the rotation.
[+] Enlarge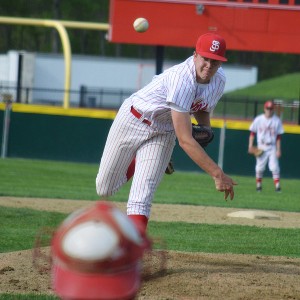 Brendan Hall/ESPNWith the 5-1 win over BC High, Holy Cross-bound right-hander Ben White improved to 5-0 with 47 strikeouts for No. 4 St. John's of Shrewsbury.
In certain cases, transcending from a middle-of-the-rotation guy to becoming the team's ace literally overnight can be a difficult undertaking. Some will grasp the roll with sheer ascendancy while others may buckle to the pressure that comes along with it.
In White's case, he chose the former and it certainly has paid dividends for both himself and the Pioneers ever since. On Friday at Pioneer Field, White took the mound in preparation for his toughest challenge of the season to date. Against an offensive-minded BC High line up, White took the mound already with a plan in place. He knew he had to get ahead of hitters in the count, make sure his body would hold up to the rigors of a very warm and humid afternoon and maintain a faith that his teammates will scratch across enough runs to pull out a victory.
As a result, all three occurrences worked in unison. The 6-foot-3 right-hander held the Eagles in check throughout, surrendering just four hits and striking out nine and his teammates provided the offense, scoring five times in a 5-1 victory, improving to 12-3 on the year.
When asked about his lights out performance, White, like any unselfish player would, quickly diverted the attention to his teammates. White comes from the belief that there is no room for individual accolades.
"The team chemistry has really picked me up," said White, who is 5-0 with 47 strikeouts. "We have pasta parties every Friday night and the team gets together, eats pasta and just hangs out and talks. This is a great group to be around. I think this year is probably the best it has ever been chemistry-wise since I've been here."
When White takes the hill, he refuses to ever allow his mind to get caught up in the allure of a certain opponent or batter. He approaches every game with the same purpose -- keep the ball down in the strike zone and stay clear of opposing hitter's strengths.
"I come into every game the same way," he said. "I just want to win games and keep teams to minimal runs. I know BC High has two guys going on to play at Division 1 programs next year. (Ryan) Tufts is going to Virginia Tech and (Jake) Marotta is going to Bryant University. But I don't think about that stuff.
"I just go out and try to keep the ball down in the zone and throw strikes. Most of the time I am very relaxed when I pitch. But whenever I do get tensed up (junior catcher) Scott Manea will come out and calm me down. Sometimes I need that a lot."
The relationship between White and Manea began two years ago. It has grown into one of the finest pitcher-catcher combos state-wide. Manea is an exceptional backstop, possessing all the necessary tools. But perhaps his biggest attribute is in his preparation and knowledge of the game and his ability to work well with all the pitchers on the Pioneer staff and keep their focus levels at a high level.
"We've been together two years now and Scott would catch my bullpen sessions during the winter and knew all of my pitches which is huge," White said. "He knows what I am dominant with and he knows the opposing hitters too. I have complete confidence in what he calls. Rarely do I ever shake him off because we are usually both thinking the same thing."
Adds Manea, "With Ben, his goal is to keep the ball down and that's what he focuses on," he said. "I keep the glove low and he hits it probably 95 percent of the time. Today his slider wasn't working that well so we basically went fastball change up most of the game. I can figure out with him during warm ups what he is throwing good and what he isn't. His change up is the best one I have ever caught. His fastball hits his spots, up and down, left and right and when his slider is on it's untouchable."
White has already made a commitment to play for Holy Cross next season. Prior to Friday's game, he spoke of his excitement regarding the fact the Crusaders are the No. 1 seed heading into this weekend's best-of-three Patriot League Tournament semifinal round versus Bucknell. White is hopeful Holy Cross' baseball success continues to flourish upon his arrival there next year.
After watching White mow down the Eagles with relative ease, St. John's coach Charlie Eppinger says it is those kinds of perfomances that he has grown accustomed to. In the back of Eppinger's mind, he knows every time White takes the ball, the odds of a Pioneer victory increases substantially.
"Today was the Ben White we are use to seeing," said Eppinger. "He had one rough outing earlier in the year against New Bedford but has been real solid ever since. Against a great line up like (BC High's) we knew we needed to have a great effort out of him to give us a chance to win and he gave that to us.
"This team has really supported him. Because we expect so much out of Ben, sometimes I think one player feels he needs to do it all. Not just with him but other players too. But that doesn't need to be the case here. We have 20 players on this roster for a reason and we trust all of them."
May, 10, 2013
5/10/13
10:23
PM ET
By
Chris Bradley
| ESPNBoston.com


SHREWSBURY, Mass. –- St. John's coach Charlie Eppinger knew the Pioneers needed a standout performance from star pitcher Ben White, and he got just that, as the Holy Cross-bound righty led St. John's (12-3) to a 5-1 victory over BC High (9-3).

White pitched all seven innings for the Pioneers, giving up just three hits and allowing one earned run. His control was pinpoint, walking no BC High hitters.

"That was the Ben White we're used to seeing," Eppinger said. "He had one rough outing against New Bedford earlier in the year, and has been real solid since. We knew we needed a good effort out of Ben."

The Pioneers drew first blood in the bottom of the second, as senior Micah Cummins singled and later came around to score to make the score 1-0.

BC High answered in the fourth inning though, as senior Ryan Tufts hit an RBI double to bring classmate Jake Marotta around to even the score. After that though, BC High's offense was literally nonexistent.

"For some reason, mentally we just weren't there," BC High coach Norm Walsh said. "We've got to change that, we've got to come out hungry every single game. We got a little complacent."

Walsh also said that his team has been struggling as of late with the approach of opposing pitchers. Generally, Eagles' hitters have been seeing fastball early in the count, and then see mostly off-speed pitches for the rest of their at bat.

"We've been getting pitched backwards, and we're not responding in terms of making our adjustment at the plate," Walsh said. "That needs to change, and that's what we're going to see—not too many teams are going to try to throw the ball by us. We've got to understand that, it's not like we aren't capable of it, because we are. It's all in the approach we have."

St. John's began to develop some momentum in the fourth inning after Walsh took starting pitcher Tommy McDonald out to keep a limit on his pitch count. Freshman Drew Rosen drove in P.J. Browne on a ball hit to right field that resulted in error. Kevin Quinlivan hit a single in the next at bat to get Rosen over to third, and then got caught in a pickle between first and second that ultimately allowed Rosen to score from third.

Eppinger was proud of how many players had a hand in the victory.

"A lot of it is a team effort, the team has really supported him," he said. "We expect so much of Ben, sometimes I think one player thinks they need to do it all. We have 20 players on the roster and we trust all of them."

The Pioneers built the lead further in the sixth inning, as cleanup hitter Jake Byrne smashed a solo home run over the center field fence. After getting hit by a pitch, Cummins came around soon after to score his second run of the game, bringing the score to 5-1.

"The insurance runs are huge, going out 5-1 instead of 3-1 against a lineup like that, you take the wind out of their sails and give yourself some confidence," Eppinger said.

After losing 7-4 to BC High on Monday, the Pioneers' coach said today's victory was just the confidence booster that his relatively young squad needed going into the final stretch of the regular season.

"It's time for us to compete at a state level," Eppinger said. "This gives us a lot of confidence that we can compete with anybody, but we've got to bring our A-game, we're not going to be able to come out and play mediocre baseball and beat a good team."


April, 15, 2013
4/15/13
7:27
PM ET
By
John McGuirk
| ESPNBoston.com
WORCESTER, Mass. -- Ben White has proven over the last couple of years that he is quite capable of pitching in any situation which presents itself. Spot the senior a six run lead and it is a near-certainty the opponent is done for.

Such was the case on Monday when St. John's of Shrewsbury jumped on rival St. Peter-Marian for six runs in the first two innings, en route to an 8-1 triumph.

While the Pioneer offense did its job, the day belong to White. The tall, lanky righthander was in control throughout during his seven innings of work on the mound, holding the Guardians to just one hit while striking out 13.

"This game is always a big rivalry game for us," said White. "It has gone back many years. That team always competes and I know all of those guys over there. My catcher Scott (Manea) called a great game and my defense was strong behind me when I needed them to be. I was throwing my slider, my change up and my two-seamer and we just continued working it in the zone and it worked today."

St. John's (3-1) took advantage of some early wildness from SPM righty Zach Zona. The UMass-bound senior, who tossed a no-hitter against Burncoat in his previous outing, got off to a rocky first inning by hitting a pair of batters sandwiched around a walk to load the bases with none out. Zona, who played for St. John's his first two years before transferring to SPM last season, then issued another walk to Jake Byrne forcing in the Pioneers' first run. Owen Shea and Joey Evangalista followed with RBI singles to make it 3-0.

Zona's woes continued the following frame. He walked Mike Sullivan and, with two out, he induced a Byrne grounder to short. What should have been the final out instead resulted in shortstop Cam Frederick misplaying the ball to keep the inning alive. Shea followed that up by launching an 0-1 pitch deep over the left field fence to put St. John's up by six.

"Zach was off with his control early on," Guardians coach Ed Riley said. "I give him credit for gutting it out there until he was relieved in the sixth. But when you fall behind after giving up three runs in the first and three more in the second against a quality pitcher like that, it is tough to comeback. Ben threw a great game for them and hats off to him."

The six runs proved to be more than enough ammunition for White, who will play at Holy Cross next season. White thoroughly mesmerized the SPM line up all afternoon. The Guardians lone hit came in the second on a Jon Roy infield single. From there, White retired the next 15 batters before a pair of errors in the seventh cost him the shutout as SPM (1-4) was able to get a run across.

"It was important for us to get going offensively," said Pioneers coach Charlie Eppinger. "We felt our pitching and defense would take care of itself but we needed to score. We know Zach well having spent his first two years here at St. John's and we know he's a very good pitcher. That's why we knew it would be important for us to get some runs off of him early.

"Ben is our ace this year. Last year he was our No. 3 and was sort of hidden behind two of our other pitchers. This year he is going to pitch in some big games for us from now to hopefully June. I thought today he worked hard and kept his composure. He was in control and Scott did a real nice job guiding him from behind the plate."

St. John's added solo runs in the fifth and seventh innings. In the fifth, Micah Cummins delivered an RBI single and in the seventh, with the bases full, Guardian reliever Danny Bushe plunked Kevin Quinlivan to drive in the eighth run.
April, 11, 2013
4/11/13
9:28
PM ET
By
John McGuirk
| ESPNBoston.com
SHREWSBURY, Mass. -- The mindset of Brandon Bingel is quite simple. The St. John's Prep pitcher knows his out pitch is a fastball and over his career here it has worked effectively. But against St. John's Thursday afternoon, Bingel knew the Pioneers were sitting dead red on his fastball and decided to change his repertoire up a bit.
[+] Enlarge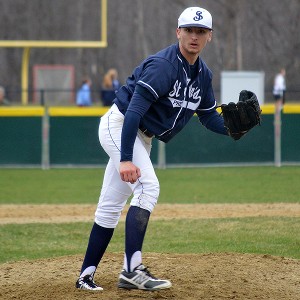 Brendan Hall/ESPN BostonBryant University-bound right-hander Brandon Bingel went the distance as St. John's Prep won its third straight game.
The Bryant University-bound right-hander mixed in a change up and a tight slider which kept the St. John's hitters off-balance long enough to earn a 2-1 victory at chilly Pioneer Field.
"I felt all of my stuff was on today," said Bingel, a senior. "Usually I like to go fastball until a team shows me they can hit it. I knew (St. John's) was a good hitting team so I decided to go with my slider and change which they really couldn't hit so it worked out."
After losing their season opener to defending Division 1 state champ Xaverian, the Eagles (4-1) have now rolled off four straight victories. This one, however, was far from easy.
With this contest tied 1-1 through five innings, Prep scored the eventual game winner in its half of the sixth. Tyler Noe was plunked by Pioneer starter P.J. Browne. The junior lefty's day was done at that point despite putting forth a strong outing by scattering three hits and fanning five.
Reliever Jacques Boilard was called upon to keep the game deadlocked. Noe stole second and advanced to third on a ground out. Senior Nick Bragole then grounded a single up the middle plating Noe with the go-ahead run.
Having scored 22 runs in its first two games, St. John's (2-1) went down unceremoniously over the final two innings as Bingel earned the complete game victory, surrendering five hits and striking out 11.
"Brandon had all three of his pitches going today," longtime Prep coach Pat Yanchus said. "St. John's is a very good team and always gives us a good game. There weren't a lot of hits today but we took advantage of the ones we got."
The Eagles grabbed a 1-0 lead in the third. Natty Cabral opened with a double to left and was bunted to third by Alex Moore. Cabral came home moments later on Tommy Buonopane's fielders choice.
St. John's answered back with a run of its own in the bottom of the frame. A bloop single by Micah Cummings was followed up by an opposite field Kevin Quinlivan double to left. With two runners in scoring position, Tom Petry grounded a single to left to plate Cummings. But Bingel avoided further trouble by striking out Mike Sullivan and Scott Manea ending the threat.
"Obviously Bingel is a heck of a pitcher," Pioneers coach Charlie Eppinger said. "We had some opportunities in that third inning and then in the fifth when Cummings led off with a double but we couldn't get a bunt down to advance him and we ended up failing to score in that inning. If you can't score in situations against a team like that it is going to come back to bite you and today it did."
May, 27, 2012
5/27/12
10:47
PM ET
By
John McGuirk
| ESPNBoston.com



SHREWSBURY, Mass. -- Although New Bedford and St. John's of Shrewsbury have already punched their respective tickets to the Division 1 baseball postseason tournament, there was still plenty at stake as the two powers met this afternoon in a non-divisional showdown.

In the final regular-season game for both teams, the last thing either wanted was to head into next month's tourney with a loss. With that notion in the back of their collective minds, something had to give.

From St. John's standpoint it did. Behind Mike Sullivan's 5 RBI outing, the Pioneers clipped the Whalers 9-3 at Pioneer Field to improve to 20-2 having now won 12 straight. St. John's, which lost to the New Bedford back on April 25th, avenged that defeat by putting this contest away early, scoring three times in the second inning and adding three more the following frame.

"We wanted to go into the tournament with some momentum," said Pioneers coach Charlie Eppinger, who team was playing its third game in as many days after defeating Algonquin and Wachusett on Friday and Saturday, respectively. "We had games Friday, Saturday and Sunday so we knew this weekend was going to be a testament to our mental toughness. You've got graduation going on here and other things and these guys are tired.

"But I thought we showed a lot of heart and a lot of self-discipline to win our last three ball games. I'm really impressed with my team in how they handled these last three days."

St. John's starter Ben White (5-0) was not as sharp as in previous outings. But nonetheless, the junior righthander had enough in the tank on this hot afternoon to last six innings, allowing 2 runs on 9 hits and striking out 4.

Like St. John's, New Bedford also had a grueling stretch of contests on its schedule. Playing their third game in 24 hours, having defeated Oliver Ames Saturday morning before falling to Brockton later that evening, the Whalers (13-7) were able to mount some pressure on White early.

They blew a chance to score a run in the opening inning after Chandler Debrosse was gunned down at the plate by St. John's center fielder Jimmy Smith after trying to score from second on a Rick Moraes single. The next inning New Bedford left three on base with nothing to show for it.




In the Pioneers' half of the second, they refused to let their opportunities on the base paths slip by. With two out and Owen Shea on second, Sullivan cracked a single to center plating Shea with St. John's first run. Connor Kurtz followed with a triple extending the lead to two, and moments later PJ Browne grounded a single past second baseman Jake Souza sending Kurtz home with the Pioneers' third run off of Whalers' starter J.T. Sylvia (3 IP, 6 runs, 7 hits, 1 K).

After coming away empty-handed in their first two times at bat, New Bedford finally answered the call in the third. Javier Lozada started things with a lead-off single. White would retire the next two batters before walking Jon Finnerty. Kyle Prudhomme came to the plate next and grounded a single off of Kurtz's glove at second base scoring Lozada. Finnerty would follow Lozada in a short time later thanks to Sylvia's single cutting the deficit at 3-2.

But any momentum gained by New Bedford had soon vanished in the bottom of the frame as the Pioneer offense continued to wreak havoc on Sylvia. Smith opened with a bunt single and proceeded to steal second and third. Two outs later Scott Manea lofted a soft single to center scoring Smith. Jake Byrne kept things alive with another single. Up stepped Sullivan, whose hot bat stayed that way, as he launched a shot off the top of the right field fence for an two-run double extending the Pioneers lead to 6-2.

"I saw the ball good today but we got the win and that's all that matters," said Sullivan, a junior. "In practice we work a lot on two-out, situational hitting. We do things like bunt runners over and then try to get them in. Today we were able to do that very well."

With Finnerty on in relief of Sylvia to open the fourth, the senior was able to stop the bleeding as he kept the Pioneers off the board over the next four innings. But in the St. John's eighth, the offense re-awoke. Sullivan blasted a two out, two-run triple and Kurtz followed with an RBI single which put the Pioneers ahead by seven.

"Mike has a great swing," Eppinger said. "Earlier in the year we saw a great swing during batting practice but not in games. It just wasn't translating. It was just a matter of confidence with him I feel and him going up to the plate with a mentality that I can hit and I am going to do this. He's been really swinging the bat well lately which is a credit to him and also a credit to his teammates for pushing him."

New Bedford managed a solo run in the ninth on a Mike Rapoza RBI single against Browne, who had come on in relief in the seventh. But the Whalers slim chances at a comeback were just that as they drew no closer.

"You can't give good teams extra outs and at times I thought we did that," New Bedford coach John Seed said. "We also left a lot of runners on base early on and couldn't come up with that big hit. That's going to hurt you. You need to take advantage of those opportunities.

"When we get chances to score like that we have to. St. John's is a good team and obviously you need to play at your best to beat them. But now the pre-season, as I call it, is over and it's time to get ready for the tournament. I think we'll be ok. Everyone is 0-0 to start so we'll see what happens."



May, 11, 2012
5/11/12
11:23
PM ET
By
John McGuirk
| ESPNBoston.com
SHREWSBURY, Mass. -- Although they never displayed it openly, you knew to a player that St. John's had Friday's return match against BC High circled several times on its calendar.

The Pioneers were beaten handedly by the Eagles in Dorchester last month and were chomping at for a redemption shot. Jumping out to a 3-0 lead after one inning, St. John's did precisely what it set out the do having turned the tables en route to a 5-2 non-league victory at Pioneer Field.

"We have taken every team we've played just as serious as this game today," said Pioneer third baseman Owen Shea, who contributed a pair of RBIs in the victory. "Yesterday after our game against Burncoat, we talked and made sure that all of us were ready for this one today. We came out hard early and managed to get the win. It's great."

With Advanced Placement testing taking place this week, BC High coach Norm Walsh did not have a full unit to begin the game. Those players who were testing arrived just before first pitch. That being the case, Walsh had to maneuver his lineup some and had to use a junior varsity pitcher (Sam Telman) on the hill.

St. John's (14-2) wasted little time getting to Telman, a righty. Tom Petry led off the Pioneer first with a double. Two outs later, Shea followed with a wind-blown double to right scoring Petry. Shea took third on the play after Eagle third baseman Justin Silvestro, taking the cutoff throw, fired home trying to nail Petry but the ball sailed on catcher Bobby Melley hitting the backstop. Moments later Scott Manea belted a double to center plating Shea with the Pioneers' second run.

Telman woes would continue. Following Manea's hit, Jake Byrne next smacked a single to left scoring Manea with St. John's third run.

"They took advantage of my JV guy," said Walsh, his club falling to 12-3. "We could have bailed him out I think with some better play in the outfield. It was tough, wind conditions today and the balls were hit pretty hard. Them scoring three in the first was certainly the difference today."

Pioneer starter Ben White, despite playing with a stomach virus, was holding the Eagles in check over the first three frames, issuing no hits. But in the fourth, BC High (which defeated the Pioneers 11-5 three weeks ago for St. John's last loss) started to make some noise against the junior righthander.

With one out, Chuckie Connors reached on a Petry error at shortstop. White then struck out Silvestro but couldn't escape the power of Brian Hocking. The senior roped an 0-1 pitch over the left field fence to bring the Eagles back to within a run. Following the blast, BC High proceeded to load the bases but White (4-0) avoided further damage by striking out Rich Roach.

Following the gutty fourth, White's day was done. Senior Anthony Perry took over and it was up to him to maintain the lead. The lefty pitched was flawless in his three innings of work, surrendering just one hit.

In between, St. John's was able to tack on a couple of more runs on Perry's behalf. In the fifth, consecutive singles by Jimmy Smith, Nick Sieber and Shea produced the Pioneers' fourth run. In the sixth they added one more on a Micah Cummins home run off of reliever Bartley Regan.

"Scoring early really helped us," St. John's coach Charlie Eppinger said. "We know BC High has an amazing lineup and I give Ben White and Anthony Perry a tremendous amount of credit. Our catcher Scott Manea called a great game and kept their hitter off-balanced throughout. Our kids really wanted this one today. It's a great win against a great, well-coached program."
May, 10, 2012
5/10/12
7:59
PM ET
By
John McGuirk
| ESPNBoston.com
SHREWSBURY, Mass. -- Jimmy Smith has done a lot of good things during his time as a St. John's baseball player. But the one thing the senior had never done was homer in a game. You can now add that to his resume.

In a scoreless deadlock against mighty Burncoat yesterday, it was Smith who struck the decisive blow. With two out and a runner on, Smith turned on a letter-high fastball and sent it deep over the right field fence giving the Pioneers a 2-0 victory at Pioneer Field in a highly-anticipated matchup between two of the elite programs in Central Mass.

"That is the first one I've hit in the two years I've played here," said Smith, more noted for his speed on the base paths and defensive prowess. "I grew up around the Burncoat area and I know everyone on that team so it feels good to get a big hit like that. Everyone on this team has a huge heart and we look to come out an win every single game. That comes back to our practices. We practice as hard as we can all the time. Everyone is pushing each other to make everyone better and I think that has helped us to win a lot of these close games like today."

As expected, both St. John's ace Mike Badjo and Patriot counterpart Sean McGrail matched zeros on the scoreboard. The two seniors played things out as if it were a do-or-die chess match with neither hurler refusing to give an inch.

Prior to the fifth inning dramatics, the Pioneers had managed only a pair of singles against McGrail, a righty who started his career at St. John's before transferring a few miles down the road to Burncoat. Likewise, the Patriots were struggling to get anything going against Badjo (CG, 2 hits, 6 Ks). In the third they did load the bases with two out but the right hander got a ground out to end the threat. Burncoat did nothing with the bats thereafter.

"It was an outstanding baseball game," said Pioneers head coach Charlie Eppinger, his team improving to 13-2 and await a huge showdown Friday when they host BC High. "McGrail and Badjo both pitched great. We know McGrail really well after he spent his first two years here at St. John's and is a great pitcher. I thought Badjo was just a horse for us out there today.'

McGrail, like Badjo, went the distance, allowing 3 hits and striking out 8. Burncoat (12-2) came into this tilt averaging just under six runs-per-game. In spite of the many victories the Patriots have attained this season, they knew St. John's would be a measuring stick game for them.

"It was a matchup between two of the better teams around and two of the better pitchers around," Burncoat head coach Brian Sargent said. "One hit by them was it today. Playing a team like that you have a small window to score runs and in the third we had our shot but couldn't get the big hit. We have nothing to hang our heads over. We knew St. John's is the best team around. Today we played a quality team and now we know that we can hang with anyone. Today was the highest level of competition yet for us and I think we rose to the challenge."

In the fifth, No. 9 hitter Micah Cummins drew a one-out walk (one of five issued by McGrail on the afternoon). After retiring leadoff batter Tom Petry on a comebacker, McGrail had a 2-1 count on Smith. Sticking with his bread-and-butter fastball that was moving well all over the strike zone, McGrail delievered his next pitch. Only this time the ball never moved and stayed up which allowed Smith to take full advantage as it was gone the moment it struck the bat.

"It was good to see Jimmy come up with that big hit," Eppinger added. "I don't know where that came from because he's more of a speed and singles guy. Two out hits like that one win ball games and it showed today."
May, 3, 2012
5/03/12
10:23
PM ET
By
John McGuirk
| ESPNBoston.com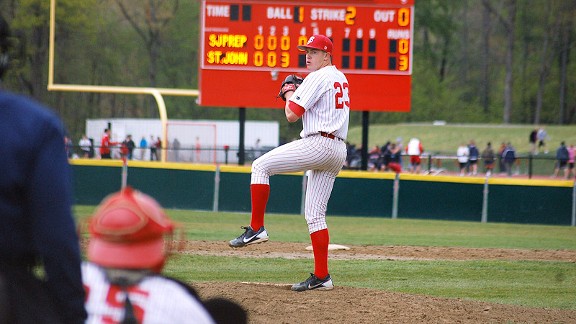 Brendan Hall/ESPNBoston.comSt. John's junior righty Ben White (5.2 IP, 9 K, 2 hits, 109 pitches) put in a workmanlike effort on the mound in the Pioneers' win over St. John's Prep.
SHREWSBURY, Mass. -- Prior to yesterday's non-league tilt against St. John's Shrewsbury, Pat Yanchus, the longtime helmsman of the St. John's Prep baseball program, noted that much of this season's success has been due in part to the Eagles' solid defensive play.
After watching his team commit four errors, all of which played a huge role in his club's 4-3 loss at Pioneer Field, Yanchus may want to re-track those statements.
The Eagles were generous on the defensive side. In turn, it also soured a solid performance by junior righty Dustin Hunt, who allowed just three hits and struck out seven in a complete game effort. All of St. John's runs were unearned.
"We've been playing great defense all year, but today we made some key errors, three in one inning, which was the game," said Yanchus, his team now standing at 11-3. "Dustin pitched great. That's the best he's pitched for us this season. He had all three of his pitches (fastball, curve and change up) working for him. It was a non-league game today so we're still in good position but you still would like to win these games and not give them away like we did today."
In the bottom of the third, the Pioneers struck for three runs on just one hit but capitalized on three Eagle miscues.
With two on and two out, Nick Sieber grounded a ball off of third baseman Tyler Noe's glove which plated Mike Sullivan, who walked. After Hunt issued a base on balls to Owen Shea, Eagles catcher David Maher tried to pick off Shea at first but his throw bounced away from first baseman Nick Bragole allowing Tom Petry, who singled, to score St. John's second run. The play continued as a throw to nail Sieber sprinting to third sailed into left field allowing the senior to come around and cross the plate.
"In a couple of ways we stole this game, but we're not going to give it back," said Pioneers coach Charlie Eppinger, his team improving to 10-2. "Anytime you beat St. John's Prep it's certainly a good victory. We ran the bases well and took advantage in what they gave us."
St. John's starter Ben White was doing a yeoman-like job keeping the Eagle bats silent over the first three frames. But in the fourth, the Prep offense finally awoke. Anthony Capuano walked and Brandon Bingel followed with a single. After a wild pitch advanced both runners, Capuano trotted home with the Eagles' first run on a pass ball.
White (5.2 IP, 2 hits, 9 K's, 109 pitches) set down St. John's Prep in order the following frame, but ran into trouble in the sixth. With his pitch count rising, the junior righthander loaded the bases by plunking Bragole, serving up a single to Andrew Donahue and walking Keith Leavitt. A meeting on the mound did little to sooth White as he then walked to Maher to force in Bragole to make it a 3-2 game.
Pioneer ace Mike Badjo was then called to the mound in place of White to try and get St. John's out of this mess. The senior did just that, striking out Rory Garrison and keeping the Pioneers' slim lead in tact.
"My arm felt the best it has felt all year," said Badjo. "Ben threw a great game for us but got into a little trouble late. I just wanted to come in and help him out. Starting a game in nice because you get your mind set before the game. But coming in relief is nice as well because you come into a pressure situation and that's what you live for. As a reliever you really don't have time to think, you just go out there and throw."
The Pioneers, who defeated the Eagles 4-2 back on April 13th, added a much-needed insurance run in their half of the sixth, on yet again, another St. John's Prep error. In the frame, Shea reached base on a one out walk. Scott Manea followed with a line single to right putting runners on the corners. With Tanner Johnson running for Manea, Eppinger called for a steal. Maher's throw to second was high, tipping off the glove of Bingel, the Eagles' shortstop, and sending Shea home with St. John's fourth run.
St. John's Prep's attempt of a comeback fell one run shy in the final inning. Badjo struckout the first two batters he faced but Capuano worked him for a walk. The senior moved to third following a steal and wild pitch. He came home after Petry, the Pioneer shortstop, failed to handle Bingel's hard grounder cleanly. However the damage was miniscule as Badjo was able to retire Bragole to end the contest and preserve the victory.
April, 26, 2012
4/26/12
9:50
PM ET
By
John McGuirk
| ESPNBoston.com
SHREWSBURY, Mass. -- Following yesterday's 4-2 non-divisional loss to St. John's of Shrewsbury, Xaverian coach Gerry Lambert stood on the top step of the dugout at Pioneer Field and emphasized to his team that this is not the time to push the panic button.

At least not yet anyway.

The Hawks dropped to 5-5 and, with 10 games remaining on the schedule, need to find at least five more wins to secure a spot in next month's postseason tournament. But the road does not get any easier. Over the next two weeks, Xaverian faces St. John's Prep, Malden Catholic, Brockton, Catholic Memorial, Bishop Hendricken (R.I.) and BC High -- all of whom have winning records.

"We knew going into our season given, the competition level of our schedule, that we don't have a lot of room for error," said Lambert. "Today we played OK, but St. John's played better."

Indeed. The Pioneers (8-1) were the better team in the early going. Hawks' pitcher Mike LaVita ran into problems from the outset, unable to locate his pitches effectivley. When he did, St. John's took full-advantage.

In the Pioneer first, leadoff batter Tom Petry started things by roping a single to left. LaVita retired the next two hitters before surrending a home run to No. 4 batter Owen Shea to straightaway center field that put St. John's in front 2-0.

"One guy who has really stepped up for us this year has been Owen," said Pioneers coach Charlie Eppinger, whose team suffered its first loss 24 hours earlier against New Bedford. "That was his first home run. He's not really our clean up hitter but he just happens to hit fourth in our lineup. But he certainly looked like a clean up hitter today with that shot he hit. He was ahead 1-0 in the count and took a really good swing on that pitch. That was big because you don't want to squander an opportunity to score like that."

LaVita, a senior lefty, ran into more trouble the following frame. Anthony Perry opened with a walk and was sacrificed to second. One out later, Petry, who went 0-for-5 against New Bedford, grounded a hard single down the left field line to plate Perry. Jimmy Smith next laid down a well-placed bunt single which allowed Petry to reach third. Moments later, Smith stole second but Hawks' second baseman Chris Hoyt, fearing a double steal was in order, attempted to cut off the throw from catcher James Serra. However, Hoyt was unable to field the throw cleanly as the ball skipped off his glove and rolled to the left side of the mound which, in turn, allowed Petry to trot home with the Pioneers' fourth run.

"I tried to relax more up at the plate today," said Petry, a junior who finished 2-for-3 at the plate. "I was a little tense (on Wednesday) and today I just tried to not do to much other than put the ball in play. We've been getting ahead early in games and then we sort of become laid back a bit towards the end of games. Thankfully it didn't hurt us to much today in the end."

While St. John's was able to stake its pitcher Ben White to an early lead, the junior righty did his part by maintaining it. White, the son of former Dallas Cowboys and New England Patriots offensive lineman Bob White, was holding Xaverian in check with near pinpoint accuracy. Making only his second start, White had allowed just three hits through the first five innings.

Not to be overlooked was the work of Hawks reliever Mark Stefaniak. The senior took over for LaVita to start the third and held the Pioneers scoreless the rest of the way on only one hit.

In the sixth, the Hawks started to figure out White a bit as they were able to climb back into this tilt. After setting down the first two batters with ease, White surrendered a double by Alex Person. Senior Tim Duggan then followed by launcing an 0-2 fastball deep over the right field fence cutting the deficit to 4-2. But that would be all the offense Xaverian could muster as White finished his complete-game gem, having allowed just five hits while striking out 11.

"Their pitcher certainly deserved to get everything he got," Lambert said. "He kept us off-balance throughout the game. He wasn't overpowering us but was mixing and matching his pitches well. We really had a hard time picking up his change up out of his hand."
April, 25, 2011
4/25/11
11:14
PM ET
By
Tom Layman
| ESPNBoston.com



WESTWOOD, Mass. -- Dan Light will get the glory for his game-winning sacrifice fly in the top of the 11th inning in St. John's of Shrewsbury's 2-1 win over Xaverian (6-2) on a cold, damp Monday night. But the Pioneers (6-1) wouldn't be celebrating without the left arm of Anthony Perry.

Perry, the Pioneers' junior hurler, gave up six hits, struck out one and gave up three walks as he battled through nine innings in less than ideal baseball conditions.

The command wasn't there for Perry when starting taking his warmup tosses. He left several fastballs high and outside of the zone during his pregame warmup, but maybe it was a way to bait the Hawks' hitters into thinking that he wasn't going to be an affective pitcher on the dreary day.

Because there he was, some three hours later, ending a bases loaded threat in the bottom of the ninth inning with a painted fastball on the outside corner to keep the Pioneers alive long enough to allow Light to come through in the clutch.

"(Perry) has no fear whatsoever," said Pioneers head coach Charlie Eppinger. "He gets himself in trouble and he's going to work out of it. He's got great poise on the mound and he just doesn't panic. When he doesn't have his best stuff he battles."

Perry walked the first batter of the game, but got the next to ground into a 6-4-3 double play.

In the bottom of the seventh, in a 1-1 game, he watched the leadoff man get on when a ball got under his first baseman's glove. He was able to get the lead man thanks to a comebacker and also ended the inning by starting a 1-6-3 twin killing to send the game to extra innings.

But his best work came in the bottom of the ninth. Perry looked to be tiring when the first two men reached in the inning. Tim Duggan sacrificed both runners over to set up a second and third situation with nobody out.

Eppinger had Perry intentionally walk Jon Kelly on four straight pitches to set up the force at every base. With a full count, Perry dug in to get Austin DeCarr to fly out to the left fielder in foul ground with no advancement from the runners, and finished off Mike Muir looking to end the threat.

"That was probably one of the biggest things of my career so far," Perry said of the moment. "I had the pitcher up for their team, 3-2 count. I just needed to throw a strike. My outfielder came up big on that play and from there on I just needed to get that out."

Eppinger had no thought of taking out his lefty at that point in the game.

"That was his ballgame," said Eppinger. "I actually went out and told him that on the mound. … That was his ballgame to win or lose."

Perry didn't factor in to the decision, but did manage to celebrate when the Pioneers manufactured the game-winning run in the top of the 11th inning. Three-hole hitter Curtis Pomeroy put down a perfect sacrifice to move Keith Kelly on to third base with one out.

Light drove a 2-0 pitch deep to right to easily plate Kelly for the game-winner.

Pitching, Pitching and More Pitching

The conditions were tough for hitters, especially with the use of wood bats, but there might not have been an answer either way for the way both sides were able to throw the ball on a "Spring Day" in New England.

Sophomore Ben White came in to record the final six outs of the ball game for the Pioneers. He struck out two and walked one, but that runner was quickly erased in the bottom of the 10th as he was caught trying to steal second.

The Hawks got a more than stellar performance from Derek Reddy, and on any other day he's walking off the mound with a win in his back pocket. Reddy fanned six, and retired 11 in a row at one point, in 6.2 innings.

"He gutted it out and pitched well," said Hawks' coach Gerry Lambert. "We certainly did not lose because of our pitching today. It wasn't a function of that. It was a function of us not doing enough when we had the chances offensively."

The biggest pitching prospect for the Hawks, Austin DeCarr, showcased his electric stuff in 3.1 innings in the latter stages of the ball game.

The sophomore possesses an 88-89 mile per hour fastball, according to the radar gun by scouts at the game, and showed off a mean hook, which completely buckled Pomeroy to end the top of the eighth inning.

In his brief stint, DeCarr struck out seven and only issued two hits.