Boston High School:

Chelsea
August, 28, 2013
8/28/13
10:50
PM ET
By
Christian Bradley
| ESPNBoston.com
Brimmer and May senior guard Sammy Mojica committed to Drexel University earlier today, weeks after he took an unofficial visit to the Philadelphia school.

Mojica, a 6-foot-3 wing player known for his versatility on the perimeter, averaged 18 points per game last year for Brimmer, earning third-team all NEPSAC honors. He was one of the top players in the MIAA following his junior year, just a game away from getting his name on a "1000 point" banner at Chelsea High School—and potentially, becoming the all-time leading scorer in the school's history.

Instead, he made the decision to attend Brimmer and May, in hopes of earning a Division 1 scholarship, preparing himself mentally for college, and to work year-round with coach Tom Nelson. He earned a scholarship this summer from Drexel, and was taken aback by the loyalty of Drexel head coach Bruiser Flint and his staff.

Given the fact that Mojica can play either perimeter position or slide over to the small forward spot, Flint nicknamed him "a Swiss Army knife," because of his versatility on the basketball court.

"They were the first team to offer me, to give me a chance," Mojica said. "They saw something in me.

"They were the first school to get real serious. I was waiting for an offer, they were the first ones to pull the trigger. When I went to go visit, it felt right; it felt like I belonged there."

Nelson heavily recruited Mojica during his junior year at Chelsea. He attended games at Chelsea High, brought members of the Brimmer and May team to the games, and made a promise to Mojica's parents: to see to it that Sammy earned a free education. Not only did Nelson help him earn a Division 1 scholarship, the coach helped transform his game, making sure to keep every promise along the way.

"Tom has been exceptional," Mojica said of his coach. "I love Tom with all my heart. When he came to one of my games at Chelsea and brought some guys on the team, I told my parents that's where I wanted to go.

"My mom put full trust in Tom, everything he told my mom has ended up happening. He's very loyal, hasn't made a mistake with me yet, he's trustworthy. He worked me, he just pushed me so hard every day in practice."

Their relationship goes far beyond coach and player however, as displayed when Mojica lost his house back in January. He played the end of last season without a home, after a fire consumed his mother's Chelsea apartment. The night after the fire, Nelson and Sherwyn Cooper, a close friend of both Nelson and Mojica, brought the team to see Sammy again—this time to comfort him during what Mojica called "the lowest point of my life."

"We were there with him, we all went up to his dad's house, we went up there with Sherwyn [Cooper] and we even cancelled the game we were supposed to play to go lift his spirits," Nelson said. "We saw him at one of his lowest points. But the thing with Sammy is that he's one of those great kids that keeps fighting through adversity."

Following the fire, Nelson and Cooper started a fundraiser for Mojica and his family, so that the family could have money to move into a new home and find a way to replace all the things they had lost. The fundraiser brought in over $12,000.

Whether it was walking through the tattered remains of what had once been his bedroom or sleeping on the couch of teammate Jake Fay for days at a time, the fire motivated him this summer on the AAU circuit—as he proved to be one of the best players at the Hoop Group Summer Jamfest.

"Tom just kept saying to me during the AAU season, 'Look at all these kids, you're the one who doesn't have a house."

Mojica and his family now live in Everett, in a home that he says is in a much better part of town than his previous home. While he has many basketball-related aspirations, one of his main goals is to graduate from Drexel; he would become the first person in his family to earn a degree. After the emotional roller coaster that the last seven months have presented, he says it feels like going "from rock bottom to the top of the world."

The commitment was a proud moment for Nelson. The coach considers Mojica to be one of his hardest workers and one of the highest character players that he has ever coached.

"I'm so proud of him. This is one of the best days of my life. We took a kid out of obscurity in Chelsea, and got him to a mid-major school. It was hard work. There was no smoke and mirrors with this one. It's been a lot of ups and downs."

Nelson added, "He sent me a text saying, 'Check out my tweet. I love you Tom.' I'm his coach, but I'm also a big brother. I know to draw the line as their coach, but I try to make them understand the love, that we care."
August, 9, 2012
8/09/12
9:57
PM ET
By
John McGuirk
| ESPNBoston.com
MEDFIELD, Mass. -- Through a solid upbringing, Mike Schell has always been one who has strived to help others.
The son of hard-working parents who were the first in their families to graduate with college degrees, Schell took the values learned at a young age and has carried them with him ever since.
Schell, a former standout baseball player at Holy Cross and current teacher and baseball coach at St. Sebastian's Prep in Needham, believed baseball was the perfect avenue for him to assist others.
Two years ago he, along with Mike Ginns, partnered to form The Cannonball Foundation. The premise behind it was to provide student-athletes who come from urban communities the opportunity to play baseball at a competitive level while educating them in the college admissions process, prepping for SATs, applying for grants, scholarships, financial aid as well as nutrition, strength and conditioning.
While many teens are awarded the luxury of playing summer ball in select AAU programs and showcases with parents shelling out thousands of dollars, what happens to those who come primarily from households that average medium to low incomes that cannot afford it?
Enter The Cannonball Foundation.
[+] Enlarge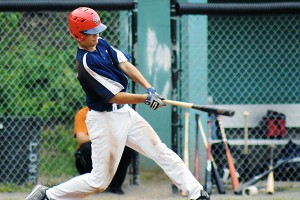 Courtesy of The Cannonball Foundation The Cannonball Prospects team has allowed players like Upper Cape Tech's Randy Frazier to attend high-profile showcases they wouldn't previously have been able to get to.
"Our foundation is an opportunity for kids to learn, develop good character and leadership traits and play the game we all love and not having to break the bank when your parents are working as hard as they can just to make ends meet," said Schell, speaking from the program's home base at Sluggers Academy. "There are a lot of families who cannot afford to send their kid to an AAU program or a showcase. Here they can. We aren't just focused on giving top-notch baseball training. We're also going to talk about why academics is so important, and we are going to get you to understand the real-life alternative when you are helping a paraplegic, or a child in a wheel chair, down the first base line."
As part of the foundation, Schell and Ginns developed The Cannonball Prospects -- an independent team made up of high school players with solid backgrounds from Massachusetts who play approximately 20 games in various high-profile tournaments and showcases in Massachusetts and Rhode Island. Playing in these tournaments and showcases has given players an opportunity they wouldn't have otherwise, to be seen by various collegiate programs.
"Without the Cannonball Foundation, my brother and I wouldn't have been able to play in the big showcases in front of college coaches," said Upper Cape Cod Tech infielder/pitcher Randy Frazier. "We've received great exposure and have been able to do community service in the process."
Schell said he plans to add two more prospect teams to the mix next summer as well as a softball entry for girls.
The Cannonball Prospects is named after Will "Cannonball" Jackman, a former submarine-style pitcher from Texas who played in several Negro Leagues in the late 1920s including the Boston Royal Giants of the New England Negro League. While Schell was doing post-grad work at Tufts University, his research about the New England Negro League and Jackman in particular, and his ability to overcome numerous struggles along the way, inspired him.
With the foundation solely relying on donations from various groups and organizations, parents don't have to fund for their child to play. What Schell asks for in return is for the players to donate time toward community service activities. Three charitable organizations The Cannonball Foundation serve are The Miracle League of Massachusetts, Hugs for Heroes and Special Olympics of Massachusetts.
"We have been very fortunate to have private donors," Schell said. "We've made a promise to them that we are going to take this as far as we can. We are covering all of our costs and people are seeing our success. This is not a money-making operation for us and never will be. I feel everyone who has come through this foundation is better for it. Down the road I would like to have a prospects team in every state in New England. We are not here to compete with AAU. I want to collaborate with them."
Schell adds, "We are trying to do the most good for the most people. We want to preserve dreams and goals these kids had when they were 12 years-old -- to go to college and become baseball players.
"Cannonball has given me the desire to strive for more," said Chelsea High infielder Carlos Vega.
Schell says that while The Cannonball Prospects are a selected-based team, the clinics they put on throughout the fall and winter months at Sluggers Academy that involves both baseball and academic preparation are open to anyone. More information can be attained at their website thecannonballfoundation.org.
"This is an incredible organization with highly-motivated people looking to provide families opportunities that would not be with their reach due to their financial situations," Cannonball Prospects head coach Ron Frazier said. "We feel many college level players are being out-paid not outplayed. The mission stresses not only athletic excellence but also academic excellence and good citizenship."
July, 13, 2012
7/13/12
12:18
AM ET
Bay State Games communications coordinator Craig Kaufman sends along results from today's plethora of action:
WOBURN, Mass. -– A busy Thursday at the Bay State Games saw the start of the soccer, field hockey, basketball, ice hockey and boys' lacrosse competitions, as well as the continuation of the 2012 baseball tournament and the conclusion of the girl's lacrosse event. Friday will see all of these scholastic results continue and baseball will draw to a close with all the medal positions still hanging in the balance. Friday night will also see the beginning of the 2012 Bay State Games swim competition at Harvard University.

GIRLS LACROSSE

Bronze Medal Game: Southeast 14, Metro 6
Gold Medal Game: Northeast 13, West 11

BASEBALL

Northeast 5, Metro 5
Metro almost pulled an upset by taking a 5-3 lead in the top of the sixth inning but had to settle for a tie as Northeast came back to tie the game and then stranded the winning run on base in the bottom of the inning.

Austin Johnson (Brookline) drew a bases loaded walk and Nick Bruno (Lynnfield) followed with an RBI single before Jonathan Santana Arias (Somerville) knocked in two more runs as Metro plated four runs in the sixth. Kyle Hood (Arlington) had scored an unearned run for Metro in the second.

Northeast scored single runs in the second, third and fourth innings and then took advantage of three walks and two hit batsmen in the bottom of the sixth to tie the game at 5. Justin Freeman (N. Chelmsford) drove in a run for Northeast, as did Colby Morris (Newburyport), who drew a walk with the bases full.

Central 4, Southeast 1
Southeast scored in the top of the first when Cameron Hanley (Walpole) doubled home Sean Scales (Weymouth), but Central, led by Jake Ryan (Whitinsville), who went 2-2 with a run scored and an RBI double, had taken a 4-1 lead by the bottom of the fifth. Zack Tower (Auburn) also drove in a run for Central, who got good pitching from their rotation, including starter Christian Doskocil (Sterling), who went three inning s and struck out two.

West 3, Coastal 0
Austin Salnitis (Lenox) went five innings, allowing four hits and striking out seven for West, who ran their record t o3-1. West got on the board in the fourth when Kenny Potts (Southwick) drew a walk and scored on a double by Phillip Jasak (Palmer). They added another run in each of the next innings with an RBI single by Andrew Noonan (Springfield) and an RBI double by Jake LaBranche (W. Springfield).

Coastal was led at the plate by Andrew Mancini (N. Easton), who went 2-2 with two singles.


BOYS SOCCER

Metro 1, Southeast 1
Metro scored first in the 20th minute when Thayrone Miranda (Somerville) connected on an assist from Walter Guzman (Chelsea), but the Southeast team equalized in the 67th minute on a connection from Nick Savage (Milton) to Marquardt.

Coastal 2, Central 2
Coastal scored first through Joshua Medeiros (New Bedford) in the 34th minute, but Central scored twice to take a 2-1 lead with Riley Steele (Sutton) and Lukas Ritzer (Sutton) connecting. Coastal salvaged a draw with a 58th minute goal by Ty Catunto (New Bedford).

West 3, Northeast 0
West got three second half goals from Mark Richards (Springfield), David Serafino (Ludlow) and Nicholas Martinelli (East Longmeadow).


GIRLS SOCCER

Northeast 3, Metro 0
North got three goals in the first half, their first just three minutes into the game. Megan Cullen (Amesbury) scored the first two goals for Northeast and Alexa Cicolini (Methuen) finished the job in the 31st minute.

Southeast/Coastal 1, Central 0
Lauren Farrell (Rockland) scored the only goal in the 48th minute as Southeast/Coastal edged Central.

West 8, Metro 0
Jennifer Delasco (Lenox) and Mary Edwards (E. Longmeadow) each scored twice, with Stefano adding an assist. Jordan Bates (Chicopee) and Kiley Baran (Granby) added two assists apiece as West rolled to their first win of the tournament.

Northeast 4, Southeast/Coastal 1
Megan Cullen (Amesbury) scored four straight goals for Northeast to give them the victory after Jessica Murphy (Norwood) had given Southeast/Coastal a 1-0 lead in the 26th minute. Cullen started her scoring spree just a minute later.

West 4, Central 0
West endured an onslaught of Central possession early before scoring four times in the second half. Sharlotte Pernice (W. Springfield) scored twice, and Christina Ferriter (Springfield) and Brianna Voight (Springfield) also tallied for West.


FIELD HOCKEY

Metro/Northeast 3, Southeast 2
Central 2, Coastal 1


BOYS LACROSSE

Southeast 16, Northeast 4
Steve Righini (Weymouth) scored four times for Southeast, while Conor Martin (Plainville), Sean Williams (Scituate), and Jack Vail (Franklin) each tallied twice, with Martin adding two assists. Six other players tallied single goals, including Nicholas D'Innocenzo (Medway), who also added an assist. Tyler Boardo (Weymouth) and Daniel Sprague (Weymouth) combined for nine saves in goal.

Northeast got two goals from Derek Lawton (Bishop Guertin) and a goal apiece from Devlin Crane (Arlington) and John Curcuru (Gloucester). Evan Connolly (Peabody) made 13 stops in net and Joshua Nelson (Medford) spelled him for five saves.

Central 10, Metro 9
Joshua Daigle (Marlborough) and Alex Sabel (Algonquin) each scored twice and added an assist, while Thomas Whiting (Hudson) notched two goals as well. Matthew McIntire (Milford) made ten stops in the winning effort.

Jack Trottier (Tyngsborough), Brian Walsh (Lowell) and Joey Pescatore (Waltham) each scored twice for Metro and Ben Foley (Tyngsborough) added a goal and two assists in a losing effort. Scott Powell (Swampscott) made 9 stops in the Metro net.


BOYS ICE HOCKEY

Northeast 8, Southeast 7
Metro 6, West 1
Central 12, Coastal 2
Southeast 8, Metro 2


GIRLS ICE HOCKEY

Central/West 9, Metro 1
Southeast/Coastal 4, Northeast 2


BOYS 11-12 GRADE BASKETBALL

Central 82, Metro 47
Central was led by Tyler Delorey (Worcester), who scored 22 points, including four three-pointers. Matt Mobley (Worcester) also chipped in 18 points, including two buckets from downtown.

Coastal 75, West 59
Coastal got 25 points from Chris Green (Taunton), including four three-pointers, while Paul Maurice (Taunton) added 22 points.

Central 89, Coastal 80
Central got 26 points from Delorey, who nailed three shots from downtown and also got 17 points from Jacek Louisville (Worcester). Tommy Keyes (Somerset) led the way for Coastal with 19 points.

Northeast 79, West 78
Northeast's Devin Thompson (Winthrop) led all scorers with 22 points and two three's in the fourth quarter. Anthony Smith (Springfield) was the top scorer on West with 17 points.


BOYS 9-10 GRADE BASKETBALL

Central 68 Metro 64
Matt Grose led Central with 19 points and Bobby Flanagan put up 15. The Metro squad was led by Keith Burns (Belmont) with 22 points while Christian Lejuene (Waltham) added 14.

West 73 Coastal 41
The West squad was led by Keith Natale (Hatfield), who had 22 points and Conner Eckstrom (Greenfield) pitched in 15. The Coastal region had Tom Galanek (Plymouth) and Kent Mertz (Dennisport) score 8 points each.

Northeast 72 Coastal 60
Anthony Gilardi (Malden) led the Northeast squad with 24 points while Cody Broges (Dartmouth) picked up the slack with 16. Liam Gerrity (Barnstable) was the leading scorer in the game with 26 points and Pat Danner (Plymouth) had 10 points for Coastal.

West 67 Metro 40
West's Keith Natale (Hatfield) had 20 while Conner Eckstrom (Greenfield) pitched in 11. The Metro squad had Jaewoo Chung (Arlington) score 11 points.


GIRLS BASKETBALL

Northeast 73 Southeast 71
Northeast lead scorer Amanda Williams (North Andover) scored 13 points. Sarah Hood (Burlington) added 12 points to the scoreboard. Katie Lowerre (Sharon) led the way for Southeast with 18 points

Metro 72 Central 24
Melissa Baptista (Somerville) led the Metro region with 15 points. Kaila Duarte (Boston) score 13 points throughout the game which included making both of her free throws in the 4th quarter. Central was led by Kristen Smith (Littleton) chipping in 7 points.

West 66 Coastal 55
Keri Paton (Russell) contributed 17 points to West which included 13 points in the 4th quarter. Tea Spellacy (Belchertown) contributed 11 points to the scoreboard as well. Norma Waggett (Saugus) led Coastal with 25 points.

Southeast 68 Central 39
Lowerre led Southeast to victory against Central contributing 21 points. Montana Burke (Bromfield) and Abrielle Peltier (Leicaster) both chipped in 8 points for Central.

Metro 66 West 32
Metro got 14 points by Maggie Mulligan (Brighton) leading the team. Spellacy scored 11 points for West and Paton added 8 more to the scoreboard.

Northeast 62 Coastal 36
Hood tallied 14 points in Northeast's last game against Coastal. Williams and Courtney Walsh (Windham) added to the scoreboard. Coastal's Rachel Camara (Fall River) contributed 10 points and Brianna Camara (Fall River) chipped in 7.
May, 16, 2012
5/16/12
3:47
PM ET
By
Brendan Hall
| ESPNBoston.com
Boston College High has gone in-house in naming a new head coach for its football program, elevating defensive coordinator/associate head coach Joe Gaff this afternoon, Athletic Director Jon Bartlett has confirmed.
Gaff joined the Eagles' coaching staff in 2008 after a two-year stint as the head coach at Malden Catholic. He previously found success over nine years as head coach at Chelsea and Matignon. He also has served as an assistant coach at Tufts for 3 years. He previously played for Xavier University and for juniors football in Nova Scotia.
He will be taking over for Bartlett,
who stepped down late last month
after going 33-12 in four seasons, with two Division 1 Super Bowl titles.
"We are thrilled to have Joe lead our program", Bartlett said in a press release. "Joe has been with us for the past 4 years as Defensive Coordinator, so he understands the vision of our program and the core values of our school."
Gaff, a 26 year veteran of the Everett Police Department, lives in Everett with his wife, Nancy. He has two sons.
"I'm extremely humbled and very excited to be taking on this position," Gaff said in the release. "BC High is a warm and welcoming community that has provided me with great opportunity for personal growth. Jon Bartlett is certainly a tough act to follow, but squad coming up is a very fine group of young men."
November, 29, 2011
11/29/11
11:41
PM ET
By
Andy Smith
| ESPNBoston.com


READING, Mass. -- Chelsea had the ball around midfield holding a 10-6 lead with less than a minute to bleed off the clock to come away with a win over Boston Cathedral Tuesday and head to the Division 4A Super Bowl.

Michael Stellato instructed his team to let the play clock run down to 0 and take a delay of game penalty. When the referees threw the penalty flag, the clock had only 16.5 seconds left on it. Cathedral's hope of an undefeated season came down to a punt return.

Carlos Bermudez and Geeavontie Griffith set up deep to return the punt. Chelsea did most teams would do in this situation: punt away from Griffith. In what some would consider a break for Cathedral, the ball did not go out of bounds. Rather than having about 10 seconds to go about 70 yards with no timeouts, the punt came to Bermudez outside the right hash mark.

He fielded the punt at his own 30-yard line, and decided to cut back to the left, where there was the most space. Running behind Griffith, Bermudez kept his eyes up field looking for any potential holes in the defense to break through. When he could not find any, he headed for the sideline and cut upfield.

Like dominoes, the Chelsea coverage unit was knocked down by oncoming Cathedral blockers. With no one left in front of him, Bermudez outran everyone else and got into the end zone for the game-winning touchdown as time expired, to give his team the 12-10 win.

"First I saw Geeavontie in front of me, with an amazing block... one down," he said. "Derek Welcome... another man down. Mohammed Braimah... another man down. Sage Phillipe... another man down. I kept on running, and touchdown."

"If it wasn't for my team, for my blockers, none of it would have happened," he added. "Because of them, we scored."

Slow start: Until the fourth quarter, nothing seemed to go right for Cathedral (12-0). Its quarterback Matt Owens (2-of-7, 18 yards; 8 carries, 41 yards) had three turnovers in the game (two interceptions, fumble). Griffith also lost a fumble. In the first quarter, after Chelsea (6-5) got on the board first, it was able to recover a squib kick after the ball hit of a Cathedral player. The team was able to recover, however, and score 12 points in under 2:30 to come away with the victory. It had some difficulty stopping the heavy-running attack of Chelsea.

Juan Martinez finished the game with 17 carries for 116 yards and a touchdown for the Red Devils, while Hector Rivera and Raul Flores added 68 and 38 yards on the ground respectively.

"We never gave up, we played great defense," said Cathedral coach Duane Sigsbury. "We self-destructed on offense, but our defense was unbelievable. I can't be any happier for our kids."

Owens, Griffith in the clutch: When a team needs a big play, it more often than not will put the ball in the hands of its best player. That is what Cathedral did when it faced a 4th and 18 from its own 16 midway through the fourth quarter. Owens was called for intentional grounding on the 1st down of the drive, pushing his team back 18 yards. After failing to gain yards on the next two plays, it faced fourth down with 5:35 on the clock. While conventional wisdom said Cathedral could punt and use its timeouts to get the ball back, it lined up in the shotgun.

Again going against the armchair quarterbacks, the team did not pass. Instead, Owens handed the ball off to Griffith, who ran through the defense for 32 yards, giving the team a fresh set of downs and confirming the faith Sigsbury has in his team.

High spirits: What does a coach say to his team when it has 16.5 seconds left on the clock and its only opportunity to score is on a punt return?

"We said, 'When they make that punt, there is going to be about 18 to 15 seconds left, so we're going to run Mirror Block where if we block it we're going to go get it but if not, we're going to peel off into our return," said Sigsbury. "They kicked it to Carlos and it was over."

Dramatic turnaround: This is the first year for Sigsbury as the head coach at Cathedral. After having not made the playoffs since 1994, the team is now 12-0 and headed to the Super Bowl. The players have seen a change in their environment, which has helped them achieve this success.

"Coach Sigsbury and this coaching staff has had the biggest impact on this team by far," said Griffith. "He makes sure our grades are right, makes sure we're always at practice on time, make sure we have everything down perfect. He stayed on us day in and day out. He made sure he called us at home to make sure we were in our house on time so we could get ready for the next game or next practice. He just stayed on us the whole time."

Up next: With the win, Cathedral moves on to the Division 4A Super Bowl on Saturday where it will be Blue Hills, which defeated East Boston 25-22 Tuesday.

"We're just looking forward to playing on Saturday," said Sigsbury. "It's the first Super Bowl in history for Cathedral and we're looking forward to representing our league and Cathedral the best we can."


BOSTON CATHEDRAL 12, CHELSEA 10
BC (12-0) 0 - 0 - 0 - 12 --- 12
CH (6-5) 7 - 0 - 0 - 3 --- 10


1st quarter
C - Juan Martinez 76-yard run (Martinez kick)

4th quarter
C - Martinez 33 field goal
B - Geeavontie Griffith 11 run (rush failed)
B - Carlos Bermudez 70 punt return
November, 3, 2011
11/03/11
10:56
PM ET
In the last rankings before the tournaments begin, we have a few shuffles to our
Top 20 poll
.
Here's a wrap-up from resident soccer guru James Walsh:
New to the Top 20 is Brighton which, despite losing their first game to Boston International, is undefeated. Huh? Confused? We'll explain.
Because the loss (2-1 to Boston International) was during a cup game that went into overtime, the MIAA will count the game as a draw as far as tournament seeding are concerned. So the Bengals are 15-0-2, or 14-1-2, either is correct, but you can be the judge. Either way they'll have a high seed in Division 1 North.
Canton's first loss in two seasons drops the Bulldogs from No. 5 to No. 12, while Winchester jumps into the Top 10 for the first time.
Newton North defeated No. 20 Lexington in their final game to qualify for the postseason, and the Tigers will look do make another run to the state semifinals. Lexington meanwhile has only won twice in their last eight and is heading in the wrong direction before the tournament.
ON THE BUBBLE
Lowell
(11-3-4) - Lost two straight after defeating Central Catholic.
Wellesley
(12-5-1) - The Raiders may be better off on the road this post-season with a 7-1-1 away record.
Newton South
(8-7-4) - Their six-game winning streak was ended by No.1 Lincoln-Sudbury.
BC High
(8-6-3) - The Eagles will be a tough out in the Division 1 South bracket.
Westford Academy
(9-6-2) - A well-tested team after earning seven wins in the DCL.
Chelsea
(13-3-1) - Commonwealth League champs.
Somerville
(12-2-4) - Lost their first match since opening day to Salem, 2-1.
OUT THIS WEEK
North Andover
(11-2-3), LW 20 - Only won one of their final four matches.
As always, hit us with your thoughts and opinions in our comments section.
October, 27, 2011
10/27/11
1:32
PM ET
We have a new number one team in our
MIAA boys' soccer Top 20 poll
this week.
The Lincoln-Sudbury Warriors take the top spot after previous number one Ludlow lost for just the second time this season. The Algonquin Tomahawks remain in at No. 2, while Needham and Weymouth flip flop spots after the Rockets defeated the Wildcats, 1-0, last week. The Bay State Conference is now Needham's to win after dropped another game 1-0 to Brookline.
Here's a breakdown of the week that was and the week to come from resident soccer guru James Walsh:
ON THE BUBBLE
Lowell (11-2-4)
- Scored three second half goals to defeat Central Catholic 3-2.
Wellesley (11-5-0)
- You don't want to play this team in the tournament.
Newton South (8-6-3)
- The Lions have won six in a row, and only concede two goals over that stretch. Coach John Conte has his team play well at the most important time of the year.
BC High (8-6-3)
- An away loss to Xaverian and a well-earned tie with No. 15 Hingham.
Westford Academy (8-5-2)
- A tough 3-1 loss to Lincoln-Sudbury and will be without starting keeper Joe Brunelle after he was shown a straight red during the match.
Brighton (13-0-1)
- The Benglas are leading the Boston City League.
Chelsea (8-1-0)
- Defeated North Shore 6-0 in their only match last week.
Somerville (11-1-4)
- Haven't loss since opening day.
TOP OF THE TABLE
Lincoln-Sudbury's win over Westford Academy on Wednesday sealed the Dual County League championship for the Warriors. Westford proved a tough test for L-S, but a Chris Kafina goal from an Andres Driscoll headed cross gave the visitors a 2-1 advantage, and Peter Jandl's goal in the 69th minute sealed the deal.
"That's one of our goals that goes down first on the sheet every time is win the DCL" Lincoln-Sudbury head coach David Hosford said, "We've done that, and did it with a game left, which is hard to do."
Experience is also a key for the Warriors, who have all the players to make a deep run in the division one north bracket.
"I've got 15 seniors on the team, and a lot of them have been in these types of battles before," Hosford said. "There is a lot of leadership out there and it's not just from the captains."
RECAPPING LAST WEEK'S BIG GAMES
(Last week's rankings)
No. 14 Winchester 2, No. 19 Lexington 1
Sophomore Russell Kunes scored to break a 1-1 deadlock and give the Sachems a 2-1 win and the Middlesex title.
No. 7 Needham vs. No. 4 Weymouth
Needham senior Max Swartz got just enough on his shot to force a rebound out of Weymouth keeper Scott Greenwood, and Needham striker Mac Steeves finished the second chance for the games only score.
"[Brandon] Miskin got the ball pretty quick, played a good ball to me, and I was lucky enough to get just enough on it for Mac to come make that play" said Swartz of the game's lone goal.
He also had some praise for his opponents. "They're a good team, and they're always physical, the most physical team we play. We just had to do our best against them"
GAME OF THE WEEK
No. 19 Lexington at Newton North
Pending Thursday's results, the Tigers may need this game to qualify for the post season. But they went through this last season and things turned out pretty good for Roy Dow's team.
October, 13, 2011
10/13/11
11:13
AM ET
The
MIAA boys' soccer Top 20 poll
has been updated.
There was plenty of movement this week with Sandwich falling two spots while Canton hopped up from No. 7 to No. 4. Bulldogs goalie, Colby Gavigan, looks like a keeper of the year candidate with a large thanks to his back four of Matt Lennon, Jimmy Kelly, Andrew Vinciguerra and David Feeney.
Brockton is back into the polls at the expense of New Bedford. The Boxers defeated the Whalers, 1-0, last week. Dartmouth also debuts at No. 16 while Masconomet fell out.
CAN THE RAIDERS REPEAT?
Dover-Sherborn is our top-ranked D-3 team with the defending champs posting an undefeated record after five weeks. Head coach Joe Gruseck points to his squads experience together even before high school.
"The seniors and some of the juniors have played together for so long now," Gruseck said, "some of the seniors have played together since third and fourth grade. We have 12 seniors, one is a first year player, take him out of the mix and our guys have 30 years of varsity experience."
Right now, the Raiders and Cardinal Spellman look like the favorites in Division 3.
GAME OF THE WEEK
No. 12 Framingham at No. 9 Needham, Friday, Oct. 18
The Flyers will be trying to avenge a 1-0 loss from earlier in the season, while the Rockets will try to leap frog Framingham in the Bay State Conference standings.
ON THE BUBBLE
Wellesley (8-3-0) - Their only three losses are to top 20 teams Weymouth, Walpole and Framingham.
Chelsea (7-1-0) - Carlos Martinez scored all three goals in Chelsea's 3-2 win over Northeast.
Lowell (8-0-3) - Leading the Merrimack Valley Large and gained some breathing room with a 4-0 victory over Andover.
Somerville (8-1-1) - Haven't lost since opening day.
OUT OF THE POLL
New Bedford (4-3-2), Last week 18 - Lost a tight match to Brockton 1-0, dropping to last in the Big Three.
Masconomet (6-1-2), LW 20 - A 2-1 loss to Georgetown last week, but are on the way back up after recording three straight wins.
September, 28, 2011
9/28/11
2:38
PM ET
Our
MIAA boys' soccer Top 20 poll for Week 3
has been updated on the site.
Here's a breakdown of the past week's action from our resident soccer guru James Walsh:
OUT OF THE POLL THIS WEEK:
Brockton
(1-1-2), Last week No. 15: Never count the Boxers out, but a slow start to the 2011 season knocks the out of the top 20 (for now). Expect Brockton to bounce back, and a win on Thursday (9/ 29) vs. New Bedford could be the lift they need. Ask any coach in the state if they'd like to play Brockton in the first round of the tournament and I but you get the same answer I did.
Acton-Boxborough
(4-5-0), LW 16: The Colonials ended their four game losing streak with a 2-0 win at Waltham. A-B faced arguable the toughest schedule in the state to start the season with three games in a row vs. No. 2 Algonquin (1-0 L) No. 4 Concord-Carlisle (4-2 L) and No. 3 Lincoln-Sudbury (5-2 L). The Colonial's will face C-C and L-S again as well as No. 6 St. John's Prep on October 26. If they can qualify for the tournament they'll be the most battle-tested team in the state.
Newton North
(2-3-2), LW 20: The Tigers haven't beaten anyone on their own Bay State Carey Division yet, but don't forget they were in a similar boat last year before running all the way to the Division 1 state semi-finals
NEW TO THE TOP 20:
No. 9 Longmeadow
No. 16 Framingham
No. 17 Winchester
LOOK OUT FOR:
Chelsea (4-0-0) Leading the Commonwealth Upper
Lowell (5-0-2) Leading the Merrimack Valley Large
Medford (5-0-0) Leading the Greater Boston League
GAMES OF THE WEEK:
No. 18 New Bedford vs. Brockton, Thurs., Sept. 29
No. 3 Lincoln-Sudbury vs. No. 4 Concord-Carlisle, Sat., Oct. 1
No. 5 Weymouth vs. No. 6 St. John's Prep, Sat., Oct. 1
September, 21, 2011
9/21/11
1:42
PM ET
The
MIAA boys' soccer Top 20 poll
for Week 2 has been updated.
New to the poll this week were Needham and Belchertown, whlie Braintree and Winchester fell out.
Resident soccer expert and correspondent James Walsh also sent over a couple of teams on the bubble to look out for in the coming weeks:
Commerce
(4-0-0) -- Shafiek Erwin has already scored 14 goals this season, seven against Putnam in their local derby. The Red Raiders high powered offense has scored 29 goals and conceded just 2.
Chelsea
(3-0-0) -- Have only allowed one goal through three games.
Framingham
(3-1-1) -- Have drawn, 2-2, against No. 6 Weymouth, and lost by only a goal against No. 17 Needham despite controlling the run of play. Not a question of if, but when the Flyers will break through to the Top 20.
April, 6, 2011
4/06/11
1:44
PM ET
By
Roger Brown
| ESPNBoston.com
Rice Memorial guard Reagan Jewell and Essex guard Ben Ferris have been selected as Vermont's Miss Basketball and Mr. Basketball, respectively, for the 2010-11 season.

The awards, which are given to the top boys and girls player in the state, are determined by the
Burlington Free Press
.
Jewell helped Rice win last season's Division I championship by beating Champlain Valley Union 45-36 in the title game. The Green Knights completed the season with a 19-5 record and won the program's first state championship since 2001.
Jewell led Rice in scoring (14 points per game), rebounds (10.0), assists (4.2), steals (3.0) and blocked shots (3.0).
She will continue her basketball career at Holy Family University, a Division II school in Philadelphia.
Ferris helped Essex win the 2009-10 Division I title. He was the only returning starter from that team and averaged 23.4 points, 10.2 rebounds and 6.5 assists per contest last season.
Essex finished the season with an 11-10 record after it won eight of its last 11 games. The Hornets were one of two teams to defeat Division I champion Rice during the regular season.
Ferris became the fifth player in the program's history to score more than 1,000 career points in high school. He will play college basketball for Division III Tufts University.
Ferris was also selected as Vermont's Gatorade Player of the Year following the 2010-11 season.