Boston High School:

Choate-Rosemary Hall
June, 22, 2013
6/22/13
7:43
AM ET
By
Brendan Hall
| ESPNBoston.com
Choate Rosemary Hall (Conn.) two-way lineman
Connor Dintino
has verbally committed to the University of Pittsburgh, he told ESPNBoston.com earlier this morning.
Dintino, a resident of Mashpee, Mass., also had offers from Buffalo, UConn, Villanoa and Holy Cross. He also had interest from Boston College and Temple.
"I chose Pitt because I knew it would be a great fit for me," Dintino said. "I loved the community. The facilities, the campus and the coaching staff were awesome. It really reminds me of my school, Choate. I think that's what made me really like it."
At 6-foot-4 and 300 pounds, Dintino is an intriguing prospect. He transferred to the Wallingford, Conn. campus after his sophomore season at Sandwich High, and has flourished among the prep ranks, helping the Wild Boars to an 8-1 record last fall. Late last April, he was ranked among the top individual performers at the Rivals Camp Series event in Newark, N.J. Last March, he finished fifth at Prep Wrestling Nationals, on the campus of Lehigh University, and was named an All-American.
Dintino had projected by some to be an interior offensive lineman at the next level, but he will be heading to Pitt as a defensive tackle.
May, 11, 2013
5/11/13
1:53
PM ET
By
Ryan Kilian
| ESPNBoston.com
DEERFIELD, Mass. – With the start of the 2013 NCAA men's lacrosse tournament upon us this weekend, there is a good chance that when you tune in you will see Deerfield Academy lacrosse alumni playing an important role in the game.
Of the 16 NCAA tournament teams there are 14 Deerfield alums playing or coaching on eight teams. Cornell head coach Ben DeLuca and Teewarton Trophy (Player of the Year) finalist Rob Pannell are both Deerfield alums, as is North Carolina star attack Jimmy Bitter, to name a few.
Tucked away in the historic, rural town of Deerfield, Mass., resides one of the top high school lacrosse programs in the United States.
[+] Enlarge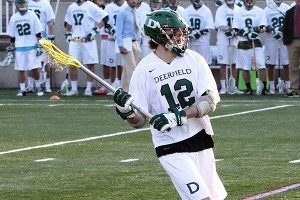 Ryan Kilian for ESPNFormer Concord-Carlisle standout and ESPN Boston All-State selection Jackson Finigan has joined Deerfield Academy for a postgraduate year before heading to the University of Delaware next year.
Deerfield Academy, a school with a total student body of approximately 600, is known for its elite academics, as well as competitive college preparatory school athletic program. Founded in 1797, Deerfield Academy is set on a picturesque campus located 30 miles North of Springfield, Mass. in the Western part of Massachusetts.
The boys' lacrosse program, which is run by 20-year head coach and athletic director Charles "Chip" Davis, has put together 20 consecutive winning seasons. They have won or shared a piece of their conference title in seven of the last eight years and are a jaw-dropping 87-4 overall in the past seven season of play.
Deerfield competes in the Western New England Division 1 Conference, known as one of the strongest leagues in the country. Their fellow WNE D1 competitors include the likes of Avon Old Farms, Salisbury School, Brunswick School and rival Choate-Rosemary Hall.
The balance and strength of the WNE conference has improved over the years with many of the top high school and future college stars headed to New England to further educate in the classroom and on the lacrosse field.
"There are a number of very high level payers at almost every team in our league now," Davis said. "That speaks to the amount of good players that play the game and these schools are attracting these very high level players. This was not always the case."
The Beginning
: Every elite program has a defining period when it makes its ascension to the top and remains there.
Davis attributes much of the start of Deerfield's reign at the top to a midfielder out of Charlottesville, Va. named Henry Oakey. Oakey came to Deerfield in 1993 and would go on to star at the University of Virginia and graduate with a National Championship (1999).
"He was one of those kids who I would consider a catalyst," Davis recalled. "I felt like ever since he got to Deerfield we have not had a losing season. We had three good years in the mid 1990's where we only lost two games a year and since about 2000 we have been at the top of the league each year. "
Alumni:
The impressive list of Deerfield alumni who have moved on to successful intercollegiate lacrosse careers is as impressive as it is large. In the 2013 season Deerfield alums played on 10 Division 1 programs (six Ivy League teams, three ACC teams, and one Patriot League team) with numerous other Division 3 schools also represented.
Pannell, Bitter and others are both looking to lead their college lacrosse teams to the NCAA Championship this season. Deerfield also boasts alumni such as Bitter's older brother Billy, who attended Deerfield before starring as an All-American attack at North Carolina. The older Bitter is now playing in the professional ranks.
"Personally, when deciding boarding schools I couldn't think of any negatives about Deerfield," Jimmy Bitter
told ESPN Boston
when I spoke to him during his final season of play at Deerfield. "It has great academics, a very friendly environment, and a top athletic program. The school taught me to push myself academically and grow as a lacrosse player. Coach Davis is very knowledgeable about the game of lacrosse and really makes an effort to improve each player."
College Preparation:
The elite lacrosse, balanced with the rigorous academic schedule, is why many student-athletes choose Deerfield. Deerfield offers students a grade 9-12 boarding and day school experience as well as a postgraduate option.
Canadian born attack Joe French is doing a Postgraduate year at Deerfield this year before heading to the University of Virginia to play for head coach Dom Starsia.
French was young for his grade as a 16-year old senior, and thought by doing another year of school it could help prepare him both athletically and academically for UVA. French settled on Deerfield due in part to its academic reputation, and close alumni network.
"Deerfield has been a blast and I am a little bit sad that this year is coming to an end," French said. "Academically I have taken an array of classes from public speaking to statistics, or even an English class called 'Reading Insanity.' The lacrosse is just a bonus. We have a great team and every day of practice is just another way to get better because the long pole your dodging is going to UVA or Army, or the middie your feeding is going to Princeton or Delaware."
Like French, Jackson Finigan is also currently doing a PG year at Deerfield. Finigan is committed to play lacrosse at the University of Delaware next year and won an MIAA state championship last season at Concord-Carlisle High School. Finigan chose to attend Deerfield after visiting the campus, meeting with Davis and learning about the high-level combination of academic and athletic success at the school.
"At Deerfield we are held to the highest standards to perform in the classroom and on the field," Finigan said. "The school work is as hard as any college and the lacrosse is about as good as any college level as well. Between balancing lacrosse and schoolwork I have grasped a sense of time management that I can carry with me for the next four years in college."
2013 Season:
French and Finigan are two members of a 2013 squad that currently sits atop, with Brunswick School (Conn.), of the WNE Conference D1 with an overall record of 12-1.
Deerfield has three games remaining against three of their toughest competitors in Avon Old Farms, Salisbury, and Phillips Exeter in their quest for another WNE conference D1 championship. Davis knows all too well that it will not be an easy feat.
"We are coming into the home stretch of our season with three games to play," Davis said. "All three teams are very good teams and we always have competitive games with all three."
Deerfield is averaging 12 goals a game this season and is holding teams to an impressive six goals against on average. Davis attributes much of this season's success to experience and leadership.
"We have two outstanding captains this season in attack Adam Philie (Dartmouth commit) and defender J.R. Mastro (Trinity)," Davis said. "Both came to Deerfield as sophomores, both are good friends and are outstanding, mature leaders."
After suffering a two-goal opening game loss to Brunswick, Deerfield has ripped off 12 consecutive wins and has improved with each win this season.
"The style of lacrosse that we are playing is unselfish by nature," Davis said. "I knew we had a lot of talented kids this year so we have had to manage their expectations about playing time and they have bought into the selfless mindset."
Deerfield, along with all of the NEPSAC lacrosse programs, does not participate in any post-season tournaments due to the nature of the spring athletic season and the limits with end-of-year scheduling. While many would like to see some sort of tournament Davis embraced the current state while acknowledging the difference with the public school tournament format.
"It gives each game its own importance," Davis said. "If you lose a game that may not feel like a big rivalry game it may come back to bite you. Too often times we do not live in the moment."
May, 8, 2013
5/08/13
2:34
AM ET
St. John's Prep standout and soon-to-be NHL Draft hopeful Brian Pinho led a deep pool of local skaters selected in Tuesday's "Phase 2" of the United States Hockey League's Draft.
Pinho was one of 13 skaters with ties to MIAA hockey who were taken on the day, including 10 who played for member schools last season.
Here's a list of players with New England ties who were selected Tuesday, listed by overall selection:
6.
Brian Pinho
(North Andover), C, St. John's Prep - Indiana
15.
Ryan Segalla
(Hanover), D, Salisbury - Dubuque
18.
Merrick Madsen
, G, Proctor - Des Moines
22.
Connor Light
(Sudbury), D, Phillips Andover - Omaha
25. Anthony Petruzzelli, LW, Brooks - Green Bay
28.
Zach Sanford
(Auburn, N.H.), LW, Islanders (EJHL) - Waterloo
30.
Liam Coughlin
(South Boston), C, Catholic Memorial - Dubuque
34. Danny Tirone (Trumbull, Conn.),G , Loomis-Chaffee - Cedar Rapids
37. James Winkler (York, Maine), RW, Berwick - Muskegon
53. Jake McCarthy (Dedham), D, St. Sebastian's - Muskegon
56. Garrett Hehir (Auburn, Mass.), C, Cushing Acacdemy - Lincoln
59.
Shane Starret
t (Bellingham), G, Selects Academy (Catholic Memorial) - Sioux Falls
66. A.J. Greer, LW, Kimball Union - Des Moines
93. Kevin Duane (New Canaan, Conn.), RW, Boston Junior Bruins (EJHL) - Des Moines
94. Terence Amarossa, D, Holderness - Sioux City
100. Aaron Titcomb (Charlestown), D, Salisbury - Cedar Rapids
105.
Shane Kavanaugh
(E. Providence, R.I.), RW, Cushing Academy - Dubuque
111.
Connor Brassard
(Fitchburg), D, Cushing Academy - Chicago
120. Mark Hamilton (Winthrop), D, Salisbury - Dubuque
140. Mark Dufour (Winthrop), RW, Kents Hill - Cedar Rapids
165. David Belluche (Andover), D, Phillips Andover - Dubuque
177. Carl Hesler (Boxborough), F, Belmont Hill - Waterloo
191. Miles Gendron (Shrewsbury), C, Rivers - Lincoln
192. Shane Bennett, C, Milton Academy - Waterloo
210. Evan Smith, C/LW, Salisbury - Dubuque
211. Ryan Collins (Newton), C, Ottawa (CJHL) - Indiana
213. Brendan Shane, C, The Gunnery - Des Moines
220.
Niko Rufo
(Stoneham), LW, Kimball Union - Green Bay
225. Mitchell Smith, C/LW, Salisbury - Dubuque
226. Michael Turner, LW, Cushing Academy - Indiana
230.
Tyler Sifferlen
(North Andover), F, Malden Catholic - Cedar Rapids
237. Mason Krueger (Nashua, N.H.), LW, Avon Old Farms - Waterloo
246. Vincent Ditmore, D, Choate Rosemary Hall - Chicago
257.
Tyler Bird
(Andover), RW, St. John's Prep - Tri-City
266. Nick Rutigliano (Shrewsbury), D, Boston Advantage AAA - Lincoln
272.
Andrew Cross
(Saugus), D, Austin Prep - Tri-City
274. Tyler Drevitch (Middleborough), RW, Boston Bandits (EJHL) - Sioux City
279.
Colin MacGillivray
(Peabody - Malden Catholic), D, N.H. Junior Monarchs (EJHL) - Youngstown
285.
Will D'Orsi
(Sudbury), F, St. Sebastian's - Dubuque
300.
Nolan Vesey
(North Reading), F, Austin Prep - Dubuque
307.
Joel Daccord
(North Andover - North Andover), G, Cushing Academy - Chicago
309. Sam Tucker (Wilton, Conn.), G, Choate Rosemary Hall - Youngstown
310. Charlie Corcoran (New Canaan, Conn.), C, Berkshire School - Green Bay
366. Jack Adams (Boxford), F, Malden Catholic - Chicago
367.
Luke Stevens
, F, Duxbury - Omaha
382.
J.J. Layton
(Peabody), D, Austin Prep - Omaha
384. Charley Borek (Durham, N.H.), F, Choate Rosemary Hall - Youngstown
March, 3, 2013
3/03/13
4:28
PM ET
By
Roger Brown
| ESPNBoston.com
SALEM, N.H. -- Cushing Academy coach Rob Gagnon doesn't root against Avon Old Farms – his alma mater – very often, but he did Sunday.

That's when Gagnon watched his Cushing team punctuate it season with a 1-0 victory over Avon to win the New England Prep School's Martin/Earl Tournament in the second of three NEPSAC championship games at the Icenter.

It was the third time Gagnon has coached against Avon. The teams skated to a 4-4 tie last season, and a 2-2 tie in December.

"Anytime you play your alma mater and win it makes it more special, but it's not about me – it's about my kids," Gagnon said. "I'm proud of the way we competed."

Junior forward Shane Kavanagh scored the game's lone goal 24 seconds into the contest. A shot from the point hit Kavanagh, who collected the loose puck and beat Avon goalie Cody Doyle with a shot from the right faceoff circle.

"It was a faceoff and we didn't execute defensively," Avon coach John Gardner said. "We missed a defensive assignment. It happens. They're not pros.

"I thought there might be a lot of numbers [on the scoreboard] after that start, but the Cushing goalie played particularly well."

Cushing senior Mike Dion made 31 saves. Doyle stopped 20 shots.

"The team played really good defense," Dion said. "They kept everything to the outside. They didn't have many good scoring chances. It was a good way to go out."

Gagnon said he thought it was Dion's best game in a Cushing uniform.

"His rebound control was very good," Gagnon said. "In the first period he juggled some pucks, but swallowed everything after that. I expected this to be a 3-2 or a 4-3 game, but you never know – that's why you play."

Third-seeded Avon was playing without two of its top forwards: senior Vincent Russo (high ankle sprain) and junior Daniel LaFontaine (broken collarbone).

Avon, which beat sixth-seeded Choate (8-0) and second-seeded Thayer Academy (3-2) to reach the championship game, completed it season with a 16-9-4 record.

"We didn't get done what we wanted to this season, to be honest with you," Gardner said. "We battled through a lot of injuries. We have a lot of tough kids."

The victory raised top-seeded Cushing's record to 21-7-4. Cushing posted victories over eighth-seeded Governor's Academy (4-2) and fifth-seeded Phillips Exeter (6-3) earlier in the tournament.

"We wanted to prove to the critics that we are a good team," Gagnon said. "We wanted the kids to come together at the end – and that's what they did. It's great to bring a championship back to Cushing."
February, 11, 2013
2/11/13
10:52
PM ET
By
Roger Brown
| ESPNBoston.com
From a New England standpoint, perhaps the most noteworthy item on national signing day was Tim Boyle's decision to remain in his home state and sign with the University of Connecticut.

Boyle, a 6-foot-4, 215-pound quarterback, led Xavier High School (Middletown) to its third consecutive Class LL state championship last fall. He passed for 2,483 yards and 24 touchdowns during his senior season.
Boyle originally committed to Boston College, and remained committed to BC after Connecticut native Steve Addazio replaced Frank Spaziani as BC's head coach. Addazio's offense requires a dual-threat quarterback, however, and although he ran for 295 yards and five touchdowns on 60 carries last season, Boyle is considered to be more of a pro-style passer.
He decommitted from BC and gave a verbal commitment to UConn earlier this month, and made things official on national signing day.
"This is a good day for me," Boyle said after signing his National Letter of Intent. "It's been a long process because BC was the first school to offer me a scholarship back when I was a sophomore. I'm happy it's over."
Boyle is one of five Connecticut residents in the Class of 2013 who signed National Letter of Intent to play at UConn. The others are linebacker Cory Jasudowich (Cheshire Academy), tight end Thomas Myers (Coventry), defensive end Cole Ormsby (Windsor) and fullback Matt Walsh (Daniel Hand).
BLOCKS OF GRANITE
The University of New Hampshire brought in a small class – 11 players – but three of them were in-state linemen: Portsmouth defensive tackle Rick Holt, Souhegan offensive tackle Jake Kennedy and Bedford offensive tackle Will McInerney.
Holt and Kennedy have been playing against each other since they were freshmen.
"There was some trash-talking between us when we were freshmen and sophomores, but we developed a level of respect for one another during our junior year," Holt said. "We've played against each other for a long time, but it's pretty cool that we're both going to UNH as friends and teammates."
McInerney, who is 6-foot-7 and weighs 290 pounds, may be the most intriguing prospect of the three. He had surgery on both knees last year, and did not play during his senior season.
"It was unfortunate that he missed his senior year, but he was very impressive in our camps and clinics last spring, so we knew he was the right fit for us," UNH coach Sean McDonnell said.
LIKE FATHER, LIKE SON
Bangor (Maine) wide receiver Matt Cosgrove is one of three players who signed a National Letter of Intent to play at the University of Maine. Cosgrove's father Jack is Maine's head coach.
"It's exciting, I think, for both of us," Jack Cosgrove told the
Bangor Daily News
. "It's something we talked about up front. Matt gets it -- he knows what we're all about. He's seen it growing up with big eyes as a little boy and with small eyes as a big boy."
Defensive back Spencer Carey (Lawrence) and tight end Dakota Tarbox (Thornton Academy) were the other Maine players who signed with the Black Bears.
DELAY OF GAME
Running back Jerickson Fedrick, who grew up in Lawrence but played high school football in Salem, N.H., said he has accepted a scholarship from the University of Maine, but will redshirt next season.
Fedrick graduated from Salem in 2012 and played prep school football for Choate Rosemary Hall in Wallingford, Conn., last season. He ran for a team-high 1,268 yards and 16 touchdowns last fall.
Fedrick, who was also a track standout in high school, rushed for 4,568 yards and scored 75 touchdowns for Salem.
SEE YOU NEXT YEAR
Five of the top recruits from New England in the Class of 2014:
Jon Baker, OL, Millis/Hopedale
Manny Latimore, RB, Pinkerton Academy (N.H.)
Arkeel Newsome, RB, Ansonia (Conn.)
Connor Strachan, LB, St. Sebastian's
Jon Thomas, RB, St. John's Prep
Strachan and Thomas are both on the ESPN Watch List.
Information about high school or prep school recruits in New England can be sent to Roger Brown at rbrown@nhfootballreport.com.
January, 15, 2013
1/15/13
10:43
PM ET
By
John McGuirk
| ESPNBoston.com
WEST SPRINGFIELD, Mass. -- As a youngster, Matt Foley would often be seen hanging around the Springfield Cathedral bench with clipboard in hand. Foley, the son of Panthers head coach Brian Foley, was enthralled with the game of hockey at an early age. In that time he was a sponge, gathering as much information as one possibly could about the game by watching and listening.
"I started hanging around the team when I was an eight year-old and I thought of myself as an assistant coach offering my two cents on everything," Foley said. "I think by being around the team at such a young age it truly helped to give me a better understanding of the game because I was always keeping stats and always observing."
Fast forward to the present and Foley, a senior, has cemented his place as one of the finest high school defensemen in the state. The young kid who was joined at the hip to his father is now playing for him and is one of the primary contributors to the top-ranked Panthers' success.
"Matt does all the right things on and off the ice," said the elder Foley, now in his ninth season with Cathedral. "This is the place he has always wanted to be at. As to how good I thought he would be when he was younger, I honestly had no idea. I would just tell him what he needed to work on and he would take the initiative to go out and shoot pucks in the driveway and do his push-ups, sit-ups and pull-ups. He's a self-motivated kid but is all ears as well. He is good at taking advice. He's very focused on his goal to play college hockey somewhere."
[+] Enlarge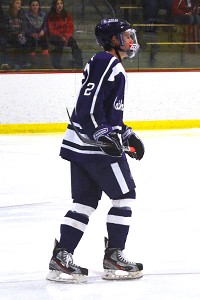 Scott Barboza/ESPNSpringfield Cathedral senior captain Matt Foley is among the top-scoring defenseman in the state -- 7 goals, 7 assists -- for the top-ranked Panthers.
Like with the rest of the Cathedral players, a rigorous, yet dedicated, off-season workout program is essential and expected. Foley, along with his teammates, has put in the extra time to turn himself into a top-level player. Also a seven-inch growth spurt didn't hurt either.
"During my first varsity season, as a sophomore, I was slow, small and weak," Foley said. "I started to grow finally and worked hard over the off-seasons to get stronger physically and get stronger with my stick. It was all about physical development with me. Playing defense is more of a thinking game. At forward, you can let loose a little more. On defense you need to be in control and have to think everything through. If you make just one mistake on defense the whole rink sees it."
As a junior, Foley was limited on the ice because of a nagging hamstring injury he suffered in mid-November. He returned to the Panthers in December, but still was not at 100 percent. It wasn't until February that he fully recovered and helped lead Cathedral to a berth in the Super 8 Tournament.
The conversations around the Foley household in Longmeadow no doubt center around hockey. Foley's mother Julie comes to most games. His older brother Mickey plays for Choate-Rosemary Hall in Wallingford, Conn. He also has an older sister (Bridget) and younger sister (Kate).
"My father and I talk hockey a lot," Foley said. "It's basically an extension of our practices. We go home and watch game tape together and talk about it. As my coach he is very honest with me after games. I know half the mistakes I make in a game so some of the things he tells me I already know. He's not overly hard on me nor is he ignorant. I just find that he is always right in his opinion."
Even though his father is the head coach he doesn't work with his son all that much.
"Coach [Mike] Rousseau coaches our defensemen," Brian Foley said. "So I sort of stay out of that end of the bench. I am coaching the team but I'm not coaching Matt specifically."
With the season at the midway point, Foley is hopeful his career closes with another trip to the Super 8 Tournament. Only this time, the goal is to come home with the top prize. After graduation, Foley plans on attending a prep school as a postgraduate before moving on to college. He is eyeing schools in the Ivy League and NESCAC.
Foley has had opportunities to jump ship and play for a junior league club but could never fathom himself wearing anything but a Cathedral hockey sweater. His plan all along was to remain a Panther and continue to bring this program to the forefront of Massachusetts Division 1 hockey.
"Playing high school hockey is what it's all about," he said. "When you go off and play for juniors you aren't playing in front of any of your fans. Since I've been playing here I see the same people in the stands for every game. For me that's pretty special. I'm really going to miss playing in front of these same people and the tight community this school represents. It is something that you truly embrace here. It will be tough when it's time for me to leave here."
May, 23, 2012
5/23/12
12:09
AM ET
The United States Hockey League held its entry draft tonight and there was plenty of New England flavor to the proceedings.

Here's the rundown of those selected by overall selection:

2. Muskegon - Adam Gilmour, RW, Hanover, Mass., Noble and Greenough.

7. Sioux City - Cam Brown, C, Natick, Mass., New Hampshire Junior Monarchs.

10. Waterloo - Chris Calnan, RW, Norwell, Mass., Noble and Greenough.

23. Omaha - Alex Rauter, RW, Morristown, NJ, Choate Rosemary Hall.

29. Indiana - Brian Morgan, C, Windham, N.H., New Hampshire Junior Monarchs.

32. Muskegon - Ben Foster, LW, Darien, Conn., Choate Rosemary Hall.

37. Cedar Rapids - Gavin Bayreuther, D, Canaan, Mass., Holderness.

41. Dubuque - Trevor Fidler, C, Watertown, Mass., Dexter.

73. Lincoln - Ross Olsson, RW, Billerica, Mass., Williston-Northampton.

77. Muskegon - Doyle Somerby, D, Marblehead, Mass., Kimball Union.

89. Indiana - Cam Askew, C, South Boston, Mass., St. Sebastian's.

123. Des Moines - Josh Couturier, D, Newbury, Mass., Boston Junior Bruins.

131. Dubuque - Noah Hanifin, D, Norwood, Mass., St. Sebastian's.

134. Indiana - Sam Kurker, RW, Reading, Mass., St. John's Prep.

222. Cedar Rapids - Jason Kalinowski, RW, Stamford, Conn., Salisbury.

225. Green Bay - Joe Young, G, Hanson, Mass., Boston Advantage Major Midget.

231. Sioux City - Nick Roberto, F, Wakefield, Mass., Kimball Union.

242. Muskegon, Corey Ronan, F, Franklin, Mass., St. Sebastian's.

245. Tri-City - Devin Tringale, LW, Medford, Mass., Lawrence Academy.

250. Waterloo - Ryan Cloonan, LW, East Longmeadow, Mass., Boston Advantage Major Midget.

254. Muskegon - William Messa, C, Lawrence Academy.

314. Indiana - Laythe Jadallah, RW, The Gunnery.
April, 9, 2012
4/09/12
10:11
PM ET
The NHL Central Scouting service released its final rankings of North American skaters and goaltenders ahead of the NHL Draft on Monday.
Here's the list of skaters with local ties who made the cut:
(The full list can be found
here
)
27 Cristoval "Boo" Nieves, Kent School, 6' 2.75" 184, C
36 Sam Kurker, St. John's Prep, 6' 1.5" 198, RW
54 Brian Hart, Phillips Exeter, 6' 2.0" 216, RW
69 Chris Calnan, Noble & Greenough, 6' 1.75" 188, RW
76 Danny O'Regan, St. Sebastian's, 5' 8.75" 162, C
77 Jimmy Vesey, South Shore Kings (North Reading, Mass.), EJHL, 6' 1.0" 200, LW
79 Devin Tringale, Lawrence Academy, 5'11.5" 186, LW
88 Frank Vatrano, USA U-18 (E. Longmeadow, Mass.) 5' 10.0" 218 ,C
99 Doyle Somerby, Kimball Union, 6' 4.5" 232, D
101 Adam Gilmour, Noble & Greenough, 6' 2.25" 193, RW
103 Alexander Gonye, Deerfield Academy, 6'0.5" 166, LW
108 Matthew Beattie, Phillips Exeter, 6' 3.0" 173, LW
127 Nicholas Bligh, South Shore Kings (Milton, Mass.), EJHL, 5' 11.5" 175, C
132 John Stevens, Salisbury, 6' 1.25" 175, C
134 Cam Darcy, USA U-18 (South Boston), 6' 189, C/RW
143 Brendan Collier, Malden Catholic, 5' 9.0" 168, LW
145 Kevin Duane, Brunswick, 6' 4.0" 219, RW
166 Alex Rauter, Choate-Rosemary Hall, 6' 0.0" 174, LW
177 Matthew Grzelcyk, USA U-18 (Charlestown, Mass.), 5' 9.0" 171, D
208 Tim Boyle, Noble & Greenough, 6' 1.75" 185, D
210 Zachary Pryzbek, Salisbury, 6' 2.75" 199, LW
Goaltenders:
31 Joseph Young, Boston Advantage AAA (Hanover, Mass.), 6' 1.5" 162
33 Dawson Sprigings, The Gunnery, 5' 11.25" 206
January, 11, 2012
1/11/12
12:26
PM ET
St. John's Prep senior forward Sam Kurker leads the list of locals on the NHL Central Scouting's Midterm Rankings of North American skaters.
Kurker, who has 10 goals for 14 points through seven games with the Eagles, was ranked 41st on the list released Wednesday morning.
Kent School center Cristoval Nieves was the highest ranked player with New England roots, ranked 31st.
Here's the complete list of New England skaters making the grade:
31 Cristoval Nieves, Kent School, 6' 2.75" 184, C
41 Sam Kurker, St. John's Prep, 6' 1.5" 198, RW
60 Brian Hart, Philips Exeter, 6' 2.0" 216, RW
94 Chris Calnan, Noble & Greenough, 6' 1.75" 188, RW
98 Devin Tringale, Lawrence Academy, 5' 11.75" 195, LW
103 Cam Darcy, U.S. U-18, 6' 0.0" 189, C/RW
112 Danny O'Regan, St. Sebastian's, 5' 8.75" 162, C
118 Frank Vatrano, U.S. U-18 (Longmeadow, Mass.), 5' 10.0" 218, C
127 Doyle Somerby, Kimball Union, 6' 5.0" 220, D
131 Brendan Collier, Malden Catholic, 5' 9.0" 168, LW
145 Adam Gilmour, Noble & Greenough 6' 2.5" 194, RW
170 John Stevens, Salisbury, 6' 1.25" 175, C
172 Alex Rauter, Choate-Rosemary Hall, 6' 0.25" 175, LW
180 Zachary Pryzbek, Salisbury, 6' 3.0" 196. LW
194 Alexander Gonye, Deerfield Academy, 6' 0.25" 162, LW
201 Bron Loiselle, Northfield-Mt. Hermon, 6' 0.25" 173, C
202 Tyler Wood, Noble & Greenough, 6' 2.5" 189 D
206 Brendan Silk, U.S. U-18 (Wakefield, Mass.), 6' 2.75" 191, RW
Goaltenders:
24 Joe Young, Boston Advantage AAA (Hanover, Mass.), 6' 1.5" 160
31 Dawson Sprigings, The Gunnery,, 5' 11.0" 190
June, 25, 2011
6/25/11
12:34
PM ET
Westport, Conn. native Michael Paliotta was the first local to come off the board in the 2011 NHL Entry Draft, going to the Chicago Blackhawks with the 70th overall pick in the third round.

The former Choate-Rosemary Hall standout spent the last two seasons with the United States National Team Development Program's U-18 team. The 6-foot-3, 198-pound defenseman is a Vermont recruit.

Paliotta had one goal and 12 assists for 13 points with 71 penalty minutes in 52 games played last season.
January, 11, 2011
1/11/11
1:26
PM ET
Mid-term rankings were released by the NHL Central Scouting Service and there are a handful of locals who are turning heads.

Noble and Greenough leads the local talent crop with three players appearing on the list. Forward Steven Miller checks in at No. 85 overall among North American skaters with fellow winger Matt Harlow at No. 101. Defenseman Michael Reardon is ranked 180th overall.

The highest ranked player with New England ties is power forward Philippe Hudon of Choate-Rosemary Hall. The Quebec native and Cornell commit is ranked 31st in North America. Former Wild Boar and U.S. NTDP U-18 teamer Michael Paliotta, of Westport, Conn., checks in at No. 32.

The highest ranked Massachusetts player is Belmont Hill left winger Jimmy Vesey (No. 80).

Junior Bruins forward and Harvard commit Mike Seward, who helped Winchester to a Super 8 appearance last year, is ranked 210th.

Milton Academy defenseman Rob O'Gara (95) and Dexter center Nicholas Bligh (123) made the list as well as Newburyport native Chris Eiserman, the Valley Junior Warriors goaltender who is ranked 34th among netminders.