Boston High School:

Chris Diana
May, 19, 2012
5/19/12
1:43
AM ET


MEDFIELD, Mass. –- Medfield lacrosse's attacking mentality boils down to two letters: I and O. That's short for what the Warriors like to call "Instant Offense."

But in Medfield's first performance this season against Tri-Valley League rival Dover-Sherborn, the Warriors' offense was anything but, sputtering in a 7-5 loss.

With their second crack at the No. 5 Raiders on Friday, with the league title up for grabs, the Warriors lived up to their creed. Medfield translated a nearly instant 6-2 first-quarter lead into a 14-7 romp.

"We pick it up and we try to run to the sideline and get it out of the sticks as quickly as possible," senior attack Calvin Given said, "and [we] try to make the extra pass to find that man on the weak side where he can just get that layup."

Medfield (13-3) amassed their early lead thanks in no small part to their ability to win ground balls in the first quarter. The Warriors hustled and scooped their way to a 9-3 ground ball advantage in the period.

"That's something we focused on in practice all week," senior attack Chris Diana said. "It showed in the first quarter. We got off to a good start and we just kept the momentum from there."

Twice in the first quarter, Diana was a beneficiary to the Warriors hustle play, turning ground balls into transition and two of his team-high four goals on the evening. Given also celebrated Senior Night with a hat trick of his own.

The Raiders (15-3) didn't go quietly, however.

D-S whittled down Medfield's lead to two goals late in the third quarter, after a three-goal run to open the second half. Raiders senior attack Jared Spence led the comeback charge with two of his four goals.

Yet, Medfield was able to close the deal, scoring the final five goals on the night.

"This game, we valued the ball a lot more," Given said. "When we'd dodge, we didn't force anything. We pulled it out if nothing was open. We were just always working it around, looking for that extra pass. "

Perhaps a little restraint can result in something instant.

X MARKS THE SPOT
Aside from the Warriors' crisper offensive showing, Medfield also prospered with the recent return of one of its most skilled players to the lineup.

Although he was held without a goal on Friday, senior attack Connor Roddy's presence was felt, particularly with his three assists. But even without the ball, the ESPN Boston Preseason All-Stater demands the defense's attention.

After missing several weeks due to injury, it should come as no surprise that the Warriors' offensive resurgence has coincided with Roddy's return.

"He sees the field very well and he makes the right passes," Diana said of Roddy.

A BETTER SITUATION
The Warriors backed into the postseason last year, after seeing their record TVL winning streak go up in smoke with back-to-back losses to both D-S and Hopkinton.

Maybe this year Medfield will enter with momentum.

In any event, as seemingly is the case every year in the lacrosse hotbed, the second season remains the most important season for the Warriors, who look for a third straight Division 2 state title.

"I think we're in a good spot, as compared to last year," Given said. "Last year, we lost this game and the previous game against Hopkinton, which are two TVL games and a huge deal to us."
May, 6, 2012
5/06/12
11:16
PM ET
By
Bruce Lerch
| ESPNBoston.com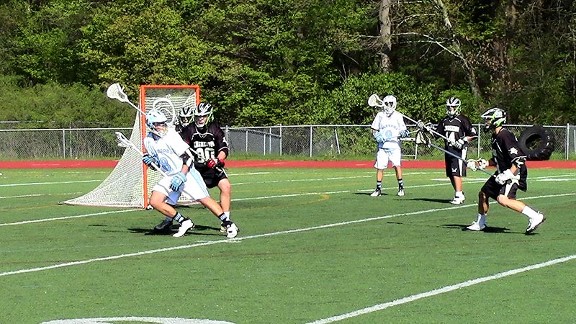 Bruce LerchPlaying without some key starters due to injury didn't stop No. 10 Medfield from taking a 12-7 win over No. 25 Longmeadow.
MEDFIELD, Mass. -- The noticeable glare emanating from the Medfield sideline during the second half of Sunday's nonleague matchup with Western Mass. power Longmeadow wasn't so much from the sun as it was from the smiles on the faces of Warriors coaches Mike Douglas and John Isaf.
Like many other teams, Medfield has suffered from the loss of several starters due to injury, most notably top scorers Conor Roddy (concussion) and Matt Crowell (knee). What the coaches, players and fans saw on a gorgeous Sunday afternoon should give them great optimism in regard to the remainder of the Warriors season.
Andrew Melvin led the offense with two goals and three assists, Chris Diana, Cal Given and Matt Ruzzo each scored twice and No. 10 Medfield used a 6-0 run in the second half to pull away from the No. 25 Lancers for a 12-7 victory at Medfield High School.
With Roddy and Crowell on the shelf for the time being, the Warriors (9-3) have been looking for some of their younger players to step up and help fill those voids. Sophomores Tyler Hagan, Jack Isaf and Matt Cahill each had scores and helped do exactly that.
"It was nice to see some of the younger guys step up," Douglas admitted. "It's a tough spot. You're playing for a good team and you've got sophomore stepping in that are used to being role players or secondary players and there's a learning curve there."
"If those guys can continue to build off this, when we get our big guns back, we're going to be much stronger team overall," he continued. "Hopefully, this will benefit us down the road."
The two teams traded goals back and forth in the first half with neither side able to get more than a one-goal lead. Dave Parsons potted a critical goal with just one second left in the first quarter that pulled Medfield back to a 3-3 tie.
Late goals proved big for the Warriors, who scored in the final minute of each frame. Given got one with 52 seconds left in the first half to make it a 5-5 game, and the Warriors retired to the sideline determined to start finishing plays they felt they had left out there for the taking.
"We felt like in the first half we beat ourselves a lot. We left a lot of plays on the field that we should have finished off," Douglas said. "We felt like we were playing well, but we weren't finishing plays. Once we got a couple goals in a row we thought we could push the game out of reach."
Although the Lancers opened the third with a snipe by John Mentor (two goals, assist), Medfield finally put together spurt it was looking for. With Clay Richard turning in another dominant performance on faceoffs (14-for-19), the Warriors started cashing in on those possessions.
Given got Medfield back to even and a minute later, Chris Diana ripped a laser through for the go-ahead goal. That started a string of six straight tallies by the Warriors with Isaf, Ruzzo, Cahill and Diana again closing out the run.
Frankie Elder potted his second for Longmeadow to stop the bleeding, but Medfield was able to hold the Lancers off and added a final tally by Ruzzo to close things out.
"We've struggled a little bit against better teams this year and in the last couple of games we've had with Wellesley and Dover-Sherborn and it was good for some of these young guys to step up," Douglas said. "That's something we hope that these guys can build off of - being able to have some success in an important spot against a really good team."
June, 18, 2011
6/18/11
1:50
AM ET
By
Bruce Lerch
| ESPNBoston.com
WORCESTER, Mass. -- Medfield had its hands full with Algonquin for three quarters, but it was in the fourth where the defending Division 2 boys' lacrosse state champions turned back into reigning state champions.

The Warriors broke open what was a one-goal game by scoring four straight times in the opening 3:11 of the final frame to surge past the Tomahawks and take a 13-9 decision in the Div. 2 title game at Foley Stadium Friday night.

"I don't think we thought it was going to be as close of a game as it was," said senior goalie Sam Aronson. "All the credit to them. They came out and played hard. They gave us one of the best battles of these playoffs, and we've had some pretty big battles. I'm proud of the mental toughness we all showed. We never gave up. We just kept fighting the whole game until the fourth quarter was ours."

Algonquin (20-5) seemingly grabbed the momentum, capitalizing on a Medfield penalty with a big goal by Davis Kraft (hat trick) in a man-up situation with just 22 seconds remaining in the third.

Instead, the current chose to ride with the Warriors (18-7), who rallied behind faceoff specialist Clay Richard (12-for-13 on faceoffs in the second half) for quick goals by Chris Diana, Connor Roddy (twice) and Matt Crowell. That spurt turned a 9-8 affair into what proved to be an insurmountable 13-8 Medfield advantage with 8:49 left to play.

"We were in the hunt. We were in there in the third quarter," said Algonquin coach Rich Luongo. "I think the difference was their faceoff guy took control of the game in the second half."

The Warriors junior FOGO finished with 19 faceoff wins in 25 attempts but deflected a lot of the credit to his teammates.

"I do as good as my team, it's a collaborative effort," Richard said. "I know I got a lot of help from Ben Mastrogiovanni on the sidelines, calling out where their defense was, where I should put it to best help my team. We've been saying all year that we need to make runs and we made a run and pulled away and that's what made the difference."

Medfield pulled out to a quick 2-0 lead on goals by Peter Gill and Roddy, but received a quick wakeup call as Algonquin stormed back with three straight, one by Ian Kemper and a pair from Kraft, to take a 3-2 lead.

The two teams traded goals to open the second before Medfield went on it's first run, getting consecutive goals from Andrew Melvin, Peter Gill and David Parsons (hat trick) to pull ahead, 6-4. Junior Connor Healey (two goals, two assists) got one back for the Tomahawks before halftime, and Zack Tarallo tied it at 9:52 of the third.

After another Richard faceoff win, Roddy spotted freshman Robert Treiber flashing toward the middle and hit him with a perfect pass for an easy look, but Algonquin responded again as Tarallo ripped a sidewinder into the back of the cage for his third goal just under two minutes later. Parsons and Melvin put Medfield back up by two before Kraft's extra-man tally at the end of the quarter.

The final stanza, however, would belong to Medfield, who was bred for the moment thanks to a combination of having been there before and a brutal regular season schedule that featured some of Massachusetts' elite lacrosse programs.

"One of the things that we told the kids coming in, looking at our run through the tournament and theirs, I think we had a pretty tough draw on our side of the bracket," Medfield coach Bob Aronson said. "But even so, we came out unscathed. Everybody's healthy, everybody's eligible and everybody's playing."

"And we knew they had three overtime games to get here so they're tired and a little beat up," he continued. "We figured if we could stay ahead of them or hang with them for three quarters that we'd own the fourth quarter and that's pretty much what happened."
June, 14, 2011
6/14/11
8:43
PM ET
By
Ryan Kilian
| ESPNBoston.com


ALLSTON, Mass. -- The Medfield Warriors defended their Eastern Massachusetts Division 2 championship on Tuesday night as they defeated the Concord-Carlisle Patriots (20-2) 11-5 at Harvard Stadium.

The Warriors returned to Harvard Stadium this year under different circumstances from years past. They drew a No. 9 seed in the Eastern Massachusetts D2 bracket with a 13-7 regular season record. After losing four of five games at the end of May, including an 11-10 double-overtime heartbreaker to Hopkinton, the Warriors have now won five straight. During their five game run they now boast wins over the two top ranked teams in Division 2 in No. 1 seed Wellesley and No. 2 seed Concord-Carlisle.

"If you were to tell me after the Hopkinton game, our first TVL [Tri-Valley League] loss, that we would be here right now I don't know would I would have said," said Medfield senior goalie Sam Aronson. "I would have definitely said no, but I am proud of how everyone stepped up, everyone on our team."

Aronson and the Medfield defense dominated the ground balls and loose ball opportunities throughout the game forcing turnovers that lead to transition opportunities for the offense.

The Medfield offense was sparked out of the gate by the play of junior attack Connor Roddy (2G, 4A). Following the game's first goal by Concord-Carlisle's Matt Carroll (2G) with 4:13 remaining in the first quarter, Roddy would figure in four of Medfield's next five consecutive goals giving the Warriors a 5-1 lead midway through the second quarter.

"It started off 1-0 but we bounced back with five quick goals," said Roddy. "We thought we had it in the bag but they came back."

Concord-Carlisle would answer with a run of their own in the second, netting three goals before the break and cutting the Medfield lead to 5-4 at the half. Carroll scored his second to lead the Patriots run followed by tallies from juniors Mike O'Brien and Jackson Finigan (1G,1A).

"Concord-Carlisle is a great team and is well coached," Medfield head coach Bob Aronson said. "They had only one loss this season to a great Wellesley team."

Medfield came out in the second half, locked down on defense and rode strong offensive halves from freshman Matthew Crowell (2G,1A) and junior Chris Diana (2G,1A) to score six goals and extend the lead.

Concord-Carlisle's lone second half goal came from senior Seth Bird, who was playing in his first game since breaking his collarbone, an injury which had kept him out for the majority of the second half of the season.

"We have just started to come alive the past couple of weeks," Bob Aronson said. "We have had some tough losses along the way but we learned from them and the kids have built confidence and improved over the season."

Medfield will face Algonquin (20-4) on Friday in Worcester for the Division 2 state championship. Central Massachusetts champion Alongonquin defeated Western Massachusetts champion Longmeadow 9-8 in overtime on Tuesday.

Notes: Concord-Carlisle was also honored at halftime with the 2011 MIAA Division 2 sportsmanship award. Senior defenseman Michael Anastos (Denison University) was also honored as a 2011 US Lacrosse All-American.


June, 10, 2011
6/10/11
10:48
PM ET
By
Mike Scandura
| ESPNBoston.com
FOXBORO, Mass. –- Once again, the Medfield High boys' lacrosse team showed why being the No. 9 seed in the Division 2 East Tournament is one of life's great mysteries.

After beating top-seeded Wellesley, 7-5, in the quarterfinals, defending state champion Medfield made short work of No. 4 Foxborough on Friday by cruising –- and that's the operative verb –- to an 11-5 victory in a semifinal game.

"I don't have a problem with the seeding formula or our seed," Medfield head coach Bob Aronson said. "We had a bunch of losses (Medfield's now 15-7). Many teams had better records overall than we did. Some of the teams we beat didn't make the tournament which they typically do.

"You could say there are some flaws in it but I'm not dissatisfied. But in the end, the best team will be standing. If that's us, then maybe we had a tough road to get there. We did what we had to do."

What Medfield did in this game was torch a Foxborough team that held two of its previous tournament opponents to a grand total of one goal. And it also made life miserable for goalie Greg Stamatov (10 saves), who was voted the Hockomock League's MVP.

As a result, Medfield advanced to the division finals where it will play No. 2 Concord-Carlisle, at 5:30 p.m. on June 14 at Harvard Stadium.

Medfield's offense was led by David Parsons (three goals), Connor Roddy (one goal, two assists) and Chris Diana (two goals). But as Foxboro coach Matt Noone emphasized, the play of Medfield goalie Sam Aronson (14 saves) and the team's overall defense was key to the outcome.

"From the tape, it was shoot low, shoot low, shoot low," Noone said of Foxboro's strategy against Sam Aronson. "They're very effective on their defense. Their goalie is very good and that was the difference today.

"They possessed the ball. They played better defense and their goalie was outstanding."

Coach Aronson didn't hesitate when discussing the effectiveness of his defense.

"Cam Donnelly, our long-stick middie, had a great game," he said. "I thought Garrett Read had a tough matchup with a big, strong guy (attack Connor Whalen) and I think he did a nice job on him. He had one assist in the whole game."

One could make a case that the "whole game" boiled down to the first quarter –- the first 7-1/2 minutes, to be precise.

Medfield bolted to a 3-0 lead during that span on goals by Matt Crowell, Roddy and Diana.

And if Foxboro (19-4) didn't score on a shot off the stick of Jake Hyland with a nano-second left in the first quarter, Medfield would have led 6-0 at halftime.

"We did have a good lead," coach Aronson said. "They're a good team. They're good in transition. Their goalie's good and we certainly couldn't stop at that. We had to keep pressing.

"We gave up an easy one toward the end of the first period. It was our fault. The goal counted and it should have counted. We just stopped playing with three or four second to go, and they took advantage of that. That's a mental mistake we need to clean up."

Medfield definitely "cleaned up" any mental mistakes in the fourth quarter which began with it leading 7-3.

After Medfield's Peter Gill (during a man-advantage situation) and Hyland traded goals, the visitors really broke it open on an unassisted goal by Andrew Melvin and a superb goal by Diana with 4:51 left on the clock.

Diana, a junior middie, stole the ball, raced in on Stamatov and scored for a 10-5 lead.

Despite the loss, Noone readily noted his program has come a long way in a short period of time.

"This team made history this year," Noone said. "We made it to the semifinals (for the first time) and the program's barely nine years old. I told them what they've done for this town, what they've done for the youth program … they gave us something to believe in.

"They gave us something to be proud of. I can't tell you how many kids are very happy that they live in this town and that they're going to play lacrosse on the Foxboro Warrior lacrosse team. It's a sad day to see it end. But what a ride it was."

A ride that, unfortunately for Foxborough, will continue for Medfield.