Boston High School:

Chris Doneski
February, 27, 2013
2/27/13
11:21
PM ET
By
Ryan Kilian
| ESPNBoston.com
BILLERICA, Mass. -– After losing in the first round of the 2012 MIAA state tournament Billerica senior leaders Brittany Lomanno and Danielle Nickerson knew that this year had to be different.

"Having eight returners back this year, we all knew the heartbreak we had when lost to a lower seed in the first round last year," Nickerson said after the game.

No. 2 Billerica (19-2) took one step closer to their ultimate goal as they defeated a tough No. 15 Lincoln-Sudbury (11-10) team 66-49 on Wednesday night in the First Round of the Division 1 North sectional.

"Every day at practice we are focused," Lomanno added. "We are keying on our defense, which has been really good for us this year. We made huge stops, got the rebounds, got the ball up in transition and were patient on offense."

Billerica came out of the gate poised as they executed possessions and moved the ball efficiently to take a 21-10 lead after one quarter of play.

L-S would not back down, however, as they kept the game within reach, trailing 35-30 at the half and narrowing the gap early in the third quarter.

Lomanno would steady the game for Billerica, as they battled through a third quarter rut that saw L-S draw to within two points at 39-37 with 3:15 remaining in the quarter.

"I tried to keep the poised out there tonight and run the offense effectively," Lomanno said.

Billerica went on an 8-2 run to end the third quarter and lead 47-39 heading to the fourth.

"We needed to be more patient on offense," Billerica head coach Chris Doneski said. "We are pretty good at running the flex offense and by the third or fourth quarter we start to grind teams down but we have to get there. I talked to them about just being patient and I think we did that."

The fourth quarter belonged to Billerica, as they outscored L-S 19-10 the final eight minutes of play. Nickerson and Lomanno would both nail shot clock-beating 3-pointers down the stretch to seal the victory and help Billerica advance to the Division 1 North quarterfinals.

Nickerson scored a game-high 24 points and grabbed seven rebounds while Lomanno added 13 points to go with four assists.

"Brittany really controls the game for us," Doneski said. "Nellie really does a great job underneath the basket. She is able to step out and hit some shots if she needs to and when we really needed baskets in the game the ball seemed to find her."

Senior center Joslyn King and senior guard Kayla Leverone also contributed to the strong Billerica defensive effort as both seniors stepped up in the fourth quarter when the game was on the line.

"We knew they were going to be tough," Doneski said. "They have a lot of girls who are athletic and they were an extremely difficult team to play against."

Ashley Lutz led L-S on the night as the Lafayette-bound senior scored 14 points, pulled down eight rebounds and blocked two shots.

Billerica will take on No. 7 Masconomet seed, which defeated No. 10 seed Cambridge, 64-62 on Wednesday night. Game time is scheduled for 4 p.m. at Billerica Memorial High School.

All-Purpose Effort: Billerica junior guard Shannon Hayes scored 10 of 14 points in the first half and also drew the challenging task of guarding Ashley Lutz.

"Shannon is always a presence out there for us," Lomanno said of Hayes. "She hit a few shots but was obviously a big defensive presence out their for us tonight."

The 5-foot-6 Hayes followed the 6-foot-1 Lutz around the court and gave her a different, smaller look on the perimeter and in the post.

Role Players: Billerica's bench has improved drastically over the course of the season. The trust that Doneski has in them is evident as they gave the team a lift during the middle quarters of the game.

Billerica received strong efforts from sophomore forward Lilly Coppinger, junior forward Alex Napoli, and sophomore guards Caroline Gillis and Lexie Mattar.

"That was our big question this year, our depth," Nickerson said. "They proved it they we are deep. We have trust in them as they have trust in us."

Bright Future: Despite losing Ashley Lutz to graduation, L-S returns most of its core unit, led by a strong sophomore class.

L-S returns four of their five starters as sophomore point guard Kristen Ngan (four steals), sophomore center Olivia Canning (five rebounds), junior guard Jody Henkels (six points) and sophomore guard Emma Lutz (12 points) lead a group of 10 returnees next season for head coach Liza Feldman.

February, 17, 2013
2/17/13
11:04
PM ET
By
Ryan Kilian
| ESPNBoston.com
WELLESLEY, Mass. -– When the schedule was released for the Comcast IAABO Board 27 Classic, the opening game on the docket raised the eyebrows of many who follow Massachusetts high school girl's basketball.

Catholic Central League champion No. 2 Archbishop Williams and Merrimack Valley Conference Large champion No. 4 Billerica opened Sunday's tournament at Babson College in front of a packed house.

After 32 minutes of grinding, defensive basketball it was Archbishop Williams (17-4) who came out on top as they outlasted Billerica, 45-39, in the first girls semifinal game.

Archies started and finished the game strong despite Billerica hanging tough throughout. Both teams employed various zone and match-up defenses that helped dictate the pace of the low-scoring affair.

Archies junior guard Leah Spencer scored seven of her game-high 13 points in the opening quarter, as Archies took a 14-7 lead out of the gate.

Billerica (16-2) trailed for most of the game, until the final quarter of play when they battled back to tie it at 36-36. The Indians overcame a clear height advantage to get to loose balls and grind their way back into the contest.

"Some shots started to fall in the second half," Billerica head coach Chris Doneski said after the game. "We are usually pretty good at being able to score on the interior but their size really took a lot of that away."

With 4:37 remaining in the game and the game tied at 36-36, Archies ran off seven straight points in less than two minutes to give them the momentum and cushion to hold on for the win.

Archbishop Williams converted 10-of-13 free throws in the final quarter of play to hold off any final comeback attempt.

Playing their third game in four days, Archbishop Williams battled through some fatigue to get the necessary defensive stops down the stretch.

"This is our third game in four days against three good teams," Archbishop Williams head coach Jim Bancroft said. "We will take the win and hopefully be ready to go for tomorrow."

Archies sophomore forward Alana Gilmer scored eight points, grabbed nine rebounds and had four steals in the win. Junior forward Olivia Conrad (10 points) and sophomore center Jaylen Williams (10 rebounds, four blocks) were also key factors in the paint for Archies.

Billerica was led by senior center Joslyn King (10 points, 13 rebounds). King played her best basketball in Billerica's fourth quarter comeback run. Senior guard Brittany Lomanno and senior forward Danielle Nickerson both had eight points for the Indians.

Clutch Senior: Archie's senior guard Sara Ryan was big down the stretch with two steals and five points -- including a pivotal and-one conversion, in the final minutes of the fourth quarter to help seal the victory.

The Southern New Hampshire University-bound Ryan scored 10 points to go with four steals on the afternoon.

"She has been on Varsity for four years so she understands what we are trying to," Bancroft added. "She steps in and talks to the team at the half and at timeouts and gives the team positive feedback. She has turned out to be a really good leader."

Monday's match-ups: No. 2 Archbishop Williams will take on No. 1 Reading in Monday's final. The two top teams in ESPN Boston's latest girls poll will tip at 2:30 p.m. at Babson.

Reading defeated Natick 64-40 n the second semi-final game. Richmond-bound forward Olivia Healy (30 points) and junior guard Bridget Clements (14 points, all in the first half) led the way for the Rockets.

The consolation game between Billerica and Natick starts the final day of action at 1 p.m.

January, 11, 2013
1/11/13
11:24
PM ET
By
Ryan Hannable
| ESPNBoston.com
LAWRENCE, Mass. -– In a Merrimack Valley Conference showdown featuring two of the premier teams in the state, you knew it would come down to the end, and possibly the last possession.
That is exactly what happened as No. 6 Billerica (8-1) was able to sneak away with a win over No. 9 Central Catholic (7-2), 57-55 on the Raiders' home court.
Central Catholic trailed 56-55 with 13.2 seconds remaining and the ball at half court. The Raiders got the ball to their leader, senior Casey McLaughlin, on the right block. But Indians center Joslyn King was up for the challenge, blocking McLaughlin's shot attempt, giving her team a hard-earned win.
"I didn't want to foul her, but I knew I needed to do something. So I figured I just needed to try and get a hand on the ball," said King, one of the Indians' five seniors.
King's block was almost as dramatic as the possession prior down the other end of the court. Billerica had the ball under their own hoop trailing 55-54 with 17.2 seconds to play.
Although the play didn't go as planned, the ball ended up in junior Shannon Hayes' hands under the basket, and her lay-in gave the Indians their first lead of the game since early in the first quarter.
"The play was designed to go to (Brittany) Lamanno on the outside for a jump shot or if she could, get to the basket," Billerica coach Chris Doneski said. "Our second option was a dump down to our center Joslyn (King), but I'll take it anyway we can get it."
Billerica's last lead before the basket was just over four minutes into the game at 6-4. The Indians battled back all game long, cutting the lead to one three times during the final quarter until Hayes' hoop in the final seconds gave them the lead for good with Lonanno adding a free throw in the final seconds to seal the win.
"I thought they showed a lot of resiliently as we were down virtually the whole game," Doneski said. "They kept fighting until we clawed it out there at the end."
Despite being down virtually the entire game, King had an inkling her team would somehow pull out a win.
"In the back of my mind I thought we were going to win, but there was always a little doubt," she said. "We played hard and came out with a win. That's all that counts."
The Raiders led 17-11 after the opening quarter, 33-25 at halftime and 43-40 entering the fourth, but finally poor rebounding caught up to them and too many second chance points allowed the Indians to climb back into the game.
"The bottom line is we gave up way too many second chances tonight," said Central Catholic coach Sue Downer. "The boards absolutely killed us. You can't do that. Those were some crucial points we gave up in the game. Those can't happen."
It was a balanced attack for the Indians as seven players recorded points. Leading the way was senior forward Danielle Nickerson, who finished with 15 points, followed by Hayes who had 13.
The matchup was a rematch of last year's first round of the MIAA tournament where Central beat the Indians 63-57. Billerica wasn't necessarily looking for revenge, as they just wanted to get a win.
"It's great for us, I mean we had a great season last year," Doneski said. "We weren't thinking about payback, we were just thinking of going out there and getting a win against a good team. We're tied for first place right now, so we knew how important it was to steal one on their home court."
Downer and Central Catholic knew coming in it was going to be a hard fought battle.
"A lot of these girls play together and know each other so we knew it was going to be a battle," she said. "It's two good teams fighting. I'd like to think we'd play multiple times and my team would win multiple times, but it's going to be a battle every time we play them. There were some things down the stretch we didn't do well. We have to do better to learn how to win these games."
Judging by how well both teams played Friday night, one shouldn't rule out a similar outcome next time around.
MCLAUGHLIN LEADS CENTRAL

Senior captain Casey McLaughlin had a tremendous game for the Raiders despite the loss. She finished with a game-high 23 points, 10 coming in the final stanza. McLaughlin recorded all but nine of Central's points in the second half.
"She's very determined this season to do everything she can to win," Downer said. "She is extremely upset in the locker room and she has every right to be. She is very emotional, and I cannot say enough how hard she works and the leadership she gives us every game. She wants to win so bad and we have to learn from these and figure out what we can do better."
Junior guard Caitlin Dell'Ordano contributed 11 points (all in the first half) in the loss.
KING'S TOUGHNESS

Although Joslyn King only finished with eight points, she battled all game long, going toe-to-toe with McLaughlin. She even took an elbow to the mouth early in the fourth quarter, forcing her to the bench until the bleeding stopped.
She didn't sit for long as she was right back in the game, eventually blocking McLaughlin's last second shot, sending her team home with a win.
"It was hard (going back in), but I knew my teammates needed me so I had to be in there," she said.
This is King's fourth year on varsity and her toughness is something her and the coaches have been working on since her freshman season.
"She started out on varsity as a freshman and the biggest thing for her is we tried to install a little more toughness in her and she really showed that tonight," Doneski said. "She played really hard and got banged up pretty good there at the end, but she really helped us down the stretch."
January, 4, 2013
1/04/13
11:50
PM ET
By
Ryan Kilian
| ESPNBoston.com
BILLERICA, Mass. –- The Billerica Indians turned up the defensive intensity on Friday night as they held the North Andover Scarlet Knights to just 19 first half points on their way to a 67-55 victory.
"We have been trying to stress our defense because we have not been playing that well offensively," Billerica head coach Chris Doneski said after the game. "I thought we did a great job coming out and defending in the first half."
Billerica (6-1) jumped out to an early 11-1 lead with two minutes remaining in the first quarter. The Indians' full court defensive pressure and half-court traps caused numerous turnovers and created frustration for the North Andover offense early in the contest.
[+] Enlarge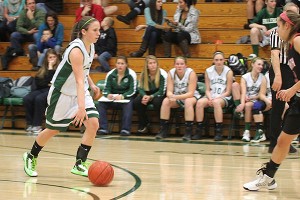 Ryan Kilian for ESPNUMass-Lowell signee Brittany Lomanno led Billerica with 15 points, four steals and two assists.
Billerica led 13-6 after the first quarter and 27-19 at the half. The Indians held star senior guard Morgan Lumb to just five first half points. Seniors Brittany Lomanno and Danielle Nickerson each scored six points to lead Billerica at the half.
North Andover (6-1) and Lumb came out of the half with renewed energy and an extended full court defense of their own. Lumb was amazing in the third quarter as she scored 10 points, nabbed three steals and dished out two assists as North Andover came all the way back to earn their first lead of the game, 40-38, with 53 seconds remaining in the third quarter.
"You do the best you can with players like her (Lumb)," Doneski said. "We just tried to slow her down and even if you jump out on her she just does such a great job getting to the basket. She makes moves that you see a lot of guys making in game."
Lomanno and guard Katie McGinnis would answer back with big shots to conclude the third quarter to give Billerica the 43-40 lead heading into the final quarter of play.
The fourth quarter would belong to Billerica as they executed crucial possessions, crashed the offensive glass and outscored North Andover 24-15 in the quarter to pull away with the win.
Billerica was led by Lomanno, who did a great job of controlling the game and also came up with big shots when Billerica needed them. The UMass Lowell-bound point guard scored nine of her game team-high 15 points in the second half to go along with four steals and two assists.
The University of Hartford-bound Lumb led North Andover with 19 points on the night. Senior guard Pam Coufos (10 points) and sophomore guard Leah Chittick (12 points) also played well for North Andover
Nickerson steps up:
Nickerson had 14 points and 10 rebounds for Billerica. The senior forward was relentless on the offensive glass in the second half, pulling down four offensive rebounds in the fourth quarter alone.
"That's her M.O.," Doneski said. "She does not get a lot of credit but the last two years she has been a double-double for us every time she shows up. She was really aggressive and tough down the stretch and I really thought that pushed us over the edge."
Balanced effort:
Billerica received strong contributions from all nine players who logged minutes. Seniors Kayla Leverone (eight points, six rebounds), Joslyn King (five points, six rebounds) and junior Alexa Napoli (six points, five rebounds) all did a great job controlling the glass for the Indians on the night.
Juniors Shannon Hayes (eight points), Lilly Coppinger (four points) and sophomore Caroline Gillis (four points, three assists) also played well for Billerica on the night.
Bouncing back:
Billerica bounced back on Friday after suffering their first loss of the season to Pentucket on Wednesday night, 59-39.
"Pentucket and John McNamara have a very good team," Doneski said. "They play defense at another level. We hung in and just ran out of gas down the end. Tonight we tried to turn the tables and apply our defensive pressure to them and it worked for the most part."
Billerica's tough early season schedule continues next week as they take on Westford Academy and Methuen at home on Thursday and Friday night respectively.
North Andover hosts Chelmsford on Tuesday night and travels to Lowell on Friday night.