Boston High School:

Chris Kennedy
November, 9, 2013
11/09/13
2:23
AM ET
By
Brendan Hall
| ESPNBoston.com
HYANNIS, Mass. -- They came to see the best player in the state tonight, Barnstable head coach Chris Whidden proclaimed to his exuberant players and assistants in the post-game huddle.

And no, he wasn't talking about Troy Flutie, their Boston College-bound opponent from Natick who has captivated Massachusetts this fall with astronomical statistics from a style reminiscent of his Heisman-winning uncle.

"Everybody came here tonight to see the best player in the state," Whidden beamed. "And he's standing in the middle of this huddle!"

And that's when senior Hayden Murphy broke the huddle, the bow on top of an impressive 27-13 stifling of the Redhawks' high-powered aerial attack, to punch their ticket to next week's MIAA Division 2 South Finals.

On most nights the hard-charging Murphy excels in tandem with the compact and shifty Justus Chafee, getting 10 or 15 carries in a change-of-pace dynamic. Tonight, Murphy was saddled with a much bigger load, carrying 21 times for 158 yards and three touchdowns, and adding four catches for 36 yards. It's his sixth straight 100-yard game, dating back to the Red Raiders' Week 5 win over New Bedford, and his third straight game with at least three rushing touchdowns.

Defensively, roving in and out of the box, he recorded 10 tackles and a sack. He helped catalyze a secondary that held Flutie to the worst night of his season (15-of-31, 145 yards, 1 TD, 2 INT; 12 carries, 99 yards), and top target Alex Hilger (five catches, 63 yards, TD) in first gear for most of the night.

"Both sides of the ball, there is not one player in the state we'd trade for him," Whidden said of Murphy. "He gives us more than possibly anyone else could give us, no matter what position or what team they play for. That's what I told our team today. You guys all came here expecting to see the best player in the state, and you did. But I think it's No. 8 on our team [Murphy]."

In the final minute of the first half, Murphy kick started an abrupt turn of events that suddenly swung momentum in the Raiders' favor headed into the half. Facing second and four at the Redhawks 36, after two nice completions to Derek Estes (4 catches, 42 yards; 8 tackles, 1 INT), Murphy took an inside zone handoff and looked to be taken down behind the line of scrimmage; instead he stopped, lowered his shoulder, and let the momentum from right tackle Jake Palmer pin two Natick defensive linemen to the turf, springing loose for a 20-yard gain.

That set up first and goal at the 10, and after a false start pushed them back five, Murphy rumbled up the middle to knot the game at 6-6. Another inside zone, Murphy initially took this play wide, then cut up inside left tackle Owen Murray, splitting two linemen and shedding a shoestring tackle for the easy score.

Fifteen seconds later, senior linebacker Nate Yingling gave the Raiders their first lead of the game, picking off Flutie deep downfield and returning it down the sideline for a 57-yard score. Feeling pressure, Flutie tossed a high wobbler well behind a receiver sprinting downfield. Yingling sat underneath it for the easy pick, dragged receiver Mike Abbruzzese for several yards before shaking him, then cut inside a block from Henry O'Shaughnessy at the 20 yard line for the score.

"I guess the guy was trying to strip the ball from me and I kept running, I dunno," Yingling laughed when asked about the run back.

Out of the break, the Redhawks forced a three-and-out then scored quickly, moving 57 yards in four plays, capped with an 11-yard strike from Flutie to Hilger going over the middle. But a shanked punt late in the third gave Barnstable a starting drive at the Redhawks 33, and they quickly capitalized.

Three plays into the drive, quarterback Kristian Lucashensky (14 of 15, 113 yards) hit Murphy on a wheel route 20 yards downfield at the near pylon; the ball being slightly underthrown, Murphy reached over the back of his defender and scooped the ball to himself, getting wrestled down at the one. He plunged in on the next play for the 20-13 lead.

With less than four minutes to go in the game -- after a 12-play, seven-minute Raiders drive stalled -- Estes came up with his fifth pick of the season, chasing down a deep ball down the seam from across the field. Two plays later, Murphy applied the finishing touches with a 45-yard touchdown scamper up the left side, shaking two leg tackles and riding an Estes block the final 10 yards.

"We haven't faced a passing team like this, and a player like Troy Flutie," Yingling said. "And you know, we did a lot of pass stuff [this week]. I dunno, people have been saying we can't cover Flutie, but we have the best secondary in the state. We can handle any team, and we proved it tonight."

Yingling rises to the challenge
"You got your bell rung on that one, you feeling OK?" Yingling chirped to Hilger after getting hit hard over the middle by linebacker Chris Kennedy.

Later, when Hilger returned the favor, wrestling the 11-yard TD catch from Yingling's grip, the two were face to face on the turf and the former had something to rebut.

"How you like that now, tough guy?" Hilger screamed in his face.

Asked about the exchange, Yingling could only laugh: "Hey, scoreboard says it all."

"He said, 'You see that, 1-3?', and I was like 'You see my pick-six'?" he added.

In a way, this was a pretty unorthodox matchup. Considering their excellent conditioning; two superb coverage corners in Estes and Colby Blaze (INT, two passes deflected); and tendency to play either a Cover 1 or Cover 3 against spread offenses like Natick's; convention suggested that perhaps the Raiders would deploy one of those coverages and mark Hilger, the Redhawks' most dangerous threat, with Estes, their most airtight defensive back.

Instead, the Raiders went with something they haven't done all year, installing a Cover 2 this week, and occasionally dropping the outside corners Estes and Blaze off the line of scrimmage for a Cover 4 look. The duty of tracking Hilger fell unto Yingling, a first-year varsity senior who has returned to football after taking the year off last season. At times this year, Natick has preyed on linebacker matchups, exploiting them with crossing routes for big gains.

But with a similar build to the 6-foot-3, 175-pound Hilger -- surrendering an inch, but holding a 10-pound weight advantage -- and deceiving speed, Yingling was more than up for the task.

"They wanted me up there to jam him. That's what I was up there to do," Yingling said. "I used to play wide receiver and I'm good at blocking, so I'm good at getting in front of a man before he can get behind me, and put my hands on him. They wanted me to jam him, and he really didn't want anything of it. He wasn't getting off the jam too well, and it really helped to knock him off his route. He couldn't get deep, and our safeties could do their job."

Said Whidden of Yingling, "His work ethic, his coachability, and how much we asked him to do this week, it's not something that I'd ask of most kids. But I know he'd have the capacity to handle it, and he's proven us right."

Zig when they zag
The zone read concept has become a staple in many a system these last few seasons as more and more teams go to a spread offense. Barnstable is one of the few teams to run it successfully by packaging a screen on the backside of the play for a third option. More often than not, backpedaling a receiver off the line of scrimmage at the snap has taken defenders out of the box, or simply left them flat-footed trying to maintain their gap responsibility, clearing runways for Murphy and Chafee. They've been so successful with the first option, the inside handoff, that one almost wondered if that third option, the screen, was just window dressing (It's not, coaches insist).

Tonight, the Raiders tried something different and went the inverse. This time, they motioned a slot receiver into the box, walking him up to the outside leg of the tight end, then pulling the ball and hitting the screen at the opposite sideline. Out of the nearly dozen times they ran the play, it consistently worked for at least six yards or more, often bringing up a new set of downs.

"It's a matter of disguise," Murphy said. "Sometimes there are teams that pick up on our screens a little easier than we'd like to think. The guy motioning down, it's almost like a decoy."

Said Whidden, "We scout ourselves, and we don't want to be our same tendencies all the time, we've got to break our tendencies too every once in a while."

Sack City
The overarching theme for seemingly every opponent trying to contain Flutie has been consistent -- play wide, cage him up, don't let him get loose -- only to watch it unravel as Flutie indeed gets loose, in just about every direction.

While the same could be applied with Barnstable, they were able to drop Flutie for four sacks by mixing up the pressure, which included blitzing Murphy late from outside the box.

On the first sack, on the game-opening drive, O'Shaughnessy recovered from a cut block and picked up the sack on Flutie after he bumped into one of his own linemen trying to avoid pressure from Murphy, who squeezed inside the B-gap after lining up in press coverage on a slot receiver and releasing him to the middle.

That technique worked again on a Natick three-and-out drive in the third quarter. From the slot, Murphy twisted inside end Connor Walsh untouched, and with the running back looking the other way for blitz pickup Murphy had a free shot at Flutie, dropping him for a 14-yard loss.

The final sack of the night ended up knocking Flutie out of the game. After spinning out of the grip of O'Shaughnessy, Flutie scrambled to the sideline, where he was brought to the turf awkwardly by Palmer. Two plays later, Blaze got the third and final interception of the evening.

Also deserving credit for the pressure was end Dereck Pacheco, who was credited with two tackles, a half-sack and three hurries, consistently getting his hands around Flutie's face in the second half.

"We were bringing four-man pressure, but our goal was not to bring the same four-man pressure every time," Whidden said. "Sometimes we'd bring five, but never more than five. It's all about gap assignments, so if Dereck Pacheco was in his face, that means Owen Murray or Manny Dulak or Connor Walsh, or Butchie Perry, Chris Kennedy, were flushing him to Dereck or somebody else.

"The whole thing is about moving pass rush lanes. We're not necessarily trying to sack the quarterback, we're not letting him get away, and then all of a sudden that pocket continues to collapse and we're able to get pressure on him."

Nearing an all-time milestone
Last week, Flutie set the state's all-time passing yardage mark, surpassing former Barnstable great and current Penn State backup D.J. Crook by throwing for 359 yards in a D2 South First Round win over King Philip. Tonight, he needed just two touchdown passes to tie former Everett great Jonathan DiBiaso for the state's all-time mark at 103 (DiBiaso, ESPN Boston's 2011 Mr. Football, also holds the single-season mark at 44).

Flutie came up short, being held to one touchdown pass for the first time since a 14-10 win over Norwood in September 2012 (also the last time Natick was held to under 20 points). He'll get another shot next week when the Redhawks face Needham in a D2 South consolation game.

BARNSTABLE 27, NATICK 13

NAT 0 6 7 0 --- 13
BAR 0 13 7 7 --- 27


Second Quarter
N - Troy Flutie 14 run (kick failed) 9:47
B - Hayden Murphy 15 run (kick failed) :58
B - Nate Yingling 57 interception return (Dereck Pacheco kick) :15

Third Quarter
N - Alex Hilger 11 pass from Flutie (Hilger kick) 8:15
B - Murphy 1 run (Pacheco kick) 3:18

Fourth Quarter
B - Murphy 45 run (Pacheco kick) 3:47
August, 28, 2013
8/28/13
8:51
PM ET
Communication is paramount to the defensive secondary.

For Barnstable cornerback Derek Estes and safety Hayden Murphy, it's almost involuntary. It's borne out of spending a lot of time together: watching film, playing ball, hanging out. When I caught up with the pair for this story, after a recent morning preseason practice, Estes and Murphy were hanging out watching the latest installment of the Jason Bourne saga.

"I look at Hayden and he can read off my decisions and pick me up when I need a cover over the top," Estes said.

To which Murphy added, "I'm Derek's last line of defense, not that he doesn't hold it down because he's pretty good at what he does, but he knows I've his back, too."

It reflects a certain level of cohesion that's found with Barnstable's program since Chris Whidden, who's also the Red Raiders lacrosse head coach, became head coach three years ago.

Last year, the Red Raiders fell painfully short of winning the Eastern Mass. Division 1A Super Bowl at Gillette Stadium, losing by a point to Everett, after snapping the Crimson Tide's 28-game winning streak earlier in the year with an overtime victory.

Barnstable isn't interested in being a flash in the pan, however. The impetus is to push the program forward.

"My point to the kids is that I have no intentions to rebuild," Whidden said. "That wouldn't be fair to the seniors. We need to feel like we're taking the best shot every year."

So, with that, the Red Raiders have added a couple noteworthy opponents early on, playing up in Division against Catholic Conference power and fellow preseason Top 25 squads BC High and Xaverian. They're hoping to set a tone for the season that will carry over to their penultimate Old Colony League rivalry game against Bridgewater-Raynham – an annual slugfest.

"Even though we're listed in Division 2 now, we want people to think about us in that tier of being a Division 1 team," Estes said.

BARNSTABLE AT A GLANCE
Coach: Chris Whidden (Third year, 18-6)
2012: 11-1, lost in Division 1A Super Bowl.
Key Returnees: Hayden Murphy, Sr. Ath./FS, 6-2, 200 lbs.; Derek Estes, Sr. CB/WR; Billy Grimmer, Sr. OG, 6-0, 260 lbs.; Dereck Pacheco, Sr. DE, 6-3, 225 lbs.; Justus Chaffee, Sr. RB/CB; Kristian Lucashensky, Sr. QB; Colby Blaze, Sr. WR/CB.
Strengths: Skill positions and secondary.
Weakness: Experience at linebacker.


Outlook: So what will the Red Raiders' offense look like Week 1? It's a question that's worth asking and also one that could evolve over time. Gone is Nick Peabody. However, Whidden is high on senior Kristian Lucashensky, who studied under Peabody last year and saw mop-up duty. But Murphy also presents an intriguing backfield option. Having already played "quarterback" in Barnstable's Wildcat scheme in previous years, don't be surprised if the Red Raiders set up some kind of rotation under center, including Murphy. The key will be versatility on offense, and that will be enabled by running back Justus Chaffee, who should see an increased number of carries.

On defense, Barstable is built from the back out. Along with Murphy and Estes, Whidden is keen on senior corner Colby Blaze, who lost most of last season due to a collarbone injury and is among the top students in Barnstable's senior class. Drew Lambert will also insert at strong safety. The focus is on the linebacking corps, which was among the best in the state last season. The Red Raiders are looking to fill some shoes, but Whidden is encouraged in the early going by middle linebacker Chris Kennedy, who saw action primarily at offensive guard last season. Adding to that theme, Whidden expects five players to start or make significant contributions on both sides of the ball.
November, 27, 2012
11/27/12
11:22
PM ET
By
Mike Scandura
| ESPNBoston.com
(Video by Greg Story)
TAUNTON, Mass. -– So much for the suspense that might have existed in a rematch of one of the 2011 Division 1A playoff games.
A year ago, Barnstable built a 13-0 halftime lead only to implode in the second half as Lincoln-Sudbury rallied for a 14-13 victory.
Ironically, the Red Raiders led Tuesday night's semifinal game by an almost identical score at intermission -– 14-0 in this case. But instead of crumbling, Barnstable buried the Warriors, 28-7, and advanced to the 1A Super Bowl for the first time since 1995.
The Red Raiders (11-0) will tackle the winner of the other semifinal game between Masconomet and Everett at 1:30 p.m. Saturday at Gillette Stadium.
Barnstable stepped on the slick Taunton High turf averaging 37.6 points per game while the Warriors (10-2) came in allowing an average of only 8.1 points per game.
[+] Enlarge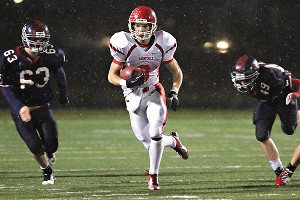 Eric Adler for espnboston.comHayden Murphy led the way with 153 yards rushing and three touchdowns in the Red Raiders' win, setting up a rematch Saturday with Everett.
While the Red Raiders didn't quite match their offensive average they did "out-defense" the Warriors.
In retrospect, the game was over by halftime when Barnstable led 14-0 after allowing a paltry 27 yards of total offense on only 17 plays.
"We have the ability on defense," Barnstable coach Chris Whidden said. "We know we can step up and play well in a big game. Unfortunately, there might have been some times during the course of the season when we played down a little bit to the level of our competition.
"We stepped up tonight) and played not as well as we can but as well as we have. But without question there's room for improvement. We'll nit-pick that for the next couple of days and hope we bring the best thing we have on Saturday afternoon."
Altogether, Barnstable's defense allowed only 102 yards of total offense and held Lincoln-Sudbury scoreless until exactly five minutes remained on the clock.
That's when Chris Giorgio scored on a 1-yard run –- a touchdown which didn't exactly faze Whidden.
"Although they scored at the end, it took them four minutes to get that touchdown," Whidden said. "Ultimately, it was a win for us even though it wasn't the shutout we were hoping for because it took that much time. Now, we could get one drive and end the game which is what we did."
Barnstable was "offensive":
What Barnstable also did was slice and dice Lincoln-Sudbury's once-impenetrable defense as it amassed 330 yards of total offense.
Leading the way in this department was junior running back Hayden Murphy, who accounted for 153 yards and three touchdowns on 27 carries.
"Anytime a running back has a game like that he's got to have somewhere to run," Whidden said. "Our front five of Owen Murray, Tom Harrington, Tom Grimmer, Chris Kennedy and Allen Buckley all played a great game up front to provide those seams for (Murphy).
"And (quarterback) Nick (Peabody) did a great job reading it. They were bringing some pressure up the middle but a lot of times they were showing it so we were able to see it. That's where having a kid who's as intelligent as Nick is in the game helps us because he would check us into that or check us out of that."
Peabody was quick to admit his passing didn't resemble the second coming of Tom Brady since completed only 7-of-23 passes for 98 yards. But he also was quick to admit that his teammates overcame his shortcomings in the passing department.
"I was terrible throwing the ball," Peabody said. "But Hayden really picked it up. That's what a team is all about. You're not going to play your best game every time. Hayden was amazing. Our offensive line was amazing. You can't say enough about our defense.
"We showed we're a complete team. We don't just throw the ball but we also can run it."
Catching a break:
Barnstable didn't have to run or throw to score its first two points.
Lincoln-Sudbury was punting from its 4 when Joe Kenney's snap sailed over the head of Chris Giorgio and out of the end zone for a safety.
Five plays after the ensuing free kick, Murphy capped a 48-yard drive by running it in from the 15 for an 8-0 lead.
Barnstable then took advantage of a short punt by Giorgio and regained possession on the Warriors' 41.
Seven plays later, Peabody bolted 13 yards up the middle for a score which produced a 14-0 halftime lead.
Not surprisingly, that conjured up memories of last year's semifinal game between these teams when Barnstable blew that 13-0 halftime lead.
"You don't forget things like last year," Peabody said. "We didn't forget that. It was almost the exact same score going into halftime. We went in there and knew we couldn't take the foot off the gas, and we didn't.
"Our defense got several big stops and we were able to punch it in a few times."
Barnstable "punched it in" a third time with 4:46 left in the third quarter when Peabody capped a 72-yard drive by wedging over from the 1.
Then, after Jon Eldredge intercepted a Henry Guild pass, Murphy scored from the 1 for a commanding 28-0 lead.
"There wasn't a letup even when we were up 28-0," Whidden said. "The kids really showed their pride by not letting up and bringing it on every snap."
BARNSTABLE 28, LINCOLN-SUDBURY 7
BA (11-0) 8-6-14-0 – 28
LS (10-2) 0-0-0-7 – 7
First quarter
B – Safety
Second quarter
B – Hayden Murphy 15 run (run failed)
B – Murphy 13 run (pass failed)
Third quarter
B – Nick Peabody 1 run (Dereck Pacheco kick)
B – Murphy 1 run (Pacheco kick)
Fourth quarter
LS – Chris Giorgio 1 run (Greg Boden kick)