Boston High School:

Christian Thompson
December, 29, 2014
12/29/14
12:54
AM ET
By
Ben Cormier
| ESPNBoston.com
NORTH ANDOVER, Mass. -- There wasn't a trophy at stake, but Central Catholic and St. John's Prep put on a championship-level performance on Sunday during the second day of the Pete Frates Winter Classic.

Central Catholic entered Merrimack College's Volpe Complex for the second day with just one loss on their record, which Springfield Cathedral handed to them in the first day of the tournament. Meanwhile, St. John's Prep entered the tournament after losing to Boston College High School, 4-3, during the first day of action.

The host Eagles weren't able to claim the hardware, but they escaped with a quality win in a wild 5-4 win.

The Raiders put the first point on the board near the end of the first period, with a right-side rebound shot by Larry Glasso. Central Catholic retained the 1-0 lead until Prep sophomore Kyle Hentosh equalized the score in the midst of a four-minute Prep power play with just over 30 seconds left in the period.

The long power play carried over into the second period, giving Prep an advantage for the first two minutes. The Eagles took that advantage, and the lead, with a goal by Seth Murray less than a minute into the period, and retained the 2-1 margin going into the third.

Five minutes into the third period, Hentosh increased Prep's lead to two with a great backhand shot. One minute later, Prep junior Kyle Lynch added to the advantage with a goal of his own, bouncing the puck off of a Central player's skate into the net.

Central Catholic fired back during their next power play when Christian Thompson tapped it in a loose puck, cutting Prep's margin to 4-2. The Eagles still seemed to have the game under control, as Lynch increased Prep's lead to 5-2 with just over three minutes left to play in his second goal of the night.

Down by three late in the third period, the Raiders turned on the turbo button and fought back hard with extremely physical play and aggressive offensive tactics. Just 40 seconds after the Eagles' final goal, the Raiders came back with a goal of their own by John Bartlett.

Central Catholic followed up with another goal, this time by Eric Robbins, which left the Raiders.

"It's one of those games where I feel like we left it all on the ice, coaches too," Prep head coach Kristian Hanson chuckled. "I'm emotionally drained. All I [could] picture is a 5-5 tie after being up 5-2."

Second line pulls its weight: In the end, the Eagles' second line brought them the victory.

"That line's assignment was to play against Central's top line, and if they played them even we considered that a plus," said Hanson. "They ended up with all five goals."

"The yellow line came out huge for us today," added Eagles captain Nick Latham, a Boston College baseball commit. "The guys had to step up and they really stepped up today."

A Greater Cause: Both the Eagles and the Raiders fought hard in the consolation game, honoring the tournament's namesake, Pete Frates.

Frates, a St. John's Prep and Boston College graduate, has become a nationally renowned advocate for ALS research after being diagnosed with the disease in March of 2012.

During his time at St. John's Prep, Pete Frates was a three-sport athlete and his extensive athletic resumé included being a member of Prep's hockey team.

On all counts, the tournament was a success.

"It's a great tournament and a great cause," said Central Catholic coach Mike Jankowski. "They've done a great job with it."

Hanson echoed Jankowski's feelings. "I think it was great... The competition is some of the best in the state, and I think everybody loves the venue. It's the first year we're doing it for Pete but we hope to keep it going."

The fierce competition by both teams highlighted the importance of Frates' work to the players as well as the coaches.

"After yesterday's loss we knew we had to get a win for Pete," said Prep's Kyle Lynch. "There's nothing better than playing for him."

The Frates family was unable to attend the second day of their inaugural tournament, as Pete was being honored at the Patriots game by owner Robert Kraft. Nonetheless, they were touched by the efforts of the participants.

"We'd like to say thanks to Coach Hanson and Coach [Jim] O'Leary for getting four of the top programs in the state together in Pete's honor," Pete's brother Andrew remarked. "The memories and friendships he made in the locker room are some he will forever cherish."
March, 2, 2014
3/02/14
5:29
PM ET
By
Mike Abelson
| ESPNBoston.com


BOSTON – No one knew it at the time, but before the game really started it was over.

A pair of goals in the opening three minutes were all Austin Prep would need as it held on to defeat Central Catholic 2-1 in the opening game of their first round series in the Super 8 at TD Garden.

Bobo Carpenter got the Cougars rolling with a high wrist shot that beat Central's Colin Soucy just 41 seconds into the game. Jake McKenelley slid one home through Soucy's five-hole two minutes and 10 seconds later.

"We just wanted to come out as hard and fast as we could," Carpenter said. "We knew we'd have to get the first jump so we could build off of it. My linemates got the puck. Just got a lucky bounce for me."

The early lead allowed Austin to set the tone early. The Cougars outshot the Raiders in the first and kept Central on its heels. The Raiders controlled the final two periods but were unable to dig themselves out of the hole.

Christian Thompson stepped up to the moment and scored Central's lone goal, hacking the puck out the air with just over a minute remaining in the game.

"Honestly I don't think our team showed up to play in the very beginning," Thompson said. "We gave a half effort in the beginning; in the end we kind of picked it up but it was too late. I think we let the Garden get in our head a little bit. Hyped it up and kind of came out flat."

After rejiggering the lines over the last month-plus, Central coach Mike Jankowski settled back into the line pairings he used for much of the first half of the season. Jankowski reunited Lloyd Hayes, Alex Lester, and Corey Webber on the Raiders' top line.

The last time Austin and Central played on Feb. 3, the Cougars won 3-2 with Central in the midst of juggling it's lines. With the old lines back the Raiders looked to have some of the zip that powered them to an 8-1-1 record at the start of the season.

"We changed it up quite a bit to get people scoring to show our true depth," Jankowski said. "If you see us play you know that we're deep. The goal [was] in getting everyone into the scoring and finding the scoring touch and it worked really well. Blue's back together and those guys, with their senior leadership, leading by example as well can carry us through to something."

The Raiders pressed hard in the third period, peppering AP goalie Elijah Harris with 15 shots, but ran into a brick wall.

Harris turned aside 27 Raider shots, including three in frenetic last-minute flurry, to secure the win.

"When he's on he's on," Austin Prep defenseman J.J. Layton said. "It starts from him, onto the [defense], and onto the forwards. When he's playing well it seems like everyone else is playing well."

AP DEFENSE RISES: Central's old lines started to roll, but Austin Prep's defense was able to stall them out at almost every turn. Layton and Andrew Cross led the charge on the back end for the Cougars. The Prep defense was able to congest the middle and force Central's forwards to the outside.

Despite allowing 23 shots over the last two periods, the Austin defense was able to hold Central off.

"We're mostly a defensive team," Layton said. "We have all the offensive components, so we stress on the defense now because defense wins hockey games, as coaches say. We just buckled down, tried to take the body when we can, make the quick, easy plays, and try to keep it out of our zone the best we can."

The defense carried over onto the penalty kill. The Cougars killed off four of the five penalties they committed.

"We did a real nice job on penalty kill," AP head coach Louis Finocchario said. "I thought our pairs did a real nice job."

SAME OLD OPPONENT: Adding in next Thursday's second game of the series, Central and Austin will have played three times in 31 days and four times this season. Playing against the same opponent so often opens up doors for rivalries to form and lessens the room for errors.



"What it comes down to now is little things," Finocchario said. "Good line changes, staying disciplined, making dumps when you don't have odd-man rushes: all good choices. The team that makes the least mistakes at the end of the night is going to win."

So far Austin holds a 2-1 edge in the wins department while Central had outscored the Cougars, 7-6.

"It gives you that much more reason to win," Carpenter said. "We've grown a little rivalry ever since. It's just fun to play with some friends too."
February, 18, 2014
2/18/14
1:17
AM ET
By
Mike Abelson
| ESPNBoston.com
BOSTON – Central Catholic rallied from three one-goal deficits to defeat Catholic Memorial, 4-3, on the heels of Lloyd Hayes' breakaway goal with 1:58 left in Monday's duel of Super 8 hopefuls at Walter Brown Arena.

"It's huge for us moving forward," Central coach Mike Jankowski said. "That's the type of game we've been looking for. The tight ones when we haven't been able to pull away and separate ourselves, and today we did."

Hayes led the way for the Raiders on the ice and on the boards. The senior first-liner set the tone physically from the start and played like a bulldozer for the full 45 minutes. To go with his goal, he had an assist on Central's third goal earlier in the third period.

"That's the way we have to play – going to corners, getting pucks, and getting traffic to the net," Hayes said. "That's the way we're going to win these teams, especially against good teams like CM."

The Knights were led by senior captain Aaron Clancy who scored a goal and added a pair of assists. Linemate Mike Stathopoulos had CM's first goal and had the primary assist on Clancy's.

CM coach Bill Hanson had less to say about his team's offense and more about his team's lack of consistency on the back end.

"We had an assist on every one of their goals except for the power play," Hanson said. "We had two blatant turnovers which they, as a good team, capitalized on. It's just the lack of mental toughness and mental athleticism to make the mistakes they make contrary to the way that they're coached."

The Raiders found numerous ways to deflate the Knights.

Hayes' goal popped the balloon, and Colin Soucy made several spectacular saves to keep CM from pulling away. Christian Thompson's fluke goal, which was blockered away by CM goalie Brandon Collett only to bounce over him and in, with 91 seconds left in the second period was another guy punch for the Knights.

Central's recent rejiggering of its lines seems to have paid off. Breaking up the original top line of Hayes-Alex Lester-Corey Webber has allowed for other players to step up for the Raiders and jell in different ways.

"I think we've done a lot of different changes and everyone puts certain guys together," Jankowski said. "It helps to get everyone in the game, and we've seen it game in game out. Everyone's finishing, getting some goals."

Jankowski was pleased with his team's performance, but Hanson, who gave credit to Central for its performance, was anything but.

I take no positives out of this at all," Hanson said. "We are killing ourselves."

ROBBINS RISES: Sometimes it's good to have a Batman and sometimes it's good to have a Robin[ns].

Central's Eric Robbins, who was slotted onto the first line alongside Hayes and Zach Cote, stepped up in a big way. Robbins assisted on Central's first and third goals and was omnipresent throughout the game.

"Whenever coach switches up the lines we try to do something new," Robbins said. "We usually jell pretty early and we were doing good out there today. I try to help the team out as much as I can. If I get moved up I get moved up."

Robbins first assist came when his initial shot was cleaned up by Richie Greenberg, who has played alongside Robbins for most of the season.

"We always seem to find each other whenever we're on the ice," Robbins said.

Jankowski said Robbins' best ability was being able to play with poise anywhere on the sheet.

"He gets his points here and there, but honestly he's a great two-way player," Jankowski said. "He's a defensive center. He's really made each line move whenever we've moved him around. We talk about mixing the lines to find the best recipe to move forward and he allows us to do that."
January, 16, 2014
1/16/14
3:25
AM ET
LAWRENCE, Mass. – Central Catholic senior forward Lloyd Hayes emerged from the room, hobbled but no worse for the wear. With a large ice pack strapped around his right shoulder, the Raiders' veteran has been in these kinds of spots before.
No. 5 Central played a nearly flawless game through a period-and-a-half, only to watch a three-goal lead evaporate midway through the third period against No. 8 Springfield Cathedral.
That's when Mr. Reliable came through again.
Not even a bad wing could prevent Hayes from netting the game-winning goal with less than two minutes to play, before adding a second with an empty-netter, while leading the Raiders to 5-3 win in a duel of Super 8 hopefuls at Valley Forum.
"How he carries himself is a true testament to how we came back and it's fitting that he got that goal," Central head coach Mike Jankowski said of Hayes. "We could have created a little distance early on, but we couldn't finish. But that's a great team we let come back. They made some plays, capitalized on the power play and got us on our heels a little bit."
[+] Enlarge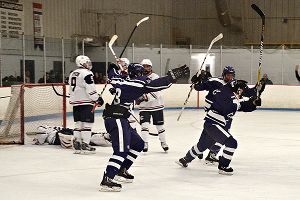 Scott Barboza/ESPNBoston.comCathedral erased a 3-goal deficit behind the first career hat trick from freshman winger Riley Prattson before Central Catholic pulled away for a 5-3 win.
In a matchup of two of the state's best top lines, Cathedral freshman Riley Prattson shone brightest.
Playing alongside the state's top two scorers entering action – in Division 1 commits Peter Crinella and D.J. Petruzzelli – Prattson almost single-handedly pulled the Panthers out of a 3-0 hole, scoring three straight goals for his first career hat trick.
Cathedral (8-2-1) controlled early play, however, Central (8-1-1) took a 2-0 lead to the room at the first intermission. Eric Robbins buried Richie Greenberg's feed for Central's first goal at 5:26, before Alex Lester was the beneficiary of some precision passing from David Sheehan and Corey Webber with 2:05 remaining.
The Raiders extended the lead to three in the second period, when Christian Thompson snuck down the wing and put one short-side with assists from Cam Smith and Zack Cote at 2:29.
It was at that time Panthers head coach Brian Foley made a goaltending change, lifting starter John Liquori for freshman Keith Petruzzelli.
"You're just trying to change the momentum," Foley said. "It's not that John was to blame for any of the goals, but I think Keith came in and did a good job."
The move seemed to lift Cathedral, as the Panthers struck for their first of two power-play goals on the evening with 8:27 remaining in the second.
The onslaught from Prattson continued into the third period. He scored his second at 5:46 with an assist from Crinella, before striking again on the man-advantage with 7:23 to play. Crinella picked up his second point of the game with the assist.
"We had Zack [Prattson] there originally," Foley said of his top line, "but we then put Riley there because we wanted Zack's size on the second line. The three of those guys, Peter, D.J. and Riley, every night someone else is scoring the goals. And then, Johnny Leonard, Cam Peritz and Zack are scoring goals. Then, our third line recently started scoring goals."
But even when it appeared Cathedral had momentum squarely on its side, Central came with the counterpunch – that being Hayes.
"We're the type of team that we just keep at it and keep pushing," Hayes added.
Hayes did just that, intercepting a Panthers' clearing attempt out of their own end and pushing it past Keith Petruzzelli with 1:54 to play. He then added the empty-netter with 38 seconds remaining.
Cracking the code:
Both teams can play an aggressive style at times, and with a Cathedral forward frequently hanging high on the Raiders' blue line, pressure was constantly being applied on Central's defensive corps.
Of course, with a returning All-State goaltender in Colin Soucy (30 saves) returning, that pressure has been somewhat alleviated this season, but Central did well to shut out Cathedral's second and third lines in a deep and talented forward crop.
"We lost [Nick] Gorski and [Derek] Vaillancourt from last year, but we had a lot of kids that worked hard in the offseason and we're working well together," Soucy said of Central blue-liners. "Our shots on goal against is actually down from last year, surprisingly. I thought I was going to see more shots, but everyone's doing their job."
Yet, even if the opposition is able to circumnavigate the Raiders' defense, there's also the matter of beating the netminder.
"Colin's a good goalie and I thought he played great," Foley said. "We weren't scoring on the first shot, so we needed to create second and third chances, but he did a good job all game of controlling the puck and not giving us those chances. But the kids kept working hard and they were rewarded with a couple power play goals."
The road ahead:
While neither coach was looking too far down the road, it wouldn't be a surprise at all to see the two teams meet at some point in the Super 8 tournament.
In a moment of candor, following his team's dramatic win, Jankowski assessed where his group is at, both in the season and in the greater picture of building Central's program to that of a statewide power.
"We've enjoyed playing that darkhorse, it's been our baby," he said. "But now I think it's finally time where we've had these guys like Lloyd [Hayes], [Zack] Cote, [Alex] Lester, [Conrad Jepson] and Colin [Soucy], and now it's time that they're main guys. They've proven that they deserve the attention and the limelight and the accolades that comes with being a top team."
March, 10, 2013
3/10/13
11:16
PM ET
By
Richard Murray
| ESPNBoston.com


STONEHAM, Mass. -- Central Catholic didn't make its Super 8 series easy against No. 1 seed St. John's Prep. But as the Eagles faced elimination for the second game in a row, Prep star forward Brian Pinho finally beat Colin Soucy sending his squad past the Raiders, 4-2, in Sunday's deciding Game 3 of their quarterfinal series at Stoneham Arena.

St. John's Prep will play Austin Prep next in the semi-finals. The Eagles won a previous game earlier this season against the Cougars, but that was along time ago.

"You can forget about the fact that we beat them in January because it's March now," Eagles head coach Kristian Hanson said. "What we did during a game in January means nothing. Elijah Harris is playing very well for them. He is one of the best goalies in the state, and we anticipate that he will be tough to beat."

Pinho struggled to finish throughout the series against the Central Catholic goalie, but he rose to the occasion when his team needed him. Late in the third period, seconds after Central Catholic had tied the game; the Providence College commit finally beat Soucy.

"Brian's a great player, but he was starting to get a little frustrated because Soucy has had his number," Hanson said. "We talked to Brian about it, but you can't tell a kid how to score a goal. They have to just seize the opportunity and do what they do. He had that opportunity, and he buried it."

St. John's (19-3-1) loses 15 seniors after this season, so losing was simply not the way the leaders of the Eagles wanted to go out. Although the group helped get the win, there is still a lot of work to do.

"None of [the seniors] wanted this to be their last game especially [since it is only] the first round. It is satisfying that we won, but we still have a lot of work to do," Hanson said.

Billy Price locked down the Eagles' net, as the St. John's goalie stopped 23-of-25 Central shots.

"Billy [Price] was great today, he looked very calm and poised out there," Hanson said. "Even when they got that goal to tie the game [in the third] he stood tall."

Soucy (20 saves) had an incredible run in the series, and the Raiders net-minder gave his squad a legitimate shot at knocking off the top seed.

"Colin [Soucy] stepped up his play, and everyone started to believe because of his play," Central Catholic head coach Mike Jankowski said.

After a scoreless first period, Eagles forward James Currier made a nifty spin-o-rama move before firing the puck into the twine.

The Raiders (15-7-3) came right back though as Lloyd Hayes scored the Raiders first goal for the third game in a row to even things, 1-1.

"It's just the character of Hayes because he just goes out there and competes for us," Jankowski said.

Before the period could end, Paul Crehan picked up a rebound that came out to him in the slot. The forward rifled a wrist shot off the crossbar and into the goal.

"We hate to put a number on it because technically that is our [fourth line], but they certainly don't play like a [fourth line]," Hanson said. "They are very comfortable playing together, they are very effective playing together, and that was evident by the goal that Paul [Crehan] had."

Halfway through the third period, Christian Thompson tied things up by beating Price through the five-hole, but the deadlock only lasted only 26 seconds.

Pinho finally beat Soucy as a deflected shot went straight to him. Pinho was waiting on the backdoor, and he fired the puck into the goal as Soucy could not get over in time.

"It's the best goal I have scored in my life," Pinho said. "Soucy probably robbed me about five times this tournament, so it felt so good to get that goal. I can't even describe it."

Later in the third, Tyler Bird scored on the power play to extend the Eagles. Bird picked up a rebound and he made no mistakes firing the puck past Soucy.

"At that point we were just playing regular because we were trying to [prevent] a shorthanded goal, so we just had our first line out there," Hanson said. "They had the man advantage, so it was just a benefit to us."

Central Catholic pulled Soucy late, but the Raiders failed to put much pressure on Price as the St. John's defense locked down.


March, 12, 2012
3/12/12
12:43
AM ET
By
Roger Brown
| ESPNBoston.com


NORTH ANDOVER, Mass. -- The strangest thing about Central Catholic's 5-4 triumph over Springfield Cathedral in Sunday night's Super 8 tournament? The fact that Central Catholic needed Springfield Cathedral's help to pull out the victory.

Since Springfield Cathedral needed to win the contest by at least two goals to have any chance of advancing, the Panthers pulled goaltender John Liquori late in the contest even though they were leading by a goal.

Central Catholic's Mikel Kelleher took advantage by scoring into an empty net with 12.3 seconds left, then the Raiders received the game-winning goal from Jake Donahue with 7:50 left in overtime.

With St. Mary's loss to St. John's Prep, the Raiders advanced to the Super 8's crossover round.

"The format is the format, but needing to win by two is definitely a different way to approach the game," Springfield Cathedral head coach Brian Foley said. "Winning by one wouldn't have done much for us. We weren't here to just win a game. We were here to advance to Wednesday. It's about competing at the highest level and that's what we were trying to teach the kids."

Central Catholic, which trailed 3-0 after one period, raised its tournament record to 2-1 and put itself in good position to move on to Wednesday's crossover round. Ryan Daigle, Christian Thompson and Nick Gorski also scored for the Raiders, who replaced goaltender Kyle Williams with Andrew Robbins at the start of the second period.

"Spotting them three goals early wasn't what we planned at all, but [we showed] a lot of character," Central Catholic head coach Mike Jankowski said. "Robbins sealed the deal for us.

"You have to think a little outside the box, make sure your strategy is correct and if you want to advance in this tournament you have to make sure you do the right things."

Goals by D.J. Petruzzelli, Jordan Kozub and Frank Crinella handed Cathedral a 3-0 lead after one period. Central Catholic tied it on Gorski's goal 3:16 into the third, but Springfield Cathedral regained the lead when Crinella scored a short-handed goal at 7:38 of the third.

Cathedral, which finished 0-3 in pool play, had to win by more than one goal and then needed things to break right in Sunday's late game between St. John's Prep and St. Mary's to extend its season.

"Maybe some people would have felt better about finishing 1-2 instead of 0-3, but we weren't here for any moral victories," Foley said. "We wanted to play Wednesday."

TOUGH CALL
Jankowski said he made the decision to pull Williams with about two minutes left in the opening period, when Cathedral scored on three of its first seven shots.

"It was very hard," Jankowski said. "Last year he was the one who got us here. He kept us in every game and he's been our goalie all year.

"Robbins is a great goalie, a great kid. He works tremendously hard in practice. He comes to practice and prepares himself like he's playing every day. It was nice for him to get that time. He shut the door for us and came up big."

POOL HOPPING
Malden Catholic (3-0) and B.C. High (2-1) advanced from Pool 1 and will return to action Wednesday night, when the two crossover games are held at Merrimack College.

Malden Catholic will play Central Catholic in one crossover game, and B.C. High will play St. John's Prep in the other crossover contest.