January, 30, 2013
1/30/13
3:28
PM ET
By
Roger Brown
| ESPNBoston.com
The Fairfield Prep ice hockey team has had some impressive starts in Matt Sather's 14 seasons as the program's head coach, but nothing that can match what the Jesuits have accomplished at the start of the current season.

Fairfield Prep improved its record to 11-0-0 and remained the only unbeaten team in the state when it beat New Jersey power Don Bosco Prep, 4-2, Thursday at the Wonderland of Ice in Bridgeport. Don Bosco entered the game as the No. 2-ranked team in New Jersey.
It was a 2-2 game after two periods, but Fairfield Prep senior forward Tim Edmonds scored the go-ahead goal at 4:28 of the third. The Jesuits doubled their lead on a Kenny Kochiss goal.
Fairfield Prep held Don Bosco to three shots on goal in the final period.
"This is a huge win for us," Edmonds told MSG Varsity after the game. "Don Bosco's a great team. We were able to come out flying, and now we've got our confidence boosted. Coach [Sather] said this is a landmark day for us. I think we proved we can beat anyone we play if we play our game."
Juniors Matt McKinney and Matt Wickman also scored for Fairfield Prep, which received 15 saves from Matt Beck.
Don Bosco (10-5-0) was playing without Robby Marsanico and Dylan Healy, two top-line forwards who were injured. Marsanico and Healy had 49 points in Don Bosco's first 14 games.
"I think they're a little better than that offensively," Sather said. "But that's as fast a team as we've played all year. And I thought they were more physical than anyone we played this year. That was the most physical game we've played in, and I was pretty happy with the way our guys stood up to that.
BACON SELECTS LARKA
Twenty Connecticut high schools entered last week looking for a varsity football coach. That number was reduced by one Friday, when Bacon Academy hired Erik Larka.
Larka, a 35-year-old West Haven resident, was one of seven applicants brought back for a second interview. He spent four years as the freshman head coach and a varsity assistant at Law High School – his alma mater – but then left the coaching world until last season, when he was an assistant coach at Western Connecticut State.
Bacon had to find a head coach last summer, after Duane Maranda left to become the head coach at New London. The school selected Brian Enrique – an assistant under Maranda – but reopened the position after Enrique guided the Bobcats to a 2-8 record last season.
FOOTBALL MAY HAVE NEW HOME
The Connecticut Interscholastic Athletic Conference is exploring the possibility of moving the state's championship football games from the University of Connecticut's Rentschler Field, which has hosted the title games for the last four years.
Poor attendance and below-expected revenue were the reasons cited for the possible move.
Rentschler Field can seat 40,000, but the largest crowd for the four championship games last year was the 4,576 that watched the Class LL championship game between Xavier and Norwich Free Academy on a Friday night. The following day a combined 5,189 showed up for the Class S, Class M and Class L championship games.
Central Connecticut State's Arute Field is reportedly being considered as a possibility for this year's title games. Arute Field has a seating capacity of 5,800 and has a turf playing surface. Rentschler Field has a natural grass surface.
CIAC PENALIZES HARDING
The CIAC fined Harding High School $500 and forced the school's boys basketball team to forfeit two games for using an academically ineligible player.
The player participated in five games, but Harding lost three of those five contests. The team forfeited victories over New Canaan and Fairfield Warde.
NOTEWORTHY
East Lyme senior Allison Stoddard collected the 1,000th point of her high school career during a 55-16 victory over Killingly on Jan. 19. … Capital Prep remained No. 1 in the
Hartford Courant
's girls' basketball rankings despite a 66-64 loss to Bishop Ford – one of the top teams in New York City – last week. Sophomore forward Kiah Gillespie scored 26 points for Capital Prep in the loss. … Junior Tyshon Rogers, a 6-foot-3 forward on the Crosby boys' basketball team, scored 64 points in victories over Wolcott and Seymour last week. Rogers entered the week as the state's leading scorer (30.5 ppg.).
Roger Brown is a staff writer for the New Hampshire Union Leader and has been covering high school sports throughout New England since 1992.
January, 11, 2013
1/11/13
5:44
PM ET
By
Roger Brown
| ESPNBoston.com
When the game was over, Notre Dame High School boys' basketball coach Gary Palladino had earned another victory – and it was a memorable one.

Last Friday's 66-60 triumph over Berlin was Palladino's 400th win as Notre Dame's head coach.
Berlin erased a 16-point halftime deficit and tied the game midway through the fourth quarter, but Notre Dame made 12 of its 14 free throw attempts in the fourth quarter. The victory improved Palladino's record at Notre Dame to 400-294.
"This isn't really about me," Palladino said. "You don't get to 400 wins at one school without great support from our administration, tremendous assistant coaches, and talented players who work hard and sacrifice for the betterment of our team and program. I have been blessed here at Notre Dame and share this honor with all those that came through the program."
Earlier this year Palladino announced that this would be his final season as the Green Knights head coach.
Palladino began his career at Notre Dame in 1982. He has guided the Green Knights to 21 winning seasons, and 24 of his teams have qualified for the CIAC state tournament
Palladino has 524 career wins during his high school coaching career, which includes stops at East Hartford High School (7-13) and St. Paul's High School (55-18). He was also 62-69 at the head coach at the University of Hartford.
STAR GAZING
The inaugural Hall of Fame Classic, a high school football all-star game featuring players from Connecticut, will be played June 29, at Rentschler Field (4:30 p.m.).
The game replaces the Governor's Cup – an all-star game between Connecticut and Rhode Island – and the all-star game between Fairfield and New Haven counties. Connecticut won 11 of the 14 meetings with Rhode Island in the Governor's Cup.
The coaches and players for each team will be announced Saturday at the Walter Camp Breakfast of Champions in East Haven.
ONE-TWO PUNCH
An unbeaten record entering Saturday's contest against Fairfield Prep masked the fact that the Notre Dame boys' hockey team hadn't played well in the first period this season, and it was a slow start that cost the Green Knights in a 3-1 loss to the Jesuits.
Fairfield Prep scored three first-period goals and received 33 saves from Mike Beck in a matchup that featured the top two teams in the
Hartford Courant
's state rankings.
Matt Wikman, Connor Henry and Dean Lockery scored for Fairfield Prep. Darren Capobianco scored Notre Dame's goal at 12:38 of the second period.
"Today we didn't get off the bus," Notre Dame coach Bill Gerosa told the
New Haven Register
. "Actually, it was the eighth game this season we didn't get off the bus in the first period. We've played well in our second and third periods, but we keep struggling in the first."
Fairfield Prep improved its record to 7-0 and was elevated to No. 1 following the victory. Notre Dame, last year's Division I champion, fell to 7-1 and slipped to No. 2.
The teams will meet again on Feb. 16.
HOOP NOTES
Highlighting some top recent performances in boys and girls basketball:
" Weaver's Alyssa Stewart scored 24 points and grabbed 18 rebounds in a 53-31 victory over Wethersfield.
" Simsbury's E.J. Crawford scored 18 points in a 60-51 victory over Newington, and then poured in 20 – including the game-winning shot with six seconds to play – in a 70-69 triumph over Hall.
" Cromwell's Alexa Riley tossed in a game-high 15 points in a 53-50 triumph over Bacon Academy that ended Bacon Academy's 43-game home winning streak.
"Southington's Stephanie O'Keefe scored all of her 15 points on 3-pointers during a 48-41 victory overtime victory against Northwest Catholic.
"Tolland's Taylor Fortin averaged 37.5 points in victories over RHAM and Rockville.
GIRL POWER
Norwich Free Academy's Elisa Formiglio became the first female to play in a Connecticut football state championship game when Xavier defeated NFA 48-14 to win the Class LL championship last month.
Formiglio, a senior who didn't play football until last season, made both of her point-after kicks in the loss. She made 61 of 71 PAT attempts during the season. She also made one of her three field goal attempts – a 24-yard kick – and completed the season as her team's No. 3 scorer.
CONNECTICUT'S FROZEN FOUR
The inaugural Pioneer Valley Girls Winter Classic – the state's first outdoor girls hockey tournament -- was held Jan. 1 at the Simsbury Farms open-air rink.
The event featured four teams: Simsbury, Hall-Conard, Springfield (Mass.) Cathedral and East Catholic-Glastonbury-South Windsor. Simsbury defeated Hall-Conard 3-2 in the title game, and Springfield Cathedral won the consolation game.
Roger Brown is a staff writer for the New Hampshire Union Leader, and has been covering high school sports throughout New England since 1992.
October, 24, 2012
10/24/12
4:55
PM ET
By
Roger Brown
| ESPNBoston.com
The 50-point rule in Connecticut High School football became a topic of conversation again after Norwich Free Academy defeated Stamford 51-0 last Saturday.

When it was adopted in 2006, the rule called for an automatic one-game suspension for any head coach whose team won by 50 points or more, although the suspension could be appealed. The rule has been modified and now states that any victory by at least 50 points is reviewed by a Connecticut Interscholastic Athletic Conference (CIAC) panel, which would determine if a suspension is warranted.
NFA suspended its coach, Jemal Davis, for Saturday's game against Bacon Academy before the CIAC made a ruling.
"We strongly support all CIAC efforts to support sportsmanship," NFA athletic director Gary Makowicki told the
Norwich Bulletin
. "There's a rule in place, we broke the rule and we're self-imposing the penalty."
According to newspaper reports, NFA starters remained in the game after the team had a 42-0 lead in the fourth quarter. It was 49-0 with 3:25 to play when NFA blocked a Stamford punt that resulted in a safety that capped the scoring. The victory improved NFA's record to 6-0.
Stamford coach Bryan Hockter called Davis "classless" in postgame interviews.
"Something like that is going to come back to bite you," Hockter told the
Bulletin
. "You just can't embarrass a team and I thought he was trying to embarrass us."
STATISTICALLY SPEAKING
Statewide leaders in football:
Passing (completions-attempts-yards-TDs)
Logan Marchi (St. Paul Cathlolic) 124-255-1,867-23; (Brad Westmark (Brookfield) 113-196-1,509-9; (Ackee Barber (New London) 80-152-1,425-19(; Jake Kasuba (Foran) 98-142-1,388-10(; Bryan Castelot (Bunnell) 77-166-1,366-10; (Malik Cummings (Masuk) 53-68-1,293-12; Brandon Basil (North Branford) 69-105-1,282-20(; Jordan Vazzano (St. Joseph) 72-133-1,120-14(; Antwan Byrd (Capital Prep/Classical Magnet) 50-76-1,110-13(; Robert Quinn Fleeting (Windsor) 69-95-1,095-13.
Rushing (attempts-yards-TDs)
Joe Pacheco (New Fairfield) 140-1,468-17; (Joseph Piatnik (Bethel) 172-1,153-14(; Jalon White (North Haven 121-1,142-17; (Colin Moore (Avon) 124-1,089-15(; Derrick Villard (Cromwell) 73-979-12; (Justin Potts (Platt) 111-954-13(; Cameron Tucker (Notre Dame-West Haven) 116-948-9(; Chris Young (Rocky Hill) 51-911-12; (DeAngelo Berry (Xavier) 100-890-20; (Jack Shaban (Barlow) 89-834-12.
Receiving (receptions-yards-TDs)
Justin Schaffer (Weston) 39-639-3; (Chris Caron (North Branford) 25-624-10(; Daija Fitzpatrick (St. Paul Catholic) 40-624-7(; Thomas Milone (Masuk) 21-592-8; (Devante Teel (Bunnell) 28-574-5(; Reid Morin (St. Paul Catholic) 28-549-9; (Nicholas Weissauer (Foran) 43-531-3(; Chris Vankamerik (Oxford) 28-510-6(; L.T. Nembard (Hall) 30-469-4; (Andrew Matos (Ansonia) 16-463-6.
Tackles (total)
Peter Serencsics (Bethel) 87; (Justin Cheverier (Valley Regional/Old Lyme) 83; (Cody Zaro (Trinity Catholic) 83; (Zachary Dombrowski (East Hampton/Vinal RVT) 80; (David Deleo (Trinity Catholic) 79; (Roekwan Holmes (Prince RVT) 77; (Shaq Rowe (Bullard-Havens) 72; (Brad Helmkamp (Simsbury) 71; (Cole Harris (New Canaan) 70(; Thomas Ullman (Granby Memorial) 70.
GOOD SPORTS
The CIAC has nominated 18 athletic programs for the Michael's Achievement Cup, which recognizes outstanding achievement in sportsmanship, participation, athletic scholarship, athletic personnel, equity, chemical-free initiatives and athletic achievement for the 2011-12 school year.
The following programs have were nominated:
Class LL:
Fairfield Ludlow, Glastonbury.(
Class L:
Avon, Darien.(
Class MM:
Brookfield, Foran, Joel Barlow, Ledyard.(
Class M:
Haddam-Killingworth, Weston, Woodland.(
Class SS:
East Hampton, Northwest Catholic, Valley Regional.(
Class S:
Gilbert, Notre Dame-Fairfield, Wamogo, Westbrook.
One school from each class will be selected as a finalist for the award,which will be announced Nov. 15.
MILESTONE MAN
Farmington boys' soccer coach Steve Waters collected his 450
th
career victory when Farmington defeated Newington 3-1 last week.
Colin Cheeseman, Josh Moreno and Guido Shutz scored for Farmington in the victory.
Waters has a 450-72-40 record in 30 years as a head coach.
Roger Brown is a staff writer for the New Hampshire Union Leader and has been covering high school sports throughout New England since 1992.
September, 26, 2012
9/26/12
2:09
PM ET
By
Roger Brown
| ESPNBoston.com
Strange as it may sound, David Coggins couldn't have been happier last Thursday when he learned that he would be ineligible for the first four games of the 2013 season.

Coggins, a three-star receiver from Sacred Heart High School in Waterbury, Conn., feared he would lose his entire senior season because of recruiting violations committed by representatives of Naugatuck High School. Instead he received a four-game suspension and is allowed to practice with his Sacred Heart team.

"It's a weight off my shoulders," said Coggins, who committed to Boston College in July. "I was worried about my future."

Earlier this month Naugatuck officials reported to the Connecticut Interscholastic Athletic Conference that former Naugatuck football coach Rob Plasky gave money to the parents and legal guardians of three Sacred Heart players – Coggins among them – who intended to transfer to Naugatuck.

Plasky resigned once the recruiting allegations surfaced, and all three players remained at Sacred Heart.

"I didn't know my legal guardian took the money," Coggins said. "I wanted to transfer because I couldn't afford Sacred Heart. Some of that money was for tuition [past due]. Now I have my tuition [reduced]."

Coggins, who missed all of last season with an ankle injury, said he is no longer committed to Boston College.

"It's not out there yet, but I have de-committed from BC," he said Tuesday night. "I wanted to keep my options open and see what else is out there."

Coggins caught 78 passes for 1,427 yards and 13 touchdowns as a sophomore. He's made 139 receptions for 2,256 yards and 17 touchdowns in his two years of varsity football.

According to Coggins, Temple and Illinois are among the schools that have shown interest. He also has an offer from Central Connecticut State.

"BC isn't out of the picture," Coggins said. "I'm hoping more schools call after the season.

On the rise: Anthony Davis is the rarest of the rare. He's a Division I football recruit from the state of Vermont.

Davis wasn't born and bred in the Green Mountain State, but he is spending a post-graduate year at Vermont Academy in Saxons River. After an injury-plagued senior season, he's hoping a year of prep school will increase his college options.

"He was heavily recruited as a junior, but did not play at all last year because he was injured, " Vermont Academy coach Mike Atkins said. "Recruiting fell off, so he needed another year for that reason, and, academically, to prepare for college."

Davis, a wide receiver/defensive back, has offers from Bryant and Elon, but Atkins said several Division I schools are showing interest.

"I just called Penn State [Friday] morning because they inquired about him," Atkins said. "Athletically, he could be at that level, but he's not there yet. He fancies himself as a wide receiver, but I think he's a better defensive back. He's athletic enough where he could make a mistake and still recover from it.

"He will try out for the basketball team, which has five for six Division I-level kids, some who have already committed – that's the kind of athlete he is."

Going Green: Former Everett quarterback Jonathan DiBiaso has guided Phillips Exeter Academy to a 2-0 start. DiBiaso, the Gatorade Player of the Year in Massachusetts last year, has committed to Dartmouth.

DiBiaso completed 9 of 13 passes for 179 yards and three touchdowns in Saturday's 34-13 victory over Worcester Academy.

"I've only been here a month and I've already learned so much," DiBiaso said.

DiBiaso picked Dartmouth over Harvard. He also considered Pennsylvania and Holy Cross.

"Once I went on my official visit [to Dartmouth] I was pretty much sold," he said.

Footnotes: Boston College-bound quarterback Tim Boyle passed for 276 yards and three touchdowns to help Xavier (Middletown, Conn.) defeat North Haven 49-12 last weekend. Xavier, the top-ranked team in Connecticut, has won 28 games in a row. … Bedford (N.H.) senior Will McInerney, a 6-foot-7, 275-pound tackle, has taken on an assistant coach's role this season. McInerney will not play this fall because he had surgery on each knee earlier this year. According to Bedford coach Kurt Hines, the four schools that have made scholarship offers – New Hampshire, Fordham, Wagner and Colgate – have said they will honor those scholarships as long a McInerney passes a physical in the spring.

Recruiting information regarding high school or prep school football players in New England can be sent to Roger Brown at rbrown@nhfootballreport.com.
September, 18, 2012
9/18/12
6:52
PM ET
By
Roger Brown
| ESPNBoston.com
Tabor Academy's Tevin Montgomery narrowed his college options to three schools during the summer, and he's almost ready to announce where he'll be playing football next season.

Montgomery, a 6-foot-4, 295-pound defensive lineman, will choose between Boston College, Vanderbilt and Virginia.

"That is the situation, and I think I'll make the decision real soon," Montgomery said. "Probably within a week or two."

Montgomery is the top-rated uncommitted recruit from Massachusetts. ESPN Recruiting lists him as a three-star offensive tackle, but Montgomery said he's being recruited to play on the defensive side of the ball.

Montgomery, who didn't begin playing organized football until last year, has also received scholarship offers from Temple, Massachusetts, Connecticut, Rutgers, Maryland and Missouri.

"BC, Vanderbilt and Virginia were the three that fit me the best as a student-athlete," Montgomery said. "They're schools with a lot in common. They all have great academics and a football team that's on the rise.

"BC was my first scholarship offer. They were the school that put me on the map."

Montgomery won't be in uniform when Tabor opens its season this weekend. He's still recovering from ankle surgery that was performed in August. He said he expects to miss Tabor's first three games.

Montgomery said he'll likely announce his college choice before he plays in a game this season.

"I was going to take official visits, but now I think I'll just take an official to the school I commit to," Montgomery said. "I think I've made up my mind. I just want to make sure it's the right decision."

Staying in-state: New Hampshire's top prospect in the Class of 2013 came off the board Saturday when Souhegan's Jake Kennedy committed to the University of New Hampshire.

"I knew UNH was going to be a very comfortable place for me," Kennedy said. "I love the school and I know the football program is great. They win a lot of games, and staying in-state was definitely a factor for me.

"I also felt very comfortable with Coach McDonnell [UNH head coach Sean McDonnell]. There's no BS. With him it's what you see is what you get."

Kennedy, a 6-foot-4, 280-pound offensive tackle, also had offers from Massachusetts, Colgate, Fordham, Holy Cross, Maine and Rhode Island. He said he strongly considered Fordham and UMass as well.

"They were both a close second, but I always felt more comfortable at UNH," Kennedy said. "I've wanted to go there for a while. I was just waiting to see what else might come along."

Kennedy also plays varsity basketball for Souhegan, which is located in Amherst.

"Jake did all he could in terms of being thorough and diligent in terms of looking at all of the schools," Souhegan coach Mike Beliveau said. "I don't know if he'll project to be an offensive tackle or an offensive guard, but he moves real well for a 280-pound kid. He's a finisher in terms of his blocking. He doesn't take a play off. He plays hard on every play."

The Wright stuff: Although Holy Name running back Quron Wright is on pace to break the school's career rushing record (5,037 yards, held by Emil Igwenagu), Holy Name head coach Mike Pucko is having difficulty convincing college coaches that Wright can play at the next level.

The problem, Pucko said, is Wright's height.

"We list him at 5-7, 165 pounds, but he's closer to 5-5," said Pucko, who played at the University of Connecticut. "The kid is the real deal, but because of his height I'm having a hard time selling him to people. He can dunk a basketball and he runs a legit 4.5 (40-yard dash), but these guys don't want to take a chance on a kid his size."

Pucko said he has at least two other college prospects on his roster: senior Basit Dennis, a 6-foot-1, 290-pound two-way tackle; and senior Dan Kegbeh, a 6-foot-1, 180-pound defensive back.

"Dennis is from Liberia, and he'll probably get the best shot of the three," Pucko said. "Kegbeh is the center on the basketball team. He's got a huge upside. Donnie Brown [Connecticut's defensive coordinator] thinks he could be a I-A player. He's got 4.39 speed, and he's a hitter too."

Wright entered this season with 3,637 yards rushing, and has gained 446 yards on the ground in Holy Name's first two games. He's in his fifth season of varsity football, and his fourth as a starter.

"He'd be a steal at the Division II level, but I know he can he can play higher than that," Pucko said.

Ineligible receiver? The Connecticut Interscholastic Athletic Conference is scheduled to announce Thursday whether or not Sacred Heart (Waterbury) wide receiver David Coggins will be eligible for the 2012 season.

Coggins, who committed to Boston College in July, missed last season with an ankle injury. He and another Sacred Heart player, Javon Martin, attempted to transfer to Naugatuck after the 2011-12 school year, but Sacred Heart refused to release either player's transcript because each had an outstanding tuition balance.

Naugatuck coach Rob Plasky was then put on paid leave after it was alleged that he violated CIAC rules by giving money to the players who wanted to transfer. Plasky resigned one day after he was placed on leave.

Coggins, a three-star wide receiver, returned to Sacred Heart, but was not allowed to play in Thursday night's 46-0 loss to Woodland.

Footnotes: La Salle Academy running back Josh Morris, Rhode Island's Gatorade Player of the Year last season, has offers from Bryant, Valparaiso, Monmouth and Brown. Morris said he's also receiving interest from BYU, Louisiana Tech, Pennsylvania, Yale, UNH, Villanova, Holy Cross, Towson and Massachusetts. He's rushed for 285 yards and has 145 receiving yards in two games this season...Exeter (N.H) placekicker Logan Laurent made each of his seven point-after kicks and put the ball in or out of the end zone on each of his kickoffs during Friday night's 49-0 victory over Manchester Central. Laurent has been offered a scholarship from UNH...Ansonia (Conn.) running back Arkeel Newsome, one of Connecticut's top prospects from the Class of 2014, rushed for 197 yards and five touchdowns on nine carries in a 66-26 victory over Torrington last Friday. Newsome set Connecticut's single-season rushing record when he ran for 3,763 yards and scored 62 TDs last season.

Recruiting information regarding high school or prep school football players in New England can be sent to Roger Brown at rbrown@nhfootballreport.com.
April, 6, 2012
4/06/12
2:36
PM ET
By
Roger Brown
| ESPNBoston.com
Case Matheis looked like himself Wednesday afternoon.

"He was back playing in January," Darien coach Jeff Brameier told the
Stamford Advocate
. "He could have done stuff in the fall, but he played it safe. He's good to go."
ESPNHS has Matheis, a senior attacker, ranked as the No. 1 player in the country. He has committed to play college lacrosse at Duke.
Matheis entered the year with 120 goals and 94 assists during his first three varsity seasons.
Darien was without Matheis when it dropped an 11-3 decision to Wilton in last year's Class M tournament. The loss ended Darien's 16-game playoff winning streak. The Blue Wave had won the last six state titles.
Although Wednesday was technically the first game Matheis has played in since the injury, he also participated in a scrimmage against John Jay (Lewisboro, N.Y.) during the preseason.
"I think I got stronger and more explosive [after rehabilitating the injury]," Matheis said. "It's my senior season and I think it's gonna be a pretty special year."
BACCARO STEPS DOWN
Bill Baccaro resigned from his position as football coach at East Catholic High School in Manchester earlier this week.
Baccaro had a 94-66-1 record during his 15-year coaching career, which included stints as the head coach at East Catholic, Cheney Tech-Manchester and for the East Catholic-Cheney Tech co-op team. He guided the co-op team to a 63-47 record from 1996 to 2006. When that team was dissolved, his Cheney Tech teams went 18-3 over a two-year span before he moved to East Catholic in 2009.
"East Catholic is very thankful and grateful to Coach Baccaro for his leadership and guidance of the football team during his tenure here at East Catholic," East Catholic athletic director Tom Malin said. "The entire East Catholic community wishes the best to Coach Baccaro as he has had a tremendous positive effect on student-athletes. East Catholic will begin a search for the next varsity football coach immediately."
QUARTERBACK OPTIONS
The Connecticut team that will face Rhode Island in this summer's Governor's Cup All-Star football game was announced Thursday, and the team's deepest position may be quarterback.
Xavier-Middletown's Pat D'Amato, Hand-Madison's Henry Foye and Cromwell's Anthony Morales are the QBs who were selected. D'Amato and Foye each led their team to a state championship last season. Morales took Cromwell to the Class S championship game.
Morales led the state in passing yardage in 2011, when he averaged 283.7 yards per game and threw 43 touchdown passes. Foye ranked sixth in passing yardage with an average of 193.2 yards per game (29 TD passes). D'Amato is the best runner of the three. He threw for 15 TDs and gained 628 yards on the ground.
The Connecticut All-Stars will face Rhode Island on June 30 (4:30 p.m.) at Rentschler Field.
Connecticut extended its winning streak to nine games by beating Rhode Island 37-6 last year and has a 10-3 edge in the series.
The complete Connecticut roster:
Mike Antonio, Cromwell, WR; Aaron Berardino, Windsor, WR; Brandon Birdsell, Bethel, LB; Shaun Bowman, Cheshire, OL; Jawad Chisholm, Bunnell, S; Nicholas Colasate, Glastonbury, OL; Ben Compton, Windsor, LB; Matt Corcoran, Stamford, LB; Pat D'Amato, Xavier, QB; Brett Director, Cromwell, WR; Ian Dugger, Hall, WR; Matt Duignan, Masuk, LB; Jevan Elmore, New London, CB; Jimmy Fairfield-Sonn, Valley Regional/Old Lyme, CB; Timothy Farina, East Lyme, OL; Jose Forestier, Bulkeley, DL; Evan Foster, Bunnell, OL; Chandler Foster, Stamford, S; Henry Foye, Hand, QB; Vance Giarratana, Hand, S; Leaon Gordon, Brookfield, RB; Wesley Hopkins, Northwest Catholic, DL; Jamar Johnson, Bloomfield, DL; Emir Kuljancic, Wethersfield, DL; Sebastian Little, Cheshire, WR; Ryan Lumpkin, Windsor, WR; Brandon Lytton, Torrington, RB; Sean Marinan Jr., Xavier, DL; Brandon Martin, Notre Dame-West Haven, CB; Hakeem Martin, Ansonia, OL; Kyle McKinnon, New London, RB; Anthony Morales, Cromwell, QB; Genois Nelson, Maloney, DL; Devon O'Reilly, Glastonbury, CB; Daniel Palmer, Hartford Public, LB; Matt Paola, Pomperaug, K; AJ Pascuzzo, Sheehan, WR; Jason Piontkowski, Masuk, WR; Khamil Rangolam, Hillhouse, OL; Ludovic Richardson, Notre Dame-West Haven, DL; Maleek Riley, Northwest Catholic, OL; Robert Rose, Shelton, LB; Ardian Sahinovic, New Fairfield, K; Jovan Santos-Knox, Xavier, LB; Dallas Smith, Ledyard, LB; Isaiah Thomasson, Maloney, LB; Tommy Undercuffler, Berlin, S; Dylan Vano, Ansonia, OL; Giovanni Viven, New Britain, LB; Zach Voytek, Trumbull, OL; Jonathan Ware, RHAM, LB; Billy Wayrauch, Cheshire, LB; Austin Wezenski, Xavier, DL; Brandon Williams, Bassick, DL; Tyler Wood, Ansonia, LB.
BASEBALL IS BACK
The CIAC championship baseball games will return to Palmer Field in Middletown this year after being held at Muzzy Field in Bristol last spring.
Roger Brown is a freelance writer who has been reporting on high school sports in New England since 1992.
March, 22, 2012
3/22/12
2:55
PM ET
By
Roger Brown
| ESPNBoston.com
Recappping last weekend's CIAC state championship games in boys and girls basketball:

CLASS LL BOYS:
Top-seeded St. Joseph used an 18-0 run in the second half to knock off second-seeded Hillhouse 62-54.
St. Joseph (27-1) received a game-high 26 points from James Jennings, and 18 from Timajh Parker. Parker made 14 of his 15 free throw attempts.
St. Joseph didn't make a field goal in the second quarter, and Hillhouse (24-2) led by 13 in the third. It was the 11
th
state title for St. Joseph coach Vito Montelli, who has won a state-record 880 games (all at St. Joseph). Montelli guided St. Joseph to victory over Fairfield Prep in last year's Class LL championship game.
CLASS LL GIRLS:
A Jessica Lynch layup with 21 seconds to play gave ninth-seeded Newtown the lead for good in its 44-42 triumph over 10-seeded Mercy.
Mercy (21-6) overcame a 13-point deficit in the third quarter to take a 42-41 lead with 29 seconds to play, but Lynch's basket came on the ensuing possession. Riley Wurtz tossed in a team-high 18 points for Newtown (22-4).
Mercy has lost the Class LL championship game in each of the last three seasons.
CLASS L BOYS:
Treyvon Moore scored a game-high 25 points to help second-seeded Career, Magnet defeat top-seeded Northwest Catholic 51-49.
The victory handed Career Magnet (27-2) the program's first state title.
Northwest Catholic (23-4) missed 17 of its 20 field goal attempts in the first half and trailed 29-13 entering the third. Kuran Iverson scored 20 points, grabbed 17 rebounds and blocked four shots in the loss.
CLASS L GIRLS:
A strong finish handed third-seeded Bacon Academy a 38-34 victory over top-seeded E.O. Smith.
Bacon (22-3) closed the game with a 12-0 run. E.O. Smith (25-2) failed to score in the final 5:49 and made one field goal in the fourth quarter.
Taylor McLaughlin led Bacon Academy with 13 points.
CLASS M BOYS:
Senior Nolan Long, a 6-foot-9 center, scored 21 points and pulled down 11 rebounds as second-seeded Waterford collected the program's first state championship by beating fourth-seeded Watertown 71-57.
Senior guard Geary McLeon added 18 points, seven assists and five steals for the Lancers (25-2). It was the fourth loss for Watertown (24-4).
CLASS M GIRLS:
Guard Fifi Walcott scored 16 points as top-seeded Weaver won its first state championship with a 55-47 triumph over second-seeded Tolland.
The Beavers (25-2) set a school record for victories en route to the title.
Kristin Schatzlein, Connecticut's Gatorade Player of the Year, scored a game-high 32 points in the loss. Tolland (24-4) committed 32 turnovers.
CLASS S BOYS:
Vitor Melo collected 14 points and 13 rebounds to help top-seeded Immaculate defeat third-seeded Capital Prep 67-53.
Capital Prep (23-4) entered the game averaging 85.9 points per game, but was held to its lowest point total of the season. Immaculate (26-1) outrebounded Capital Prep, 49-30.
CLASS S GIRLS:
Three players scored in double figures for top-seeded Coginchaug, which won its first state championship by beating second-seeded Capital Prep 58-48.
Lauren Esposito scored 18 points and grabbed nine rebounds for Coginchaug (25-2). Audrey Biesak scored 11 and Jessica Solomon added 10 for Coginchaug.
DeJane James tossed in 19 for Capital Prep (23-4).
HOCKEY: VIZZO PROPELS NOTRE DAME-WEST HAVEN
Billy Vizzo scored three goals as second-seeded Notre Dame-West Haven (20-3-1) defeated fourth-seeded Glastonbury (20-5-0) 5-0 in the Division I championship game.
It was the only time Glastonbury has been shut out this season.
In last weekend's other championship games, fifth-seeded Trumbull scored five third-period goals during a 5-3 triumph over seventh-seeded Branford in the Division II championship game; and Drew O'Leary made 18 saves to help top-seeded Newington/Berlin beat third-seeded Northwest Catholic 2-1 in the Division III championship game.
Sophomore Brendan Strobel scored twice for Trumbull (17-9-0). His second goal gave Trumbull a 4-3 lead with 1:35 to play.
Brandon Ralph and Brendon Richard scored in Newington/Berlin's victory.
Roger Brown is a freelance writer who has been reporting on high school sports in New England since 1992.
January, 12, 2012
1/12/12
7:03
PM ET
By
Roger Brown
| ESPNBoston.com
Temple coach Steve Addazio's familiarity with the football landscape in Connecticut has paid off this month, when Temple received verbal commitments from two former Connecticut high school standouts: running back Montrell Dobbs (Ansonia) and 6-foot-1, 215-pound linebacker Tyler Matakevich (St. Joseph).

Both Dobbs and Matakevich graduated from high school in 2011, and played prep school football at Milford Academy in New Berlin, N.Y., last season.
Addazio is a Connecticut native who played at Central Connecticut State (1978-81) and coached at Cheshire High School (1988-94).
Dobbs originally committed to Connecticut, but could not gain admission because of an academic issue. He said he thought about playing for Marshall, until Temple entered the picture. He met with Addazio and Temple assistant coach Sean McGowan last Friday. Temple extended a scholarship offer Tuesday.
"I really didn't have to think about it much, especially since Tyler and I have become good friends and he's going there," Dobbs said. "I wanted to stay closer to home anyway. I was a good fit for me."
Dobbs rushed for 3,445 yards and scored 45 touchdowns during his senior season at Ansonia. He was Milford Academy's offensive MVP last season.
Dobbs said he may be a partial qualifier and not allowed to play next season.
"I don't know if I'm going to be playing this year," he said. "I'm gonna find that out. All I know is I'm definitely going to school at Temple."
An injury forced Matakevich to miss the first five games of his senior season, when he helped St. Joseph win the second of back-to-back Class S championships. St. Joseph beat a Dobbs-led Ansonia team 49-28 to win the 2010 championship. Matakevich scored four touchdowns in that victory.
Matakevich was a two-time all-state selection who caught Temple's eye at a postseason college combine.
"I love everything about Temple," Matakevich told the
Connecticut Post
. "I'm so happy to finally get this done after all that hard work. It's finally paid off."
August, 18, 2010
8/18/10
6:14
AM ET
By
Matthew Stout
| ESPNBoston.com
Kevin Callahan is entering his 11th year as head football coach at Ridgefield High School this fall. Since 2001, his Tigers have never endured a losing season. They've won nine games four times, and six or more every year but one.

And yet, they've been to the CIAC playoffs twice, playing for -- and winning -- their only state championship in 2002.
Callahan thought something was wrong with that.
"It's nice when kids understand how to win," he said, "but you have to reward winning."
Others thought so, too.
In a change met with sweeping applause from the Connecticut high school football community, the CIAC is implementing a new playoff system this fall that features fewer divisions, more teams and a venue that many feel finally fits the bill.
In recent years, the football playoffs featured four teams earning postseason berths in six divisions. This season, there are only four divisions (LL, L, M, S) but with eight teams qualifying in each, the number of playoff competitors jumps from 24 to 32. The hope is to reward the larger schools who play in more difficult divisions. Last season, three 9-1 teams (two in Class LL, one in L) didn't make the playoffs, and the seasons of four 8-2 teams ended on or around Thanksgiving. In 2008, 14 teams with eight or more wins didn't qualify.
"All other CIAC sports, you win 40 percent of your games, you're in the playoffs," said Berlin coach John Capodice, a member of the CIAC football committee. "I felt the football kids were shortchanged."
[+] Enlarge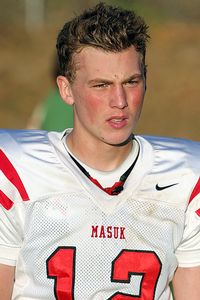 Courtesy of Dave ChoateMasuk-Monroe (Conn.) quarterback Casey Cochran is looking for a repeat performance of last year's state-best 2,968 passing yards in 2010.
It's difficult to find any detractors of the decision, aside from those who would have welcomed further expansion to include as many as 48 teams. Some, such as St. Joseph coach Joe Della Vecchia, believe the system will still keep some deserving schools out only because they're playing tougher schedules.