Boston High School:

Clancy Taylor
June, 1, 2012
6/01/12
8:43
PM ET
By
Mark Goodman
| ESPNBoston.com
BOSTON -- It took a couple trips through the lineup, but the Chelmsford High softball team eventually got going in a big way.

A home run and a pair of triples sparked a four-run fifth inning that broke open Friday's MIAA Division 1 North first round game at Daisy Field, as the Lions beat host Boston Latin, 9-1.

Chelmsford (16-6) had a 2-1 lead going into that fifth inning, when first baseman Janelle Levesque, the team's No. 9 hitter, roped a one-out triple to the left-center alley. Shortstop Abby Johnson followed with a grounder to Wolfpack shortstop Mary Demoura, and Levesque just beat the throw home to make it 3-1.

Second baseman Clancy Taylor laced an RBI triple to score Johnson, and center fielder Alex Burgess capped the rally with a home run to deep center.

Latin (15-6) pitcher Caitlin Berry had allowed just one hit in the first four innings. Chelmsford head coach Bruce Rich said his team may have been trying to do a little too much at the plate early in the game.

"We tell the kids a homerun is basically an accident. All you're trying to do is hit line drives," Rich said. "The kids leveled their swings out, and I think they became more disciplined as the game went on."

Burgess stroked a ground rule double and scored in the Lions' three-run seventh.

"She's explosive," Rich said. "She can play small ball, and then she can turn around and kill a ball. It was nice to see her play a great game."

After going 0-for-2 in her first two at-bats, Burgess said she got a little inspiration from the crowd before hitting her homer.

"I kept hitting little foul ball pop-ups, and then I heard someone's dad say, 'Stop getting under it,' and I got really mad and just hit it," she said.

Both teams struck for a run in the first inning. Johnson reached first on an infield error to start the game and went for third on Taylor's sacrifice bunt, drawing a bad throw that allowed her to score.

Demoura led off the bottom of the first with a single to right, stole second and advanced to third on center fielder Bridget Walsh's ground ball back to the pitcher. Wolfpack catcher Paige Mulry followed with a sacrifice fly to knock in Demoura and tie the game, 1-1.

Lion righthander Meghan Rich settled in after that, going five strong innings for the win. She gave up four hits and walked three while striking out two. Kaela DeAngelis pitched two innings of hitless relief, as Chelmsford's 1-2 punch was effective against a Boston Latin team that impressed the Lions' coach.

"They were tough; that's a good-hitting team," Bruce Rich said. "I know they've hit the ball all year, and they've beaten some good teams. I thought they played some good defense. Their shortstop (Demoura) was phenomenal today; she's an outstanding player."

Left fielder Erin Carpenter put the Lions ahead for good with a two-out triple in the second to score designated hitter Abby Desrosiers, who reached on an error to start the inning.

The Lions flashed some leather in the sixth with a well-executed double play. Taylor fielded the grounder cleanly and flipped it backhand to Johnson, who made the quick turn to throw out the runner at first and end the inning.

Desrosiers – who had the game-winning hit in the eight inning of Chelmsford's 4-3 preliminary round win over Medford Thursday – had a two-run single in the seventh to make it 8-1. Right fielder Jen Janiak knocked in Desrosiers with a single through the hole to left, scoring the game's final run.

Taylor, Burgess and Carpenter all had two hits for Chelmsford. Demoura went 2-for-4 at the plate for the Wolfpack, who also got a double from DH Courtney Hoban and a single by Walsh.

Chelmsford is one of eight Merrimack Valley Conference teams to qualify for the state tournament. Six are in Division 1 North, and that doesn't include Dracut, one of the best teams in the state.

"I think that our league being better this year, more competitive this year, is making us better in the postseason," Rich said. "I'm just happy we haven't seen a team from our league in this tournament so far."

The Lions endured a 2-5 stretch toward the end of the regular season – including a 5-1 loss to the Middies – but have won five in a row since then. Burgess, one of 11 seniors on the team, hopes to add a few more to that streak.

"Even though we had a rough season, this is what matters now," Burgess said.
May, 9, 2012
5/09/12
11:39
PM ET
By
Ryan Kilian
| ESPNBoston.com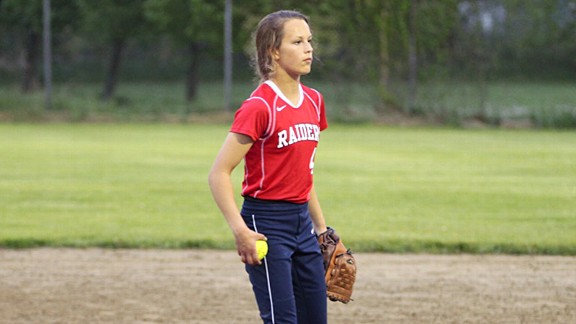 Ryan Kilian for ESPNBoston.comCentral Catholic freshman Olivia Antczak struck out 10, allowed just three hits and retired 20 of the final 21 batters to improve to 10-1 on the season.
CHELMSFORD, Mass. -- Central Catholic freshman Olivia Antczak tossed a 3-hitter to lead the Lady Raiders (11-1) to a 3-1 victory over Chelmsford (10-5) on Wednesday night in a battle of Merrimack Valley D1 teams.
Antczak improved to 10-1 on the season, as she struck out 10 batters en route to a 3-hit complete game win. That win also qualified Central Catholic for the MIAA Division 1 North tournament.
Chelmsford got on the board first in the bottom of the opening inning, as junior third baseman Rachel Couto doubled to left center field to drive in second baseman Clancy Taylor. Taylor had reached on a single and would also steal second base.
"I was definitely concerned when they came out and scored early as they also did that to us last game," said Central Catholic head coach Stacy Ciccolo. "Our goal was to come in, minimize our damage early, and let whatever happens happen throughout the game."
Chelmsford scored three runs in the opening inning of the team's first meeting on April 13. In that game, Chelmsford defeated Central Catholic 6-4 to hand the Raiders their only loss to date on the season.
On Wednesday night, Chelmsford starting pitcher Meghan Rich battled through a first inning jam and shut down Central Catholic in order in the second before Central would plate their first run in the third inning.
"We came out early and played with more confidence tonight," said Ciccolo. "We got a couple of big hits off of a very good pitcher."
Antczak led off the third with a bomb to left field that would result in a triple, and eventually the game-tying run after a Brittney Hall single.
After Antczak shut Chelmsford down in the bottom of the third, Central would score its final two runs on a leadoff triple by first baseman Leslie Moore, and two RBI singles by Antczak and Nicole Howe.
"We try to emphasize having different people chip in each game," noted Ciccolo. "It is nice to get it done all over the order and tonight it was done from the six, seven and eight spots."
Despite a leadoff double in the sixth inning by sophomore Abby Desrosiers, Chelmsford could not find the answer to Antczak. The freshman retired 20 of her final 21 batters for the complete game victory.
Freshman Poise:
Antczak is no average freshman, as the slender fireballer shows poise beyond her years on the mound.
"She is so composed and has incredible poise for her age," Ciccolo said. "She recognizes that there is always something that she needs to work on. She is young and growing and she does a great job of always working on that next pitch."
Antczak also had a big night at the plate, going 2-for-3 with a triple and one RBI.
She has now won three games in a row since the loss to Chelmsford including an impressive nine inning, 15-strikeout game in a 3-2 win over Methuen.
Intense Rivalry
: "In the first game we played them we probably made about four or five errors," recalled Ciccolo. "Chelmsford hit the ball well as they are a good hitting team but we definitely did not help our cause that game."
Chelmsford and Central Catholic have battled for the top sport in the MVC Large the last four years and have built a nice rivalry in the MVC Division 1.
"We have a lot of respect for Chelmsford and we have built a nice rivalry with them that played out last year in the tournament. Central Catholic defeated Chelmsford 2-0 in the 2011 Division 1 North sectional semi-finals.
Central Catholic finished the 2011 season with a record of 18-4 and lost to in the Division 1 North final to Acton-Boxborough, 4-0. Despite graduating many key parts of last year's squad, the 2012 Central Catholic girls look posed to make some noise again come playoff time.
Central Catholic meets up with surprising second place squad Tewksbury on Friday in another important MVC D1 game. Chelmsford will look to rebound from their fourth loss in five games when they take on Westford Academy on Friday afternoon.