Boston High School:

Cody Braga
June, 15, 2013
6/15/13
2:32
PM ET
By
Andy Smith
| ESPNBoston.com
LOWELL, Mass. -- This postseason has played out like a movie for Middleborough, with its share of drama, adversity, and triumph making it a story fit for the big screen.
So it was only fitting that the Division 3 state baseball final ended with a walk-off 4-3 victory.
Going into the seventh and final inning, it was tied 2-2. Hopedale's Kevin Lynch singled to begin the inning and scored three batters later when Cole DeDonato grounded out to second.
[+] Enlarge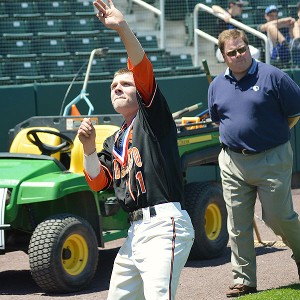 Brendan Hall/ESPNBoston.com Kevin Huscher smacked a two-run single with two outs in the bottom of the seventh for the walk-off win, giving Middleborough its first state title since 1997.
Hopedale (21-4) took that momentum into the bottom of the inning, bringing in left-hander Ian Strom to close out the game. He walked two of the first three batters he faced, striking out the other. That brought up the top of the Middleborough (21-5) order, but Strom dispatched Paul Sances with a three-pitch strikeout for the second out of the inning.
Neil Perry walked, loading the bases for Kevin Huscher. The senior shortstop had one hit in three at-bats until that point. He sent a single back up the middle, scoring both runners in scoring position and putting an exclamation point on the team's storybook season.
"To be honest, I was surprised to see (Strom) come out on the mound because he just pitched two days ago," said Middleborough coach Bill Lawrence. "That's what I talked to all of our batters about. We watched him warm up and he couldn't throw a strike during his warm-ups."
It is the team's first state baseball championship since 1997.
"We won the same way in '97, with two outs," said Lawrence. "These kids have been resilient the whole year, I just didn't want to come this far and have to turn around and go home as the runner-up. They don't deserve that."
Middleborough got on the board first in the bottom of the second when Cody Braga's sacrifice fly plated Andrew Card. It tied the game in the sixth when Card's triple off the right field wall scored Huscher.
Hopedale's Dan Mantoni was effective on the mound, going six innings, allowing five hits striking out seven batters and walking four.
Flashing some leather:
While Middleborough leadoff hitter Paul Sances went 0-for-4 at the plate, he helped his team in the field with two highlight catches in left field. Cole DeDonato singled with one out in the fifth, then stole second to get in scoring position. Strom, the next batter up, hit a low line drive to left that forced Sances to run in to play it. Knowing could not make the play on his feet, he dove, making the catch and saving a potential run from scoring.
The next batter, Dan Mantoni, hit a 3-0 pitch deep into the gap in left-center field. Sances sprinted to his left, again hoping to save a potential run from scoring. For the second time in the inning, he went horizontal and made the catch, this time ending the inning and any threat Hopedale had of scoring.
"This park is a little deceiving for us, we couldn't figure out if he was playing too shallow, too left or right because of the angle we were at," said Lawrence. "We just kept watching their outfielder and watch him when the ball was hit. So he had it hard, just on that aspect. Those two diving catches, that saved us."
Close call:
For a few seconds, Huscher was almost the goat of the game rather than the hero. He stepped up to the plate and went after the first pitch he saw, sending it deep down the right field line. As the ball hung in the air, he jogged down the first base line, willing the ball to drop or keep heading out of play.
With two outs and the bases loaded, no player wants to be the one to make the final out, especially in the state championship game. It appeared the right fielder had ran it down, until the ball dropped out of reach.
"I was thinking I hope that thing gets down because that would be a terrible way to lose with bases loaded," he said. "I just wanted to do that one for my team."
Huscher came back after the long strike and knocked the game winning single up the middle.
"On the first pitch, he threw me a fastball and I took kind of a crazy swing at it and luckily it hit the ground," he said. "Second pitch I was thinking he was going to come back with something soft because I put a pretty good solid swing on it. He ended up coming back with a fastball and it's pretty straight, not a lot of movement, and I just put it up the middle.
Honoring Braga:
This Middleborough season was dedicated to former teacher and soccer coach Jim Braga, who was tragically killed in a car crash last March. In remembrance, the team sported patches on its jerseys with the initials JB.
His grandson, Cody, plays on the Middleborough baseball team and batted eighth in Saturday's state championship game. As the game came down to the wire and the last inning unfolded, the team and its coaching staff looked for a little help from above when it needed it the most.
"I just had a feeling," said Lawrence. "I just kept (looking up at the sky). I said, 'C'mon Jimmy, get us through here,' and sure enough it did."
As the ball fell in foul territory just before the game-winning hit, one was left wondering if there was something special going on at Lalacheur.
"We've been pretty much unbeatable lately," said Huscher. "I'd say definitely we had a few angels with us. Mr. Braga was an awesome guy and I think he would be very proud of the team and the things we accomplished."
June, 10, 2013
6/10/13
2:39
AM ET
By
Brendan Hall
| ESPNBoston.com
BRAINTREE, Mass. -- As the Middleborough High baseball team left Rockland Stadium last Thursday night, their 4-2 Division 3 South semifinal win over Medfield in stone, Sachems coach Bill Lawrence tapped the 'JB' initials that sit on the left breast of sophomore outfielder Cody Braga's jersey.

He didn't have to say anything. The initials on that shirt, and every other players' shirt, were commensurate enough on their own.

This afternoon in the sectional final at Braintree High, Braga throttled the Sachems from the eight spot in the lineup, plating half of the runs in their 6-1 defeat of Abington, and the young outfielder was posed the question of what it meant to do that with regard to those initials, and everything came to a screeching halt.

"It means a lot...I'm kinda speechless," he said softly. And then nothing. His eyes welled up. The words he struggled to find were choked down somewhere in his throat.

The initials stand for Cody's grandfather, Jim Braga, the 61-year-old retired teacher from Middleborough High who was tragically killed in a car crash last March, and for whom this season has been dedicated to. He was a popular fixture in town, coaching the high school's soccer team and starting a local CYO basketball league, and was often spotted at Sachems baseball games.

"He understood [Thursday night], and it was the same thing today," Lawrence said. "There's 10 players out there helping us out. They're playing with emotion, all of them.

"He's always at our games, and this is his grandson...He's with us right now."

Younger terrific on mound: As much as Braga's performance carried the day, so too did the performance of senior lefty Cody Younger, who picked up the complete-game win with five strikeouts, four hits allowed and one walk, on 99 pitches.

Younger surrendered a run in the bottom of the first inning, a Tyler Perakslis sacrifice fly to centerfield. But after Braga answered right back in the top of the second with a two-run double, Younger clamped down and silenced the Green Wave bats for most of the rest of the day.

Spotting his fastball and changeup around the plate, and finishing off at bats with a hammer curve that showed plenty of late life. When he pitched to contact, he left batters jammed -- 13 of the Green Waves' 26 at bats resulted in flyouts.

"This time last year, he struggled a bit," Lawrence said of Younger, who is headed to Bridgton Academy (Maine) next year for a post-graduate season. "He made some mistakes, but he learned from those mistakes he made last year, and he's able to go strong this year. Just dominant when he wants to be."

Said Younger, "I knew I had it. I felt really good in the bullpen, I felt really good coming out there. My curve was breaking, and everything came together. The five runs definitely helped, and our team has been playing strong defense all year, making plays, gave me no problem out there."

With the baseballs the MIAA uses in the tournament -- a brand with tighter, lower seams -- came an adjustment period with grip. Once he adjusted his grip on his curve, the ball found its life again.

"You've just got to make sure you get on the seams a little bit more, and really snap it down," he said. "It's not going to give you a big break like the ones with the high seams, as easily."

Defense delivers: Of the remaining teams left, the Sachems have the stingiest runs against, allowing just three runs in four games in the MIAA Division 3 South district.

In their first two games of the tournament, they pitched shutouts against Case (5-0) and Ashland (3-0), before posting a 4-2 win over Medfield in Thursday's semifinals.

"They've been working hard. Some of them are young out there, and this is their first time in a big ball game like this," Lawrence said. "But they played very great defense.