Boston High School:

Cody Chapman
November, 10, 2011
11/10/11
5:40
PM ET
By
Gary Hawkins
| ESPNBoston.com
Madison Memorial High School senior Matt McClintock recently won his third Class C cross country title while posting the fastest time in the state in any class. McClintock also won the mid-season Festival of Champions which featured over 600 runners from 60 schools in and out of state. Last spring, he won the 1,600 and 3,200 meter runs at the state track and field meet. He's competing this weekend in the New England meet in North Scituate, R.I. He recently answered questions about his season and running career.
Q: How did you get started running?

A: "I started running in 5th grade on the Madison Junior High XC team. I went to Athens Elementary so what would happen is Athens would practice on it's own and then we would just join the Madison team at meets. Fifth grade was the first year that I could compete in any "real" school sports, and I don't really know what drew me to it, but I decided to try it, and I guess my first race went well. I finished 13th. All my coaches were really happy with it and I guess I've been running ever since."
Q: Who have been your greatest influences?
A: "First and foremost would definitely be my coaches. Mrs. Moulton and Mr. Harper in junior high and Bob and Brandon Hagopian in high school. The person that really inspired me and drove me to get better was definitely coach Bob Hagopian. He's been with me since freshman year, through my wins and losses, and has always found a way to make me better."
Q: At what point did you feel you made a breakthrough in your high school career?
[+] Enlarge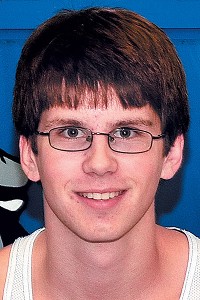 Gary Matt McClintock
A: "Without a doubt it was after I lost the conference championship last year. I got to cocky and that race showed me that I wasn't invincible, that I wasn't going to win just because my name was Matt McClintock, but because I wanted it more than the guy in front, beside, or behind me. That race made me
love
running, because I then had something to prove and something to work for. It re-instilled that love for competition in me. I will remember that race for the rest of my life, and I'm definitely a better runner because of it."
Q: What do you consider your greatest achievements in track and cross country?
A: "Wow, I guess in cross country it would be my three state championships. Since fifth grade my dream was to win a state championship in high school. To have three cross country titles and two titles on the track is just unbelievable to me. In track, my greatest achievement was definitely breaking the Madison High School records for 1,600 and 3,200 meters, probably more so the 3,200 because I was the first Madison kid in history to go under 10 minutes in that event."
Q: Which sport do you prefer?
A: "It really depends on the season. During cross country my favorite sport is cross country. During track it's track. I just love to run and race whether it's on the road, a track, or a trail."
Q: What goals did you set this season and did you reach them?
A: "My first goal for the season was to go undefeated in Maine and three-peat the Class C State Championship. I'm proud to say I met this goal. My next goal was to go under 15 minutes for the 5k I haven't met this goal yet as we've never really had a good day for a championship race, but Saturday at the New England Championships looks to be a good day, and it's a very fast course so we'll see what I can do there.
Q: What is your goal for this week's New England meet?
A: "My goal here is to win the title, and to go under 15 minutes for the 5K. As I said, before, it's a fast course, and there will be some incredibly strong competition to push me there."
Q: You won several races handily this season. Is it tough competing when you're not pushed?
A: "I guess that would depend on your definition of competing. A lot of people look at competing as winning. I prefer to look at it in the manner of Steve Prefontaine. If I'm going to win, I want to know that I've done my best. So yes, it's difficult to push myself to fast times, but I always just try to stay focused and not worry about the pain or where my competition is and just get to the finish line as fast as possible."
Q: What do you enjoy most about running?
A: "I love the people that we meet. The type of people you meet at cross country or track events is totally different then you will see in any other sport. At the state meet, I was getting encouraged to reach my sub 16 goal by the coaches and family and teammates of people that I was directly competing against. I'm confident to say that you will not find nicer and more supportive fans at any other high school sports competition."
Q: Do you have any running role models?
A: "I have several running idols, the most prominent would be Steve Prefontaine. I try to live up to the guts and determination that he always showed as a runner. His quote "To give anything less than your best is to sacrifice the gift" are the words I live by. Another two are Haile Gebrselassie, and Kenenisa Bekele. Both are Ethiopian runners. Gebrselassie is a two-time gold medalist and world record holder. Bekele is the two-time defending Olympic 10,000 meter champion and holds World Records now."
Q: Where will you attend college and why did you choose that particular school?
A: "I will be running for Lock Haven University of Pennsylvania next year. I felt very comfortable around the campus and really connected well with Coach Aaron Russell and the entire team at Lock Haven."
Q: What other sports or activities do you enjoy
?
A: "I enjoy all sports, but running is my one and only true passion."
Q: What is your training regimen in and out of the season?
A: "Sorry, but I don't like to discuss what my training is, at least not until after the outdoor track season."
Q: Where do you need to improve?
A: "I definitely need to improve on my kicking speed. In order to really be competitive in college I need to be able to win a race in the last 200 Meters if necessary. I feel that as my speed continues to develop in conjunction with my continued endurance training all of my events will improve drastically."
October, 11, 2011
10/11/11
2:04
PM ET
By
Gary Hawkins
| ESPNBoston.com
Paula Doughty is in her 31st year as field hockey coach at Skowhegan Area High School. She's posted a career record of 414 wins, 80 losses and 17 ties and her teams have captured 12 Class A state championships, including last year's. Prior to losing in the state final in 2009, the Indians had reeled off eight state titles in a row.

Doughty was named National Field Hockey High School Coach of the Year in 2004 and 2008 and more than 80 of her players have gone on to play in college. One of her players has been a first-team national All-American while two have made second team All-American and 22 have been regional All Americans.
Q: How did you get into coaching?
A: "I was in college from '70-74 and I officiated. I graduated from the University of Maine at Farmington and student taught in Skowhegan. In August they called me and said there was a job opening and they also needed a field hockey coach. I played in high school and I officiated so I had quite a lot of experience and I knew the game."
Q: What attracts you to the sport?
A: "It's evolved into a really fast, fabulous sport. It's just become better and better. First we lost the offsides, advancing became incidental and the obstruction rule is lenient today. In field hockey it takes years to develop the stickwork to be able to play. I also like it, and this sounds sexist, because it's a women's sport in the United States."
Q: When did Skowhegan turn the corner?
A: "Probably in the late '80's. We were really good in the '70s, then soccer came in. I was really hurting for athletes. All the athletes went to soccer but then it balanced out."
Q: How has the program stayed so strong?
A: "I work very hard. I have three of our four coaches who have worked with me forever. I would say a shared coaching philosophy and consistency. We do the same thing K through 12 and I work with everybody K to 12."
Q: How big is the youth program?
A: "It's growing, but it's growing statewide, it's not just us. Today we had a tournament for fourth, fifth and sixth graders and there were 12 teams here and every town brought 30 kids. One thing about field hockey in Maine, there's a lot of opportunities and we can compete. It's hard for Maine kids to compete in a lot of things but in field hockey we're doing really well. A lot of kids feel entitled but Maine kids aren't like that. They work really hard."
Q: How many of your players have played in college?
A: "We've had about 80 kids play in college. My first player was Kim Jewell Bodwell in '78 and she played at the University of Maine. Our first Division I player was Wendy Obert in 1989 and she played at Northeastern. Right now, we have nine (playing in college) and we have three seniors who are going D-1 next year."
Q: How has the game changed?
A: "It's changed in every way. It's faster, it's more skilled. The amount of penalties are nothing what they used to be. You've got to be very, very skilled. It's fun to watch. Today the game is a turf game. We play on turf as much as we can. It's no longer a grass game. We practice in the gym a lot. Our field is as close to turf as you can get, but it's still grass."
Q: How is this year's team?
A: "It's a great team. The last 14 years have been great teams. The kids I have now are much more versatile. Even five or 10 years ago, they were one-dimensional ... Most of my kids I can put in any position. Messalonskee is very good. They're going to be our biggest competition in the state. It's too bad we're both in Eastern Maine. But in sports you can't take anybody for granted."
Q: How long do you want to coach?
A: "I'll coach as long as I think I can. I'll retire from teaching in a while but I'll keep coaching. I'm smart enough to know if I'm not as good as I was."