Boston High School:

Cody Clifford
June, 16, 2013
6/16/13
12:56
AM ET
By
Andy Smith
| ESPNBoston.com
LOWELL, Mass. -- When a baseball game goes into extra innings, especially five extra innings, each team cares less and less about preserving an inning and becomes ultra focused on getting that one run it needs.
Such was the case Saturday in the Division 2 state final at LeLacheur Park. As the sun faded behind the bleachers and the stadium lights came on, Hingham's Cody Clifford came to the plate with the bases loaded. On the eighth pitch of the at-bat, he sent a ball back up the middle, giving his team the hard fought 7-6 victory over Auburn.
[+] Enlarge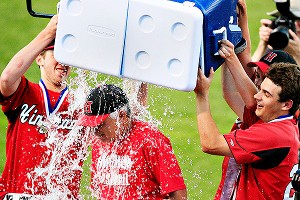 Jon Mahoney for ESPNCody Clifford's walk-off single set off Hingham's celebration.
The game almost did not see one extra inning, let alone five. The teams went into the seventh, and normally final inning, tied 5-5. Auburn (20-5) took a one-run lead in the top of the inning and seemed to sap all the momentum out of the game. That was, until Hingham (21-6) came back and answered with a run of its own in the bottom of the inning.
Luke Ferris singled to start the inning, and was promptly bunted over to second by Matt Glenzel. Steve White struck out, leaving the Harbormen down to their last out. Joe Leahy took a 2-0 pitch and belted it off the right field wall for a triple, which scored Ferris. In a somewhat gutsy call, Auburn coach Eric Swedberg decided to intentionally walk the next two hitters to load the bases. His gamble paid off when Austin Irvin flew out to third, ending the inning and sending the game into extras.
In the 12th, Even Flanagan and Irvin drew back-to-back one-out walks. John Carlson flew out to center to advance the runners up a base. Swedberg decided to intentionally walk David Hutchins, who was 2-for-6 until that, and load the bases. That brought up Clifford, who ended the game and sent his team and its fans home happy.
"My mind went blank," said Clifford of the final hit. "I was looking at the right fielder. I thought he might throw it into the first baseman because I hit it out there pretty fast. I went straight into the base and touched the base."
The Hingham players hit coach Frank Niles with the ceremonial Gatorade bath after the game, putting an end to the most successful season the team could ask for.
"This is a great way to go out senior year," said Clifford. "It's a great ending to my baseball career. It could not have ended any better. I'll always remember this day from here on. It's really surreal."
Embrace the unusual:
If there is one word to describe Saturday's game, it is unconventional. Both teams removed their starting pitchers, and Auburn even put their pitchers back in the game. Tyler LaMonda started the game for the Rockets and was relieved by Mike Vaitkunas.
While conventional wisdom is that once a pitcher is done throwing, he will at the very least play a different position. Auburn chose to put LaMonda back in the game to throw the ninth inning. They then put Vaitkunas back on the mound for the tenth, and he threw the final three innings.
Hingham had an unorthodox decision of its own when it decided to allow Clifford to hit in the 12th. He was removed from the game in the fifth inning by Luke Ferris after striking out in his first two at-bats. Ferris was then pinch hit for in the eighth by William Boynton. Conventional baseball managing is that once you take your hitter out of the game, he does not return for the remainder. However, Niles decided to put his senior third baseman back in the game at its most critical time.
"Cody is a good hitter," said the coach. "When we took Evan Flanagan out [he was pinch run for in the 12th] we had to make a splash. I clarified the rule first because Billy [Boynton] was DH'd for but we could've re-entered him back to second base. So we're sitting back there, I didn't want to do it earlier because if they didn't allow me to put Boynton back in, I didn't want to go there because I wouldn't have my best defense on the field."
"Cody's a good hitter," he emphasized. "He got a big hit against Plymouth North in the tournament. He's a good hitter. He didn't swing very well prior to the last swing, so I'm happy for him."
Carlson pounds 'em:
John Carlson relieved Evan Flanagan in the fifth inning, and pitched the final eight innings for Hingham. The left was particularly effective with his sharp-bending curveball, getting the Auburn hitters to swing above the ball. He finished with nine strikeouts, walked five, and allowed only one earned run in eight innings of relief.
"I knew I had to throw strikes up there," he said after the game. "My curveball was working pretty good for me. I just didn't walk too many guys, that was the key."
There was no sign of anyone warming up in the Hingham bullpen at all during the extra frames, indicating that Niles was going to stick with Carlson as long as he could and as long as he remained in control of the Auburn hitters. Carlson said himself after the game he was willing to pitch as long as he had to until his team won the game and that his arm actually felt better as the innings wore on.
"He's one of the toughest kids," said Niles of Carlson. "He came in relief earlier in the tournament. He's a can-do guy, he really thinks he can do it all the time and he's a battler. He said, 'I've got plenty Coach, I've got all you need.' So it was a type of day where I didn't know how many innings he had gone, I didn't know how many pitches he had thrown, but it really didn't matter."
June, 9, 2013
6/09/13
9:07
PM ET
By
Ryan Lanigan
| ESPNBoston.com
BROCKTON, Mass. -- Junior John Carlson tossed a complete game, striking out eight and added three first inning RBIs to lead Hingham to a 7-4 win over Stoughton in the Division 2 South Sectional Finals.

"He's a very unique, can-do kind of guy," said Hingham head coach Frank Niles. "We knew his pitch count was up but he's Johnny Carlson and he battled it all the way."

Carlson got off to a hot start, sitting down Stoughton's top three in order in the top of the first. The Harbormen saw their two first batters retired but senior first baseman Eddie Bowler reached on a walk. Senior Evan Flanagan followed with a single into left and junior Austin Irvin reached on an error to load the bases.

Up stepped Carlson, and on the first pitch of the at-bat, he stroked one into left center field for a bases-clearing double to give Hingham an early 3-0 lead.

"I just got a pitch middle-in and took a swing at it and it happened," said Carlson.

Stoughton pulled one back in the top of the second when Stoughton pitcher Mike Gallagher crossed the plate on a fielder's choice ground out. The Black Knights added another in the top of the third on Jovani Pires' solo homerun to left and were poised to add more damage, loading the bases with just one out. But Carlson got out of the jam, inducing two straight pop ups.

"I just stay as calm as I can," said Carlson of when the game wasn't going his way. "The game gets pretty intense and I just focus on the next batter."

The Harbormen tacked on four runs in the bottom of the fourth with a big help from Stoughton errors. David Hutchins singled and pinch runner Zach Silva advanced to second on an errant pick off attempt. Silva went to third and Cody Clifford reached first on another error before Luke Ferris singled over the head of shortstop Pat Jackman to bring Silva home. Leadoff hitter Stephan White singled home Clifford to make it 5-2.

"We got some extra chances," said Niles. "Stoughton's obviously a good team but they gave us a couple extra chances."

Another error from Stoughton loaded the bases for Hingham and a single from Evan Flanagan scored two more runs to extend Hingham's lead to 7-2 through four innings.

"Defensively, we haven't pulled that in a while," said Stoughton head coach Mike Armour. "It's baseball, you're going to make your errors and unfortunately we made a few more today than we have in the past and it cost us."

The Black Knights didn't go down without a fight though, as Pires picked up two more RBIs, this time a double into right field that scored two runs for Stoughton to bring it to 7-4.

With over 110 pitches, Niles made a visit to Carlson, but the junior southpaw stayed in the game.

"I wasn't going to let him [take me out]," said Carlson.

Carlson retired the side in order in the top of the seventh to end the game, finishing with a strikeout.

Now Hingham will play Division 2 North Champion Masconomet, who defeated Danvers 5-2 in the final earlier today at Lowell's LeLacheur Park.

"We're ready to go," Carlson said. "We've got some arms rested up and we'll be back here on Tuesday trying to make it happen."
June, 4, 2013
6/04/13
11:09
PM ET
By
Stephen Sellner
| ESPNBoston.com
HINGHAM, Mass. -— In arguably Hingham's biggest spot of the season, senior Cody Clifford stood calm at the plate.

The Harbormen had just tied the game at four and had a runner on third with two outs in the bottom of the sixth against Plymouth North in Tuesday's quarterfinals.

With the Eagles' infield in to try and cut down the potential go-ahead run, Clifford worked the count full and anticipated a fastball over the heart of the plate, knowing Plymouth North pitcher Kyle Mann couldn't afford to put another runner on base.

Clifford guessed right and drove Mann's heater through the infield and into right field to give Hingham its only lead of the game; one it held onto in the top of the seventh as John Carlson set down the Eagles in order to grab a 5-4 victory at Cronin Field.

The fourth-seeded Harbormen will play No. 1 seed Nauset in the semifinals of the Division 2 South Tournament, Thursday night at Adams Field in Quincy.

Fifth-seed Plymouth North took a 4-3 lead in the top of the sixth after Ryan Moskos willed the Eagles back on top after stealing second, third and finally home to send the Plymouth North dugout into a frenzy. While on third, Moskos capitalized on Carlson being left-handed and going through the windup, allowing him to take a big lead and jolt for the plate as Carlson's delivery was too slow and Moskos slid ahead of the tag to grab the lead.

But the Hingham bats finally came to life. After Austin Irvin and David Hutchins singled to put runners on the corners with one out, Plymouth North coach Dwayne Follette pulled starter Kenny Drew (5-1/3 innings, five runs, four earned, seven hits) in favor of the freshman Mann.

Mann's first pitch slipped through his catcher's legs, scoring the runner from third and allowing Brett Tivnan — who pinch ran for Hutchins at first -— to scamper all the way to third, forcing the infield in, which allowed Clifford's single to squirt through.

"We're a pretty good offensive team," Hingham coach Frank Niles said. "So we kept at it and ran the bases a little bit and I think we thought we could do it, so that's a big part."

But had it not been for Carlson, the Harbormen might have been out of this one early. Hingham starter Billy Boynton only lasted a third of an inning after the Eagles bats roped three hits and hit two balls in the hole that Hingham's second baseman and shortstop couldn't handle, leading to three unearned runs and an early exit for Boynton.

Carlson came in with the bases loaded and struck out the next two batters to retire the side and hold Plymouth North to just three. Carlson allowed only one run in his 6-2/3 innings of relief, striking out eight while surrendering just three hits and walking three.

"He's not afraid of anything," Niles said of Carlson. "He's a hockey guy and he stood tall today and he got us out of that first inning."

Carlson, who started the game in left field before replacing Boynton, mixed in his fastball and consistently threw his curveball for strikes, and said his team didn't do their part to help out Boynton.

"We didn't support him too much in the field, so I came in and did what I had to do — hit my spots and got the job done," Carlson said.

The Harbormen used a three-run third to tie the score. Stephan White and Joe Leahy led off the frame with back-to-back singles, and after a double steal put both runners in scoring position, Eddie Bowler drove home White with a groundout to second.

One batter later, Leahy took off from second to try and steal third, and when the throw got past the Eagles third baseman, Leahy raced on home to bring Hingham within one at 3-2. Then, Irvin belted a solo home run over the fence in right field to knot the score at three.