Boston High School:

Cody Demers
December, 13, 2013
12/13/13
12:28
AM ET
By
Brendan Hall
| ESPNBoston.com
Saturday's six inaugural MIAA State Championships put a bow on another thrilling season of high school football in Massachusetts. This year was filled with highlight reel-worthy plays, including two that made SportsCenter's "Top 10 Plays" in consecutive months. This year, more than any other year, it felt like there was a deep volume of wild plays and wilder finishes.
Here are my 10 best plays from the 2013 MIAA football season:
(Video clip of play No. 2 is courtesy of The Needham Channel. All other clips are courtesy of HUDL.com)
Honorable Mention -- The Megatron
In case you missed Cody Demers' ridiculous touchdown catch for Central Catholic,
our No. 1 play from last Saturday's state championships
, here it is again. Because it is that good:
10. Velociraptor Valenza
Foxborough linebacker Luc Valenza, a UMass lacrosse commit, dished out his fair share of violent hits this fall for the Warriors. Arguably none were more brutal, though, than the one he delivered here in the third quarter of their Thanksgiving loss to Mansfield:
9. Behind the Back
This Top 10 list is littered with nifty run-backs, but on pure athleticism, Weymouth sophomore defensive back Matt Long makes a strong case here. Watch as he returns a
behind-the-back
interception 52 yards to the house in the Wildcats' 49-14 rout of Braintree:
8. Juke 'Em Jahkari
There was a point this season where it seemed like every week, Doherty junior running back Jahkari Carpenter was ripping off a ridiculous run like the 55-yard catch-and-run TD he made here in the D4 Central semifinals against Hudson:
7. Zach's Zig-Zag
As the name implies, watch as Holliston junior Zach Elkinson pounces on an errant pass and, after some shake and bake, puts on the afterburners for a 70-yard interception return touchdown, late in the Panthers' win over Medway:
6. Phone Booth
We've seen some nice-looking one-handed catches from time to time, but none in as tight of quarters as Attleboro tight end Luke Morrison, who reels in this catch with a Xaverian defender sewing him up nicely, in this Division 1 South Final:
5. The Pinball Run
Penn State-bound St. John's Prep tailback Johnathan Thomas led all rushers statistically in Massachusetts through three games, before being lost for the season with a knee injury. It's possible that with a full season we could have dedicated an entire Top 10 entry to his best runs, because we're pretty sure he would have made runs like this 42-yarder in the Eagles' win over Brockton -- in which he breaks about a bajillion tackles -- somewhat routine.
4. The Ed Reed
It takes endurance to pull off interception returns like the one Leominster's Neil O'Connor did here late in the second quarter of the Blue Devils' rout of Wachusett. The state's Gatorade Player of the Year changes direction several times as he takes it 89 yards to the house:
3. The Miracle at Mahar
Strictly reading by box score, this was one of the season's best finishes, as Greenfield evaporated an 18-point deficit in the final four minutes of regulation to knock off Mahar, 30-29. But the ending, a 40-yard tip-drill Hail Mary from Connor Eckstrom to Parker Hickey with five seconds left, puts this over the top:
2. Can't Catch Cliff
Needham's Cliff Kurker made national headlines with this 70-yard punt return in a win over Framingham, breaking free of five tacklers after he was thought to initially be stopped on forward progress. He was the talk of the town after this play, which reached No. 1 on SportsCenter's "Top 10":
1. Johnny Unstoppable
This one never gets old. You might go another decade without seeing a play quite like this. Thomas made No. 1 on SportsCenter's "Top 10" after this record-setting 107-yard interception return late in Prep's win over Central Catholic, the longest touchdown in school history.
December, 10, 2013
12/10/13
12:53
AM ET
By
Brendan Hall
| ESPNBoston.com
Saturday's inaugural MIAA Football State Championships at Gillette Stadium crowned victors in six divisions, which meant plenty of highlight reel-worthy plays were jam-packed into the day. Here are my Top 10 plays from the weekend:
(Video clips courtesy of Hudl.com)
Honorable Mention –- Rufus' Rumble
Glad to see we'll have another year of Bishop Fenwick running back Rufus Rushins, because the junior is a lot of fun to watch when he gets a full head of steam downhill. The Crusaders shut out Northbridge, 28-0, for the D5 state title, thanks to Rushins' 158 yards and three scores on 15 carries.
10. Follow Your Blockers
Dennis-Yarmouth's L.K. Metz follows every fundamental rule here as he jukes and jives his way to a very nice kick return, taking a Doherty squib kick all the way down to the Highlanders' 6-yard line to set up an eventual score. Doherty went on to win the Division 4 state championship, 28-26.
9. Ball Hawk
Mansfield's Aurian Dawkins shows great awareness and ball instincts on this end zone interception, jumping a would-be TD throw to St. John's receiver Mike McGillicuddy and laying out for the pick. Mansfield doubled up the Pioneers, 28-14, to win the D2 state title.
8. Bassett Hounds the Skippers
Littleton running back Travis Bassett had the best statistical performance of the day, carrying 22 times for 263 yards and four TDs, and adding a 29-yard catch off a screen pass for a fifth TD, and adding two interceptions, as the Tigers routed Cohasset 52-35 for the D6 state title. There are plenty of highlight plays for Bassett, but my personal favorite is this 78-yard scamper. Just look at the afterburners he puts on this one.
7. Isaac to the Post
Boston College commit Isaac Yiadom had a big day on both sides of the ball for Doherty, including this 64-yard catch and run for a touchdown. Yiadom finished with seven catches for 137 yards and a TD.
6. D'Andre Dumps 'Em
UNH commit D'Andre Drummond hits the R3 button on this 52-yard touchdown run for Central Catholic, leaving one unfortunate Xaverian defender in the turf. The Raiders doubled up Xaverian, 34-17, for the D1 state title.
5. Run, Rocco, Run
Cohasset's Rocco Laugelle is off and running on this 77-yard interception return for a touchdown. Watch as he slips away from about five tacklers en route to paydirt.
4. Poetry in Motion
Doherty QB Luke Brennan (12 for 20, 259 yards, 2 TD) threw a couple of pretty balls on the afternoon. But none were prettier than this 41-yard bomb to Alfred Adarkwah, plopping the ball safely into the lanky senior's bread basket, right over the top of double coverage.
3. Cody's Crackback
As the title implies, Central Catholic receiver Cody Demers laid one of the most vicious sticks of the day, this crackback block springing loose quarterback Matt Milano to toss a 31-yard touchdown pass to Cam Manning. This play made it 7-0 Raiders, and effectively set the tone for the evening.
2. Jump Ball
We couldn't get our hands on video of this impressive TD catch by Tewksbury's Kevin Dick, late in the Redmen's 42-14 rout of Plymouth South for the D3 state title. But it probably works out better that way, as photographer Eric Adler passes along a frame-by-frame account of the grab.
Best I can do for now. Courtesty @EricJAdler, here's Kevin Dick's TD catch in 4 frames: pic.twitter.com/KpmkWc3mr4

— Brendan Hall (@BHallESPN) December 9, 2013
December 9, 2013
December 9, 2013
December 9, 2013
1. Megatron
Simply put, Demers was just awesome on Saturday. This TD catch permeates those sentiments.
December, 7, 2013
12/07/13
8:11
PM ET
By
Josh Perry
| ESPNBoston.com


FOXBOROUGH, Mass. – D'Andre Drummond-Mayrie rushed for 119 yards and three touchdowns to lead Central Catholic to its third Super Bowl title and first since 1998. The Raiders held off Xaverian, 34-17, in the Division I championship game at Gillette Stadium.

Central Catholic head coach Chuck Adamopoulos noted that his team has the belief that it can beat anyone in the state and showed that it can by beating Everett in the DI North final and then Xaverian on Saturday.

"They just keep pulling out games and they've gotten better as the year has gone on," explained Adamopoulos. "They have a lot of confidence and they believe that they can play with anyone. We had to beat two really good programs to win this; two of the marquee programs in the state."

The Raiders jumped out to a great start, scoring on their first two possessions. Junior quarterback Michael Milano (6 of 13, 81 yards, 2 TD) capped a 10-play, 64-yard drive with an 18-yard touchdown pass to Cameron Manning.

Central Catholic forced a second three and out on the next Hawks possession and Blades Shields raced into the backfield to block the punt, which set up the Raiders at the Xaverian 24. Two plays later, Drummond-Mayrie scored the first of his touchdowns on an eight-yard run.

"That was huge … at that point it was definitely a huge factor to getting that two touchdown lead," said Adamopoulos. "Letting us play with the lead was big."

Xaverian's offense kicked into gear on its next possession with an 11-play, 71-yard drive that ended in a Noah Sorrento touchdown that made it 13-7, but the Raiders did not allow the Hawks to have momentum for long.

Drummond-Mayrie, a University of New Hampshire-commit, took off on a 52-yard touchdown run that restored a two-score lead for Central Catholic.

"There was a huge hole and then I just saw the corner come up one-on-one and I knew if I made a move that I would get tackled," described the senior. "I got yelled at earlier this season for putting a move on, so I just ran him over and looked at the screen to see how close they were and just sprinted."

His head coach admitted that he is going to miss the running back both on the field as a presence in the locker room.

"He's one of my favorite kids that I've ever coached," remarked Adamopoulos. "I said to him that this was going to be his day and he responded on offense, on defense…UNH is getting a great player."

A Joe Gaziano 30-yard field goal made the score 20-10 at the half. Xaverian then made a stop on the Raiders opening possession, but a Hawks player unnecessarily tried to cover the punt and the Raiders grabbed the loose ball to regain possession at the Xaverian 32. Three snaps later, Drummond-Mayrie scored again and made it 27-10.

At the start of the fourth quarter, Xaverian looked like it may have some more magic like it had in the second half comeback against Attleboro in the semifinal. An interception by D'Aundre Holmes gave the Hawks the ball at the Raiders 22. On the next play, Jake Farrell (6-19, 80 yards, 10 carries for 47 yards) hit A.J. King for a touchdown to bring them back within 10 points.

Xaverian would get the ball back, but the Raiders defense made several key plays to force another three and out. The Hawks offense, playing without stars D.J. Sperzel and Shayne Kaminski, could not sustain drives and struggled against the hard-hitting Raiders.

"Well, I would've liked to have an offensive turnaround right there," said Xaverian head coach Charlie Stevenson about the fourth quarter sequence. "The clock was kind of against us and, you know, we give them credit. They made the plays on both sides of the ball when they needed to."

He added, "I thought they were a good football team; they outplayed us. I congratulate them; they deserved to win the game tonight. We had a hard time matching up with them all over the board."

Central Catholic wrapped up the victory with a highlight-reel catch by senior wide receiver Cody Demers for a 19-yard touchdown with just 2:33 remaining.

Drummond-Mayrie noted, "We're kind of used to it but we kind of like it - being the underdog, coming from behind, picking everybody off one-by-one and it just makes the win that much better."
November, 28, 2013
11/28/13
3:15
PM ET
By
Mike Abelson
| ESPNBoston.com
LAWRENCE, Mass. – Central Catholic's Cody Demers earned his turkey, all of the sides, and two slices of pie.

The senior scored a pair of touchdowns, racked up 266 total yards, including an 86-yard interception return that salted the game away, as Central Catholic rolled past Andover 44-18 in front 2,500 people at Lawrence Stadium.

"A lot of the newspapers thought we were going to look past Andover so we wanted to come out early and definitely win this game," Demers said. "We didn't want to look past this team. Nothing would satisfy them more than to beat us on our field on Thanksgiving."

Demers' interception came after he read a screen pass perfectly out of E.J. Perry's hands, scooped it off the ground and sprinted down the sideline. Perry forced Demers out of bounds at the two.

"I saw someone coming out in the flat, he overthrew him and I picked it off," Demers said. "I got into the footrace with the quarterback. Huge momentum change for our team especially when they're driving like that. I'm not going to lie, I started cramping towards the end."

Andover put together a 98-yard drive for a touchdown to score first, but after that it was all Raiders. Central scored three touchdowns and controlled the line of scrimmage to take a 24-6 lead into the half.

Demers stole the show, reeling in a 36-yard touchdown pass from Mike Milano and running 80 yards on a sweep for another score.

"He's a big-play guy," Central head coach Chuck Adamopoulos said of Demers. "When we needed a little giddy up on offense he came through with a big play. The kid's love him. He's a scraper; he's a tough little bugger."

Milano was economical with his passes, but each one played a key role in Central's win. Milano only completed six balls but two of those were for touchdowns and three others went for first downs.

Milano also added a winding 30-yard touchdown run.

"He's just a gutsy, clutch kid," Adamopoulos said of Milano. "He's just a junior. I'm happy we've got him back next year."

After Andover's touchdown in the first quarter the Raider defense locked down. The running attack of Oliver Eberth and Jack Sylvester could not get through Central's front seven until late in the game when Adamopoulos had benched his starters.

Adamopoulos said that holding contain was the key and that his team did that.

"Discipline on defense on your backside pursuit has to stay along the line of scrimmage," Adamopoulos said. "The wind was a factor; when you were against it it was hard to throw the ball.

"The key was control the third quarter and we did that. The kids did a good job. Our defense has continued to play well."

Even in the postgame celebrations the word "Xaverian" was rarely heard as the Raiders wanted to savor beating their archrival.

"It's the seniors last time on this field," Demers said. "We wanted to leave our mark."
November, 16, 2013
11/16/13
10:19
PM ET
By
Brendan Hall
| ESPNBoston.com
EVERETT, Mass. -- Cody Demers started this one in the hurt locker. He ended it on cloud nine.
His 24-yard touchdown catch with two minutes to go, against one of the state's most intimidating and highly-regarded defensive backs, will go down forever in Central Catholic folklore as one of the program's all-time defining moments, a 20-14 stunner over juggernaut Everett for the inaugural MIAA Division 1 North title and trip to Gillette Stadium for next month's first-ever true state championship.
"We've been coming out from lifting, to practicing, to two-a-days, everything, we've just been coming out full of heart," said Demers. "Anything can happen, and we wanted to make our stand and come back as a team."
[+] Enlarge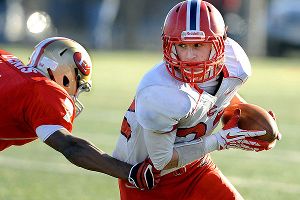 Jim Valente for ESPNBoston.comCody Demers was shaken up early, but made the game-winning touchdown catch late as Central Catholic shocked Everett.
It was how it got to that point, however, that might have been the most impressive. Demers took a beating at wide receiver and kick returner, taking on a series of brutal blows, none more violent than the one laid on him by Crimson Tide linebacker C.J. Parvelus up the middle returning a kickoff in the second quarter. A feeling of weightlessness overcame him for a brief moment as he lay face down in the turf.
"Honestly, it was a shot. I was running the ball, I thought I was gonna get a block, I forget who it was, but he just popped me, and my whole body went flat," Demers explained. "Like I dunno, I can't even explain it. It was an incredible hit. I tried getting up, but I got up too quick and I was dizzy."
Demers was sidelined for five plays, before returning to the field and later helping the Raiders in their winning rally.
It started late in the third quarter, when quarterback Mike Milano pulled off a perfectly-executed veer, put the ball in the belly of University of New Hampshire commit D'Andre Drummond-Mayrie for the dive, then pulling it and racing 60 yards off the edge up the middle of the field, for the touchdown and 14-7 lead with :54 to go in the stanza.
"We knew the whole game, they were crashing [linebacker Josh Palmer] off the edge hard," Milano said. "D'Andre told me before the play, 'You know that kid's gonna crash, so make sure you make the right read'. So I made the right read, pulled it, and then it was one-on-one with [Parvelus]. D'Andre made a great fake, everybody flowed to him, and it was one-on-one."
Everett responded with a 12-play, 70-yard drive that was kept alive with a huge break on third and 12 from the Raiders 37. Quarterback Raheem Wingard's pass to Joe D'Onofrio was initially tipped by Raiders linebacker Jon Parsons, but sailed over his head into D'Onofrio's bread basket for a 20-yard gain. Four plays later, Marquis Holman rumbled in from a yard out, then the Tide converted a swinging gate play on the point after for the 15-14 lead with 7:12 to go.
Central had a chance to go ahead on its next drive, when Milano completed a 56-yard screen pass to Markus Edmunds, giving them first and goal at the five after a tacked-on facemask call. But on the very next play, Palmer stripped the ball from Drummond-Mayrie and fell on it. A quick three-and-out and shanked punt, however, gave the Raiders another fortunate bounce, with starting field position at the Tide 36.
This time, they capitalized.
Three plays into the drive, on third and five, Drummond fumbled, but the ball rolled seven yards forward, and lineman Brad Marggraf pounced on it to keep the drive alive. Two plays later, Demers gave them the lead for good.
Isolated to the left, in a formation newly installed this week, Demers ran a "sluggo" (slant-and-go) route against Everett's Lubern Figaro, bouncing to the outside and leaning into the highly-touted Wisconsin commit as he tried to jam him to the sideline. At the near pylon, Demers came across Figaro's face and slipped underneath his hands, drawing pass interference as he laid out for the diving touchdown catch.
"That's our big home run play," Demers said. "When that play was called, I couldn't wait."
Everett stalled on its potential game-winning drive at midfield, a last-ditch attempt at a pass landing at Lukas Denis for a 20-yard gain as time expired, as the Central side went into a frenzy.
NO RESPECT
Drummond-Mayrie was asked about the most important defensive techniques against the Tide's offense, and like the Milano 60-yard score, he veered off. He didn't bite his tongue when he played the tried and true "no respect" card that has become commonplace in these increasingly-heated playoff games, and let it rip.
"We knew it was going to be a scrappy game, when we met the captains [at midfield, for the coin toss], they were eyeing us down," he said. "They didn't have respect for us. We knew we had to come out here and earn their respect...They didn't think we belonged here."
Asked if there was conversation headed into the game that indicated this sentiment from Everett, Drummond-Mayrie said, "No, it was all in their body language."
"It makes it that much sweeter, that much better. I have so much respect for their program, I have no hard feelings at the end of the game. It was a scrappy game, that's how football is. Great team, with great players, but the better team won today. I took some hits, but we gave some hits too."
TOUGH AS NAILS
By now, Demers' gritty performances have become customary around the Central program.
"That's just the type of kid he is," Raiders head coach Chuck Adamopoulos said. "That's his personality, he's thinks he should be able to beat anyone on a pass. He's just a playmaker, a spunky kid."
Said Drummond-Mayrie, "He's the toughest kid I know. He's small, but he packs a punch. That's why he's the best player on this team. That's why I look up to him so much. He's just a great person."
CENTRAL CATHOLIC 20, EVERETT 14

CC --- 0 - 0 - 14 - 6 --- 20
EV --- 0 - 7 - 0 - 8 --- 14
Second Quarter
E - Marquis Holman 1 run (Matheus Varela kick) 6:06
Third Quarter
C - D'Andre Drummond-Mayrie 1 run (Paul Karamourtopoulos kick) 3:24
C - Mike Milano 60 run (Karamantopoulos kick) :54
Fourth Quarter
E - Holman 1 run (James Hunt run) 7:12
C - Cody Demers 24 pass from Milano (pass failed) 2:10
November, 9, 2013
11/09/13
12:34
AM ET
By
Mike Abelson
| ESPNBoston.com
LAWRENCE, Mass. -– In last night's Division 1 North semifinal between Central Catholic and Acton-Boxborough both teams turned the ball over four times. Central was the only one who capitalized.

The Raiders turned a pair of A-B turnovers into 14 points and stomped the Colonials 35-0 to earn a berth in next weekend's D1 North final against Everett.

The Raiders fumbled the ball five times and lost four, the defense stepped up and held A-B each time. The Colonials were unable to break into Central's red zone until the last possession of the game and that ended with a Hunter Arnold pass getting intercepted in the end zone by Nick Boes. It was Boes' second interception of the game and fourth of the playoffs.

Boes and Markus Edmunds led the Central attack from the middle and turned Acton's rock-hard offense into a gravel pit. The Raiders held the Colonials to 143 yards.

"Normally five fumbles spells doom," Central coach Chuck Adamopoulos said. "Each time we turned the ball over the defense picked us up and did the job.

"[Markus is] one of the best linebackers around; he really is. Every week we does what you saw tonight. He's our leader, but Nick Boes has played really well. The guys up front have been doing the job. We rotate guys in at defensive line and our nose guard, George Elias, has really come on. To shut out a team like that the defense played really well."

Central quarterback Mike Milano had a rough game early, fumbling the ball away twice in just over 11 minutes, but he buckled down and piloted the offense to 341 yards. Milano went 8-for-12 for 161 yards. His 57-yard touchdown pass to Dan Wilson early in the third quarter put the Raiders up 28-0 and salted the game away.

Milano also rushed for 75 yards and Central's third touchdown, just before the half.

"I had a lot of misreads, and fumbles, today, and my teammates picked me right back up," Milano said. "We just kept our composure, stayed confident and played hard."

LINE CONTROL
In the trenches you have to get dirty, and Central's line did just that. The Raiders' line was able to open hole and the bevy of tailbacks to get into the secondary untouched.

Their shining moment came when they opened up a nearly five-yard hole for D'Andre Drummond-Mayrie, who ran 50 yards, untouched, for his second touchdown.

"If look at those touchdowns [there were] huge gaping holes," Drummond-Mayrie said. "They had a huge game."

Keyed by senior Joe Brown, the line on both sides staked their claim to the real estate early and never sold.

"Our offensive line, the last few weeks, has really played well," Adamopoulos said. "I think they're starting to come into their own."

DYNAMIC DEMERS
The MIAA this season has been lucky enough to have seen it's share of spectacular kick returns, and Cody Demers added one of his own in the second quarter.

Demers fielded the ball at his own 40-yard line, run over the near hash, stuttered and cut in the middle of a pack of defenders, and ran all the way home. The score broke a scoreless deadlock early in the second quarter.

"I caught the ball and went up to the middle of the field, and I had so many good blocks I kind of froze up," Demers said. "I wanted to make a move somewhere and I just saw daylight and went for it. Incredibly momentum booster for our team."

Demers also intercepted a pass in the second quarter, and reeled in three balls for 44 yards receiving.

BRING ON THE CHAMP
Everett. In the world of MIAA football everyone knows it as a synonym for dominance and success. The Crimson Tide are up next for Central Catholic, and the Raiders said they are ready to embrace the challenge.

Adamopoulos said that playing such a formidable schedule thus far, even going back to include scrimmages against Reading, Xaverian, and Mansfield, will help his team next weekend.

"We've got a huge test next week," Adamopoulos said. "They're a great program, and it's going to be exciting to play them."

"They've had a history of being great," Demers said. "If you want to be the king you've got to be the king."
October, 12, 2013
10/12/13
1:09
AM ET
By
Brendan Hall
| ESPNBoston.com
LAWRENCE, Mass. -- In game where offense came at a surprising premium, Central Catholic receiver/defensive back Cody Demers was a force on both sides of the ball, as the No. 12 Raiders survived No. 16 Lowell, muting their high-powered offense en route to a 14-12 win. For that, the senior is ESPN Boston's Player of the Game, sponsored by Sports Authority and the Bay State Games.

On the evening, Demers totaled 127 yards receiving, and made some crucial plays in the secondary on Lowell's talented group of receivers. ESPN Boston High Schools editor Brendan Hall caught up with Demers following his performance:


October, 12, 2013
10/12/13
12:38
AM ET
By
Ryan Kilian
| ESPNBoston.com


LAWRENCE, Mass. –- Defense was the story on Friday night as Central Catholic and Lowell locked horns in a battle of Merrimack Valley Conference Division 1 powers.

Both teams proved that the MVC is more than just high-powered offenses as Central Catholic outlasted Lowell 14-12 to remain in first place in the MVC D1 and also maintain favorable position in the Division 1 playoff picture.

"Both defenses played awesome tonight," Central Catholic coach Chuck Adamopoulos said after the game. "It was a hard-hitting game and the kids came up with the plays when we needed them."

With both squads coming off bye weeks the preparation on both sidelines was evident. Early in the game the battle for field position was crucial, as three-and-outs and defensive stands were becoming increasingly popular.

"It was a weird game," Adamopoulos said. "The atmosphere was strange at times. Both teams were just treading water back and forth."

After a scoreless first quarter both teams would find the end zone in the second as Central Catholic quarterback Mike Milano, who was 12-of-23 for 175 yards passing, and two touchdowns (one passing, one rushing), would cap off the only scoring drive for Central in the first half, when he took it in from 10 yards out to give Central a 7-0 lead.

Milano's touchdown with 5:43 remaining in the first half was answered by Lowell as quarterback Brian Dolan would hit wide receiver Jack Galvin on a deep slant, over the middle, for a 27-yard touchdown strike on third-and-20 with 3:08 remaining in the half. A failed extra point attempt would preserve Central's 7-6 lead.

"We made some big defensive stands," Adamopoulos said. "I thought in the first quarter that they had the field position the whole time and our defense came up really huge at the beginning of the game and set the tone."

Central Catholic wide receiver and return man Cody Demers would provide the necessary lift in the first half as he hauled in 97 of his game-high 127 receiving yards in the opening half, to go with some big returns and an important touchdown-drive-preserving fumble recovery.

The second half of play was eerily similar to the first as both teams played to a scoreless third quarter, with many of the same penalties and field position dilemmas repeating themselves again for both teams.

The scoreless second half would end when Milano found running back D'Andre Drummond-Mayrie on a big touchdown pass early in the fourth quarter.

The University of New Hampshire commit made one of the plays of the game as he leaped to haul in Milano's pass, spun away from a would-be tackler, and split two more to find the end zone on a 32-yard touchdown reception to give Central a 14-6 lead with 8:29 remaining in the game.

Lowell would answer back again on the following possession as running back Ngaiiva Mason (80 yards rushing) would take it in from 20 yards out to cut the lead to 14-12. A failed conversion attempt would leave the score at 14-12.

The Punt: One of the biggest plays of the game occurred in the final minutes of the game as Central Catholic punter Dan Wilson blasted a punt that netted 66 yards and was downed on the Lowell 4-yard line. The punt helped Central Catholic flip the field with time running out in the game.

"Danny is an awesome kid and that is his biggest punt of the season," Adamopoulos said. "It could not have come at a better time. We were punting from our end and they have a great player at kick returner. The punt was big and the coverage got down to down it. It made defense a lot easier for that last minute.

Sealing the Win: After Wilson's punt Central Catholic came up with their final defensive stand as defensive back Mike Balsamo made the game-sealing interception to preserve the victory.

"Mike Balsamo came up with a huge interception and Gavin Anderson, on that same play I thought, gave us some great coverage," Adamopoulos said. "Mike came over from his safety spot in good position and made the pick."

Balsmo's play capped off a nice night for the junior as he continued to produce on both sides of the ball all game long.

"I saw him rolling out and just read the quarterback and played the ball," Balsamo said. "It all comes down to practice and we worked real hard these two weeks to prepare."

Lowell received strong games from linebacker Shy Cullen (2 Sacks) and Galvin (Seven catches, 141 yards).

"They are tough," Adamopoulos said of Lowell. "There is a real good chance we will play each other again in a few weeks."

Central was led defensively by the strong inebacker play of Markus Edmunds and Cam Manning.
October, 10, 2013
10/10/13
4:13
PM ET
LAWRENCE, Mass. -- Bragging rights and an inside track to the Merrimack Valley Conference Division 1 crown are on the line Friday in this week's Game of the Week.

No. 16 Lowell travels to No. 12 Central Catholic and we're ramping up the ante, unveiling a new feature in our Week 6 preview, brought to you by Sports Authority and the Bay State Games.

Scott Barboza and Brendan Hall break down all this week's action, with a little help from the "BHallestrator" -- taking a look at several key matchups for Friday's game.

That and much more in this week's view from Central Catholic, including interviews with the Raiders' Joe Brown, Cody Demers, D'Andre Drummond-Mayrie, and head coach Chuck Adamopoulos:

(Produced by Greg Story)


September, 28, 2013
9/28/13
12:34
AM ET
By
Ryan Kilian
| ESPNBoston.com
ANDOVER, Mass. – "Nice bounce back win," Central Catholic head coach Chuck Adamopoulos told his team after the game.

After dropping a 40-21 contest to St. John's Prep last week, No. 14 Central Catholic (3-1) rebounded on Friday night with a 26-7 win over Merrimack Valley Conference rival and traditional Thanksgiving Day foe Andover (1-2).

"Last week we ran into a great running back," Adamopoulos said after the game. "He did not make us look good but we have played pretty good defense all season."

St. John's Prep running back Johnny Thomas ran for 228 yards and two touchdowns in last week's win over Central. Adamopoulos praised his defense's effort in focusing all week in practice and holding Andover's offense in check on Friday.

"We pride ourselves in our defense," Adamopoulos said. "We have played three very good teams so far this season."

Central held Andover to just 56 yards of total offense in the first half and shut the Golden Warriors out until the 1:45 mark of the fourth quarter.

Central was led by running back D'Andre Drummond-Mayrie, who gained 57 yards on 13 carries and did the majority of his work in the first half. Drummond-Mayrie also added a rushing touchdown and was a force on defense from his safety position. The Univ. of New Hampshire-bound senior had a fumble recovery and interception to go with a strong game playing against the run.

"He played well," Adamopulus said. "I liked his run support today. He was coming up well against the run."

Central also received a strong two-way effort from junior running back Markus Edmunds (8 rushes for 46 yards), who scored the first touchdown of the game on a 4-yard off tackle run, to start the second quarter.

"It was nice to get started early," Edmunds said. "We worked hard all week and came in ready to play from the start."

Complementing his work on the ground Edmunds stood tall from his linebacker position, leading a Central unit that did not budge on the line of scrimmage all night.

In a game of field position, Central Catholic took advantage of the short fields to help them mount four successful finishing drives.

"I thought our punt coverage was awesome," Adamopoulos noted. "We played on their side of the field all game, which is a good thing. Our punter Danny Wilson also came up with big punts for us when we needed them."

Mike Balsamo also played well for Central as he controlled a big fourth-quarter drive with his work on the ground, capped off with a 21-yard touchdown run.

Senior linebackers Will Eikenberry and John Oteri had strong games leading the Andover defense on the night, while freshman quarterback E.J. Perry hit Christopher Nicholas from three yards out for the only Andover score.

Milano bounces back strong: Junior quarterback Mike Milano dusted off some early-game rust and an early injury as he came back in to settled down and lead the Central offense.

"He is a tough competitor," Adamopoulos said of his veteran signal-caller.

Milano would hit wide receiver Cam Manning for a 42-yard strike in the second quarter that set up a Drummond-Mayrie 5-yard touchdown run that gave Central a 14-0 lead.

Milano also hooked up with senior Cody Demers on a 35-yard touchdown pass in the fourth quarter, as Demers would catch a sideline route and outrun the Andover defense to the end-zone.

Loss of Sylvester: Andover running back and return-man Jack Sylvester led the Golden Warriors offense on the night, despite being ejected in the third quarter after receiving his second unsportsmanlike conduct penalty of the game.

The controversial ejection, which occurred after a discussion with the official, took place at a tough time for the Golden Warriors as they were beginning to mount a drive against the stingy Central defense.

Sylvester gained 44 yards from scrimmage for Andover on the night and did a nice job in the return game.
August, 23, 2013
8/23/13
10:32
PM ET
By
Mike Abelson
| ESPNBoston.com
With less than two weeks before opening kickoff the Central Catholic Raiders who like a car in need of a new motor.

On the outside the Raiders are chock full of talented skill players, led by senior D'Andre Drummond-Mayrie and a slew of juniors, that are multi-faceted weapons. However; check under the hood and there's an offensive line with no returning starters and a defensive front seven decimated by graduation.

The parts to build a hot rod are there, and Central coach Chuck Adamopoulos says that progress is happening.

"Our whole season is going to based about how [the line] develop," Adamopoulos said. "This is the first time I can remember us not having a returning starter on the offensive line. It's a challenge and they're working hard, but it's a work in progress. Right from day one, little things that I need to go over and over again right now I didn't have to do last year. They're getting after it; they're working hard."

Seniors Joe Brown and Cam Manning, along with junior Markus Edmunds, will be tasked with a leading a defense that lost the likes of Ryan Doherty, Ryan Barry, and Sean Kirchner to graduation and Northeast-10 schools. A scrimmage schedule that includes meetings with Xaverian, Reading, and Mansfield give the line valuable preseason experience against quality competition.

While the trenches are being rebuilt Adamopoulos will have to rely on his talented secondary to carry the defense early. Drummond-Mayrie -- all 6-foot, 205 pounds of him -- was moved from cornerback to safety to get him closer to the action. Drummond-Mayrie will be paired with junior Mike Balsamo. Balsamo is entering his third year as a starting safety and will provide much-needed veteran experience on the field.

"One of the reasons we're moving him is because he wasn't involved because [opposing teams] were going to the opposite side of the field," Adamopoulos said. "We can always move him back to corner if we need to. As a safety we think it'll prevent teams from totally staying on the other side of the field away from him."

Offensively the Raiders will look to junior quarterback Mike Milano to improve on a solid sophomore year that saw him throw for 1,156 yards, 11 touchdowns, and pilot Central to nine wins.

"We were nervous before last season and [Mike] stepped up and keeps getting better and better everyday," Drummond-Mayrie said. "He's become more of a leader too."

"Mike is a key guy for us; typically the jump between sophomore and junior year for a quarterback is huge," Adamopoulos said. "Mike throws the ball well, he runs; he's worked hard in the offseason. We expect big things out of him."

A lot is expected out of Drummond-Mayrie this season. The Lawrence native has a half dozen offers to play safety at FCS schools and was named to most preseason all-star teams in the state. Drummond-Mayrie said that he's ready for the challenge on both sides of the ball and that his mind is in the present.

"I don't really talk about [college] much," Drummond-Mayrie said. "I'm still here; I'm still a Central Catholic Raider. There is a little bit of pressure because you need to go out there and perform, but I've always had to perform in the years before. I'm kind of looking at it as another season without any of [the recruiting] happening."

The X factor this season might be something the Raiders can't control: the schedule. Gone are the days of being being able to tinker during non-league games in September; the Raiders only play one non-league opponent all year and Adamopoulos said that he wished he had that time back.

"There's definitely a different mindset though," Adamopoulos said. "Last year we knew our league schedule wasn't going to start until October. This year we have a fairly young team and I'd love if our league games didn't start until October because of that. I think it's more of a mindset. We've got to get better quick because of the system."

CENTRAL CATHOLIC AT A GLANCE
Coach: Chuck Adamopoulos (17th season, 112-61 overall)
2012 season: 9-2
Returning starters: Eight (Three offensive; five defensive)
Key Returnees: D'Andre Drummond-Mayrie, Sr. RB/S; Cam Manning, Jr. OLB; Mike Balsamo, Jr. RB/S; Markus Edmunds, Jr. LB; Cody Demers, Sr. WR; Mike Milano, Jr. QB.
Outlook: As the line grows so goes the Raiders. With a breadth of experience at the offensive skill positions the Raiders will always be a threat on the outside to change the game on one play, but the line will need to grow up fast to give Milano, Drummond-Mayrie, Demers, and co. time. Defensively Manning and Edmunds will have to shoulder the load at linebacker while Brown will be tasked with leading a young line against the weekly assault of MVC offenses. The Raiders open against Lawrence, a team they outscored 98-12 over their last three meetings, and a rebuilding Haverhill team before playing St. John's Prep, Andover, and Lowell. If the line can develop quickly and the skill players play to their ability look for Central to be a thorn in the side of Division 1 North once the calendar flips to November.
August, 16, 2013
8/16/13
2:29
PM ET
By
Brendan Hall
| ESPNBoston.com
This is the sixth installment in our "Summer Snapshot" series, checking in with some of Massachusetts' top teams leading into the MIAA football season. To see all of our Summer Snapshots, CLICK HERE.
After taking a 31-7 loss to rival St. John's Prep in Week 2 of the 2012 season, Central Catholic railed off eight straight wins, earning a share of the Merrimack Valley Conference's Large division title before falling to Andover on Thanksgiving morning to miss out on an MIAA Division 1 Playoff berth. The Raiders return a handful of key cogs, including the multi-talented D'Andre Drummond-Mayrie, but must replace all five starters from an offensive line that was among the bigger units in Eastern Mass. last fall. With a slew of fresh faces entering the fold, can the Raiders replicate last season's success and make a deep run in the newly-aligned Division 1 North? We checked in with Central last night in preparation for our Sept. 2 photo gallery unveiling.
CENTRAL CATHOLIC AT A GLANCE
Coach:
Chuck Adamopoulos (17th season, 112-61 overall)
Last Season:
9-2
Final ESPN Boston Rank:
23
Returning Starters:
Eight (three offense, five defense)
Key Losses:
OL/DL Ryan Barry, LB Ryan Doherty, OL/DL Sean Kirchner, RB/DB Santino Brancato
Key Returnees:
Sr. DT Joe Brown, Sr. WR Cody Demers, Sr. OLB Cam Manning, Sr. RB/DB D'Andre Drummond-Mayrie, Jr. S Michael Balsamo, Jr. ILB Markus Edmunds, Jr. QB Michael Milano.
Overview:
The Raiders return one of the state's top talents in Drummond-Mayrie, who currently holds scholarship offers from a half-dozen Division 1 FCS schools and may end up deciding during the season. He'll be the feature back this season, after splitting carries with Brancato last fall but still putting up respectable numbers (87 carries, 621 yards, 10 TD, 7.1 yards per carry). Defensively, he'll be making the switch from cornerback to safety this season, where he'll be paired with the promising Balsamo to create what should be one of the Merrimack Valley's most feared secondaries. On the perimeter, the efforts of the undersized Demers (38 catches) is a bit understated -- good at the underneath routes, but also a deep-ball threat with his straight-line speed. The biggest questions will lay in the trenches, where they must replace all five starters from a unit last season that averaged roughly 250 pounds across. This year's line will be a smaller, more athletic front, which makes one wonder if the Raiders will deviate from last year's spread-based rushing attack and put the ball on the flanks more often. Overall, the Raiders have always been defensively sound, and should be fine once again with Drummond, Balsamo, Edmunds (112 tackles) and Brown (31 tackles, 10 for loss) back in the fold. Look for the Raiders to contend in a loaded Division 1 North.
Checked in with Central Catholic tonight. Look for Raiders in our Sept 2 gallery of top teams pic.twitter.com/V2StLHWGfp

— Brendan Hall (@BHallESPN) August 16, 2013
August 16, 2013
August 16, 2013
One last shot from tonight's Central Catholic shoot. Behold "The Pit" pic.twitter.com/Ku411Aq7nH

— Brendan Hall (@BHallESPN) August 16, 2013
October, 27, 2012
10/27/12
1:34
AM ET
By
Tom Layman
| ESPNBoston.com
LOWELL, Mass. -- Central Catholic's season could look a lot different right now, and Chuck Adamopoulos would probably be the first one to tell you.

The Raiders took an early season test against St. John's Prep and failed, rather miserably at that, with a lopsided loss and a probably a lot of empty feelings after they could muster next to nothing offensively against one of the premier defenses in the state.

There are usually one of two ways a team can go after a demoralizing loss like that; keep digging youself deeper and deeper, or pick yourself out of the funk.

It's easy to say that Adamopoulos's crew took road No. 2 after defeating Lowell last night, 42-34, for its sixth victory in a row at Cawley Stadium on the road. The Prep game was the turnaround for the Raiders, and now they find themselves right at the top of the heap in the very crowded Merrimack Valley Conference.

"In that [Prep] game, I thought our defense actually played pretty solid," said the Raiders head coach, whose team moved to 7-1 on the year. "We just went three-and-out all day and our defense really got tired. I think we only had three offensive plays in the fourth quarter. We had fumbled twice in the fourth quarter. But I saw enough in our line that day that I felt good about that. Michael [Milano] showed a lot in our scrimmages that we didn't panic about that game.

"I thought we learned a lot from that game. The next week we had North Andover, who is a good team, and we were down in the first half. I think we had a hangover from the Prep game. We rallied and had a really good second half and we just kind of used it as a springboard from there."

SECONDS TO SPARE
Things were almost going too swimmingly for the Raiders last night, and all it took was a holding call that negated a drive to wake up the home team. Lowell bounced back from a 20-7 hole to score 14 unanswered points after Cam Latta (four touchdown passes) found Alex Kasirye for a 21-20 lead.

The referees said there were two or three more seconds on the clock despite the scoreboard posting all zeroes after a Raiders punt right before halftime. Adamopoulos argued that the teams should be in the locker room for the half, but it's lucky those extra seconds stayed with the referees.

Latta tried throwing a pass to the right flat and D'andre Drummond-Mayire picked it off and took it 45 yards the other way for the 28-20 lead after a Milano two-point conversion rush.

"We caught a break on that last play with the interception for a touchdown," said Adamopoulos. "It kind of changed the way we were going into the half. We were definitely down at that point."

CHANGING HANDS
Lowell would take back the lead in the third quarter lead after Ngaiiva Mason sprinted 44 yards for the 34-28 lead. But Milano avoided the rush on a fourth-and-17 and found Cody Demers in the end zone for the go-ahead touchdown.

Lowell would have several more chances to get points on the board, but the Raiders defense forced Latta into incompletions on nine of his last 10 throws, including an interception by Ryan Doherty to end the game.

CENTRAL CATHOLIC 42, LOWELL 34
Central Cath. (7-1) 20 - 8 - 0 - 14 -42
Lowell (6-2) 7 - 14 - 13 - 0 - 34

CC - Michael Barry 30 pass from Michael Milano ( Thomas Jenoski kick)
LO - Jack Galvin 46 pass from Cam Latta (Zach Noel kick)
CC - Milano 1 run (Jenoski kick)
CC - Cody Demers 25 pass from Milano (kick failed)
LO -Galvin 34 pass from Latta (Noel kick)
LO - Alex Kasirye 25 pass from Latta (Noel kick)
CC -D'andre Drummond-Mayire 45 INT return
LO - Kasirye 67 pass from Latta (Noel kick blocked)
LO - Ngaiiva Mason 44 run (Noel kick)
CC - Demers 34 pass from Milano (Jenoski kick)
CC - Santino Brancato 34 run (Jenoski kick)