Boston High School:

Cody Merritt
November, 13, 2010
11/13/10
2:20
AM ET



SOUTH YARMOUTH, Mass. -- Matt Montalto is a lifelong resident of Yarmouth, but too young to remember the days before Paul Funk took over the Dennis-Yarmouth football program nearly 10 years ago. Funk, a proven assistant at Everett High, came down the Cape in 2001 to inherit a program that won just six games in the 1990's; a program so desolate it had been relegated to playing only junior varsity games.

But after a gutsy second half performance last night, a night that nobody on Station Avenue is soon going to forget, the legacies of both Funk and Montalto have come full circle. Montalto's stats through the air and ground, usually gaudy, took a hit. But so did Plymouth North's vaunted defensive front seven, as the dual-threat junior quarterback slashed the Eagles for a touchdown through the air and ground in the final 22 minutes to orchestrate a 14-7 comeback victory and clinch the Dolphins a share of their second Atlantic Coast League title in four seasons.

"He is as good a competitor, as a winner, as you'll ever find," Funk said of Montalto (181 all-purpose yards). "He's been a winner since he was seven. You always have a chance with him at the helm. His older brother was the same way, (Matt's) just an unbelievable person. I knew at halftime he was going to pick up, because he was banged up and bruised -- they're as physical team as you'll find -- but he just picked us up at halftime and said he was going to get it done. He put us on his shoulders."

Said junior wideout/defensive back Dylan Hodsdon, who caught Montalto's game-winning touchdown pass and then sealed it late with a pick, "Oh Matt, he's a warrior, man. He's awesome. He's the leader on the team, and he's just awesome. Gets banged up, and he keeps on going. Just awesome."

Unlike that 2007 season, though, when they went 10-1 but missed out on a Division 1A playoff berth by virtue of a head-to-head loss to Marshfield, this year's Dolphins (9-1) can claim the ACL's Division 2A playoff berth should North beat archrival Plymouth South (its final ACL opponent) on Thanksgiving. That would create a three-way tie between North, D-Y and Marshfield, the latter of whom beat D-Y earlier in the season but lost to North (both D-Y and Marshfield are finished with their ACL schedules). League tiebreaker rules give the playoff berth to the team that has gone the longest without a postseason appearance, which means the Dolphins -- who have never played past Thanksgiving in the Super Bowl era -- would move on.

"This is the biggest night since the 2007 season," said Montalto, whose brother Nick -- now his quarterbacks coach -- was under center on that '07 team. "It's the biggest game of the 2007 season, it's just as big for the school as it is for the community...It's the biggest thing I've ever been a part of. That's how much it means to me."

Early on, the Eagles (7-3) took control of the field and the clock with their trademark power sets and clock-eating drives on the ground. Behind bruising north-south running between the tackles by senior Matt Walsh (18 carries, 104 yards), the Eagles clawed all the way to the Dolphins' four before being stopped at the goal line on fourth down. Walsh took a toss right, and looked to have clearance, but a Hodsdon dive at his legs tripped him up at the two.

North quarterback Cody Merritt, playing over the top at free safety, avenged the turnover on downs on the ensuing drive when he jumped a slant route and picked off a Montalto dart over the middle, breaking for the right sideline and marching in for a 30-yard pick six. But that initial turnover on downs, however, may have come back to haunt them.

A Tommy Kennedy sack of Merritt on fourth down ended North's first drive of the second half, and gave the Dolphins a starting drive at midfield. On the second play of the drive, Montalto went to the right flat and found Hodsdon, who easily ripped through an armtackle and burst up the sideline before being pushed out some 28 yards later. Four plays later, Montalto finished the drive, flushing out of the pocket to his right and skimping over the near pylon for a 16-yard scamper.

The Eagles went three-and-out on the ensuing drive, and Montalto burst loose around the outside again on the first play for 39 yards. Five plays later, he connected with his favorite target Hodsdon again, a slant over the shallow end zone from the left slot for an 11-yard touchdown reception and a 14-7 lead with 8:31 to go.

All three of North's drives over the final eight minutes came up fruitless, with the secondary picking off Merritt each time. The most crucial one came with 55 seconds left int he game, on second and 15, as Merritt rolled to his left with time and let a sideline fade rip. Hodsdon came over the top and pounced on the ball, underthrown with plenty of air under it, for the second of three fourth-quarter interceptions by the D-Y secondary.

"We knew we had to keep our heads up," Hodsdon said. "That's all we had to do is keep our heads up, and we kept to our assignments."

North head coach Dwayne Follette confessed fatigue may have played a factor in the Eagles' second-half defensive breakdowns.

"We've got alot of kids that play both ways," Follette said. "I think we got tired. We missed alot of tackles, and I think their speed just...we just should have finished that first drive. I thought that not finishing on that first drive really hurt us, because we could have had a nice lead, you know. We just made mistakes at the wrong time."

NO. 23 DENNIS-YARMOUTH 14, NO. 12 PLYMOUTH NORTH 7

PN 0 7 0 0 --- 7
DY 0 0 7 7 --- 14

Second Quarter
P - Cody Merritt 30 interception return (Vinny Tavernelli kick) 3:01

Third Quarter
D - Matt Montalto 16 run (John Terrio kick) 2:42

Fourth Quarter
D - Dylan Hodsdon 11 pass from Montalto (Terrio kick) 8:31
October, 30, 2010
10/30/10
10:55
PM ET
BUZZARDS BAY, Mass. -- Bandaged brow and all, Matt Walsh stood unfazed as he greeted reporters following his Plymouth North Eagles' game with Barnstable. This was a typical night for the 5-foot-11, 210-pound senior, after all -- which is to say, based on recent performances, an unstoppable one.

Whether it was carrying the ball or lead blocking, Walsh punished the Red Raider defenders all night to the tune of 111 yards and two scores on 26 carries, giving the Eagles all the cushion they needed as they pounced on Barnstable, 33-18, last night at Massachusetts Maritime Academy's Clean Harbors Stadium.

"They were loading up on us in the box," said Walsh, who recently committed to Franklin Pierce College for baseball. "They were keying on our power game, and we still powered through them. It was a really nice job by the offensive line."

As for his own game?

"I just want to get the running backs in the end zone," he said, referring to his lead blocks. "I'll do whatever I can for the team."

All night, the Raiders struggled to keep the Eagles off the field, and dominated the clock with their Power-I set in the first half. North was 8 of 13 on third downs, and converted all four of its fourth down tries, thanks to well-executed kick-out and trap blocks from linemen Jeff Synan, Mike Cahill and Justin Maskell that sprung Walsh free. Walsh did the rest, pushing the pile on his own strength at the end of runs and even trucking a few guys.

It's the same method that has delivered North impressive wins over Bridgewater-Raynham, Marshfield and Falmouth in successive weeks following the loss last month to Aquinas Institute of Rochester, N.Y.

"They're a real physical team," Barnstable head coach Doug Crook said. "We knew they were going to come and pound us. Matt Walsh is a load. My defense is laden with sophomores and I'm proud of them, but this is a good tune-up for next weekend (against Bridgewater-Raynham)."

As for that last point, some might consider this a warm-up for both teams' league slate ahead of them. Friday the Raiders look to clinch the Old Colony League crown when they head to B-R, a program known for its suffocating offensive line play and power running have since the days of Doug Bessette and Marc Colombo in the late-90's. The Eagles head to South Yarmouth in two weeks to take on Dennis-Yarmouth -- which runs a more read-option oriented version of Barnstable's spread attack -- for what could potentially be all the marbles in the Atlantic Coast League.

"D-Y is pretty much like Barnstable, so it was good to get a feel for that tonight," Walsh said. "Hopefully it helps us out alot."

The Eagles dominated the clock with their power running game in the first half, putting together two monster scoring drives and moving the ball steadily behind Walsh, Zach Zaniboni and keepers from quarterback Cody Merritt. North marched 63 yards in 12 plays on its opening drive of the game, with Walsh plunging in from four yards out for the initial 7-0 lead.

They pushed the lead to 13-0 late in the second quarter after putting together another drive from good field position, marching 54 yards in 10 plays and punching it in with a one-yard Merritt keeper. Barnstable, after a dismal start, came out blazing in the third quarter, with junior quarterback D.J. Crook (273 yards passing, three touchdowns) hooking up with Jordan Henderson (12 catches, 204 yards, three touchdowns) for a 46-yard pass on fourth down, then punching it in five plays later with an eight-yard comeback to Henderson.

Each Crook touchdown pass to Henderson was responded immediately with more Plymouth pounding between the tackles and scores. Meanwhile, the defense showed its mettle in keeping the quick Barnstable strikes to a dull roar, picking off Crook twice in crucial situations.

So, the North defense did bend. Henderson burned the Eagles' secondary for catches of 48, 46, 33 and 23, all off short passes to the flats; running back Dennis Reddy (nine carries, 79 yards) kept them honest with draws up the middle that went for big gains.

But they did not break.

"(We had to stop) the big play. They can score so fast, they can do everything," North head coach Dwayne Follette said. "They have a great deep passing game, and we didn't give up any big plays as far as deep strikes. We couldn't figure out the crossing route on that empty set they run, but we adjusted and we played well. I was very happy with our defense. They've very dangerous, they average alot more than 18 points (per game)."

PLYMOUTH NORTH 33, BARNSTABLE 18

PLN 7 6 14 6 --- 33
BAR 0 0 12 6 --- 18

First Quarter
P - Matt Walsh 4 run (Vinny Tavernelli kick) 3:49

Second Quarter
P - Cody Merritt 1 run (pass failed) 2:21

Third Quarter
B - Jordan Henderson 8 pass from D.J. Crook (kick failed) 8:35
P - Walsh 6 run (Tavernelli kick) 5:31
B - Henderson 9 pass from Crook (pass failed) 4:22
P - Zach Zaniboni 48 run (Tavernelli kick) 3:26

Fourth Quarter
B - Henderson 3 pass from Crook (pass failed) 4:00
P - Merritt 30 run (kick failed) 2:11
October, 23, 2010
10/23/10
12:29
AM ET
By
Brian Fabry
| ESPNBoston.com
PLYMOUTH, Mass. -– Plymouth North head coach Dwayne Follette tried to downplay the significance and the motivation behind the win, but senior running back Matt Walsh took it personal.
Under a full moon and a chilly October night with temperatures in the 30s, the No. 22 Blue Eagles shocked No. 7 Falmouth, 28-7, in front of a standing-room only, homecoming crowd and sent the previously unbeaten Clippers' packing in a defining Atlantic Coast League battle.
Forced to play their home games at rival Plymouth South's field a few miles away due to construction, the defense didn't seem to care as they held Falmouth to 11 yards on only 13 plays from scrimmage in the first half alone.
Walsh finished with 102 of the 174 rushing yards for the Eagles on 16 carries and was referring to last season's 41-0 rout at the hands of Falmouth when he said the seniors wanted to "punch them in the mouth" with a victory. With the win, Plymouth North (5-2, 2-0) remains unbeaten in league play and with a 15-0 win last week over the defending league champion Marshfield, this victory puts the Eagles' at the head of the pack with three winnable league games left on the schedule.
"Every time I got the ball there were holes everywhere, it wasn't just one hole at a time," Walsh said. "[Assistant] Coach [Carl] Freyemuth told us this was a big game and we were hyped up beating Marshfield and we knew coming in we needed at least two turnovers and I think we got more then that."
[+] Enlarge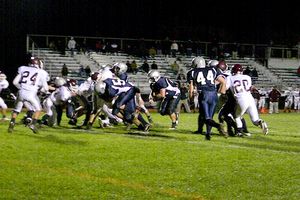 Brian Fabry for ESPNBostonMatt Walsh rumbles in for the first of his two touchdown runs in Plymouth North's 28-7 upset win over Falmouth on Friday.
The Plymouth North defense caused six turnovers overall converting the first three Clippers' miscues into touchdowns in the first two quarters of play.
Plymouth North (5-2, 2-0) was staked to a 14-0 lead in the first 8:43 of play as the Eagles cashed in two forced fumbles for touchdown on Falmouth's first two series. The two turnovers set up Plymouth North with great field position, with the first opportunity coming at the Clippers' 24-yard line after a Mike Cahill fumble recovery.
After two Walsh rushes got Plymouth North to the 11-yard line, quarterback Cody Merritt scored on an 11-yard keeper right up the middle of the Falmouth defense. Falmouth's Jonah Olsen burst off the right end untouched and blocked Vinny Tavernelli's extra point attempt to hold the score at 6-0.
But the momentum never changed as on the very next series, the Clippers' second fumble was on the ground on only the second play from scrimmage. This set up the Eagles' with even better field position inside the red zone at the Falmouth 14-yard line.
Last week's offensive star Zach Zaniboni was credited with the recovery and four plays later, Matty Walsh scored the first of his two rushing touchdowns from two yards out and then Merritt converted the two-point conversion on a swing pass to Walsh for the 14-0 lead.
"We haven't been getting many turnovers and we got a lot of turnovers tonight and we turned them into scores, so it was great we executed," Eagles head coach Dwayne Follette said. "The defense played awesome again but our offense played real well tonight, got some big plays, and turned the short fields into scores and that was the difference."
After the two teams exchanged three-and-outs, Merritt turned around to the defensive side of the ball and picked off the Clippers' Dillon Mansfield at the start of the second quarter to set up the third Eagles' score.
The Eagles methodically ate up over nine-plus minutes of the second half on a 12-play drive – not including a spinning 27-yard run from Zaniboni that was negated on a holding call - that culminated on a fourth-and-one plunge from Walsh with only 50 seconds left before the half. As the teams dispersed for halftime, Plymouth North was firmly in control, 21-0.
"We had a good week of practice and everyone was on key," Walsh added. "We played hard the whole game we didn't give up and we gave it all we could".
The nightmare continued for Falmouth (5-1, 1-1) as they coughed up the ball on their next two possessions of the second half and lost two-sport star Nelson Baptiste to an undisclosed injury before the second stanza started.
Plymouth North smelled blood in the water as Zaniboni had his second fumble recovery and the fifth Falmouth turnover turned into a picture-perfect hook and ladder between Merritt and Liam Cosgrove with the final pitch going to Bobby Savoia for the 32-yard touchdown.
Before Falmouth knew the second half whistle was fired off, the Eagles offense posted 28 unanswered points with 9:08 remaining in the third quarter.
Olsen took it upon himself to ruin a second consecutive Atlantic Coast League shutout for the Eagles with a 40-yard scamper on a sweep to the right as he outran four would be tacklers with 9:03 remaining in regulation.
Said Follette: "We have three league games left and every week you play for controlling your own destiny. We talked (last season's loss) up, but this was a big enough game that we didn't need the extra motivation, but [Falmouth head coach] Steve [Femino] is a great guy, he addressed our team [post-game], he's a class act but we won –- we played the better game".
Falmouth goes back over the Sagamore Bridge to lick their wounds in anticipation of next week's battle with Marshfield, which will essentially knock one of the two ACL powerhouses out of contention for this year's Division 2A Super Bowl playoffs. Plymouth North goes on the road to face non league foe, Barnstable, in a tune up for the remainder of the league schedule.
The rest of the schedule includes road games against Sandwich and the always dangerous Dennis-Yarmouth before the season-ending tilt with in-town rival Plymouth South at the annual Thanksgiving Day battle.
FALMOUTH (5-1) 0 0 0 7 -- 7
PLYMOUTH NORTH (5-2) 14 7 7 0 -- 28
PN – Cody Merritt 11 run (kick blocked)
PN – Matty Walsh 2 run (Walsh from Merritt)
PN – Walsh 1 run (Vinny Tavernelli kick)
PN – Bobby Savoia 32 pass from Merritt (Tavernelli kick)
FA – Jonah Olsen 40 run (Tyrone Reine kick)
October, 15, 2010
10/15/10
10:58
PM ET
By
Brian Fabry
| ESPNBoston.com


MARSHFIELD, Mass. – There is a new sheriff in the Atlantic Coast League – for now.

No. 23 Plymouth North opened up its league schedule and defeated the reigning ACL and Division 2A Super Bowl Champion Marshfield, 15-0, in front of the Rams' homecoming crowd at James G. Anderson Field. The Eagles (4-2; 1-0) huge road win sets up a barnburner between idle No. 7 Falmouth for bragging rights and the top spot between the two league unbeatens.

After the Blue Eagles were bottled up on their first two series, Zach Zaniboni broke off a 50-yard touchdown scamper from midfield to get Plymouth North on the board with the eventual game-winning touchdown.

"I just saw a huge hole off the right side and was able to take it home", said the senior tailback. "It's huge to beat them on their home field as well – big win"

Cody Merritt, last week's star in their non league win over Bridgewater-Raynham, called his own number on the next series capping off a quick five-play drive with an 11-yard keeper on a sweep to the left. Merritt faked the pitch to Bobby Savoia and followed the lead block of Matt Walsh into the end zone untouched.

While holding the snap for the extra point, Merritt pulled up and rolled left to find Liam Cosgrove right before being buried out of bounds for the two-point conversion and the 15-0 lead with 2:33 left in the second quarter.

The Eagles defense surely did their part limiting Marshfield to 23 total yards of offense in the entire first half for the first shutout of the season for Plymouth North. In fact, the win is the first in 22 seasons at Marshfield for the Plymouth North program and Dwayne Follette downplayed the win knowing the tough road in front of his team.

"It was all about our defense, we had a great game plan, the kids played really hard, and did a great job because shutting out a Marshfield team is pretty special," Follette said. "Next week we have an undefeated Falmouth team so we have to put this one to bed real quick".

Marshfield (2-4) was able to get into Eagles territory on all four second half possessions but were shut down three times on fourth-down conversions. The first series of the second half was led by the passing of Marc Pomella, who was 4-of-7 on the drive but the Rams came up short at the Eagles' 11-yard line on a fourth-and-eighth attempt that lost yardage.

Plymouth North finished with 201 yards rushing on the ground led by Zaniboni's 81 yards on only six carries and Merritt finished with 79 on 11 carries.

"Zaniboni had a great game, played well on both sides of the ball, and was easily the MVP of the game, but this is only one league game – we have four more left and that starts with Falmouth", Follette added.

PLYMOUTH NORTH 0 – 15 – 0 – 0 -- 15
MARSHFIELD 0 – 0 – 0 – 0 -- 0

2nd quarter
PN – Zach Zaniboni 50 run (Vinny Tavernelli kick)
PN – Cody Merritt 11 run (Liam Cosgrove pass from Merritt)
October, 11, 2010
10/11/10
2:14
PM ET
Another Monday, another wrap up of another stellar week of football. Here's a look back at the weekend that was, and what we've learned...
METHUEN'S OFFENSIVE LINE IS GOOD. LIKE, '97 BRONCOS GOOD.
"Best offensive line in the state," repeated Ryan Savastano to reporters, after marching his Methuen Rangers teammates to a 31-21 win over Chelmsford, to the tune of 223 yards on 32 carries.
Sometimes the o-line shoutouts can be a forced axiom grilled into a kid's head from the coaching staff --
mention the line, mention the line!
-- but in Methuen's case, these are far from canned quotes.
With quarterback Cal Carroll treading carefully with a hairline fracture on his left (non-throwing) thumb, the Rangers dialed up inside zone runs almost exclusively against their Merrimack Valley Large counterparts. The gameplan was methodical and pretty simplistic -- Savastano zone left, Savastano zone right, Carroll keeper, vertical pass, rinse and repeat -- and yet Chelmsford's vaunted defense, hailed by some as one of the state's best, struggled all night to put a helmet on the ball carrier on running plays.
Led by Steve DiZazzo and Dan Cormier on the left, and Sean Whittaker on the right, the senior-laden line has excelled in a zone-blocking scheme. With a linebacking corps as active at Chelmsford's, led by Zach Hayes and monster middleman Tim Joy, the Rangers often chipped off double-team blocks and accelerated downhill to drive the outside shoulder of a linebacker or defensive back away from the play. Sometimes, though, they simply pushed back the defensive linemen right into linebackers.
"I thought the o-line got some great push," Methuen head coach Pat Graham said. "It was probably tough for Tim (Joy), with the d-linemen getting knocked back into him a little bit, I'm sure it was tough for him to try and find the running back. Ryan's just a little guy, he's behind all those big guys, it's just tough to find him sometimes. But the big thing is our o-line got a great push up front."
Graham, one of the area's best coaching minds, has kept his quotes pretty vanilla and straightforward so far this season, to keep his players grounded and focused. But after a win as impressive as last Friday's, even Graham has to let out a sigh and a smile.
"Chelmsford's one of the best teams, year in and year out, in the state," he beamed. "It's a great feeling."
...ALL OF WHICH MAKES PLYMOUTH NORTH'S WEEK ONE WIN OVER THE RANGERS THAT MUCH MORE IMPRESSIVE
The Eagles, led by ice-in-his-veins running back Matt Walsh, are essentially a muffed two-point conversion attempt from being 4-1 and an ESPNBoston Top 25 team. In Week One, North held the Rangers to just one touchdown, and escaped with a 13-7 win thanks to a 70-yard Walsh touchdown run with four minutes and change to go.
Last Friday, it was Cody Merritt providing the spark, scoring three times (two rushing, one receiving) to lead the Eagles to an impressive 20-7 win over Bridgewater-Raynham.
Week by week, as the Rangers continue to pound away at the MVC's best and brightest, that is looking more and more intriguing.
JUST HOW GOOD IS ST. JOHN'S OF SHREWSBURY?
The No. 3 Pioneers lambasted cross-town rival Shrewsbury High, 52-7, their second straight week hanging half-a-hundred on the opposition. That brings their scoring margin through five games to 221-34, with a state-best average of 44.2 points per game.
A quick look inside the numbers:
Yards per game: 372.6
Yards allowed per game: 243
Points allowed per game: 6.8
Dan Light, Sr. QB: 48 carries, 426 yards, 8 TD; 44 of 77 passing, 935 yards, 15 TD, 3 INT
Richard Rodgers, Sr. WR/DE: 18 catches, 372 yards, 7 TD; 5 sacks
In Week Two, the Pioneers pasted Longmeadow, 37-8; the Lancers visited Catholic Memorial last Friday and beat them on a last-second field goal, 27-26. Two weeks ago, St. John's clobbered Fitchburg, 56-12, in the rain; last Friday, the Red Raiders almost beat Brockton, faltering in the fourth quarter.
We'll see just how good the Pioneers are this Saturday, when they travel to St. John's Prep to take on the No. 16 Eagles, and on October 30, when they host No. 1 Xaverian.
R-E-S-P-E-C-T
Akin to Aretha Franklin, or that old Adam Sandler album skit, Norton is just asking for a little of it these days.
"We didn't get shown much respect in our league and everyone thought Westwood was going to beat us," Lancers junior running back Zach Schweiger told correspondent Phil Perry on Friday. "Everyone thought their big running back [Sean Amaru] was going to do a whole bunch against us but we shut him down and executed on offense."
With a convincing 28-6 win over Westwood, the Lancers have certainly earned it, sitting at 5-0 and the prohibitive favorites to win the Tri-Valley League.
Norton stands a game ahead of Holliston, Medway and Westwood (all 4-1). Perhaps, more importantly, the Lancers now have recorded wins over Medway and Westwood with only an Oct. 22 date with the Panthers remaining on their slate.
ROUGH AND TUMBLE SOUTH SHORE
Speaking of potential Division IIIA playoff scenarios, it's anybody's guess which team will survive what has shaped up to be a very tough South Shore League.
Cohasset (5-0) remained unbeaten against another formerly unbeaten squad in an upstart East Bridgewater team Friday night behind Thomas Flibotte's 101 yards on 18 carries. Meanwhile, Rockland (28-0 win over Hull) and Abington (34-0 whitewashing of Carver) also improved to 5-0.
However, things at the top could sort themselves out pretty quickly as the Skippers host Rockland this weekend (Friday, 6 p.m.) and the Green Wave travels for a tough road game at Masphee (4-1, 1-1) Friday at 7 p.m.
All will be appointment viewing.
DOUBLE DRAGONS
The play of Duxbury quarterbacks Matt O'Keefe and Kane Haffey puts head coach Dave Maimaron in an enviable position every weekend.
Typically, O'Keefe and Haffey split time under center. They have combined for a .567 completion percentage and have both had success moving the ball down the field. On the season, O'Keefe has completed 31 of 48 pass attempts for 449 yards, seven touchdowns and one interception. Haffey has gone 37-of-72 for 490 yards, five touchdowns and one pick.
But Maimaron's depth at quarterback only helps when the injury bug comes calling.
When it became apparent Haffey wasn't going to be able to go in Friday's game at Quincy, there was no sweat calling upon O'Keefe to carry the load. The junior responded with a 242-passing yard performance and accounting for all of the Dragons' five touchdowns (four passing, one rushing).
HEAD OF THE CLASS
VALVOLINE PEAK PERFORMER OF THE WEEK: TYLER COPPOLA, SR. RB/DB, ST. JOHN'S PREP
What else is there to say after a performance as dynamic as Coppola's? Last Saturday against visiting Mount St. Joseph of Baltimore, the senior carried 19 times for 338 yards and five touchdowns, with all five of his scores coming on runs of 42 yards or more. Adding in return yardage, he finished the day with 473 all-purpose yards and a long ride home for the visiting Gaels. Yep, not a whole lot of hyperbole needed after this one, but with a day like that, credit is due to the Eagles' offensive line led by Nathan Cyr.
THE CLASSMATES
Brian Bourque, Sr. QB, Reading
- He totaled 183 yards of offense (135 passing) and four touchdowns as the Rockets cruised to a 42-0 beatdown of Wakefield.
Jonathan DiBiaso, Jr. QB, Everett
- The coach's son threw for six touchdown passes in the first half of a 42-7 win over Taunton, breaking two school records in the process -- passing touchdowns in a game and one half (himself, two weeks ago against Barnstable), and career touchdown passes (now at 34, breaking Matt Nuzzo's mark of 31 set earlier this millennium).
Chris Coady, Jr. RB/LB, BB&N
- Coady was omnipresent in the Knights' 33-28 win over Governor's Academy. He carried the ball 18 times for 86 yards and a score; caught three passes for 63 yards and a second score; made seven tackles on defense; and returned an interception to the house for a third and final score.
Dylan Colarusso, Sr. RB, Weymouth
- The hard-nosed Colarusso bulldozed his way to 220 rushing yards and two touchdowns as the Wildcats rolled to a 43-0 shutout of Dedham.
Alex Furtado, Sr. RB, Archbishop Williams
- Furtado led the Bishops with 236 yards and three touchdowns on 27 carries in a 32-22 win over Whittier Tech.
Matt O'Keefe, Jr. QB, Duxbury
- With injured quarterback Kane Haffey on the mend, O'Keefe stepped up and threw for 237 yards and five scores (four passing, one rushing) in the Green Dragons' 35-7 win over Quincy.
Trevon Offley, Sr. RB, Brockton
- The hard-running Offley ran for 217 yards and two scores in the Boxers' 27-20 win over regional rival Fitchburg.
Nate Robitaille, Sr. QB, Attleboro
- Another week, more heroics. This time, he carried the ball seven times for 132 yards and a score; and completed 10 of 26 passes for 178 yards and two scores, including the game-winner with time expired, as the Blue Bombardiers downed Foxborough, 26-24.
Ryan Savastano, Jr. RB, Methuen
- The diminutive Savastano carried the ball 32 times for 223 yards and two touchdowns in the Rangers' 31-21 win over Chelmsford.
Matt Silva, Sr. QB, Dracut
- In yet another shootout, this time a 45-35 win over Lowell and old coach Jeff Moore, Silva threw for 171 yards and two scores, and ran for 213 more and a third score.
Kenny Woods and Troy Salvatore, Sr. RB's, Walpole
- The two combined for 325 yards rushing and five touchdowns in the Rebels' 34-21 win over Braintree.
September, 25, 2010
9/25/10
1:53
AM ET
PLYMOUTH, Mass. – Silver Lake came rolling into Plymouth with wins against Coyle-Cassidy and New Bedford to start the season. In those wins, the Lakers had put on offensive shows, led by quarterback Mitch Graziano and his cache of weapons.
In Friday night's tilt with Plymouth North, the Lakers offense did nothing to resemble the robust machinery they displayed in the first two games.
Instead, the Eagles dominated the Lakers' attack.
[+] Enlarge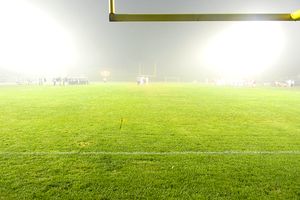 Scott Barboza/ESPNBoston.comA thick fog settled over Plymouth South High on Friday night, when Plymouth North beat Silver Lake, 23-6.
Silver Lake didn't earn a first down until six minutes remained. The Lakers' offensive numbers weren't pretty either. Through the first half, Silver Lake had more than double the penalty yardage (35 yards) as it did combined offensive yards (14).
The sum was a 23-6 Plymouth North victory in a dense fog.
"The whole defense was phenomenal," Eagles head coach Dwayne Follette said. "I thought it was a great team effort against a quality opponent."
Follette credited defensive assistants Carl Freyermuth and Joe DeSisto for drawing up an effective defensive scheme.
There were plenty of kudos to hand out across the defense. Senior linebacker Adam Cuomo drew the task of covering Lakers 6-foot-4, 215-pound tight end Gavin Doherty in man coverage, with no help over the top. Doherty, usually a frequent target of Graziano's passes, was held without a catch.
But it all started up front for the Eagles (2-1).
Defensive lineman John Dee contributed a sack of Graziano on the Lakers' first offensive drive on third down, forcing a three-and-out and setting the tone for the rest of the game. Defensive end Mike Cahill also added a sack in the second half.
"The difference was what they did up front," Lakers head coach Dana Battista said. "They dominated the offensive line and they were more physical than we were."
Plymouth North divvied up the offense in its backfield. Junior running back Bobby Savoia contributed what quarterback Cody Merritt called "a break-out game" with seven carries for 89 yards and two touchdowns.
"Bobby [Savoia] stepped up huge," Merritt said. "He just keeps getting better and better as the weeks have gone on and he really came through tonight."
Merritt led the Eagles' rushing attack with 15 carries for 98 yards. Zach Zaniboni tallied 46 yards on the ground on five carries, including a 3-yard touchdown run in the first quarter that accounted for Plymouth North's 7-0 halftime lead.
The Eagles easily could have been 3-0 now — had it not been for a fumble on a two-point conversion play during last week's 16-12 loss to Duxbury. But the effort in a rather convincing win over Silver Lake (2-1) wasn't lost on their coach — at least for a little while.
"I thought our offensive execution was good overall," Follette said, "and we really played well defensively. But we have a very tough schedule and, like last week, we'll have to put this one behind us, too. There are no let-downs."
September, 20, 2010
9/20/10
11:27
AM ET
Now that the dust has settled on Week 2 of the MIAA football schedule, here's what we learned from this weekend's action:
The Atlantic Coast League race is going to be a lot closer than we thought
No. 15 Falmouth and defending Super Bowl champ Marshfield were the figurative favorites in the ACL headed into the 2010 season, but the picture just got a whole lot more crowded.
After a surprise upset of Methuen in Week One, Plymouth North almost pulled off another shocker last Friday against No. 24 Duxbury. Matt Walsh – he of the heroic 77-yard winning touchdown in week one – hauled in a 5-yard pass from Cody Merritt with no time left on the clock, to make it 14-12 Duxbury. The ensuing two-point conversion pass was intercepted and returned 100 yards for the 16-12 final, but a point has been firmly made in year one of the Dwayne Follette era.
Meanwhile, Dennis-Yarmouth – fresh off a 41-38 upset of Barnstable – is averaging 42 points per game, led by junior dual-threat quarterback Matt Montalto. The Dolphins run the spread and like to throw the ball, but a closer look at their program shows they're not some pass-happy outfit. Led by the hulking 6-foot-5, 319-pound Nate Crary at left tackle, the Dolphins are physical at the point of attack, and maintain a nice balance on their zone read behind running backs like Joe Furness and Damion Johnson.
"If you ever needed a big play in any sport, he's the one who's going to do it," D-Y head coach Paul Funk said of Montalto, who also plays hockey and baseball at the school. "That's him, that's his makeup. I'd take that kid anywhere."
As for toughness?
"(I'd rate him) at the top," Funk said. "That's what makes him so great. When your quarterback's as tough as everybody else, everybody else tows the line."
Burlington can score in a hurry
Down 28-14 to Arlington in the fourth quarter, the Red Devils bounced back in a hurry, scoring a whopping 29 points over the final few minutes of the contest to take a 43-28 win going away. Freshman Marcus Odiah hauled in a 25-yard Greg Sheridan pass, then recovered a fumble moments later and scored from three yards out. He then ran in the two-point conversion for a 29-28 lead with 1:15 left.
Seconds later, Kyle Shields intercepted a pass, and Odiah ran it in from 40 yards out to make it 36-28. Anthony Cruz then put the clamps on the win with a 52-yard pick-six on an Arlington Hail Mary heave.
One thing is for certain as Middlesex League play begins next week: The Red Devils are a wild card.
Dan Light is a tough guy to wrap up
Last season, we saw glimpses of Dan Light's ability as a running quarterback for St. John's (Shrewsbury), when he took direct snaps lined up next to quarterback Griffin Murphy as the Pioneers' ball-carrier in Wildcat formations. And now that Light, a senior, has made the full transition from tight end to signal-caller, we're seeing that in full force.
With the No. 4 Pioneers' 37-8 defeat of Longmeadow yesterday, the 6-foot-4, 235-pound lefty has accumulated over 600 yards of offense and 10 touchdowns through two games. On the ground, he is averaging 11.1 yards a carry, and has hooked up with Cal-bound receiver Richard Rodgers for four touchdowns.
At times, Light has shown Tebow-esque abilities carrying the ball. But it's the vision he's developed over the last few weeks that has made him that much more difficult to stop.
"If I looked at him over the last three weeks, he has become a very smart quarterback," St. John's head coach John Andreoli said of Light. "Our offense is really designed around looking at the defense and taking advantage of what the defense gives you, and I see Danny taking more ownership of those calls.
"He's been able to deliver the ball on the long balls, but on the short balls, you know, you see his feet moving around in the pocket and he's very comfortable. And all of that, when you pull people out of the box and give him the ability to run the ball, he's a very dangerous player. That's really the point where we want to get."
Tewksbury's visit to Methuen on Oct. 29 will go a long way to deciding the MVC Small crown
With Lawrence's surprise upset of Lynn English and Tewksbury's surgical handling of Lincoln-Sudbury on opening weekend, the two teams' meeting in Tewksbury last Saturday had the potential for greatness. The Redmen, however, wanted none of that, going up 28-6 on Lawrence at the half en route to an easy 35-6 win.
Sean Connolly led the way for Tewskbury with 101 yards on the ground and 105 through the air, totaling two scores, but watch out for tailback Anthony Arcari. He may be one of the more underrated speedsters in the league.
"The whole team likes to play as a family," Arcari told ESPNBoston's Neil Carroll. "We talked about that all year and on that one drive the offensive line did their job, the quarterback did his job, we ran the ball well and it demonstrated all that Tewksbury can do."
Meanwhile over in Methuen, the two-man game of Cal Carroll and Raudy Minaya that works so well during basketball season has finally broken out again on the gridiron. Carroll (11 of 15, 146 yards) easily dispatched much-hyped Malden on Friday night with a strong second half, finishing with five scores through the air – including three to his good buddy – and another on the ground.
This was the Methuen that so many coaches had raved about during preseason.
"We have some of the toughest lineman around," Carroll told ESPNBoston correspondent Phil Perry. "Steve DiZazzo, Sean Whittaker, they do all the dirty work inside. They watch so much film and work so hard, my success is because of what they can do."
This week is a brutal one for the MVC Small's front runners, with Methuen traveling to Billerica, Dracut hosting Central Catholic and Tewksbury visiting Andover. But based on the early returns, we suggest circling October 29 on your calendars.
Not the Raiders of old
Central Catholic proved more than just the point that they could hang with St. John's Prep in this weekend's game. The Raiders offensive identity has been altered from years past to incorporate the passing game more.
Although head coach Chuck Adamopoulos said in the preseason he hadn't seen a definitive No. 1 quaterback emerge, it looks as though Central Catholic has some able bodies at the position. Transfer student Ben Onett was impressive and accurate in his Massachusetts debut against Marlborough a week ago.
But it was junior Matt McDermott who seemed to take hold of the Raiders' offense this week at St. John's Prep. Adamopoulos again split time between his quarterbacks on Saturday, but McDermott looked as though he might have a hand up on the competition. He was on the field for each of the Raiders' scoring drives and seems to have developed a good rapport with his top target, receiver Xavier Peralta.
It was also telling that McDermott was on the field for the Central Catholic's final drive in the fourth quarter with the game on the line. The Raiders' chance for a comeback was thwarted by an interception in the game's waning moments, but it bears watching how the quarterback situation in Lawrence develops in the coming weeks.
No. 1 Brockton and No. 2 Xaverian have been flawless so far, setting up Saturday's showdown to be one for … well, really, do we need to explain?
Saturday. 1 p.m. Clapboardtree Street, Westwood.
No. 1 versus No. 2.
Public vs. Private.
Need we say more?
HEAD OF THE CLASS, WEEK 2
Taking a look at the weekend's top performers:
Isaiah Jones, Mahar: Tallied 311 yards of total offense and five touchdowns during just the first half in a 46-14 win over Dean Tech. Jones had two rushing scores, two punt returns for a touchdown and an interception return. Mahar ran just 4 plays in first half and was up 46-8 at half.
Ryan Vultaggio, Groton-Dunstable: Vultaggio picked up 279 yards on the ground on just 12 carries to go along with four touchdowns in a 52-34 over West Boylston.
Nick LaSpada, Billerica: The junior quarterback was stellar once again, completing 15 of 23 pass attempts for 318 yards and one touchdown against Woburn. LaSpada also ran for three touchdowns.
Cal Carroll, Methuen: See Phil Perry's story.
Charlie Blackett, Lexington: The senior defensive tackle set up camp in Concord-Carlisle's backfield to the tune of five sacks and was in on a countless number of other plays.
Dan Light, St. John's (S): The quarterback was superb with 296 yards of offense and five touchdowns in a 37-8 win over Western Mass. power Longmeadow.
John Pieterse, Worcester Academy: In his third career start, Pieterse was 16 of 18 for 322 yards and five touchdowns in a 41-14 victory over Blair Academy.