Boston High School:

Colby College
February, 7, 2013
2/07/13
1:24
AM ET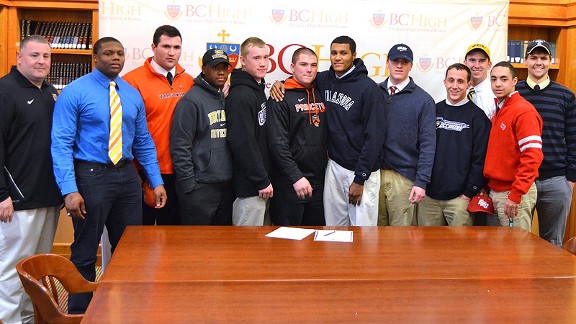 Scott Barboza/ESPNBoston.comEleven college-bound seniors from BC High football's team gathered for a ceremony Wednesday at the school on National Letter of Intent Signing Day.
BOSTON -- Luke Catarius' senior season didn't go as planned. Coming off a Division 1 Eastern Mass. Super Bowl championship season with his BC High teammates as a junior, the Eagles linebacker and fullback held high expectations for 2012.
Yet, his final campaign got off a rough start when he suffered an ankle fracture during a preseason scrimmage against Mansfield. It forced Catarius to miss the Eagles' first seven games of the season.
"It was tough because every year since freshman year everyone's like senior year is when everyone's going to come together," Catarius said Wednesday at the school's Morrissey Blvd. campus, "and obviously we had big shoes to fill from [the 2011] team. We wanted to repeat. I got hurt, a couple other guys got banged up, too, and it all went down hill from there."
BC High had a revolving door of injuries through the first half of the season and they struggled to gain momentum, finishing with a 4-6 record.
But Wednesday was National Letter of Intent signing day and Catarius joined 10 of his football teammates who are going on to play football at the college level for a ceremony held for the families and friends of the Eagles athletes.
While 2012 might have been a season of unrealized potential, the Eagles seniors will leave nothing behind.
"Going to BC High, you understand that an education is what gets you far in life," said wide receiver Lincoln Collins, who signed to FCS power Villanova. "In looking for colleges, we did the same thing. We're all setting ourselves up for life outside of football."
Looking on during the gathering was Eagles head coach Joe Gaff, a longtime Eagles assistant coach who assumed the program's reigns for the first time in the fall. Gaff held Catarius up as an example to younger athletes. It would've been easy for the injured player to pack it for the rest of the season. Instead, Catarius stuck to his strict rehabilitation regiment and made his return to the field while putting in some extra work in the library to work his way into Princeton.
"He took his frustration and turned it into action," Gaff said of Catarius, who originally committed to Bryant University before switching to Princeton in January. "He knew what he had to do to get into the Ivys. He needed a certain test score, so he went in and studied every day and he got himself mentally prepared.
"He did a tremendous job. It shows what kind of competitor he is."
On a day that marks a milestone for many families across the nation, Gaff's class headed the notion that Wednesday was but a transitional day.
Eagles offensive tackle Jack McDonald signed his Letter to Virginia before a large group of family members – most of whom were donning the Cavaliers' navy blue and orange colors.
"Football's going to end sometime, whether that's two years, four years from now, or even if you're lucky enough to make it to the NFL," the Eagles captain said. "It's going to happen sometime. You need that education for when it does end. I think that's what all of us have found."
Those BC High seniors pursuing collegiate football careers are:
Jackson Bockhorst - Tufts
Luke Catarius – Princeton
Lincoln Collins – Villanova
Skyler Evans – Mass Maritime Academy
Jaleel Johnson – Merrimack
Tim Johnson – Sacred Heart
Jack McDonald - Virginia
Mark McGuire – Holy Cross
Pat O'Hearne – John Carroll
Brandon Owens – Byrant
Mike Roberts - Colby
June, 8, 2012
6/08/12
12:53
PM ET
By
Gary Hawkins
| ESPNBoston.com
Abbey Leonardi concluded her stellar high school running career last Saturday with a pair of wins at the State Class A track and field championships. The Kennebunk senior won the 1,600 and 3,200 meter races despite missing a month of training this spring with a strained tendon in her leg.

Leonardi finished the 1,600 in 4 minutes, 56.87 seconds, a little more than five seconds off her state record pace in 2010. She caught Lawrence's Erzsebet Nagy on the final lap and held her off down the stretch.
"I missed more than a month of training," Leonardi said, "so it was just more about being mentally tough."
Leonardi won 3,200 later in the meet in 10:45.49, again a few seconds off the state record she set in 2010. In four years, Leonardi has posted four cross country individual championships and 12 outdoor track titles. She holds state records in 1,600, mile, 3,000, 3,200 and the two mile.
She is widely considered Maine's best female high school runner since Joan Benoit Samuelson, who won the inaugural women's marathon at the 1984 Olympics. This year Leonardi finished fourth in the prestigious Foot Locker Cross Country Nationals, setting a PR of 17:35.30 in the 5,000 meter event.
"What we've tried to do is not go too crazy with her in high school and chase every big meet," her father Jack said.
Abbey will attend the University of Oregon next fall on a running scholarship and will step on campus with plenty of gas left in her tank. She hasn't run indoor track in high school nor has she over-trained.
"I actually think she can get a lot better," her dad said. "We've tried not to stress her too much. I think Abbey's at the low end of the top kids in high school in terms of mileage."
Her dad got her started in running and said he got up to speed in training methods as she progressed. He credits middle school coach Mike LeBlanc as an important influence. As she's grown older, Leonardi has trained with Kristen Barry, a former 2:40 marathon runner and Falmouth's Sheri Piers, the top American female finisher in this year's Boston marathon.
"She definitely has some physical talent but she works as hard as anybody at it," jack Leonardi said of his daughter. "She's really methodical about what she does. She's pretty educated about what she's doing."
Leonardi won't complete in this weekend's New England meet in Saco, but will follow a training regimen to get her ready for cross country season next fall. Her only appearance in the new England cross country meet was her freshman year when she finished first. Oregon is one of the country's strongest track and cross country school. Last fall, the Ducks placed fifth in the NCAA cross country meet and return five of their top seven runners.
"She had lots of opportunities (to attend other schools)," Jack said, "but she definitely is choosing to jump into the big pond. If she didn't give the biggest stage a chance, she wished she would have."
Leonardi, who has a twin sister, is a straight A student who also loves to cook.
"She'll probably end up studying business and hope to apply that in some food area," her father said.