Boston High School:

Conard
November, 28, 2011
11/28/11
2:21
PM ET
By
Roger Brown
| ESPNBoston.com
Until this year, the Glastonbury High School girls' soccer program had always lacked a finishing kick.

Glastonbury had reached the Class LL championship game six times since 1983, and came away second best each time. That all changed when top-seeded Glastonbury defeated 18th-seeded Trumbull 2-1 Friday to win this year's Class LL title.
"I was doing this for all the [Glastonbury] girls who have been here before us," Glastonbury senior midfielder Liz Otto said. "I'm just so excited we finally got it done."
Otto gave Glastonbury a 1-0 lead when she headed Kayla Orozco's corner kick into the Trumbull goal with 19:45 to play. The Tomahawks doubled their lead when junior Kristen Dragotta scored with 2:41 left.
Trumbull made things interesting by scoring with 2:23 to play, but the Tomahawks hung on to finish the season with a 17-0-2 record.
In last weekend's other girls soccer championship games No. 2 Avon defeated No. 8 Farmington 2-1 to win the Class L title; No. 1 Northwest Catholic beat No. 2 Granby Memorial 4-0 in the Class M championship game; and No. 5 Immaculate defeated No. 7 Litchfield 3-0 to win the Class S title.
May, 4, 2011
5/04/11
6:12
PM ET
By
Roger Brown
| ESPNBoston.com
It took Bob DeMayo 53 years to record 799 victories as North Haven High School's varsity baseball coach. The wait for victory No. 800 may have felt just as long.

After DeMayo collected his 799th victory when North Haven beat Wilbur Cross 14-0, DeMayo had to endure one-run losses to Branford (4-3) and Foran (4-3). Foran pulled out its victory by scoring three runs in the bottom of the seventh.
Then North Haven made DeMayo wait until the 12th inning of Monday's game against Xavier before it pulled out a 6-5 win and handed DeMayo victory No. 800.
"I know it's a milestone and I know I'm close to the end of my career probably, so it's certainly nice," DeMayo told the
Post-Chronicle
. "To see a lot of my former players this week and all the letters I've gotten, it's just been really nice. It does mean something. I'm just surprised it meant so much to other people. That's the nicest thing."
North Haven prevailed when Kevin Erbe walked with the bases loaded in the bottom of the 12th. Mike Acampora pitched five innings to collect his first varsity victory in the milestone win.
The game was played on North Haven's home field, which was named in DeMayo's honor in 2009.
DeMayo began coaching at North Haven in 1959. His teams have won four state championships.
According to the National High School Sports Record Book, Gene Schultz of Kee High School in Lansing, Iowa, has collected more wins than any other high school baseball coach. Schultz began the 2011 season with 1,636 victories.
TARPEY SELECTS WILLIAM & MARY

Fairfield Prep's Terry Tarpey, a 6-foot-5 guard/forward, gave a verbal commitment to play basketball at William & Mary on Tuesday.
Tarpey, a junior, averaged 17 points per game last season, when Fairfield Prep finished with a 21-7 record following a loss to St. Joseph in the Class LL championship game.
William & Mary competes in the Colonial Athletic Association.
STAPLES GETS SECOND CHANCE

The Westhill softball team defeated Staples 5-3 on April 18, but Staples protested the game and had the protest upheld by the Fairfield County Interscholastic Athletic Conference.
The game will be replayed from the point of contention May 15.
The controversy occurred with no outs in the first inning and Westhill's Allie Souza on third base. Staples pitcher Sam Saccomano dropped the ball during her windup and was called for making an illegal pitch.
Souza was allowed to score on the play, which caused Staples coach Mark Giordano to protest the game. He claimed the pitch should have been ruled a ball, and the runner should not have been allowed to advance.
The FCIAC ruled that Giordano's interpretation of the rule was correct.
PASQUALONI WILL SPEAK AT FOOTBALL DINNER

Connecticut's northern chapter of the National Football Foundation and College Football Hall of Fame will hold its scholar-athlete award dinner May 15 (1 p.m.) at the Aqua Turf in Southington.
University of Connecticut coach Paul Pasqualoni will be the event's featured speaker, and Kent's Todd Marble will be honored as the Coach of the Year. The following players will also be recognized: Jason Barnes (Kent), Marcus Biggins (Farmington), Kyle Decker (Simsbury), Joe Dellaquila (Berlin), Nicholas DeNardo (Rocky Hill), Seth DeValve (Manchester), Henry Downes (East Catholic), Jonathan Esposito (Conard), Reid Gustafson (Conard), Josh Helmkamp (Simsbury), Thomas Higgins (Rockville), Steven Hild (Kingswood-Oxford), Alex Kaczmarek (South Windsor), Zachary Lombard (Manchester), Colin Pavano (Avon), Greg Pendergast (South Windsor), Ryan Peloquin (St. Paul), Cody Pudzinski (Torrington), Nick Quattro (Canton), Franco Serrao (Wethersfield) and David Shainess (Glastonbury).
CROSS COUNTRY COACH ON THE MOVE

Xavier cross country coach Dave Kraszewski will leave his current coaching position at the end of the 2011 school year to coach the men's and women's cross country teams at Salve Regina, a Division III school in Newport, R.I.
Kraszewski left Portland and began coaching at Xavier in 2009. Xavier won the Class LL and State Open championships that year. Xavier finished fourth in the State Open meet last season.
The Portland girls won 52 consecutive dual meets and three consecutive Class S championships during Kraszewski's tenure there.
ST. JOSEPH STAYS PERFECT

The St. Joseph baseball team trailed by three runs entering the bottom of the seventh inning, but rallied for a 6-5 victory Tuesday.
Tyler Matakevich scored the game-winning run on an error with one out in the inning. The Cadets raised their record to 12-0 overall and 10-0 in the FCIAC.
DARIEN MAINTAINS POLL POSITION

The Darien boys' lacrosse team, which improved its record to 9-2 by beating Fairfield-Ludlowe 17-4 Tuesday, is ranked No. 14 in the latest LaxPower national rankings.
Roger Brown has covered high school sports in New England since 1992. He currently covers high school and college football in the Northeast for ESPN/Scouts Inc.
September, 26, 2010
9/26/10
6:44
PM ET
By
Matt Stout
| ESPNBoston.com
Don't feel bad for Notre Dame-West Haven. Branford certainly doesn't.

Notre Dame bounced back in a big way following last week's loss to Xavier-Middletown, slamming the Hornets, 52-20, Friday. The Green Knights led, 52-7, in the fourth quarter thanks to touchdowns by Tirell Young-Williams, one through the air and another on a punt return.

Notre Dame -- the No. 3 team in the ESPNBoston.com New England top 10 poll and preseason No. 1 team in the New Haven Register's state top 10 poll -- plummeted to No. 7 in both rankings following its 22-15, season-opening loss to Xavier. It responded against Branford, which is now 0-2 after having hopes of being one of the SCC's top teams this season.

In other games:

-- Max Slade threw for a touchdown, rushed for a touchdown and returned a punt for a score to lead Cheshire past Hillhouse, 29-6, on Friday. The Rams will be part of the game to watch Friday when they host Xavier (No. 3 in the ESPNBoston.com New England poll), which scored all its points in the first half in cruising by Foran, 37-0, Friday.

-- No. 6 Masuk-Monroe avenged its loss to Pomperaug in last year's SWC championship game by thumping the Panthers, 42-0. Junior quarterback Casey Cochran, who has a scholarship offer from Boston College, threw for 292 yards and five touchdowns, and connected with seven different receivers.

-- Quarterback Alton Smith and receiver Aaron Berardino hooked up for three touchdowns in Windsor's 33-0 rout of New Britain, continuing the Warriors' emergence as one of the state's top teams. Windsor largely flew under the radar entering this year despite sneaking into the last spot of The (New London) Day's first state coaches' poll. Smith and Berardino, both juniors, are gaining their share of attention now.

-- Southington made former UConn star D.J. Hernandez 2-0 as a high school football coach after rallying past CCC power Glastonbury, 33-14, on Friday. Joe Pesce had three rushing touchdowns.

-- A week after completing just one pass, Norwich Free Academy quarterback Erik Washburn threw for two touchdowns and 205 yards on all of five completions in the Wildcats' 34-20 victory over Ledyard, easily the upset of the week in Eastern Connecticut. Washburn also rushed for two scores for NFA, one of the state's largest schools but also one that hasn't been to the state playoffs since 2002.

-- As for the biggest upset around the state, Wilton surprised defending Class SS champ St. Joseph, 27-14. St. Joseph again played without running back Tyler Matakevich (out indefinitely, foot), but was done in mostly by an array of mistakes and turnovers, two of which led directly to Wilton scores.

-- Jonathan Esposito became Conard High's all-time leading rusher with 133 yards in a 36-0 victory over Farmington on Saturday. The senior now has 3,024 yards, according to the Hartford Courant.
August, 18, 2010
8/18/10
6:14
AM ET
By
Matthew Stout
| ESPNBoston.com
Kevin Callahan is entering his 11th year as head football coach at Ridgefield High School this fall. Since 2001, his Tigers have never endured a losing season. They've won nine games four times, and six or more every year but one.

And yet, they've been to the CIAC playoffs twice, playing for -- and winning -- their only state championship in 2002.
Callahan thought something was wrong with that.
"It's nice when kids understand how to win," he said, "but you have to reward winning."
Others thought so, too.
In a change met with sweeping applause from the Connecticut high school football community, the CIAC is implementing a new playoff system this fall that features fewer divisions, more teams and a venue that many feel finally fits the bill.
In recent years, the football playoffs featured four teams earning postseason berths in six divisions. This season, there are only four divisions (LL, L, M, S) but with eight teams qualifying in each, the number of playoff competitors jumps from 24 to 32. The hope is to reward the larger schools who play in more difficult divisions. Last season, three 9-1 teams (two in Class LL, one in L) didn't make the playoffs, and the seasons of four 8-2 teams ended on or around Thanksgiving. In 2008, 14 teams with eight or more wins didn't qualify.
"All other CIAC sports, you win 40 percent of your games, you're in the playoffs," said Berlin coach John Capodice, a member of the CIAC football committee. "I felt the football kids were shortchanged."
[+] Enlarge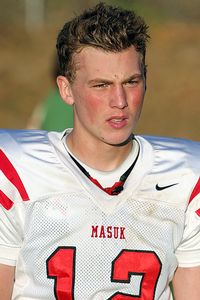 Courtesy of Dave ChoateMasuk-Monroe (Conn.) quarterback Casey Cochran is looking for a repeat performance of last year's state-best 2,968 passing yards in 2010.
It's difficult to find any detractors of the decision, aside from those who would have welcomed further expansion to include as many as 48 teams. Some, such as St. Joseph coach Joe Della Vecchia, believe the system will still keep some deserving schools out only because they're playing tougher schedules.