Boston High School:

Connor Irving
March, 17, 2014
Mar 17
2:44
AM ET
By
Mike Abelson
| ESPNBoston.com


BOSTON – After years of coming up short, Beverly won its first state hockey title with an intense, physical 2-1 win over Medfield in the Division 2 boys final last night at TD Garden.

The game-winner came just more than two minutes into the third period as legs and sticks hacked at the puck before Connor Irving eventually put the puck in the back of the net.

"I have no idea what happened on my goal," Irving said. "It wasn't intended to be a shot. I think it went off a kid's skate and went in."

No title comes easy and Medfield played as close to flawless as it could. Beverly, which had averaged 30 shots in it's previous three playoff games, was held to just 16 by a Warrior defense that showed no fear and took the body when it could.

The unit, led by Matt Crowell and Will Murphy, collapsed in between the circles on the defensive end and forced Beverly to the outside.

"They stepped up at the blue line because they're defensemen didn't back up on us," Irving said. "A couple of times I wanted to get going and I looked up and both their defensemen were stepped up. I couldn't go wide on them, and they back-checked really well."

Beverly's speed, which torched Tewksbury for nine goals in the North final, was neutralized by a full-on defensive lockdown by the Warriors who made the Panthers work for every inch.

"It was a matter of our forwards doing a good job of back-checking," Medfield coach Toby Carlow said. "A good team like them if you let them skate they're going to make you pay so we stayed up high in the neutral zone and slow them down before they can get moving."

Eventually the Panthers broke through when Matt Hamor deflected home a shot to put Beverly ahead early in the second. While the largely pro-Beverly crowd celebrated the Warriors responded on the next shift when Justin Hirschfeld shoved home the equalizer less than 30 seconds later.

Hirschfeld buzzed around the sheet for the Warriors for all 45 minutes and made life difficult for the Beverly defense. For Beverly though, its ultimate defense was Tim Birarelli.

The junior goaltender turned aside 16 shots in the win and captained a defense that was able to contain and curtail the Warriors just enough.

"I have a really good communication with my defense where they can force them wide and force them to shoot too," Birarelli said. "When they forced them to shoot from the outside it was easy for me."

The loss marks the end of Hirschfeld's Medfield career that saw him help pilot the team in its first season in Division 2 to the brink of a state title.

"I just want to thank every one on my team for making my best year," Hirschfeld said. "I'll never forget this season."

In the moment, Carlow was disappointed, but he said that he could not have asked for a better year for the Warriors.

"Our goal is always to be here but you've got to work to get here," Carlow said. "These guys did that and that is why it is a successful season. Sure, we came up short today, but it's a successful season because we got here and they did the work and they committed themselves to getting here."

PLAYING FOR PETE: Under their cream and cocoa colored jerseys, and underneath their pads, the Beverly players wore red undershirts with the name "Frates" on the back. The shirts were a gift from, and to honor, Peter Frates.

Frates, a Beverly native and former captain of the Boston College baseball team, was diagnosed with ALS two years ago and helped to motivate the Panthers this season.

"Last year Pete came to talk to us and he's such an inspiration," Irving said. "Pete's such a good guy and he's going through such a tough thing. I have the utmost respect for Pete. It was so cool to see him here.

"I wear the same Under Armour [undershirt] and it's really hot in this building so I threw [Pete's shirt] on in the third. So I'm going to give Pete all the credit on the third-period goal."

The Panthers have felt and dealt with their share of adversity off the ice in recent years. Beverly head coach Bob Gilligan recently battled non-Hodgkin lymphoma and Birarelli's father is engaged in a battle with liver cancer.

For Birarelli to wear the ribbon-clad shirt given to the team by Frates had an extra personal meaning.

"It's definitely special with everything going in the community -- my dad, Mr. Frates, Coach Gilligan himself," Birarelli said. "It's good to win it for them. All this hard work paid off.

"I think it's so special that we can play for these guys and we got the desired result that they wanted. Obviously, wearing Pete's shirt under my stuff tonight was special. When I knew putting it on that it would be a special night."

Gilligan, who lives a few houses down from Frates said he and the team admired him for how he has battled the disease..

"Peter is fighting it really hard," Gilligan said. "They really admire his courage and the strength to go forward."


March, 10, 2014
Mar 10
11:29
PM ET
By
Mike Abelson
| ESPNBoston.com
LOWELL, Mass. – After accepting the Division 2 North champions trophy, Beverly's Connor Irving, still in his full gear, sprinted to the Panther locker room with an ear-to-ear grin.
"We're going to the Garden," Irving screamed as he beat all of his teammates to the locker room.
It was that kind of night as Irving netted four goals, and added an assist, to drive Beverly to a 9-1 thrashing of Tewksbury at Tsongas Center.
Tewksbury scored first on a goal by Jack Cash, but the Panthers tied the game 58 seconds later and it was all orange and black from there. Irving's first goal came with three seconds left in the period. Linemate Jesse Maclaughlin launched the puck into the air before it was batted down by Ryan Santo right onto Irving's stick.
Irving split the Tewksbury defense and finessed the puck home to put Beverly ahead 3-1 after one.
"Connor senses when these guys are going to throw it out," Beverly head coach Bob Gilligan said. "He's got good instincts. His transition game is so quick; you can see how well he skates. His edges are as good as anybody's."
Irving's goal ignited Beverly. The Panthers erupted in the second period for five goals, including Irving's fourth, a short-handed goal, with 21 seconds left.
"These kids were working hard and fore-checking hard," Gilligan said. "You could see in the second period, that first two shifts set the tone. They got tired; they got real tired. We kept pressuring them like that. The kids played smart; we didn't get caught down low. We got some skilled players,[and] when they get some open ice you see what they can do."
Beverly's offense is well-established, but it was the Panther defense that locked the game down. Beverly held Tewksbury to 13 total shots and none in the second period. Tewksbury was held under three goals for the first time since Jan. 15.
[+] Enlarge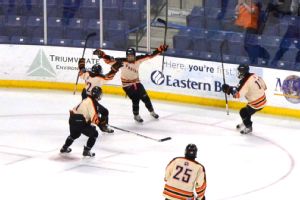 Scott Barboza/ESPNBoston.comConnor Irving scored five goals as Beverly cruised past Tewksbury, 9-1, in the Division 2 North final Tuesday at Tsongas Center.
Nick Albano had a goal and an assist from the blue line, but all three pairs stuffed Tewksbury from the opening draw.
"Jack [Morency] and Sean [Munzing] have been playing together for four years now," Irving said. "Nick's unbelievable back on D. He's been playing some unreal games. Matt Hamor is a stalwart back there. I think it's just the chemistry. We've kept the same pairs for a long time and they work good together. They shut it down."
Santo chipped in numerous times. The senior assisted on four goals, including the primary assist on three of Irving's goals. Santo said he didn't expect his point output to be so high.
"I know if I get the puck to Connor he's going to do something good with it," Santo said. "Moving the puck, cycling, working hard on the forecheck, I didn't expect it either. I'm just trying to play my best."
GETTING OVER THE HUMP:
After two years of early exits from the tournament, last night's win propelled Beverly to the state final and a date with Medfield on Sunday.
Last year, the Panthers were bounced out by rival Danvers in the opening round on a goal with 11 seconds left. Gilligan said that game still tastes sour in his mouth.
"Danvers was a test; that was a thorn in our side," Gilligan said. "These kids sat on that; they still didn't digest that. I didn't. I told them we've got to keep going. The Northeastern Conference is our main goal, and after that we've got to chip away at each game."
The Panthers beat Danvers, 2-1, in a shootout in the North quarterfinal and have outscored their last two foes, Tewksbury and Lincoln-Sudbury, by a combined 14-2. Unlike Danvers, Beverly hadn't played L-S, Tewksbury, and now Medfield before the state tournament.
"I wasn't hoping for Medfield, but if you know a team and you think you can beat them, we thought we could beat Danvers," Irving said. "I like having a team that we haven't played yet. I think we come out a lot harder when we don't know what we're going to get and we only hear what we're going to get."
Irving starred on the last two Beverly teams alongside his cousin Andrew, and he said to make to Causeway Street was like a dream.
"We were so far but so close the past two years, lost in overtime as a sophomore, lost to Danvers with 11 seconds left [last year]," Irving said. "It seemed like anything we did just wasn't good enough. This year we're getting the bounces so far
"Any way we can score to win; that's all we really want right now. I've had 58 points in a season and lose in the first round. Just to be here is the best feeling."
March, 4, 2014
Mar 4
2:24
AM ET
By
Mike Abelson
| ESPNBoston.com
BILLERICA, Mass. – Beverly means business.

After giving up a goal less than a minute in the Panthers rolled for the final 44 and beat Lincoln-Sudbury, 5-1, at the Chelmsford Forum in the second Division 2 North semifinal.

The win moves the Panthers into Monday's sectional final against Tewksbury at Tsongas Center.

"We talked about kids keeping their composure," Beverly coach Bob Gilligan said. "You got plenty of hockey, you can the way these kids can skate, and once you hem them in forechecking-wise they were getting tired. You keep that kind of pressure on you start to wear these kids down."

Myles Cohen roofed one over Beverly's Tim Birarelli to give the Warriors the first lead but that was as positive as the night would be for the MVC/DCL 2 champions.

Brendan Boyle answered four minutes later to tie the game for Beverly. Fifteen seconds later Kevin Lally knuckled a shot between the legs of Lincoln goalie Derek Ashe to put the Panthers ahead.

"We didn't panic at all," Lally said. "We just kept playing our game and it worked out good for us."

Despite not scoring a goal, junior defenseman Nick Albano stole the show offensively for the Panthers. Albano assisted on all five Beverly goals, including three primary assists, and played a key role in his own zone as well.

"I didn't think I had five," Albano said. "Just trying to get the puck to the net and win this game [and] go play Tewksbury."

Connor Irving netted Beverly's third and fourth goals as the Panthers' depth showed itself and worked the Warrior defense hard. Irving epitomized Beverly's speed as he pressed forward on the forecheck and backcheked with speed as well.

"He works, he angles well, he's got that stick on the ice," Gilligan said. "He's tough to play against because that kid, transition wise, burns you. He takes away areas of the ice just with his skating ability and [keeping his] stick down. He knows how to angle and cut the center of the ice out."

For L-S, the result was the end of a quality season that included a game at Fenway Park and winning its first outright league title in 22 years.

The future though is bright for coach Tom Pare and Co. The Warriors return Ashe as well as the entire top two lines.

"I couldn't be happier for the seniors," Pare said. "I think they had a great career; they had a lot of success here. I wish we could have gone out in a more competitive game as far as the scoreboard is concerned. I couldn't thank the guys enough in my first year here."

IN A PINCH, CALL LEATHERSICH: Midway through the first period Beverly's Jesse MacLaughlin lost a skate blade. The resulting fiasco in fixing the skate meant someone had to fill on the top line with Ryan Santo and Connor Irving.

Insert Ted Leathersich.

The junior stepped up the moment with a two-point game. Leathersich assisted on Irving's first goal and iced the game with a foal in the third period.

"We play a lot together in practice, we mix up lines a lot," Leathersich said. "It's pretty easy to play with Connor and [Ryan] Santo because they tend to get the puck to you and get open. I guess it was little luck too and they were in the right spot."

Gilligan said he was proud of Leathersich for stepping into the opportunity.

"Teddy filled a big void," Gilligan said. "It's huge coming off the bench like that. He played a good game."

FORECHECK & DEFENSE: The Panthers outshot L-S, 35-19, and gummed up the Warriors with a suffocating forecheck. Beverly's speed across all lines allowed the Panthers to drive the net hard, and with regularity.

"It's a large zone so we had Timmy direct the puck into the corner, and then we had our breakouts setup," Albano said. "They were only doing a one-man [forecheck] so we're pretty good with that. Go d-to-d and go right up. It worked well for us."

On the other end, Beverly made it a chore for the Warriors to push the puck up and establish a cycle on offense. When L-S was able to gain the blue line they were kept outside the dots and above the circles for the bulk of the game.

"I think our forecheck is definitely one of our biggest assets," Leathersich said. "Teams can't keep up with it because defenses have no time to react."

Pare said he's team poor performance on the offensive end was a combination of a lack of confidence and Beverly's never ending pressure.

"Against Winthrop, we had two goals that were just basically in the blue paint, being hungry," Pare said. "Tonight it was a combination of them not letting us get to that area and us not crashing the net when we needed to."

EXORCISING THE DEMON: After being bounced from the tournament in the first round the last two years this year's Beverly has put together two victorious, but very different performances to put themselves a game away from Causeway Street.

For several players, Friday's hair-raising shootout win over Danvers — the squad that eliminated them last year — was like getting the proverbial monkey off their back.

"After two years straight after losing in the first round I think we can now just play our game and put that stuff behind us, and just keep our fans on our side and keep playing the way we're playing," Albano said. "I don't think any team can skate with us or shut us down offensively, and I know we have the goaltending and defense to shut any team down as well."

The last time Beverly won a playoff game was in 2011, when the Panthers advanced to the North semifinals.

Who eliminated them? Tewksbury.
March, 1, 2014
Mar 1
1:14
AM ET
By
MIke Abelson
| ESPNBoston.com


STONEHAM, Mass. -- It seemed half of the North Shore was at Stoneham Arena for last night's Division 2 North quarterfinal between Beverly and Danvers.

They got their money's worth as both goalies stole the show and Beverly squeaked out a 2-1 victory in a shootout to advance to the semifinals Monday against Lincoln-Sudbury.

The Panthers got goals from Nick Albano and Connor Irving in the shootout. Irving also had Beverly's goal in regulation. Danvers' Kyle Cahill scored the Falcons' lone goal in regulation and its only goal in the shootout.

"I never thought it'd end like this," Beverly coach Bob Gilligan said. "We got some talented kids that can make some plays. We do the shootout at the end of practice the last few weeks, [and] there's a slew of them that can make some pretty good moves."

The shootout ended the game, but it was the goalies who stepped into the spotlight and thrived. Danvers' Alex Taylor turned aside 41 shots, including 18 in the third period alone. Beverly's Tim Birarelli stopped 20 Danvers shots.

Taylor's third period was spectacular as Beverly's offense clicked on every cylinder but was unable to solve the junior.

"Obviously in the third period he was immense," Danvers coach Kevin Brown said of Taylor. "In the second period he didn't see as many shots but third period he was there. I said last year the kid's a gamer. When there's a big game on the line the kid responds."

Taylor was aided by a Danvers defense that played smart for the entire game. The Falcons kept their sticks low and forced Beverly into numerous low-percentage shots that Taylor was able to gobble up. When Taylor did have to stop one for the highlight reel he was able to.

Taylor stopped the last 39 shots he faced, excluding the shootout.

"No one gave us a shot coming into this, but we all knew we had a shot," Taylor said. "I just didn't want to lose the game. There's such a huge rivalry, and I knew my team deserved more than that. It was just heartbreaking to go down like that."

Gilligan said that the Falcons played his team smart on the defensive end.

"They're goaltending came up big," Gilligan said. "They had a lot of blocks, we weren't getting the pucks through, but give them credit; they played well. I thought Taylor stood on his head at times. He had a lot of saves."

Birarelli backstopped the Panthers and gave the offense the security it needed to press deeper into Danvers' zone throughout the game. Danvers used their offensive opportunities effectively but Birarelli was ready at every turn.

Birarelli was at his best during the shootout when he seemed to blanket the entire net. He turned aside four Danvers shooters who all threw something different at him but never made him commit first. His pad save on Kevin Hodgkins ended the game.

"Even in practice you can tell he locks down," Irving said. "It's so hard to beat him side to side. He's such a good goalie; he's a big kid, he covers most of the net. He did an amazing job especially with all that pressure. He held the fort. He's the reason we won today. I love the kid."

DEFENSE STALLS OFFENSE: Having already played each other twice this season very little was unknown between the two teams. The biggest battle going in was how the Falcon defense would gum up Beverly's high-octane attack that averaged 4.55 goals a game.

Danvers did it with an aggressive forecheck and funneling the Panthers to the boards through the neutral zone. It took Beverly a while to adjust and the Panthers never seemed to fully adjust.

"In the beginning they were sending a two-man, and then a one-man, forecheck to try to cut down the center of the ice," Gilligan said. "Give Kevin credit; they played us pretty well. Our speed got sort of shut down."

Last night was only the fifth time this season that Beverly failed to score three or more goals.

"We put ourselves in good spots on the ice," Brown said. "Neutral zone, in the d zone shut down their speed early. We've seen them enough where we know what they do well; it comes down to effort. Our guys generally had the effort out there defensively."
March, 28, 2013
3/28/13
9:11
PM ET
FIRST LINE
F - Liam Coughlin, Sr., Catholic Memorial
Finished third among all Division 1 players in scoring, while leading the Knights back to the Super 8 for the first time since 2009-10. The South Boston native put up 28-20-48 totals, tied for first among Catholic Conference scorers this season.
F - Ara Nazarian, Soph., Malden Catholic
ESPN Boston's Mr. Hockey award winner this season, Nazarian had 26-22-48 totals for the regular season, along with nine goals and five assists during the Super 8 tournament for the three-time defending champions. The Boxford resident and center is the first underclassman to win the Mr. Hockey award.
F – Brian Pinho, Sr., St. John's Prep
The Providence College commit led the Eagles to a No. 1 seed in this year's Super 8 tournament. The North Andover resident compiled 12-24-36 totals this season and, in January, was ranked No. 117 among North American skaters in the NHL Central Scouting's Midterm Rankings.
D – Casey Fitzgerald, Soph., Malden Catholic
The North Reading resident earned his second Super 8 title with the Lancers, playing on all defensive units and is one of two players making a second-straight appearance on our All-State team. The Boston College commit had 5-17-22 totals on the season and recently was accepted in the United States National Team Development Program's U-17 team.
D – Matt Foley, Sr., Springfield Cathedral
The two-way blue-liner finished third on the Panthers in scoring with 10-16-26 totals this year while leading them to another Super 8 apperance. A Longmeadow resident, the captain is deciding among prep schools for next year, as well as offers to play in college.
G – Peter Cronin, Sr., BC High
The only repeating First-Team All-Stater this year, Cronin finished in the top five among Division 1 netminders in both goals against average (1.40) and save percentage (94.6) while starting all 23 of the Eagles' games. He is currently considering colleges among playing opportunities at the prep school and junior levels.
SECOND LINE
F – Tom Besinger, Jr., BC High
The Eagles' top center and captain was force to reckon with in the circle, in addition to leading the Eagles with 35 points (10 goals and a team-best 25 assists).
F – Cam Owens, Sr., Wilmington
Finished his high school career with back-to-back Division 2 state championships. Owens racked up 30 points, playing alongside All-State honorable mention Brendan McDonough. Owens is currently weighing prep and junior options for next year.
F – Nolan Vesey, Sr., Austin Prep
The senior captain led the Cougars back to the Super 8 for the first time since the 2009-10 season and all the way to a finals appearance at the Garden. Vesey led AP in goals (18) and points (31) while kicking in 13 assists.
D – Nick Gorski, Sr., Central Catholic
A player who head coach Mike Jankowski repeatedly called his "most improved player" since freshman year, the Raiders captain played on all units, leading Central to another Super 8 appearance.
D – Jack Williams, Sr. Springfield Cathedral
A major component to perhaps the state's best blue-line core, Williams did a little bit of everything for the Panthers, including playing forward on power-play units. The Suffield, Conn. resident tallied four goals and 19 assists for 23 points. He is currently weighing his playing options for next season.
G – Colin Soucy, Jr., Central Catholic
The break-out star of this year's Super 8 tournament, Soucy nearly delivered the Raiders to a quarterfinal-round upset of No. 1 seed St. John's Prep in his first year as Central's starting netminder.
Best of the Rest – Honorable Mention
Forwards
Tyler Bird, Jr., St. John's Prep
Tommy Bishop, Sr., Chelmsford
Matt Brazel, Jr., Hingham
Brian Brooks, Jr., Canton
Mike Carbone, Sr., Marshfield
Bobo Carpenter, Soph., Austin Prep
A.J. Couto, Sr., Danvers
Ben Cox, Sr., Medfield
Peter Crinella, Soph., Springfield Cathedral
Cam Curley, Sr., Franklin
Sam D'Antuono, Jr., Hingham
Jordan Dow, Sr., Lincoln-Sudbury
Josh Edwards, Sr., Blue Hills
Brendan Greene, Jr., Winchester
C.J. Grinnell, Sr., Burlington
Marc Happy, Jr., Wachusett
Lloyd Hayes, Jr., Central Catholic
Kevin Hock, Frosh., Catholic Memorial
Mike Iovanna, Sr., Malden Catholic
Andrew Irving, Sr., Beverly
Connor Irving, Jr., Beverly
Ryan Jones, Sr., Coyle-Cassidy
Jack Kilty, Sr., Medway
Pat Kramer, Soph., BC High
Tom Koopman, Jr., Marblehead
Matt Kustra, Sr., Natick
Brendan McDounough, Jr., Wilmington
Anthony Lespasio, Sr., Bedford
Jack O'Hear, Sr., Catholic Memorial
Derek Petti, Sr., Tewksbury
Eddie Pratt, Sr., Xaverian
Nolan Redler, Jr., Winchester
Tyler Sifferlen, Jr., Malden Catholic
Mike Sorenti, Jr., Archbishop Williams
Sean Spohr, Sr., Westfield
Max Turcotte, Sr., Holliston
Max Willman, Sr., Barnstable
Defense
Matt Burchill, Sr., Marshfield
Derek Butler, Jr., Natick
John Carlson, Jr., Hingham
Adam Crowley, Jr., Burlington
Nick Edwards, Jr., Blue Hills
Sean Heelan, Sr., Catholic Memorial
Kurt Leavitt, Sr., Canton
Bryan Nelson, Soph., St. John's (Shrewsbury)
Nick Rolli, Jr., Malden Catholic
Ryan Shea, Frosh, BC High
Sam Topham, Sr., BC High
Goaltenders
Tim Birarelli, Soph., Beverly
Alex Buckley, Sr., Newburyport
Brandon Collett, Frosh., Catholic Memorial
Jordan Davis, Sr., Norwood
Derek DeCastro, Sr., Burlington
Drew Foley, Jr., Wilmington
Nolan Greene, Jr., North Quincy
Elijah Harris, Soph., Austin Prep
John Liquori, Jr., Springfield Cathedral
Al Lynch, Jr., Framingham
Evan Morelli, Sr., Reading
James Offner, Soph., Winchester
Nick Russo, Sr., Waltham
Jimmy Tierney, Soph., Oliver Ames
March, 2, 2013
3/02/13
3:10
AM ET

WOBURN, Mass. -- No style points are awarded for game-winning goals, there's only the result.

By A.J. Couto's standards Friday night, his third goal was by far the dirtiest. But it also will likely prove to be the most memorable goal of his life.

The Danvers senior forward scored during the first minute in each the first and second periods, giving the Falcons a puncher's chance against favored No. 1 seed Beverly in the teams' Division 2 North quarterfinal game. Couto, along with his fellow seniors, had never before experienced victory over their Northeastern Conference rival.

And so Couto found himself parked at the side of the Panthers' net. He watched the carom from a point shot come off the end wall and onto his blade. He threw it back toward the goalmouth, parallel to the goal line. The puck bounced off the blade of the goaltender's right skate and across the goal line.

Couto had his hat trick and only 11 seconds separated the Falcons from a fitting celebration.

When time elapsed and Couto's third was the difference in a 4-3 win over Beverly, his thoughts were still in the past.

"We saw how they went off the ice after they won the NEC championship," Couto said about Beverly's 4-2 win on Feb. 13. "That stuck with us. We were playing with that all game long."

The No. 8 seed Falcons (12-6-4) advance to play No. 12 Concord-Carlisle Monday in the sectional semifinal at the Chelmsford Forum.

To get there, Danvers needed some career games, including that of senior defenseman Kevin Anderson, who matched his season-long points total with a four-point game. Anderson scored a goal and had three assists to figure in each of the Falcons' markers.

Although Couto led Danvers in goals during the regular season with 17, Falcons head coach Kevin Brown noted that he's on an unprecedented clip of late.

"A.J. [Couto] is playing the best hockey of his career right now," Brown said. "He's put together a string of games. He's just got a nose for the net."

Beverly (18-2-1), while being outplayed early, kept pace with the Falcons. Connor Irving score a little more than two minutes after Couto's first of the game.

Anderson regained the lead for Danvers before hitting the room, sending a half-slap through a mass of traffic in front of Panthers goaltender Tim Birarelli at 12:02.

Couto extended the lead 42 seconds into the second with Anderson laying down the pass for the assist.

Again, the Panthers responded, following less than two minutes later with Nate McLaughlin's first of the game. The senior forward followed with his second to tie it at 12:39 of the second, burying a beautiful saucer pass feed from Ted Leathersich (2 A) on a 3-on-2 break.

After an up-and-down period in the second, which saw plenty of quality scoring chances for either side, the play bottled up in the third.

"I think it was a natural progression of the game," Brown said of the deciding period. "The kids left it out there in the first two periods. Credit to [Beverly] that they tied us when we had the momentum. It just kind of became a hockey game again."

The tension mounted as the Panthers turned some loose pucks into a couple of scoring chances on Alex Taylor.

While both teams encountered trouble breaking out of their own zone, the Panthers had the better of the shots in period, holding the Falcons to just one shot on goal – on the game-winner.

"I didn't really have that much of an angle, but I thought why not throw it on net," Couto said. "I saw it slide across the goal line, hit the back of his skate and then into the net."


January, 16, 2013
1/16/13
3:14
AM ET
By
Mike Abelson
| ESPNBoston.com
NEWBURYPORT, Mass. -- It's not often that both teams can be satisfied by not winning a game, but last night's tilt between Newburyport and Beverly wasn't a typical game.

The two Division 2 heavyweights played a spirited, physical game that ended in a scoreless tie in front of a large crowd at Graf Rink.

"I enjoy this type of hockey," Beverly head coach Bob Gilligan said. "It should be played like this. Give them credit, they are a very good team. You hate to tie, but that team played hard."

The Panthers (9-0-1) controlled much of the early going and the host Clippers (5-1-4) collapsed in on defense and clogged up lanes to keep Beverly unbalanced. As the period wore on play opened up and allowed each team a couple of quality scoring chances.

The game quickly turned into a goaltender's duel between Beverly's Tim Birarelli and Newburyport's Andrew Buckley.

Buckley stopped more shots than Birarelli (21-14), but each came up huge for their squad. Birarelli stoned Tyler Cusack from point-blank range in the opening minute of the second period to keep it scoreless. Buckley turned aside four quality shots during the first few shifts of the third to keep the game scoreless and pump up the home crowd.

"They were shooting a lot between legs and between people," Buckley said. "We practice that stuff almost every other day with tip [drills]. It was different to see a team use that type of style, but it wasn't anything that was really that new."

At times, the Clippers were their own worst enemy. Costly turnovers in the offensive zone stalled the attack throughout the game.

"We turned the puck over out there a few too many times trying to toe drag it or drop pass it where we should get hungry and get the puck to the net," Newburyport head coach Paul Yameen said. "I think we're a better team when we do that. We're working on it."

A BRUISING AFFAIR
Midway through the third period, Beverly's Graham Doherty brought the puck over the blue line and slashed to the net. Before he could get there he was met by Newburyport's Nick Mombello who hit Doherty so hard that he was separated from his stick.

Doherty popped back up and skated off, but it was emblematic of how physical last night's game was.

"There's going to be physical contact; that's what the game's all about, Gilligan said. "These kids played with a little bit of heart."

Despite all the hitting, the teams were able to control their aggression, and neither team earned a power play.

"Those guys are big guys," Beverly's Connor Irving said. "We've just got to take those hits and keep fighting through them."

A GOOD MEASURING STICK
As the two of highest-ranked teams in Division 2, last night's game was a good way for both squads to see how well they measure up against solid competition. Despite not getting the win, Irving said it was a plus to earn the tie so that he, and the Panthers, would stay hungry.

"It's good to have games like this," Irving said. "You kind of want to go [undefeated] into the tournament, but you want to know what it feels like to lose. It's good to be in a game like this; it's only going to help us in the tournament."

Yameen said that, despite the tie, the result showed that his team could compete with the top teams in the state.

"I think if we play our game we can play with anybody," Yameen said. "We've played some quality teams this year, D1 and D2, and that's as good a team as we've played this year."
January, 6, 2013
1/06/13
12:31
AM ET
By
Mike Abelson
| ESPNBoston.com
SALEM, Mass. -- Midway through the second period Danvers junior Matt Flynn skated up through the neutral zone. He was met at the blue line by Beverly's Jack Morency and planted Flynn with a huge hit.

That was yesterday's game in microcosm as the No. 10 Panthers were able to take Danvers' best shot and return it twice over in a 3-0 win at Salem State.

"Danvers is a tough to play and they played us real tough," Beverly head coach Bob Gilligan said. "We didn't give them a lot, but what we gave them our goalie Timmy Birarelli shut them down."

Birarelli stole the show for the Panthers. The sophomore turned aside all 24 Falcon shots, including 14 in a chaotic second period.

"I train myself to go the full 45," Birarelli said. "I knew they were going to come at us strong the whole 45."

The early part of the game belonged to Danvers, who forced the tempo with its physicality and pressure. Beverly senior Andrew Irving broke the tension six minutes into the game. Irving, who had the poked away moments before, flung it towards goal from behind the goal line and it bounced off of Danvers' Alex Taylor and in.

Irving was the offensive star of the game, adding a pair of assists to his goal.

"Worked hard, really came out all three periods playing," Irving said. "We knew we had to beat Danvers. It was a big game."

The Falcons put on a flurry in the final minute of the first period, peppering Birarelli with half a dozen shots, but they were unable to light the lamp. The Falcons continued the pressure with a sustained, multi-minute attack but it was all for naught.

"I've got to give them credit; they came to play," Danvers coach Kevin Brown said. "We need to learn some lessons from this game. Like I told the guys, it's early in the year so we need to move on. We'll be ready next time."

The Panthers were able to tack on a pair of goals in a three-minute span midway through the second to put the game out of reach.

Brown said that his team will have to play more consistent hockey if it wants to succeed but there is enough time left in the season to learn.

"If you want to be a top-level team you've got to be consistent for 45 minutes," Brown said. "We had a little spurt there, but they were pretty consistent all night."

The Falcons and the Panthers will meet again at Rockett Arena on Feb. 13.

CROWD SPURS ON GOALTENDERS
Thanks to a closed balcony there were hockey fans wedged into every corner of Rockett Arena. There were people behind the glass, next to the bench, and even on top of the ticket booth.

With thousands of eyes on them, both Birarelli and Taylor stood out and shined.

"It gives me a lot of energy," Birarelli said of playing in front of the crowd. "It's fun playing in front of a big crowd especially when your crowd is bigger than the other team."

Taylor, who turned aside 25 shots, several of them spectacularly, earned the praise from his coach.

"Obviously I think it was a huge game for him and confidence-wise too," Brown said. "I hope he learns that he can play at the top level and it takes a game like this to get there."

IRVING, TOP LINE DOMINATE FOR BEVERLY
Every coach in the Northeast Conference should be worried about Beverly's top line of Irving, his cousin Connor Irving, and Ryan Santo. The trio racked up five of Beverly's seven points and added even more scoring chances.

Irving's three points stood out, especially because he's only been playing forward for just under a year.

"I switched him from D to forward midway through last year and I told him he was going to play up this year, and you can see what he can do," Gilligan said of his captain. "He's going to be the dominant player in the league."

As a line the unit showed an ability to generate plays out of nowhere and constantly keep the Falcons blue liners out of sorts whether its even strength or on special teams.

"Going around a guy they're losing us," Irving said. "They don't know what to do."

"Man up or man down you've got to keep an eye on all of those guys," Gilligan said. "They got great skills and they're great team players."

PENALTIES SLOW DOWN FALCONS
Danvers set the tone early with big hits, and wound up paying for it in the penalty box. The Falcons racked up eight penalties, the Panthers were tagged with eight as well, and they were unable to get a solid rhythm going.

"It wasn't an ideal situation for us to get into a special teams battle, but it is what it is," Brown said. "They did a good job killing and we did, too."

Brown said he was looking for ways to improve and staying in even-strength situations, which the Falcons excelled at for stretches of the game, should be high on his list.

"The good, bad is that you don't want to sugarcoat a loss and you want to talk about ways you can improve," Brown said. "We'll focus on Winthrop on Wednesday and take the good out of what we can."
December, 7, 2012
12/07/12
2:03
PM ET
Continuing our MIAA boys' hockey preseason coverage, here's our preseason All-State team:

1st Team
F – Tom Besinger, Jr. BC High
F – Brian Pinho, Sr., St. John's Prep
F – Ara Nazarian, Soph., Malden Catholic
D – Casey Fitzgerald, Soph. Malden Catholic
D – John Carlson, Jr., Hingham
G – Peter Cronin, Sr., BC High

2nd Team
F – Mike Iovanna, Sr., Malden Catholic
F – Mike Kelleher, Sr., Central Catholic
F – Cam Owens, Sr., Wilmington
D – Troy Tenaglia, Sr., Braintree
D – Shaymus Colman, Jr., Needham
G – Jordan Davis, Sr., Norwood

3rd Team
F – Tyler Bird, Jr., St. John's Prep
F – Matt Brazel, Jr., Hingham
F – Connor Irving, Jr., Beverly
D – Matt Foley, Sr., Springfield Cathedral
D – Bryan Nelson, Jr., St. John's (Shrewsbury)
G – Mario Pizzeri, Jr., St. John's (Shrewsbury)
March, 23, 2012
3/23/12
4:01
PM ET
First Team:
F – Brendan Collier, Sr., Malden Catholic
The two-time ESPN Boston All-Stater closed out his senior season with a second straight Super 8 title and claimed our Mr. Hockey Award. The Charlestown native and Boston University commit scored 26 goals with assists for 65 points, a figure which led all Division 1 scorers. Collier, who also plays golf and lacrosse at MC, plans on playing a year of juniors next year before joining the Terriers.
F – Ryan Fitzgerald, Jr., Malden Catholic
The Lancers' top-line pivot makes his second All-State team appearance, his first on the First Team. The North Reading native and Boston College commit again eclipsed the 50-point plateau (31-21-52), despite missing the first couple weeks of the season with a shoulder injury, and helped the Lancers to their second straight Super 8 title.
F – Sam Kurker, Sr., St. John's Prep
When looking up the term power forward, the Eagles senior winger and captain fit the mold. The 6-foot-2, 210-pound forward finished with 32 goals and 28 assists for 60 points. The Boston University commit has also seen time with U.S. National Team Development Program and skated with the U-18 select team at the Ivan Hlinka Tournament during the summer.
D – Colin MacGillivray, Jr., Malden Catholic
The Lancers blue-liner is made in the mold of an old school rugged defenseman. The 6-foot-1, 185-pound Peabody native played on MC's top pairing through the season while posting three goals and 10 assists for 10 points for the repeat Super 8 champions.
D – Nikko Markham, Sr., St. Mary's (Lynn)
The Catholic Central Conference Most Valuable Player and Spartans captain finished a sound career by leading St. Mary's to a No. 2 seed in the Super 8. The Salem native was among the top point-scoring blue-liners in the state with six goals and 12 assists for 18 points.
G – Peter Cronin, Jr., BC High
For the second straight season, the Eagles went as their netminder went, and Cronin led BC High to its first Super 8 finals appearance since 2007. Playing in each of the Eagles' 25 games, the Norwell resident posted a 2.00 goals against average and a 91.7 save percentage.
2nd Team:
F – Kevin Emmerling, Sr., St. John's (Shrewsbury)
Perhaps the most skilled skater in the state, the Pioneers' center provided a dynamic offensive punch to their Super 8 run. The Whitinsville native finished third in Division 1 scoring with 26 goals and 30 assists for 56 points. Emmerling is exploring his options for next year and hopes to play college hockey.
F – Conal Lynch, Sr., Boston Latin
Lynch also showed that Charlestown is again a hotbed of hockey, carrying the Wolfpack to a DCL/MVC Div. 2 championship. Lynch finished second in Division 2 in scoring with 35 goals and 18 assists for 53 points. The Wolfpack captain is weighing his options in pursuing prep or junior hockey next year.
F – Matt Sullivan, Sr., BC High
The senior captain was a true two-way center with a high hockey IQ. The Duxbury resident anchored the Eagles' top line, scoring 12 goals and 16 assists for 28 points and lifting BC High to its first Super 8 final appearance since 2007. He is pursuing prep and junior hockey opportunities for next season.
D – Casey Fitzgerald, Fr., Malden Catholic
The younger brother of Ryan, Casey catapulted himself onto the scene in his first year, filling the role of a puck-moving defenseman previously held by former All-Stater Conor Evangelista. The North Reading resident and Boston College commit tallied two goals and 15 assists for 17 points in his first year.
D – Peter Sikalis, Sr., Acton-Boxborough
The Colonials' captain was the impetus behind their run to the D1 North semifinals. Sikalis had eight goals and 11 assists for 19 points while eating up boatloads of ice time for head coach Bob Lavin. The imposing 6-foot-3 defenseman is exploring his hockey options for next year.
G – David Letarte, Sr., St. John's Prep
The captain has been the Eagles' backbone during the last three seasons, leading Prep back to the Super 8 once again. Letarte had a 2.08 goals against average and a 91.3 save percentage in 18 games played. He is currently mulling over college and junior hockey offers for next year.
"Best of the Rest"
Nick Bertoni, F, Franklin
Tom Besinger, F, BC High
Tommy Bishop, F, Chelmsford
Matt Brazel, F, Hingham
Trevor Cimino, F, Burlington
Frank Crinella, F, Springfield Cathedral
Paul Curran, F, Milton
Vin D'Amato, F, St. John's (Shrewsbury)
Jarrod Fitzpatrick, F, St. Mary's (Lynn)
James Gordon, F, Hingham
Danny Holland, F, Woburn
Mike Iovanna, F, Malden Catholic
Connor Irving, F, Beverly
Mike Kelleher, F, Central Catholic
Chris Leblanc, F, Winthrop
Bobby Mullins, St. Mary's (Lynn)
Ara Nazarian, F, Malden Catholic
Andrew Newis, F, Natick
Jack O'Hear, F, Catholic Memorial
Cam O'Neill, F, St. Mary's (Lynn)
Jake O'Rourke, F, Medway
Cam Owens, F, Wilmington
Brian Pinho, F, St. John's Prep
Dalton Rolli, F, Wilmington
Joe Strangie, F, Danvers
D.J. Walsh, F, Needham
Bryan Carter, D, Hudson
Connor Fenton, D, Braintree
Brian Furey, D, BC High
Pat Houghton, D, Westford Academy
Steve Mattos, D, Burlington
Nick Pandalena, D, St. John's Prep
Jake Secatore, D, Woburn
Brendan White, D, Malden Catholic
Joe Cerulo, G, Wakefield
Jordan Davis, G, Norwood
Mike Donadio, G, Franklin
Bailey MacBurnie, G, St. Mary's (Lynn)
Connor Murray, G, Needham
Connor Roddy, G, Medfield
Shane Starrett, G, Catholic Memorial
Steven Waites, G, Winthrop
Kyle Williams, G, Central Catholic
Coach of the Year
Chris Spillane, Franklin
Losing 15 seniors off of 2011's Division 2 state finalist team posed no problem to Spillane in guiding his team back to the Garden again. The 13-year Panthers bench boss is regarded as one of the finest in the state, but no season might have been more impressive for Spillane than getting this team back to the finals.
Finalists:
Karl Infanger, Natick
Mark Lee, St. Mary's (Lynn)
John McLean, Malden Catholic