Boston High School:

Connor Merinder
February, 28, 2014
Feb 28
11:44
PM ET
By
Ryan Hannable
| ESPNBoston.com
ANDOVER, Mass. –- An instant classic.

Friday night's Division 1 North quarterfinal game between host No. 3 Andover and No. 6 Lynn English featured two teams that simply did not want to go home, scratching and clawing, doing everything they could not to have their seasons end, but eventually it was Andover coming out in top, 86-81 in overtime before a sold out crowd at Dunn Gymnasium.

"Craziest game I've ever been involved in," Andover coach Dave Fazio said. "That team (Lynn English) has the heart of a lion. It was one of those games where the coaches say whoever has the ball last wins. That's what it was. We never quit. I thought we had them and they would hit a three, hit another three, they made plays, that's just a heck of a team right there. In my 25 years of coaching we deserve a break. We've had some hard aches over the last 25 years, this is maybe the God's giving us some luck."

The overtime featured up-and-down action with the teams matching basket for basket before Andover's David Giribaldi's hoop and the foul following a steal gave the Warriors an 82-79 lead with 42.5 seconds left. The Bulldogs wouldn't go down quietly as on their next possession Fred Hogan nailed a three, making the score 82-81 with 23.7 seconds remaining.

Connor Merinder was then fouled and he made both free throws increasing Andover's lead to three, 84-81. English had one last chance, but they air balled a three before Giribaldi was fouled with less then five seconds remaining with the game all but in doubt.

"It's the most fearless team I've ever had," Fazio said. "In 25 years we had one team that went to the Tsongas Center, but this is the most fearless team I've ever had. We do some crazy things. We throw the ball away, we kick it out of bounds, we foul, the kids do the craziest things, but the one thing they are not afraid of is to win. It just says an awful lot about these kids, I'm just so proud of them."

It was a fantastic end to regulation as Lynn English found themselves down 68-60 with just over four minutes to go, but went on a 7-0 run in just over a minute's span to get right back in it.

Hogan's layup with 42.1 seconds left tied the score at 73 and then Andover turned the ball over on their ensuing possession, setting up the Bulldogs with the ball and 15 seconds, but Hogan's runner was swatted away by Merinder forcing overtime.

Lynn English was led by Danny Lukanda, who had 25 points, while Hogan added 20 and Erick Rosario contributed 19 in a losing effort.

Giribaldi had a game-high 28 points, 21 of them coming in the first half to lead the Warriors. Freshman E.J. Perry had a tremendous game finishing with 28 points, including two huge, back-to-back three-pointers in the third quarter. Despite battling foul trouble Merinder had a solid game as well finishing with 11 points and had a major presence on the glass.

"We have a killer in Giabarldi, but these kids are stepping up and that is a tribute to their hard work," said Fazio.

Andover will now take on Everett in one of the Division 1 North semi final games to be played next week.

REFUSING TO GO DOWN
It's been a wild two tournament games for the Warriors as they barely beat No. 14 seed Billerica, 54-52 in their opening round game and then found themselves down 24-12 and 24-14 after the opening quarter Friday. But they have remained calm at all times.

"These kids don't panic, they just don't panic, man," Fazio said. "Sometimes I don't even think they know the score. I say to them 'we're up three' and they just say 'OK, let's go'. They just play. They play for the love of the game. It's crazy but it's working. Let's just hope it works for a few more games."
February, 16, 2014
Feb 16
10:17
PM ET
By
Chris Bradley
| ESPNBoston.com
DANVERS, Mass. –- David Giribaldi had a feeling Sunday's showdown at Everett could be a big night for himself. He even knew it before the opening tip.

"You kind of know going into it when you have a nice shootaround before the game," Giribaldi said, "I definitely could feel that coming into it."

Feel it, indeed. Giribaldi, a junior guard, totaled 34 points on Sunday for the Golden Warriors, teaming up with junior center Connor Merinder (14 points, 13 rebounds) to lead Andover past Everett at the IAABO Board 130 Classic, 74-54.

For Andover coach Dave Fazio though, Sunday's performance from Giribaldi was nothing out of the ordinary.

"He's been doing it for 17 games, same old story -– he's just relentless, he plays hard. He's a killer, he attacks, attacks, attacks, we're up 20 and there's no such thing as a bad shot -- he just keeps throwing them up," Fazio said.

Merinder the 'glue guy' for Andover: At many points on Sunday, Merinder's play perfect reflected the in-your-face, hard-nosed style of defense that Fazio preaches to his players. An athletic 6-foot-5 forward, Merinder was all over the offensive glass and showed off his touch by hitting several shots outside of the paint.

"At the end of the day, with Merinder we've won 15 games, and without him we can't win three games," Fazio said, "He gets every rebound, he's our defensive force inside, everybody in our program knows how important he is. [Giribaldi] is our offensive killer, but Merinder controls everything. Everybody knows we just have to take care of that kid and give him some love on offense -– he's been that way the whole year."

The role of tough guy certainly isn't meant for everybody, but it's a role that Merinder has come to embrace this year –- asserting himself as a dominant post presence and reliable defensive rebounder.

"I'm usually the one who gets the majority of the rebounds. We try to get everybody involved with rebounding and boxing out, but I know that being the tallest one on the team that's its my responsibility to get the majority of the rebounds," Merinder said. "When we can come out with a lot of energy, the bench has energy and the starting five has energy, we know that we can compete with anybody."

Fazio, who has preached energy, defensive intensity, and fundamentals to his team all year, seconded Merinder's all-or-nothing attitude. Everett's 54 points on Sunday was their second lowest scoring total of the season, something Fazio and his team take great pride in.

"That's our staple," he said. "As I said to the kids: 'you have the opportunity to go against a great team. Let's do what we do.' We'll make our adjustments along the way, but that's what we do."

Playoff preparation: At this juncture of the season, the main goal for coaches of playing in big tournaments before the MIAA playoffs is getting their players prepared for playing in different gyms against seldom-seen opponents. The IAABO Board 130 Classic has brought just that for the Golden Warriors, who will take on St. John's Prep on Monday.

"The more teams we play and the different ways in which they play, it helps prepare you so that there aren't any surprises in the tournament," Fazio said. "That's a pressing team, we'll see somebody who presses or does a diamond or something like that. It just gives you an opportunity to prepare for it."

A loaded offensive team with as much firepower as any team in the state, Sunday will certainly be looked at as a learning experience for Everett. Gary Clark led Everett with 19 points and eight rebounds, but the Crimson Tide struggled with Andover's ball pressure, as well as the 2-3 zone the Golden Warriors went to in the second half. That being said, Fazio will be hoping to not see Everett on the opposite bench again anytime soon.

"I know I don't want to see Everett in the tournament cause I think they're pretty damn good," Fazio said. "I think Everett's a lot better than they showed today. We'll take the win, we're happy, we get to play another good team tomorrow. We really just want to get ready for the tournament, that's how you judge. The whole thing at the end of the day is to be tournament ready."
January, 25, 2014
Jan 25
8:44
PM ET
By
Andy Smith
| ESPNBoston.com
BOSTON -- No. 12 Andover's guards might not be the quickest or the most agile in the state, but against No. 19 Brookline Saturday at the Good Sports Invitational, they impacted the game in a big way.
Andover's Dave Giribaldi had 26 points in his team's 57-48 victory. Fifteen of those points came in the first quarter alone. He was never deterred from driving the lane or shooting from outside if he felt like he was open. Right as the first half ended, he drained a three from just beyond the left elbow.
[+] Enlarge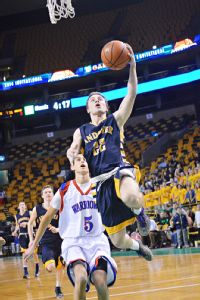 Brendan Hall/ESPNDavid Giribaldi (26 points) was clicking on all cylinders as Andover downed Brookline.
"It doesn't matter what defense they play, he's going to attack no matter what," said Andover (10-2) coach Dave Fazio. "It doesn't matter. They can play box-and-one, triangle and two, he's just a killer. He's just going to keep attacking. The bigger the game, the better he plays."
Freshman E.J. Perry IV (12 points, six rebounds, three steals) made his mark on the game in the second quarter. After draining a three-pointer in the halfcourt, Andover switched to a 2-1-2 full court press. Perry intercepted a Brookline (7-4) pass and drained another three to extend its early lead to 17-13.
Brookline coach Luke Day came away from the game impressed with the guards' defensive prowess and ability to capitalize on other team's mistakes.
"They're pretty good, they really penalize mistakes," he said. "I thought for most of the game, particularly in the first half, we didn't lose them too often. Every time we did, they make you pay. There's just kind of a confidence there. They're going to keep coming at you, keep coming at you, and keep coming at you."
Brookline's guards had strong games for themselves as well, most notably senior Elijah Rogers, who finished with 13 points. He made a habit of hitting long-distance, off-balance threes Saturday, some when the shot clock was winding down. His first three came from beyond the right elbow.
"We're well aware of their abilities, but we were trying to focus more on Andover, believe it or not, than Brookline," said Fazio. "We started out straight man-to-man on the line, up the line, but Rogers is so quick and so dynamic that when he caught the ball we dropped a couple guys in just to try and not give him those lanes."
In the third and fourth quarters, Andover's Connor Merinder made his presence felt on the offensive end. Earlier in the game, he was doing the dirty work of defending Brookline's bigs and rebounding in the post. As the game went on, he started hitting baseline jumpers and even a three-pointer. He finished the game with 10 points and 11 rebounds.
"This season, we're going to go as far as those two guards and our big guy take us," said Fazio.
Staying the course:
Saturday was the second loss in a row for Brookline. It lost 65-64 Tuesday against Natick. Day has been a high school basketball coach long enough to know not to overreact to two straight losses.
"You get to three or four losses in a row and you start to worry a little bit," he said. "The cliche about the season being a marathon and not a sprint is really true. It's about peaking at the right time. That being said, there are some lessons to be learned. We still have a ways to go."
Special atmosphere:
The Good Sports Invitational is a way to not only showcase MIAA boys' basketball to the community, but it also gives players the chance to play on the famed TD Garden floor. For many of the players, the opportunity to play in the same arena as the Boston Celtics is a once in a lifetime opportunity. After the game Saturday, Day was able to put the loss in perspective in the big picture of the entire season.
"I told the kids in the locker room they aren't going to remember the wins and the losses," he said. "Obviously it would be my preference to win, but I told them 20 years from now, you can take your kids to a Celtics game and tell them you played on the floor. You can tell them you won, nobody will know the difference and they are going to think it's great. Those are the kinds of things that are really important.
"We got a lot of kids involved today and got a lot of contributions from a lot of kids. The loss is secondary on a day like today. It just is."
January, 11, 2014
Jan 11
1:41
PM ET
ANDOVER, Mass. -- ESPN Boston High Schools editor Brendan Hall breaks down all the action from last night's sold out contest at Dunn Gymnasium, where No. 12 Central Catholic got revenge on No. 4 Andover for last month's upset, setting up a highly-anticipated rubber match next month.

(Video by Cam Farnham)


December, 29, 2013
12/29/13
2:07
AM ET
By
Mike Abelson
| ESPNBoston.com
NORTH ANDOVER, –- Andover's David Giribaldi said he felt magic in his hands before the final of the Commonwealth Motors Christmas Classic against rival Central Catholic.

For 32 minutes, he put on a show of slight of hand that mesmerized the over-capacity crowd at Merrimack College's Volpe Athletic Center. Giribaldi pumped in 27 points to lead Andover past Central, 72-68, in the finals of the Commonwealth Motors Classic.

"I knew coming into it I'd have a pretty good shooting day," Giribaldi said. "I felt like it was my time to shine."

Giribaldi exploded for 12 points in the third quarter, including seven points over three straight possessions. Giribaldi led the way for a showcase night for Andover's shooters.

Seniors Ben Brown and John Pisacreta rose to the occasion when their number was called. Brown scored 12 points and pulled down three rebounds. Pisacreta scored six points, including four free throws to seal the win, but his biggest role was running the point and setting the pace of the offense.

"Everything they do contributes," Giribaldi said of Brown and Pisacreta. "Having them is key. They're all the reason I did well."

Central romped early, scoring the first eight points, but a timeout by Andover's Dave Fazio turned the game around. Andover came out of the break and finished the final six minutes of the quarter on a 22-5 run.

"We just got together and said we've got to get the nerves out," Andover's Connor Merinder said. "Once we did that we were able to play the game we wanted to."

Andover's box-and-one defense shut Central's Tyler Nelson for long chunks of the game. The Fairfield-bound Nelson was held to four points in the first half and 11 for the game. That opened the door for Kevin Fernandez and A.J. Pettway to step up.

Fernandez finished with nine points, and Pettway had 12 on four arching rainbows form three-point land.

"When you rely so much of your offense on Tyler Nelson and the team is doing a good job of shutting him down you have to do different things," Central coach Rick Nault said. "For two young guys they have a lot of confidence and I think it shows well for our future. But we're not playing for our future; we're playing for now. We're a highly-considered team throughout the state and we're playing to win this year. We expect them to make plays for us; that's why they're in there."

Andover opened up a 16-point lead midway through the second half, but the Raiders clawed back and closed the gap to a point before Andover opened the gap back up to nine and held on.

A major part of the comeback was the massive game from Nick Cambio. The senior forward shouldered the load for Central putting up a double-double with 26 points and 13 rebounds. He also had two steals.

"When you go box and one on Nelson you've got to give up something and Cambio got us a bit," Fazio said. "We ended up a bit of matchup man-on-man at the end of it."

Nault said that he liked Cambio's performance and wants to see him repeat it more often.

"He had a good second half; he's a key guy for us," Nault said. "To be honest, I think we need more from him. We need more scoring, more rebounding. I know he played very well tonight, but that needs to be consistent. Nick's a guy that we count on for so much, and have for the last few years, and now it's time for him to be the senior captain and to shine."

Merinder had the task of matching up Cambio and he had a solid game with 11 points and eight rebounds.

EJ'S DAY
It was E.J. Perry's first ever Andover-Central game. No one would have blamed the freshman if he had clammed up in the moment. But when the lights got bright EJ got loose.

Perry started the game and netted 14 points in the win. His 11 first-half points were key in Andover opening up it's big early lead.

Perry's coaches and teammates couldn't heap enough praise on the young guard.

"We tell him every game: he's one of the best players we have," Merinder said. "We tell him it doesn't matter who we're playing, play the same way and get those nerves out of the way."

"He's fearless," Fazio said. "We love him to pieces. We're not afraid to go to them. That's what you need against Central."

"I thought he did awesome," Giribaldi said. "He's a freshman coming in, playing in this crowd. He's good. He's going to be good."

Perry himself said that the feeling was hard to describe.

"It was awesome; unbelievable," Perry said. "The excitement, the adrenaline going through my body was unbelievable."

AN ANSWERED PRAYER
Up six with the first quarter winding down, Andover's Gabriel Hernandez threw up a last gasp shot at the horn from 50 feet.

The ball ripped the twine and sent the Andover faithful into madness. Merinder laughed and it was one of the coolest things he's seen.

"It was the greatest thing ever," Merinder said.

March, 26, 2013
3/26/13
5:52
PM ET
By
Chris Bradley
| ESPNBoston.com
In the biggest game of the year in MIAA hoops, the Division 1 state title game, it seemed as if the sophomores were hitting all the big shots. With hundreds of Mansfield fans directly behind the basket screaming and waving, Putnam sophomore Ty Nichols nailed two free throws with eight seconds left in overtime to seal the Beavers' first state title in school history.

But let's not forget how the game got to that point. Rewind to the end of regulation.

Mansfield sophomore Ryan Boulter put on one of the gutsiest performances that we saw all season. After he was fouled on a three-point attempt with five seconds to go in the fourth quarter, Boulter went to the line with an opportunity to tie the game and send it into overtime. Miss one, and his team, in all likelihood, would lose the game.

Not only did Boulter hit all three free throws, he did so without ever taking his eyes off the rim -— not even to catch the bounce passes that came from the referee following each of the first two free throws. He sent the game into overtime, then hit a three-pointer from the wing to give Mansfield the lead.

Following a four point swing by Putnam, Boulter put the team on his back one last time -— draining a three-pointer to tie the game with just seconds to go in overtime. Enter Nichols, and game over.

While Putnam's entire team circled around their trophy in the pressroom after the game, a few of Mansfield's players sat across the room waiting to be interviewed. Boulter fought back tears. Brendan Hill -- a sophomore who was Hockomock League MVP and considered to be a Division 1 prospect in both football and basketball -- stared at the floor, head in hands.

While listening for Putnam senior KayJuan Bynum talk about the pride that Springfield has in basketball, I couldn't help but glance over at Hill and Boulter across the room. Both fierce competitors with unbelievable poise, they sat in the shadows of the pressroom while Putnam's players hugged each other in celebration.

That was the ringing overtone talked about for days following the state title game: Mansfield will be back.

It was the same reaction seen on the floor of the Tsongas Center only a week earlier. After a crushing defeat to a more experienced Central Catholic team, Lynn English sophomore guard Stevie Collins pulled his jersey over his face as the final buzzer sounded, hiding tears from watching Central Catholic celebrate the Division 1 North championship.

The playoff run was an unexpected one for the Bulldogs, and English can be expected to be back next year. With Collins' classmates Johnny Hilaire (6-foot-6 forward) and Erick Rosario (6-foot guard) both returning, as well as juniors Freddy Hogan and Danny Lukanda, expect a big run from English once again. The Bulldogs' run to the North final almost wasn't possible, mainly because of 20 points from Everett sophomore Gary Clark in the quarterfinal match -- a high-scoring, back-and-forth match that left English the 94-87 victors.

English, Putnam, and Mansfield, and Everett are not alone in boasting talented young players, though. Statewide, the MIAA's depth in the 2015 and 2016 classes is one of the best we have seen in recent memory.

***

DAVIS, COLLINS LEAD LONG LIST OF POINT GUARDS

Collins leads a long list of talented floor generals in the 2015 and 2016 classes. Those included (and very close behind him) are Lowell sophomore Kareem Davis, who ignited one of the state's most exciting offenses this year; New Mission's Randy Glenn, a left-handed playmaker who was pivotal in helping the short-handed Titans make a run to the Boston City League championship; St. Peter-Marian freshman Makai Ashton, a fearless point guard who is considered to be the best long-term guard prospect in the Worcester area; and Melrose frosh Sherron Harris, whose "on-court killer" style of play is scarily similar to his cousin, Cushing Academy star Jalen Adams.

-- St. John's (Shrewsbury) sophomore Davon Jones has more big-game experience than any of the point guards listed above, as he has helped lead Bob Foley's Pioneer squad to WPI each of the last two years. As mentioned with Hill, Jones is considered to be a Division 1 football prospect.

-- Boston English freshman Ernie Chatman will win a lot of games for Boston English over the next three years, Chatman is a great ballhandler who is also lightning quick and a great floor leader.

-- Along with Glenn and Chatman, Brighton freshman Javaughn Edmonds will make a major impact in the Boston City League in the coming years. Edmonds will be looked to to step in and help fill in some of the production missing from departing ESPN Boston Mr. Basketball Malik James.

***

MIAA'S TOP PROSPECT HEADS FORWARDS

There is no question who has the highest ceiling of any player in the MIAA. It is Springfield Central's 6-foot-8 sophomore Chris Baldwin. A sureshot Division 1 prospect who can block shots, rebound at a high rate, and score in a variety of ways, Baldwin will make sure Central remains one of the state's best hoops programs after making the Western Mass. Division 1 championship game once again this year.

St. Peter-Marian freshman Greg Kuakumensah will have big shoes to fill next year for the Guardians, especially as they soon graduate forward Tim Berry, the heart and soul of their offense. Kuakumensah, the younger brother of Brown University forward Cedric Kuakumensah, will join Ashton in what should be a very bright future for St. Peter-Marian. At 6-foot-4, he is a great shot blocker like his older brother, but is also tremendous athlete and competitor.

-- SPM isn't the only squad returning a talented young duo though. Brighton, the Division 2 state champion, will, alongside Edmonds, return 6-foot-5 sophomore forward Jason Jones, who played a lead role in helping the Bengals to their first Boston City League championship.

-- Andover's 6-foot-5 sophomore forward Connor Merinder was limited in minutes this year as he recovered from a severe wrist injury. However, he was able to recover by playoff time and led the Warriors to the Division 1 North semifinals, knocking off Medford and St. John's Prep in order to do so.

-- For all the attention to the prospects at larger Division 1 and 2 schools, keep an eye on 6-foot-5 sophomore forward Jake Wisniewski out of Quaboag. After averaging over 20 points per game for Quaboag this past year, the already-experienced post scorer is one of the state's top prospects in Division 3. A talented forward at Division 3 New Leadership, 6-foot-6 freshman Davidson Pacheco, will take his talents elsewhere after averaging 10 points per game this year, what with the expected closing of the Springfield-based charter school.

***

MOBLEY, JUDSON CAN MAKE IT RAIN

Newton North sophomore Tommy Mobley was one of the state's most feared scorers this year, leading the Tigers to a 20-4 record and picking up Bay State Carey MVP. Mobley and St. John's Prep sophomore guard Ben Judson showed that they can be two of the MIAA's best scorers again next year. Like Mobley, Judson's three-point range extends all the way out to 25 feet—as both were known to drop a barrage of three-pointers on opponents this year, heavily guarded or not.

New Mission's Juwan Gooding, New Bedford's Tyree Weston, and Catholic Memorial's Guilien Smith, were all early exits from the state tournament this year. But as three of the MIAA's most talented pure scorers in the 2015 class, they'll be back for big runs next year. Smith and Gooding are finesse guys who use their quick first step to get to the rim, while Weston uses his sculpted frame to overpower opponents and score inside-out.

-- One other Springfield product to keep an eye on is Cathedral sophomore Darrick Boyd. The young, talented sharpshooter scored 19 points per game this year, leading Cathedral to a 13-9 record. Danvers sophomore Vinny Clifford, also a dead-eye shooter, will be looked at to be a leader for the two-time defending Division 3 state champion. Clifford, the younger brother of Merrimack College forward Mike Clifford, was an integral piece this year for a team led by Eric Martin, Nick Bates, and Nick McKenna.

-- Yet another two-sport star, Wakefield sophomore Bruce Brown, helped the Warriors make a deep run in the Division 2 North tournament this year, eventually falling to a deeper, more experienced North Andover team. Brown is an elite athlete who, at his best, is nearly unstoppable because of his upper body strength. On the football field, Brown caught seven touchdown passes as a wide receiver last fall.

-- Two 14-seed over 3-seed upsets in the first round of the Division 1 North tournament should be remembered going forward. Freshman Saul Phiri's heroics in a first-round upset win helped lead Haverhill past Westford Academy, while frosh Keyshaad Dixon's three-pointers sparked perhaps the most surprising win of the first round, as Braintree knocked off heavily-favored BC High.

-- St. John's (Shrewsbury) freshman Adham Floyd, was a very important piece for the Pioneers' run to the Central Mass. Division 1 title game, starting several games during the season. Bishop Feehan freshman Mike Nelson, a teammate of Floyd's with the Shooting Stars AAU program, showed great poise in leading his team to an impressive run in the Division 3 South tournament, falling narrowly in the quarterfinals to eventual D3 South champion Martha's Vineyard.

***

Picking the Super Team for this year's ESPN Boston MIAA All-State Team sparked as much debate as any Super Team selection in recent years. The statewide parity, talented young players bolting to prep school, and lack of scholarship-level talent in the upper classes forced careful consideration and a never-ending debate about picking out the MIAA's elite upperclassmen.

However, with the amount of freshmen and sophomores who made a name for themselves on a big stage this year -- the instant-classic Division 1 state final between Mansfield and Putnam being the prime example -- it's likely we won't spend too much time worrying about the pipelines of scholarship-level talent coming up the ranks in MIAA basketball.
December, 21, 2012
12/21/12
12:44
AM ET
By
Chris Bradley
| ESPNBoston.com
LAWRENCE, Mass. -– With sophomore forward Conner Merinder out with a wrist injury, it was on senior co-captain Sam Dowden to step up in the post and go up against North Andover's star forwards Isaiah Nelsen and Chris Bardwell on Thursday night for the opening game of the 38th Annual Greater Lawrence Boys Basketball Christmas Tournament.

Merinder, also a goalkeeper on Andover's soccer team, suffered an injury to his wrist towards the end of the soccer season and was forced to have surgery. So for the time being, it's on Dowden to match up against each teams' best post player.

The 6-foot-5 senior was more than up for the task, finishing with 21 points and 10 rebounds and helping rally the Golden Warriors over their border rivals to overtime, where they prevailed, 76-63.

"It's a big win, because we've been playing against them so long," Dowden said. "We've been playing against them since eighth grade."

In a back-and-forth battle with the Scarlet Knights, Andover made its charge late in the fourth quarter. Dowden cut the lead to 56-54 with a put-back, and completing the three-point play with a free throw following a foul. The next trip down, the Warriors' Max Silveira gave them the lead on another three-point play.

Brett Daley then hit a three-pointer with 12 seconds left to cut Andover's lead to 60-59. In the final few seconds, Bardwell went one of two from the charity stripe to tie it at 60 to end regulation.

The overtime session was no contest. Derek Collins' frustrating shooting night continued, Nelsen looked exhausted from his second half performance, and Bardwell fouled out in the final few minutes to take away any chance the Knights had of coming back. The Warriors' great shot selection continued into the overtime session, as the wide majority of Andover's baskets coming in overtime were high-percentage lay ups at the rim.

Overall the Warriors outscored the Knights 16-3 in the bonus frame, capped with a drop-step from Dowden with a minute to go in the frame that gave Andover a 70-62 lead.

"Honestly, I'm proud of our kids," head coach Dave Fazio said. "We're up 12 and came up and just played a vanilla third quarter. Then we had a fight, they hit a three and we went down five, but it's like we tell our kids: we have choices, we can either hang our head or [move on to the] next play."

Dowden's duty against the Knights' bigs was no small saddle, but he more than held his own.

Guarding Nelsen, Dowden held the St. Anselm signee to seven first-half points on four shots. Offensively, he showed his whole arsenal of moves, hitting mid-range jumpers of the dribble, finish drop-step and up-and-under moves around the rim, and putting back offensive rebounds, ending the opening half as the game-high scorer with 12 points and his team ahead 29-17.

Also a constant threat on the glass, Dowden made sure to mention that he certainly didn't do it alone.

"I had to do a good job rebounding tonight," he said, "But we had two really tough guys in Greg Dreyfus and Ty Verrette. They really do a great job on the boards. They play way bigger than they are."

It was practically inevitable that Nelsen was going to get his offensive groove going eventually, and he did just that in the third quarter -- finishing every loose offensive rebound in sight and constantly cutting and moving without the ball. In the third quarter alone, Nelsen stung the Warriors for 13 points and 7 rebounds, not missing a field goal or free throw during the entire eight minute stanza.

Dowden's production was relatively light in the third quarter. After hurting the Knights offensively in the first half, North Andover started collapsing on Dowden every time he touched the ball -– forcing him to kick the ball back out to a guard.

"[The third quarter] was kind of frustrating," Dowden said, "We like to come out in the third quarter and just jump on teams, and tonight we didn't. They're a great team, we knew they were gonna' make a run at some time."

Nelsen's hot hand brought North Andover all the way back from their 12-point halftime defecit, giving the Knights a 37-35 after a big run. Collins hit a three pointer, Bardwell got a couple of isolation touches down low, and North Andover seemed to have the momentum full swing in their direction, especially after Nelsen scored two consecutive baskets on putbacks to increase the lead with just over four minutes to go. But thanks to a three-pointer by John Konevich, the Warriors jumped right back into the game after a big defensive stop on NA's next possession.

The scary part for future opponents about No. 11 Andover's upset over their conference foe, is that this is a team that isn't even at full strength. With Merinder's comeback lingering in the distance, Fazio couldn't help but be hopeful damage that the sophomore star and Dowden will have once Merinder comes back.

"That would be a great Christmas present, and that changes everything for us," he said, "We can put Conner on Nelson, and then we can relieve Sam a little bit. We've been asking a lot of Sam...Kid is a four year starter, a Warrior, I'm happy for him."