Boston High School:

Connor Moriarty
October, 6, 2013
10/06/13
1:44
AM ET
By
Chris Bradley
| ESPNBoston.com


WELLESLEY, Mass. –- When Connor Moriarty went down in the second quarter, Walpole (4-1) coach Barry Greener looked two a sophomore and a junior to pick the offense up and help gain momentum back.

The duo, running backs Steve Cuqua and Jack Lavanchy, were major difference-makers in the second half, leading the Rebels to a 49-35 victory over Wellesley (1-4) after previously being down at halftime. Cuqua (2 catches, 73 yards, 7 carries, 91 yards, 2 TD) caught a 65-yard touchdown pass early in the third quarter to tie the game at 21 after the Rebels trailed 21-13 at halftime.

Cuqua, who had two touchdowns in the second half, later ran in his second score in the fourth quarter, putting Walpole up 49-28 late in the fourth quarter to all but seal the victory for the Rebels. Despite the fact that the rebels lost both Moriarty (7 carries, 72 yards, 2 TD) to a high ankle sprain and Andrew Papirio (concussion) early in the first half, Walpole's offense was running on all cylinders in the first half.

"We needed some guys to step up and that happened," Greener said. "I try to tell them that tradition here at Walpole is that when one guy goes down, another guy is ready to go—and I think that was the key today. I can't say enough about Wellesley, Wellesley played a great game."

Lavanchy, a threat both on the ground and through the air, finished with 81 total yards and a touchdown. Rebels' quarterback Will Bolster (12-18, 216 yards, 4 TD) helped lead the charge as well.

"Bolster had a great day, played really well," Greener said. "I thought both quarterbacks were outstanding, for will…it's his second year there. He played there as a junior, he's had some big games for us and he's really throwing the ball well. We even got him involved in the running game today."

Down at halftime and struggling to stop Wellesley star quarterback John Fadule (18-36, 212 yards, 20 carries, 134 yards. 3 pass TD, 2 rush TD). Fadule, a major running threat with the arm strength to burn Walpole's defenders with throws downfield, may very well have been the best player on the field in a losing effort. His favorite target was junior receiver Jack Dolan, who caught two touchdowns and a slew of beautiful diving catches.

"[Dolan] really impressed me today, good job on offense, a great receiver, and he did a great job on defense as well," Greener said. "Their offensive line was outstanding, but the secret to our game was our offensive line. The offensive line was the key to that score out there, and our guys really had it at the end."

Wellesley coach Jesse Davis was more to the point with his wording, but like Greener, he was impressed by Fadule's play on Saturday.

"John's a good quarterback, we're gonna watch the film and get better," Davis said.

Struggling with depth in the secondary, the Rebels had to go to a "quarters" set in the second half—hoping to keep the ball in front of them and avoid giving up the big pass or long run. The defensive adjustment worked out, as Wellesley scored just one touchdown in the second half.

"We're so beat up in the secondary that we've played a lot of 'quarters', and I hate 'quarters'," Greener said. "But we were trying to keep the ball in front of us. That last touchdown, [Myles Cole] beat us in quarters coverage, the coverage wasn't there, and the kid made a nice play on the ball. We're just hoping to get some of our guys back as we get into the next two or three weeks. I said just what I said before, the Walpole way."


August, 26, 2013
8/26/13
11:39
PM ET
By
Brendan Hall
| ESPNBoston.com
When it comes to postseason the last few years, it seems, Walpole just can't seem to catch a break.
Two years ago, the Rebels beat rival Natick
on a last-second field goal
to clinch the Bay State Herget and a postseason berth in Division 2A,
only to get throttled by Dennis-Yarmouth in the playoffs
. Last year, the Rebels finished 10-1 with a share of the Herget, only to sit at home with no playoffs after Thanksgiving by virtue of a dramatic loss to co-champ Natick.
Looking at the alignments for the new MIAA State Championship, the Rebels might have gotten a good break. They sit in a Division 3 Southwest that is without question weaker than D2 South, which includes Bay State rivals Natick, Needham, Wellesley and Braintree. A total of six D2 South squads are ranked in ESPN Boston's statewide Preseason Top 25 poll -- more than any other bracket in the state -- while just one other D3 Southwest contender, No. 24 Bishop Feehan, is represented.
Perhaps the Rebels have finally gotten a much-needed break after alternating the Bay State Herget's lone playoff berth with Natick for each of the last 10 seasons. But Rebels head coach Barry Greener has a decidedly large amount of experience to replace, and there are more immediate tasks at hand.
"I do think D2 is a meat grinder. As I look at the list, D2 is very talented, but D3 is extremely competitive," Greener said. "I think the biggest thing with a young team ... last year's team was totally different. This team, they have to take it one day at a time, they've gotta get better every day, that's all we're focusing on."
The Rebels are looking to replace 17 starters from last season's 10-1 squad, including 10 on the defensive side of the ball. But this is typically a program that excels at developing sub-varsity players to make immediate impacts with the big boys, and Greener is confident in the fresh faces abound.
"I think we have, in spots, in a lot of areas we have pretty decent team speed," Greener said. "There's certainly a willingness to get better. We have a lot of kids that watched a great group of seniors that played for us last year. They had talent, they were just playing behind these kids [last year's seniors] and they were good ones. But now they know it's their turn, and they're doing a pretty good job trying to take advantage of that."
For the few returning starters, expect even bigger campaigns. Connor Moriarty was one of the brightest second-half stars across Eastern Mass., assuming a majority of the offensive workload as injuries piled up. As the best overall player on both sides of the ball, and as a safety the program's only returning defensive starter, he'll be called upon for an even bigger load this season.
Offensively, Walpole will stick with its spread look from a year ago, with quarterback Will Bolster working with a deep stable of five to six receivers. With three returning starters in the trenches, expect great emphasis once again on the running game, with Moriarty as the feature back. His repertoire fits well with Walpole's running scheme, a mixture of inside and outside zones along with counters. Two sophomores, Steve Cuqua and Lovenchi Salvant, will provide depth in the backfield.
"He's very quick strong explodes when hits hole, and so do the other two guys [Cuqua and Salvant]," Greener said. "Overall, Connor arguably could be our main gun. He's great north to south, great subtle moves, but he's an attack-type runner. He runs quick and hard, not real big but he's really well put together."
Defensively, the Rebels have been in an odd front the last few seasons, mostly going with a 3-4 look but sometimes applying a 3-3 stack against the increasing amount of spread teams they face in the Bay State. There's enough spread looks in the conference now that the Rebels are switching to a 4-2-5 to combat the look, but also optimize the talents at defensive line.
Aidan Moore gives the Rebels a home run threat on the interior, with his combination of size and lacrosse-bred athleticism, while Nick Cordopatri and Chris Bender are threats off the edge. One of the more intriguing prospects is Noah Kung, a 6-foot, 215-pound nose guard with a sharp wrestling background who excels at hand-to-hand combat. Kung is potentially looking at The Citadel for college.
"He's very hard to block, uses his hand well, sheds, swipes," Greener said. "We've used some hand-to-hand combat, martial arts stuff that the colleges have been using, and he's good at that. He reads pressure well, so he fights combo blocks well. In our scheme if we get combo blocked, we try to tie up both blockers without giving up ground, which frees up the linebackers, prevent their blockers from getting to [the second level] and he's great at that. He's a great pressure guy, he gets the high-hat, kick=step, and gets off into his moves. He's very quick."
WALPOLE AT A GLANCE
Coach:
Barry Greener (5th year, 39-7 overall)
Last season:
10-1
Returning starters:
Five (four offense, one defense)
Key returnees:
Connor Moriarty, Sr. RB/S; Will Bolster, Sr. QB; Noah Kung, Sr. C/NG; Matt Ordway, Jr. OG; Nick Cordopatri, Sr. OT/DL
Strengths:
Offensive and defensive lines
Weaknesses:
Inexperience
Outlook:
The Rebels must replace a loaded senior class from last fall's 10-1 campaign, but Greener appears pretty confident in the fresh faces coming up in the program. It may take some time to get up to speed, but this is one of the deeper programs south of Boston when it comes to developing varsity-ready underclassmen. The biggest change will be the on the defensive side of the ball, where the Rebels are switching from a 3-4 to a 4-2-5 look similar to one popularized by Gary Patterson at TCU. The switch was made to better fit the looks they'll see in the increasingly spread-oriented Bay State Conference, as well as optimize the depth of their talented defensive line, led by Kung and Cordopatri. Moriarty is the Rebels' best overall player on both sides of the ball; and with the spread-oriented Rebels returning three starters on the offensive line, they will continue to pound the ball. Moriarty is a terrific fit for Greener's zone scheme, a one-cut, north-south runner who accelerates quickly through holes. Keep an eye on two sophomores, Steve Cuqua and Lovenchi Salvant, to boost the running game as well.
August, 21, 2013
8/21/13
6:03
PM ET
Brendan Hall
ESPN Boston High Schools editor
Best QB:
Cody Williams, Springfield Central
Best RB:
Johnathan Thomas, St. John's Prep
Best WR:
Brian Dunlap, Natick
Best TE:
Brendan Hill, Mansfield
Best OL:
Jon Baker, Millis/Hopedale
Best DL:
Jon Baker, Millis/Hopedale
Best LB:
C.J. Parvelus, Everett
Best DB:
Lubern Figaro, Everett
Best passing offense:
Natick
Best rushing offense:
St. John's Prep
Best offensive line:
St. John's Prep
Best defensive line:
Reading
Best linebackers:
Reading
Best secondary:
Everett
THREE TEAMS THAT WILL SURPRISE
Medway
Coach Dave McSweeney's affinity for power football isn't a secret, and this season he'll have two road-graders to run behind in Kevin Sheehan (6-4, 285) and Cam Smith (6-5, 290, Lafayette commit). If there's any exhibit for why we needed to change the postseason format, the most glaring sample might be the Mustangs, who went 19-3 from 2009-10 with no playoff berth. In this new playoff system, a gameplan like the Mustangs' is built for the long haul.
Lynn English
Perhaps this isn't a surprise pick so much as an affirmation. In a Division 2 North that is perceived to be wide open after heavy favorite Reading, the Bulldogs have enough talent to make a deep run. There has always been elite talent at the skill positions, but Preseason All-State selection Chris Tinkham gives them a presence in the trenches they've lacked the last few years, a rare "war daddy" type who overpowers the interior gaps. The biggest question will be where the Bulldogs put junior Jordan Javier, a 6-foot-4 transfer from Haverhill who is a matchup problem at his natural split end position but also throws one of the prettiest balls you'll see on the North Shore.
Quabbin
The Panthers struggled to a 4-7 tune last season in a weak league, but there is some promise. Quarterback Dylan Kierman is an underappreciated talent, who should get a boost from the return of slippery receiver Nick Thyden. The Panthers run a unique "Air Raid" scheme, and another year of experience with it could surprised teams in Division 4 Central.
THREE BREAKOUT ATHLETES TO WATCH
Lukas Denis, Jr. ATH, Everett
After an injury-shortened 2012 season in which he was the assumed successor to record-setting quarterback Jonathan DiBiaso, but barely saw the field, Denis is moving to the perimeter, where he will take a role similar to the hybrid slot-back role that Manny Asprilla made legendary in 2010. Defensively, he should serve as a terrific compliment in the secondary to highly-touted safety/cornerback Lubern Figaro, and has already begun to pick up some Division 1 FBS interest.
Alfred Adarkwah, Sr. WR, Doherty
Standing a long 6-foot-4 with a 6-foot-7 wingspan, Adarkwah has an unusually large catching radius for a high school receiver. This summer in passing leagues, the Highlanders toyed with Adarkwah and Boston College-bound receiver Isaac Yiadom on the same side of 2x2 formations. Head coach Sean Mulcahy has to be excited with the possibilities that opens up -- just imagine sending those two on a post-wheel combo route. Or better yet, imagine running them on a bubble screen, taking advantage of both Yiadom's elite speed and Adarkwah's great downfield blocking skills.
Taj-Amir Torres, Jr. ATH, Amherst
Already a household name in track and field, where he was named the state's Gatorade Player of the Year last spring as a sophomore after winning New Englands in the 100-meter dash, he's about to get a whole lot more attention. Boston College, UConn and UMass have already offered Torres, who made just 24 catches last season
but made some incredible feats of athleticism
. Hurricanes head coach David Thompson told us earlier this month
"[We're] trying to get the ball in his hands every opportunity we get"
, so expect bigger numbers in 2013.
WAY TOO EARLY STATE CHAMPION PICKS
Div. 1
- Everett
Div. 2
- Springfield Central
Div. 3
- Walpole
Div. 4
- Doherty
Div. 5
- Auburn
Div. 6
- Millis/Hopedale
***
Scott Barboza
ESPN Boston High Schools Editor
Best QB
- Drew Belcher - Sr. Reading
Best RB
- Johnny Thomas - Sr. St. John's Prep
Best WR
- Brian Dunlap - Jr. Natick
Best TE
- Rory Donovan - Sr. Cardinal Spellman
Best OL
- Jon Baker – Sr., Millis/Hopedale
Best DL
– Joe Gaziano – Jr., Xaverian
Best LB
– Eddie Motavu – Sr., Tewksbury
Best DB
- Lubern Figaro - Sr. Everett
Best passing offense
- Natick
Best rushing offense
- St. John's Prep
Best offensive line
– Bridgewater-Raynham
Best defensive line
- Reading
Best linebackers
- Leominster
Best secondary
- Everett
THREE SURPRISE TEAMS
St. Mary's (Lynn)
OK, so a team coming off an 11-2 season and a Super Bowl appearance might not exactly be a surprise, but with a couple of other Catholic Central teams garnering the buzz in the preseason, let's not forget the Spartans have another season with Jordan Collier (1,495 yards, 18 TD).
Hingham
We've heard them knocking, but can they come in? The Harbormen have whittled the gap in recent years, particularly against Patriot League nemesis Duxbury, but they're still waiting to break through. They could have an in-road in Division 3 Southwest. An early non-leaguer against Oliver Ames should be a bellweather for things to come, but the real proof will come Oct. 5, against those aforementioned Dragons.
Wakefield
The Warriors fell short of their goal of winning the Middlesex League's Freedom division last year, but should be in the mix in a wide open Division 3 Northwest race. We'll have a better impression after a visit from Lynn English in Week 2.
THREE BREAKTHROUGH ATHLETES
Joe Johnston, Sr. RB/S, King Philip
Anybody who saw Johnston's hard-nosed 157-yard, 2-touchdown performance against North Attleborough last year knows Johnston's style. He's a burden for would-be tacklers inside the box, and once he kicks it outside, he's also very hard to catch.
Grant Kramer, Sr. OT, Duxbury
The younger brother of Boston College tackle Aaron Kramer, Grant is now ready to assume the role as the next great lineman on the Dragons' line (and there have been some very good ones in recent memory). He currently holds offers from Coastal Carolina and Villanova but has also expressed interest in attending West Point.
Connor Moriarty, Sr. RB, Walpole
When Rebels starter Mike Rando went out with an ankle injury near the midway point of the regular season last year, it was Moriarty who carried the load down the stretch. Expect even bigger numbers this year.
WAY TOO EARLY CHAMPIONSHIP PREDICTIONS:
D1
– St. John's Prep
D2
– Springfield Central
D3
– Walpole
D4
– Doherty
D5
– Auburn
D6
– Millis/Hopedale
***
Josh Perry
ESPN Boston correspondent
Best QB
- Drew Belcher, Reading
Best RB
- Jonathan Thomas, St. John's Prep
Best WR
– Brian Dunlap, Natick
Best TE
– Brendan Hill, Mansfield
Best OL
– Jon Baker, Millis-Hopedale
Best DL
– Andrew Bourque, Reading
Best LB
– Kevin Bletzer, Catholic Memorial
Best DB
– Lubern Figaro, Everett
Best passing offense
- Natick
Best rushing offense
– St. John's Prep
Best offensive line
– St. John's Prep
Best defensive line
- Reading
Best linebackers
– Catholic Memorial
Best secondary
- Everett
THREE TEAMS THAT WILL SURPRISE:
Attleboro
A new coaching staff, the energy of a new field complex, and a strong crop of returning seniors could make the Bombardiers the surprise team of the Hockomock League. Attleboro has always been a sleeping giant and the program continues to find solid athletes, it's now up to the new staff to build a system that fits the talent on the roster. With a couple of league rivals dealing with injuries and suspensions, Attleboro could sneak up on people.
Barnstable
Everyone assumes that there will be a significant drop off for the Red Raiders due to a big graduating class, but there is still potential to be a solid team in D2 and in the OCL. This may not be a another season with Barnstable holding the top spot in the poll, but it shouldn't be written off either.
Stoughton
The Knights are expected to finish behind Oliver Ames in the Davenport, but don't be surprised if they pull an upset or two and give the Tigers a run at the title. Watch out for running back Malachi Baugh, who will be getting the majority of the carries this season and is a beast to try and bring down.
THREE BREAKTHROUGH ATHLETES TO WATCH
Luke Morrison, Sr. TE/DE, Attleboro
Attleboro's giant tight end/defensive end is a monster match-up on both sides of the ball and could be a real threat as Tim Walsh's favorite target in the Bombardiers passing attack.
Ryan Charter, Sr. QB, Needham
Mike Panepinto has deservedly drawn praise as the star man on the Needham offense, but the senior quarterback, who has been under center for 1-1/2 seasons already, will have high expectations as the Rockets try to get back on top in the Bay State.
Kyle Wisnieski, Sr. QB, Mansfield
With the graduation of running backs Robbie Rapoza and Kevin Makie and the continued injury problems for wide receiver Michael Hershman the key cog for the Hornets offense will be its senior quarterback. Wisnieski's ability to spread the ball around and pick the right options out of a still talented receiving corps that includes Brendan Hill is going to be the key for Mansfield's run at a Hockomock title.
WAY TOO EARLY STATE CHAMPION PICKS:
Div. 1
– St. John's Prep
Div. 2
- Nashoba
Div. 3
– Bishop Feehan
Div. 4
- Doherty
Div. 5
- Auburn
Div. 6
– Millis-Hopedale
***
Ryan Kilian
Founder and Editor-in-Chief, Massachusetts Prep Stars
Best QB
- Drew Belcher, Reading
Best RB
- Johnathan Thomas, St. John's Prep
Best WR
- Brian Dunlap, Natick
Best TE
- Rory Donovan, Cardinal Spellman
Best OL
- Jon Baker, Millis/Hopedale
Best DL
- Alex Quintero, Lowell
Best LB
- C.J. Parvelus, Defense
Best DB
- Lubern Figaro, Everett
Best passing offense
- St. John's (Shrewsbury)
Best rushing offense
- St. John's Prep
Best offensive line
- St. John's Prep
Best defensive line
- Reading
Best linebackers
- Duxbury
Best secondary
- Everett
THREE TEAMS THAT WILL SURPRISE
Bedford
While Wayland and Concord-Casrlisle have earned the DCL Small Championship the past few years do not sleep on Bedford in 2013. The Bucs play one of the toughest schedules in Division 4 and the return All-DCL running back Olan Abner.
Chelmsford
While Lowell, Central and Andover are getting most of the early press in the MVC Large, the Chelmsford Lions return one of the State's top running backs in Jeff D'Auria, a seasoned young quarterback in Jack Campsmith and a nice nucleus of tough experienced defenders.
Archbishop Williams
If Archies can find early offensive balance to take some of the work load off the shoulders of star senior back Kylan Philbert-Richardson, they could make some noise in the D5 playoff hunt.
THREE BREAKOUT ATHLETES TO WATCH
Ian Kessel, Soph. RB, Haverhill
The St. John's Prep transfer saw late game carries last season as a freshman for Prep's Super Bowl Champion squad. The speedy halfback is now back home in the MVC Small, and with the graduation of work horse, All-State RB Chance Brady (Tufts), there should be plenty carries to go around.
Devin Lekan, Sr. DE/TE, Chelmsford
D'Auria and Campsmith return to lead the offense for Chelmsford's but it is the Lion defense could be the story if they stay healthy. The Lions feature the 2nd team all-MVC performer was the most impressive player in the games I saw last season.
Nick Orekoya, Jr. DB/RB Billerica
Orekoya saw a lot of playing time as a two-way starter for Billerica last season. With another year under his belt Orekoya should thrive in coach Rich McKenna's high octane offense.
WAY TOO EARLY STATE CHAMPION PICKS
Div. 1
- Everett
Div. 2
- Reading
Div. 3
- Tewksbury
Div. 4
- Dennis-Yarmouth
Div. 5
- Auburn
Div. 6
- Boston Cathedral
***
John Botelho
Editor-in-Chief, South Shore Sports Journal
Best QB
- Troy Flutie, Natick
Best RB
- Dylan Oxsen, Plymouth South
Best WR
- Brian Dunlap, Natick
Best TE
- Rory Donovan, Cardinal Spellman
Best OL
- Jon Baker, Millis/Hopedale
Best DL
- Steve Manning, Abington
Best LB
- Kervin Jean-Claude, Brockton
Best DB
- Lubern Figaro, Everett
Best passing offense
- Natick
Best rushing offense
- St. John's Prep
Best offensive line
- St. John's Prep
Best defensive line
- Auburn
Best linebackers
- Brockton
Best secondary
- Everett
THREE TEAMS THAT WILL SURPRISE
Brockton
They're ranked pretty high in any poll you look at because people have just come to accept the fact that Brockton generally reloads. They graduated 18 starters from last season's Super Bowl team, including quarterback Austin Roberts, who was one of the best in school history. Roberts, Micah Morel and Joe Previte are all playing ball at prep schools this year, and Anthony Davis has moved on to Div. 1 Central Connecticut. Still, the Boxers will very solid again. They have a number of athletes and playmakers, including returning do-it-all Aaron Leclair. Transfer Jamal Williams is going to compliment him well, and sophomore Kerry Raymond is physically imposing at 6-foot-1 and 205. Aaron Monteiro's 6-foot-5, 295-pound frame gives Brockton an anchor on the offensive line. They have plenty of guys ready to step forward on the other side of the ball as well, led by Kervin Jean-Claude, Justin Ahanon and Leclair.
Abington
The Green Wave went unbeaten in their march toward a Super Bowl crown last year, but saw a slew of stars graduate. QB Brandon Cawley, TE/DE Pat Dwyer, FB Jack Malafronte, RB Babila Fonkem, DB Mike Walsh, OL Tyler Perakslis and OL Matt Diver are just some of the elite players Abington graduated. These guys won't miss a beat though, as they have a ton of talent back. Matt Kilmain broke out for more than 400 yards on 27 carries in two postseason wins last year, and he might not even be the best player back this season. Abington returns its top three tacklers from a year ago and has most of their front seven back on defense. Jim Kelliher has one of the best coaching staffs going at this point, and these guys look like they're headed back to the playoffs. (For bold prediction purposes, I'm also going to go ahead and say I think they beat Duxbury on opening night, because that's how good I think this team can be).
Stoughton
The Black Knights missed the playoffs last year because of the wrong day for a let down game, taking a tough defeat to eventual Super Bowl champ Sharon. The Knights lost some very good players, but leading running back Malachi Baugh is back in the fold and they return four starting offensive lineman, so there's no reason to think the offense won't be up to par again. The Hockomock League has proven in recent years to be one of the toughest to win, but a second guaranteed playoff berth can only help a team like Stoughton.
THREE BREAKTHROUGH ATHLETES TO WATCH
Aaron Monteiro, Jr. OL, Brockton
Monteiro has something that can't be learned, or even worked toward. His 6-foot-5, 295-pound frame is one that will draw the interest of coaches at the next level. Coach Peter Colombo is very excited about plugging the junior into his offensive line, and it's not just because of the size. Monteiro worked during the off-season to get himself stronger and is primed to be one of the best lineman in the state. He plays basketball in the winter, something that has helped him develop quick and agile feet for a guy his size.
Sam Malafronte, Jr. LB, Abington
Started at linebacker a year ago as a sophomore for the Div. 4 Super Bowl champs, and finished second on the team in tackles. A very good athlete who is a work-out warrior, Malafronte will team with Matt Whelan to lead a solid corps in the middle of the field for the Green Wave.
James Shea, Sr. WR, East Bridgewater
The Vikings have benefited from having tremendous athletes in the backfield the last few years (think Casey DeAndrade, Tim O'Brien, Andrew Benson and Kevin Lynch), but in 2013 their most dangerous player will be splitting out wide. Shea can run with just about anyone -- he finished sixth in the 100-meter dash in the South Shore League last spring -- and is going to wreak havoc pulling in passes all year.
WAY TOO EARLY STATE CHAMPION PICKS
Div. 1
- Everett
Div. 2
- Natick
Div. 3
- Plymouth South
Div. 4
- Doherty
Div. 5
- Abington
Div. 6
- Millis/Hopedale
November, 10, 2012
11/10/12
2:18
AM ET


NATICK, Mass. – With a crucial Bay State Herget division game against No. 5 Walpole on Friday and coming off last week's upset loss to Wellesley, No. 21 Natick was again confronted with a question of defense.

Yes, the Redhawks' own defense hadn't put forward their finest effort against the Raiders six days earlier, but the looming question headed into Friday's matchup was whether anybody – including Natick's potent passing attack – could score against a downright dominant Rebels defense. Walpole hadn't allowed a single point in six weeks entering.

However, Natick quarterback Troy Flutie was again able to make plays with his arm and his legs, accounting for all three Redhawks touchdowns in a 21-14 victory over the Rebels. Sophomore wide receiver Brian Dunlap, despite being met with blanket coverage, was able to grab six catches for 132 yards and two touchdowns. And that once maligned Natick defense ratcheted up the intensity to hold off Walpole's comeback bid in the fourth quarter.

"We came into this game, we thought we were going to score," Dunlap said. "We weren't worried about their record and what had happened in the past with point or whatever. We just wanted to do our thing, play our game."

Natick now controls its own destiny in the Herget, despite last week's hiccup. The Redhawks (9-1, 8-1) can now clinch a playoff berth with a win in their Thanksgiving Day game against Framingham.

Walpole (9-1, 8-1) was stung by early miscues, which set up both of Natick's first half-scores.

The Rebels scored on the game's opening drive, marching 75 yards downfield on a 13-play drive culminating in Mike Rando's 20-yard touchdown catch from Will Bolster. But a miscue on a Walpole punt erased the advantage by the time the first quarter was out. With 15 seconds to play in the first, a high snap on a Walpole punt gave Steve Thulin no time to kick the ball away. After a last-ditch attempt to throw the ball, Natick took over at the Rebels' 25-yard line. One play later, Flutie connected with Dunlap for their first scoring play.

Natick again forced the Rebels into a mistake with 5:35 remaining in the second. A forced fumble created by Redhawks defensive tackle Matthew Palmer was recovered by defensive end Trenton Wright. The turnover immediately paid dividends for Natick with Flutie hitting Dunlap on a 40-yard hookup for a 14-7 lead.

The ultimate statement of will by the Redhawks offense came with their first possession of the second half.

"That was the game, that first drive, obviously, in the second half, was the game," Natick head coach Mark Mortarelli said. "That's what we wanted to do. It was great to see our offense do that."

The Redhawks took the ball in the second half and Flutie zipped down the field in six plays. Flutie personally accounted for 62 yards on a 70-yard drive to open the third quarter, making a statement against the Rebels' previously impervious defense. He finished the drive with a 1-yard touchdown run which proved to be the game-winner.

"All of our receivers had big games, Miguel [Rodriguez], Justin [Robinson], Andrew [Boynton], and Alex Hilger, coming off an injury," Flutie said. "I thought we ran the ball pretty well. Nick [Lee] did a good job coming back from his injury, too."

The Rebels fought back to make it a one-possession game with 4:24 to play on Bolster's second touchdown pass of the game – a 26-yard fade to Brad Webber. The play, which came on fourth and 11, almost was not as Natick thought it had recovered a fumble (by Flutie) on the previous play, but instead the Bolster pass to Chris Collins was deemed incomplete.

Walpole would get another three cracks at the tying score late in the fourth, but its possessions ended in a punt, an interception and a turnover on downs in succession, as Natick's defense answered the bell. Flutie capped the defensive performance with an interception, the Redhawks' second of the game.

"Coach Mort [Mortarelli] did a great job with our defense after that loss to Wellesley," Flutie said. "He knew we had an embarrassing afternoon there. He knew that he wasn't to let that happen again. I think all of us worked really hard, we put the Wellesley loss on us. So we tried as hard as we could and we just made plays out there."

SUREING UP, UP FRONT
Walpole was able to find success in the running game, behind another big effort from junior Connor Moriarty (21 carries, 120 yards), but Natick's defensive line was a strength. The group of Robby Beausoleil, Ross Brayman, Jack Lowell, Palmer and Wright were active in the backfield. They helped shut down Walpole's passing attack, after being burnt by Chris Sarni and Wellesley last week, in addition to a strong night from Flutie (INT, 3 passes defended) and Mike Abbruzze.

"We wanted to keep everything in front of us and not give up a big play," Mortarelli said. "Obviously, when [Rando] was playing, he's pretty explosive, we didn't want to see him take off on us. We made a couple adjustments in our defense, we rolled up our safeties."

Walpole – 7 0 7 0 -- 14
Natick - 7 7 7 0 -- 21

First quarter
W - Mike Rando 10-yard pass from Will Bolster (Colton Mitchell kick)
N - Brian Dunlap 25-yard pass from Troy Flutie (Sam Lenson kick)

Second quarter
N - Dunlap 40-yard pass from Flutie (Lenson kick)

Third quarter
N - Flutie 1-yard run (Lenson kick)
W - Brad Webber 26-yard pass from Bolster (Mitchell kick)
October, 20, 2012
10/20/12
12:10
AM ET
By
Tom Layman
| ESPNBoston.com
WALPOLE, Mass. -— There's probably no way Barry Greener is just going to use this play every time his offense gets inside the 30-yard line.
But outside observers might not blame him if he does.
Chris Collins and his big frame splits out wide against a defensive back and the tight end uses his body to outmuscle, out-jump and out just about everything against a smaller defender in a jump ball scenario in the end zone.
[+] Enlarge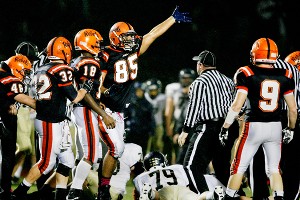 Jon Mahoney for ESPNBoston.comTight end Chris Collins was at his most dangerous tonight on the perimeter, where he hauled in two touchdown passes off of 'Go' routes.
Walpole used that play -- let's call it "Go, Collins" -- twice to perfection last night in a 31-0 trumping of Needham at Turco Memorial Field. The rest of the Bay State Conference, and Eastern Mass., might want to take notice when big No. 85 jogs towards the linesman and sets up as a wide receiver. Because more likely than not, quarterback Will Bolster is going to find his target.
"That's a little mismatch," said Greener. "We have it and we use it. You don't have something like that every year, so when you have it you might as well use it."
Collins has the build of a power forward and is very much in the mold of Antonio Gates, in terms of how the Rebels are deploying him. Collins finished with three catches for 55 yards and two scores against the Rockets (5-2).
"I used to play basketball, so I'm used to posting people up," said Collins. "Bolster is a great quarterback. Credit to him and the offensive line for blocking."
The play will give the Rebels options when defenses try to gameplan on how to stop the tight end from getting a seemlesly easy touchdown. Just let Barry Greener tell you in the only way coach Greener knows how.
"He's improved a lot," said Greener. "Chris, in my opinion, is still a better defensiver player and he is a offensive player. Now he's starting to get a clue on offense. Defense is more instinctive. A lot of times we are slanting or angling. It's more instinctive. With offense you have to have a grasp and a knowledge of the game. What are we trying to do on offense? What is your role? Why are you out there? He blocks very well. He's a great stock blocker.
"He's there to block and try to create a mismatch with a smaller cornerback. If they are out there to double him then we try to overload the other side. It's pretty hard to double Collins if you've got three receivers to cover on the other side. It's tough to cover unless you bring in a dime coverage with six defensive backs. Then we are going to run the ball at you."
[+] Enlarge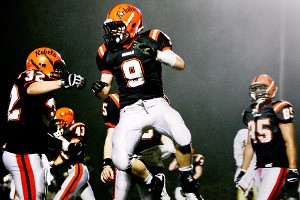 Jon Mahoney for ESPNBoston.comRunning back Connor Moriarty filled in admirably for the injured Mike Rando, rushing for 122 yards and a touchdown.
FILLING IN FOR RANDO
Mike Rando is still in a walking boot, but Greener said his running back/defensive back will be out of the boot on Saturday and will most likely be ready for the heavyweight matchup against Natick.
The Rebels had plenty of options to counter the loss.
Connor Moriarty rushed 16 times for 122 yards and a score, Cam Hanley added a score, and Steve Thulin gained tough yards through the middle of the field to keep the offensive churning in tough weather conditions.
"Our running backs coach said this isn't Team Rando, it's the Walpole Rebels," said Moriarty. "We really stuck to that tonight and it paid off."
That being said, Rando's health will be key for the Rebels as they look towards the playoffs.
"He's a great defensive player," said Greener. "He plays safety, corner plays in the slot, he plays tailback. He does everything. He can cook hot dogs at halftime."
CHARTER DOWN
Ryan Charter didn't play the second half for the Rockets after taking a big hit on the sideline late in the first half. The junior quarterback sustained an injury to his throwing hand and had it taped after the game was over.
"We don't know," said Needham coach Dave Duffy. "We are going to get it X-rayed and we will see what his family says. Hopefully he will be back. He's a big part of our offense."