Boston High School:

Conrad Jepson
March, 2, 2014
Mar 2
2:06
AM ET
There are less than 24 hours remaining before the puck drops on the Super 8 tournament Sunday at TD Garden.

So we're taking this opportunity to break down the final eight. We're taking a look at the head-to-head breakdowns for each series first-round, best-of-three series, along with predictions:

Series: No. 1 BC High (14-2-4) vs. No. 8 Xaverian (12-3-6)

Players to watch: BC High – F Steve DeForge, F Patrick Kramer, F Jake Lemanski, D Billy Roche, D Ryan Shea, D Sam Topham, D Trevor Davis, G Brandon Payzant; Xaverian – F Jon Beniers, F Andrew Durkin, F Antonio Marini, F Connor McCarthy, F Tim Sweeney, D Ricky Smith, G Aidan Murphy.

Previous meetings: 2-2 tie, Jan. 4; BC High, 5-1, Jan. 22.

The skinny: The top-seed Eagles take on their Catholic Conference rival Hawks, who endured a double-overtime classic against Archbishop Williams to slide in as the No. 8 seed. Xaverian will have to take a page from the playbook of Duxbury – which handed BC High a loss in its season finale at the Buddy Ferreira Classic – playing a tight-checking game through the neutral zone to stick with the Eagles' slick transition game. Murphy has shown flashes of brilliance in his freshman campaign and the Hawks will have to rely on him and a big series from All-State hopeful Marini if they want to keep up with BC High.

X-factor: Payzant. The Eagles' sophomore netminder has performed admirably in his first season taking the reigns from All-Stater Peter Cronin. But until a goaltender sees his first rubber in the playoffs, the book is still out.

Prediction: BC High in two.

Series: No. 2 Malden Catholic (16-4-0) vs. No. 7 Catholic Memorial (10-7-4)

Players to watch: MC – F Matt Filipe, F Ara Nazarian, F Tyler Sifferlen, F Jake Witkowski, D John McLean, D Nick Rolli, G Alex Reissis; CM – F Aaron Clancy, F Anthony Panaggio, F Mike Stathopoulos, D Frank Cosolito, D Tim Weinstein, G Brandon Collett.

Previous meetings: CM, 3-2, Jan. 25; MC, 11-0, Feb. 14.

The skinny: Once again the Lancers went on a February run, going 7-1-0 in February, despite a loss to Cathedral in the teams' season finale at the Panthers vacation week tournament. Meanwhile, on the flip side, the Knights back their way into the tournament, having been blanked in the final month of the season, as CM didn't win a game until Monday's play-in game victory over Braintree in a one-goal game. However, as one-sided the matchup between Catholic Conference rivals might seem, CM does have the blueprint on how to take down MC, evidenced in the Knights' 3-2 win in the teams' first meeting at Walter Brown. In that game, CM was able to harass the Lancers breakout with an aggressive forecheck. In order to skate with MC, the Knights will have to repeat that performance or risk having their first-round series resemble more of the teams' second meeting.

X-factor: Filipe. The Northeastern commit has provided a strong presence throughout the season on the Lancers' second unit. While teams have a difficult enough time contending with MC's vaunted top line, with Filipe and the second unit rolling, the Lancers' attack is that much more difficult to match up with, defensively.

Prediction: MC in two.

Series: No. 3 Springfield Cathedral (15-2-5) vs. No. 6 Duxbury (16-2-3)

Players to watch: Cathedral – F Peter Crinella, F Johnny Leonard, F D.J. Petruzzelli, F Riley Prattson, D Dan Petrick, G John Liquori, G Keith Petruzzelli; Duxbury – F Nick Marrocco, F Matt Murphy, F Shayne O'Brien, F Trevor O'Brien, F Matt Saia, D Shawn Errasti, D Tyler Powers, G Tucker Kelly.

Previous meetings: N/A.

The skinny: In perhaps the most intriguing matchup of the first round, the high-flying Panthers offensive juggernaut squares off against a sound, defensive-minded squad from Duxbury. Cathedral enters the tournament ranked among the statewide leaders in just about every statistical category and host two of the top scorers in the state in Crinella (28-26-54) and D.J. Petruzzelli (21-32-53). Meanwhile, the Dragons played their best hockey down the stretch, beating BC High in the Buddy Ferreira Classic final to punch their Super 8 ticket. John Blake's group excels with countering the team's speed through the neutral zone, so the Panthers could be in for some tough sledding.

X-factor: Crinella. A contender for the Mr. Hockey award this season, the Holy Cross commit is capable of taking games over – something to be said on a roster full of Division 1 commits. This could be his coming out party on a statewide scope.

Prediction: Cathedral in three.

Series: No. 4 Austin Prep (13-4-4) vs. No. 5 Central Catholic (16-3-3)

Players to watch: AP – F Bobo Carpenter, F Eric MacAdams, F Jake McKennelley, D Andrew Cross, D J.J. Layton, G Elijah Harris; Central – F Zach Cote, F Richie Greenberg, F Lloyd Hayes, F Alex Lester, F Eric Robbins, F Corey Webber, D Conrad Jepson, D Cam Smith, G Colin Soucy.

Previous meetings: Central, 4-1, Jan. 1; AP, 3-2, Feb. 3.

The skinny: In a rarity with non-league opponents, the teams faced off twice during the regular season and, somewhat predictably, split the series. The teams are near carbon copies of each with a mix of top-flight offensive skill, depth and quality goaltending. AP, a Super 8 finalist last year, is a bit of an unknown commodity this season, as the Cougars lost multitudes of man games to injury through the year. In fact, AP didn't even practice with its full fold of players until February, so we likely haven't seen the Cougars' attack at its fullest potential. Meanwhile, the Raiders can consistently roll three lines, with little drop off from the first to the third. So this one will be about as close as you can find.

X-factor: The goaltending. Both Harris and Soucy made names for themselves at last year's Super 8. Regarded as two of the top goaltenders in the state, both offenses will be hard-pressed to find room to shoot.

Prediction: AP in three.
January, 16, 2014
Jan 16
3:25
AM ET
LAWRENCE, Mass. – Central Catholic senior forward Lloyd Hayes emerged from the room, hobbled but no worse for the wear. With a large ice pack strapped around his right shoulder, the Raiders' veteran has been in these kinds of spots before.
No. 5 Central played a nearly flawless game through a period-and-a-half, only to watch a three-goal lead evaporate midway through the third period against No. 8 Springfield Cathedral.
That's when Mr. Reliable came through again.
Not even a bad wing could prevent Hayes from netting the game-winning goal with less than two minutes to play, before adding a second with an empty-netter, while leading the Raiders to 5-3 win in a duel of Super 8 hopefuls at Valley Forum.
"How he carries himself is a true testament to how we came back and it's fitting that he got that goal," Central head coach Mike Jankowski said of Hayes. "We could have created a little distance early on, but we couldn't finish. But that's a great team we let come back. They made some plays, capitalized on the power play and got us on our heels a little bit."
[+] Enlarge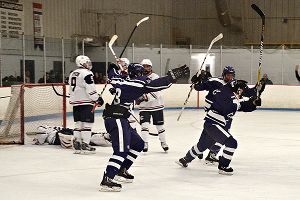 Scott Barboza/ESPNBoston.comCathedral erased a 3-goal deficit behind the first career hat trick from freshman winger Riley Prattson before Central Catholic pulled away for a 5-3 win.
In a matchup of two of the state's best top lines, Cathedral freshman Riley Prattson shone brightest.
Playing alongside the state's top two scorers entering action – in Division 1 commits Peter Crinella and D.J. Petruzzelli – Prattson almost single-handedly pulled the Panthers out of a 3-0 hole, scoring three straight goals for his first career hat trick.
Cathedral (8-2-1) controlled early play, however, Central (8-1-1) took a 2-0 lead to the room at the first intermission. Eric Robbins buried Richie Greenberg's feed for Central's first goal at 5:26, before Alex Lester was the beneficiary of some precision passing from David Sheehan and Corey Webber with 2:05 remaining.
The Raiders extended the lead to three in the second period, when Christian Thompson snuck down the wing and put one short-side with assists from Cam Smith and Zack Cote at 2:29.
It was at that time Panthers head coach Brian Foley made a goaltending change, lifting starter John Liquori for freshman Keith Petruzzelli.
"You're just trying to change the momentum," Foley said. "It's not that John was to blame for any of the goals, but I think Keith came in and did a good job."
The move seemed to lift Cathedral, as the Panthers struck for their first of two power-play goals on the evening with 8:27 remaining in the second.
The onslaught from Prattson continued into the third period. He scored his second at 5:46 with an assist from Crinella, before striking again on the man-advantage with 7:23 to play. Crinella picked up his second point of the game with the assist.
"We had Zack [Prattson] there originally," Foley said of his top line, "but we then put Riley there because we wanted Zack's size on the second line. The three of those guys, Peter, D.J. and Riley, every night someone else is scoring the goals. And then, Johnny Leonard, Cam Peritz and Zack are scoring goals. Then, our third line recently started scoring goals."
But even when it appeared Cathedral had momentum squarely on its side, Central came with the counterpunch – that being Hayes.
"We're the type of team that we just keep at it and keep pushing," Hayes added.
Hayes did just that, intercepting a Panthers' clearing attempt out of their own end and pushing it past Keith Petruzzelli with 1:54 to play. He then added the empty-netter with 38 seconds remaining.
Cracking the code:
Both teams can play an aggressive style at times, and with a Cathedral forward frequently hanging high on the Raiders' blue line, pressure was constantly being applied on Central's defensive corps.
Of course, with a returning All-State goaltender in Colin Soucy (30 saves) returning, that pressure has been somewhat alleviated this season, but Central did well to shut out Cathedral's second and third lines in a deep and talented forward crop.
"We lost [Nick] Gorski and [Derek] Vaillancourt from last year, but we had a lot of kids that worked hard in the offseason and we're working well together," Soucy said of Central blue-liners. "Our shots on goal against is actually down from last year, surprisingly. I thought I was going to see more shots, but everyone's doing their job."
Yet, even if the opposition is able to circumnavigate the Raiders' defense, there's also the matter of beating the netminder.
"Colin's a good goalie and I thought he played great," Foley said. "We weren't scoring on the first shot, so we needed to create second and third chances, but he did a good job all game of controlling the puck and not giving us those chances. But the kids kept working hard and they were rewarded with a couple power play goals."
The road ahead:
While neither coach was looking too far down the road, it wouldn't be a surprise at all to see the two teams meet at some point in the Super 8 tournament.
In a moment of candor, following his team's dramatic win, Jankowski assessed where his group is at, both in the season and in the greater picture of building Central's program to that of a statewide power.
"We've enjoyed playing that darkhorse, it's been our baby," he said. "But now I think it's finally time where we've had these guys like Lloyd [Hayes], [Zack] Cote, [Alex] Lester, [Conrad Jepson] and Colin [Soucy], and now it's time that they're main guys. They've proven that they deserve the attention and the limelight and the accolades that comes with being a top team."
January, 7, 2014
Jan 7
12:41
AM ET
By
Mike Abelson
| ESPNBoston.com
SALEM, N.H. – In a battle of the top two teams in the MVC/DCL 1, Central Catholic showed that it liked its perch at the top.

The Raiders scored two goals in the first period and controlled tempo for most of the game en route to a 4-1 win Monday over Waltham at the Icenter.

Richie Greenberg led the Raiders with a goal and an assist.

"It was a big game," Greenberg said. "[It] meant a lot to win and beat an undefeated team like that. Hopefully, we can keep it going."

Central's offense swirled for long stretches of the game and dominated possession.

The Raiders (6-0-1, 3-0-1) made it a busy night for Waltham goalie Shamus Egan, who had to deal with 37 shots. Greenberg got the action going by poking a turnover to initiate a two-on-one before finding linemate Eric Robbins who buried a shorthanded goal midway through the first.

Greenberg gave Central some insurance with an unassisted goal with only five seconds left in the first.

"They were able to convert tonight which was nice to see," Jankowski said of the line of Greenberg, Robbins and Kevin Regan. "They've been doing everything but finding the back of the net and finish, and they were able to do that tonight — real happy for them. They were able to capitalize tonight."

Waltham (4-1-2, 2-1-1) broke through early in the second when Ben MacEwen forced home a shot in a scrum in front of Central goalie Colin Soucy. The Hawks were able to get 16 shots on cage, but quality scoring chances were hard to come by.

Central gave Waltham numerous chances to inflict damage, but the Hawks were unable to convert on any of their eight power plays, including a pair of 5-on-3 situations.

"To be honest with you we're down 2-0 after one, but it could have been more, but popped one on the first shift of the second and we made it competitive," Waltham coach John Maguire said. "They're as good as advertised. They just came at us in waves.

"Our power play is struggling and has been struggling. We've got to find a way to get that fixed and hopefully soon."

Conrad Jepson ferried home a goal from the point to put Central up 3-1 late in the second. Jepson led a tough defensive effort by Central that curtailed Waltham all over the ice while also adding to the offensive attack.

"They transition so well and take care of business in their own zone," Jankowski said. "Offensively, it's nice of them to chip in because they do all the dirty work that no one seems to get credit for, but tonight they were able to get the back of the net. They rewarded themselves for a change and got a bit of the limelight."

Central's Jeff Thompson scored his second career goal with just over five minutes left in the game.

THAT'S A BIG POND: A standard ice hockey rink is 200 by 85 feet. But the main sheet at the Icenter is 200 by 100 feet. That extra 3000 square feet allowed Central's speed to flourish and set the tempo of the game. It's an advantage that Jankowski did not understate.

"It's nice because it takes a while for teams to adjust to that surface," Jankowski said. "Once they do. it's a little less of an advantage, but at the beginning especially when we know we have that extra space and we have the speed to utilize that space. It's a fun team to watch. I'm excited to see where it's going to go down the road."

Maguire said he thinks the rematch, in Waltham's smaller rink, will be closer but did not make any excuses.

"I think they're so good it's not going to make a difference in terms of win and loss, but it certainly makes a difference in terms of their ability to skate," Maguire said. "I think it would have been a more competitive game in terms of shots and flow of the game in a smaller rink like Waltham.

"That being said, the reason they won the game today is that they're a better team than us."

Maguire and his Hawks will get that second crack against Central on Feb. 12.
December, 20, 2013
12/20/13
1:08
AM ET
By
Mike Abelson
| ESPNBoston.com
TYNGSBOROUGH, Mass. – Depth, for lack of a better word, is good.

No. 4 Central Catholic showed that last night as each of its three lines shined as the Raiders downed Westford Academy, 5-1, at Skate 3.

Lloyd Hayes took an Alex Lester feed for a short breakaway and scored 46 seconds in to give the Raiders a lead they would not relinquish. Colin Soucy did his thing in net, turning aside 15 Westford shots, including a cross-net, Tim Thomas-inspired dive to stop Jay Drapeau point blank in the second period.

"[Soucy] hasn't missed a beat since last year," Central coach Mike Jankowski said. "He's able to make saves that you don't expect him too and the team builds off that. When he closes the door on one end it builds momentum the other way."

The Raiders' top line of Hayes, Lester, and Alex Webber used that momentum to dominate the first period whenever they were on the ice. The Raiders outshot Westford 15-6 in the first period.

Lester capped off the dominance with a short-handed slapper that beat Kyle Martin glove side.

"We tied Acton-Boxborough [on Monday] and considered that a tough one," Lester said. "We really wanted to come out early and set a statement."

The Ghosts fought back in the second. Drapeau scored from an impossible angle a minute in to halve the deficit and Westford played with vigor in the middle stanza that was missing earlier in the game.

Drapeau, along with linemates Cam MacDonald and Ryan Hesseltine, provided the motor for the Grey Ghosts.

"Jay is an unbelievable athlete and an unbelievable competitor," Westford coach Bob Carpenter said. "You can't find a guy that works harder or a nicer guy than him. Him and Cam MacDonald play hard and play well."

Westford put the most pressure on Soucy in the second and had their highest shot output with seven pucks put at goal. However, Central found a way to curb Westford's enthusiasm with a pair of goals in the final two minutes that took flipped momentum back to the visitors.

"Those were back breakers," Carpenter said. "We were hoping if we could bring them into the third period 2-1 we would be in pretty good position. I think we had a couple of defensive breakdowns, and when you play a club as good as Central they're going to take advantage."

WHITE LINE STEPS UP: Jankowski names his lines after colors, and in the second period the "white" line of Richie Greenberg, Kevin Regan, and Eric Robbins stepped up when the Raiders needed it.

Greenberg scored Central's first second period goal. A scrum in front of the net left the puck at his feet and he poked it home amidst the chaos. Just over a minute later Greenberg fed Robbins in front who potted a backhanded, one-timer to put the Raiders up three at the intermission.

"We don't have that high, high-end player, but we have a nice group of character guys that can skate real well and are disciplined," Jankowski said. "That white line of Robbins, Regan, and Greenberg had two in one shift and that really turned the game around."

Lester said having so much talent beneath the top line makes his job a lot easier and a lot less stressful.

"It's great to know that we have a lot of depth in our team; we trust our guys a lot," Lester said. "It's good to know that when I get off and we're gassed we're safe with the next two or three lines."

Central's depth is a byproduct of having so many players who have played in big games for a long time. Players like Zach Cote and Conrad Jepson, who have risen and grown with the Central program, provide a backbone on the ice that can't be taught.

"This is that first time that we have that solid core back, we have that depth back, and we have the goaltending," Jankowski said. "It's exciting. It's fun to be a part of and see what we can put together going forward. We think we're going to keep getting better and better as it goes."
January, 10, 2013
1/10/13
2:04
AM ET
By
Mike Abelson
| ESPNBoston.com
STONEHAM, Mass. -- Despite being unbeaten coming into last night's game against Central Catholic, the Austin Prep boys' hockey team had yet to earn a resume-building win.

On Wednesday night, the Cougars bagged a win worthy of such distinction. The Cougars fought back from a two-goal, first-period deficit to defeat the Raiders, 4-2, in a battle of Top 10 teams.

"If there's one thing we can count on it's resilience," Austin Prep head coach Louis Finocchiaro said. "We persevered tonight through a lot of adversity. Our bench stood calm. Our guys kept their poised."

It all went wrong at the start of the game for the Cougars (5-0-3), as they allowed Central's veteran attack to control the game. Senior Mike Kelleher cut through the AP defense and deked out sophomore Elijah Harris to put the Raiders up less than three minutes into the game.

Less than four minutes later, junior Conrad Jepson ripped a shot from the blue line that found the back of the net. The screened Harris didn't move until the puck was behind him.

Central (5-2-1) continued to buzz throughout but were unable to score again.

"We played well consistently through, we just couldn't capitalize," Central head coach Mike Jankowski said. "You've got to tip your hat to them, they played well especially the goaltender."

Then, AP sophomore Bobby Carpenter turned the tide with an odd goal midway through the period. His wrist shot seem destined for Colin Soucy's glove but hit off the top of the mitt and into the net to halve the deficit before the intermission.

The Raiders had plenty of chances, outshooting Austin 36-19, but Harris buckled down and took over after Jepson's goal. No save was more fantastic than his full split midway through the second to turn away a sure-goal from senior Derek Vaillancourt.

"It was probably the best game I've played in my three years of high school hockey," Harris said. "It was a fun game to play in. They made it kind of easier getting more shots. [I] started to warm up. It makes it a lot easier when the goalie's hot."

Senior forward Nolan Vesey tied the game in the final minute of the second period with the first of two goals. His empty-netter with 18 seconds left in the game sealed the victory.

Freshman Jake McKenelley wristed a hard shot over Soucy's shoulder and just inside to the post to put the Cougars up for good with just over five minutes remaining.

"I caught the puck on the wall, brought it into the middle and took a shot," McKenelley said. "We kind of just worked as a team and moved the puck well and we all believed in each other from the beginning to the end."

PENALTY BOX PARADE
Someone could have rented out the penalty boxes and made a killing. The teams combined for 13 penalties, including nine committed by AP.

"We need to get more disciplined," Finocchiaro said. "We're not using our feet. We're using our sticks, getting into guys, hooking, tripping. Those are just lazy penalties, and eventually that's going to burn us.

"Our penalty kill was sensational. We were short-handed almost the whole second period and found a way to win the hockey game. We're going to build off of that."

The Raiders had four power plays in the second period alone and were able to apply sustained pressure, but were unable to make anything happen. Jankowski said that his team's inability to finish was in part self-inflicted, but also due to the Cougars' ability to clog lanes.

"It was as much as us not finishing as them bogging everything down," Jankowski said. "We just couldn't finish a couple of times. We had some point blank chances and he made some point blank saves. We generated the shots, we generated the possessions, but you've got to give them credit."

MARCH REPERCUSSIONS?
March may be weeks away, but AP's win will almost certainly be discussed by the Super 8 selection committee. There are roughly 20 teams that, as of now, have reason to believe they are in the hunt for one of the 10 bids, and every big win will mean something come selection Saturday.

At the end of the month, the Cougars will travel to Lawrence for the return match with Central.

And Finocchiaro expects another tough game on Jan. 30.

"In a couple of weeks we have them [at their place]," Finocchiaro said. "They're going to come out physical because it's the first game of a home-and-home [series]. Now we have to go to their building and the pressure's kind of on them having to win in their building."

Jankowski was more succinct.

"March is a long way away," he said. "We have Chemlsford Saturday and they're a really good team."
December, 27, 2012
12/27/12
3:15
AM ET
By
Mike Abelson
| ESPNBoston.com
LAWRENCE, Mass. -- In every good piece of theater a story is told. The setting and story and laid out, the characters become clear, and the show builds momentum and finishes with a flourish.

Last night, Central Catholic and St. John's Prep put on a show that would have made Andrew Lloyd Webber jealous.

The No. 6 Raiders defeated the No. 4 Eagles 2-1 after a frantic third period in front of more people than the Lawrence Valley Forum was ever intended to hold.

"This win was unreal," Central senior Mike Kelleher said. "We circled SJP from day one. This was the biggest game of our season so far."

After a first period that saw a clogged neutral zone and few scoring chances, the pace picked up in the second as the hits became louder and more frequent.

The teams were deadlocked at zero before all hell broke loose in the third.

In the first minute of the third Central junior Lloyd Hayes took the puck by the end boards, spun into the circle, and fired an unremarkable shot at Prep senior goalie Billy Price that somehow found its way home and put the Raiders up 1-0.

"Lloyd just competed, grinded and threw something at the net," Central Catholic coach Mike Jankowski said. "We knew he was real good up top so he just tried to get pucks to the net. Sure enough he got one to the net and it went in."

Just over three minutes later Hayes sent a pass up the middle of the ice that found Kelleher in stride and the senior finished after a slick move got Price out of position.

"Worked hard for the goal, but give all to Lloyd Hayes though," Kelleher said. "He created the play for me and he's been working hard all game; he deserved it."

Chaos took over from there as Prep's offense finally awoke and the Eagles started to attack from every angle.

Central's Colin Soucy stood tall in net for the Raiders, but Prep finally solved the junior when senior Mark Azarian found fellow senior Brian Pinho in front who touched home the one-timer to halve the deficit with 4:13 to play. The Eagles continued attacking, but the Raiders held firm to walk out with a hard-fought win.

"We played with much more urgency once we got down two goals," St. John's Prep head coach Kristian Hanson said. "That's when we played our best hockey. We have to play with that same intensity and urgency the entire game. If we had played like that the whole time it could have been a different outcome."

SOUCY SHINES
When you're replacing the greatest goalie in program history there is almost no pressure…almost. Yet Soucy, who turned aside 18 St. John's shots, has stepped into the role of replacing Kyle Williams and shined.

"Colin was phenomenal," Jankowski said. "He came up big time and time again. He made a big save here and there and he kept us in it. One in particular, that glove save [in the third period], if that didn't get your juices going I don't know what will."

With Soucy backstopping them, the Raiders are 3-1-0 with two wins over ESPN Boston Top 25 teams (Prep and Westford) and the third coming against a tough Billerica team. The only loss came against yet another ranked team, Arlington Catholic.

Win or lose Kelleher said that Soucy is one of the most important players on the ice every night.

"Colin's playing unreal every single game right now," Kelleher said. "He's automatic right now. He's probably our key player in every single win."

Jankowski said that as good as Soucy's been on the ice he's just as good of an influence in the locker room.

"He's such a nice kid, he's bonded with all his teammates so it's really taken off," Jankowski said of Soucy. "It's almost like he's never been apart from us."

CONTROVERSY AT THE NET
A series of four calls, all in front of goal, played a key role in the outcome of the game.

The first came in the second period when a gaggle of Raiders descended on Price and stuffed the puck past him. The goal was called off because the net popped off its pegs an instant before the puck crossed the line. Central's players protested, but Jankowski said it was the right call.

"The first one was completely understandable," Jankowski said. "The second one was tough. That was real tough to swallow."

That one came a minute after Kelleher's goal. The Raiders were swarming again and the puck found its way to senior Conrad Jepson who blasted it in from the blue line and appeared to score. The goal was wiped out due to goaltender interference.

In the third, Prep was hit by a quick whistle that negated an almost-certain scoring chance, and a non-whistle in the waning seconds when the puck was stuck under a slew of bodies in front of Soucy. At least 10 seconds ticked away during that time.

"Our goal at that point is to put the puck on net and get everyone to the net and look for the garbage goal out front," Hanson said. "I think everyone on the ice was in front of the net. I don't know how that one could have gone in anyway."