Boston High School:

Corey Everleigh
November, 30, 2011
11/30/11
12:36
AM ET
By
Ryan Kilian
| ESPNBoston.com
LOWELL, Mass. -- They say it is always tough to beat a team twice in a season. On Tuesday night, BC High accomplished that feat defeating Chelmsford for the second time this season, 34-13, in the Eastern Massachusetts Division 1 semifinal at Lowell's Cawley Stadium.
Chelmsford began the game with a drive that saw them move the ball all the way down to the BC High 23-yard line. BC High linebacker James Moynahan then made the play of the first quarter as he picked off Chelmsford quarterback Colby Emanouil at the 18-yard line. The interception set up a Bartley Regan 14-yard out to Gordon McLeod followed by a 68-yard touchdown burst from senior Deontae Ramey-Doe.
[+] Enlarge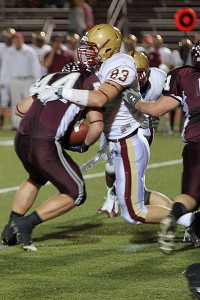 Ryan Kilian for ESPN.comTemple-bound Jameson McShea and the BC High defense kept Chelmsford's offensive stars in check.
"It was a toss to the outside," Ramey-Doe said. " I saw that the defense was heading to the outside so I had to cut it back and I only had one tackle to break until it was just wide open."
Chelmsford would answer back on the second play of the second quarter as Emanouil got wide and took it around the left side for a 6-yard touchdown run.
After a Regan strike to Lincoln Collins made it 14-7 BC High in the second quarter senior defensive back Yosa Nosamiefan stepped in front of an Emanouil pass and took it 47 yards to the end zone to extend the Eagles' lead to 21-7 heading into the half.
BC High kept Emanouil and running back Eddie Sheridan in check for most of the night as the two Lions' offensive stars struggled to break their typical "big plays".
"They [Chelmsford] were tough, but we worked real hard in practice over the past few days and knew that their running game was going to be a challenge," BC High junior linebacker Luke Catarius said.
Chelmsford also proved stout against the run on the evening which gave Regan more opportunities to throw the ball. The BC High senior signal caller found his favorite target McLeod to open the second half on a 12-yard corner end zone strike to extend the lead to 27-7 with 8:05 remaining in the third.
"Each game we have a different scheme," BC High head coach Jon Bartlett said. "We wanted to throw the ball a little more tonight. They had great pressure and our guys did a good job of picking them up."
Sheridan finally found the end zone in the third quarter as the senior scored his 25th rushing touchdown of the season on a 4-yard burst through the middle of the line. The touchdown cut the lead to 27-13 and gave the Lions momentum heading into the fourth quarter.
"I thought our defense responded well," said Bartlett. "We stress all the time that if big plays happen you just have to forget about it and get to the next play."
BC High stepped up their effort after Sheridan's score and used the clock to their advantage as Moynahan capped off the game in the final quarter with an 18-yard touchdown run to seal the win and send BC High to the Division 1 Super Bowl.
"It feels great," said Ramey-Doe of getting to Gillette and the Super Bowl. "A lot of us have been here (BC High) for four or even five years now, from our middle school class. It is a real great experience and we are all happy."
Trusting the O-Line
Ramey-Doe also credited his offensive line for their strong play on the evening. Along with Temple-bound tight end Jameson McShea the Eagles scored 34 points on one of the state's stingiest defenses.
"Our offensive line has been getting better and better each week," Ramey-Doe said. "I trust them that if I just work hard and hit the holes they will be there."
Ramey-Doe has seen his carries and role dramatically increase as he became BC High's primary ball carrier with the season ending ankle injury to star senior tailback Preston Cooper against Everett during the regular season.
Chelmsford recap
Chelmsford concludes their season with a 10-2 record and graduates a stellar senior class led by Boston College-bound linebacker Tim Joy, linebacker Corey Everleigh, defensive end Brett Harrington, along with Emanouil and Sheridan.
"I am real proud of our kids," Chelmsford head coach Bruce Rich said. "These guys are outstanding. They have great size and great talent over there."
1st Quarter
B – Deontae Ramey-Doe 68 run (Jackson Bockhorst kick)
2nd Quarter
C – Colby Emanouil 6 run (Charlie Calenda kick)
B – Lincoln Collins 13 pass from Bartley Regan (Bockhorst kick)
B – Yosa Nosamiefan 47 interception return (Bockhorst kick)
3rd Quarter
B – Gordon McLeod 12 pass from Regan (kick failed)
C – Eddie Sheridan 4 run (kick failed)
4th Quarter
B – James Moynahan 18 run (Bockhorst kick)
October, 1, 2011
10/01/11
1:27
AM ET
By
Brendan Hall
| ESPNBoston.com



LAWRENCE, Mass. -- Sorry, no bulletin board material this time around.

A week after boldly guaranteeing a victory over BC High in an interview with ESPN Boston (his No. 8 Chelmsford Lions lost by three scores), quarterback Colby Emanouil bounced back efficiently in tonight's 42-16 win over Lawrence at Veterans Memorial Stadium. He ran, threw and caught his way to the tune of 162 total yards and two touchdowns, as the Lions won their Merrimack Valley Conference opener.

The Lions dictated the tempo right from the get go, marching 51 yards in seven plays on their first drive to score easily. Setting up the run was a 29-yard scamper by Eddie Sheridan (128 total yards, 3 total TD) off a sweep down the left sideline, breaking loose for 29 yards and running it down to the two thanks in no small part to split end Vinny Maniscalco.

Split wide to the near sideline out of a twins left I-formation, Maniscalco sustained his block 15 yards downfield and kept the Lawrence defensive back pinned towards the sideline, to open up the perimeter for Sheridan and make it a footrace. Sheridan plunged in from two yards out on the next play (with Boston College-bound linebacker Tim Joy as the lead blocker), and tapped on a two-point rush for the game's opening score with two minutes left in the first quarter.

Chelmsford scored three more times in the second quarter on a Sheridan plunge, a 30-yard Connor Brimley interception return, and a back-breaking 44-yard throwback pass from Eric Van Gelder to Emanouil, making it 29-0 headed into the half.

Spoken like a kid on double secret probation, Emanouil was all smiles yet all vanilla following the win.

"We were just looking to get our confidence back after that loss," Emanouil said. "It felt great to get our confidence back again. That's all we wanted."

The momentum swing following last week's loss to No. 3 BC High was evident tonight.

"Sometimes a loss can help you," Lions head coach Bruce Rich said. "Last week we were able to take a good look at ourselves, and we improved. We watched film from that BC game, and I thought our kids showed up with the right attitude tonight. I thought they had a good attitude last week, but we were just able to fix more things with that loss under our belt."

Said Lawrence head coach Mike Yameen, "They just played faster than us. We knew we were facing a good team, they just played faster and were a better team. We're not playing as well as I know we can, but we just lost to a better team today. That's just the bottom line."

Play of the game: Undoubtedly, Emanouil's impromptu flea-flicker (more on that in a second) shifted whatever momentum left on the fence all the way in favor of Chelmsford. The Lions came out in a four-receiver shotgun set, with three receivers in trips to the far right sideline and fullback Matt Rabbito in a three-point stance in the slot one yard off the ball.

Emanouil planted and immediately fired to Van Gelder, who started towards the left sideline like it was an end-around. The play was designed as a change-of-pace play to catch the Lancers off guard, with Van Gelder pushing north around the left side; but with the receiver in trouble, Emanouil broke off his blocking defender and hauled in a short bloop of a pass. Emanouil then reversed direction and raced to the near right pylon some 40 yards downfield, untouched, for the score.

"It wasn't designed for me at all, actually," Emanouil said. "I was supposed to be blocking over there, and I saw him struggling, so I called for the ball. Then I did my thing. It was improvised -- well-improvised."

Said Rich, "I can't tell you if it was exactly by design, with Colby finally catching the ball and running it in, but it's going to make more people work in practice. So, it worked."

Pound and stretch: Rich is known across the state for using the I Formation to pound it hard between the tackles, and tonight wasn't too much of a deviation. The Lions used primarily double-tight and twins packages; in goal line and short-yardage situations, they deployed two fullbacks and a tailback stacked linearly (known more popularly as the "Stack I" or "Maryland I"), with Joy as the lead blocker.

"That's the best play, my favorite play of the game," Joy laughed. "It just comes down to whoever's tougher, and you're not going to be tougher than me."

But in the final four minutes of the first half, the Lions abandoned that altogether and stretched the field, deploying double-slot and trips sets out of the shotgun, or in one instance putting Emanouil under center with four receivers in a diamond formation to the right.

The change of pace was efficient in the Lions' final drive of the first half, as they marched 75 yards in 41 seconds and four plays, capped with Emanouil's 44-yard touchdown reception.

"We're capable of opening up, we've always been," Rich said. "I know it's generally out of the I, running power, but we're able to open it up. Our quarterback is dangerous, he's got good wheels. We're able to run with him, and we've got some pretty good receivers as well. We got protection tonight [too], which I thought was good."

Happy feet, red zone miscues: To accomodate for its lack of size, Lawrence deploys a run-and-shoot scheme, with undersized quarterback Nathan Baez (5-foot-3, 145 pounds) executing bubble screens to the flats, and running backs like Kelvin Severino motioning from either slot and taking a jet sweep handoff.

Coupled with constant pre-snap movement, it's a scheme that keeps you on your toes. But the Lions countered with plenty of movement of their own, with linebackers Joy, Joey Christopher and Corey Everleigh hopping back and forth, and the secondary disguising Cover-2 at times to look like a Cover 0.

"I think when you face the spread offense, you really have to disguise, mix things up up front," Rich said. "They're trying to read from upstairs and tell the people down below what to call, so with all the movement in the secondary and up front, that causes confusion, and I thought it worked tonight.

One of the more commonly-voiced flaws about spread attacks is that they break down in the red zone. The Lancers were certainly able to move the ball, putting up 110 yards at the half to Chelmsford's 176; but twice they had the ball inside the Lions' 20 yard line, and both times they turned the ball over.

Harrington's mix and match: Senior defensive end Brett Harrington is one of the most versatile players on the defensive side of Chelmsford's squad, with his agility as a basketball center allowing him to shade outside in a two-point stance; play a five technique outside the tackles; or kick down to the nose, and shoot the A-gap. And at 6-foot-3 and a lean 220 pounds, he can overpower with force and speed.

It's a welcome change for a guy who before last year's switch to a 3-4 had spent his whole career in a two-point stance.

"Last year, we put him down in that d-tackle spot, and he took to it," Rich said of Harrington. "It was fantastic. He only played three football games for us last year (due to injury), but I think he's as good as they come. He's got great size, great agility. He plays basketball, he's a center on the basketball team, he's a main factor for us on that defensive line. He wreaks havoc, gets his hands up and can change directions and track quarterbacks."

Promise in secondary: Yameen had to be encouraged by the play of senior Demitiro Leonardo at safety. The 5-foot-9 senior was efficient in the second half, coming up with a few jarring stops in run support and keeping a few passes from turning into big gains with a few big hits.

"We had specific keys on them, tendencies we saw on film, which we didn't cover in the first half," Yameen said. "But he did a nice job tonight."

Fire it up: Just before kickoff, Lawrence emerges from the locker room with a lance, a spear and a sledgehammer. The players carrying those items are awarded them as "hit sticks" and "battle sticks" for delivering the game's best hit. The sticks were made a few years ago by an alum, according to Yameen.

"We got fired up tonight," Yameen said. "But after tonight, we've got to go back to the drawing board, see what we can do."

CHELMSFORD 42, LAWRENCE 16

CHM (3-1, 1-0 MVC) 8 21 0 13 --- 42
LAW (2-2, 1-1 MVC) 0 0 0 16 --- 16

First Quarter
C - Eddie Sheridan 2 run (Tim Joy rush) 2:02

Second Quarter
C - Sheridan 5 run (Charlie Calenda kick) 8:08
C - Connor Brimley 30 interception return (Calenda kick) 7:09
C - Colby Emanouil 44 pass from Eric Van Gelder (Calenda kick) 0:00

Fourth Quarter
C - Sheridan 22 pass from Emanouil (Calenda kick) 9:33
L - Joel Rodriguez 32 pass from Nathan Baez (Brian Montero-Ford rush) 5:41
C - Jeff D'Auria 2 run (kick failed) 2:22
L - Tim Lemasurier 85 kickoff return (Bobby Sullivan pass from Baez) 2:04
September, 22, 2011
9/22/11
7:01
PM ET
By
Brendan Hall
| ESPNBoston.com
NORTH CHELMSFORD, Mass. -- We swung by Chelmsford High this afternoon to check in with the No. 8 Lions as they prepare for their highly-anticipated battle with No. 5 BC High.

Head coach Bruce Rich:




Senior linebacker and Boston College commit Tim Joy:




Senior linebacker Corey Everleigh:




Senior quarterback Colby Emanouil:




Senior defensive end Brett Harrington:



August, 29, 2011
8/29/11
11:58
AM ET
By
Ryan Kilian
| ESPNBoston.com
CHELMSFORD, Mass. – The Chelmsford Lions concluded their 2010 season with a victory over rival Billerica, 21-14, on Thanksgiving Day. Chelmsford hopes to build upon that win as they return one of the state's stingiest defenses led by two time captain and ESPN Boston All-State linebacker Tim Joy.

Joy, a Boston College commit, leads an experienced defensive unit that features 2011 ESPN Boston Preseason All-State defensive end Brett Harrington and a host of fellow seniors, including defensive back Cody Nazzaro, lineman Ryan Decoste and linebackers Corey Everleigh and Joey Christopher.

The No. 14 Lions are coming off of a 7-4 campaign last season and 17-year head coach Bruce Rich knows that he has a dedicated and experienced group led by Joy and his fellow seniors.

"We are excited for Tim Joy and for the Chelmsford High School football family," said Rich of his senior captain's commitment to the Eagles. "At the same time we also have a lot of other talented kids coming back."

The Chelmsford offense will center around senior running back Eddie Sheridan. Sheridan saw split duty at tailback last season and had breakout games in the Lions' two biggest wins of the season over Andover and Billerica.

"Eddie will be the primary ball carrier," said Rich. "He has great speed and played very well for us last year in some big games."

The quarterback position will be manned by senior Colby Emanouil, with fellow senior Pat McLaughlin potentially taking snaps there as well. Emanouil is a dynamic playmaker who lined up all over the field last season at wide receiver, running back, quarterback, and return man for the Lions.

"In my time here this may be the fastest group we have ever had," said Rich. "We are deep and fast at the skill positions with four guys who run in the 4.5 (40 yard dash) range."

Consistency and health will be key factors this season for the Lions, who had feature wins over MVC Large champion Andover, Billerica, and Acton-Boxborough last season but suffered numerous injuries to key players on both sides of the ball that factored in on their four MVC losses.

"Like I say every year you cannot rule anybody out in the MVC (Large)," said Rich. "Andover is the defending league champions, Billerica has one of the most explosive players in the history of the league in Nick LaSpada, Central Catholic beat us last year and Lowell also returns a lot of kids."

With non-league foe Acton-Boxborough and the new additions of BC High and Westford Academy to the 2011 schedule, the Lions should be tested early out of the gate.

CHELMSFORD AT A GLANCE
Last year: 7-4
Coach: Bruce Rich (17th year, 113-50-2)
Players to watch: Tim Joy, Sr., LB/TE, 6-2, 220 lbs.; Eddie Sheridan, Sr., RB, 5-10, 175 lbs.; Colby Emanouil, Sr., QB/ATH, 5-10, 175 lbs.; Corey Everleigh, Sr., LB/ WR, 5-9, 175 lbs.; Brett Harrington, Sr., DL, 6-3, 205 lbs.; Ryan Decoste, Sr., DL, 5-11, 210 lbs.; Joey Christopher, Sr., LB, 6-1, 185 lbs.; Lou Ferrer, Jr., DL, 6-0, 280 lbs.; Cody Nazzaro, Sr., DB, 5-10, 160 lbs.
Strengths: Team defense, speed.
Weaknesses: Passing game, experience on offensive line.
Outlook: Chelmsford returns an experienced and stout defense led by Joy and a slew of returnees. The return of Harrington on the defensive line and playmaking ability of Everleigh will be pivotal in shutting down the dynamic offenses in the MVC. Chelmsford will have a new starting quarterback as the athletic Emanouil will take over the regular duties after some seeing time at the position last year. The speedy Sheridan, who had a breakout game in a 35-7 win over Andover last season, will be the featured back with the graduation of three year starter and 2010 MVC Offensive MVP Joe Gennaro (Framingham St.) The offense will be fast, athletic and provide game breaking ability in the backfield and receiver positions.

September, 17, 2010
9/17/10
12:51
AM ET
By
Brendan Hall
| ESPNBoston.com
CHELMSFORD, Mass. -- As a lifelong Chelmsford resident, Zach Hayes has seen many a loss by the local high school to nearby rival Acton-Boxborough, both in good years and bad. So when the handshakes had ceased and his Chelmsford teammates took a knee around head coach Bruce Rich, Hayes, like everyone else, merely exhaled. Two years, no loss.

"It feels great that we can finally get a win streak," he smiled. "Teams before us, Super Bowl teams, never did it. We're just trying to build off that and make a run with it this year."

Hayes, by virtue of a fumble recovery in the Colonials' end zone, started the scoring late in the second quarter. The Lions then added another score with another lucky bounce in the third to cushion it, got some mileage out of feature back Joe Gennaro (27 carries, 204 yards), and then Hayes sealed it late with an inteception. They went on to win, 13-0, and mark the first win streak by Chelmsford (2-0) in this annual series (the Lions also won 2009's contest, 28-21).

"Twelve years in a row losing? Yeah, I remember it," laughed junior linebacker Tim Joy (12 tackles), another Chelmsford lifer. "It feels really good, but you can't get over-confident now. It's like every other game to me -- 100 percent, relentless every single play."

After taking a downed punt at their own four midway through the second quarter, the Lions marched 95 yards in 15 plays, with quarterback A.J. Rotella (9 of 17, 100 yards, TD) keeping the drive alive with darting scrambles and light pop passes over the middle. On fourth and goal at the Colonials' one yard line, Rotella was stuffed on a sneak over center, met at the goal line by Matt Marcotte, Brendan Spangler and Collin Shaughnessy.

It took all of one play to reverse that fortune. On A-B's first play of the ensuing drive, Eric Apgar came off tackle right only to be met at the line of scrimmage by Brett Harrington. Hayes then popped the ball loose from Apgar's grip, and fell on it in the end zone for the game's first score.

Hayes followed through just as he does in the Lions' strip-and-rip drills in practice.

"Our coach Sal (Lupoli), he does the drill, and he's very intense with it," Hayes said. "He just teaches us to punch it and rip it."

Said Joy of the Hayes' fumble recovery, "I'd say he's probably the best defensive player in the MVC right now, and he's my best friend. So that feels good."

The Lions gave themselves some cushion in the third quarter when, on fourth and 10 at the Colonials' 13, Rotella rolled right and flicked a fade to the far right corner of the end zone. The pass was originally intended for Arron Witkus; but Witkus, falling out of bounds, smartly tipped it up instead, and Anthony Andre came down with it for the 13-0 lead.

A few more observations:

-- At halftime, the Colonials had mustered just 46 yards of offense. And really, they didn't get going until the fourth quarter, down two scores. A-B head coach Bill Maver deflected the blame unto himself -- "The whole game we had no life to us, we were flat from the beginning, but that's on me, that's my fault," he said -- but I'm going to give him the benefit of the doubt here and credit the Lions defense.

In eight quarters so far this season, the Lions have yet to give up a point. Head coach Bruce Rich said he installed a 3-4 scheme this season to match up better with the many spread teams he'll face the rest of the way, but that's not to discount his depth at linebacker. Juniors Ryan Decoste and Joy (who's already receiving great Division 1 interest) were very active tonight at the two middle backer positions, and provided tremendous run support.

"We really like our defense," Rich said. "We've got some youth over there, most of those kids are juniors, including (Corey) Everleigh. With Decoste, Tim Joy and on the other side Joey Christopher, they're just great athletes. They all play two or three sports. We installed a 3-4 defense this year, hope I'm not jinxing it but...we were able to apply it tonight against a Wing-T offense.

"The kids worked it well. So, we're putting most of our good athletes on that side of the ball, and they can run to the ball. Tonight, they did a great job."

-- That isn't to say the Colonials are running with flat tires, either. After years of wearing defenses out with the Wing-T, Maver has diversified his playbook a bit. A-B ran some spread packages tonight, and used it to put together a solid drive in the fourth that came up empty when Hayes jumped a route over the middle for the pick.

Wes Schroll (four catches, 48 yards) is their best vertical threat and go-to guy in hurry-up mode -- the 6-foot-3 senior kept the chains moving with great sideline routes. But Maver was most pleased with Schroll's pursuit of Gennaro on the Lions' game-ending drive; the 5-foot-8, 170-pound Gennaro burst up the middle on the first play following Hayes' pick, and was chased down by Schroll 52 yards later.

"That was impressive in my book. That means you want to play football," Maver said.

-- For all the talk about Billerica and Central Catholic, here's my case for Chelmsford as the team to beat in the MVC Large. Not only are they a sound, balanced defense, they have the capability to wear down teams in the second half with monster drives.

Speaking specifically to Gennaro, the Lions kept the chains moving tonight without having to rip off too many big plays, thanks to the run game. Gennaro follows his blockers well, and looked elusive against A-B. One particular play that comes to mind is his second carry of the third quarter, a nifty little 33-yard scamper: out of the I, Gennaro plunged up the middle, cut 45 degrees to the right sideline, reversed direction at the right sideline, and evaded several more tacklers with two quick cuts to the left before being wrapped up at midfield.

"I think he's one of the best running backs in the state," Hayes said of Gennaro. "Just how he plays, he's one of the toughest runners...(his big runs) just lights our team up. He did it alot last year, we get psyched for him and we just try to build off that."

Chelmsford 13, Acton-Boxborough 0

AB 0 0 0 0 --- 0
CH 0 7 6 0 --- 13

C - Zach Hayes 0 fumble recovery (Charlie Calenda kick)
C - Anthony Andre 13 pass from A.J. Rotella (kick failed)