Boston High School:

Costa Toubekis
September, 19, 2012
9/19/12
10:21
PM ET
By
Tom Layman
| ESPNBoston.com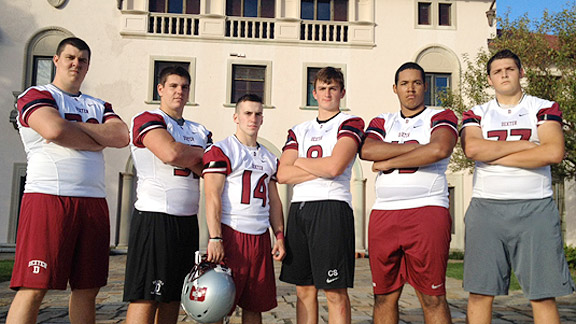 Courtesy of Dexter SchoolDexter's (L to R) Jed Hendren, Costa Toubekis, Luke Cuneo, Craig Strand, Lucas Hinds and Dan DiNicola will look to fill the holes Maryland freshman Abner Logan left behind.
It's a quandary that every coach has to face, when time essentially is up and a star player's high school football career comes to a close.
Casey Day is no different at Dexter School, as Abner Logan will no longer be donning the "D" on the side of his helmet. Logan rushed for 1,200 yards and scored 19 touchdowns as the feature back in Brookline, and his physicality on defense put Day's group in the hunt for the Evergreen League championship a year ago.
Logan is now a Div. 1 prospect redshirting at the University of Maryland, and Day knows that not one man is going to fill the very capable shoes of the former stand out.
"He was a dynamic player on both sides of the ball," said Day. "We counted on him and he was always the guy who made the plays for us, offensively or defensively. We are in the process (of filling the spot) and we have a group of three or four guys who can pick up the slack collectively and contribute."
The scheme will change a little bit for Dexter, as the power-I, which was the alignment of choice with Logan in the backfield, might yield to a few more situations where quarterback Luke Cuneo is working out of the shotgun in spread formations.
The 5-foot-7-inch Cuneo threw for nine scores, and rushed for 400 yards in the limited amount of times he carried the ball, and getting him in space behind a big offensive line will be key to sustaining drives on offense.
"We want to give him a little bit more freedom to run the ball," said Day. "His arm strength has improved significantly as well. He's been able to throw the ball around pretty good this preseason and if there is a guy who is going to get the majority of the carries it would probably be him."
C.J. Okafor could emerge as a speedy option out of the backfield and at the wide receiver position, plus look for the junior to double up at cornerback duties.
Craig Strand will be back in his usual fullback duties plowing the way for Jimmy Venuto and other running backs. Strand will also figure in heavily as a ball-hawking linebacker who will need to fill the "big-play" role that Logan filled so well on the defensive side of the ball.
The line is probably the strength of the team for Day, as he has four guys 270 pounds or more. James Hendren is a mammoth 6-foot-7-inch, 300-pound tackle who is a heavily recruited and sought-after offensive tackle.
Filling Logan's role will be No. 1, but day is hoping that some of these new looks will catch his ISL counterparts off-guard this year as his team tries to build on a 4-4 season from a year ago.
"The dynamic we have now, we do become a little bit harder to defend, because we are doing a few different things," said Day. "We will be distributing the ball through the air and on the ground a lot more evenly than we have in the past."
DEXTER AT A GLANCE
Coach:
Casey Day (3rd season, 6-10)
Last year:
4-4
Strengths:
Experience, size on the lines
Weaknesses:
Depth at skill positions
Key returnees:
Craig Strand, Sr., LB/FB 6-3, 210 pounds; Costa Toubekis, Sr., OL/DL, 6-2, 275 pounds; Luke Cuneo, Jr., QB/DB, 5-7, 180; Lucas Hinds, Sr., OL/DL, 6-5, 275; James Hendren, Jr., OT/DT, 6-7, 300.
Outlook:
They key for Dexter is to fill Abner Logan's production, which is easier said than done. Luke Cuneo is going to have to fill that role as the main offensive weapon behind a huge line. Cuneo should be able to hide behind a massive offensive line with his 5-foot-7-inch frame to pick up yards and full defenses out of the spread. It will be different and the adjustment will have to be quick as Dexter looks to fill the void left behind by its best player that's come through the program in quite some time.
December, 12, 2011
12/12/11
6:26
PM ET
Last week we unveiled our second annual
MIAA All-State Team
. Today, we're unveiled our second annual Prep All-State Team, limited to schools competing under the NEPSAC umbrella.
OFFENSE
QB - Tate Jozokos, Jr., Governor's Academy
RB - Chris Coady, Sr., BB&N
RB - Abner Logan Jr., Sr., Dexter
OL - Eric Olson, Sr., BB&N
OL - Robert Perdoni, Sr., Belmont Hill
OL - Shane Donovan, Sr., Thayer Academy
OL - Costa Toubekis, Jr., Dexter
OL - Billy Oldach, Sr., Rivers
TE - Brendan O'Neil, Jr., BB&N
WR - Bryan Viera, Jr., Thayer Academy
WR - Bryson Gilbert-Bono, Sr., Middlesex
DEFENSE
DL - Dan Connaughton, Sr., BB&N
DL - Tucker Oniskey, Sr., Governor's Academy
DL - Sam Caldwell, Jr., Groton
LB - Kirk Ryder, Sr., Governor's Academy
LB - Jack Connolly, Sr., St Sebastian's
LB - Nick DiChiara, Sr., BB&N
LB - Nick Antonucci, Jr., Pingree
DB - Kenny Abragye-Adinka, Sr., Pingree
DB - Sam Davis, Sr., Governor's Academy
DB - Kendall Dardy-Jones, Jr., St Sebastian's
DB - Richard Bradley, Jr., St Paul's
September, 22, 2011
9/22/11
12:05
PM ET
By
Tom Layman
| ESPNBoston.com
BROOKLINE, Mass. -- Casey Day has preached versatility to his players from the day he took the job at Dexter School as the head football coach. With only 33 players on his roster, and more than half of those underclassmen, Day constantly demands that his team be able to adapt and adjust to whatever role he thrusts them into during the course of the season.

Luckily, the second-year head coach can point to his star player as the model for his talking points.

Abner Logan Jr., the 6-foot-2-inch, 220-pound senior who was already a fixture in the recruiting scene as a defensive lineman and linebacker, decided to help the team out on the offense side of the ball last season by taking over the lead running back position.

The results were solid for a player who never played the position before. Learning on the job, he finished with 750 yards and eight touchdowns on the ground, with another 450 yards and four scores receiving. Logan knew that in order to get a young team on the same page with the new philosophy of the coaching staff, he would have to step up and do something new to help the team.

"The team looks to me as a leader, so I have to kind of set an example," said Logan, who holds offers from a slew of Division 1 schools including Northwestern, Maryland, UConn and Boston College. "I'm not really a big talker, so I have to do my leading on the field. The program is really new, so you have to start from somewhere and hopefully it can start with me."

The learning of a new position didn't come without its bumps and bruises along the way, however. The coaching staff had to teach the talented junior how to do the basic things that running backs learn from their days in Pop Warner, like finding a hole and hitting it quickly, to taking a hand off correctly from the quarterback.

"I had to develop it," said Logan. "I worked hard on my versatility, my footwork, my explosiveness and my fundamentals."

The work, which sometimes would last two-and-a-half hours a day during the offseason, that Logan put in over the past year and a half, where he wowed schools with ahleticism as he ran a sub 4.6-second 40-yard dash and displayed a 36-inch vertical leap, has Day thinking that this year could be a big surge for a program that went 2-6 last season.

"Last year was a work in progress," said Day. "This year he is light years ahead of where he was running the ball. It was clear to all of our coaches. He's making cuts and doing things that he didn't do last year. He's turned himself into a top five percent athlete in the country. It's a testament to his hard work and his commitment to our team to want to improve himself."

The new position also helped Logan brush up on his defensive techniques as well. Logan, who finished with 55 tackles and seven sacks last season, said he is learning more and more about his defensive assignments by becoming well-versed on the offensive side of the ball.

"It helps both ways," said Logan. "As a linebacker I can see where the holes are. As a running back I can see where the linebackers might be playing so I can avoid the contact."

Logan look to show off his maturity at running back in his second season behind a big offensive line. Lucas Hinds, Dan DiNicola, Costa Toubekis are all 6-foot-3 or bigger and all weigh in at 250 pounds or more, while sophomore James Hendren towers over everyone at 6-foot-8 and 275 pounds.

"We are going to be able to come off the ball against any team that we play," said Day. "We are strong up front and we can get the ball to (Logan) or (quarterback Luke Cuneo). With those guys speed and the guys we have up front it's going to have to come down to execution."

DEXTER AT A GLANCE
Coach: Casey Day (second season, 2-6)
Last year: 2-6.
Players to Watch: Abner Logan Jr., Sr. RB/LB/DE 6-2, 220; James Hendren So. OL/DL 6-8, 275; Luke Cuneo So. QB/DB 5-7, 155; Craig Strand Jr. TE/LB 6-2, 185; Costa Toubekis Jr. OL/DE 6-3, 255.
Strengths: Offensive and Defensive Line, Skill Positions
Weaknesses: Depth
Outlook: The season could hinge on the year that Abner Logan has on both sides of the ball, but Casey Day wants to guard from being a one-man show. Day will need his line, on both sides of the ball, to carve its way through opposing teams and open gaping holes for Logan and quarterback Luke Cuneo to run through. Cuneo should have time to operate in the pocket, but will need to prove doubters wrong that a smaller quarterback can make the throws and be effective with traffic in his throwing lanes. An injury here or there could really haunt Dexter, as the team only has 33 players on the roster. However, Logan should put on a show this year and get that win total up well past the two wins Day picked up in his first season.