Boston High School:

Courtney Walsh
January, 10, 2014
Jan 10
12:27
AM ET
By
Mike Abelson
| ESPNBoston.com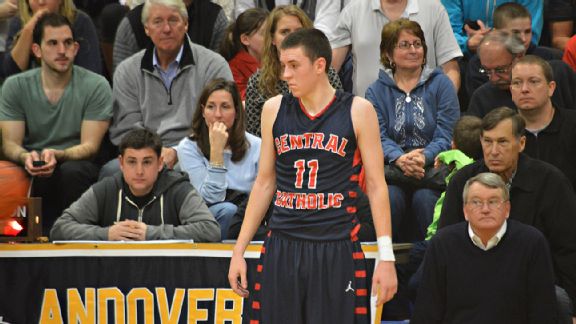 Brendan Hall/ESPNTyler Nelson scored 11 of his 13 points in the second half to spark Central Catholic, as they held Andover to 12 second-half points.
LAWRENCE, Mass. -– In its first three games the Central Catholic girls basketball team averaged 69 points, but over the Raiders' previous four outings they were only able to average 46.3 points.
Sadly for Andover, the Raider offense found its groove again last night at Memorial Gymnasium.
Caitlin Dell'Orfano scored the game's first seven points as the Raiders rolled to a 75-37 win in MVC action. Dell'Orfano finished with a game-high 22 points, including four 3-pointers.
"We just wanted to definitely take it to them for the times they beat us and didn't stop, didn't let up," Dell'Orfano said. "It feels good to be back."
Dell'Orfano set the tone early, scoring 13 points on 5-6 shooting in the opening period, as the Raiders raced to a 23-9 lead and cruised the rest of the way.
Andover was able to out-rebound the Raiders in the early going, but the duo of Amanda Williams and Erica Hadad took over in the paint. They combined to pull down over a dozen rebounds and altered even more shots. Williams pumped in 14 points.
"They're pretty tough down low, tougher than most people think," Dell'Orfano said. "Amanda is the player a lot of people underestimate most of the time. I know how good she can be; I full confidence she can be as good as she can."
Central's rotations of guards wreaked havoc on Andover for all 32 minutes. When Dell'Orfano hit a cold spell over a large chunk of the third quarter, Courtney Walsh stepped up. The senior scored six points in the third and quietly netted 13 during the game.
"We all have confidence in each other," Dell'Orfano said. "When one of us is down the others can pick it up. I knew at halftime [Walsh] hadn't really scored a lot and she usually does. Our gameplan was to get her involved, get her into it."
The Raiders emptied the bench early in the fourth quarter and still finished the game on a 12-2 run over the final five minutes. Central coach Sue Downer said she was quite pleased with the performance of her club.
"Tonight was the first complete game we've honestly played all season," Downer said. "It was good to see the kids and respond to the challenges that we gave them. It's good to come out make a bit of a statement tonight that we are a good team."
Andover closed the gap to seven early in the third quarter, but the Raiders finished the frame on a 21-5 run. Alyssa Casey led Andover with 13 points, and Colleen Caveney added nine of her own.
RISING UP
Thirteen days ago the Raiders suffered their lone setback of the season, a physical 49-42 loss to Westford. However, Dell'Orfano said that her and the team used the loss as a motivation that has sparked their current five-game win streak.
"I think Westford was a turning point for us," Dell'Orfano said. "We really had a reality check that we weren't going to win every game. We had to work a lot harder in practice and we pushed each other."
With the schedule not getting any easier, Central has two games against Billerica over the next two weeks, Downer said that she liked being able to build success off of losses like the one against Westford.
"I'm a huge believe in losses make you a better team," Downer said. "I think they realized they couldn't just walk on the court and beat these teams. We've got to do better."
December, 29, 2013
12/29/13
1:07
AM ET
By
Mike Abelson
| ESPNBoston.com
NORTH ANDOVER, Mass. -- It was a game of runs and in the end it was Westford's 7-2 run over the final four minutes that sealed the Grey Ghosts 49-42 win over Central Catholic and win the Commonwealth Motors Christmas Classic at Merrimack College. It was Westford's first ever appearance in the tournament.

"They basically kicked our ass for three years and it's nice to finally beat them," Westford coach Russ Coward said. "I'm thrilled that we played tough today, we played composed. We're just really happy we came away with the win today."

No one was more composed than the duo Hannah Hackley and Samantha Hyslip. Westford's frontcourt tandem combined to score 25 points and pull down eight rebounds for the Grey Ghosts.

Hackley led all scorers with 13 points. Hyslip hit both of Westford's three-pointers.

"I think she played to her ability and even a little bit more," Coward said of Hackley. "That's kind of what we've been hoping for her for a long time. I couldn't be happier right now.

"Sam's been working on her outside shot. They are both very good players down low. I think the two are finally starting to believe what we've told them: you're two of the better players in the state. You should start playing like them. They played great today."

Westford's defense forced Central to shoot from the outside and the Raiders failed to convert on most of the looks Westford gave them. The Raiders shot six percent (1-17) from three-point range.

"Obviously I think that certain players of ours had trouble tonight," Central coach Sue Downer said. "I think one of the things we are is a balanced team. We have the potential to have four, five, players score in double figures, and that's how we have to attack every game. That just didn't happen tonight."

Courtney Walsh led the Raiders with 12 points while fellow captain Amanda Williams chipped in seven of her own. Caitlin Dell'Orfano had a sneaky good game, pumping in eight points while also pulled down a game-high seven rebounds.

After falling behind 16-5 in the final minute of the first quarter Central battled back to take a 23-22 lead into halftime. Westford tied the game at 29 four minutes into the second half and put some distance between themselves and Central with a 9-4 run to open up a five-point lead.

Central closed the gap down to less than three twice more before the Ghosts ended the game from the free throw line.

SENNOTT SISTERS SHINE IN THE GRIME
At a glance, twin sisters Cathryn and Rebecca Sennott didn't make much of an impression on the score sheet. Rebecca had six points and Cathryn had only a bucket in the first quarter. However, it was the Sennotts' ability to win in the ruck and muck of the paint that made them invaluable in Westford's win.

"When we need steals when we need tough defense [they do it]," Coward said. "Cathryn guarded three people. Rebecca played great, composed. This is what happens when you have four kids that have been playing on the team since they've been freshmen."

The sisters combined for nine rebounds and Cathryn picked three steals.

"They're amazing; they're tenacious on defense," Hackley said.

While the points were few they were big. Rebecca scored five of her six in the final quarter, including two free throws that helped seal the win.

December, 11, 2013
12/11/13
11:42
PM ET
We're announcing our finalists for our second annual Mr. Soccer and Miss Soccer awards today, with the winners to be announced on Friday.

Here's a look at the finalists:

MR. SOCCER FINALISTS:
Adam Grammer, M, Masconomet
Beraa Ibas, M, Ludlow
Brendon Vazquez, M, Amherst
Paul Beatty, F, Silver Lake
Klisman Sousa, M, New Bedford
Dave Stapleton, M, Oliver Ames
Michael Dushman, M, Bedford
Lucas Rezende-Verge, G, Weymouth
Mike Skarbelis, M, North Andover
Connor Henry, M, Algonquin

MISS SOCCER FINALISTS:
Breanne Moreau, M, Belchertown
Kayla Steeves, M, Needham
Aly Leahy, D, Newburyport
Taylor Coglaino, F, Franklin
Gabriela Kenyon, F, Notre Dame (Hingham)
Angela DeBruzzi, G, Concord-Carlisle
Courtney Walsh, M, Central Catholic
Caitlin Harty, F, Beverly
Brooke Murphy, F, Monson
Lucy LeBlond, F, Algonquin
March, 17, 2013
3/17/13
1:32
AM ET
By
Ryan Kilian
| ESPNBoston.com


WORCESTER, Mass. --- Senior forward Casey McLaughlin was in eighth grade in 2009 when Central Catholic defeated Shepherd Hill 67-62 to win the Division 1 state championship. After three straight years of watching Merrimack Valley Conference rival Andover hoist the state championship trophy McLaughlin and her Central Catholic teammates seized their opportunity on Saturday night at the DCU Center in Worcester.

The Stonehill-bound McLaughlin scored a game-high 27 points and pulled down 14 rebounds to lead Central Catholic (22-5) to the MIAA Division 1 state championship as they defeated Holy Name (23-3), 53-48.

"I wanted it so bad," McLaughlin said after the game. "We all wanted it. None of us had been this far in the playoffs ever. This was my senior season and I just wanted to go out with a bang."

McLaughlin, who never stops working on both ends of the court, found her angles to the basket as she repeatedly beat the Holy Name defense to the right and finished at the basket.

"She is so quick," Holy Name head coach Barry Finneron said of McLaughlin. "She catches it and gives you that little head fake to the middle and then she is down the lane."

Central Catholic jumped out to an early 17-8 lead after one quarter of play as the tandem of junior point guard Courtney Walsh (13 points) and McLaughlin accounted for 13 of Central's 17 opening quarter points.

Holy Name, led by junior point guard Aryauna Perez (12 points), fought back in the second quarter as they cut the deficit to six and gained momentum with under 10 seconds remaining in the first half.

With less than 10 seconds on the clock Central Catholic junior guard Alex Nagri would come up with one of the biggest plays of the game. The 5-foot-2 Nagri stole the ball and found junior forward Amanda Williams (10 points, 10 rebounds) for a successful And-1 conversion with 6.7 seconds remaining in the half. The play helped shift the momentum and give Central Catholic a 31-22 lead at the half.

"I know that I am obviously short," Nagri said. "They had some shot blockers and some big people so after the steal I saw Amanda and I knew my job was to get it to her and she did a great job of catching and scoring it."

Holy Name junior center Brianna Frias (six points, 11 rebounds) came out of the half time break and showed why she is one of the top talents in the state as she was aggressive on the glass and sparked the Holy Name effort on the defensive end of the floor. The staunch defensive effort by the Naps would help cut the Central Catholic lead to six points at 42-36 heading into the fourth quarter.

Holy Name sophomore guard Gabrielle Guenther (11 points) nailed two big 3-pointers in the fourth quarter but Central would answer back as Walsh, McLaughlin and senior guard Darion Summers made big plays down the stretch to ensure the victory.

Summers scored her only two points of the game on two clutch free throws down the stretch to help seal the win.

"I don't even know how to put it into words," Central Catholic head coach Susan Downer said. "I am just so proud of them. They dug, made plays when we needed to, stuck to our game plan, we switched some things up in the third quarter, it is just amazing."

Arms distance: As hard as Holy Name fought throughout the game they could never cut the Central lead to under five points. Each time the Naps would hit a big shot to shift the momentum Central would stay poised and answer back with a basket of their own.

"I think our transition play is the best part of our game," Nagri said. "I think that we just stuck with our plan, got key defensive stops and pushed the ball in transition and that is what ended up helping us keep the lead."

The future: It may not be too far fetched to think that we could see this match-up again in next year's final. The future is very bright for both Central Catholic and Holy Name as each team graduates only three players from their current rosters.

Central graduates one of the state's best forwards in McLaughlin, along with Summers and guard Allison Tierney. They return four starters in Walsh, Williams, Nagri, and guard Caitlin Dell'Orfano, who are all veteran juniors.

Holy Name also returns four of their starters in Frias, Perez, sophomore forward Lauren Willard and junior guard Ama Biney (11 points, four steals).

Holy Name graduates starting forward Malissa Saad (eight points, eight rebounds) along with center Megan Thornton (two blocks) and guard Eva Katana.

"Malissa Saad is just awesome," Finneron added. "She just carried us at times and as a senior she played great for us, especially in the third quarter."
March, 12, 2013
3/12/13
1:38
AM ET
By
Shawn Myrick
| ESPNBoston.com
BOSTON -– Central Catholic girls' basketball went right after early season state champion favorite Braintree tonight.
The Raiders (21-5) looked for quick counter attacks and a heavy in-the-paint assault to put a tall Wamps' squad in foul trouble. Central handed Braintree (24-3) its second straight Division 1 Eastern Mass. championship loss with a 55-51 win the at TD Garden.
The Raiders will play Central/West champ Holy Name (22-2) in Worcester's DCU Center on Saturday.
[+] Enlarge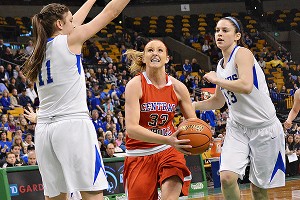 Brendan Hall/ESPNSenior Casey McLaughlin (18 points, 13 rebounds) led the way for Central Catholic as the Raiders captured their first Division 1 Eastern Mass. title since 2009.
"We struggled up until to the last game winning that big game," said Raiders coach Susan Downer. "We just tried to go at them and try to use our athleticism to break them down a little bit. I think we did a good job of getting them into foul trouble early on."
Central lead for the final 19:09 as it created turnovers out of its newly instituted 2-3 zone and forced 17 fouls from Braintree. Ahead only 51-49 with 1:19 left in the game, junior Courtney Walsh cut into the lane and underhanded a pass along the to junior Amanda Williams along the baseline for a layup to maintain control. Braintree's Ashley Russell got the throw in quickly to the opposite basket on the rebuttal and set up fellow sophomore Molly Reagan for a 53-51 layup with 51.8 seconds left.
The Wamps had one more chance to equalize, but Williams punched the ball out from behind on a cut by Braintree sophomore Bridget Herlihy as senior Casey McLaughlin settled it.
"(Coach) always yells at me for reaching in and it is always a foul," said Williams. "She went by me before and I was not going to let it happen again."
Walsh nailed a pair of foul shots to seal the win at 55-51. Walsh lead the Raiders with 19 points, while McLaughlin buried 18 points and grappled 13 rebounds.
Central was 17 of 22 from the line.
"Never as big as those," said Walsh. "I just tell myself this is what you play for and just put them in. I had to do it for my team and I had to do it for myself."
"If your going to get to these games the thing that is going to change the game is free throws," added Braintree coach Kristen McDonnell.
Trailing by as much as 12 in the fourth quarter, Braintree switched its player alignments on the press and cut the margin to two within the final two minutes.
McLaughlin nailed a 10-foot floater and drew a point from the charity strike to give CC the 51-39 advantage. Scoring the next 10 points, Wamps' Herlihy ducked a defender in the paint and finish a short shot to start the run at 6:07.
Herlihy flicked a down-low pass to Reagan at 1:29 to bring the score to 51-49.
"We were forced to (change up the matchups), because of foul trouble," said McDonnell. "We did not come out as hard on our man-to-man (and) we tried to pack it in within the three-point line. We tried to take our taller girl Molly (Reagan) off their big other big girl instead of in the middle."
Tied 26-26 with 4:51 left in the first half, Central pulled ahead for good with a rebound and pair of one-and-one foul shots from Walsh. The Raiders outscored Braintree 11 to two in the next 4:37, including a three-pointer from Walsh assisted by junior Alexandra Nagri for a 37-28 lead early in the third quarter.
"We have never played a 2-3 zone," said Downer. "We had one day to prepare yesterday. They adjusted (and) they jumped to the ball."
On a team that boast two girls over six feet tall, 5-foot-9 Russell has been a ball hawk on the boards all season. Russell dropped 17 points and grabbed 15 rebounds, while Reagan scored 11 points and grabbed six rebounds.
The Wamps -- who lost 54-39 to three-time defending Division 1 state champ Andover last year at this stage -- will return nine players including its four highest scorers from tonight.
"(Russell) never gives up", said McDonnell. "The second it leaves her hand she is going to get it again. I never thought we got in a rhythm in the first half."
December, 30, 2012
12/30/12
11:50
PM ET
By
Ryan Kilian
| ESPNBoston.com
NORTH ANDOVER, Mass. -– It was only fitting that the championship game of the 2012 Greater Lawrence Girls' Christmas Tournament came down to the final shot.
Trailing 44-43 North Andover had the tall task of going the full length of the court with eight seconds remaining in the game. After guard Morgan Lumb received the inbound pass she advanced the ball up the court and found a sprinting Megan Collins, who beat the buzzer and gave the Scarlet Knights a 45-44 tournament championship victory.
"Speechless," exclaimed an overwhelmed Collins after the game. "I was taking the ball out so I was not really expecting that. I just ran down the middle and was wide open. We really wanted to win this one."
Tournament MVP Lumb (19 points) proved why she is one of the State's best guards as the Hartford-bound captain came up with two game changing 3-pointers in the second half comeback. Her first trifecta, with three minutes remaining in the third quarter, gave North Andover their first lead of the second half at 28-27.
"Whoever was open I had to get the ball to," Lumb said after the game. " I knew I was probably not going to shoot it that last time but Megan flashed to the middle, I hit her with a pass and thank god she made it."
[+] Enlarge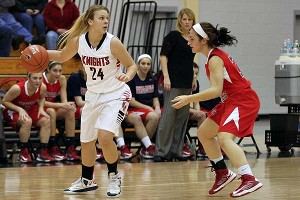 Ryan Kilian for ESPNBoston.comUniversity of Hartford signee Morgan Lumb led North Andover with 18 points in the Greater Lawrence Christmas final to earn tournament MVP honors.
Trailing for most of the game, and by a score of 20-15 at the half, North Andover knew they had to make some adjustments to make the difference in the game.
"When we play our defense it makes our offense," Lumb said. "That was our whole goal, to make them turn the ball over and make them get flustered. That is what we did."
Central Catholic received strong games from their all-tournament stars Casey McLaughlin and Courtney Walsh. The Stonehill-bound McLaughlin scored 17 points to go along with a game-high 11 rebounds. Walsh scored 12 of her 14 points in the second half after the junior point guard got into early foul trouble.
McLaughlin had another stellar game as the 6-foot senior scored eight points in the fourth quarter and hit the go-ahead shot to give Central Catholic the lead with eight seconds remaining.
Lumb scored a game-high 19 points and also did a great job on the defensive end of the court as the hard-nosed guard had four steals and three blocks in the win.
Role Players:
Collins was instrumental off the bench for the Scarlet Knights as she scored nine points to go with eight rebounds and countless hustle plays.
Senior point guard Pam Coufos also had a strong game as she provided good ball pressure on Walsh and totaled four steals on the evening.
Senior forward Michaela Mello and her junior sister Mackenzie Mello provided valuable post-defense and much needed rebounding against a taller Central Catholic front line.
"I have to give a lot of credit to my inside players, Michaela and her sister Mackenzie and Megan Collins," North Andover head coach Susan Breen said. "They did a great job limiting them to one shot and they did a nice job making them work for everything."
Sophomore Leah Chittick (six points) and junior guard Christina Cataldo (two points) also made plays on both ends for the Scarlet Knights.
Defense wins championships:
In their first season as a member of the Merrimack Valley Conference the North Andover Scarlet Knights certainly sent a message that they are a top contender.
North Andover's ability to defend the post along with strong perimeter play sets them apart from their competition early in the season.
"It was a defensive battle on both sides tonight," Breen said. "What a great game and I am just thrilled for the kids. This is a game that that they will remember forever."
All-tournament:
Lumb took home the Most Valuable Player honors for the tournament. Collins and Alex Nagri both earned the coaches awards for North Andover and Central Catholic respectively.
The remainder of the all-tournament team consisted of Michaela Mello, McLaughlin, Walsh, Devon Caveney of Andover, and Emily Hickey of Salem (N.H.)
Caveney hit an impressive seven 3-pointers in a 64-44 win for Andover over Salem (N.H.) in the Third Place game played prior to the Championship.
Methuen and Pinkerton (N.H.) also picked up wins in early tournament action on Sunday.
December, 22, 2012
12/22/12
9:30
PM ET
By
Ryan Kilian
| ESPNBoston.com
NORTH ANDOVER, Mass. -- Central Catholic made some critical halftime adjustments and held Lowell to just 12 second half points as they defeated their Merrimack Valley Conference counterpart, 53-28, in the first round of the 2012 Greater Lawrence Christmas Tournament.
Central Catholic (4-0) led 23-16 at the half in a first half that was dominated by the inside presence of Central Catholic senior Casey McLaughlin and Lowell freshman Alexi Schecter.
[+] Enlarge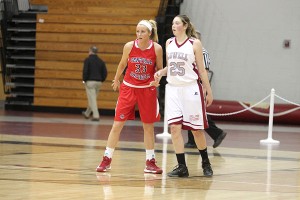 Ryan Kilian for ESPNBoston.com Central Catholic and Casey McLaughlin downed an upstart Lowell and freshman Alexi Schecter with a 53-28 win in the first round of the Greater Lawrence Christmas Tournament.
Schecter imposed her 6-foot-3 inch frame in the key and created problems for Central Catholic on the defensive end of the floor. She finished the first half with 10 points and 10 rebounds.
"We knew we did not play the way we wanted to play in the first half," Central Catholic head coach Susan Downer said. "That was the first time we played against Schecter and she is very good. We focused on fronting her and helping from behind and I think we did a lot better job in the second half."
McLaughlin and Central Catholic came out and turned up the defensive intensity in the second half as they extended their defense and caused numerous turnovers in the third quarter resulting in a 12-point Central lead after three quarters.
"We knew we had to pick it up in the second half," McLauglin said after the game. "We just breathed and focused in the locker room and came out and turned up the defensive effort."
McLaughlin, who walks off the bus with a double-double, led Central Catholic on the evening with 18 points and 20 rebounds. Her relentless effort on the offensive glass and on the defensive end of the floor proved to be too much for Lowell (3-1) to handle down the stretch.
The fourth quarter would prove to be the most dominant for Central as they outscored Lowell 16-3 in the final frame to earn their fourth victory of the season.
Central Catholic also received strong games from junior forward Amanda Williams (11 rebounds) and junior point guard Courtney Walsh (nine points, four assists).
Veteran team:
Despite just having three seniors on their roster Central Catholic returns their starting lineup and a very experienced veteran group.
"Our intensity has been great at practices and we have worked very hard all pre-season," Downer said of her veteran team.
The Stonehill-bound McLaughlin, one of two seniors and four-year varsity veteran, echoed her coaches thoughts.
"We have a very strong team this year," McLauglin said. "I think we have a very fast team and we are always looking to push the ball. We want to win every game, starting with this tournament, as we have never won this one."
Lowell's fab frosh
: Schecter was very impressive for Lowell in the loss. Reminding many in the gym of former Central Catholic standout Katie Zenevitch (Boston College) Schecter showed a mature post-game to go with an aggressive defensive mentality.
Battling double teams and fighting through physical defenders all night Schecter showed why she will be one of the most talked about players in Massachusetts for years to come.
"She made a huge difference in our game plan," Downer said. "You have to be very smart when you play against someone like her. She is agile and has a good knack for the basketball.
Schecter finished the game with a stat line of 15 points, 16 rebounds and seven blocked shots.
In other tournament action:
In earlier action Andover defeated Lawrence 60-40. Andover's win sets up a semi-final match-up with rival Central Catholic. Senior guard Devon Caveney led Andover with 17 points.
North Andover and Hartford-bound senior Morgan Lumb defeated Methuen 52-32 in another semifinal contest. Lumb, who is one of the most explosive guards in Massachusetts, led the Scarlet Knights with 20 points.
Pinkerton Academy (N.H.) and Salem (N.H.) play in the nightcap and make up the final two teams in the annual eight-team tournament.
November, 11, 2012
11/11/12
11:37
PM ET
By
Josh Perry
| ESPNBoston.com
LYNN, Mass. -- The incredible tournament run of the Beverly Panthers continued on Sunday afternoon at Manning Field in Lynn.

The No. 4 seed Panthers took home the girls' Division 1 North sectional title, 2-1 (4-1 in penalties), over No. 3 seed Central Catholic. All four Beverly penalty-takers made their shots, while Central missed its first two shots.

Captain Diandra Crowley calmly slotted home the final penalty setting off rapturous celebrations from her teammates and the large Beverly contingent in the stands.

The Panthers (17-3-1) reached the shootout thanks largely to a superb performance from goalkeeper Casey Cook. The junior netminder made a series of important saves including two in overtime robbing Alli Wiggins and Kylie Regan of game winners.

Beverly head coach Kristin Simpson was in awe of Cook's play.

"She was by far the MVP of this game. We would not be where we are without her. She made some amazing saves towards the end and kept us in the game."

The Panthers needed Cook to play well as Central Catholic (15-0-5) dominated large portions of the game, particularly in the first half. Wiggins, Regan, and midfielder Alexa Poulin pulled the strings in the center of the park and kept possession almost entirely in the Beverly half of the field.

It took half an hour, but Central Catholic was able to make the pressure pay with a goal from Alex Nagri off a great pass by Courtney Walsh. Raiders head coach Casey Grange was disappointed that her team was unable to find a second score.

"I thought we were going to get it eventually," Grange said. "This team has been patient all season in terms of scoring. We've always found a way to find the back of the net, but unfortunately the soccer gods weren't on our side today."

Beverly equalized immediately after halftime through record-setting junior striker Caitlin Harty. The forward was raced on to a long pass and was able to chip the ball over the onrushing keeper despite being surrounded by two defenders.

Unbelievably, it was Harty's 50th goal of the season, which is by a large margin a school record.

Simpson credited an improved effort by her team for changing the tone of the match after halftime.

"The biggest thing was the effort," she said. "We were losing the 50-50 balls and they were outworking us. We started yelling at them a little bit and they started winning some of the 50-50 balls and I think that made the difference."

Central Catholic had a great chance to win the game in regulation, when Wiggins sprung free on a break following a Beverly corner, but her shot came back off the crossbar.

The Raiders will not advance in the tournament but will finish the season unbeaten (penalty shootouts do not count as losses but as draws). Amidst tears on the sideline, Grange spoke about the impressive season that her team had in 2012.

"Technically we tied and we haven't lost all season so it's a tough way to go out," she said. "Our defense was rock-solid, we have the top three scorers in the MVC, but unfortunately we didn't get one when we needed it."

It will be an all-Panthers match on Wednesday evening at Manning Field when Beverly takes on Franklin in the state semifinals. The game is scheduled to start at 5:30 p.m.

DIVISION 1 NORTH FINAL: SOMERVILLE 1, ST. JOHN'S PREP 0

In the boys' D1 North sectional final, the Somerville Highlanders beat St. John's Prep 1-0 through a goal by star forward Felix De Bona two minutes into the second half.

The final score was not a true reflection of how dominant Somerville was on Sunday afternoon. The Highlanders created numerous chances, particularly the potent DeBona, but were repelled by Prep goalie Ben Alpern.

On the other end, Somerville's defending was solid and Prep struggled to create any clear cut chances.

It has been nearly 20 years since Somerville had reached this stage of the tournament. Highlanders head coach George Scarpelli explained that he focused on keeping Prep off the board in the first half and then using the wind after the break.

"If we could get the zero in the second half then something's going to happen and it worked out. We should've put some more chances away and that's something we need to grow on for the next game because I'll have a heart attack if we do that again."

St. John's Prep head coach David Crowell raved about the performance of Alpern, who took over the starting role when captain Brian Keogh was injured prior to the season.

"He kept us in the game and gave us the chance to get the tie and send it to overtime," Crowell said. "But we didn't really produce any chances in the second half. He was awesome today."

In reaching the finals, Prep defeated two of the top five teams in the state (No. 4 Acton-Boxborough and No. 1 Masconomet) and Crowell was surprised at his team's nervousness in the finals.

"I don't know why we were so tight," he said. "We've already come in and beaten so many good teams. I think they felt some pressure today. Somerville deserved it today."

The Somerville players were spurred on by a huge traveling contingent of fans, which created a great atmosphere for the game. At the final whistle, the players recognized the contribution of the fans by racing over to celebrate right in front of the stands. Scarpelli believes that this result is important not only for the soccer program, but for the city as a whole.

"I don't think people realize how much this means for the city of Somerville.," he said. "For these kids to realize that if you do the right thing, everything falls into place. Winning comes along with doing everything right and going to school on time and being a good citizen. It's an unbelievable feeling."

Somerville will play in the state semifinals on Wednesday night at 7:30, at Manning Field.

State Tournament Notes:

" There will be a new boys' state champion in Division 1 this year. Two-time defending champ Ludlow Lions, perennially one of the best teams in the state, were beaten in the West sectional finals by Amherst 1-0 (7-6 in penalties). The Lions had a chance to win it in the end, only to see the shot saved. Amherst will move on to play Leominster, the surprise champions of the Central sectional, in the state semifinals on Wednesday night.

" The Franklin Panthers have continued their amazing unbeaten season and took home the South sectional with a 3-2 win over fellow Hockomock team, Oliver Ames. Franklin built a 3-0 lead early in the first half, but were forced to hold on late when the Tigers scored twice within 90 seconds late in the second half. Panthers top scorer Kristi Kirshe did not get a goal in the win and is still stuck on 99 goals in her career.

" Somerville will face the top seed in Division 1 South, the Needham Rockets, in the state semifinals. Needham earned a hard-fought 2-0 victory over conference rivals Weymouth. Senior captains Nolan Brady and Brandon Miskin getting the goals for Needham. The Rockets are a talented group front to back and, with the losses by Masconomet and Ludlow, can make a strong claim to be the best team in the state. Having one of the state's best players, forward Mac Steeves, certainly helps their cause. Wednesday night will be exciting to watch Steeves and De Bona go head-to-head.

" As colleague Bruce Lerch tweeted earlier today, what a great year it has been for Dave Wainwright. He led the Dover-Sherborn girls' soccer team to a state title last season, brought them back to the sectional finals this year, and also led the Needham boys' lacrosse team to Harvard Stadium in June. While the Lady Raiders may have been beaten today, the boys' team clinched the sectional title with a 3-0 win over top seed Nantucket.

July, 13, 2012
7/13/12
12:18
AM ET
Bay State Games communications coordinator Craig Kaufman sends along results from today's plethora of action:
WOBURN, Mass. -– A busy Thursday at the Bay State Games saw the start of the soccer, field hockey, basketball, ice hockey and boys' lacrosse competitions, as well as the continuation of the 2012 baseball tournament and the conclusion of the girl's lacrosse event. Friday will see all of these scholastic results continue and baseball will draw to a close with all the medal positions still hanging in the balance. Friday night will also see the beginning of the 2012 Bay State Games swim competition at Harvard University.

GIRLS LACROSSE

Bronze Medal Game: Southeast 14, Metro 6
Gold Medal Game: Northeast 13, West 11

BASEBALL

Northeast 5, Metro 5
Metro almost pulled an upset by taking a 5-3 lead in the top of the sixth inning but had to settle for a tie as Northeast came back to tie the game and then stranded the winning run on base in the bottom of the inning.

Austin Johnson (Brookline) drew a bases loaded walk and Nick Bruno (Lynnfield) followed with an RBI single before Jonathan Santana Arias (Somerville) knocked in two more runs as Metro plated four runs in the sixth. Kyle Hood (Arlington) had scored an unearned run for Metro in the second.

Northeast scored single runs in the second, third and fourth innings and then took advantage of three walks and two hit batsmen in the bottom of the sixth to tie the game at 5. Justin Freeman (N. Chelmsford) drove in a run for Northeast, as did Colby Morris (Newburyport), who drew a walk with the bases full.

Central 4, Southeast 1
Southeast scored in the top of the first when Cameron Hanley (Walpole) doubled home Sean Scales (Weymouth), but Central, led by Jake Ryan (Whitinsville), who went 2-2 with a run scored and an RBI double, had taken a 4-1 lead by the bottom of the fifth. Zack Tower (Auburn) also drove in a run for Central, who got good pitching from their rotation, including starter Christian Doskocil (Sterling), who went three inning s and struck out two.

West 3, Coastal 0
Austin Salnitis (Lenox) went five innings, allowing four hits and striking out seven for West, who ran their record t o3-1. West got on the board in the fourth when Kenny Potts (Southwick) drew a walk and scored on a double by Phillip Jasak (Palmer). They added another run in each of the next innings with an RBI single by Andrew Noonan (Springfield) and an RBI double by Jake LaBranche (W. Springfield).

Coastal was led at the plate by Andrew Mancini (N. Easton), who went 2-2 with two singles.


BOYS SOCCER

Metro 1, Southeast 1
Metro scored first in the 20th minute when Thayrone Miranda (Somerville) connected on an assist from Walter Guzman (Chelsea), but the Southeast team equalized in the 67th minute on a connection from Nick Savage (Milton) to Marquardt.

Coastal 2, Central 2
Coastal scored first through Joshua Medeiros (New Bedford) in the 34th minute, but Central scored twice to take a 2-1 lead with Riley Steele (Sutton) and Lukas Ritzer (Sutton) connecting. Coastal salvaged a draw with a 58th minute goal by Ty Catunto (New Bedford).

West 3, Northeast 0
West got three second half goals from Mark Richards (Springfield), David Serafino (Ludlow) and Nicholas Martinelli (East Longmeadow).


GIRLS SOCCER

Northeast 3, Metro 0
North got three goals in the first half, their first just three minutes into the game. Megan Cullen (Amesbury) scored the first two goals for Northeast and Alexa Cicolini (Methuen) finished the job in the 31st minute.

Southeast/Coastal 1, Central 0
Lauren Farrell (Rockland) scored the only goal in the 48th minute as Southeast/Coastal edged Central.

West 8, Metro 0
Jennifer Delasco (Lenox) and Mary Edwards (E. Longmeadow) each scored twice, with Stefano adding an assist. Jordan Bates (Chicopee) and Kiley Baran (Granby) added two assists apiece as West rolled to their first win of the tournament.

Northeast 4, Southeast/Coastal 1
Megan Cullen (Amesbury) scored four straight goals for Northeast to give them the victory after Jessica Murphy (Norwood) had given Southeast/Coastal a 1-0 lead in the 26th minute. Cullen started her scoring spree just a minute later.

West 4, Central 0
West endured an onslaught of Central possession early before scoring four times in the second half. Sharlotte Pernice (W. Springfield) scored twice, and Christina Ferriter (Springfield) and Brianna Voight (Springfield) also tallied for West.


FIELD HOCKEY

Metro/Northeast 3, Southeast 2
Central 2, Coastal 1


BOYS LACROSSE

Southeast 16, Northeast 4
Steve Righini (Weymouth) scored four times for Southeast, while Conor Martin (Plainville), Sean Williams (Scituate), and Jack Vail (Franklin) each tallied twice, with Martin adding two assists. Six other players tallied single goals, including Nicholas D'Innocenzo (Medway), who also added an assist. Tyler Boardo (Weymouth) and Daniel Sprague (Weymouth) combined for nine saves in goal.

Northeast got two goals from Derek Lawton (Bishop Guertin) and a goal apiece from Devlin Crane (Arlington) and John Curcuru (Gloucester). Evan Connolly (Peabody) made 13 stops in net and Joshua Nelson (Medford) spelled him for five saves.

Central 10, Metro 9
Joshua Daigle (Marlborough) and Alex Sabel (Algonquin) each scored twice and added an assist, while Thomas Whiting (Hudson) notched two goals as well. Matthew McIntire (Milford) made ten stops in the winning effort.

Jack Trottier (Tyngsborough), Brian Walsh (Lowell) and Joey Pescatore (Waltham) each scored twice for Metro and Ben Foley (Tyngsborough) added a goal and two assists in a losing effort. Scott Powell (Swampscott) made 9 stops in the Metro net.


BOYS ICE HOCKEY

Northeast 8, Southeast 7
Metro 6, West 1
Central 12, Coastal 2
Southeast 8, Metro 2


GIRLS ICE HOCKEY

Central/West 9, Metro 1
Southeast/Coastal 4, Northeast 2


BOYS 11-12 GRADE BASKETBALL

Central 82, Metro 47
Central was led by Tyler Delorey (Worcester), who scored 22 points, including four three-pointers. Matt Mobley (Worcester) also chipped in 18 points, including two buckets from downtown.

Coastal 75, West 59
Coastal got 25 points from Chris Green (Taunton), including four three-pointers, while Paul Maurice (Taunton) added 22 points.

Central 89, Coastal 80
Central got 26 points from Delorey, who nailed three shots from downtown and also got 17 points from Jacek Louisville (Worcester). Tommy Keyes (Somerset) led the way for Coastal with 19 points.

Northeast 79, West 78
Northeast's Devin Thompson (Winthrop) led all scorers with 22 points and two three's in the fourth quarter. Anthony Smith (Springfield) was the top scorer on West with 17 points.


BOYS 9-10 GRADE BASKETBALL

Central 68 Metro 64
Matt Grose led Central with 19 points and Bobby Flanagan put up 15. The Metro squad was led by Keith Burns (Belmont) with 22 points while Christian Lejuene (Waltham) added 14.

West 73 Coastal 41
The West squad was led by Keith Natale (Hatfield), who had 22 points and Conner Eckstrom (Greenfield) pitched in 15. The Coastal region had Tom Galanek (Plymouth) and Kent Mertz (Dennisport) score 8 points each.

Northeast 72 Coastal 60
Anthony Gilardi (Malden) led the Northeast squad with 24 points while Cody Broges (Dartmouth) picked up the slack with 16. Liam Gerrity (Barnstable) was the leading scorer in the game with 26 points and Pat Danner (Plymouth) had 10 points for Coastal.

West 67 Metro 40
West's Keith Natale (Hatfield) had 20 while Conner Eckstrom (Greenfield) pitched in 11. The Metro squad had Jaewoo Chung (Arlington) score 11 points.


GIRLS BASKETBALL

Northeast 73 Southeast 71
Northeast lead scorer Amanda Williams (North Andover) scored 13 points. Sarah Hood (Burlington) added 12 points to the scoreboard. Katie Lowerre (Sharon) led the way for Southeast with 18 points

Metro 72 Central 24
Melissa Baptista (Somerville) led the Metro region with 15 points. Kaila Duarte (Boston) score 13 points throughout the game which included making both of her free throws in the 4th quarter. Central was led by Kristen Smith (Littleton) chipping in 7 points.

West 66 Coastal 55
Keri Paton (Russell) contributed 17 points to West which included 13 points in the 4th quarter. Tea Spellacy (Belchertown) contributed 11 points to the scoreboard as well. Norma Waggett (Saugus) led Coastal with 25 points.

Southeast 68 Central 39
Lowerre led Southeast to victory against Central contributing 21 points. Montana Burke (Bromfield) and Abrielle Peltier (Leicaster) both chipped in 8 points for Central.

Metro 66 West 32
Metro got 14 points by Maggie Mulligan (Brighton) leading the team. Spellacy scored 11 points for West and Paton added 8 more to the scoreboard.

Northeast 62 Coastal 36
Hood tallied 14 points in Northeast's last game against Coastal. Williams and Courtney Walsh (Windham) added to the scoreboard. Coastal's Rachel Camara (Fall River) contributed 10 points and Brianna Camara (Fall River) chipped in 7.
March, 6, 2012
3/06/12
11:33
PM ET
By
Ryan Kilian
| ESPNBoston.com
HAVERHILL, Mass. --- Merrimack Valley Conference Large rivals Andover and Central Catholic met again for the fourth time this season in the D1 North sectional semi-finals on Tuesday night. With Andover winning the prior three contests, Andover Coach Jim Tildsley knew this game would present a big challenge.
"We were concerned with them coming in as the No. 12 seed and playing so well, beating two very good teams in Billerica and Westford on the road," said Tildsley.
[+] Enlarge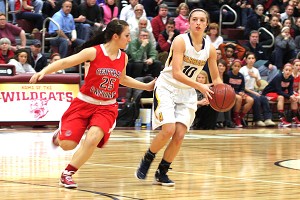 Ryan Kilian for ESPNBoston.comAndover's Devon Caveney scored 12 of her 16 points in the first half to give Andover an early cushion.
Andover did not look concerned on the court, however, as they would come out and take immediate control of the game early and often on their way to a 56-36 victory.
"I am really proud of my kids," said Tildsley. "There is so much pressure on these kids with everyone talking three-peat, three-peat. They are just taking it a game at a time and coming to every game focused and ready to play."
Andover (24-0) set the tempo early as they extended their full court pressure defense right off the opening tip. The pressure and aggressive ball denial was effective as Andover held Central Catholic (14-9) scoreless until the two minute mark in the first quarter. Andover led 11-2 until the first quarter buzzer sounded when Central Catholic guard Courtney Walsh drained a 3-pointer to cut the lead to 11-5 after one quarter of play.
"We came out and stymied them with our defensive pressure," said Tildsley. "That was the whole key to that game. We had to come out during those first four minutes of the game and really play and we did."
The offensive star on the night was Andover junior guard Devon Caveney, who scored 12 of her 16 points in the first half.
"It is all about confidence," said Tildsley of his junior guard.
Andover's Nicole Boudreau saw constant double teams on the evening as Central aggressively tried to take her out of the game with varying gimmick defenses and aggressive ball pressure.
"They were triple-teaming Nicole so one of us had to be open," said Caveney. "I knew I had to hit those shots if we wanted to get the lead going and I did."
Caveney converted three separate three-point play opportunities, with the most impressive being a baseline 3-pointer to start the second half that she drained while hitting the floor after contact. She made the free throw, completing the four-point play, which continued the second half momentum for the Golden Warriors and put the game well in hand.
Central Catholic received strong efforts on the night from junior center Casey McLaughlin (10 points, 13 rebounds), sophomore forward Amanda Williams (seven points, 11 rebounds) and sophomore guard Walsh (nine points).
Miss Stat Sheet:
Boudreau definitely knows how to fill up a stat sheet as the reigning ESPN Boston Miss Basketball found ways to dominate the game without having one of her typical high scoring evenings.
Boudreau scored a game-high 17 points, pulled down 12 rebounds, dished out five assists to go along with six steals and five blocked shots on the evening.
"Nicole made some great passes tonight." said Tildsley.
Two of her best passes came in pressure situations with three Central defenders draped all over her. She had the presence of mind and strength to thread the ball, both times, through the entire defense to open teammates under the basket on the opposite side of the court.
Central's Youth:
Central Catholic will only be better when the ball is thrown up for the 2012-2013 season opener. They return all but two seniors and the future looks as bright as the past has for the Raiders.
McLaughlin is only a junior and has been playing regularly since her freshman year. Walsh and Williams are both sophomores. They also return sophomore defensive specialist Alex Nagri, junior sixth-woman Darion Summers and five other underclassmen who all saw playing time at various points in the season.
Another Title Run:
The elephant in the room for the Andover girl's basketball program is their impressive late season undefeated record and their prior two seasons Massachusetts State Championships.
The road to their third consecutive state championship does not get any easier as they will face the winner of Thursday's other D1 North semi-final match-up between Lincoln-Sudbury and Masconomet. The sectional finals will be played at the Tsongas Arena in Lowell, Mass. on Saturday as a part of a big day of sectional finals for the North sectional girl's and boy's basketball championships.
November, 19, 2010
11/19/10
7:50
PM ET



WORCESTER, Mass. – Quite frankly, it was the shot of a lifetime.

When Central Catholic senior midfielder Jill Lane hit her miracle shot from 20 yards to the left of Shrewsbury goalkeeper Devinne Zadravec, her coach would've advised her instead to push the ball back to one of the Red Raider forwards.

"I don't think I can hold this one against her though," first-year Central Catholic head coach Casey Grange said.

Lane, a left-footer, hooked a shot from an extreme angle inside the far side post to reclaim the lead, 2-1, for Central Catholic in the 32nd minute of the second half of the Division I girls' soccer championship at Worcester State College.

The Red Raiders controlled play for the better portion of the first half behind its talented midfield, including Lane, and freshman forward Courtney Walsh up top.

Central Catholic had the best scoring chance of the early going in the 26th minute as Gabie Polce –who also turned in a wonderful rendition of the National Anthem prior to the match -- took a give-and-go from Lane within 10 yards, only to have it sail wide of the right side. The Red Raiders finally found the back of the net in the 34th minute when Walsh one-timed a crosser from Alex Riddle to the right-hand corner of the net for a 1-0 Central advantage.

Central Catholic out-chanced Shrewsbury 8-2 in the first half and out shot them by a 5-1 margin.

"I think we're more fit than any team we've seen all season due to the conditioning we put in all season," Grange said about the efforts of her midfielders. "We were just able to wear them down."

Shrewbury came back to tie the match in the 16th minute of the second half off of a corner kick. Midfield Kayla Shea played the corner into the box. After the ball was boxed around a bit, it fell on the foot of Jess Morana, who buried it into the right-hand corner of the net from 10 yards out.

Then, Lane struck on her golden boot.

"That's the shot of a lifetime that girl [Lane] hit down there," Shrewsbury head coach Chip DelPrete said. "That was just a laser beam."

It wasn't that Grange didn't believe in her team's chances in the tournament, but she tempered her players' expectations from the beginning of the season, when her team told her they were destined for a state title.

"I was like, 'Whoa, whoa,' let's be realistic here," Grand said. "Let's just try to make it to the tournament first, and then advance once get there."

Was she a doubter? Not really. Grange does know when to admit she is wrong, however.

"They owe me a big 'I told you so' right now."