Boston High School:

Curt Smith
August, 21, 2013
8/21/13
8:19
PM ET
ATTLEBORO, Mass. – The motto flying around No. 24 Bishop Feehan's preseason camp is "Get Reps."
The Shamrocks are the defending Eastern Mass. Division 3A Super Bowl champions. But with "two-a-half" returning starters – in the words of head coach Curt Smith—the emphasis in the early going has been bringing a talented but inexperienced group up to speed.
A majority of Feehan's seniors and juniors saw extensive time at the junior varsity level last year. That might seem a dicey proposition for success in 2013, but consider this. The Shamrocks' J.V. team was very good last year – downright dominant. While going undefeated, Feehan surrendered just one offensive touchdown.
The program's ninth Super Bowl championship didn't come by accident; it's built from a habit of winning.
[+] Enlarge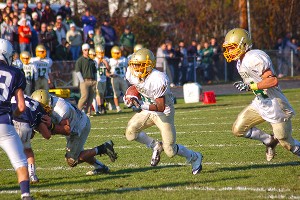 Brendan Hall/ESPNBoston.com Feehan running back Isaiah Douglas formed a formidable one-two punch with Matt Allen last year, but will be called upon to do more for the Shamrocks this fall.
"We want to keep building a legacy," senior captain Pat Hodge said after Tuesday's practice.
Fellow captain Ben Kenney interjected, "We want everybody to be ready when their time comes. You always have to be ready, that's what Coach Smith always says."
While the Shamrocks go about filling their depth chart for the season, the sure thing entering 2013 is senior running back Isaiah Douglas. Yet, the returning Eastern Athletic Conference All-Star will also be asked to do more. As part of a tough backfield twosome with Matt Allen last year, Douglas provided a big-strike capability for the Shamrocks while Allen put up tough yards consistently.
"He was a good running back," Douglas said of Allen. "He was agile, he knew how to get up-field. I think I learned that from him, just making sure you get up-field, and making cuts.
"I think fed off each other, every first down, every touchdown that we got. Even when things went bad, it was always constructive criticism. It was always positive."
Undoubtedly, those positive vibes emanate from the head coach on out.
Smith,
who works the graveyard shift at St. Anne's Hospital in Fall River
, is a fountain of reinforcement. Following Tuesday morning's practice, he greeted his players one by one as they exited the gate at McGrath Stadium with handshakes. All along the way, he imparted messages to them: "Good work today;" "Keep up the hard work;" "Let's get better tomorrow."
His breakdown speech to the team following the second practice of the season was worthy of a half time motivational rant of a late-November game. He urged his players to work on becoming their potential. The idea that perfection can be attained, somewhere just beyond their grasp – moving ever closer.
That comes with reps. That how it's built.
BISHOP FEEHAN AT A GLANCE
Coach:
Curt Smith
Last season:
10-2, won Eastern Mass. Division 3A Super Bowl
Returning Starters:
Two (one offense, one defense)
Key Returnees:
Isaiah Douglas, Sr. RB/DB, 5-8, 160 lbs.; Eric Beissner, Sr. G, 6-2, 210 lbs.; Ben Kenney, Sr. TE, 6-2, 200 lbs.; Pat Hodge, Sr. OL/DL, 5-10, 185 lbs.
Strengths:
Athleticism, depth.
Weaknesses:
Lack of varsity game experience.
Overview:
Aside from Douglas' increased impending carries, the Shamrocks are also holding an open audition at quarterback with senior Hayden Miller and junior Matt Jesser among the group competing. However, despite the inexperience at the varsity level, Smith entrusts his group to execute the offense -- which begs and borrows from option schemes while operating out of spread and traditional I-formations, alike – crediting his squad's ability to pick up concepts with ease. Still, there's going to be an adjustment period. "I still think we're learning, as a group, but we can do it," Douglas said. "I still think we can get back to where we want to be and defend our championship." The gauntlet will fall immediately, with cross-town rival Attleboro, followed by North Attleborough greeting the Shamrocks in their first two dates following at Week 1 bye. "The learning curve is going to be steep," Smith said. "A couple years ago, we started oh-and-five, and then we finished strong. The year after that, we finished strong at seven and four. I'm hoping we can do the same."
December, 2, 2012
12/02/12
12:19
AM ET
By
Corey J. Allen
| ESPNBoston.com


FOXBOROUGH, Mass. -- Coach Curtis Smith is a Super Bowl champion coach, but he is also a father and a lab technician. With the varied duties that he takes on between September and December are not easy, as Smith stretches himself thin to meet personal and professional responsibilities, but with a strong support system at home, he is able to impact folks from Fall River at St. Ann's Hospital to Bishop Feehan in Attleboro.

"It's all worth it when it comes down to this," said Mrs. Kristie Smith, coach Smith's wife, waving her hand at the scholar athletes celebrating their Super Bowl victory with family, friends and each other. "It is a grueling few months. We have lots of family and lots of friends to help us out and Curt is there whenever he can be."

A graveyard shift worker (10:30 p.m. – 7:30 a.m.), Curt Smith is wide awake when most of the folks in the Eastern Standard Time Zone are counting sheep. After work, he drives home, rests a bit, then out to Bishop Feehan in the early afternoon where he resumes his duties as a football coach, watching film, running practice and meeting with his coaches. All of this is not without harm to Smith, as he admittedly struggles by the time the season is over with fatigue.

"By the end of the four months, I'm really running on empty," said Smith. "But the kids energize me, the school energizes me, my fellow coaches energize me. I'm blessed. Even though it's difficult, I'm blessed to be where I am."

While Smith works at St. Ann's Hospital as a medical technician in the emergency room, he believes that the relationships he develops while in his coaching capacity at Feehan are more intense than those at the hospital.

"The bonds that I make with my coaches, the bonds that I have with the kids, hopefully, I make these guys understand work ethic and hard work. They come to us as boys and they leave as good men."

One of those boys who became men are Jacob Curren, an assistant principal under Smith as well as a social studies teacher at Bishop Feehan. During Curren's freshman year, Smith took a leave of absence from the program to help Mrs. Smith with their surprise from the stork. The lessons that Curren picked up while a player he has brought to the coaching side, while as a coach, he is still learning loads from Smith.

"His knowledge of football is so immense and deep. I've learned a lot," said Curren. "I thought I knew a lot about football before I came and started working for coach Smith, but I realized I didn't. I've got a lot to learn."

On a personal level, Smith has deeply touched senior standout Matthew Glebus, who had 8 carries on the day for 25 yards.

"I've learned to have character, do what's right, when no one's looking," said Glebus of lessons he's picked up from Smith. "He's really carried this team and I couldn't picture it without him."

Although it is not easy, Mrs. Smith and the family sacrifice for a few months not just for the folks that coach Smith serves, but also for coach Smith. When all is said and done, he has an understanding family with whom he shares a great amount of love and understand his passions.

"I think he does what he loves," glowed Mrs. Smith with a ear-to-ear smile or her face. "He's done a great job with all of these kids. With his kids especially, he's done a great job with them. In my eyes, he is a celebrity."


December, 1, 2012
12/01/12
11:39
PM ET
By
Roger Brown
| ESPNBoston.com
FOXBOROUGH, Mass. -- Nicholas Romero isn't known as a passing quarterback, but he can beat opposing defenses with his legs.

He proved that Saturday night at Gillette Stadium, where he ran for a team-high 67 yards and two touchdowns to help Bishop Feehan defeat Lynnfield, 21-7, in the Eastern Massachusetts Division 3A Super Bowl.

Romero, a senior, scored on runs of 10 and 36 yards.

"Nick saved his best for last," Bishop Feehan coach Curt Smith said. "He's come along because he got virtually no reps last year as a junior. He just got better and better and better each week."

Romero had completed 22 passes for 282 yards in 11 games entering Saturday's contest, and completed one of two attempts for 47 yards in the victory.

"They have a ton of speed overall," Lynnfield coach Neal Weidman said. "When they spread the ball around as much as they do and have that many good players you can't focus on one guy."

Bishop Feehan completed its season with a 10-2 record. Lynnfield finished 9-3.

Bishop Feehan led 14-7 at halftime. Junior running back Isaiah Douglass opened the scoring on a 23-yard run with 8:01 left in the first quarter, and Romero added a 10-yard touchdown run with 6:13 left in the second.

Romero's touchdown capped a 19-play, 80-yard drive that chewed up nearly a quarter (9:40).

Lynnfield responded to Bishop Feehan's second touchdown with a 14-play, 72-yard scoring drive. Kyle McGah scored the touchdown on a 2-yard run with 1:07 left in the half.

The Shamrocks regained a 14-point lead when Romero scored his second touchdown on a 36-yard bootleg on a fourth-and-1 play and Matt Allen added his third point-after kick with 4:10 left in the third.

"I strongly suggested that play," Romero said. "It was open. Then it was just get there. Don't get caught."

Lynnfield was held to 172 yards of offense (87 rushing) in the loss.

"The kids played hard and gave great effort all year," Weidman said. "It's too bad it has to end this way for them."

ZONE DEFENSE
Lynnfield didn't lack scoring chances in the fourth quarter.

The Pioneers fumbled the ball away on a fourth-and-goal play from the 2-yard line with 5:55 remaining, and their final drive ended on Bishop Feehan's 11-yard line following an incomplete pass on fourth down.

"We take a lot of pride about keeping teams out of the end zone when they get in the red zone," Smith said. "There's no blitzes. There's no magic. The kid's just bone up."

McGah, who scored three touchdowns in a semifinal win over Amesbury, was held to 47 yards rushing on 12 attempts.

"Shut down defense near the goal line – that really helped us win the game," Romero said

NOTEWORTHY
Lynnfield was attempting to win the program's first state championship. … Bishop Feehan has won eight Super Bowls. The others came in 1997, 2001, 2002, 2003, 2004, 2007 and 2009. The Shamrocks have an 8-2 record in their 10 Super Bowl appearances. … Feehan's Matt Allen entered the game as Bishop Feehan's leading rusher with 1,137 yards and 17 touchdowns. He gained 60 yards on 17 carries. … Bishop Feehan had 254 yards of offense. All but 47 yards came on the ground. … Lynnfield quarterback Michael Karavetsos entered the game having completed 66 passes for 856 yards. He completed 6 of 19 passes for 85 yards in the loss. … Attendance for Saturday's six games at Gillette Stadium was 14, 678.

BISHOP FEEHAN 21, LYNNFIELD 7
Bishop Feehan 7 7 7 0 – 21
Lynnfield 0 7 0 0 – 7

First Quarter
BF—Isaiah Douglass 23 run (Matthew Allen kick), 8:01.

Second Quarter
BF—Nicholas Romero 10 run (Allen kick), 6:13.
L—Kyle McGah 2 run (Alex Roper kick), 1:07.

Third Quarter
BF—Romero 36 run (Allen kick), 4:10.
November, 28, 2012
11/28/12
1:39
AM ET
By
Mike Abelson
| ESPNBoston.com
TAUNTON, Mass. -- In last night's Division 3A semifinal Dighton-Rehoboth senior Michael Mello electrified the Falcons' faithful with a 70-yard gallop through the snow to jump up early over Bishop Feehan.

Then the Shamrocks shut off the Falcons' power and destroyed the transformer.

The Feehan rushing attack, led by junior Matth Allen, piled 341 yards in the first half en route to a 49-7 thrashing at Taunton High to advance to Saturday's title game against Lynnfield.

"They've been waiting for this and they let it rip," Bishop Feehan coach Curt Smith said. "The ironic thing is that we talked about that very play [the big early run] with that very player yesterday in practice. The little guy, behind that heap of humanity, if you go nowhere he's going to wiggle out. We talked about squeezing those piles in and staying square. I told the kids don't worry about it, it's early in the football game, there's a lot of time; we'll get the ball back."

Once the Shamrocks got the rock, it was all over. On their second snap Allen scampered for 41 of his 194 yards (189 in the first half) down the D-R sideline to set up a red zone situation which senior quarterback Nick Romero would finish five plays later with a one-yard touchdown plunge. Romero finished the game with 32 yards rushing.

Sophomore Matt Glebus rushed for 46 yards, and senior co-captain Matthew Pisano rushed for 28 yards and a pair for touchdowns.

The next Feehan drive Allen scored from eight yards out to give the Shamrocks the lead.

"It was awesome," Allen said. "My line was awesome today; the holes I ran through were huge. They were massive. You never expect a blowout in the playoffs and I did not expect this at all."

Allen turned on the spectacular midway through the second quarter with touchdown runs of 39 and 53 yards on consecutive touches to balloon the lead to 28-7. Allen also converted all seven extra points for the Shamrocks to make his total points haul 25.

"We had way too many missed tackles," Dighton-Rehoboth coach Dave Driscoll said. "Football is a game of blocking and tackling and they blocked better than we did and they tackled better than we did."

Defensively the Shamrocks made life a nightmare for Falcons sophomore quarterback Nathan Kowalski. Kowalski, who threw for over 1,300 yards during the regular season, was held to a paltry eight yards on 1-15 passing and took numerous hits.

Driscoll credited Feehan's speed and athleticism for causing headaches for his offense.

"Our O-line had a hard time creating holes, and they're so athletic at the linebacker position and the secondary position that even when guys were open they had the closing speed to deflect passes," Driscoll said. "The secondary made nice plays. We tried everything; they had their way. I congratulate them and wish them luck in the next round."

DOMINANCE IN THE TRENCHES
There are no exceptionally large players on Bishop Feehan's lines. No one is over 6-foot-1 and there are no 300-pounders, but it is an exceptionally intelligent and physical bunch that asserted its dominance over the Falcons' line, including 6-foot-7, 315-pound Chuddy Nwachukwu, early.

"You've got to stay strong and drive them off the ball," sophomore Chris Barthe said. "There's nothing else to it. You've got to stay physical and more tough, mentally and physically."

Defensively the Shamrocks were able to beat D-R to the point of attack, get into the backfield, and cause chaos. Smith credits that to simple, yet effective coaching and execution.

"We keep it very, very simple; we find we can be much more successful in a one-gap technique," Smith said. "We play one gap, you hold gap, and everyone fits together in our scheme. Everyone has a responsibility and they take that very seriously and buy in. You'd be surprised how easy that is."

For Barthe, the payoff is seeing his teammates in the backfield hit the holes he, and the line, create and get to the end zone.

"It's an amazing feeling," Barthe said. "I got to give all the respect to the running backs holding onto the ball in this weather. We've been doing this all year."

FEEHAN'S JACK OF ALL TRADES
Isaiah Douglas is a football player. The Feehan junior isn't classified by one position and he played like it last night.

Douglas ran for 97 yards, including a smooth 50-yard touchdown run, and locked down Dighton-Rehoboth's top receiver, Paul Costa.

"It feels good," Douglas said. ". I've been trying every day and working hard. All week we've been preparing for D-R and coach had me lock out [Costa]; focus on him, lockout on him, study his moves and everything."

Kowalski's 1-15 passing line was due in large part to Douglas who was able to close quickly on Costa and bat a handful of balls away at the last minute.

Offensively, Douglas benefited from being part of the tailback committee that the Shamrocks were able to rotate in throughout the game and stay fresh.

"Just ran hard," Douglas said. "Coach told me to run hard and lower my shoulder and it'll come."

Smith was quick to praise Douglas for his skill, leadership, and love of the game.

"He's an extraordinary player," Smith said. "He's our only junior on defense. He loves football; he eat, sleeps, and drinks football. We challenged him. We said it was going to be quite a challenge; we told him how they liked to throw the ball and if they had a big play you'd have to have a short memory and you've got to get over it. He rose to the occasion."
November, 11, 2012
11/11/12
12:49
AM ET
By
Brendan Hall
| ESPNBoston.com
[+] Enlarge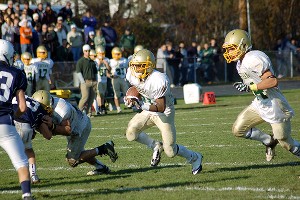 Brendan Hall/ESPNBoston.comIsaiah Douglas' goal line interception early in the fourth quarter helped cement Bishop Feehan's second straight EAC crown.
SOMERSET, Mass. -- For as long as we can remember, the Eastern Athletic Conference title always runs through Bishop Feehan. And for the third straight year, the crown fell into the hands of today's matchup between those Shamrocks and the Blue Raiders of Somerset-Berkley.
And for the second straight year, the Shamrocks emerged victorious, though it wasn't nearly the 41-7 blowout they delivered a year ago. In this one, the Shamrocks rattled off 24 unanswered points, en route to a 24-7 victory on a sunny Saturday afternoon in Somerset.
With the win, Feehan clinches at least a share of the EAC crown. But even if they were to lose to Bishop Stang on Thanksgiving, the Shamrocks would still be the conference's Div. 3A playoff representative based on head-to-head with S-B.
The Shamrocks will face South Coast Conference champ Dighton-Rehoboth on Nov. 27 in a Divison 3A playoff.
"I watched my brother win a Super Bowl," said quarterback Nick Romero. "I watched Nick Schwieger, all the greats play and win Super Bowls. That's what we've been working all season for. We've got one more, then we've got D-R, just like in 2009."
Somerset got on board first, an eight-yard toss sweep from Mikey Garrant, to go up 7-0, and the Blue Raiders took a 7-6 lead into the half. But momentum swung to the Shamrocks' favor with two key sequences of events.
First, Feehan opened up its first series of the second half running midline option out of its tried and true Wing-T scheme, with two big gains out of up-back Matt Glebus (15 carries, 123 yards). He took his first carry of the drive 53 yards, bursting up the middle then cutting to his left twice, pushed out of bounds some 53 yards later. The gain was negated 20 yards thanks to a downfield block in the back, but one play later Glebus was at it again, this time just bulling straight up the middle for a 39-yard gain that put the ball at the S-B 1 yard line.
Two plays later, Romero followed his left guard over the goal line to punched it in from a yard out and give the Shamrocks their first lead of the game, 12-7 advantage.
[+] Enlarge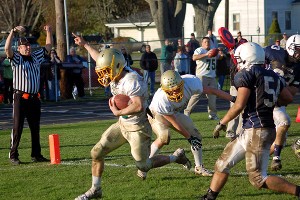 Brendan Hall/ESPNBoston.comMatt Allen's two fourth-quarter touchdowns put the finishing touches on Feehan's comeback victory.
"Nicky stepped up today," said running back Matt Allen (11 carries, 76 yards, two total TD). "He really read it nice. All season, that's what we do, we practice the option. We knew it was there, their linebackers kind filled slow, so he took it. Glebus, by the way, he stepped up. He went off today."
S-B's ensuing drive moved deep into Feehan territory, aided by a 41-yard pass completion from Jack Aramantes to Garrant,but after two failed dives found itself facing fourth and goal from the Shamrocks' five. Out of a timeout, Aramantes took a few steps to his right, threw across his body to the near pylon, and watched as safety Isaiah Douglas crashed from over the top and took the pass 60 yards the other way.
"I just knew it was coming," Douglas said. "I could tell that he was coming to the back corner."
That led to a five-play 40-yard scoring drive capped with a 14-yard screen pass from Romero to Allen, for an 18-7 lead with 6:07 to go. Allen added another score late for good measure.
Setting the edge:
The Shamrocks are no stranger to S-B's vaunted double wing attack by now, and head coach Curt Smith stressed the outside gaps in practice this week. With Chris Barthe, Mitch Martin and Zach Forget
"Win the C and D gap battle," Smith said. "If we can control the off-tackle and outside, when you take that away it's all play action passes. That's it. You can't sit back and read it and hope for it. You've got to smack them in the mouth in the C and D gap, and play the play action passes. That formula so far has worked for us. It's the only way I know, and it's worked so far."
Plenty to boot:
In the box score, Allen will go down as 0-for-2 on point after kicks. But as is the case every now and then, stats can be misleading.
One of the most underrated angles in the Shamrocks' surge over the final three quarters was Allen's booming blasts on kickoffs. Allen recorded three touchbacks on the day, including two in the fourth quarter. The Raiders' offense isn't always built to score quick when playing from behind, so with 80 yards to go o their final two drives of the game, it was an added layer to what was an uphill battle.
BISHOP FEEHAN 24, SOMERSET-BERKLEY 7

BF (7-2, 3-0) 0 6 6 12 --- 24
SB (9-1, 3-1) 0 7 0 0 --- 7
Second Quarter
S - Mikey Garrant 8 run (T.J. Eisele kick) 5:42
B - Isaiah Douglas 17 run (kick failed) 3:03
Third Quarter
B - Nick Romero 1 run (rush failed) 3:51
Fourth Quarter
B - Matt Allen 14 pass from Romero (pass failed) 6:07
B - Allen 4 run (kick failed) 3:23
November, 11, 2011
11/11/11
10:55
PM ET
By
Mike Scandura
| ESPNBoston.com
ATTLEBORO, Mass. -- Somerset-Berkley won the coin toss prior to Friday night's Eastern Athletic Conference game at Bishop Feehan and opted to defer to the second half.

Bad move.

On the fourth play after the opening kickoff, Cameron Frye broke through the right side and sprinted 63 yards for a touchdown. Then, three plays after the ensuing kickoff, Tom Flett recovered a Cole Stafford fumble which set up a 10-yard touchdown run by Frye and a 14-0 lead.

For all intents and purposes, the game was over, as the Shamrocks cruised to a 41-7 victory which enabled them to clinch the conference championship and a berth in the Division 3A semifinals against the South Coast Conference champion.

The Blue Raiders (4-6, 3-1) are known for their double-wing, ball-control offense. But they were in trouble because that offense isn't designed to enable teams to overcome significant deficits.

"The ball bounced the right way for us early in the game and I think that gave us momentum," said Feehan coach Curt Smith. "I think it's tough in that offense when you fall behind to come back. That's what we needed to do, get up early.

"That's what we talked about all week, trying to get up early on them, and we were fortunate enough to do that."

"Fortune" had little to do with the next touchdown scored by Feehan (6-4, 4-0) as opposed to execution.

On first and 10 from his 30 early in the second period, quarterback Andrew Murphy ran play action where he faked a handoff to Frye (13 carries, 117 yards) and threw a 69-yard scoring bomb to Flett for a 20-0 lead.

But fortune definitely played a role in in a score that gave Feehan a 27-0 lead. Murphy scrambled from his 30 and appeared to be en route to a sure touchdown –- until he fumbled the ball into the end zone, where the ball was smothered by teammate Jim Corbesero.

Feehan's defense stopped Mike Garrant for zero yards on fourth-and-three from the Blue Raiders' 38, and the Shamrocks converted that into a four-yard touchdown pass from Murphy to Zach Forget.

The Shamrocks completed their scoring on another well-executed play early in the third quarter when Murphy threw a screen pass to Christian Cooke, who broke it 50 yards to the end zone.

"We respect everybody," added Smith. "We prepare and we assume that everyone is better than us. It doesn't matter who it is. Records are thrown out the window.

"That's the way we prepare."

Good point.

Immovable objects: Against Somerset-Berkley, and throughout Feehan's six-game winning streak, the Shamrocks' defense has been rock-solid.

In their last five games, for example, Feehan's allowed only 15 points –- eight on an 85-yard touchdown run, and seven when the Blue Raiders scored with 41 seconds left of the clock against the Shamrocks' second- and third-stringers.

Or to put it another way, 68 of the 75 yards in total offense Somerset-Berkley amassed in the second half came on that last drive.

Smith was effusive in his praise of senior Ed Giles, senior Tim McMackin, junior Mitch Martin, junior Chris Barthe, Forget, Flett and senior John Labelle.

"They've put the 'D' in our defense," said Smith. "Our defense has been playing well. The kids are disappointed because they wanted another shutout. But it's not about that. It's about playing well and doing the right thing.

"The seniors on defense have waited 365 days for this opportunity after last year (when the Raiders rang up 49 points against the Shamrocks) –- much like Somerset did last year. It's a nice, little rivalry we've got going."

Intestinal fortitude: After the Shamrocks lost their first four games they had every opportunity to mail in the rest of the season. Instead, they did a complete turn-around and won their last six.

"We played some tough teams in the beginning," said Murphy. "We basically said we're going to fight and do whatever we can to compete with those teams. Then, hopefully that would set us up to move through our EAC schedule and put us in a good position.

"We we're in a similar situation last year. We came out and knew what we had to do. We knew we had to get the EAC and we came out and got it."

FEEHAN 41, SOMERSET BERKLEY 7
SOM (4-6, 3-1) 0 - 0 - 0 - 7 --– 7
FEE (6-4, 4-0) 14 - 20 - 7 - 0 --– 41

First quarter
F – Cameron Frye 63 run (Matt Allen kick)
F – Frye 10 run (Allen kick)

Second quarter
F – Tom Flett 69 pass from Andrew Murphy (kick failed)
F – Jim Corbesero recovered fumble in end zone (Allen kick)
F – Zach Forget 4 pass from Murphy (Allen kick)

Third quarter
F – Christian Cooke 50 pass from Murphy (Allen kick)

Fourth quarter
S – Cole Stafford 4 run (T.J. Eisele kick)