Boston High School:

Curtis Cobb
January, 21, 2013
1/21/13
2:30
AM ET
By
Terrence Payne
| ESPNBoston.com
SPRINGFIELD, Mass. -- Worcester Academy's Rene Castro grabbed an errant pass and connected on a 3-pointer to give the Hilltoppers a two-point lead with 3:44 remaining in the first half. Worcester would hold the lead for the remainder of the game, countering several Wilbraham & Monson threats, earning a well-deserved and much-need 69-62 win to conclude Day 4 at the 2013 Hoophall Classic in Springfield.

Worcester built a five-point lead heading into halftime and started the second half on a 10-4 run, with several easy baskets coming in transition. Matt Mobley and Rene Castro on two separate possessions found the trailing Darryl Reynolds for layups. The early half surge but Worcester up 37-27.

"We were strong on defense," said Worcester senior Matt Mobley. "We had a lot of help defense, we didn't let them get to the middle."

Luis Montero, Kerem Kanter, and Curtis Cobb provided much of the offense in the second half to keep the Titans within striking distance. Montero scored five straight, followed by a bucket by Kanter to cut the lead to 52-47. Worcester responded with a coast to coast finish by Mobley and a Castro layup.

Kanter and Cobb combined for a 6-0 run with 3.5 minutes to go, but Matt Panaggio connected on a three to put the lead up to 59-53.

"I think we just had breakdowns," said Wilbraham & Monson head coach Chris Sparks. "We were able to guard them in the half court, but I think where we broke down was in transition."

Worcester had a four point advantage on the boards, including two different instances late in the game when Worcester secured an offensive rebound off a missed free throw.

"When you're two possessions away and you give up two offensive rebound that kills you," said Sparks.

Worcester shot 15-of-31 from the free throw line, leaving the door open for a WMA comeback. The Titans couldn't take advantage of second chance opportunities and coughed the ball up down the stretch.

"We didn't shoot the ball well from the free throw line," said Sullivan. "We kept fighting."

Mobley had a team-high 17 points, to go along with four rebounds and four assists. Castro added 15. Goodluck Okonoboh had 11 points and 10 rebounds.

Worcester has won the first two games against Wilbraham & Monson this season. They meet again on Feb. 9 at Worcester.

Bounce-back win for Worcester: Worcester needed this win following an upset loss to Beaver Country Day the previous evening, as part of the BABC Prep Classic. Beaver Country Day defeated Worcester 71-69, even though junior center Jacquil Taylor went down with a reported ankle injury.

A day later, the Hilltoppers had to forget about that game and get back on track against a talented Wilbraham & Monson team.

"We got away from that last night playing Beaver Country Day," said Sullivan. "With Taylor going down, which is a shame, that team rose up and beat up. But tonight was a night with a quick turnaround. Being able to in the gym, right away, without having that to fester too long was great."

This bounce back win not only kept the Hilltoppers undefeated in league play, but came at the right time for Worcester Academy. On Wednesday, Worcester travels down to Connecticut to take on Class AAA opponent, St. Thomas More.

Kerem Kanter reclassifies: Back in December, during the BasketBull Hoops Fest, Wilbraham & Monson forward Kerem Kanter landed scholarship offers from Boston College and Pittsburgh.

On Friday, through Twitter, he announced he would reclassify and join the Class of 2013.

"I just thought it was time to move up," said Kanter. "I felt like I will be ready by the time next year comes."

Kanter, the younger brother of Utah Jazz center Enes Kanter, says he will decide on a college sometime in April. The 6-foot-7 forward is still working on visits, but intends on taking several before he makes a commitment. He listed Miami (Fla.), Auburn, Tulsa, and Drexel as other schools involved in his recruitment.

Kanter has been impressive this season for Wilbraham & Monson with his footwork and ability to score around the basket. Due to the size of the Titans, Kanter has also been able to step away from the basket and show off his shooting touch.

He joins Kamali Bey as WMA seniors still on the board.
July, 9, 2011
7/09/11
9:20
PM ET
By
Brendan Hall
| ESPNBoston.com
After
strong showing at the LeBron James Skills Academy this week
at the University of Akron, Wayne Selden found himself sitting in his hotel room Friday night wondering how he was going to get down to Little Rock, Ark. today to join his Boston Amateur Basketball Club in the AAU Ninth Grade Championship.
Not sure of what time his flight was to leave, the Roxbury resident decided to give it the ol' college try and pull an all-nighter. He left for the airport today at 3:30 a.m., flew out at 7 and caught "maybe an hour" of sleep on the plane (thanks to a connector flight in Atlanta) before touching down in Little Rock at 11 a.m. and heading straight to the gym at Phillander Smith College to join his team.
Regrettable decision? Selden said at first he "felt nothing", but about three minutes into the championship game with the Louisiana-based Ascension Jaguars, "I didn't have my legs, I was exhausted."
[+] Enlarge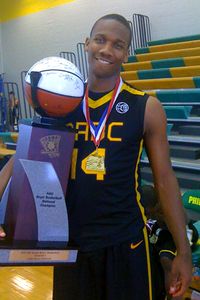 Jason Green for ESPN.comAfter pulling an all-nighter and playing with LeBron, Wayne Selden led the BABC to an AAU national championship.
Ultimately, the 6-foot-4 Selden persevered to lead the club with 20 points and chipped in five assists to lead the BABC to a 78-66 win and the national championship.
"I knew I had to be with the team," Selden said. "They worked so hard to get here, I felt I had to work hard and push through. It was all in the mind."
New Bedford native and St. Andrew's forward Bonzie Colson also had 18 points and 11 rebounds, while Fall River native and Putnam Science forward Tyree Robinson had 15 points, eight rebounds and five blocks to contribute to the win.
"It's a beautiful feeling," said coach Eggie McRae. "It's been a long year, but it was worth every minute of it after grabbing that big trophy."
BABC trailed just once through the entire tournament, today when the Jaguars scored the opening basket. And while the impact today of Selden was evident -- the Tilton (N.H.) swingman is currently the No. 2 shooting guard and No. 7 overall player in the Class of 2014 -- this tournament run was more testament to the arrival of undersized point guard Jonathan Joseph.
With a short bench and no backup point, the 5-foot-8 Brockton resident -- who earlier this year was named to
ESPNBoston's All-Freshman Team
-- excelled with clean entry passes to the bigs and scorers like Selden, Curtis Cobb and Damion Smith. McRae's troops preferred to attack from the inside out, so when Joseph was left open on the wing he made the opposition pay.
"People thought I'm too small to run a team," said Joseph, who is transferring to Putnam Science Academy (Conn.) and will re-classify to the Class of 2015. "But honestly, I don't think size has anything to do with it. It's about how big your heart is. I have the biggest heart, and nobody's taking that away."
Said McRae, "We had the best point guard in the tournament. He just ran the show. Little Johnny joseph, dictated tempo, made all the right decisions, gave everybody good looks."
Added Selden, "He knows how to set up. He may make a bad decision one in a while, but overall he's the one that got us to the national championship."
KING JAMES EDITION
Selden's getting some much-needed rest tonight, but his final day at LeBron Skills Academy will no doubt be on his mind forever.
On the final day, Selden got to run alongside his idol as LeBron James joined in on some scrimmages. On one fast break, James fed Selden a behind-the-back pass for a dunk.
"I loved it," Selden said. "He's my favorite player, and playing against the best competition, it was just a real good experience."