Boston High School:

D.J. Hernandez
April, 6, 2011
4/06/11
2:55
PM ET
By
Roger Brown
| ESPNBoston.com
Although the school has not extended a verbal scholarship offer, it appears that the University of Connecticut may be a likely landing spot for Masuk quarterback Casey Cochran.

Cochran, a 6-foot, 210-pound junior, took his second unofficial visit to Connecticut on Saturday, when he attended spring practice. He also attended a junior day in February.
"I wanted to get a look at the new offense," Cochran said. "It was up-tempo, and a lot of pro-style, which fits me.
"I don't think I'll get an offer until they see me in person at one of their summer camps. It would be an honor to play for my home state."
Cochran, the state's Gatorade Player of the Year last season, has an offer from Boston College and said he will attend BC practice this weekend. He made an unofficial visit to Vanderbilt in March, and is scheduled to visit Rutgers, Harvard, Virginia, Duke, Penn State and Notre Dame this month.
Cochran is on pace to graduate in January. He led Masuk to a 13-0 record and the Class L state championship last season, when he completed 200 of 295 pass attempts for 3,345 yards and 40 touchdowns. He led New London to the Class SS championship during his freshman season, and then transferred to Masuk.
Cochran said Vanderbilt, Connecticut, Rutgers and Boston College are the schools he hears from most frequently.
"Hopefully I'll get more offers in the spring," Cochran said. "I'm in no rush, but I'd like to have it done before my senior season to get the distractions out of the way. If it takes longer, it takes longer."
November, 10, 2010
11/10/10
11:04
AM ET
So by now you've probably heard about the imbroglio surrounding Southington (Conn.) High football head coach
D.J. Hernandez
.
Well, the story took another turn yesterday when Hernandez was suspended by Southington principal Martin Semmel, (for more information, check out the
Associated Press
report from yesterday) after admitting to Semel that he had, in fact, taken the wristband of a Manchester player and used it during a Manchester scoring drive during Southington's 28-14 win on Oct. 22.
"The administration's investigation determined that Coach Hernandez's actions did not adhere to the district's high expectations for all Southington Public School coaches," Semmel said in a release sent to the AP.
Manchester filed a protest letter to the Connecticut Interscholastic Athletic Conference on Monday. If the schools cannot come to a resolution on the game's result, the CIAC could have the final say on Nov. 18, when its football committee gathers.
So did Hernandez cheat, or did he not? You decide.
And, while you're at it, check out Jeff Jacobs of
The Hartford Courant
with Bob Ley on Outside the Lines.
September, 29, 2010
9/29/10
4:24
PM ET
By
Matt Stout
| ESPNBoston.com
John Acquavita called it The Scholarship Run.

"It was absolutely …" the Wilbur Cross football coach started before trailing off about James Ward's 33-yard misdirection-, broken tackle-filled touchdown run against Shelton on Sept. 17. "The film won't do it justice."
Perhaps it's already growing in lore. Ward may not be too far behind.
In the midst of Ward's 245-all-purpose-yard performance in Cross's 32-21 season-opening victory was one of the best plays Acquavita's ever seen.
Taking a handoff from quarterback Dontay Long, Ward stiff-armed a defender behind the line of scrimmage. Over the course of the next few moments, the running back broke three tackles, Acquavita said (one newspaper account put it at five total) and made "six or seven different directional cuts," with said newspaper totaling three cutbacks. He finished it with a 20-yard sprint to the end zone that left everyone, Acquavita included, wondering if Ward just did what he or she thought he did.
"I don't even know how I did it, to be honest with you," Ward said. "If you see it, it looks impossible."
It's been that kind of start to the season for Ward.
Through his first two games, he has done everything but wash the Governors' (2-0) uniforms. He's scored nine touchdowns: Four on the ground, three through the air and two on kick returns. Among his accomplishments is an 85-yard scoring run and a 71-yard touchdown return. In a 49-27 victory over Law last weekend, he had more receiving yards (150) than rushing (140). If it wasn't enough against Shelton, he also made an interception. This week, he'll lift a car over his head.
With apologies to Ansonia running back Montrell Dobbs (594 rushing yards, eight touchdowns), no player in Connecticut may be playing better than Ward, who at 5-foot-8, 175 pounds is out to prove he belongs with a Division I football team next fall.
"Last year, my mindset was different," Ward said. "I would basically take what I could get and go down. But as far as this year, I have a lot to prove to myself and coaches, so I'm trying to be the best I can and help my team get to the state championship and play on Rentschler Field (the site of this year's title games)."
Acquavita doesn't want to say he's a genius for seeing this coming — "because I'm not," he said — but following last season, coach and player formed a plan to put Ward in this position.
Among the steps was keeping on track academically. Ward is taking Advanced Placement and honors classes for the second straight year and has already qualified under NCAA standards, Acquavita said.
The next included getting noticed. Ward attended more than a dozen camps and combines this past year, enough to draw interest, he said, from Villanova, Akron and Temple, among many others.
He also joined an offseason passing league with Team Connecticut, which played teams around the state and region, and featured other state stars such as Masuk quarterback Casey Cochran, Shelton wide receiver Mike Georgalas and Southington wide out Tyler Dube.
"The guy who was running it called me and said, 'Do you have anyone?'" Acquavita said. "I said, 'I have a kid who's a running back. I know it's a passing league but I'm trying to turn him into an inside receiver. He's a talented kid.' 'We'll take him.'
"I didn't really know if the kid could catch the ball. Two or three games into it, the coach who was running it called and said, 'Not only can he catch, he's one of the best receivers on the team.' I went, 'Huh?'"
Ward also needed to add size. He now squats 455 pounds, benches 235 and, Acquavita believes, has the capability to pack on weight beyond the 10 pounds he's added since January.
Ward's goals remain clear: He wants to lead Cross to a state title, which would be first in more than two decades, and reach 2,000 all-purpose yards. A few more Scholarship Runs should help. Acquavita called it the second best play he's ever seen, trailing only a kick-off return in the 2000 state championship one of his players executed while he coached Hyde Leadership.
"It was just mind-boggling," Acquavita said of Ward's run. "And to hear other people on our sideline, administrators and things, talking about it Monday in school, it was good because I needed to have it said to me that it actually happened like that. It was just unbelievable."
GROVE BACK IN SADDLE
While Montville stamped its place as a state title contender with a 21-19 season-opening win over New London, its coach, Tanner Grove, was alone, devoid of any type of coverage of the game outside of a few texts or phone calls with updates.
If the previous four weeks weren't difficult enough, this was almost unbearable.
"I spent some time by myself," Grove said, declining to say where or how he spent those two hours. "Maybe when I retire I'll tell everyone where I was."
Grove then flashed a smile, a rarity over the last month he spent exiled from coaches he considers his best friends and the players that are the closest things he has to kids of his own.
Charged Aug. 13 with driving under the influence, Grove spent the days following his arrest in limbo while Montville superintendent Pam Aubin decided his fate. Ultimately suspended through the Indians' first game, or essentially the first four weeks of the season, Grove spent "the most difficult time of (his) life" reflecting, changing and appreciating what he has. He was back at practice Sept. 20 and was victorious in his return to the sidelines, a 48-14 rout of Killingly on Sept. 24 that vaulted the Indians to No. 9 in the
New Haven Register
state top 10 poll.
Getting to that point took what probably felt like years.
"For so many years, football has made all the decisions in my private life, in my personal life, so I took the time to really reflect on what is I do every day and the decisions I make off the field," said Grove, who added that several of the charges stemming from his arrest have been dropped, though he was scheduled to attend an alcohol education course.
"That's really what it was most days. Toward the end of the suspension, I got a little itchy to get back in the mix."
Grove, who teaches freshman social studies at Montville, did everything to avoid football during his suspension. He'd see players in the hallways and exchange pleasantries. But, every day, he'd teach his classes and head home, leaving no temptation of lingering and perhaps violating his school-imposed suspension.
When the team returned from its game against New London that Saturday morning, Grove was there, awaiting them at Montville High. On his first day back to work, he finished practice by sprinting against one of his captains, Tyler Girard-Floyd, while the senior finished a drill.
Finally, Grove said, he felt "normal."
"It's like everything coming together," said senior Skyler McNair, who was part of Montville teams that lost to New London four times in the previous three years. "We finally beat New London, we get our head coach back. I think our whole season got a jump start with a win and coach coming back at the same time."
Now Montville (2-0), a Class SS finalist in 2009, can turn its focus back to pursuing the elusive state title. It plays at Fitch-Groton (2-0) on Friday, expected to be its biggest test before facing Ledyard on Nov. 5.
"My expectations haven't changed since the day I was hired," said Grove, who's in his fifth season. "What I want to do here is be a state championship or state playoff perennial power. When people talk about being in the state playoffs every year, I want Montville in that sentence."
REST FOR THE BETTER?
It's not as if Chad Johnson has never held members of the Norwich Free Academy boys' cross country team out of races for the purpose of resting them.
"This year," he said, "I'm just taking it a little more to the extreme."
In an uncommon but not altogether novel move, Johnson chose to hold his top five runners out of the first two weeks of competition. It left the Wildcats thin at the Windham Invitational and cost them a divisional win against rival East Lyme. But, Johnson hopes, it will keep the likes of Dan Cardin, Vos Hunter and NFA's other pacesetters fresh for when they run for a state title.
The catch: In the process, it may cost the defending Eastern Connecticut Conference champs a chance to defend that title.
"Last year, we petered out at the end, but our primary goal was to win ECCs," said Johnson, whose team later finished 14th in Class LL. "I knew I had a team that they were going to be lucky even if they made it to the State Open, and they didn't make it. And now we got everybody back, and it's not that we don't wanna win ECCs but it's not our primary goal.
"Our primary goal is to finish it the top six in the State Open and make that trip to New Englands. We haven't been here since the time I started coaching, and we want to get back."
Johnson has created a buzz in some circles with his decision.
The Day
of New London ran a column discussing his move, and East Lyme head coach Sam Harfenist told the
Norwich Bulletin
the move indicated a lack of respect for the Vikings in their dual meet.
"Conversations were had," he said of his team.
While a risk in some sense, Johnson seems confident it will pay off. His full team ran for the first time Saturday at the Ocean State Invitational, where the Wildcats' finished 10th as a team in the championship race and fourth among Connecticut schools. Among those was Xavier-Middletown, ranked No. 1 in the state and Amity, ranked No. 4.
"It's no new big thing," Johnson said. "Danbury is probably going to be the No. 1 team in the state when the coaches poll comes out (it was No. 2), and they lost on (Sept. 14), too, a one-point loss to Fairfield-Warde. Why? Because they didn't run their top six."
HIGH-FIVES:
1. Football Game to Watch: Xavier-Middletown at Cheshire, Friday, 7 p.m.
Need to know: Xavier, the consensus No. 1 team in the state, boasts a defense that's been scary good. In its 37-0 whipping of Foran last weekend, it held the Lions to 13 yards of
total
offense. Meanwhile, the punishing hits it left on Notre Dame-West Haven the week prior may still be ringing out in southern Connecticut.
"We take a lot of pride in being a very physical football team," coach Sean Marinan said Wednesday. "We've got pretty good speed on the defensive side of the football … but it's more about being in the right place. If you do that, you can contain the other team."
Cheshire, No. 5 in all three major state polls, is the defending Class LL champion and is led by athletic quarterback Max Slade, who's also a dangerous punt returner.
2. Football Game to Watch No. 2: Windsor at Southington, Friday, 7 p.m.
Need to know: Windsor is hoping to cement itself as the team to beat in the CCC, evidenced by its No. 9 ranking in
The Day
state coaches poll. Southington, under new coach D.J. Hernandez, is 2-0 as well and would love to boast the same claim.
Both teams love to throw the ball, Windsor behind Alton Smith and Southington behind Connor Butkiewicz.
3. Football Game to Watch No. 3: Staples-Wesport at Ridgefield, Friday, 7 p.m.
Need to know: Meanwhile in the FCIAC, Staples gets it first test of the season against Ridgefield, another team that hasn't been tested in a dominant 2-0 start. Staples has won this regular-season meeting in four of the last five years, twice giving Ridgefield its only loss of the year (2009, '05).
4. Old news for New Canaan
Need to know: A year after posting 18 shutouts and outscoring its postseason opponents, 19-1, en route to a state title, the New Canaan girls soccer team has outscored CIAC teams, 14-0, in compiling a 4-0 record entering Wednesday's game against Fairfield-Warde. The Rams are ranked No. 1 in the
Hartford Courant
state coaches poll.
5. The high road
Need to know: The E.O. Smith boys soccer team played just one of its first five games at home this season, but it hardly seems bothered. The Panthers are 5-0 and went from being unranked to No. 3 in the state coaches poll this past week. The reward: They play their next four at home in Storrs.
September, 15, 2010
9/15/10
2:05
PM ET
By
Matt Stout
| ESPNBoston.com
SOUTHINGTON, Conn. -- As the weights clanged away behind him, creating a cacophony of clean lifts and bench presses inside the Southington High School weight room, D.J. Hernandez spoke of doing the little things to be successful.
He emphasized respect and getting on his players about the small nuances — things "they can control."

He spoke of high expectations, all while firing off answers about his time playing and coaching in Austria, UConn football, and his younger brother, Aaron, the New England Patriots' rookie tight end.
Southington's new head football coach is proving he can balance a lot of things at age 24. He doesn't include lip service among them.
"Hey," Hernandez called over to one of his players as he finished his conversation.
"Come over here," he added, directing the athlete to do push-ups in a different part of the weight room.
"Why?" The player asked.
[+] Enlarge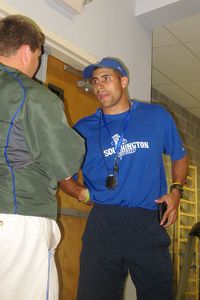 Matt StoutFormer UConn standout D.J. Hernandez will take the sidelines as head coach at Southington High for the first time on Thursday.
"Because all you were doing was talking," Hernandez answered, leaving the teenager with a puzzled look that begged how the seemingly distracted coach could have noticed.
If he needed to, Hernandez would have given the same answer: It's the little things.
"He's a natural coach," said Rob Lunn, Hernandez's former teammate with UConn and the Carinthian Black Lions, an Austrian pro football team. "But he's also a players' coach. D.J. is the kind of guy who will scream at you on the field and tell you to get the hell up. But you don't resent him for it because he's working just as hard as you are, if not harder. That's a tough line to walk, but he seems to do it effortlessly."
Hernandez starts walking it tonight when Southington opens its first season under the former UConn quarterback at South Windsor.
Hired in May to replace Bill Mella, who left to be an assistant at Wesleyan University, Hernandez takes over a team he ran all over while starring at rival Bristol Central. He also takes the reins of a program just four years removed from back-to-back Class LL state championship appearances, but is coming off a 5-5 season.
He's one of, if not the, youngest coach in the state. Last year, as Southington's quarterbacks coach, was his first coaching in any high school system. But Hernandez has a "pedigree," Mella said. He and Southington athletic director Eric Swallow feel Hernandez's interesting path to high school head coach makes him more than capable.
"We asked him one question (in the interview) that was, 'What do you think is more important: Offense or defense?'" Swallow said. "And he said, 'Team.' That's a pretty strong answer.
"I didn't really look at age. That's not a disadvantage to me. … His philosophy and methodology have been all-inclusive, and whether you're a freshman, sophomore, junior or senior, his mentality is the best players are going to play. That comes from his background."
Hernandez was Connecticut Gatorade Player of the Year as a senior in 2003, when he became the first player in state history to rush and throw for more than 3,000 yards in a career. At UConn, he threw for 515 yards and six touchdowns as a redshirt freshman and improved as a sophomore, throwing for 849 yards and nine scores.
But when the Huskies brought in Tyler Lorenzen to play under center, Hernandez willingly moved from quarterback to receiver. A captain over the next two seasons, he caught 47 passes, leading the Huskies to a victory in the International Bowl in Toronto in 2008.
His next move was to Austria, where he served as offensive coordinator and quarterback for the Black Lions. He even assumed head coaching duties late in the season after the original coach left to handle a family matter.
Hernandez remained as head coach the following year, and left as "hands down, as the best player in the league the last two years," according to Lunn.
"No one even compared," Lunn said. "A lot of that doesn't have so much to do with his physical ability, but he did game plan for guys; he put the time in the film room."
He's making a home for himself there now, if it was almost by accident. Hernandez, who has a degree in human development and family studies, will earn his master's degree this spring, and spent last fall searching for an internship in a guidance department.