Boston High School:

D.J. Sperzel
March, 19, 2014
Mar 19
2:59
PM ET
With spring sports and lacrosse practices kicking off across the state this week, we're catching up with one of the sports' rising stars.

Xaverian freshman Sean Sperzel has yet to suit up for the reigning Division 1 state champion Hawks, but he recently ended his college search, giving a verbal commitment to Penn State.

We recently caught up with the 5-foot-10, 160-pound attack for this Q-and-A:

Q: What helped make you decision to go with Penn State?

A: "I spent three days at Penn State and was able to watch practice, their game against Michigan, and speak to players on the team, including James Burke [Duxbury] and Connor Darcey [Wellesley] who both played for Laxachusetts. Everyone I spoke to had great things to say about Penn State, the lacrosse program, and Coach [Jeff] Tambroni and his staff."

Q: What other programs had expressed interest or made offers?

A: "I went on unofficial visits to Penn, Villanova, BU, Princeton, and Penn State. I really wanted to go to a big school that had a good business program and a school that would have a chance to play for championships. Penn State offered all these things and I really liked Coach Tambroni and his staff. Penn State's lacrosse facilities were amazing and they will be moving to the Big 10 in lacrosse, so they will play some great competition. Having just beat [then] No. 3 Notre Dame, they are already playing at the highest level. I knew it was the place for me, so I verbally accepted their scholarship offer a few days after my visit."

Q: In what ways did your brother (Xaverian senior midfielder D.J. Sperzel) help you out in this process?

A: "It helped a lot that D.J. went through this process too, because I knew a little about what to expect. He and I talked a lot about the right fit for a school with academics, social life, lacrosse, and geography – all important things. I also had a chance to see a lot of colleges over the past few years during summer lacrosse tournaments. This really helped me know what kind of school I would want to go to."

Q: What are your expectations for the upcoming season?

A: "I have a long way to go before I get there, so I just need to work really hard to keep getting better. I hope to contribute to Xaverian this year. I've known most of the kids on the team because of D.J. and we've been playing indoor this winter and have been having captains' practices. I know the expectations for this year are pretty high and everyone has been working hard and getting ready for tryouts."
December, 7, 2013
12/07/13
8:11
PM ET
By
Josh Perry
| ESPNBoston.com


FOXBOROUGH, Mass. – D'Andre Drummond-Mayrie rushed for 119 yards and three touchdowns to lead Central Catholic to its third Super Bowl title and first since 1998. The Raiders held off Xaverian, 34-17, in the Division I championship game at Gillette Stadium.

Central Catholic head coach Chuck Adamopoulos noted that his team has the belief that it can beat anyone in the state and showed that it can by beating Everett in the DI North final and then Xaverian on Saturday.

"They just keep pulling out games and they've gotten better as the year has gone on," explained Adamopoulos. "They have a lot of confidence and they believe that they can play with anyone. We had to beat two really good programs to win this; two of the marquee programs in the state."

The Raiders jumped out to a great start, scoring on their first two possessions. Junior quarterback Michael Milano (6 of 13, 81 yards, 2 TD) capped a 10-play, 64-yard drive with an 18-yard touchdown pass to Cameron Manning.

Central Catholic forced a second three and out on the next Hawks possession and Blades Shields raced into the backfield to block the punt, which set up the Raiders at the Xaverian 24. Two plays later, Drummond-Mayrie scored the first of his touchdowns on an eight-yard run.

"That was huge … at that point it was definitely a huge factor to getting that two touchdown lead," said Adamopoulos. "Letting us play with the lead was big."

Xaverian's offense kicked into gear on its next possession with an 11-play, 71-yard drive that ended in a Noah Sorrento touchdown that made it 13-7, but the Raiders did not allow the Hawks to have momentum for long.

Drummond-Mayrie, a University of New Hampshire-commit, took off on a 52-yard touchdown run that restored a two-score lead for Central Catholic.

"There was a huge hole and then I just saw the corner come up one-on-one and I knew if I made a move that I would get tackled," described the senior. "I got yelled at earlier this season for putting a move on, so I just ran him over and looked at the screen to see how close they were and just sprinted."

His head coach admitted that he is going to miss the running back both on the field as a presence in the locker room.

"He's one of my favorite kids that I've ever coached," remarked Adamopoulos. "I said to him that this was going to be his day and he responded on offense, on defense…UNH is getting a great player."

A Joe Gaziano 30-yard field goal made the score 20-10 at the half. Xaverian then made a stop on the Raiders opening possession, but a Hawks player unnecessarily tried to cover the punt and the Raiders grabbed the loose ball to regain possession at the Xaverian 32. Three snaps later, Drummond-Mayrie scored again and made it 27-10.

At the start of the fourth quarter, Xaverian looked like it may have some more magic like it had in the second half comeback against Attleboro in the semifinal. An interception by D'Aundre Holmes gave the Hawks the ball at the Raiders 22. On the next play, Jake Farrell (6-19, 80 yards, 10 carries for 47 yards) hit A.J. King for a touchdown to bring them back within 10 points.

Xaverian would get the ball back, but the Raiders defense made several key plays to force another three and out. The Hawks offense, playing without stars D.J. Sperzel and Shayne Kaminski, could not sustain drives and struggled against the hard-hitting Raiders.

"Well, I would've liked to have an offensive turnaround right there," said Xaverian head coach Charlie Stevenson about the fourth quarter sequence. "The clock was kind of against us and, you know, we give them credit. They made the plays on both sides of the ball when they needed to."

He added, "I thought they were a good football team; they outplayed us. I congratulate them; they deserved to win the game tonight. We had a hard time matching up with them all over the board."

Central Catholic wrapped up the victory with a highlight-reel catch by senior wide receiver Cody Demers for a 19-yard touchdown with just 2:33 remaining.

Drummond-Mayrie noted, "We're kind of used to it but we kind of like it - being the underdog, coming from behind, picking everybody off one-by-one and it just makes the win that much better."
October, 5, 2013
10/05/13
11:31
PM ET


WESTWOOD, Mass. – It's not how you start; it's how you finish.

And one week after a rough finish in a loss at Barnstable, No. 5 Xaverian learned its lesson heading into Saturday's Catholic Conference matchup with Catholic Memorial.

The Hawks hadn't played their finest half against the Knights and held just a slim three-point lead (10-7) at the intermission. But Xaverian showed up for the second half, outscoring the Knights 33-0 en route to a 43-7 win.

Xaverian (3-1, 1-0) pounded the ball in the second half behind a trio of running backs in Shayne Kaminski, Kenny Kern and Noah Sorrento. Meanwhile, the Hawks defense produced points as well, as junior defensive back Damion Wood returned two interceptions for touchdowns, turning a once competitive struggle into a manhandling.

"We weren't really making the plays we needed to, we hurt ourselves a little bit there," Xaverian head coach Charlie Stevenson said of his team in the first half. "We took some bad penalties."

In fact, the Hawks were so generous they accounted for three of CM's five first downs in the first half, with one leading up to the Knights' lone touchdown of the day – a 15-yard touchdown pass from Kevin Claflin to Kevin Bletzer roughly a minute before the break.

Xaverian's defense would be much more stingy in the second half.

After the Hawks extended their lead to 23-7 following a 1-yard touchdown run by Kaminski (11 carries, 79 yards), Wood collected his first pick-six with a 90-yard return with 22 seconds remaining the third quarter.

On the ensuing Knights possession, Ernest Simon collected the second of three Hawks interceptions during the half. That set up a six-play touchdown drive, culminating in a 4-yard touchdown by Sorrento (15 carries, 66 yards).

CM (1-3, 0-1) then committed its third straight turnover with Wood taking a 67-yard interception to the house, providing Xaverian with its final margin of victory.

"I just saw an opportunity and I took it," Wood said of his pair of scores.

Meanwhile, the Knights were left asking, what went so very wrong?

"Xaverian's a good football team, they can score without us helping them," CM head coach Alex Campea said. "I think they just decided that they were going to wear us down and were kind of pounding us [in the second half]."

Next man up: Xaverian's ball-hawking secondary was a major factor Saturday, forcing three turnovers. But what's most surprising is how the group came together so quickly, especially considering the loss of senior captain D.J. Sperzel for the foreseeable future.

" D.J. being out, that's a big loss for us," Wood said postgame. "But we practiced well, got all aspects together … everything's fine with our defense even though we're missing [Sperzel]."

Sperzel, who was lost to injury during the Hawks' loss to Barnstable last week, had quarterbacked the secondary along with fellow captain and corner A.J. King (36-yard TD reception in the third quarter). But the group can still be a strength for the Hawks, with Wood making such a bold statement. Along with sophomore Peter Thorbahn, who slotted into Sperzel's spot for most of Saturday's contest, and freshman standout Mekhi Henderson, the newly formulated group has come together quickly.

"I think they're good young players, but they're young," Stevenson said. "So you never know what you're going to get."

Give it up for the Big Man: The Hawks held their first-half lead thanks to senior offensive lineman Jeff Perez.

Xaverian opened scoring at 3:42 of the first quarter, when the 6-foot-1, 220-pound guard fell on a fumble in the end zone for a touchdown, pulling his best impression of Logan Mankins in the 2006 AFC Championship Game. After Kern ran up the middle for 24 yards on a fullback draw, he was stripped from behind. The loose ball bounded into the end zone, and Perez, who was trailing the play, alertly fell on the ball for the score.
October, 3, 2013
10/03/13
2:53
PM ET
No. 14 PLYMOUTH SOUTH (3-0) at DENNIS-YARMOUTH (1-2), Friday 6 p.m.

Scott Barboza: I think Dylan Oxsen could play on one leg, with arm tied behind his back and the Panthers will be just fine. Plymouth South, 14-7.

Brendan Hall: I think South's archrival, Plymouth North, laid out a good game plan for shutting down D-Y after the Dolphins looked like world-beaters in Week 1. Like their cross-town enemies to the North, much of South's running game is predicated on power and counter sets; spliced in with all of the misdirection element the pistol offense brings, and I think the Panthers can stay in control here. Plymouth South, 24-14.

No. 7 BROCKTON (2-1) at BC HIGH (1-2), Friday 7 p.m.

Barboza: I like the Boxers' chances at controlling the line of scrimmage behind Aaron Monteiro and Co. Brockton, 30-21.

Hall: Given BC High's difficulties defending the pass, but stout ability at defending the run (for the most part), the Eagles can pull off the upset here as long as they stay disciplined. The bye week has been pretty kind to teams looking to re-charge the batteries or clean up some deficiencies – just look at what it did for Everett, Barnstable and Springfield Central. BC High, 18-16.

LONGMEADOW (2-1) at No. 3 SPRINGFIELD CENTRAL (2-1), Friday 7 p.m.

Barboza: The Lancers are wont to play ball-control and keep the Golden Eagles' offense off the field; it's just a matter of whether they can keep pace with them. Central, 21-14.

Hall: I think the Lancers end Central's shutout streak, but the Golden Eagles have made a habit lately of dispatching opponents early in the game. This is the premier non-Thanksgiving rivalry in Western Mass. right now, but if the Lancers get into a track meet with these guys this could get untracked. Central, 35-21.

No. 11 ST. JOHN'S OF SHREWSBURY (2-1) at NASHOBA (3-0), Friday 7 p.m.

Barboza: Credit to the Chieftains who simply reload year after year, but the streak comes to a halt at No. 29. St. John's, 34-28.

Hall: I have a feeling this could be a high-scoring game, with the amount of possessions St. John's offense surrenders to the opposition. Andrew Smiley and Co. do just enough to stay ahead of the Chieftains, and end their state-best 29-game win streak, but this Wing-T offense for Nashoba is fluid. Helps that the coaching staff went from one Tucker to another this past offseason – continuity is pivotal. St. John's, 40-30.

HAVERHILL (2-1) at METHUEN (4-0), Friday 7 p.m.

Barboza: Hillies RB Ian Kessel can play foil, but the Rangers keep sailing along. Methuen, 28-20.

Hall: Just because it's the MVC, let's set the over/under at 65 total points scored in this one. Haverhill, 35-30.

BISHOP FENWICK (3-0) at No. 21 CARDINAL SPELLMAN (3-0), Friday 7 p.m.

Barboza: The Crusaders do not have an answer for Rory Donovan. Spellman, 32-27.

Hall: Talk about adapting to your talent. It wasn't too long ago the Crusaders' leading receiver caught 106 passes. Now, they have a bull in the backfield by the name of Rufus Rushins, and they are unleashing him thoroughly. Fenwick, 28-17.

No. 1 MANSFIELD (3-0) at No. 23 ATTLEBORO (3-0), Friday 7 p.m.

Barboza: If the Blue Bombardiers can force turnovers the way they did last week against Franklin, the Hornets could be in for a real fight. But otherwise … Ding, dong, the curse is dead. Mansfield, 42-38.

Hall: Not sure if my brain can process the spectre of having a sixth straight week with a new No. 1. Mansfield, 20-13.

No. 12 DUXBURY (2-1) at HINGHAM (2-1), Friday 7 p.m. (At Scituate H.S.)

Barboza: This was supposed to be the Harbormen's night to shine, with a new field, new attitude and all. But the karma just sides with the Dragons somehow. Duxbury, 13-10.

Hall: Every year we keep saying the same narrative: "The Dragons still have one more good run in them". At some point, we're all going to have to accept the fact that these guys just re-load every year. Still, this has always been a difficult matchup for the Dragons. Duxbury, 10-7.

CATHOLIC MEMORIAL (1-2) at No. 5 XAVERIAN (2-1), Saturday 2:15 p.m.

Barboza: Think the bounce-back factor is in play here, after the Hawks saw their No. 1 ranking go up in smokes at Barnstable. A.J. King will come in even greater focus in Xaverian's attack with the loss of D.J. Sperzel. Xaverian, 34-21.

Hall: Even with the loss to D.J. Sperzel, the Hawks have more than enough in the tank to stay ahead of CM in this one. Xaverian, 24-10.

No. 25 WALPOLE (2-1) at WELLESLEY (1-2), Saturday 2:30 p.m.

Barboza: I think the Rebels' defense is better suited to shutting down Wellesley's offense, as opposed to Needham a few weeks ago. Walpole, 16-10.

Hall: Upset City, part 2. We saw what a team with spread packages like Needham can do to the Walpole defense, and the Rebels are going to have their work cut out for them trying to solve Wellesley quarterback John Fadule. Like Chris Sarni last year, Fadule is a gunslinger who is as unpredictable as he is creative. Good luck, gents. Wellesley, 31-28.

LAWRENCE ACADEMY (1-1) at MILTON ACADEMY (2-0), Saturday 3:30 p.m.

Barboza: Justin Yoon comes in clutch with the last-minute field goal. It's formulaic but effective. Milton Academy, 23-20.

Hall: Good start to the season for Milton, but I like LA's athletes on the perimeter a little bit more. LA, 20-7.

GOVERNOR'S ACADEMY (2-0) at ST. SEBASTIAN'S (1-1), Saturday 7 p.m.

Barboza: Akin to Nashoba, the streak ends this week. St. Seb's, 14-10.

Hall: Arrows are looking mighty impressive after that commanding win over Roxbury Latin, but the Governors just continue to cruise along. Will they ever lose again? There is some voodoo going on up there in Byfield. Govs, 27-17.

GAME OF THE WEEK – HOLLISTON (4-0) at No. 20 WESTWOOD (2-1), Friday 7 p.m.

Barboza: Wolverines head coach Ed Mantie really likes his linebacking corps, led by Scott McManus, this year. They're the difference. Westwood, 31-27.

Hall: Zach Elkinson is averaging a touchdown for every 2.8 touches, and 21.3 yards every time he gets the ball. That's just insane, I don't care who the opponents have been. Holliston, 28-24.

Last Week's Picks:
Barboza: 8-4 (31-16 overall)

Hall: 9-3 (31-16 overall)
September, 26, 2013
9/26/13
1:59
PM ET
1. SPECIAL TEAMS PLAYED A MAJOR FACTOR IN XAVERIAN'S 49-13 DRUBBING OF BRIDGEWATER-RAYNHAM, RETURNING TWO BLOCKED PUNTS FOR TOUCHDOWNSW, BUT A.J. KING (2 TDs) DIDN'T HAVE A BAD DAY EITHER. IS THIS XAVERIAN SQUAD CAPABLE OF ROUTINELY PUTTING UP BIG NUMBERS?

Brendan Hall, ESPN Boston High Schools Editor: If this were 2012, or any other recent year for that matter, I would lean towards labeling that game an anomaly. Xaverian squads typically aren't known for blowing up the scoreboard, instead moving the chains rather steadily behind a conservative multiple offense and relying on change-of-pace backs to grind out the tough yardage. I've been in this for 10 years, and this year's Xaverian team feels like one of the more unpredictable squads that I can recall. And when I say that, I mean you just don't know that they're going to throw at you. Certainly, Jake Farrell brings about an escapeability intangible they typically haven't had with quarterbacks, and there is some promising sophomore talent.

By the way, whoever the special teams coach is at Xaverian, give that man a raise. If you think the B-R game was an aberration, ask the BB&N coaches how their scrimmage with the Hawks went.

Scott Barboza, ESPN Boston High Schools editor: I know we all thought the Hawks' defense would be ahead of the offense entering the season, but this looks like a much-improved group thus far. I like the one-two punch Shayne Kaminski and Noah Sorrento provide in the backfield. They have some legit targets in the passing game with King and D.J. Sperzel and Jake Farrell has looked great at quarterback. If the offensive line keeps creating holes and pass protecting the way they have in the first two weeks, I don't foresee a slowdown.

John McGuirk, ESPN Boston correspondent: With the talent Xaverian has they should continue to put up decent numbers. They have four 'big' games left on the schedule in Barnstable, Brockton, BC High and St. John's Prep. All four of those programs are outstanding but all have issues on defense as well which should work in the Hawks' favor.

2. NASHOBA OWNS THE STATE'S LONGEST ACTIVE WIN STREAK (28 GAMES), BUT TWO TOUGH OPPONENTS LAY AHEAD IN WACHUSETT AND ST. JOHN'S OF SHREWSBURY. DO YOU SEE THE CHIEFTAINS MAKING IT TO 30 STRAIGHT?

Hall: Wachusett matches up evenly on paper with Nashoba, but watch out for St. John's. Andrew Smiley is heating up (380 passing yards the last six quarters), and the running game seems to be hitting a groove with St. Louis transplant Shane Combs taking over the feature role. The "blur" offense is a whirlwind to handle when all is going right, and you always have to watch where Davon Jones lines up. I see the Pioneers stopping Nashoba's streak at 29.

Barboza: I think it'll end at No. 29. The Chieftains will get by Wachusett, but I think the Pioneers' athletes, particularly on the perimeter, will prove too much to handle.

McGuirk: I see Nashoba reaching 30 straight wins. Wachusett is going through a down year, having already lost to St. Peter-Marian and Fitchburg. And what has been noted many times, St. John's biggest weakness the last couple of seasons has been its porous defense and inability to make tackles consistently. If you look past those next two games, the Chieftains will face a pair of unbeatens (Marlborough and Leominster). That is where the streak could possibly come to a close.

3. BETWEEN THE SUPERB STARTS FROM BROCKTON, TAUNTON, TEWKSBURY AND WESTFIELD, THE TRIPLE OPTION IS MAKING A COMEBACK. WHICH TEAM RUNS IT BEST?

Hall: It's tough to argue against Westfield's ridiculous numbers -- there are running backs that will go a whole season not putting up as many rushing yards as the Bombers have their first two games of the season. But it's hard to argue against Brockton's talent. Aaron LeClair and Jamal Williams get to the perimeter quick, and the Boxers can steamroll you inside with counters and dives. All four of these teams have a dynamic playmaker in the backfield -- LeClair, Tewksbury's Eddie Matovu, Westfield's Ben Geschwind and Taunton's Domingo Jenkins -- but I will give Brockton the edge here because of what they have in the trenches. Aaron Monteiro, the Boxers' prized prospect at 6-foot-5 and 290 pounds, is a road grader at left guard with a pretty high ceiling.

Barboza: As of right now, I don't see how you can argue with Westfield. The Bombers are running roughshod over opponents behind senior fullback Ben Geschwind. After running for 348 yards and six touchdowns as a team during last week's 49-20 win over West Springfield, Westfield has scored 109 points in two games, with Geschwind averaging more than 150 yards per game.

Josh Perry, HockomockSports.com: I can't say whether or not Taunton runs it better than other teams in the state, but I can say that the Tigers do make it look fun. With Gerald Cortijo and Steven Harrison giving star back Domingo Jenkins some help in the backfield, the Tigers have speedy and shifty runners. It's almost enough to make you forget just how good the ground game would have been without Jamal Williams' move to Brockton. Taunton's ability to run the triple option will of course get a much tougher test this week against King Philip and its strong defense, but the Tigers are unique among the other Hockomock teams and it can be fun to watch.

McGuirk: The way Westfield is dominating the competition (109 points in two games), I would say the the triple option is working best for them. They have the right personnel to execute it and coach Bill Moore is very good at putting the right players in place to keep it rolling effectively, especially his tandem of Ben Geschwind and Jake Toomey, who are both averaging over 10 yards-per-carry.

4. TWO OF THE MERRIMACK VALLEY CONFERENCE'S BEST SQUADS, CENTRAL CATHOLIC AND LOWELL, SURRENDERED A COMBINED 73 POINTS AGAINST NON-LEAGUE TOP 10 OPPONENTS LAST WEEKEND. ARE WE HEADED FOR ANOTHER SEASON OF HIGH SCORES IN THE MVC?

Hall: Tough to tell, because Tewksbury has more than pulled its weight in the defensive end so far. If there's one team that can avoid track meets, it's the Redmen. Everyone else, good luck. We anointed the MVC "Death By 1,000 Shallow Crosses" a year ago, and with the amount of spread offense and no-huddle tempo deployed in this league, we could very well be in for another season of Wild West scores.

Barboza: I'd take my chances with the defensive units of Andover, Central Catholic, Lowell and Tewksbury against just about any offense in the state, but what comes into play in the MVC is the teams' offensive style of play. With so many teams in its ranks adopting the spread offense, the big numbers put up seemingly on a weekly basis are more a function of the pace of the game, with shortened drives as opposed to rushing-oriented, ball-control styles of play. But as long as MVC teams continue to live and die by the sword (or the spread), I think we'll continue to see some lopsided numbers.

Mike Abelson, ESPN Boston correspondent: Yes and no. Central and Lowell, when the blur is working as advertised, can drop basketball scores on lesser teams because of the athletic talent. That being said, through three weeks there are only two MVC teams averaging 30 or more points. Central is one, and the other, North Andover, hasn't won a game. The only two remaining undefeated teams, Tewksbury and Methuen, are averaging 27 and 18 points a game, respectively, and winning games without all the flash and dash of putting up buckets of points. Yes, the MVC will have it's share of high-scoring contests (I'll put the over/under for Central-Chelmsford at 90.5), but it won't consistently translate to W's.

5. AFTER A ROUGH FIRST WEEK, HAS BARNSTABLE FIGURED IT OUT? CAN THEY KNOCK OFF NO. 1 XAVERIAN?

Hall: I feel like this is a sneaky good matchup. Let's not forget Barnstable was our preseason No. 12 before getting shell-shocked by Dennis-Yarmouth in the opening weekend. There is talent, between versatile athlete Hayden Murphy, shutdown corner Derek Estes and elusive scatback Justus Chafee.

Defensively, Barnstable typically likes to stretch vertically and keep everything in front of them, which can be a bad matchup against spread teams like Dennis-Yarmouth. Last week against BC High, they looked like they cleaned up a lot of their mistakes. Xaverian's offense, while a bit more creative, has some similarities to BC High's. Going the other way, the Red Raiders use some funky misdirection in the run game to prevent linebackers from filling gaps. On their first touchdown against BC, for instance, a receiver backpedaled off the line of scrimmage, feigning a bubble screen, putting several defenders on their heels as Chafee came up the gut on a zone read.

That kind of stuff can keep even the best defenses on their toes. Expect some fireworks, and some dynamic playcalling, in this one.

Barboza: This is a yes-and-no proposition to me. I think the Raiders righted ship after an embarrassing loss to Cape rival Dennis-Yarmouth in Week 1, going on the road to beat another Catholic Conference foe in BC High. But I think Barnstable would need to play a near perfect game, while forcing the Hawks into some turnovers in order to make it four straight defeats of an ESPN Boston No. 1 squad. I'm not saying it will not be a close game, I just like Xaverian a little bit more.

Perry: In a preseason roundtable, I said that Barnstable was a team that was getting overlooked because of the players that it lost from last year. I'll stick by that and say that the Raiders give Xaverian a run for their money. The No. 1 ranking has been more of an albatross than an honor this year, so I'll say that Barnstable has a good chance of causing the Hawks problems.

McGuirk: Barnstable is good but Xaverian is playing with a lot of confidence, especially following the huge win over B-R last week. The Hawks should take care of the Red Raiders who gave up 37 points to D-Y in Week One but did bounce back nicely last week against BC High.

Abelson: In Hayden Murphy I trust. In the ESPN Boston poll curse I believe. Barnstable, 27-21.

6. THE HOCKOMOCK LEAGUE'S KELLY-REX DIVISION MIGHT BE THE STATE'S MOST UNPREDICTABLE RACE THIS FALL. AS LEAGUE PLAY OPENS UP THIS WEEK, PROJECT YOUR CHAMPION AND DARK HORSE.

Hall: Mansfield was the prohibitive favorite in most minds heading into the season, and so far they've done little to suggest otherwise. Consider that nearly three weeks out from their shocking upset of Dunbar (Md.), the Hornets are still without five starters. They're already a dynamic offense, between quarterback Kyle Wisnieski, 6-foot-5 flex tight end Brendan Hill, and space-carving tailback Miguel Villar-Perez. Hard to go against that.

For dark horses, I like Attleboro. I think it's understated how big their line is, particularly at defensive tackle, and there are plenty of weapons on offense between quarterback Tim Walsh, tight end Luke Morrison and receiver Brendan Massey. This program has long been a sleeping giant, and new coach Mike Strachan has re-awakened those sentiments.

Barboza: All along, I've penciled in Mansfield as the team to beat in the Kelley-Rex. I believe they had the most complete group of talent on either side of the ball, and also had the most upside. The scary part is that, due to injury, the Hornets might not have yet hit their apogee and will continue to strengthen as the season progresses.

Now, for the sleeper, I know we've talked up Attleboro up a lot in the early going -- to the point that I really think they're a threat in Division 1 South. Seeing that the Blue Bombardiers are for real in the first two weeks of the season, I'm going to go with Taunton. I don't think Chris Greding has gotten enough credit for the job he's done turning around the Tigers program in short order. Of course, an infusion of talent led by Domingo Jenkins helps, but I wouldn't be at all surprised if Taunton knocks off one of the Hock's "Big Three" -- King Philip, Mansfield, North Attleborough -- at some point this season.

Perry: The favorite heading into the Hockomock League season is defending champions Mansfield and its new spread attack that takes advantage of its great weapons like senior quarterback Kyle Wisnieski and junior tight end Brendan Hill. Attleboro has gotten a lot of hype from media, me included, in the preseason as a sleeper in the Hock. A new coaching staff, a new field, and new schemes on both sides of the ball have made the Bombardiers a much more confident crew and better utilize the weapons that it has. The Bombardiers were only a few mental mistakes from beating Mansfield last season and Tim Walsh is on fire running the spread formation – watch out for Attleboro. Of course, watch out for KP, Franklin, and North Attleborough, too. It really is up for grabs

McGuirk: The Kelly-Rex Division is solid with four teams still unbeaten (Mansfield, Attleboro, North Attleboro and Taunton). When it is all said and done. I believe it will come down to Mansfield and North Attleborough for the title because of their high-octane offenses. Attleboro has to be considered the darkhorse here because of its stingy defense which could carry them through. It will be interesting to watch all four of these team beat up one another during the season and see who survives.
September, 14, 2013
9/14/13
1:16
AM ET
EVERETT, Mass. – One would have thought Xaverian's offense would be behind the 8-ball entering Friday night's showdown with No. 1 Everett. Without starting running back (and linebacker) Shayne Kaminski in the lineup, lost to a leg injury suffered during a scrimmage last week, the Hawks were playing without perhaps their best athlete.

No sweat.

Junior quarterback Jake Farrell was nearly perfect in the passing game, while junior Noah Sorrento (15 carries, 98 yards) picked up the slack in the backfield as the No. 14 Hawks surged past the top-ranked Crimson Tide during the second half in a 20-8 win.

With the victory, Xaverian (1-0) ended Everett's 10-game winning streak against Catholic Conference foes and, in the process, started 2013with bang for a squad coming of a sub-.500 2012 campaign.

"It's a huge statement for everybody on our team," said Farrell, who started the game going 9-for-9 in completions, a streak extending into the third quarter. "We showed we can beat one of the elite teams in Massachusetts, and people are going to know about this."

Sorrento, who worked in two-back sets with Kaminski throughout the preseason, set the Hawks off in the right direction with a 12-yard touchdown in the first quarter.

Xaverian would maintain the 7-0 lead until 4:13 remaining in the half, when Everett quarterback Raheem Wingard (149 rushing yards) broke off a 29-yard touchdown on an option keeper. Although the point-after try was blocked, an offsides penalty against Xaverian gave the Crimson Tide (1-1) another crack. Another yard closer, Marquis Holman ran in the 2-point conversion over left guard.

The scoring drive was enabled by a fourth-down stand by Everett's defense at their 40-yard line.

The Crimson Tide's one-point lead stood until the fourth quarter, when another crucial fourth-down decision from the Xaverian sideline would come into play.

Facing a fourth-and-11 at the Everett 25, and with a little more than eight minutes remaining, the Hawks broke huddle looking for something special. When the play broke down around Farrell, he improvised and took off toward the end zone. Twenty-five yards later, the first-year starter scored what would prove to be the game-winning touchdown.

After the Hawks defense came away with another key fourth-down stop on the ensuing Everett possession, Farrell capped his evening with a perfectly thrown 23-yard fade to D.J. Sperzel for an insurance strike.

"It was just reading the quarterback," Sperzel said. "I knew I had the receiver in front of me and broke on the ball."

"We felt like that was the time to take a shot," Hawks head coach Charlie Stevenson said. "He went up and got it, and Jake put it right where he needed to."

For added measure, Sperzel closed out the special evening with an interception of Wingard on the following drive.

Shuffling the deck: While Kaminski's absence forced Stevenson to alter his offensive game plan, the Hawks still played to their strengths.

"We lose a lot of firepower without Kaminski in the backfield," Steveson added. "But I thought Noah Sorrento did an unbelievable job."

Also key to the victory was the play of Xaverian's offensive line. Anchored by senior captain Jeff Perez, the line created holes ample for any running back to walk through.

"If we block like that and Shayne's with us, I think we'll be OK as we go forward," Stevenson said.

They also drew rave reviews from their quarterback.

"The O-line was excellent," Farrell said. "I had a ton of time to throw and the receivers just ran good routes. They made it easy for me."

Work in progress: Meanwhile, after a sloppy Week 1 win over another Top 10 foe in Springfield Central and Friday night's loss, Crimson Tide head coach John DiBiaso was less than enthused with his team's work thus far.

"There were no positives," DiBiaso said of Friday's loss. "They kicked our butts up and down the field, in every aspect of the game – special teams, offense, defense.

"We didn't play well, we didn't execute."
August, 27, 2013
8/27/13
8:27
PM ET
Forgive the Xaverian Hawks if they have a chip on their shoulders this season.

They're (how do you say in a politically correct manner?) a little ticked off about the way last season went. It was a losing season (4-7), and, as a result, the Hawks again fell short of a Catholic Conference championship, having last won it in the magical 2009 undefeated season.

Expectations never waver at the Hawk Bowl, and there's no exception for 2013. But with returning Conference champion and statewide preseason No. 1 St. John's Prep holding the gate and a stacked gauntlet of opponents in the newly formed Division 1 South sectional, Xaverian's path to postseason glory is wrought with peril.

"I think every year we have high expectations for ourselves," junior defensive end and tight end Joe Gaziano said. "And, obviously, last year was a disappointment. But I feel this year we're really motivated to work hard and we expect even more of ourselves this year, knowing what it takes to win and how hard it is to win."

While the wins may have come up short in the fall, for Gaziano and several of his teammates who were members of the Hawks lacrosse team's Division 1 state championship in June -- the program's first -- they might have found a springboard into football season. It's certainly not unprecedented in recent MIAA history that a program wins championships in both lacrosse and football in a calendar year, with Massachusetts lacrosse scions Duxbury pulling the feat most recently in both 2011 and 2012. On both those Dragons squads, a number of players shared responsibilities in both the spring and fall.

Xaverian fits a similar mold this year, with seniors Shayne Kaminski and D.J. Sperzel (Providence College lacrosse recruit) and Gaziano starring in both seasons.

Yet, Kaminski wasn't about to buy into the idea that one success necessarily begets another.

"It's a different game. But we're really trying to push the defense this year and I think we can be good."

He continued, "Our goal for right now is just to beat Everett [in Week 1]. That's as far as we're looking right now."

XAVERIAN AT A GLANCE
Coach: Charlie Stevenson (20th season, 162-59-1)
Last year: 4-7
Key returnees: Shayne Kaminski, Sr. RB/LB, 5-11, 198 lbs.; Joe Gaziano, Jr. DE/TE, 6-3, 230 lbs.; D.J. Sperzel, Sr. WR/S, 6-2, 190 lbs.; A.J. King, Sr. WR/S, 5-10, 180 lbs.; Nick Colantuoni, Sr. TE/DE, 6-3, 215 lbs.; Noah Sorrento, Jr. RB/LB, 5-9, 180 lbs.
Strengths: Depth at wide receiver, experienced pass rush.
Weaknesses: Depth at offensive line, experience on interior defensive line.

Outlook: The word around Clapboardtree Street is that defense has been the imperative this preseason. And it's not a stretch to hint that the Hawks might have one of the best units in the state this season. Gaziano and Nick Colantuoni present a serious pass rush threat from the ends, while Kaminski, Noah Sorrento and Kenny Kerns will feature at the linebacker spots. Of course, the Hawks have to find a replacement for the departed Mo Hurst, now a freshman at Michigan. Well, you can't really replace a player like that can you? "We'll have a cast of hundreds," head coach Charlie Stevenson said, alluding to the pool of players his staff is considering to fill the defensive tackle positions. On offense, there's a quarterback battle that continues with senior Peter White and junior Jake Farrell vying for the job. Xaverian has depth at running back with Kaminski and Sorrento providing able options. But the Hawks are auditioning a several new starters along the offensive line. The early returns have been positive. "Our offensive line has been great so far," Gaziano said. "We have a lot of new guys stepping up on the line with Joe Parsons, Ryan Mellen and Jeff Perez. I expect them to do a great job up front and help the run game and be a big, physical presence."
August, 24, 2013
8/24/13
3:43
PM ET
BRIDGWATER, Mass. – For nearly two hours Saturday morning, Bridgewater-Raynham and Xaverian renewed a rivalry that has become among the state's best non-league annual tilts.
Again, both the Trojans (No. 10) and the Hawks (No. 15) make strong showings in our statewide preseason MIAA football Top 25 poll. Not to mention, it won't be long before the teams go at it for real, when Xaverian welcomes B-R to the new-look Hawk Bowl for a regular-season game on Saturday, Sept. 21.
[+] Enlarge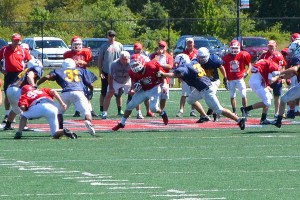 Scott Barboza/ESPNBridgewater-Raynham and Xaverian kicked off their first of - at least - two meetings this season to start their preseason.
But before we reach the regular season, here's a look at today's passing scrimmage and some takeaways:
Sorting through the QB battles:
Both squads enter 2013 looking for a new signal caller and both teams rolled through their crop of contending quarterbacks.
Xaverian senior Peter White, juniors Jake Farrell and Tom Fitzgibbons, along with sophomore Mike Pina all had reps under center, with White and Farrell seeing the majority of the snaps. Meanwhile, the Trojans cycled through junior Matt Clement and sophomore candidates Steve D'Emila and Cade McNaughten.
When asked to evaluate Saturday's performances, both Hawks head coach Charlie Stevenson and B-R's Dan Buron found positives, along with some improvements to be made.
"I thought our first two quarterbacks [White and Farrell] did some nice things," Stevenson said. "They made good plays. But a couple of plays that they were impatient on and if they would've been able to make plays if they'd scanned the field, we might have had some more scoring plays. But that's inexperience. That'll come."
At times, both offenses were slightly out of sync, with timing passes arriving a moment late and an overthrow here and there.
But for a scrimmage primarily concerned with the passing game, and with both defenses perhaps playing a little ahead of the opposing offenses, both teams were able to move the ball – although scoring was hard to come by.
"I think that right now, Matt [Clement] just because of his age is a little bit of those other two," Buron said of his quarterbacks, who saw a nearly equal number of snaps. "But I think I've got three good ones. I think it's just a lack of game experience and that's why I've added more scrimmages than normal to try to get them acclimated to the game situations."
Speaking volumes:
As far as Xaverian's passing game is concerned, while quarterback battle continues, there will be no doubt to the pass catchers working on the field. The struggle that Stevenson feels is how to get all of them on the field at once.
While the Hawks' return a couple of last year's top targets, including D.J. Sperzel and A.J. King, Stevenson believes he has depth at receiver. During Saturday's scrimmage, the Hawks worked in eight different receivers with its first-unit offense.
"I think we're about as deep at receiver as we have been in recent years," Stevenson added.
Layin' the lumber:
For a preseason scrimmage, Saturday's tone was about as spirited as you'll find. And, for the most part, it was carried by the respective defenses.
Working against the Hawks' offense presented a high quality challenge to B-R's new linebacking corps. The Trojans worked primarily with a group including seniors Kevin Newton and Arcel Armstead as outside linebackers and Devin Morris in the middle.
Buron is looking for big things from Newton, a starting-caliber player last year who was set back by injuries in 2012. Pat Whooley and Cam Goodrich also saw significant time with the Trojans' top unit.
However, the biggest play of the day came from junior linebacker Justin Finlayson. The 5-foot-10 outside linebacker popped a Xaverian player making a reception in the flat, drawing the raucous approval of his teammates on the sideline.
It might have been the most thunderous exchange of the day, but it also underscored the Trojans' ability to maintain positioning on Xaverian's swing and screen passes.
"I was pleased with that because honestly we haven't worked on anything that they typically do," Buron said. "We just wanted to stay in our base defense and run to the ball. Sometimes we didn't make the tackle, but I thought we were usually in good position. A lot of those things, this early in the year, they're correctable."
The Hawks also brought their defensive game with starting junior defensive ends Joe Gaziano and Nick Colantuoni establishing a strong pass rush off the edges.
Shaken, but OK:
There was tense moment or two about midway through the scrimmage when B-R's ESPN Boston preseason All-State offensive tackle Shawn Whitaker tumbled to the ground following a Hawks interception.
While backtracking and following the return up-field, Whitaker received a serious blow on a crack-back block. The 6-foot-5, 260-pounder didn't return.
Buron, adding that Whitaker has also been troubled by a back ailment in practice, said he was removed as a precaution.
June, 13, 2013
6/13/13
3:43
AM ET
By
Josh Perry
| ESPNBoston.com


ALLSTON, Mass. – Xaverian made history on Wednesday night at Harvard Stadium. The Hawks claimed the lacrosse program's first-ever Division 1 state title with a solid 9-5 victory over the top seed Lincoln-Sudbury.

Xaverian jumped out to a 4-0 lead early in the second quarter and controlled the majority of play to bring home the championship. Following the final whistle, head coach Tim Gardner reflected on what it meant to finally earn the elusive first trophy.

"It's your primary goal every preseason…you work for this day and hope that it can happen and we've gotten close a few times and to win this game against that team…to win it in this fashion is pretty incredible," he reflected.

Junior attack jack Wheeler was the star of the game offensively with four goals and he could only marvel at the accomplishments that the Hawks reached this year.

"It makes us feel great. We came out Catholic Conference champs and no. 7 coming into the playoff and knocked off no. 2 Needham and then L-S right now," he remarked.

When asked if he was surprised about the Hawks quick start to the game, Wheeler replied, "I actually had a dream last night that we were going to come out and it was going to be 2-0 and then we'd go on to win."

It took more than eight minutes for the opening goal and junior midfielder D.J. Sperzel opened the scoring for Xaverian. Wheeler followed almost two minutes later with his first and it was 2-0 Hawks after the opening quarter. The slow start continued for L-S, as Wheeler and semi-final round hero Lukas Buckley added a pair to make it 4-0 before the Warriors got on the board.

Head coach Brian Vona admitted after the game that his team just could not match the speed of the Hawks out of the gate.

"I think they outplayed us and they played with a different speed," he explained. " I didn't see any of my guys run by someone or even try. I saw guys that we covered a month ago run by our guys."

Vona added, "Our kids played with heart…but I felt like we got outplayed. It's just that simple."

L-S got back into the game in the second quarter. First, senior Dan Delaney struck to make it 4-1 and then senior attacker Jordan Dow made it a two-goal game. Sperzel and John Merwin traded goals and the score was 5-3 heading into halftime.

The top seed made it a one-goal game just 1:37 into the third quarter on Merwin's second of the night, but Xaverian answered the challenge. It was Wheeler who struck back with a great move and rocket of a shot to make it 6-4. Gardner was proud of his best players coming through on the biggest stage.

"This is a great day for stars to step up, you know, and Jack [Wheeler] really earned it today with big goals at big times," he said.

Wheeler pointed to the Hawks attacking with speed as one of the reasons behind Xaverian's strong offensive performance.

"When we pushed it, we scored almost every time," he said. "Most of our shots were on net, which was helping us out. We kind of just pushed it and it worked out for us and we kept pushing it."



Following Wheeler's third, Eric Hoffman notched his first to make it 7-4 and give Xaverian a much needed cushion. Chris Giorgio gave the Warriors hope with a score 2:21 before the end of the third quarter, but it would be the last goal from L-S in the game.

The Hawks defense has been strong all postseason against some of the top attacking talents in the state (including Nico Panepinto of Needham and Jay Drapeau of Westford Academy) and it was stout once again in the final.

"We tried not to let them pass around and pass around and possess and not give them any space when they drive," Gardner said. "We were just preaching team defense, get a body on body, don't let them see the back side of the field and just try to prevent easy goals."

Vona was also full of praise for the strength of the Xaverian defenders, which had a much bigger impact than in the team's regular season meeting (L-S won that game 10-5).

He noted, "I don't feel like we ever got into a rhythm and I feel like that's because of them. I think they played that well. I don't know how many times we turned the ball over, but that wasn't just us turning the ball over – they helped us turn the ball over."

In addition to the Hawks' long poles Rob Breed, Joe Gaziano and Elijah Jolly, who all had solid performances, Xaverian could count on goalie Jay Pourbaix to make the key stops. The biggest sequence came with the score at 6-4 and Pourbaix made two close-range saves to preserve the two-goal advantage.

Gardner made sure to highlight the contributions of his goalie, especially the way he battled through injury in the final.

"Jay [Pourbaix] has been playing hurt all week," said Gardner. "He was banged up coming out of the B.C. High game. His knee is hurting and every step of his hurt, but he stepped up and it was just an incredible performance."

In the fourth quarter, Wheeler capped his great night with a great goal to make it 8-5. He gave a pump-fake that forced two defenders to charge at him, stepped inside the defense and fired an unstoppable shot past the goalie. With 3:10 left in the game, Backus added his second to wrap things up and secure the title.

"It's really remarkable and all the credit to the guys for their hard work and not giving up, not backing down when they started coming back a little bit and, really, at points in the season when it looked like we could have gone downhill…we really made a decision to step up and improve every day."


June, 11, 2013
6/11/13
8:31
PM ET
DIVISION 3

Dover Sherborn (18-4) vs. Cohasset (17-3)

Players to watch: D-S – D Rogers Boylan, A Matt Davies, G Ryan Goodall, M Matt Huemme, A Brandon Jaeger; Cohasset – G Jack Conte, LSM Tim Gillis, M Will Golden, A John Mills, M Colin Whelan.

Breakdown: The Raiders eye their second straight Division 3 title, but face a Skippers team that has won nine straight games dating back to a May 9 regular-season loss to D2 finalist Hingham. D-S feeds off of their goaltender, Goodall, who is equally adept making tough stops as he is springing the transition game with his long-strike passing ability. The Skippers are guided to Harvard by first-year head coach James Beaudoin, who hopes to lead the program to its first championship since 2010.

X-factor: For the skippers to win, they'll need Golden to bring his A-game to the faceoff X and control play. He's capable.

Pick: D-S 11, Cohasset 7.

DIVISION 2 WEST/CENTRAL SEMIFINAL

Longmeadow (23-0) vs. St. John's of Shrewsbury (18-3)

Players to watch: Longmeadow – A Kevin Barry, M Eric Barsalou, G Matt Draymore, M Keegan Dudeck, A Zack Lukus; SJS – G Andrew Arnold, A Hunter Burdick, A Josh Freilich, FOGO Connor Maloney, A/M Andrew Smiley.

Breakdown: The two district champions met once during the regular season, with the Lancers invading Shrewsbury and keeping their perfect season in tact with a 10-8 victory. Both of these teams have their share of offensive firepower, but they can also stop it, highlighted by Pioneers pole Aidan Fox. As their prior meeting, this game will likely be decided by the midfielders and which team is able to win 50-50 ground balls.

X-factor: Another matchup where I'll be watching the faceoff X. Maloney will need to be on point for the Pioneers to reverse the previous result.

Pick: Longmeadow 11, St. John's 10 (OT).

DIVISION 2 EASTERN MASS

Hingham (21-3) vs. Medfield (21-3)

Players to watch: Hingham – G Tommy Bannan, M Caleb Brodie, M Jacob Brodie, A David Freitas, D Jack Ullrich; Medfield – D Ben Cox, M Matt Crowell, A Andrew Melvin, G Robert Treiber.

Breakdown: The last time these teams squared off at Harvard Stadium (2010), the result was a double-overtime instant classic. The Warriors, who were then on a run of two straight state titles, hope the result is near the same. These squads have been near lights-out in front of their goaltenders, so expect a low-scoring struggle.

X-factor: Cox and Ullrich: Two of the state's best operating in their own end, they are game-changers.

Pick: Medfield 7, Hingham 5.

DIVISION 1

Lincoln-Sudbury (18-2) vs. Xaverian (15-6)

Players to watch: L-S – M Dan Delaney, A Jordan Dow, M Chris Giorgio, A Matt Hall, LSM Eamon Hunter, LSM John Sexton; Xaverian – D Rob Breed, M Ryan McClellan, M Ryan Scheib, A D.J. Sperzel, M Jack Wheeler.

Breakdown: It's been a while since the two teams met in the first week of the season on April 6 (a 10-5 win for L-S), and many things have changed. The No. 1 seed Warriors held serve through the bracket, running through their opponents by a combined score of 41-11 on the road to Harvard. Meanwhile, the Hawks had to dispatch last year's D1 finalist Needham and fend off Catholic Conference rival BC High — in overtime – in the semifinals.

X-factor: It doesn't matter where he is (taking faceoffs, on defense, on the man-up), Sexton is a force. It's always worth watching the manner in which head coach Brian Vona deploys Sexton in the game plan.

Pick: L-S 9, Xaverian 6.
October, 23, 2012
10/23/12
8:34
PM ET
Xaverian junior midfielder D.J. Sperzel has committed to play lacrosse at Providence College, his father Jim told us Tuesday. He will join the Friars' 2014 recruiting class.

The 6-foot-2, 185-pounder is also a two-way starter on the Hawks' football team. Last summer, Sperzel played with his Team Central club team at the Brine All-American Classic, Brine Shootout and Baltimore Kickoff.
October, 20, 2012
10/20/12
6:37
PM ET
By
Mike Scandura
| ESPNBoston.com
BRIDGEWATER, Mass. -– The enormous gust of wind that blew over the Bridgewater-Raynham football field late Saturday afternoon wasn't a meteorological phenomenon.

Rather, it was Trojans coach Dan Buron exhaling after his team held off Xaverian and posted a 32-27 non-league victory.

And "held off" is the operative phrase.

After the No. 21 Trojans (4-3) seemingly put the game out of reach, when Jordan Cohen threw a 23-yard touchdown pass to Ryan Murphy for a 32-20 lead with 2:22 remaining, the Hawks (1-6) needed just over a minute to reduce their deficit when Austin DeCarr threw a 20-yard scoring pass to A.J. King and Kyle Darrow kicked the extra point.

Not surprisingly, Xaverian then attempted an onside kick. But much to Buron's chagrin, Xaverian's Ryan McLean smothered the ball at his team's 42 with 1:40 remaining.

DeCarr (24-48, 290 yards, TD) then passed his team to a second-and-goal at B-R's 5 with four ticks of the clock left. But DeCarr's pass for what would have been the winning touchdown fell incomplete in the end zone which allowed Buron to breathe.

"That's a good football team," Buron said of Xaverian. "I don't care what their record is. We play a tough schedule but one that's not nearly as tough as the one they do. And they've been in every game so I knew they weren't going to quit.

"I'm proud of the kids. I'm a little upset that we didn't get the onside kick but we have to work on those things. It's different in practice."

To a certain extent, this was a different B-R team than the one that was waxed 41-24 on October 12 by Rhode Island Division I power La Salle Academy.

"We played with a little more intensity today than we did last week," Buron said. "I don't know what the reason was for that. I thought the week prior to that we played with a lot of intensity and emotion against St. John's Prep.

"That's a good team and we came out on the short end but I was proud of the kids. We didn't look like the same team (against La Salle). But today we looked more like the team we had in our first five games."

Double trouble: One reason the Trojans prevailed was that they were proficient both on the ground and in the air.

Brandon Gallagher led the ground game by rushing for 90 yards and one score on 21 carries.

Jordan Cohen was superb at quarterback as he completed 13-of-19 passes for 201 yards and three touchdowns –- each to Murphy who snared eight balls for 150 yards.

"I thought Jordan played well today and hit the open receivers," Buron said. "What they were giving us was the flat and he hit the flat all day which opened up some other things."

One of the "other things" that was opened up was room for Gallagher to slice through Xaverian's defense.

"Gallagher is a tough running back who runs hard," Buron said. "When the blocking's there he's going to get extra yards. When there isn't any blocking, he's still going to get extra yards. Very rarely does he go backwards.

"He's a strong runner and is only a sophomore so he's only going to get better. But I'd like to credit the offensive line, too. I thought they played well in the second half against a much bigger defensive front."

How do you spell shootout? After a scoreless first quarter during which each team lost a fumble, B-R's Aaron Conrad recovered another Xaverian fumble on his team's 14.

B-R then covered 86 yards in eight plays with Gallagher busting into the end zone from the 5.

Xaverian countered with an eight-play, 64-yard drive which Shayne Kaminski capped by scoring on a 25-yard run that made B-R's lead 7-6.

B-R, seemingly in an eye blink, upped its lead to 12-7 when Cohen connected with Murphy on a screen pass that covered 20 yards for a score.

But DeCarr displayed his best passing of the game after the ensuing kickoff when he completed all five of his attempts for 80 yards which led to Kaminski running it in from the 2 for a 13-12 lead at halftime.

The Trojans got even late in the third quarter when Conrad intercepted a DeCarr pass and returned it 33 yards for a touchdown that gave B-R an 18-13 lead at the break.

But a short Xaverian punt gave the Trojans excellent field position, at their 40, and Cohen zipped a 17-yard touchdown pass to Murphy on the first play of the fourth period for a 25-13 advantage.

Buron's sentiments about Xaverian being a team that doesn't quit almost came back to haunt him when the Hawks' D.J. Sperzel recovered a fumble on B-R's 49 -– which led to a five-yard scoring run by Harry Walsh that pulled the Hawks within 25-20 with 5:02 left.

"Everybody on our schedule can beat us," Buron said. "That's the problem with playing a tough schedule so we have to come to play. Most every game we've been in has come down to the wire so we have to prepare for it."

BRIDGEWATER-RAYNHAM 32, XAVERIAN 27
XB (1-6) 0-13-0-14 – 27
BR (4-3) 0-12-6-14 – 32

Second quarter
B – Brandon Gallagher 5 run (run failed)
X – Shayne Kaminski 25 run (Kyle Darrow kick)
B – Ryan Murphy 20 pass from Jordan Cohen (pass failed)
X – Kaminski 2 run (pass failed)

Third quarter
B – Aaron Conrad 33 interception return (pass failed)

Fourth quarter
B – Murphy 17 pass from Cohen (Kevin Wadsworth kick)
X – Harry Walsh 5 run (Darrow kick)
B – Murphy 23 pass from Cohen (Wadsworth kick)
X – A.J. King 20 pass from Austin DeCarr (Darrow kick)
August, 31, 2012
8/31/12
11:43
AM ET
By
Adam Kurkjian
| ESPNBoston.com
Hunter Taute spent his middle school years in Dublin, Ohio, a city that sits just northwest of Columbus, where football is king.

On your typical Friday night at the high school he would have attended, he and the rest of his teammates for the Coffman Shamrocks would be playing in front of an average crowd of 17,500 people in the Buckeye State's highest classification.

It is a program that has produced notable recent alums such as Brady Quinn, who starred at Notre Dame and is now a backup quarterback for the Kansas City Chiefs, and offensive lineman Mike Adams, who played at Ohio State and is now with the Pittsburgh Steelers.

So when Taute's family moved to Franklin before Hunter began high school, he wanted to go somewhere that shared a similar passion for the sport.

"From a young age, football was a way of life (in Ohio). They take it all serious. It's a lot more important. Everyone cares more out there and everyone goes to the games."

After cruising around the Xaverian page on the Maxpreps.com website, Taute knew where he wanted to go.

And while there won't be a crowd approaching 20,000 people at the Hawk Bowl anytime soon, Taute is happy to be a Hawk, and his coach Charlie Stevenson may be even happier.

"Well, he's 6-2, 245 and ran a 4.75 (40-yard dash) at the BC camp," Stevenson said. "There's not much more that needs to be said. He's got good skills, he's very versatile; he can run and catch and play defense. His versatility is very good."

After playing with the freshmen in 2009, Taute was poised for a bigger role with the varsity as a sophomore before an injury sidelined him for most of the season. By the end of it, however, he was able to see the field at fullback.

Last season, he was the starting middle linebacker while retaining some of the same duties on offense. His fondest memory of 2011 came in a 27-9 win over St. John's of Shrewsbury, where he played a stellar game on defense and combined with Maurice Hurst for 266 rushing yards in a downpour.

"That was one of the best games of my life so far," said Taute, who holds an offer from Bryant and is also receiving interest from UConn, UMass, Boston College, UNH and Maine. "Me and Mo pretty much dominated that game. His 75-yard touchdown run sort of put (Xaverian) in the bigger picture and after that it set the tone for our running game."

But for as well as the Hawks ran the ball at times last year, they had just as much trouble stopping it against the best teams on the schedule. The most glaring example came in a 42-21 loss at Everett when Vondell Langston, now at UMass, put up 208 yards on just 15 carries. St. John's Prep's Jonathan Thomas also had 202 yards in Xaverian's 28-21 win on Thanksgiving.

For a team that returns a Michigan commit in Hurst at defensive tackle, Taute right behind him and nearly everyone else from last season's front seven, a repeat performance would be a major disappointment.

"Last year it was pretty embarrassing the yards we gave up against the run," said Taute, who now lives in Wrentham. "We work on tackling and making the other team have to pass more. With Mo, the pass rush is going to be great. The run defense should also be good but right now we're stressing the inside run and draw."

They'll need to be at their best with the schedule in front of them. But after watching Catholic Conference rival BC High win the Division 1 Super Bowl last year, Taute would be glad to trade those big crowds back in Dublin for a little hardware on Clapboardtree Street.

"This year we want to get back on the horse," he said, "get to the championship and take home the trophy."

XAVERIAN AT A GLANCE
2011: 6-5 (2-2 Catholic Conference)
Coach: Charlie Stevenson (20th season, 158-52-1)
Key Returnees: Maurice Hurst, Sr. DT/FB, 6-3, 285 lbs.; Hunter Taute, Sr. MLB/FB, 6-2, 245 lbs.; Austin DeCarr, Sr. QB, 6-3, 195 lbs.; Ray Gobbi, Sr. OL/DT, 6-1, 285 lbs.; DJ Pagliuca, Sr. WR/DB, 5-10, 185 lbs.; Joe DeNucci, So. WR/DB, 6-0, 180 lbs.; Shayne Kaminski, Jr. OLB/RB, 5-10, 193 lbs.; Eddie Hanlon, Sr. OLB, 6-0, 185 lbs.; Mike Brennan, Sr. RB/DB, 6-0, 185 lbs.; DJ Sperzel, Jr. WR/DB, 6-3, 185 lbs.; AJ King, Jr. WR/DB, 5-10, 180 lbs.; Jordan Bayuk, Sr. DT, 6-2, 250 lbs.; Ryan MacLean, Sr. DE, 6-0, 190 lbs.; Elijah Jolly, Sr. DE, 6-3, 195 lbs.
Strengths: Skill positions, experience on defense, defensive line.
Weaknesses: Inexperience on offensive line, schedule.
Outlook: Over Stevenson's tenure, Xaverian has proven its worth as one of those programs that will take on anyone at anytime. So it comes as a bit of a surprise that the veteran coach, when asked how this schedule stacks up with his previous ones, said, "This is the toughest, I think." But even with this layup-free slate that includes a trip to highly touted St. Joseph Regional of New Jersey, the Hawks have the potential to reach the postseason for the first time since 2009, where they defeated Everett in the Division 1 Super Bowl. Offensively, look for a faster tempo with DeCarr spreading the ball around to a deep corps of receivers. The running game should be strong once again with Hurst, Taute and Brennan expected to shoulder the load. Defensively, the Michigan-bound Hurst leads a strong front seven, while many of the same faces at receiver will fill the slots in the secondary. The one major concern Stevenson has expressed over the offseason is whether his inexperienced offensive line, which returns just one starter in Gobbi, can grow up fast enough to withstand the pressure opponents are sure to bring at DeCarr.