Boston High School:

D.J. Walsh
April, 2, 2012
4/02/12
10:17
PM ET
The high school lacrosse season kicks off this week for many top teams across the state.

Here is our preseason MIAA boys' lacrosse All-State team, as compiled by ESPNBoston.com staff and correspondents.

Attackmen:
Kevin Blair, Sr., Hingham
Peter Crane, Sr., Wellesley
Seamus Connelly, Sr., Duxbury
Jeff Desko, Sr., St. John's (Shrewsbury)
Jackson Finigan, Sr., Concord-Carlisle
Paul Hellar, Sr., Duxbury
Matt McIver, Sr., Andover
Cabot Noyce, Sr. , Norwell
Nico Panepinto, Jr., Needham
Joey Pasquale, Sr., Weston
Connor Roddy, Sr., Medfield
Cam Slatton, Sr., Billerica

Midfielders:
Dan Delaney, Jr., Lincoln-Sudbury
Alex Eaton, Sr., Westford Academy
Kurt Hunziker, Sr., Masconomet
Jonathan Lee, Sr., Hopkinton
Kyle Livingstone, Sr., Cohasset
Drew O'Connell, Soph., St. John's Prep
Billy Polk, Sr., Dover-Sherborn
Mark Riley, Sr., Needham
Oliver Saffery, Sr., Wellesley
Kyle Soroka, Sr., Acton-Boxborough
Tim Towler, Sr., Masconomet

FOGO:
Clay Richard, Sr., Medfield

Long Stick Middies:
James Burke, Sr., Duxbury
Reilly Naton, Sr., Duxbury

Defensemen:
Henry Bumpus, Sr., Concord-Carlisle
Ryan Cassidy, Sr., Wellesley
Pat Hannigan, Sr., Hanover
Jay McDermott, Sr., Duxbury
Nate Menninger, Sr., Newton North
Matt O'Keefe, Sr., Duxbury
Max Randall, Sr., Duxbury
Paul Tocci, Sr., Lincoln-Sudbury
Brian Uva, Jr., St. John's Prep
Ian Yanulis, Jr., BC High

Goaltenders:
Jonathan Barton, Sr., BC High
Henry Buonagurio, Sr., Duxbury
Connor Darcey, Sr., Wellesley
Jared Fong, Sr., Weston
Doug Gouchoe, Sr., Concord-Carlisle
Miles McCarthy, Sr., Catholic Memorial
D.J. Smith, Jr., Billerica
Greg Stamatov, Sr., Foxborough
March, 23, 2012
3/23/12
4:01
PM ET
First Team:
F – Brendan Collier, Sr., Malden Catholic
The two-time ESPN Boston All-Stater closed out his senior season with a second straight Super 8 title and claimed our Mr. Hockey Award. The Charlestown native and Boston University commit scored 26 goals with assists for 65 points, a figure which led all Division 1 scorers. Collier, who also plays golf and lacrosse at MC, plans on playing a year of juniors next year before joining the Terriers.
F – Ryan Fitzgerald, Jr., Malden Catholic
The Lancers' top-line pivot makes his second All-State team appearance, his first on the First Team. The North Reading native and Boston College commit again eclipsed the 50-point plateau (31-21-52), despite missing the first couple weeks of the season with a shoulder injury, and helped the Lancers to their second straight Super 8 title.
F – Sam Kurker, Sr., St. John's Prep
When looking up the term power forward, the Eagles senior winger and captain fit the mold. The 6-foot-2, 210-pound forward finished with 32 goals and 28 assists for 60 points. The Boston University commit has also seen time with U.S. National Team Development Program and skated with the U-18 select team at the Ivan Hlinka Tournament during the summer.
D – Colin MacGillivray, Jr., Malden Catholic
The Lancers blue-liner is made in the mold of an old school rugged defenseman. The 6-foot-1, 185-pound Peabody native played on MC's top pairing through the season while posting three goals and 10 assists for 10 points for the repeat Super 8 champions.
D – Nikko Markham, Sr., St. Mary's (Lynn)
The Catholic Central Conference Most Valuable Player and Spartans captain finished a sound career by leading St. Mary's to a No. 2 seed in the Super 8. The Salem native was among the top point-scoring blue-liners in the state with six goals and 12 assists for 18 points.
G – Peter Cronin, Jr., BC High
For the second straight season, the Eagles went as their netminder went, and Cronin led BC High to its first Super 8 finals appearance since 2007. Playing in each of the Eagles' 25 games, the Norwell resident posted a 2.00 goals against average and a 91.7 save percentage.
2nd Team:
F – Kevin Emmerling, Sr., St. John's (Shrewsbury)
Perhaps the most skilled skater in the state, the Pioneers' center provided a dynamic offensive punch to their Super 8 run. The Whitinsville native finished third in Division 1 scoring with 26 goals and 30 assists for 56 points. Emmerling is exploring his options for next year and hopes to play college hockey.
F – Conal Lynch, Sr., Boston Latin
Lynch also showed that Charlestown is again a hotbed of hockey, carrying the Wolfpack to a DCL/MVC Div. 2 championship. Lynch finished second in Division 2 in scoring with 35 goals and 18 assists for 53 points. The Wolfpack captain is weighing his options in pursuing prep or junior hockey next year.
F – Matt Sullivan, Sr., BC High
The senior captain was a true two-way center with a high hockey IQ. The Duxbury resident anchored the Eagles' top line, scoring 12 goals and 16 assists for 28 points and lifting BC High to its first Super 8 final appearance since 2007. He is pursuing prep and junior hockey opportunities for next season.
D – Casey Fitzgerald, Fr., Malden Catholic
The younger brother of Ryan, Casey catapulted himself onto the scene in his first year, filling the role of a puck-moving defenseman previously held by former All-Stater Conor Evangelista. The North Reading resident and Boston College commit tallied two goals and 15 assists for 17 points in his first year.
D – Peter Sikalis, Sr., Acton-Boxborough
The Colonials' captain was the impetus behind their run to the D1 North semifinals. Sikalis had eight goals and 11 assists for 19 points while eating up boatloads of ice time for head coach Bob Lavin. The imposing 6-foot-3 defenseman is exploring his hockey options for next year.
G – David Letarte, Sr., St. John's Prep
The captain has been the Eagles' backbone during the last three seasons, leading Prep back to the Super 8 once again. Letarte had a 2.08 goals against average and a 91.3 save percentage in 18 games played. He is currently mulling over college and junior hockey offers for next year.
"Best of the Rest"
Nick Bertoni, F, Franklin
Tom Besinger, F, BC High
Tommy Bishop, F, Chelmsford
Matt Brazel, F, Hingham
Trevor Cimino, F, Burlington
Frank Crinella, F, Springfield Cathedral
Paul Curran, F, Milton
Vin D'Amato, F, St. John's (Shrewsbury)
Jarrod Fitzpatrick, F, St. Mary's (Lynn)
James Gordon, F, Hingham
Danny Holland, F, Woburn
Mike Iovanna, F, Malden Catholic
Connor Irving, F, Beverly
Mike Kelleher, F, Central Catholic
Chris Leblanc, F, Winthrop
Bobby Mullins, St. Mary's (Lynn)
Ara Nazarian, F, Malden Catholic
Andrew Newis, F, Natick
Jack O'Hear, F, Catholic Memorial
Cam O'Neill, F, St. Mary's (Lynn)
Jake O'Rourke, F, Medway
Cam Owens, F, Wilmington
Brian Pinho, F, St. John's Prep
Dalton Rolli, F, Wilmington
Joe Strangie, F, Danvers
D.J. Walsh, F, Needham
Bryan Carter, D, Hudson
Connor Fenton, D, Braintree
Brian Furey, D, BC High
Pat Houghton, D, Westford Academy
Steve Mattos, D, Burlington
Nick Pandalena, D, St. John's Prep
Jake Secatore, D, Woburn
Brendan White, D, Malden Catholic
Joe Cerulo, G, Wakefield
Jordan Davis, G, Norwood
Mike Donadio, G, Franklin
Bailey MacBurnie, G, St. Mary's (Lynn)
Connor Murray, G, Needham
Connor Roddy, G, Medfield
Shane Starrett, G, Catholic Memorial
Steven Waites, G, Winthrop
Kyle Williams, G, Central Catholic
Coach of the Year
Chris Spillane, Franklin
Losing 15 seniors off of 2011's Division 2 state finalist team posed no problem to Spillane in guiding his team back to the Garden again. The 13-year Panthers bench boss is regarded as one of the finest in the state, but no season might have been more impressive for Spillane than getting this team back to the finals.
Finalists:
Karl Infanger, Natick
Mark Lee, St. Mary's (Lynn)
John McLean, Malden Catholic
February, 28, 2012
2/28/12
5:06
PM ET
Editor's note: On Wednesday, February 22, the Needham High School athletic department and hockey coach Bill Guisti granted access to reporter Scott Barboza and videographer James Walsh to follow the team for their first-round game of the Springfield Cathedral tournament. This is the result.
SOMEWHERE BETWEEN NEEDHAM AND SPRINGFIELD, Mass. -- Needham High hockey seniors, forward Jeff Rosata and goaltender Connor Murray lean against a parked car. They're about to board a bus bound for the Springfield Olympia Center for their first-round game in the Springfield Cathedral Tournament, where they'll play the host Panthers.
"I think we're faster than they are," Rosata says, estimating the tape he's seen on that night's opponent.
On paper, leading into the matchup, the teams figure to be even. The implications of the game are likely to dictate seedings for the upcoming Super 8 hockey tournament. They know the importance of the game.
"I mean, we've made the Super 8, what? The last three of four straight years?" Murray says, with a San Jose Sharks snapback cap tilted slightly upward on his head. "We know we need to keep that going."
Rockets assistant coach Tom Shaughnessy emerges from the open doorway of the bus.
"Time to get going."
-----
Rockets forward Jeff Parsons has a reputation on the team, something that of a human GPS. He sits sidesaddle on an aisle seat in front of teammate Jamie Arnao.
Watching the exits zoom by, somewhere around the Auburn service exit on the Mass Turnpike, Arnao blurts out, "How far away are we?"
The question, seemingly posed to nobody in particular, was directed at Parsons. He sits back in the seat and gazes upward with his eyes, as if consulting a map of Central Mass. painted on the bus ceiling.
"Should be about 50 minutes or so," Parsons rifles back.
[+] Enlarge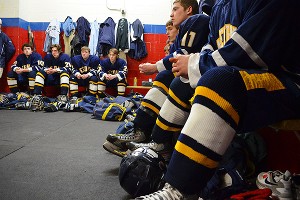 Scott Barboza/ESPN.comThe Rockets listen to the pregame speech of coach Bill Guisti.
Freshman James Fisher brought along a copy of "Dodgeball" for viewing. The P.A. speakers of the bus muzzle the dialogue with a humming. With every bump in the pavement, the T.V. screen flickers with a line of static fuzz rising from bottom to top. Three pairs of seats are occupied in the front of the coach, one with drinks (Gatorade, water), another with an assortment of plastic-wrapped deli sandwiches, the last with trays of potato chips, Fritos, Doritos.
It's like a team sleepover on wheels.
Arnao, a senior forward who also helped the football to a Division 1 Super Bowl appearance in the fall and is a standout on the baseball team, is the team jokester. He's dressed in a pair of aquamarine chino pants, a button-down shirt with a windowpane print and an overcoat.
I ask him whether the not-so-subtly-colored pants are a game-day tradition.
"Yeah, this is usually how I roll," Arnao replied, laughing, as usual.
Seated at the front of the bus, Needham head coach Bill Guisti sifts through papers. Guisti, who owns his own business, used the down time on the trip to go over a couple of pregame adjustments he wants to make with the Rockets' lines. He wants to move blue-liner Timmy Parlato up front. He's hoping Parlato's Brad Marchand-like style of play might unnerve Cathedral's defenders.
He scribbles down notes on a sheet of loose paper, remarks he wants to reinforce before the team takes the ice. The former Mount St. Charles (R.I.) hockey standout spends most of his free time scheming the Rockets to their next win. He takes a couple minutes to check in with his two daughters though.
"I usually don't have this much time to myself," he says.
-----
There's an arcade room in the lobby of the Olympia Center. Arnao saunters past it on his way back from a bathroom break. Headphones on, he's ready to get into his pregame warm-up.
A toddler shouts over to him, "I just put a dollar in, can you play with me?"
Arnao looks around for a moment, then stepping toward the two-person shooter video game installation, he says, "Sure."
"I'm on a 40-man kill streak," the child tells him.
Arnao takes a couple of shots with the plastic gun, he misses his target. The child, less than half Arnao's height, is blowing up everything in sight.
"I gotta' go, I have to get ready," Arnao says.
Walking away, Arnao adds, "That kid is ridiculous."
After a moment of reflection, he wonders aloud, "Where's that kid's mother at?"
-----
In Guisti's pregame message to the team, he cautions the team about the fact that the officiating crew might not give them the benefit of close calls as the visiting team.
By the end of the first period of a 0-0 game, it looks like Guisti is right.
"There's nothing you can do about it, you just have to be smart," he says. "For you seniors, you know what this is all about. This is it."
-----
After two periods, the Rockets struggle to generate many scoring chances in a tight-checked game. It's a playoff atmosphere with both teams vying for the sixth spot on in the upcoming Super 8 tournament.
[+] Enlarge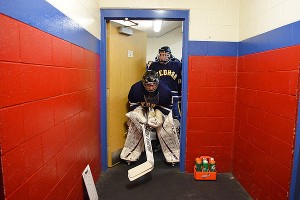 Scott Barboza/ESPN.comNeedham goaltender Connor Murray waits for the cue to take the ice before the Rockets' game against Springfield Cathedral last week.
Murray is playing one of his strongest games of the season; he's bailed out the team time after time. He's slumped back in his seat at the second intermission. Somehow, the Sharks snapback is still on his head in the same position it was all those miles before.
There's no fire-and-brimstone speech from Guisti, just a gentle pleading for the team to take care of the little things. In such a tight game, anything could make the difference.
The team comes together for one final ooh-rah and wait at the door for the signal to move out onto the ice for the third period.
Amidst a chorus "Let's go boys," senior captain D.J. Walsh still hasn't moved from his perch on the bench. Beads of sweat gather on the strands of hair emerging from the brim of his helmet. He's breathing deeply.
It echoes Guisti's message to the team before the game.
"When you guys get back in here between periods, you should be gasping for air that's how hard you've skated out there."
Walsh's plastic facemask is fogged up. He draws a couple deep breaths, stands and follows his team out.
The Rockets lost 1-0.
February, 27, 2012
2/27/12
8:48
PM ET
By
Roger Brown
| ESPNBoston.com


NORTH ANDOVER, Mass. -- As always, the game plan was to make the opponent play from behind – and St. John's (Shrewsbury) couldn't have executed it much better.

The Pioneers grabbed the lead 44 seconds into Monday night's Super 8 play-in game against Needham and never surrendered it. St. John's scored four first-period goals and advanced to the field of eight by posting a 5-4 victory at Merrimack College's Lawler Arena.

Vin D'Amato, Bryan Nelson, Mike Brown, Kevin Emmerling and Jay Duquette scored for the Pioneers, who raised their record to 16-4-3.

'It feels great," Emmerling said. "Now we just have to keep it going. I think a lot of people doubted us coming into this game. I think we had a lot to prove. We're gonna keep the foot on the pedal."

The Pioneers will be the tournament's No. 8 seed and face top-seeded Malden Catholic (15-1-4) Sunday at Merrimack College. St. John's will be making its first Super 8 appearance since 2003.

Although St. John's owned a five-goal lead late in the second period, the Pioneers had to sweat through some tense moments at the end of the third.

Needham trailed 5-2 when Lucas Davis and Jamie Arnao scored goals 32 seconds apart to make it a one-goal contest with 6:16 to play.

"You know these guys are a good team – they wouldn't be here if they weren't," St. John's coach Brian Murphy said. "They showed a lot of heart, a lot of desire. You don't want to panic too much and I thought our goalie (Mario Pizzeri) did a good job of hanging in there the last five minutes."

Duquette's goal made it 5-0 with 4:53 to play in the second period. Needham got on the scoreboard when D.J. Walsh blasted a slap shot past Pizzeri with 4.1 seconds to play in the second. It was Walsh's 16th goal of the season.

"They got one and then the momentum shifted and they started coming after it really hard," Murphy said. "We were just trying to hang on their at the end. The big thing is we wanted the win and a chance to move on."

Junior defenseman Brendan Joyce scored Needham's second goal. It came on a wrist shot from the left point 3:31 into the third.

"We just came out so slow," Needham coach Bill Guisti said. "When you look at the games we've lost this year we've lost them by spotting other teams leads. We don't have a lot of firepower to try to come back."

The loss dropped Needham's record to 16-5-1.

"Connor [senior goaltender Connor Murray] didn't have his best game tonight, but he's been great for us all year," Guisti said. "The bad news is we lost the game. The good news is we live to play again. If we start out like we did tonight we're not gonna be around for much more than one more game, that's for sure."

POINT MEN
Duquette, a senior forward, assisted on three of the Pioneers' four goals in the opening 15 minutes. He entered the contest with nine goals and 12 assists in 22 games.

Emmerling also collected three assists in the victory. He leads the team in goals (25) and assists (23).

Emmerling and Duquette skate on a line with D'Amato, who also collected an assist.

"They're a very skilled line," Murphy said. "The certainly can move the puck. They gave us the four-goal cushion. They're just good players."

RIGHT DIRECTION
The victory extended St. John's unbeaten streak to 10 games (8-0-2). The Pioneers haven't lost since dropping a 4-0 decision to Hingham on Jan. 18.

The team's defense has been consistently good during the streak. St. John's allowed 16 goals during the 10 games.

"We moved a couple pieces of the puzzle and our goaltender started playing well," Murphy said. "We started playing better team defense. I think that was the big thing. We know we can score goals, we just had to make sure we try to prevent some too."
February, 24, 2012
2/24/12
7:16
PM ET
On the final day of the regular season, and with less than 24 hours remaining before Saturday's Super 8 committee selection meeting, we've cobbled together our final field projection for the state's premier hockey tournament.
The top six seeds have remained pretty consistent down the stretch, but we see two new squads slipping in the back door to nab the final play-in game positions.
Also, we thought it was fitting to take a cue from friend, colleague and longtime Super 8 supporter
Chris Forsberg
, by way of John Buccigross, with a little musical tribute to each team, chronicling some of our favorite (or not so much, or otherwise noteworthy, whatever fits, right?) songs of the last year or so.
1. Malden Catholic (15-1-4)
Current ESPN Boston Top 25 ranking:
1
Where they ranked in last projection:
1
Why they're in this spot:
Lancers' only loss of the season came against an out-of-state opponent (New Jersey powerhouse Delbarton), in addition to one of their ties (Hamden, Conn.). MC's also been at No. 1 in our poll from "box to wire" to steal one of Chris Serino's expressions. Plus, the Lancers will be a motivated squad headed into the tournament, playing for their ailing former coach.
Song that fits:
Coldplay, "Us Against the World." I'm a much bigger fan of the Brit-band's early catalogue and was in attendance for one of their first U.S. shows. Not a huge fan of Mylo Xylato (or the last two albums for that matter) but this song fits, not to mention we know a couple Lancers will appreciate the nod. The message is clear, they're doing it for Serino this year.
Lyric that fits:
"Through chaos as it swirls/ It's us against the world."
2. St. Mary's of Lynn (18-1-3)
Current ESPN Boston Top 25 ranking:
2
Where they ranked in last projection:
2
Why they're in this spot:
The Spartans lone loss of the season came to the aforementioned Lancers in the first game of the high school hockey season; they even improved upon their first result, tying MC at the Kasabuski tourney. Perhaps the most steady team of the season, playing in front of sophomore goaltender Bailey MacBurnie (1.30 GAA in 21 games), who's been a revelation.
Song that fits:
My Morning Jacket, "The Day is Coming." Last year's "Circuital" wasn't one of my favorite band's best efforts (you see a pattern beginning to emerge here?), but this one's a gem from one of the most imaginative bands working today.
Lyric that fits:
"If opportunity, rears its head/ Will you answer, or stay home in bed?"
3. Hingham (16-4-2)
Current ESPN Boston Top 25 ranking:
3
Where they ranked in last projection:
3
Why they're in this spot:
The wildcard of the season. Obviously, the Hingham brand of hockey is synonymous with the Super 8, but not even head coach Tony Messina knew exactly what he had coming into this season. The inexperienced, but talented Harbormen haven't missed a stride this season. There's no single sensation that's carried the load, but Hingham is deep, evidenced by their five forwards (Sam D'Antuono, James Gordon, Matt Hughes, Ryan Linehan and Patrick Mannion) with 18 or more points on the season.
Song that fits:
Real Estate: "It's Real." My favorite break-out band of the year. Their sophomore effort "Days" was one of the best albums of last calendar year. A must-listen for anybody who enjoys The Smiths, or songs about the Jersey coastline.
Lyric that fits:
"I skated on the frozen Sea/ It's real as far as I can see."
4. St. John's Prep (13-5-2)
Current ESPN Boston Top 25 ranking:
5
Where they ranked in last projection:
4
Why they're in this spot:
This spot could be a toss-up between the Eagles and the Eagles of BC High. In this instance, we're going to slot Prep ahead of their Catholic Conference rivals on the tail end of their schedule. Although Prep and BC High tied their season series, both claimed two-goal victories, the committee might look at BC High's recent ties at the Cape Cod Classic (wins for tournament purposes) as reason to slide them to No. 5. Looking beyond the play-in games, Prep's top line of Tyler Bird, Brian Pinho and Sam Kurker is one of the few lines in the state that create problems for MC's vaunted top line.
Song that fits:
Avicii "Levels." A staple of Prep's warmup mix this season, and as ubiquitous a dance song in society this side of anything off of Daft Punk's "Discovery." Fully expect to hear this song about 1,000 times during the Super 8 at Lawler. Get ready.
Lyric that fits:
"Oh, sometimes/ I get a good feeling." (Well, come to think of it, that's about all there is for lyrics.)
5. BC High (10-5-5)
Current ESPN Boston Top 25 ranking:
4
Where they ranked in last projection:
5
Why they're in this spot:
As we explained, there's little separating the Eagles of Morrissey Blvd. and the aforementioned Eagles. It's just that the Eagles' two shootout wins and one-goal win over Archbishop Williams in the Cape Cod Classic this week might cost them a higher seed than this spot. In either case, they're a shoo-in and a dangerous squad at that as goaltender Peter Cronin (.915 save percentage) has only matured since his eye-opening performance in last year's tournament. Let's not forget either, the Eagles a relatively young squad as well, with only four seniors (Adam Conway, Brian Furey, Bartley Regan and Matt Sullivan) on the roster.
Song that fits:
M83, "Intro." This is the lead-in to Anthony Gonzalez's masterpiece "Hurry Up, We're Dreaming" (yes, the song you skip over to get to "Midnight City"). My favorite album of last year, for those of us who still actually believe in the concept of the album.
Lyric that fits:
"The battle's fought/ The deed is done/ Our silver hum runs deep and strong."
6. Springfield Cathedral (10-6-6)
Current ESPN Boston Top 25 ranking:
6
Where they ranked in last projection:
9
Why they're in this spot:
Outwardly, the Panthers don't have the most striking record, but only three of their losses have come in-state. And all of those losses came against teams ranked before them in this projected field (BC High, MC, St. Mary's). They've shown they can skate with the best in the state, albeit, they coughed up a point in a 5-5 with Prep after holding a 4-goal lead. But Wednesday's hard-fought 1-0 win over Needham in their host tournament showed how difficult this team can be to play against. As in that game, sophomore John Liquori has been solid and senior captain Frank Crinella (13-15-28) is as tough to play against as he is talented.
Song that fits:
The National, "Conversation 16." Trying to figure out what lead singer Matt Berninger's lyrics are about is like trying to do a Rubik's cube blind-folded. But they sure are interesting, if not entirely depressing. Great band, the band that Coldplay wishes they could be but are not, what with adoration of critics everwhere (including me).
Lyric that fits:
"I was less than amazing/ Do not know what all the troubles are for."
THE FINAL FOUR (PLAY-IN TEAMS)
7. Central Catholic (12-3-5)
Current ESPN Boston Top 25 ranking
: 7
Where they ranked in last projection:
6
Why they're in this spot:
We had the Raiders avoiding a play-in game in our previous field, but given their play down the stretch (3-0 loss to Andover stings), it feels like that's exactly what they're staring down for a second straight year. Still, as in year's past, Central has made a Super 8 push with a strong second half and things seem to be falling into place with ESPN Boston preseason All-State goaltender Kyle Williams (2.00 GAA) playing his best hockey down the stretch.
Song that fits:
At the Drive-In, "Rolodex Propaganda." OK, not a new song, but the reunion of the late-90's greatest band has me excited.
Lyric that fits:
"Pinch history feel the pinch blistering/ Pinch me in my dreams cause I'm still not listening."
8. Burlington (14-1-6)
Current ESPN Boston Top 25 ranking:
10
Where they ranked in last projection:
8
Why they're in this spot:
An emphatic 7-3 win over a quality Chelmsford team Thursday night in the Cahoon Tournament championship is exactly the kind of emphatic statement that can help a team this time of year. As the winner's of the Middlesex League's small schools division, we believe the Red Devils will be the lone team representing one of the state's toughest conferences. The only thing that could work against them is a high amount of ties. They're also a little light in the marquee win category. Senior forwards Trevor Cimino and Brett Romkey were two of my favorite players to watch this season.
Song that fits:
Bon Iver, "Minnesota, Wi." Just because Justin Vernon's Grammy acceptance is still one of the most priceless moments in recorded internet history.
Lyric that fits:
"Never gonna break/ Not for a part in any gamut of the dark."
9. Needham (16-4-1)
Current ESPN Boston Top 25 ranking
: 8
Where they ranked in last projection:
Out of Top 10
Why they're in this spot:
You could make the case that Wednesday's Springfield Cathedral Tournament game against the Panthers was a battle for the right to take the sixth seed. Given that the Rockets played well, but came away with a 1-0 loss, that's why they're here. This isn't an offensive juggernaut, and hopefully the Rockets' recent goal-starved performances will not negatively affect them, but they play solid team defense. It starts from the goalmouth out with a dependable, experienced goaltender in Connor Murray. Senior captains Lucas Davis and D.J. Walsh are equally adept in the offensive zone as they are in their own end.
Song that fits:
Jack White, "Love Interruption." As soon as we lost The White Stripes, White came back with this solo effort that cuts to the bone. After a couple tough Super 8 appearances, Needham's looking for more than just another appearance.
Lyric that fits: "
Yeah, I won't let love disrupt, corrupt or interrupt me anymore."
10. Westford Academy (12-2-4)
Current ESPN Boston Top 25 ranking:
17
Where they ranked in last projection:
Out of Top 10
Why they're in this spot:
Alright, so this is our boldest prediction, given that the Grey Ghosts still have one paramount game to play (as of the time of publication) against another Super 8 Watch List team in Milton at the Irish-American Shootout championship. We're going to project that the Grey Ghosts make the DCL/MVC the only public school league with two representatives; you can make the case the DCL/MVC was the strongest public conference this season, top to bottom. In addition, I like the way the Grey Ghosts attack with speed. They also have one of the most underrated D-men in the state in senior captain Pat Houghton (1-15-16) in front of senior goaltender Zach Webert.
Song that fits:
Holy Ghost!, "Hold On." Ghosts, get it? Plus, they're a Brendan Hall favorite.
Lyric that fits:
"It seems like I've been here before."
December, 29, 2011
12/29/11
12:19
AM ET
By
James Walsh
| ESPNBoston.com
(Highlights courtesy of the Needham Channel)

WELLESLEY, Mass. -- With under a minute to go in regulation, Catholic Memorial lead the Needham Rockets, 1-0, and looked to be on their way to their third win of the season.

But a Shamus Colman goal tied the game with 39 seconds left and Lucas Davis' goal fired shot into CM's goal with nine seconds remaining gave the No. 7 Rockets a stunning 2-1 win over the No. 4 Knights.

"Timmy Parlato came up, the puck was loose and he dove, stopped it," said Davis of his game-winner. "The other kid [CM's Shane Starrett] came out, popped it to me and I finished it. I give all the credit to Timmy Parlato."

After a lackluster first period, Catholic Memorial (2-1-0) came out strong and controlled the tempo to start the second period. But that momentum was halted at the 6:21 mark when junior captain Liam Coughlin was given a game misconduct for boarding.

Despite losing one of the state's best forwards, the Knights pressed on and ended up scoring up the game's first goal at 2:43 in the third period on senior Jack O'Hear's power-play goal, assisted by John Maher.

With under a minute to go, and a pending face-off in CM's zone, Needham (3-0-0) called a timeout, pulled goalie Connor Murray and drew up a play, that worked ... Eventually.

"It didn't work for a couple of faceoff's," Needham head coach Biil Guisti said of the play he drew up in the timeout. "It took us like two or three faceoffs. On the third faceoff, I told D.J. [Walsh] to get out, and they switched it up. I moved Timmy [Parlato] to the wing, then Lucas [Davis] took the draw, Lucas scrummed it, they got it back to Brendan, Brendan got it over to Shaymus, Shaymus back to Brendan, back to Shaymus and bingo."

"It was a designed play where they wanted to get the puck back to the D," Coleman added. "I got an open look, I tried to keep it low and there was a huge screen and it just went in."

Davis scored the game-winning goal 30 seconds after that.

A Break Through
One of the knock's on the Needham hockey during the past three seasons is that they couldn't seem to get past any of their big non-conference opponents, including in Super Eight play.

"It's a good win," Davis said. "It's about time we knocked off one of the top teams. It's been tough over the past couple of years, trying to knock off the top teams, so we finally did it, it's a great win."

The Rockets can't enjoy the victory too much, they travel to No. 9 Hingham on New Year's Eve.

For Catholic Memorial the loss may sting for now, but in the big picture it was just a tough break. Losing top class forward Liam Coughlin to a misconduct certainly make things more difficult.

Despite being outshot 32 to 21, the Knights still limited quality scoring chances until the final minute of regulation, and goalie Shane Starrett was solid stopping 30 shots.

The Knights will also play on New Year's Eve when they host No. 20 Framingham.
March, 13, 2011
3/13/11
2:03
PM ET
By
Roger Brown
| ESPNBoston.com
NORTH ANDOVER, Mass. –- It wasn't the experience either team envisioned when the Super Eight tournament field was announced.

Sixth-seeded Needham and seventh-seeded Woburn each entered Sunday's third-round game with an 0-2 record in pool play and no chance of advancing to the semifinals. Each team completed the tournament without a victory as well, as the teams skated to a 2-2 tie at Merrimack College's Lawler Arena.

"Very proud of the way our kids played," Woburn coach Jim Duran said. "It's such a difficult game to come back and play when you're not really playing for anything except for pride. There was no bologna out there. It was a good showing by both teams."

Needham was trying to protect a 2-1 lead, but Woburn's John Concannon capped the scoring with 5:28 to play. Because St. John's Prep (2-0) and BC High (2-0) had already secured spots in the semifinals from Group 2, there was no overtime period.

Following the game, Needham coach Bill Giusti suggested it might benefit everyone if the tournament format is changed.

"It's a tough game to play when you have two 0-2 teams," he said. "I think maybe the format should be changed and maybe go to a Hockey East format (best-of-three series) and the winner moves on. Really I don't think there's gonna be any more games or any more time. Not only that, it makes the first and second seeds that much more important.

"I think it's a better way. Unfortunately we've been involved in this game two years in a row. Last year with Winchester 0-2 and us 0-2. No one is in the stands either."

Junior forward Daniel Holland also scored for Woburn, which completed its season with an 18-5-2 record. Junior defenseman Jake Secatore assisted on both Woburn goals.

The Tanners won a play-in game against Springfield Cathedral, and then lost one-goal games against St. John's Prep (4-3 in overtime) and BC High (1-0) before Sunday's contest.

Needham received goals from junior forwards D.J. Walsh and Timmy Parlato. The Rockets completed their season 12-8-5. The Rockets lost to BC High (2-0) and to St. John's Prep (5-1) in its other tournament games.

"A tie was probably just for both of these teams," Guisti said. "Luckily both teams were pretty disciplined."

Woburn opened the scoring when Holland converted a rebound from close range at 4:46 of the second period.

Needham answered quickly. Walsh tied the contest 32 seconds later, and Needham took its first lead when Parlato beat goaltender Cam McGlashing on a shot from the right point at 7:12 of the second. Parlato's goal came with one second left on a Needham power play.

"We talked before the game, not only did we want to play this for the seniors but also we wanted to play it for next year," Duran said. "We showed we can play in the tournament. If we came here and had lost 5-0 they might have said we were just lucky to hang in there against those two teams [BC High and St. John's Prep].

"I think we had a good effort tonight, and I think this gives us a lot of experience for next year. It gives us an idea do of what to expect and what it takes to get to that next level."
March, 9, 2011
3/09/11
8:56
PM ET


NORTH ANDOVER, Mass. –- Entering their second Super Eight playoff game, St. John's Prep captain Colin Blackwell and his teammates knew they hadn't yet played their best hockey.

"That first game is always the biggest, but there are no excuses after that," the Harvard commit said.

The Eagles' second effort was bit more convincing than their first, taking a 5-1 win over sixth-seeded Needham Tuesday night at Merrimack College's Lawler Arena.

Still, Prep head coach Kristian Hanson wasn't leading on that his team had just won a crucial tournament test and improved to 2-0 in Super Eight play while sending the Rockets to their second tournament defeat.

"I don't know how to say it, but I don't think we played especially well," Hanson said.

Regardless of the Eagles' level of play, what was without question was the offensive output of Prep's first line. Freshman Shane Eiserman (2G, 1A) and Blackwell (1G, 2A) each had three-point games. Winger John Farrow also continued his strong Super Eight play with a pair of assists.

Prep carried play almost exclusively throughout the first period, outshooting Needham, 10-4. Yet, the Eagles could only sneak one past Rockets goaltender Connor Murray (19 saves).

It looked as though that's the way it would stand when the teams took to the dressing rooms, however, Eagles defenseman put a cannon shot on goal with next to no time remaining on the clock. The puck blazed past Murray and shot back out of the net as time expired, leaving the Rockets and most in attendance dumb-founded. The official pointed to center ice and Prep skated away with a 2-0 lead.

Earlier in the period, Eiserman collected the Eagles' first goal, tapping in a feed from Blackwell, who snaked his way through the Needham defense to set up the goal. Farrow also added a helper on the play.

Later in the period, Blackwell and Farrow each added their second assists of the game on Pandalena's goal.

"We knew they were going to try to throw everything at us because they'd lost their first game," Blackwell said. "So for the first period, we knew we had to get off to a good start."

Blackwell continued weaving circles around Needham defenders in the second, putting Prep out to a 3-0 lead with his goal 57 seconds into the period. He broke through the neutral zone with speed, crisscrossing his way past two Rocket defenders before finishing on the backhand.

Needham cracked the scoreboard with 2:08 remaining in the second with D.J. Walsh batting in a one-timer off of Jamie Arnao's centering pass from the corner after shedding the check of a Prep defenseman.

"When we got that goal, I thought we might come out with a little jump in the third period and try to get back in it," Needham head coach Bill Guisti said.

The Rockets were provided two golden opportunities to chip away at the two-goal deficit with a pair of power plays sandwiched together midway through the third. However, Needham was held without a shot.

"Our penalty kill's been very effective all year long," Hanson said. "We've been right around 90 percent all year long and we haven't given up a goal on the power play in the Super Eight.

"We work a lot on the PK and we watched a lot of film on Needham, trying to know what they were going to try to do and defend it."

Devin Murray provided the Eagles with a three-goal lead with 4:04 remaining in the game, putting back a rebound of a Sam Kurker shot. Matt MacDonald also picked up an assist on the play after providing a pretty outlet pass, setting up a 3-on-2 rush that led to the goal.

Eiserman capped off scoring, collecting another tape-to-tape crossing pass from Blackwell at the top of the crease and putting it into the back of the net for a 5-1 final.
March, 5, 2011
3/05/11
5:06
PM ET
By
Tom Layman
| ESPNBoston.com


NORTH ANDOVER, Mass. -- No. 3 seed BC High passed its first playoff test in over two years with flying colors in a 2-0 win over No. 6 Needham in the first game of the 2011 Super Eight Tournament on Saturday at Lawler Arena on the campus of Merrimack College.

The Eagles (14-4-3) controlled play for most of the game, but had to survive a flurry of quick-striking scoring opportunities by the Rockets.

Luckily for the Eagles they were armed and ready with sophomore Peter Cronin, who made 14 saves for his first playoff shutout.

"We did give up some chances, but Peter Cronin is a very good goalie," Eagles head coach John Flaherty said. "We scored two goals, but he easily saved three or four on his end."

The first period was more like the beginning stages of a championship-boxing match. Neither team wanted to be the ones to leave itself open and make the first mistake, but in the second period the Rockets let some big shots fly.

Tom Coleman got a quick shot on Cronin on the first shift of the second period, and D.J. Walsh and Coleman broke out on a 2-on-1 opportunity, but an offside call wiped out the scoring chance.

Cronin had to use his facemask to fend off another Coleman blast later in the period, and he was able to poke the puck away from Sam Nickles on the doorstep when it looked like Sam Nickles was ready to get enough daylight for the game's first goal.

But it may have been his save on Nickles in the third period that truly was the game saver. Nickles came barreling down the right side of the ice, but Cronin was able to cut off the angle and trap the puck in his armpit to keep the Rockets off the board.

"He was coming down and I knew I had to get an angle on him," Cronin explained. "He was a (right-handed shot) so I kind of squared up to the puck and after that it was just reaction."

"Thank God Peter played his head off," senior captain Mike Cashman said. "He played really well for us."

All of those saves by Cronin and missed opportunities from the Rockets allowed Cashman and the Eagles to take advantage of a power play in the third period.

The spacing on the Eagles first two power plays was a little bunched up, but a few adjustments from Flaherty and his team got Cashman wide open in the right circle and he went top shelf to beat Connor Murray (23 saves) with 6:28 left to play.

"We talked about kind of waiting and moving the puck around and finding the guy that is open," Flaherty said. "First couple of ones we were forcing it. We weren't allowing ourselves to find guys open. We were just forcing and forcing.

"We just talked about making a couple of adjustments, but the kids on the ice are the ones that delivered."

Andrew White delivered the second goal of the game, when he intercepted a pass with the Eagles facing a 6-on-5 and put home and empty-netter with 32.2 seconds remaining.

The chances were there for Needham, and although the Eagles outshot the Rockets 26-14, the bulk of the best scoring opportunities were in its favor.

"You are not going to win if you don't score," Rockets head coach Bill Guisti said. "I don't care who you are playing. I thought we played a pretty good game. I thought our defense kept them at bay for the most part."


February, 10, 2011
2/10/11
1:40
AM ET
By
James Walsh
| ESPNBoston.com
WELLESLEY, Mass. -- After No. 2 Weymouth handed No. 14 Needham their first Bay State Conference loss in two seasons in January, the Rockets knew they'd have to step their game up in the second and final meeting of the season between the two teams Wednesday night at Babson College.

Despite coming out with their best effort, scoring two goals in the opening three and a half minutes, Needham needed a third-period goal from Jeff Rosata to come away with a 3-2 win over the Wildcats.

"We had a very good practice yesterday and they came out flying tonight," Needham head coach Bill Guisti said. "It was one of our better starts of the season."

Tom Coleman got the scoring started at 2:24 in the first, sticking home a rebound on a D.J. Walsh shot. Just over a minute later, J.P. McHale doubled the lead with a beautiful backhand pass from Lucas Davis.

Weymouth head coach Matt Cataldo called their timeout immediately after the goal.

"I told them [they] deserve better than this," Cataldo said of his timeout talk, "we worked too hard, we worked too much, and we're too good of a team to put forth this type of an effort."

And they were a different team after that, forcing pressure on Needham that eventually led to a goal at 12:58 in the first period. Riley Flanagan tapped in a rebound from a Danny White shot after some good forechecking by the Wildcats made it difficult for Needham to clear their zone.

After a physical and goal-less second period, Needham entered the third with a 2-1 advantage. That lasted only 44 seconds as Weymouth senior Nick Peatfield skated behind Needham's goal and delivered a beautiful backhand pass to forward Jonathan Wilson who finished high into the top corner.

The Rockets didn't take long to answer. At 4:10 into the third period, Coleman hit a long cross-ice pass from inside his blue line to Rosata, just across the redline, and Rosata was one-on-one with Weymouth goalie Brian Brady whom he deked once and backhanded high into the net for a 3-2 lead.

But Weymouth didn't go out easy. With just over a minute left in regulation, the Wildcats pulled their goalie for an extra skater and forced four good saves out of Needham netminder Evan MacDonald, the first of which came on Flanagan straight off a faceoff.

"Coach Guisti warned me before the game of the shot right off the faceoff," MacDonald said , "the kid (Flanagan) is a very good face-off man. I give credit to Weymouth, the tried their best and gave it their all. We came out flying tonight and had luck on our side."

"Hopefully, we'll enjoy this win for a day or two, but we have got to get back to business on Saturday night against Braintree," Guisti said looking forward.

With the win Needham improves to 9-5-3 overall and 9-2-1 in conference. Weymouth suffers just their second loss overall (14-2-1) and their first conference loss of the season (11-1-1). The Wildcats hold a 1-point lead over Braintree in the Bay State Conference Standings.

SCORING
First
Needham 2:24 Tom Coleman from DJ Walsh
Needham 3:11 JP McHale from Lucas Davis

Third
Weymouth 12:58 Riley Flanagan from Danny White
Weymouth 0:44 Jonathan Wilson from Nick Peatfield
Needham 4:10 Jeff Rosata from Coleman
December, 18, 2010
12/18/10
4:55
PM ET
BOSTON, Mass. -- It was an early season rematch for two of last year's Super 8 entrants when No. 3 Catholic Memorial and No. 12 Needham faced off at Walter Brown Arena on Saturday.
The Knights took a 4-1 victory on the strength of a hat trick from sophomore Liam Coughlin. The center, who played for the Walpole Express last season, scored the final three goals of the game, including a game-clinching empty-netter in the waning seconds of the third.
Knights senior assistant captain Dan O'Hear also logged a mutli-point game, scoring CM's first goal of the game and setting up Coughlin's first tally -- what would prove to be the game-winner -- in the second period for a 2-1 CM lead. O'Hear feathered a tape-to-tape pass across the goal mouth to Coughlin, who banked the pass home behind Needham goaltender Connor Murray (24 saves).
Coughlin struck again 8:39 into the second period before capping the hat trick with an empty-netter that came as CM (1-1-0) was shorthanded. The rangy forward also set up O'Hear's goal for a four-point game.
Tommy Knox stopped 28 shots to earn in the win in goal.
Needham (1-1-0) got its lone goal in the first period when D.J. Walsh tipped in defenseman Corey Hood's shot from the point to tie the game, 1-1.
Here's a couple of passing thoughts from the non-league battle:
After CM's season-opening loss to LaSalle Academy in Providence, Hanson ran his team hard through practice this week, stressing a full 45-minute effort. "We went for 45 minutes today, that's for sure. That's what we have to do to win. We have to be hard to play against and our go-to guys have go to get it done."
With only one defenseman returning from last year's squad -- senior captain Marc Hetnik -- CM was left a little green on the blue line. In an effort to get a little experience on the back line, Hanson moved forward Chris Stathopoulous to defense and is playing beside Hetnik on the Knights' top pairing. The inspiration to move the smooth-skater back to the blue line came from Stathopoulous' experience on CM's lacrosse team. He's a longstick defender in lax, so Hanson thought, why not in hockey, too? "The way his physical skills are, he can skate, shoot, why not move him back to defense? He's got that acumen." The transition has been hasty, however. "He only really has two weeks of coaching back there," Hanson said, "but he gets better every day." Yet, if Saturday's sampling is any indication, the Knights may have found a dependable component to their D. It's not the first time Hanson's tried it either. Hetnik also first played as a forward at CM before making the switch.
Needham head coach Bill Guisti has the benefit of having seven seniors on this year's roster and he's been encouraged by their play early on. Guisti said forward Sam Nickles and Scott Atkinson, both seniors, have been among his most consistent players through preseason and the Rockets' early games. Nickles seemed to have the puck firmly attached to his stick throughout and had several quality chances. Atkinson exhibited good vision and the ability to transition the puck out of his defensive end. "He rarely makes a mistake," Guisti said of Atkinson. In addition to senior captains Chris Joyce -- whom Guisti believes should be the best D-man in the Bay State Conference this year -- and Tom Coleman, Needham has an experienced nucleus. "We've got to take it one game at a time and we've got Wellesley next," Guisti said. "So that will be a good challenge, but it would've been nice to get out of here with a win."