Boston High School:

Dakim Murray
March, 10, 2012
3/10/12
8:13
PM ET
By
Tom Layman
| ESPNBoston.com
BOSTON, Mass. — Brockton will make its much-anticipated return to the Garden floor as the top-seeded Boxers displaced No. 2 seed Madison Park (19-3) with a 57-48 victory last night in the Div. 1 South finals at the Clark Athletic Center on the campus of UMass Boston.

The Boxers (22-2) held the Cardinals to 15 field goals at a 27.8 percent clip for the game, and clamped down hard in the final minute to set up a date with Charlestown, which knocked off Lexington in tonight's Div. 1 North final in Lowell, on Monday night.

"We've been waiting for a team like this to play defense against," said Boxers head coach Bob Boen. "My big guys are getting tired of covering those 3-point players. They were very happy that they could stay in that lane and help out in what I call 'normal' defense with 'normal' help positions, instead of chasing guys out on the 3-point line."

Sayvonn Houston had 13 points, 13 rebounds and six blocks while holding Cardinals' big man Dakim Murray to eight points — seven of those coming in the first half.

"I just had to keep my hands up," said the 6-foot-6 Houston. "They have a lot of size and rebounders, so I knew I had to get in position, box out and rebound."

Will Baker, Jaylen Blakely and Jamal Reuben took care of the perimeter defense as they got in the passing lane on sever plays in the final two-plus minutes of regulation.

"We just wanted to get to every ball," said Baker. "Coach told us to work hard and we just wanted to play aggressively. That's what coach told us right before the game and that was the game plan."

Stewart in Foul Trouble: David Stewart has meant so much to Madison Park on the defensive and offensive ends of the court this season, and in the biggest game of the season he could only sit and watch for the majority of the game with foul trouble.

He picked up two fouls in the first half and picked up two more in the third quarter a good 80 feet from his own basket to slow down any kind of flow he had with his game.

"Foul trouble and a couple of chippy fouls," said Cardinals head coach Dennis Wilson. "I wasn't happy about that."

Boen was planning on taking on both Murray and Stewart for the majority of the game, especially after seeing the success the two had against Franklin in the first half of the previous round.

"They needed both of their big guys," said Boen. "Both big guys together were giving us a lot of trouble. When one or the other was out we relaxed a little, and we relaxed a little bit too much I think."

When Stewart was able to stay in the game he made all the difference for Madison Park to keep things close. Stewart had 10 of the Cardinals 11 points in the third quarter and he finished with 16 in the second half after only having a single free throw in the first half.

Baker Steps Up: Baker might be the second point guard that comes into the game for the Boxers, but the ball was left in his hands in the second half as his team was trying to stave off the Cardinals.

"He got the game moving. We got off to a good start, we slowed down and then William came in and got us rolling again."

Added Baker: "That's what my role is. My role is to get opportunity for teammates when they are open."

Baker -- who also added seven assists and four steals — picked off a pass on the opening possession of the second quarter and put it off the glass on the other end. Baker also set up Drew Fiske for a 3-pointer off a good dribble penetration and found Houston a couple times in the second half as he was able to create off the dribble.
March, 8, 2012
3/08/12
1:09
AM ET
By
Jay King
| ESPNBoston.com
BOSTON -- The play was ironically labeled "victory," and Franklin ran it almost perfectly against Madison Park on the final possession of the MIAA boys' South sectional basketball Tuesday night at UMass-Boston's Clark Athletic Center.
Unfortunately for the Panthers, everything worked except the shot, allowing Madison Park to escape with a thrilling 63-60 win.
The final play was one the Panthers practiced many times during the course of the season, never actually knowing whether they would need to use it.
Brendan Skidmore, a senior who had already drilled three long bombs, ran his Madison Park defender off a screen at one end of the floor while the clock stood stuck at 1.3 seconds. Russ Haddad cradled the ball at the other, ready to throw an inbounds pass the entire length of the court once Skidmore scampered free.
Franklin trailed 63-60, had trailed almost the entire game, had come storming back like an angry girlfriend looking for the final word in a heated argument, and Skidmore's desperation turnaround was the Panthers' final chance at overtime.
The sharp-shooter gained a sliver of separation, caught Haddad's pass, turned toward the basket from 30 feet away and let loose a prayer.
"I didn't even get a glimpse of the hoop. I just caught it and threw it up there," he said.
"I thought it was in. I thought we were going to have to go for another five minutes," Madison Park center Dakim Murray explained.
"Heart pumping, stroke city, and I'm looking, and I said, 'No, you've got to be kidding me," Madison Park coach Dennis Wilson added.
But the last ditch attempt fell inches short, bounding off the front rim. And so Madison Park narrowly advanced to the South sectional finals.
The game never seemed destined for such a critical moment. But that was before Franklin clawed its way back from a 21-point deficit. Before the Panthers discovered a way to keep Madison Park's bruising big men, Dakim Murray and David Stewart, from dominating the paint. Before Skidmore hit a clutch three with 2.0 seconds left to bring Franklin within 62-60, and before Stewart was fouled on the ensuing inbounds pass and hit one of two free throws, setting the stage for the dramatic finish.
[+] Enlarge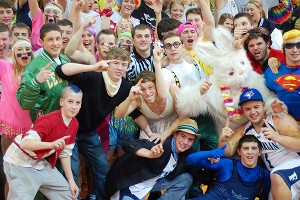 Brendan Hall/ESPN.comFranklin's 'Rattle City' student section was in peak form, but Madison Park was able to quiet the masses by staving off a late rally.
"When we were up 20, I thought we were just going to cruise through. But nothing's easy in states, as you can see," said Murray, who finished with 23 points and 11 rebounds.
After ending the first quarter with a 14-11 lead, Madison Park owned the second quarter and took a 35-19 lead into intermission.
The 6-foot-4 Murray and his partner in interior domination, the 6-foot-3 Stewart (25 points, 10 rebounds), were critical to Madison Park's fast start. The bruisers combined for 48 points and 21 rebounds, setting a physical tone from the tip off.
Franklin played mostly 2-3 zone defense in the first half, expecting that the strategy would force Madison Park into shooting outside jumpers. The Panthers were attempting to hide their clear size disadvantage, but it wouldn't be that easy. The Cardinals exhibited poise while moving the ball inside to their work horses, foregoing outside jumpers in favor of higher-percentage looks.
"We practiced a lot against 2-3 defense and zone because we knew they weren't too big and they'd have to go zone," Murray said. "If they were going to man us, me and my twin tower, D-Stew, would have just killed them –- killed them –- inside. But somehow, God willing, we still killed them."
"I probably stayed in [the zone defense] too long," said Franklin coach Dean O'Connor. "We're a man team. In the second half we started cranking up the pressure and getting them away from the basket more. Zone, I figured they'd get more outside shots, but we're undersized in there and we just couldn't box their guys out.
"That was the story of the game, the offensive rebounds and the putbacks. Dakim killed us in there, and Stewart. We're undersized. We're playing a power forward that's 6-foot-1, 165 pounds against those guys, so..."
The effects were slow to kick in when Franklin switched out of the zone defense following halftime. Madison Park continued to feed their two pillars down low, building a 44-23 with four minutes left in the third quarter.
But Franklin's hard man-to-man pressure began to take its toll. The Panthers slowly chipped away, then seized momentum fully while closing the third quarter with a 7-0 run.
Jason McKie ended the quarter by drawing two consecutive charging violations.
"Jason had like four or five charges the whole game," said Sam Bohmiller, who paced Franklin with 19 points and five assists. "He's been doing that all year. That's what he does. He's huge for us. Taking charges is a huge momentum swing."
By the time three minutes passed off the clock in the fourth quarter, Franklin had already used its fierce full-court press and suddenly-falling jump shots to pull within 50-48.
Madison Park answered with four straight points to make it 54-48, but after digging out of its own grave, Franklin wasn't prepared to die again. The Panthers quickly clawed back to within two at 56-54, and had a chance to tie or take the lead with two minutes left. But a lefty scoop shot by Joe Palazini (15 points) missed its mark and Madison Park maintained its slim margin.
With all the quit of a 92-year old working the same construction job for 70 years, Franklin continued to knock relentlessly on the door of a glorious comeback. Skidmore drilled a triple from the corner with 46.9 seconds left to bring the Panthers within one, 58-57, the closest the score had been since the first quarter.
But again, Madison Park's offensive rebounding emerged as a factor. The Cardinals rebounded their own misses on two consecutive sets of free throws, ultimately being fouled three different times on the same possession while pushing the lead to 61-57.
Franklin missed a three on the ensuing possession, Matthews hit one out of two free throws, and the comeback finally seemed to have lost all its air.
But Skidmore drilled a triple from the corner with 2.0 seconds left, making the score 62-60, Stewart split a pair of charity shots (63-60), and O'Connor used the ensuing timeout to call the team's "victory" play.
Everything worked except the shot.
"They're disappointed, but I think even inside that once the hurt goes away -– by the time we get on that bus -– they're going to be proud of the way they fought. How can't you be?" said O'Connor.
Brockton up next:
With the win, Madison Park advances to meet Brockton in the South Division 1 finals on Saturday at UMass Boston.
"Brockton's real tough -– real tough. But it's go hard or go home. I'm a senior. I have to make it to the Garden," said Murray, referring to the TD Garden, annual site of the state's Eastern Mass. Finals.
A season to be proud of:
During his 13 years coaching basketball at Franklin, O'Connor never had a team quite like this year's.
"I couldn't be prouder of this team. We lost our first three games, then we won 19 out of our last 20, with a team that had three guys that played at all last year," said O'Connor. "Nobody thought we were going to be anything this year. These seniors came together and they played with a lot of heart, chemistry. We've got some skill too, but that was the key. This is the best –- the team that gets it the most of any team I've ever coached."
O'Connor's star point guard, Bohmiller, still felt the pain of defeat afterward, but admitted that his team surpassed expectations.
"Coming into the season, no one thought we'd make the South semifinals. So we just proved those people wrong. It was a hell of a season, and I'm going to miss it," he said.
February, 2, 2012
2/02/12
10:17
PM ET
By
Bruce Lerch
| ESPNBoston.com



EAST BOSTON, Mass. -- Sometimes it's just a matter of getting back to basics, and doing what you do best.

In the case of the East Boston boys basketball team, what they do best is play defense. The Jets know they won't fill up a stat sheet in the offensive end. What head coach Malcolm Smith loves to see, however, is numbers spilling into the margins in the turnover column and at least an even matchup in the rebounding section.

No. 21 Eastie rediscovered its dogged, defensive mentality at the right time, forcing 26 turnovers in a 68-42 victory over No. 22 Madison Park Thursday night at East Boston High.

It was a big win for the Jets (12-4) on a number of fronts. First, it puts them up by a game atop the Boston City League's North division ahead of both Madison Park (12-2) and Charlestown, giving them an edge for one of the division's two spots for the upcoming City playoffs. It also wipes away the bad taste of Tuesday's 73-66 loss to the Townies.

And finally, this win was about Eastie getting back to the roots of what has made it a successful basketball team.

"It was a reality check for us on Tuesday night over at Charlestown, in terms of us being a family, us having to fight to the finish and not taking possessions off," admitted Smith. "The bottom line is, it took 15 games for us to realize we're a family, that we need every single person on this team to contribute, both defensively and offensively."

Missing a pair of regulars meant that contributions had to come from everywhere at both ends of the floor. Zack Gattereau led the offense with 15 points, Kyle Jimenez-Fox added 13 and Kenny Ramos chipped in with 12. Defensively, led by Travon Moore and a strong effort off the bench from Algino Jean, the Jets forced 11 of the 26 turnovers in the first quarter and out-rebounded the bigger Cardinals, 36-35.

Gattereau was big in the first half, dropping a 3-pointer at the end of a 12-1, first quarter run and scoring 11 of his 15 in the first 16 minutes. The MP Machine was able to cut the deficit to four points (22-18) midway through the second, but Eastie closed out the half with six free throws and an 11-5 spurt for a 33-23 advantage at the break.

"We were shorthanded this game because we didn't have all of our players so all of us had to bring extra intensity on the defensive end and that's what we did, turn defense to offense easily," Gattereau said. "I was just trying to get offensive boards to get me going and hope my teammates would find me after that."

The Cardinals appeared ready to rally in the third, but every time they put a couple of baskets together, Jimenez-Fox was there to knock down an open three. He did so three times, and each trey put the Jets back up by double digits.

"Our objective was to just play hard and the way we prepared in practice," Jimenez-Fox said. "We had to fast break to beat this team. We weren't trying too many set plays. Our guards were driving down the middle and the wings would collapse and they kicked it out to the wing and I was wide open."

Strong defense makes for a happy coach: Smith couldn't but help smile after watching his squad turn in a superlative defensive performance. The Jets mixed parts of a 1-3-1 zone with a lot of basic man-on-man defense and timely trapping in the corners with great success.

And it was truly a team effort. Six players had at least four rebounds, Gattereau added to his offensive night by keeping close tabs on MP big man Dakim Murray (six points, 12 boards), and everyone on the floor seemed to have a steal or at least be in the mode of disrupting Madison's flow.

"Travon Moore brings more defensive flair than anybody and more grit and inten sity, and Algino Jean came off the bench and sparked our defense tremendously today," Smith praised. "Those two were big and Charles Hines, a sophomore, came off the bench and got a key steal. The thing I'm more proud of than anything, it was 85 percent man to man today and that right there showed the grit of this team."

"I don't usually celebrate wins or get too gassed up about them, but this one felt very good," he continued. "Not just because it was a rivalry but because we got back to being who we were."

Lamenting a tough night: Madison Park coach Dennis Wilson is a veteran of the hardcourt wars, and he has been on both sides of the coin more times than even he would care to count over the years.

David Stewart led all scorers with 17 points and six rebounds and Rayshaw Matthews added 13, but Wilson found very little on the positive side to take away from this loss.

The Cardinals now have to beat Snowden and then capture a rematch with a resurgent Charlestown if they want to reach the City playoffs.

"They are a very aggressive team, they play hard they come at you and you have to be able to deal with that, keep your composure, find open people, attack the basket," Wilson explained. "We didn't do that. We lost our composure. We started off pretty good and then we fell apart, throwing the ball away. Last time I checked, we were wearing burgundy, they were wearing white. We were throwing it to white shirts. We panicked."

"Nobody played well. Nobody," he continued. "We didn't box, we threw the ball away, we didn't attack the basket, we didn't defend, we didn't do anything right. So all we can do, and sometimes good teams have days like that. I'm hoping we got it out of our system. We'll file this away, everyone will be honest with themselves and realize they didn't play well."
January, 20, 2012
1/20/12
12:35
AM ET
By
Shawn Myrick
| ESPNBoston.com



ROXBURY, Mass. -- Rushing back on the counterattack Madison Park's Dakim Murray grabbed the offensive rebound and quickly threw it up.

As the ball bounced off the rim, teammate David Stewart grabbed the second effort, missed, grappled the ball again and pitch it to teammate Rayshaw Matthews for the open jumper to go up 16 late in the second quarter.

It was the same issue all night for No. 18 Charlestown. It did not matter if the Cardinals missed, because the second chance was always there.

Dominating the Townies on the boards, host Madison Park trumped No. 18 Charlestown 81-69 to grab second place in Boston City North on Thursday.

"We grew up tonight," said Madison Park coach Dennis Wilson. "I wanted to attack the inside, because they only really have one big men. If you looked at my (chalk) board, the three things I emphasized were defense, boxing out by putting bodies on people and taking care of the basketball."

The Cardinals (10-1, 5-1) out rebounded the Townies 33 to 25 in total and 20 to 13 in the first half to pull away midway through the second quarter and never looked back. A layup by senior Iser Barnes and a trey by junior Tyrese Hoxter gave Charlestown (6-3, 4-2) its only lead of the night, a 19-18 margin at 6:11 in the second quarter.

Madison Park would immediately respond with nine straight points all from Murray, Matthews, and Stewart to edge up 27-20. The three attacked the boards all night for the Cardinals, with seniors Matthews and Murray both netting 17 points and junior Stewart tallying 14.

Murray and Stewart also each had seven rebounds.

"I am looking to see if the defense is crashing in on me then finding open teammates or taking my man off the dribble," said Matthews. "After they put up every shot, you have to find a man and box them out."

"Five to the boards is what coach preaches," added Murray.

As the lead spread to 16, an effective half court press would prove to little to late for Charlestown. An open corner 3-pointer from senior Jawarhi Dawan Abdullah pushed the score to 52-40 late in the third.

However, Madison Park outscored its rivals for the remainder as Charlestown continued to struggle against the 1-3-1 trap.

Hoxter had 21 points for the Townies, while teammate senior Tyrik Jackson was a beast on the boards with 14 rebounds, 10 points and seven blocked shots. Charlestown had trouble getting second effort production from the remainder of its team who totaled 12 rebounds.

"We have been pressing all season and trying to create havoc," said Charlestown coach Edson Cardoso. "Tyrik was grabbing rebounds, but the rest of the guys were not crashing or boxing out. Our weakness is rebounding."

As was the case tonight, Charlestown will have to play the remainder of the season without starting guards Ronny Fernandez and Omar Orriols.With both teams previously dropping a loss to league leader East Boston (5-0, 7-2), the win was an important step in the battle for the conference's top regular season spot.

"I felt kind of strange sitting up in the stands (during the conference postseason) last year," said Wilson. "You know I want to get back there. We still have a lot of basketball left."



January, 6, 2012
1/06/12
12:21
AM ET
By
Adam Kurkjian
| ESPNBoston.com
ROXBURY, Mass. -- Sometimes, it's better to look at the scoreboard than the state sheet.

That is something that East Boston boys basketball coach Malcolm Smith will have to remind himself after Thursday night's 61-59 win over Madison Park. The stats did not paint a pretty picture for the visiting Jets. They made just 2-of-25 free throws in the second half (yes, you read that right). Madison Park out-rebounded the Jets by a 45-27 margin.

However, Eastie forced Madison into 32 turnovers –- including 20 in the first half –- and the Cardinals (6-1) could not capitalize on the Jets' inability to put the game away late.

"I'll take any win," said Smith, whose team improves to 5-2. "As I told everybody before, we're just not that really good. We just play with a lot of emotion and we play very hard."

And they play suffocating defense at times, which Eastie them build a 40-27 halftime lead. Led by Dakim Murray (18 points, 16 rebounds) and Rayshaw Matthews (19 points), Madison began to chip away in the third quarter, twice getting within four points. But baskets by Eastie's Kyle Fox and Kenny Ramos pushed the advantage up to 51-41 heading into the final stanza.

A drive into the lane and finish from Madison's David Stewart (seven points, 12 rebounds) cut the deficit to 53-48, before a put-back from Ramos and layup by Pat Santos off another Madison turnover made it 59-49 with just 2:10 to play.

The game was not close to being over, though, as the Cardinals -- led by Murray and Matthews -- went on an 8-1 run to make it 60-57 with 50 seconds left.

Eastie continued to miss free throws, and Terell Matthews of Madison made a pair with 21 seconds left to make it 61-59.

But despite the Jets missing four more freebies in the final 17 seconds, the Cardinals could not get any quality looks in the final moments and Eastie escaped with the win.

It's in the Books: The first quarter took about as long as most halves because of problems with the scoring books. First, East Boston was hit with a technical foul because Algeno Jean went to the free throw line but was apparently not in the Madison Park book. That ordeal lasted maybe 10 minutes.

Shortly after, the game was stopped again because of an inaccuracy over the score. While East Boston was up, 15-10, the Madison Park scorekeeper had it at just 12-10. The delay caused some frustration and confusion all over the gym, but was eventually sorted out.

The Eastie Swarm: The East Boston halfcourt press made life miserable for Madison Park in the first half and it proved to be one of the keys to victory. One reason why the Jets can play with such a ramped-up intensity level is their depth. While East Boston does not have a ton of size, the Jets do have a seemingly endless well of aggressive guards to bring off the bench and act as pests to opposing ballhandlers.

On Thursday night, the player who stood out the most for his effort was senior Travon Moore. Despite coming off the bench, Moore led Eastie with 12 points, and his hustle set the tone when other facets of Eastie's game were not up to par.

Cards Control the Crease: Although Madison played inconsistent, especially against Eastie's pressure in the first half, part of that had to do with the Cardinals missing starters O'Shea Joy (asthma) and Dane Lawladownie (ankle).

However, the Cardinals can take solace in the fact that they had a very strong effort in the paint. Murray is 6-foot-4 and burly enough to push his way into position, while Stewart is an athletic presence at 6-3 who can go up and snatch rebounds away from taller players. If the Cardinals can get healthy and take better care of the ball, they will be a tough out in the city.

"We only have ourselves to blame," said Madison Park coach Dennis Wilson. "We missed too many foul shots and made too many turnovers. But that's what happens with a young team."