Boston High School:

Dakota Smith-Porter
June, 10, 2013
6/10/13
12:51
AM ET
By
John McGuirk
| ESPNBoston.com
AMHERST, Mass. -- For those who live outside the greater Springfield area, you probably have never heard of Allison Wheeler -- yet.

Wheeler is a freshman pitcher for the Agawam Brownies but certainly does not play like one. At Sunday's Division 1 Western Mass. final, Wheeler, showcasing outstanding movement with all of her pitches, silenced the Longmeadow offense in the form of a 1-0 victory at UMass.

With the win, the fourth-seeded Brownies (17-6) claim their second consecutive district title. They now move on to Wednesday's state semifinal versus Marlborough here beginning at 5 p.m. Last year, Agawam fell to Milford in the semifinal round.

"Allison has really come into her own this season," Brownies coach Kathy Georgina said. "Today she put the ball where she needed to. We had played Longmeadow twice before (earning a split) and we had studied their hitters. We had them all mapped out and Allison put the ball where she needed to so they couldn't hit it. For a freshman, her maturity and composure is truly amazing."

Entering this tilt, all talk focused around two young upstart pitchers who offer little to opposing offenses. Wheeler's counterpart, sophomore Jillian Stockley, also performed well in this one. But Wheeler was a tad better. The right-hander issued a first-inning single and then proceeded to keep the second-seeded Lancers quiet for the remainder of this tilt. She also picked up seven strikeouts. Stockley gave up five hits and fanned eight giving her 225 for the year.

"We just fought the whole way and wanted this so bad," Wheeler said. "My defense made some big plays for me and I owe a lot to my catcher Rielly Wieners. She keeps me calm. I love her and I'm so excited that we get to keep going."

Stockley's lone mistake came in the Brownies first inning. Danielle Stratton led off with a bunt single. Faith Rheault then reached on an error. After a sacrifice bunt from Paige Circosta advanced both runners, Wieners hit a fly to left that was deep enough for Stratton to tag up and score on.

"I think our experience played out in getting that first run," said Georgina. "We came here and weren't nervous. I think they were a little nervous maybe in that first inning and we took advantage of that to get that run across."

From that point forward that would be the only offense put forth by both clubs as Wheeler and Stockley took over and made life difficult in the batter's box. Agawam managed to get two base runners to second in the later innings but Stockley left them stranded there.

"We knew going in we had to get some timely, clutch hits," said Longmeadow coach Steve Marcil, after his team finished at 17-5. "Wheeler pitched very well. We just didn't get a lot of good swings on her. Agawam played a great game. Danielle [Stratton] is probably the mentally-toughest kids I've ever coached. She has a plan for every pitch and every at bat. She's all business. She's just a phenomenal competitor and a great kid."

Mount Everett 3, Turners Falls 0
History says to beat a reigning state power like Turners Falls you need to be as close to perfect as one possibly can. be. The Indians have earned that reputation having won six state championships.

On Sunday, Mount Everett played near-flawless and certainly did enough to thwart the defending two-time Division 3 state champions 3-0 in the Western Mass. final played at UMass.

Much of the credit goes to Eagles hurler Alicia Bazonski. The hard-throwing righty curtailed the Indians' powerful bats throughout. After surrendering two first inning singles, the junior righty issued no more the rest of the way. At one point she set down 13 Indians in a row. Bazonski also registered six strike outs.

"This feels really good," said Bazonski, clutching her team's first district title trophy. "We knew Turners is a really good hitting team so I was just trying to keep them off-balance as much as I could. Fortunately, I was able to."

Mount Everett (22-1), the top seed, advances to Tuesday's state semifinal to be played here against Central Mass. champ Assabet Valley beginning at 5 p.m.
Having lost to the Indians in this game two years ago, Mount Everett, located in Sheffield, finally gained a little payback.

"We've been close a few times at winning this but always fell short," Eagles head coach Kurt DeGrenier said. "We live in a very tiny community so our whole community truly deserves this. Alicia [Bazonski] is the total package. I'm glad we've got her and nobody else does. She never gets rattled and never gives in. Turners has the best team in Western Mass for the last 20 years so beating them today is very special."

Mount Everett jumped ahead 1-0 in their half of the second against Indians ace Dakota Smith-Porter (CG, 4 hits, 2 Ks). Samantha Hoover walked, advanced to second on a sacrifice and scored on Emily Coon's bloop single that landed on the foul line beyond third base. On the play, Indians left fielder Amber Caouette bobbled the ball allowing Hoover to sprint home.

While No. 2 Turners Falls (20-3) bats continued to grow listless against Bazonski, the Eagles threatened to add to its lead in the fourth.

Bazonski opened with a walk. With Kayla Krom pinch-running, Hoover laid down a sacrifice bunt moving Krom to second. Alex Hoover then sent a flare to left. Caouette charged the ball, played it on a hop, and fired a laser to Indians catcher Morgan Ozdarski who tagged out Krom. On the play, Hoover took off for second but Ozdarski alertly fired a strike to second baseman Jenna Putala, who placed the tag on a sliding Hoover to end the inning.

In the sixth, the Eagles made amends after scoring a pair. Haley Finn singled. Morgan DeGrenier laid down a bunt. Ozdarski picked it up and threw it into right field. Brittany York, the right fielder, let the ball go past her with Finn crossing the plate. DeGrenier, taking third on the double error, scored moments later on Natasha MacLeay's ground out.

"I felt one run wasn't going to be enough," Bazonski said. "We knew we needed to get some more and we did."

Bazonski retired the Indians in order in the top of the seventh to deny them a chance for a third straight state crown.

"We hit a few balls hard and they made the catches," Turners Falls coach Gary Mullins said. "Their pitcher was tough and we couldn't handle it. We made three errors today and I don't think we've made three errors in over a month."
May, 16, 2013
5/16/13
1:26
AM ET
By
John McGuirk
| ESPNBoston.com
WESTHAMPTON, Mass. _ Nine days ago, Hampshire Regional was throughly embarrassed. The Red Raiders were beaten handily by Turners Fall High School 15-2 in Montague. For seven-year head coach Brian McGan, it marked the first time he had encountered a mercy-ruled defeat.

On Wednesday, the two softball powers met again. Only this time, it was Hampshire who had the last laugh. The old adage 'what goes around comes around' proved never more effective as the Red Raiders throttled the Indians 12-0 in a five-inning, mercy-ruled victory.

Still stinging from that defeat, the Red Raiders entered this contest with a purpose. They wasted little time exorcizing the demons of a week ago after scoring four runs in the first, and putting this one well out of reach with a six run third.

"We were ready to play and we brought it today," said Hampshire pitcher Ashlee McGan, who scattered three hits, struck out five and also went 2-for-3 at the plate with three RBI. "That loss was in our heads so we definitely wanted to come back stronger against them today. We wanted this one really bad. I don't think we were mentally set for that earlier game and that kind of put us in our place in preparation for this game."

With the win, the Red Raiders improve to 13-1 and will no doubt use this latest triumph as a spring board towards another deep run into the postseason. Since 2010, Hampshire has reached the Division 2 Western Mass. finals four times and has moved on to the state semifinals twice.

For defending two-time Division 3 state champion Turners Falls (13-2), this loss is merely a hic-up. Despite the blowout, the Indians still have enough talent reach the state finals once again.

"They came to our place and we did the same to them," 34-year Turners Falls coach Gary Mullins said. "Revenge can be a very powerful tool as it showed today. We have no excuses. That team just came out and flat out beat us. They have some very good hitters on that team who swing the bats well. I still think we are much-better than what we showed today. We'll just have to see what happens from here."

As Hampshire showed from the outset, what transpired in that first meeting would not be repeated. The Red Raiders showed tremendous patients at the plate against Indians' hard-throwing righty Dakota Smith-Porter. The senior was having difficulty locating her spots, falling behind in the count frequently. When she was in a position having to groove a pitch, the Red Raiders sat back and jumped all over it.

Smith-Porter ran into trouble immediately. In the first inning, Hampshire loaded the bases before Marissa Sarna-McCarthy roped an opposite field two-run double to right field. After a wild pitch plated the Red Raiders' third run, McGan followed with an RBI single to put Hampshire on top 4-0.

In the third, the Red Raiders blew the doors open. Junior Anna Dziok opened the frame by ripping an 0-2 fastball deep over the left field fence for a home run. Bri Weltlich followed with a doubled and took third on a wild pitch. Smith-Porter next walked McCarthy spelling the end of day inside the circle. Senior Tanisha Sanders was brought on in the hopes of getting the Indians out of the jam.

But Lilly West had other ideas. The freshman belted a two-run double to right. Hampshire would go ahead 8-0 moments later after eighth-grader Paige Sullivan grounded a single to left, plating West. The Red Raiders sent two more across the plate the frame on a passed ball and a Savannah Waters sacrifice fly. Hampshire went up by a dozen in the fourth following McGan's two-run single. McGan, who will pitch for Keene State College next year, finished off Turners Falls in the top of the fifth to cap off this statement-making victory.

"I couldn't be more prouder of the way our girls hit the ball today," Brian McGan said. "They kept their heads down, swung the bats and didn't swing at bad pitches. We knew Dakota [Smith-Porter] has a good rise ball and we try to emulate that during practice. We focus in trying to lay off of it and concentrate on the balls that are coming at our waists. I felt our girls had a little something to prove this time around against them. Today we managed to swing bats well and Ashlee pitched a great game and moved the ball well all-around the strike zone."
April, 9, 2013
4/09/13
11:19
PM ET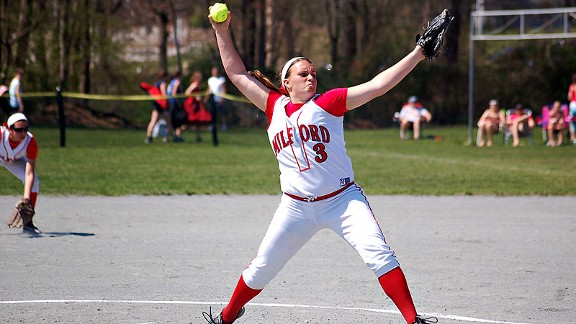 Brendan Hall/ESPNBoston.comReigning ESPN Boston Miss Softball Award winner Shannon Smith hopes to lead Milford to back-to-back Division 1 state titles.
STARTING ROTATION
Megan Colleran, Jr., North Attleborough
Anna O'Neill, Sr., King Philip
Lauren Ramirez, Sr., Dracut
Kendal Roy, Jr., Grafton
Shannon Smith, Sr., Milford
STARTING NINE
Tori Constantin, Sr. 2B, King Philip
Stephanie Cornish, Sr. 3B, Abington
Alexis DeBrosse, Sr. SS, New Bedford
Caroline Fairbanks, Sr. 3B, Milford
Nicole Lundstrom, Sr. C, Dighton-Rehoboth
Bella Picard, Sr. SS, Blackstone Valley Tech
Madi Shaw, Jr. SS, Bridgewater-Raynham
Dakota Smith-Porter, Sr., P/SS, Turners Falls
Reilly Weiners, Sr. C, Agawam
WATCH LIST
Olivia Antczak, Soph. P, Central Catholic
Allie Colleran, Jr. SS/OF, Concord-Carlisle
Megan Cook, Jr. P, Bellingham
Haley Currie, Sr. 3B, Burlington
Sara Dawson, Soph. P, Bridgewater-Raynham
Kaleigh Finigan, Sr. 3B, St. Mary's (Lynn)
Bridget Furlong, Sr. 2B, Malden
Courtney Girouard, Jr. P, Fairhaven
Galen Kerr, Sr. P, Concord-Carlisle
Taylor LeBrun, Soph. C, Milford
Rachel Levine, Sr. CF, Milford
Michaela Mazure, Soph. INF, Burlington
Shannon McLaughlin, Jr. P, Tewksbury
Paige Mulry, Jr. C, Boston Latin
MacKenzie Navarro, Jr. 1B, Taunton
Alicia Reid, Sr. CF, Abington
Kelsey Saucier, Jr. P, Holy Name
Rachael Smith, Jr. P, Winchester
Lauren Tuiskula, Sr. P, Leicester
Jurnee Ware, Sr. P, Hudson
June, 22, 2012
6/22/12
2:21
AM ET
Starting Rotation – First Team
Kiara Amos, Sr., Malden
The Providence College signee led the Golden Tornadoes to their first-ever state finals appearance after claiming the Eastern Mass. title. Amos went 15-1 for Malden, notching 195 strikeouts in 105 innings thrown all while boasting a 0.47 ERA. The right-hander set another first for Malden's program as its first-ever Div. 1 college scholarship player.
Meghan Rico, Sr., King Philip
Rico concluded her high school career as one of the most decorated players in the state, a winner of two state championships and last year's ESPN Boston Miss Softball. The George Washington signee went 17-3 for the Warriors this season, striking out 274 in 142 innings thrown while surrendering just 10 earned runs all season.
Sarah Ropiak, Sr., Acton-Boxborough
Headed to Brown University next year, Ropiak was a three-time Dual County League All-Star and earned MVP honors in the large division this season. The right-hander posted an ERA of 0.69 while leading the Colonials to a Division 1 North final appearance.
Kendal Roy, Soph., Grafton
The second-year sensation lifted the Indians to their first-ever state championship with a win over Abington in the Div. 2 final. Roy went 18-1 with an ERA of 0.72 in 126 innings thrown with 176 strikeouts while allowing just 11 walks.
Shannon Smith, Jr., Milford
The University of Kentucky commit was near unhittable this season while leading the Scarlet Hawks to an undefeated season and the Division 1 state title. This year's ESPN Boston Miss Softball Award recipient was also named Massachusetts Gatorade Player of the Year for the second time (2010, '12) in her career.
Starting Nine – First team
Katie Caruso, Sr. SS, Newton North
Caruso won the Bay State Conference's triple crown, leading the league in batting average (.662), home runs (10) and RBI (47) while also clubbing a conference-best 51 hits. The Bay State MVP was also a standout on the Tigers' hockey team. The four-year starter will continue her playing career next year at Southern New Hampshire University.
Lexi Gifford, Sr. SS, Natick
While Caruso may have been named Bay State Conference MVP, Gifford has been the league's most valuable lead-off hitter during the last four years. The UConn signee hit at a .615 clip while driving in 33 runs for the Red & Blue this season. Gifford was also a true three-sport athlete at Natick, as a four-year letter-winner in soccer, basketball and softball.
Bri Chiusano, Sr. CF, Mansfield
One of the most feared lead-off hitters in the state and a superb slap hitter, the Hockomock League All-Star showed off her power as well with four home runs this season. The Coastal Carolina signee finished second in the Hock in hitting with a .521 batting average.
Olivia Godin, Sr. C, King Philip
The UMass-Amherst signee was a four-year starter for the Warriors, helping guide the program to back-to-back state titles in 2010-11. The backstop hit .299 this season with three home runs and 18 RBI.
Alexis DeBrosse, Jr. SS, New Bedford
Already a three-time New Bedford
Standard-Times
Player of the Year award winner, the three-time Big Three All-Star hit .521 for the Whalers this season. The three-sport athlete also hit five home runs with 26 RBI and a slugging percentage of 1.099.
Julie LeClair, Sr. 3B, Coyle-Cassidy
Comprising one half of the state's best left side of the infield, along with shortstop Patty Borges, the St. Anselm signee led the Warriors to the EAC crown with a league-best .527 average. The three-sport athlete also clubbed a league-leading five home runs along with 32 RBI.
Bella Picard, Jr. SS, Blackstone Valley Tech
The nation's leading hitter resided in Upton this year with the Beavers' shortstop hitting an astounding .877 (57-for 65). The converted soccer player also tied for the state lead in home runs with 10 while driving in 43 runs.
Madi Shaw, Soph. SS, Bridgewater-Raynham
The second-year shortstop powered the Trojans to their first-ever Division 1 South sectional crown. Shaw hit .471 with eight home runs and 34 RBI for the Old Colony League champions.
Reilly Weiners, Jr. C, Agawam
Weiners helped lead the Brownies to the Division 1 West sectional title this season. The backstop led all Div. 1 players in Western Mass. with 35 RBI while knocking out 38 hits on the season, including three home runs.
Bullpen – second team
Megan Colleran, Soph., North Attleborough
Megan Cook, Soph., Bellingham
Mackenzie Coopinger, Sr., Lynn Classical
Audrey Dolloff, Sr., Bridgewater-Raynham
Courtney Girouard, Soph., Fairhaven
Trish Hansen, Sr., Mansfield
Shelby Higgins, Sr., Lowell
Kelly Norton, Sr., Abington
Shannon Orton, Sr., Case
Lauren Ramirez, Jr., Dracut
Jurnee Ware, Sr., Hudson
Bench – second team
Patty Borges, Sr. SS, Coyle-Cassidy
Tori Constantin, Jr. 2B, King Philip
Caroline Fairbanks, Jr. 3B, Milford
Courtney Hoban, Sr. OF, Boston Latin
Emily Hoffman, Sr. C, Malden
Nicole Lundstrom, Jr. C, Dighton-Rehoboth
Michaela Mazure, Fr. INF, Burlington
Kelsey Perron-Sovik, Sr. CF, Fairhaven
Christina Raso, Sr. SS, Burlington
Dakota Smith-Porter, Jr. P/SS, Turners Falls
COACH OF THE YEAR
John Furlong, Malden
June, 16, 2012
6/16/12
5:58
PM ET
By
John McGuirk
| ESPNBoston.com


WORCESTER, Mass. -- If this was indeed Gary Mullins' final game as head coach, then the long-time mentor of the Turners Falls softball program leaves on his terms as champion.

Today, in the Division 3 state final held at Worcester State University's Rockwood Field, the Indians captured their sixth state title with a 4-0 triumph over Case.

The sixth crown ties Apponoquet Regional with second most all-time in the state. Only Bishop Fenwick has attained more with eight.

Following the victory, Mullins did not want to dicuss his uncertain future, but instead focus the attention on his team.

"I thought the kids played some real-nice softball today," said Mullins, who wrapped up his 33rd season with an incredible overall record of 553-131. "The kids really stepped up today. It was pretty impressive."

Case (18-8) entered this tilt looking for some redemption following last year's 1-0 loss to Indians in the finals. Senior pitcher Shannon Orton (4 H, 11 K) came out poised and strong striking out seven of the first eight batters she faced. Likewise, Turners Falls hurler Dakota Smith-Porter (1 hit allowed) was equally stout in the pitcher's circle. Although not registering as many strikeouts (3) as Orton, nonetheless, the junior was pitching to contact and allowing her defense to make the plays behind her.

"The way [Turners Falls] was playing defense, they weren't outstanding but they were solid," said Cardinals coach Norm Beauchemin, whose club began the year 0-4. "You put the ball in the air they're going to catch it. For us, Shannon has been great for us all year and started out very strong today. But after a while good hitters are going to catch up to her. Last year I wasn't too happy walking off this field but this year I have nothing to be sad about. Our girls gave me what they had and today the better team won."

In the second inning, Case looked as thought it would get on the board first. Orton led off the frame with a double to right-center. With Samantha Gouveia inserted as a pinch-runner, she would advance to third on Mary Vanlingen's sacrifice bunt. Kadie Sullivan was then hit by a pitch and proceeded to steal second, putting two in scoring position with only one out.

Jenna Reposa next hit a medium-deep fly ball to left. With Couveia tagging on the play, Indians' left fielder Amber Caouette threw a strike to catcher Morgan Ozdarski, who applied the tag on Couveia and the threat had vanished.

"That was a big play," Mullins said. "We made the plays today and did the right things the entire game so I was extremely pleased."

Turners Falls would finally get to Orton in the its half of the fourth. The right hander lost a bit of control by walking Jenna Putala and Jenna Costa to open the inning. Smith-Porter then stepped to the plate and promptly drove a double off of the centerfield fence giving the Indians a 2-0 lead.

While Smith-Porter appeared to get stronger inside the circle as the game progressed, the Cardinals had no answers in how to attack her. While at the time a two-run lead appeared safe the way Smith-Porter was dealing, the Indians had no intentions of letting up.

"Dakota played like an absolute champion today," added Mullins. "She came through big time for us. She had that big hit in the fourth and gave us seven full innings in the pitcher's circle. She should be extremely proud in what she has done. She's a terrific athlete and a great kid."

Turners Falls added to its total in the sixth. Costa walked and swiped second. Orton then retired the next two batters leaving it up to Tanisha Sanders. The junior (11-for-17 in the postseason) didn't disappoint as she belted an 0-2 fastball over the left field fence for some added insurance.

"I was thinking anything close you have to swing," Sanders said. "I don't always do well in an 0-2 hole but I came through today and am proud of myself."

Smith-Porter proceeded to set down Case in order in the top of the seventh, sparking a jovial celebration on the diamond.

"I was thinking anything close you have to swing," said Sanders. "I don't always do well in an 0-2 hole but I came through today and am proud of myself."

LAST HURRAH?
Concerning Mullins' immediate future. All of this came about recently when he announced that he would retire as a physical education teacher at Turners Falls. Mullins still wanted to remain on as part-time AD, however, but because the teaching and AD positions are considered part-time and are linked together and viewed as full-time, he was told that he could no longer serve as AD. With that notion decided, Mullins was later told he most-likely would not be retained as boys' basketball coach where he has already claimed 300 victories, and could also lose out on softball too, should someone in the school system apply for the position. Mullins was informed that he could re-apply for both coaching positions but with no guarantee he will be retained.

According to local residents, blame has been cast towards school administrators and committee members. For whatever reason, whether it be jealousy or dislike, they are trying to push Mullins out. Forgetting the fact that it is Mullins who is responsible for putting this small high school and the town of Montague on the map with his coaching success, particularly in softball. Over the last couple of weeks, Mullins has received a tremendous amount of support from local townspeople and former and present players alike in an effort to keep him on as coach. School administrators and committee members have gone silent regarding the situation despite the outcries which have come their way.

Hope is that something will be done relatively soon. Without a doubt, the right thing to do is allow Mullins to continue to coach both sports for as long as he wants to.

How can you argue with his success?


June, 18, 2011
6/18/11
5:41
PM ET
By
John McGuirk
| ESPNBoston.com
WORCESTER, Mass. -- With one swing of the bat, Samantha Caouette turned a day of misery into something she'll never forget the rest of her life.

With the game scoreless in the bottom of the seventh, Turners Falls had a runner on first and nobody out. Caouette, who struck out and popped out in her first two plate appearances, desperately wanted to do something positive to lift her spirits. That she did, ripping a low fastball into the gap between right and center field for an RBI triple to give the Indians the Division 3 state softball crown yesterday at Rockwood Field on the campus of Worcester State University.

"In my first two at bats I was upset," said Caouette, a junior. "Coach (Gary Mullins) gave me the bunt sign in that last at bat but I fouled it off. He gave the bunt sign again but I didn't hear it and just swung the bat and it worked out well though so I'm happy."

Caoutte's heroics spoiled a superb performance from Case pitcher Shannon Orton. The junior handcuffed the Indians over the first six frames, allowing just four hits along with eight K's. But in the seventh, she wasn't so fortunate. Elysia Ollari opened the inning by reaching on an infield single thus setting the stage for Caouette's dramatics.

The Cardinals (19-7) will come away from this contest knowing they had their chances. In all, they stranded nine runners on base, including five in scoring position. But thanks to Turners Falls pitcher Emily Mailloux, Case could never strike for the big hit when it needed it most. Mailloux, a senior, allowed five hits and struckout five.

"We've been executing all year but today we had a little trouble executing," Cardinals coach Norm Beauchemin said. "I never expected (Caouette) to swing the bat the way she did there in the end. She placed that ball nicely. It went right through the gap and they just kept running. As for us, we had a great season and they're a classy bunch of girls on this team. We'll be back. I'm sure we will."

Twice did the Cardinals strand a runner at third but failed to get the run in. In turn, the Indians used that as inspiration knowing they dodged several bullets and came away unscathed.

For Turners Falls, it completed a perfect 25-0 season, the third unbeaten season in Mullins' 32 year career at the helm. The Indians will add their fifth state trophy into the showcase. As a Division 2 team, Turners Falls won titles in 2004 and 2005. Including yesterday's triumph, the Indians have claimed three Division 3 titles also achieving the feat in 2006 and 2008. For Case, it was looking to capture its first state championship since 2001.

The Cardinals' best chance to score came in the fifth after Danielle Robillard reached first on a throwing error. The sophomore was sacrificed to second and took third on a Shawna Marchand infield single. But Mailloux, who mixed her pitches well throughout, got Danielle Medeiros swinging at a third-strike change up to get out of the inning.

Turners Falls had an opportunity to take the lead in the sixth after Dakota Smith-Porter opened the frame with a single and would advance to second on a Mailloux ground out. Jenna Putala would pinch-run for Smith-Porter and moved to third on a pass ball.

However, the seventh-grader caught got in no man's land after Orton stabbed a Brittany York grounder and got Putala out following a rundown.

But in the seventh, the Indians were poised not to make any mistakes and get out of this thing without giving the Cardinals any life in extra innings. Thanks to Caouette, mission accomplished.

"Case's outfield was playing shallow all game long so I was just waiting for somebody to pop one," said Mullins. "We weren't getting it done but in the seventh we finally did. But honestly it was there for us all game long. We've been fortunate at times this season and now we're just happy that we got the championship."