Boston High School:

Dale Olmsted
May, 9, 2014
May 9
11:09
AM ET
The Millis/Hopedale football co-op program is no more and that has cast uncertainty on the upcoming season for some of its players.

In March, a meeting of Tri-Valley League athletic directors voted to disband the co-op team, which has been in place since 2009. On last year's Mohawks squad, nine players from Hopedale were represented, but now – without being grandfathered into the program for next season – those returning players could be in dire straights.

Without the additional bodies from Hopedale, Millis figures to have 34 players on its varsity roster for the upcoming season – nine more than the Massachusetts Interscholastic Athletic Association (MIAA) imposed minimum of 25 players – and first-year head coach Dana Olson told ESPN Boston that he doubts his program will field a junior varsity team. Only one player from Hopedale started for the Mohawks last season.

The move to disband is not the first time the arrangement came under scrutiny. In 2012, the MIAA board on co-op programs granted it an extension. In the co-op system, the host school (Millis) enters the agreement until it is deemed that the said host school can accommodate enough players to field a team on its own.

However, the timing of the decision has left administrators, coaching staff and players scrambling. After the March vote to disband, the athletic directors of Millis and Hopedale wrote appeal letters those TVL athletic directors who voted in opposition to the extension of the co-op, pleading to allow the program one more season to allow holdover players a chance to finish their high school careers, while allowing Hopedale to make according plans for its players past 2014. That measure was also denied in an April vote of TVL athletic directors.

As a result, Hopedale has attempted to find another co-op partner for its players, which as first reported by The Milford Daily News has targeted nearby Blackstone-Millville Regional.

But both parties have held out hope for reconciliation, taking their case before the MIAA in a Monday meeting with the schools' athletic directors.

"It creates depth, especially, safety-wise," Olson said of the co-op. "If you're starting with about 30 kids to start the season and you come across injuries, or concussions, then you're left with 20 kids and might be forced into the situation of putting freshman or JV-level players into a situation where they might have to play, even if they're not ready to play at the varsity level. That can be a safety concern, too."

Olson, who has yet to coach a game since taking over the head coaching position from Dale Olmsted, believes the Mohawks' recent success, which has included winning seasons and playoff appearances in each of the last three years and producing a Division 1 scholarship player in Boston College's Jon Baker, made the program an easy target for detractors.

"We worked very hard from taking this program to the brink of folding to becoming a successful program," said Olson, who is in his fifth year with the program overall. "We don't want to go back to where we came from. We were a blueprint for what a co-op program should be. It created a sense of community and the kids worked so well together."
December, 21, 2013
12/21/13
6:03
PM ET
By
Brendan Hall
| ESPNBoston.com
Millis/Hopedale officially announced the promotion of Dana Olson to head football coach yesterday afternoon, giving the long-time Bay State high school coaching veteran his first crack at a head job in his two decades of experience.
Olson, 39, got his start as a 19-year-old assistant under Paul Carroll at Medway High in 1994, and was promoted to offensive coordinator a year later. Since that first gig in Medway, Olson had stops at Bellingham and Framingham before joining Dale Olmsted's staff at M-H four years ago. Over his span, he has coached some of the finest schoolboy athletes to come through the Bay State in the last two decades, including Ricky Santos (Bellingham), Danny Guadagnoli (Framingham) and future Boston College Eagle Jon Baker these past four years at M-H.
Olson takes over for Dale Olmsted,
who accepted the head coach job at Nichols College
after turning around a dormant Mohawks program and went 43-47 in eight seasons at the helm. This past season, the Mohawks went 9-2, reaching the MIAA Division 6 South Final in the first year of the new state championship format.
To say he is excited to take over the Mohawks is putting it diplomatically. Olson was full of energy when he spoke to ESPNBoston.com yesterday afternoon about the new job:
Biggest thing he's learned in his two decades as an assistant:
"The biggest thing I've learned over the years is the recruiting process for these kids, how to handle a kid of that magnitude on the recruiting scene, keeping them humble, keeping them hungry. Those three kids right there [Santos, Guadagnoli, Baker] were outstanding kids, outstanding student-athletes, outstanding human benings. It was easy to coach those guys, and I obviously had a lot of fun doing it."
On the returning talent, including 9 starters on both sides of the ball:
"We chuckled, especially when you guys came out with your preseason poll and had us No. 25 in the state. A lot of people looked at Jon Baker and said Millis is gonna be very good, but we knew as a staff we were gonna be very young. We graduated 17 seniors the year before, we had three returning starters on both sides of the ball. We knew we'd struggle a bit, we thought we were a year away from being really, really good again. But the kids expected to win.
"Our running back Matt Fogarty, who is Chris Ahl's backup, would've started at a lot of schools. We've four of five starters returning on the offensive line. We've got a 6-foot-3 freshman from Hopedale [Brian Espanet] who's gonna be the next big talent, he started every game at corner for us at 14 years old. We started two sophomores against Cohasset at the three and one techniques that are both 260 pounds [Tommy O'Brien and Jay Wenzel]. Looking at Josh Pierre-Charles starting at safety as a sophomore, looking at the backers and we got one senior out of the backers, the rest are sophomores and juniors...In a nutshell, we got a ton coming back. We're not gonna be small."
On the offensive philosophy going forward:
"I'm a big proponent of, if it's not broken don't fix it. I'm not getting handed the keys to a jalopy here -- this is a sports car. We'll keep doing what we're doing. Everyone wants to add their own flares, but that's gonna be the biggest thing as head coach -- we don't need to change. We've been successful at who we are, we've got big uglies up front, we get downhill and get after teams defensively. We're probably going to average 260 across the line with a good tailback coming back, we're gonna run the football at you.
"I'm a spread guy by heart. I ran the spread at Framingham, I ran the spread toward the end of Ricky's career. We're gonna stick to what we know, but you might see us more wide open at times. We will line up in the I and come at you, we're going to have to win ball games 21-7 and play good defense."
Biggest personal reward as a coach:
"To see guys be successful in life -- not just the BC's, UNH's or Bentley's of the world, but sending kids off to play at Nichols, Bridgewater State. That means you did something right, because they're still hungry and still want to play a game they're passionate about. When you've got 16 graduating and not one goes on to play football, then you wonder a little bit. We've got a kid at Bryant right now, Springfield College, Framingham State, Jon [Baker] is off to play at BC, we've got kids going off now to play college football. To me that bodes well, it says you're doing the right thing."
November, 21, 2013
11/21/13
1:16
PM ET
By
Brendan Hall
| ESPNBoston.com
Tuesday afternoon, Nichols College
officially announced Millis/Hopedale's Dale Olmsted as its new head football coach
, after eight seasons running the Mohawks' program.
The Bison's athletic department initially reached out to Olmsted three weeks ago, as the Mohawks were preparing for an MIAA Division 6 South first round matchup with Mashpee, and the process went along quickly. Olmsted accepted the job over this past weekend, replacing Kevin Loney at the helm of the Bison's program.
Heading into the Thanksgiving matchup with Medway, Olmsted is 42-47 in eight years as head coach at M-H, which includes playoff berths the last two seasons led by Boston College-bound lineman Jon Baker.
We caught up with Olmsted yesterday afternoon for some further comments on his new gig, the Mohawks' future and what he'll miss most from the high school level of coaching:
On accepting the job:
"It was just an opportunity I couldn't turn down. We preach to the kids about success and opportunities, and here I am looking in the mirror -- 'Hey coach, here you go'. I could've played it safe. I have a great job in Millis, with a program heading in the right direction, from being irrelevant to being mentioned in the playoffs for the foreseeable future. That was the safe play, stay where I'm at and ride off into the sunset. But the opportunity that I was faced with, I could not say no. I took it, and it's been a emotional roller coaster when you have young kids involved in decision-making.
"I'm going to go back today to lift and run. The more they see me, the better off they'll be able to deal. My staff now is staying [at M-H]. You hate to bring this up during the season, but sometimes you don't have a choice."
Why the process moved so quickly:
"I just think that's the nature of the business over there. Their season ended and they needed stability. Just based on the information I have, when Loney left a lot of the staff left as well. I show up on Monday, there was 3 graduate assistants out of a staff of 10 people, and it's down to two now. It's the nature of the beast."
If he will bring anyone from his current staff to Nichols:
"At this point right now, I've been getting emails from all over the country really, from people want the opportunity to coach at the college level. Speaking with my staff there, they're pretty happy where they're at, and they'd like to continue the journey to a state title at Millis. I don't foresee any...One staff member might be interested in coming with me, but right now I'm trying to juggle a new staff together [at Nichols] while working with the Millis staff, trying to run almost two programs at once. The last thing I wanna do is short-change a kid's experience on Turkey Day."
Succession plan at M-H:
"I'm not sure. Any time you turn a program around, it's not one person. It's a number of things -- parents, alumni, administration, there's been a lot of people involved in turning this program around, and a lot of those people I mentioned are still there.
"I think the program...I'm not gonna say it's at an all-time high, because we haven't won a state title yet, this was gonna be maybe a down year because we lost so many seniors the previous year. Certainly Jon Baker was the centerpiece of the program, and when he went down we started all sophomores and juniors up front. I started four sophomores and a freshman on varsity and they did a fantastic job this year. The kids did a real good job maturing throughout the course of the year. I'm extremely proud of the way that they were able to win some games, and that's sign that progress is there, when kids can step up for the seniors that left the previous year and start winning as sophomores."
What he'll miss most:
"Dealing with the kids, I'll certainly miss watching these kids grow up. Sort of going down memory lane, this is all going back. I keep gameday programs from every year, I have a picture of Jon Baker as a long-haired, 170-pound eighth-grader. To see how kids develop mentally and physically in the program, I'm really gonna miss that. The sky is the limit for these kids, in high school, and then the next opportunity, whether it's college or the workforce or the military. Wherever they go, seeing them develop from boys to young men will be the thing I miss most about my job."
On the challenges in the recruiting end:
"Obviously it will be my first time doing it, it's an unexpected challenge that popped up. What I'll rely on most of all in this recruiting class is the relationships I've built with head coaches in the Commonwealth. I've been coaching high schools in Massachusetts for 21 years, I've been in the Tri-Valley League, the Bay State, the Hockomock; I've been a member of the Massachusetts High School Football Coaches Association [MHSFCA] and that's allowed me to meet coaches from all around the state. Our program has been very fortunate to win games against South Shore League, too. Again, I think that's another thing that appealed to me about Nichols. To not only build up a program from scratch but my network, the people I've come across, that's really appealed to them.
"I'll rely heavily on my relationship with head coaches, talking with them, informing them about the opportunities that are at Nichols College, not only on the football field, but obviously as a [high school] head coach, you wanna make sure you recommend colleges to your kids where the head coaches are going to take care of them. You're not just gonna be a number at Nichols -- the ratio is 16-to-1 student-teacher, with 90 percent placement in the workforce, so there's a great opportunity for kids to play at a competitive level and get a great education. I hope the staff I bring in turns these young men into men."
November, 19, 2013
11/19/13
7:14
PM ET
By
Brendan Hall
| ESPNBoston.com
Millis/Hopedale head coach Dale Olmsted confirmed to ESPNBoston.com this afternoon that he will be taking over as the new head coach at Nichols College.
Olmsted informed the team around noon today that he was leaving his post with the Mohawks' program to take over for the Bison. He took over the Mohawks' squad in 2005 and quickly turned a dormant program into a small-school powerhouse, which included an appearance in last year's MIAA Division 4 playoffs, and this year's Division 6 South Final. This season, he had arguably the top offensive line prospect in New England, Boston College commit Jon Baker, at his disposal.
Headed into Thanksgiving, the Mohawks were 8-2 on the season. Olmsted is currently 42-47 overall in his eight years at M-H.
Below is the official press release from Nichols College regarding the Olmsted's hire:
DUDLEY, Mass. -– Nichols College Director of Athletics Charlie Robert has announced the hiring of Dale Olmsted as its new head football coach. Olmsted replaces Kevin Loney, who resigned over the weekend.

Olmsted comes to Nichols by way of Millis High School in Millis, Massachusetts, which competes in the Tri-Valley League. Olmsted took over a program that had a total of three wins in three seasons before his arrival, and after going 5-6 and 3-8 following a merger with Hopedale in 2009, has since qualified for the state playoffs in three-consecutive seasons (2011-13) under his guidance.

"We're probably the smallest high school east of I-495," said Olmsted. "I took over a program that wasn't doing very well and had success. We've built it from the ground up, from a school that almost lost football to three-straight playoff berths. Our kids expect to win now, and we're going to do the same thing here. We're going to create leaders at Nichols College. Our student-athletes will work hard, be accountable for their actions, and learn that there are no shortcuts to success. When they buy into these philosophies, the wins will come."

A two-time Metro West and TVL Small Coach of the Year (2011-12), Olmsted was named the Boston Globe Division 4 Coach of the Year in 2011 after coaching Millis to a 10-1 mark, the TVL Small School Division title, and the state playoffs. The following year, the Mohwaks went 8-3 and captured their second-straight TVL Small School Division crown. Following the season, Olmsted was an assistant coach for the South in the 2012 Shriners All-Star Game.

"I am very pleased to have Dale Olmsted on board as the new head football coach," said Robert. "You can hear in his voice his love of teaching and coaching football, but more importantly, you can see his passion for developing student-athletes into well rounded young men and good, caring citizens. He is a great teacher, mentor and role model for the sport and for student-athletes. Dale has proven his coaching ability with taking challenged programs and turning them into championship contenders. I look forward to working with him as we continue to develop our football family and write a new chapter for Bison football."

Olmsted played for legendary high school coach John Lee at Walpole High School, then migrated south to Salem College in West Virginia, where he played safety for former West Virginia and Michigan and current Arizona head coach Rich Rodriguez, who was his defensive backs coach, in 1987. He transferred to West Liberty State College the following year after the program at Salem was eliminated.

Following his playing days, Lee contacted Olmsted to gauge his interest in becoming a coach. Olmsted spent the next eight years as a coach at Walpole – two as an offensive and defensive assistant (1992-93), five as the offensive coordinator (1994-98), and one as defensive coordinator (1999). During that span, he helped the Rebels capture three Super Bowls.

Olmsted left Walpole in 2000 to become the assistant head coach/offensive coordinator at Dedham High School (2001-02), where he inherited a two-win program and turned them into an 8-3 team in his final season. Following one-year assistant coaching stints as the offensive and defensive coordinator at Braintree H.S. (2003) and King Philip H.S. (2004), respectively, Olmsted became the head coach at Millis in 2005.

Olmsted served as the head coach at Millis – a program with a great history which had fallen on hard times – from 2005-08. In 2009, Olmsted discovered the school – which features approximately 150 boys in grades 9-12 – had only 18 committed players for the upcoming season. The athletic directors and Millis and nearby Hopedale High School, along with the MIAA, allowed the two schools to merge their programs. Millis/Hopedale went 5-6 in 2009, 3-8 in 2010 before breaking through in 2011. The merger ended prior to the 2013 campaign.

"I attribute our turnaround to the development and implementation of an off-season conditioning program," said Olmsted. "We also reached out to our alumni to help generate some funds for the program, and they helped fund our equipment and weight room."

Olmsted represents the Tri-Valley League as a member of the Massachusetts High School Football Coaches Association (MSHFCA). He was the New England Patriots 'Coach of the Week' during week three of the 2008 campaign. He resides in Walpole with his wife, Lisa, and children Alex (14), Hayden (12), and Julia (9).

"I passed on an opportunity to coach in the New England Football Conference years ago, but I wasn't going to let this opportunity slip away," said Olmsted, whose 2013 squad is 7-2 heading into their Thanksgiving Day game. "I always tell my kids 'Don't be afraid of success. Embrace it. You only have so many opportunities in life.' I could have played it safe, but this is a great opportunity. I've worked hard to get to where I am and made a lot of great choices. Football has set me up with the core values I try to instill in my players."
November, 1, 2013
11/01/13
4:45
PM ET
MILLS, Mass. – Jon Baker's hungry.
Obviously, with a 6-foot-3, 305-pound frame to support, it's a common problem for the Millis/Hopedale football lineman. After the hulking senior Boston College commit signed an early National Letter of Intent Friday morning in Millis High's library, officially marking his arrival at the Heights next season, all that was on his mind was grabbing a bite to eat.
"Getting this done, there's a lot of weight off my shoulders," Baker said. "Everything's done, there's no messing around. Plans have obviously changed, it'll be a little bit tougher, but nothing too big has changed."
[+] Enlarge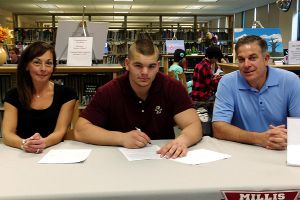 Scott Barboza/ESPNBoston.comMillis/Hopedale senior OL/DL signed an early letter of intent Friday to play at Boston College next year and has enrolled for the spring semester.
Baker would have had more on his plate Friday, as his Mohawks prepared to take on Mashpee in an MIAA Division 6 South sectional playoff game, if not for a season-ending knee injury. During M/H's Tri-Valley League game against Bellingham two weeks ago, Baker suffered a right anterior cruciate ligament (ACL) tear.
As a result, Baker's priorities have shifted to rehabbing and getting back on the field as soon as possible to join his new Eagles teammates. He's undergoing surgery on Monday, but with the peace of mind, knowing he now is signed and sealed to BC, Baker's ready for the next chapter of his life.
"Sooner I get it done," Baker said of the surgery, "the sooner I get back to practice and get back to playing."
Mohawks head coach Dale Olmsted called Baker "a professional" during Friday's gathering, citing his ambition and attention to detail. That's carried Baker through his high school career, and it's no coincidence that he's accelerated his transition to college. Baker will graduate in December and is enrolled for the spring semester at BC (allowing him to sign his Letter early) and, aside from his rehabilitation, he'll get a head start on his course work.
It's emblematic of his approach on the field as well.
"The minute he went down with the injury, he looked up at me and said, 'What if I just play offense?'" Olmsted said.
Expectations at Chestnut Hill are high for Baker. In his talks with BC's coaching staff, Olmsted made mention that the Eagles staff believes Baker is among of the top incoming interior offensive linemen in the country.
Baker, who projects to work at guard and center with the Eagles, is simply thrilled to get to work with Steve Addazio and his staff.
"This new staff is amazing," Baker said. "Just what they've managed to do this season, they haven't really had any of the guys they've recruited come in, but they've managed to turn things around. I love the style of play they have and I look forward to getting in there and working with them.
"And, it's close to home, so that's great."
Baker also had offers from Michigan State, Rutgers, Temple, UConn, UMass, Harvard, Yale, Old Dominion and Holy Cross, but it's BC's long-served reputation as a lineman factory that he's hoping to reestablish.
"It was O-line U," Baker said of the Eagles' long lineage of linemen to play in the NFL.
If he stays hungry, he might just join them.
October, 21, 2013
10/21/13
2:07
PM ET
MILLIS, Mass. -- We're bringing you our first " Chalk Talk" of the season, kicking it off with Millis/Hopedale football head coach Dale Olmsted.

Editor Brendan Hall joined Coach Olmsted to break down some of the Mohawks' zone running schemes, as well as a look at some of their creative 2-point conversion plays in this segment brought to you by Sports Authority and the Bay State Games:


September, 1, 2013
9/01/13
12:35
AM ET
By
Josh Perry
| ESPNBoston.com
MILLIS, Mass. –- On Friday night at Millis High, Tri-Valley League rivals Millis-Hopedale and Medfield met on the gridiron with dual purposes. The neighboring programs were looking to continue a decades-long rivalry that had to be shelved with the introduction of the new playoff system but, more importantly, the teams were showing mutual support for injured Millis captain Taylor Sack.

There was no entrance fee for the scrimmage, which Medfield would go on to win 21-12, but at the gate fans were asked to donate to the Taylor Sack Foundation. Sack, a Millis-Hopedale senior captain, was paralyzed from the waist down in a skiing accident in February and most of the night was dedicated to supporting him and his family.

After the game it was announced that the scrimmage raised $4,500.

Millis-Hopedale head coach Dale Olmsted was thrilled at the reaction from the community to the special preseason game. He remarked, "Financially is great, for everyone to support the fundraisers, but it really means a lot to have the support of all the towns, especially Medfield. Our sport has been hammered about all the bad things that can happen, but this is why we play =– for the team, not only the team you're on but other teams that have respect for the game and one another."

Olmsted admitted that he was emotional seeing his captain back on the sideline.

"It's great to see where he's come from since I saw him in February, the first time I saw him after the injury, until now," Olmsted added. "Attitude-wise, outlook on life –- he's just an inspiration for us all. When I look at how he responded to that adversity, it makes me very proud."

Prior to the game, the teams gathered at midfield for a photo. All of the players and coaches on both sides were wearing T-shirts that read "#StayStrongSack" and bore the no. 11 on the back, which Sack wore during his Millis-Hopedale career.

The emotions of the evening reached a peak when Sack led the Mohawks onto the field, pushing his wheelchair through the natural turf at Millis. The crowd on both sides stood to cheer on the senior, who has been an inspiration to his teammates. He also joined his fellow captains at the 50-yard line for a non-conventional coin toss.

Rather than simply flipping a quarter, the teams competed in a tug-of-war battle, easily won by the Mohawks, to decide who got the ball first. The idea was more than a novelty, as it was a tradition for a number of years that the teams would have a tug-of-war over the Charles River, which separates the towns.

Throughout the evening, Sack was approached by a number of well-wishers (from classmates to Millis residents) and spent much of the game on the sidelines with his father Clay and his girlfriend April O'Connell, but was still intently watching his teammates. When first asked how he was doing, Sack quickly responded, "Did you see how this game started?"

"Hopefully that the team takes the advantage of this opportunity to play the game that they love and go all out," said Olmsted about the influence of Sack on his teammates. "Coaches always say to play every play like it's your last because you never know and he reinforces that."

On the field, Millis-Hopedale turned the ball over three times including an interception on the opening possession that was returned for a touchdown. Medfield struggled offensively against the stout Mohawks defense, but another turnover gave the Warriors the short field for its second score. Millis running back Chris Ahl started to find openings in the Medfield defense and brought the Mohawks back within two at halftime (14-12).

Medfield would score the only touchdown of the second half and both teams substituted liberally as the game moved into the fourth quarter. While there was a rivalry that kept things intense, both teams recognized the need to keep player healthy for the regular season.

At the final whistle, the teams lined up for handshakes and the Medfield players and coaches all made a point to run over to Sack, who had moved onto the field, and include him in the line. After speaking with his team, head coach Erik Ormberg led the team in a call-and-respond chant of "Taylor...Sack!"

The Medfield and Millis players have a special bond from sharing the same youth program (along with Norfolk) and that mutual respect was obvious all over the field. Ormberg reflected on how grateful he was that the Warriors could help even in this small way. He remarked, "The word humbling comes to mind. When you see a situation like this, it puts a lot of things into perspective."

He continued, "When I talked to dale and heard about it…it was devastation and that's what we talked about was how can we bring attention and support the family. You go over and shake his hand after the game and this is a high school kid that can't play football his senior year, let alone what he's dealing with. I feel great that the communities were so supportive and that the kids played so cleanly today, but leaving and shaking Taylor's hand on the way out -- it's very humbling."
August, 29, 2013
8/29/13
2:50
PM ET
By
Brendan Hall
| ESPNBoston.com
Friday night at 6 p.m. at Millis High, the No. 25 Millis/Hopedale Mohawks will be hosting Tri-Valley League rival Medfield in a preseason scrimmage to benefit Millis' Taylor Sack, the quarterback who was paralyzed in a skiing accident last February.
Admission is free of charge, but donations are encouraged.
M-H head coach Dale Olmsted and Medfield head coach Erik Ormberg co-drafted a letter to the public regarding the game, which is pasted below:
Dear Members of the Millis-Medfield-Hopedale communities:

We are pleased to announce that on August 30th at 6:00pm Medfield and Millis-Hopedale will be holding a game scrimmage in Millis. This event is free of charge, but we are hoping to generate funds to help support the Taylor Sack Fund.

We will not be selling tickets to this event, but we will have concessions and representatives collecting donations to help support Taylor and his family.

Earlier this year Taylor suffered a brutal fall while skiing. He had to have surgery and is now paralyzed from the waist down. One of Millis-Hopedale's elected captains for the 2013 football season, Taylor has not deviated from leading his team. He has been a true inspiration to those in Millis, Hopedale, Medfield and beyond.

With the new playoff system in place Medfield and Millis-Hopedale will not be playing during the season. Both coaches recognize the strong bond that exists between the towns and football programs. We plan on sustaining the mutual respect for each program by making this scrimmage an annual event for years to come.

Our goal in writing this letter is to encourage friends, family and fans to attend this scrimmage to help support the two teams and, more importantly, to help support Taylor Sack and his family.

Sincerely,
Erik Ormberg—Head Football Coach Medfield
Dale Olmsted—Head Football Coach Millis-Hopedale
August, 20, 2013
8/20/13
3:00
PM ET
By
Brendan Hall
| ESPNBoston.com
MILLIS, Mass. -- One day last April, Jon Baker had finally had enough.
The Boston College-bound two-way lineman, a returning ESPN Boston All-State for Millis/Hopedale and one of New England's top 2014 recruits, had become increasingly frustrated with the lack of participation in offseason workouts. One morning, a scant six players showed up to a morning weightlifting session.
[+] Enlarge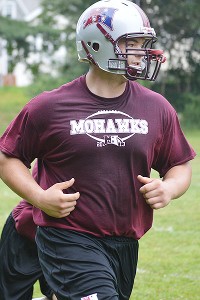 Brendan Hall/ESPNBostonBoston College commit Jon Baker, a returning ESPN Boston All-Stater, came into camp 20 pounds lighter but strong as ever.
Meanwhile, their quarterback/safety and captain Taylor Sack -- two months removed from a skiing accident that left him paralyzed from the waist down -- was down in Atlanta, rehabbing at the world-renowned Shepherd Center, with hopes of one day walking again.
The typically mild-mannered Baker, who has remained close to Sack throughout his recovery, was angry, and fired off a Facebook message to the team letting them know their lack of participation was unacceptable.
"I said, 'Look at [Taylor] right there, if he's doing it, you have no excuses," he recalled.
And perhaps that inevitably becomes the lasting impression on Baker's decorated career with the Mohawks. Athletically, he's a freak, combining nimble footwork and fluid agility with superior lower-body strength to make him the state's most feared run-blocker. In the weight room, he's a dynamo, benching 550 pounds and squatting well over 600.
But it's the mental part of it -- the 4.4 weighted GPA; the soft-spoken, austere leadership skills -- that complete the total package. Mohawks head coach Dale Olmsted compared Baker to former Walpole offensive line standouts Bubba Cox and Michael Cook, from his days on the Rebels staff in the 1990's and early 2000's, but says Baker is undoubtedly the best he's ever had.
"In my 23 years coaching, with 10 years plus at Walpole, we had some great linemen, one that went to BYU [Cox], one that went to Boston College in Michael Cook," Olmsted said. "Jon Baker ranks as the No. 1 football player that I've ever coached. He is the ultimate word of professional, whether it's on the field or off the field, whatever he sets his mind to he does it, and he does it 100 percent. He doesn't stop until he gets it right.
"It's such a pleasure to have him on my team. He looks around and he tells a kid what to do, or he says 'Good job', you're hearing it from a guy like that, it means a lot. That means more...peer pressure, we always talk about the negative things, [but] this is where Jon [separates himself]. They look up to him. He's certainly a role model. He had a lot of opportunities to go elsewhere -- BB&N, Xaverian -- but he's chosen to stay here with his friends, be part of the community, and I think that part speaks volumes of his character."
The Mohawks finally achieved their first winning season under Olmsted in 2011, falling to eventual Super Bowl champ Mashpee in a Div. 4 Eastern Mass. Playoff, and fell to Abington in last year's D4 playoffs. After going 18-6 over that two-year run, there are plenty of fresh faces in the fold that will have to grow up quickly if M-H is to sustain their success.
Baker reported to camp yesterday 20 pounds lighter from the end of 2012, weighing close to 290 and devoid of the familiar baby fat on his torso, and he'll be switching from center to guard (the position he projects to at BC) for this upcoming season. After toying with zone read schemes half of last season, the Mohawks are fully adopting a one-back zone running scheme (that too should please the BC staff, which will be deploying a zone/gap scheme under new head coach Steve Addazio).
With 285-pound senior Gavin Bradbury moving to left tackle, alongside Baker, combined with elusive scatback Chris Ahl and quarterback Sean Heffernan setting the reads, there is a confidence in the air.
"I definitely like the commitment, and the talent we have coming up," Baker said. "I've seen the guys all winter, spring, summer, a lot of them are talented kids. I'm excited to see how we turn out."
Many of those kids got the message after Baker aired his frustrations that fateful April day. The presence of Sack has contributed mightily to the hunger of the program, which suited just 33 at its first practice yesterday, but may be deeper in terms of athleticism.
Sack, who is now able to drive a car using hand-controls, has been with the team everywhere. He's often present at workouts, traveled with the team to Bay State Camp last week, and is on the sidelines at each practice.
"Obviously this offseason was unlike any other," Olmsted said. "It was very emotional, with Taylor, something I haven't had to deal with as a head coach, such a sensitive issue. Our kids did a good job making Taylor feel as comfortable as he can. [He's] going to have a great life ahead of him, it's just going to go a little different than he thought it would be, and he's bought into that.
"He's been to the beach. He's got a new truck. When I see him laying down by the pool, with no chair, he just looks like a regular kid, relaxing. I'm very proud of Taylor, and how he's handled all of this."
Said Baker, "It's definitely helped us out a lot. We all got [his] No. 11 on our helmets. It not only helped us come together as a team, helping him out, but it also gives us something to look to when we don't feel like going to a workout. You go, you see Taylor is there, it's just a great thing to see."
MILLIS AT A GLANCE
Coach:
Dale Olmsted (8th year, 34-45 overall)
Last season:
8-4, lost in Div. 4 Playoffs
Returning Starters:
Eight (four offense, four defense)
Key Returnees:
Jon Baker, Sr. OG/DT, 6-3, 290 lbs.; Chris Ahl, Sr. RB, 5-6, 160 lbs.; Sean Heffernan, Sr. QB, 6-4, 180 lbs.; Tyler Angel, Sr. TE, 6-0, 200 lbs.; Gavin Bradbury, Sr. OT/DT, 6-0, 285 lbs.
Strengths:
Offensive and defensive lines, running game, size.
Weaknesses:
Youth, depth, inexperience at skill positions.
Overview:
There are plenty of fresh faces in Millis, where the Mohawks must replace seven starters on both sides of the ball, but in terms of athleticism Olmsted believes this team is not as top-heavy, but deeper, than last year's TVL Small champion product. Defensively, Baker was one of the state's most obdurate two-gappers last year, earning ESPN Boston All-State honors after recording 78 tackles and four sacks from the defensive tackle spot. This fall, we could see Baker playing some interior five-technique defensive end, a style similar to what you see from the Houston Texans' J.J. Watt. Offensively, moving Baker to guard alongside Bradley makes for an imposing half-line that will outweigh many opponents at the point of attack. And perhaps Ahl is the best compliment to the Mohawks' new zone running scheme, his short frame difficult to pick up behind the big line. He's a one-cut, north-south runner who's good at identifying the cutback lane, but he's also got a little shake and bake in his game. "All summer he's been making kids look silly in passing leagues," Baker said. "I remember one play where he just hopped to the side, side-stepped a kid, and the kid slid flat on his face."
May, 17, 2013
5/17/13
8:28
AM ET
By
Josh Perry
| ESPNBoston.com
They made the decision earlier in the week to spend the day on the slopes at Wachusett Mountain. This was nothing out of the ordinary; it was a trip that they had made almost every weekend during the winter. Standing at the summit, everything felt perfect. It was another great day with friends, the perfect way to end February vacation.
As the six friends began their descent and veered left towards the black diamond Smith Walton trail, Taylor Sack, Millis High junior and recently installed 2013 Mohawks football captain, had no idea that this day would be very different from the countless others that he had spent on the mountain.
He had no idea that, this time, his life would be irrevocably changed.
"We were going down, not really messing around, but a little bit near the side, and it was really icy on the edge. I got too close to the side and I ended up going down on my back on the side of the trail," remembers Taylor.
"I was thinking that if I hit something now, it will not be good…the next thing I knew, I was basically wrapped around a tree."
Taylor sat at the table with his parents, Clay and Stacy, slowly relating the details of that day and trying to recall exactly how he felt at that moment.
It has been a long two months since he was injured, but Taylor can still remember the smallest details: how his friends rushed to his side, how his skis went flying down the hill, and how his first instinct was to just get up.
"It felt like I had the wind knocked out of me. It hurt and I thought, okay I need to get up...it's the weirdest feeling to not be able to move at all."
Taylor's girlfriend, April O'Connell, rushed to his side and tried to comfort him. His friends knew there was a possible back injury and did not try to move him as they waited for the Snow Patrol. At this point in the retelling, Taylor smiled and shook his head. He remarked, "I just remember being cold because I had forgotten my jacket that day and all I had on was a sweatshirt. Apparently, it's good for a spinal cord injury to be on ice, but I just remember complaining about my back being cold."
Even as he winds his way through the story of that day and the events that followed, his trademark sense of humor and contagious smile are never far from the surface.
"Normally when you're skiing and you see someone going down on one of those boards [that are used for skiers injured on the trail], you think that looks fun, like a sled," says Taylor with a rueful smile.
"But, you feel every little bump. It was a lot more painful than you would expect."
A phone call every parent dreads
Clay Sack was working on his car in the driveway when April called. She frantically explained that there had been an accident and Taylor was being transported to the UMass Medical Center in Worcester. Most of the details were confused, except for one -Taylor was not moving.
Fearing the worst, the Sack family (Clay, his wife Stacy, and Taylor's older brother Steve) made the trip to Worcester. Upon arriving at the hospital, they were met by a team of doctors, who confirmed that Taylor had broken five vertebrae. The doctors also confirmed that paralysis was a distinct possibility.
"That was the worst part," said Clay. "He asked if he could speak in front of everyone and said that Taylor's condition was serious and that he may never walk again. That was when it started setting in."
Doctors worked quickly to stabilize Taylor, who was then moved to the Boston Medical Center for surgery. A rod and several screws were placed in his back to stabilize his bruised spinal cord and repairs were made to the vertebrae. Despite what was described as a successful surgery, doctors did not change the initial prognosis.
Wanting to quickly get Taylor into a rehabilitation program, Clay and his wife Stacy searched out the best facilities in the country. The choice came down to the Spaulding Rehabilitation Hospital in Boston or the Shepherd Center in Atlanta, Ga. While they understood that it would be stressful having Taylor so far from home, the Sacks still made the choice to fly Taylor to the Georgia facility.
"You don't get a do-over on this. You have to do it right the first time," said Clay.
Taylor has little memory of those days after the surgery. He spent 10 days in the Intensive Care Unit (ICU) and the doctors made sure he had plenty of morphine during his initial recovery period. However, it did not take more than a couple of days in Atlanta for Taylor to accept his situation and, as he put it, "get to work."
He shrugs, "I just don't see the point in getting depressed; it doesn't help anything."
Millis gets involved to support one of its own
Millis-Hopedale football coach Dale Olmsted also learned of the tragic news through a phone call. He was overseeing a typical early-morning, off-season workout at the St. Cyr Academy in Franklin the day after the accident. When the phone rang, he assumed that Taylor was going to tell him that he had overslept or some other benign reason that teenagers use when missing a weekend workout.
Instead, it was Taylor calling from the hospital.
"He said that he had hit a tree and broke his collarbone and then he said that he hit his back and can't feel his legs," said Olmsted. "When Stacy went out into the hallway...that's when she broke down and explained that he broke his back."
[+] Enlarge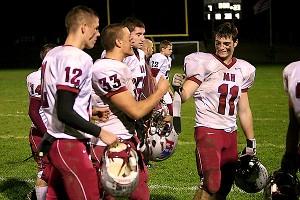 Andre Bourque/ESPNTaylor Sack (No. 11) was paralyzed in a skiiing accident last February, but remains a captain and vocal leader in Millis' offseason training program.
Olmsted went back into the gym and spent several minutes just watching the players go through their workouts. He had dealt with a difficult situation with a player while in Walpole, but experience does not make it easier to look players in the eye and say one of their own is hurt. After a few minutes to regain his composure, Olmsted gathered his players and explained the situation. Five players immediately joined him to visit Taylor in the hospital.
"He has got a heart bigger than a school bus," said Clay. "Dale sat in the waiting room from eight in the morning to seven at night, before getting to see Taylor. He's emotionally invested in this."
Olmsted acknowledged that this hit him very hard. He remarked, "I'm a parent of three...you just hate to get that phone call. People feel helpless and they want to do what they can to provide resources."
Taylor's teammates sprang into action immediately after hearing about the accident. Along with their head coach and Katie O'Connell, April's mother, the students began developing ideas for fundraisers and getting word to classmates that Taylor needed help.
From bowling nights at Ryan Amusements in Millis to a trivia night to a Walk for Taylor to a fundraiser in neighboring Medfield, the Mohawks were constantly finding ways to fight for their teammate. Obviously, the money raised was important, but it was the support of his friends and knowing that they were working on his behalf that meant the most to Taylor as he battled through his rehab in Atlanta.
In addition to fundraisers, the Millis community has found numerous other ways to support the Sack family.
One of the first nights that Taylor spent in the hospital, the Sacks' boiler broke. A friend went to the house and fixed it for free. While she was staying at the hospital with Taylor, Stacy's car needed to be fixed. Clay handed the mechanic $200 and asked if he could be billed for the rest, as he also had to drive into Boston that night. The mechanic refused payment and the car was fixed and sitting in the driveway the following day.
While Clay and Stacy spent time in Atlanta, Olmsted's family and the family of Mohawks captain Jon Baker made sure to keep Taylor's older brother Steven fed. Baker and several of Taylor's other teammates are also working with a local contractor, who Clay says that he had never met prior to Taylor's accident, to build a ramp and deck on the back of the Sacks' home.
Clay's voice faltered as he described the generosity of the Millis community and what it meant to the family. The exhaustion of the preceding weeks, and a just completed drive from Millis to Atlanta, were evident, but his sincere gratitude broke through. He had trouble putting into words the thanks that he felt to the Millis community.
"I get tears in my eyes watching these people help out," said Clay. "I don't know where we would be without them."
"Enormous is not a big enough word for it," he continues. "I have never seen anything like it. Everywhere I've turned, people have been there."
When he is asked about whether or not he felt the support of Millis while in Georgia, Taylor starts laughing.
"I had an entire dresser full of food and I'm not going to be able to eat half of it," he says. "My entire wall was covered in cards and pictures. That helps when you're having a bad day."
He adds, "Even people I don't know have been so supportive and awesome."
The support of his teammates should come as no surprise to anyone that knows about Millis and Millis High athletics. It is a small, blue-collar town with a tradition of hard work and standing up for one of its own in need. The term family is thrown around quite a bit when discussing high school sports, but at Millis High it is a concept that resonates. In 2009, the girls' soccer team took home a Division 3 state title spurred on by the emotion of supporting a teammate whose mother had passed away during the season.
As Clay described, "Millis is different."
The football team under Dale Olmsted has been built in the image of the community. Through adversity the players have learned to rely on each other. Only four years ago, the administration held a meeting with Olmsted to discuss whether football would even continue to be a varsity sport. Not only did the program survive, this past fall, the Mohawks won their second straight Tri-Valley League title and made a second consecutive trip to the playoffs.
The team's success was built through hard work and defined by the bond that formed between the members of the team. Through long, grueling workout sessions at St. Cyr or the Spartan weight room at Millis High, the players formed an identity and found common ground. They became a family.
"It's just a huge part of that program," said Clay. "These boys, Taylor and his teammates, have a bond that will last a lifetime."
It is not only Millis that has come to Taylor's aid. Surrounding towns such as Holliston, Medway, Walpole, and Medfield have all supported the events and donated to the cause. In fact, Medfield High showed up with 80 runners at the Walk for Taylor in March. It was such an impressive display that the volunteers at the registration table were brought to tears as wave after wave of light blue shirts signed up to run.
Another instance came from Abington High, which had beaten Millis-Hopedale in the playoffs in December. Four captains from the team skipped a celebration being held in their honor to come to Millis and take part in a strongman fundraiser on St. Patrick's Day.
Clay had been unaware of the gesture from the Abington players. When he heard the story, he was at a loss for words. After a deep breath, he simply said, "Amazing."
Taylor, who was able to "attend" the fundraisers thanks to Facetime and Skype, was humbled by the display of support that all of the communities have shown.
"I can't even believe that this many people came out for one person," he marvels. "Even when I was back in Millis, I went to the gym and there are posters for Fight Night for Taylor [see sidebar] and you're looking at them thinking -- that's for me. That's pretty cool."
Grueling rehab prepared Taylor for return to the real world
The Sacks are unanimous that the decision to send Taylor to the Shepherd Center in Atlanta was the correct one. The facility's energy and ability to connect with younger patients was crucial to Taylor's rehabilitation. The therapists were able to push him to relearn many of the mundane tasks of daily life and to keep his independence and not sink into self-pity.
In Taylor, the therapists also had a patient that was accustomed to working hard and that has an almost unsinkable resilience.
"I'm going to do everything I can to walk," he says only a few days after returning from Atlanta. "I'm going to work as hard as I can, but if I can't then I will just live my life like I'm just sitting down like a normal person. I'm not going to be depressed about it, I'm just going to keep my head up and live my life as normal as possible."
Taylor continues, "There are certain moments when it sucks because every single thing that you're doing takes a lot more effort, but after a short time, the things that you practice get easier."
If Taylor needed to get dressed, he was given a pair of shorts and told that the therapist would be back in a little while to check on him. No matter how tired he was, he had to pull his legs onto the bed or get a pillow to elevate them. Clay and Stacy helped push Taylor's chair up a steep hill and the therapists were adamant that he needed to be left alone. He needed to learn to deal with these situations on his own. That attitude has stayed with Taylor on his return to Millis.
During his stay at the Shepherd Center, the staff and fellow patients utilized gallows humor to help stay positive through the hard work. One of Taylor's biggest concerns as he prepares to return to school and be back with his friends is being able to keep things light.
He explains, "When I asked my doctor if I would ever walk again he told me to ask [another patient, who was from Tyngsborough, Mass.]. So, I asked him and he said, 'No, definitely not.' So, I told him, 'Good, I hope you never walk again either'. When you come back and say that to someone that you don't know that well, they don't know how to take it."
His re-introduction to school (described as "seamless" by Chuck Grant, Millis High's Director of Student Services) was made easier by Taylor's ability to stay in contact with his classmates throughout his time in Atlanta. He attended classes and assemblies virtually and stayed in touch through social media, which has also allowed him to be a leader to his teammates while being far away.
"Taylor is the captain still," said Olmsted. "He's a leader and he continues to be an inspiration for the guys."
"He's the first one to send them an email to get to weightlifting," said Grant. "We have all fed off of his enthusiasm."
With a wry smile, Taylor relates, "Jon Baker texted me that only about eight people showed up at St. Cyr. So, I went to the Facebook group and left a not-so-nice message. I was like, I'm down here working hard every day just to get out of bed and you guys can't even take an hour out of your week to work out."
After a quick laugh and a short pause, he continues, "I just think that people take it for granted what they have and what they can do. I did too."
Olmsted related, "I went to give him the gifts [from his teammates and the fundraisers] and I was worried that he was going to breakdown. He said to me, 'Football was all I wanted to do, but right now it's not important at all.' He's focused all his energy on getting better."
Taylor's will to succeed, which helped drive the Mohawks to success on the field, is now being redirected to simply getting back on his feet. Even his family marvels at his endless determination.
"I felt that he was strong, but he has really shown us how strong," said Clay. "I am amazed by his getting up in the morning to face the day. He's been an inspiration and kept me straight."
Back at school, and focused on the journey forward
While construction was being finished on their house, the Sacks were staying at a hotel in nearby Franklin. Taylor had been back in Massachusetts for only three days and the agenda was packed with finding a gym, making sure that specialized equipment was being delivered, and finding the right time for his return to Millis High.
In the midst of all that, he also needed to make time to get fitted for a tuxedo. After all, Junior Prom is just around the corner.
On the first Monday morning that Taylor was back in Massachusetts, the Sacks received an automated call from Millis High to let them know that he was not at school. Clay got a good laugh at the enthusiasm of the school to get Taylor back.
[+] Enlarge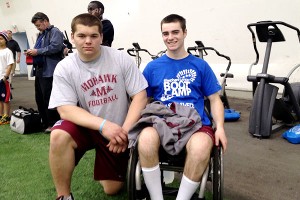 Brendan Hall/ESPNBoston.comTaylor Sack with fellow Millis co-captain Jon Baker at the recent Massachusetts High School Football Coaches Association combine at Gillette Stadium.
It was a feeling that was shared by the majority of his classmates, who were all eagerly awaiting Taylor's return. He rejoined his friends on Monday, May 6 – the same day that his therapist came to Millis High to address the school. He has been back into the daily routine of attending classes, doing homework, and dealing with his friends in the hallways.
He wants to go back and be a normal high school junior again. He wants it to be as though he never left.
"I just want to go back and not have everyone come up to me, people I've never even talked to before this, and say that they feel bad for me," Taylor says.
"I feel pretty lucky; I wasn't wearing a helmet or anything when I was skiing and if I had hit my head, I may not even be here. I feel pretty fortunate. I still have my head, I can still use my arms...I just can't use my legs."
It was this attitude that made Taylor Sack a captain for the Mohawks. His focus, strength of character, and his ability to inspire others made him a natural leader on and off the field. Even in the face of adversity, he has not changed.
Sitting at the table in a crowded restaurant, adjusting himself in his wheelchair, and recounting the turmoil of the past two months, Taylor looks to his future with confidence.
"When I see people I just want to have a good attitude and let them know that I'm still happy," he says. "This didn't ruin my life. I'm still the same person."
February, 26, 2013
2/26/13
6:24
PM ET
By
Brendan Hall
| ESPNBoston.com
This morning Ohio University became the ninth Division 1 school to extend a scholarship offer to Millis/Hopedale Class of 2014 two-way lineman Jon Baker, his head coach Dale Olmsted told ESPNBoston.com this afternoon.

The Bobcats are the second FBS school from outside the New England region to offer Baker, joining Rutgers, which offered earlier this month. Those two schools join UMass, UConn and Boston College -- who all offered last spring -- along with FCS schools Harvard, Yale, Old Dominion and Holy Cross. Stanford, Michigan and Vanderbilt have also expressed varying amounts of interest.

Olmsted told ESPNBoston.com earlier this month that Baker will likely take an unofficial visit to Rutgers towards the end of April. To date, Baker has taken unofficials to Harvard, BC, UMass and UConn.

The 6-foot-3, 305-pound Baker is considered one of the top prospects in New England, and generally projects as a center in college. In 2012, his junior season, he registered 78 tackles with four sacks at defensive tackle to earn a spot on ESPNBoston.com's annual All-State Team. He also earned Tri-Valley League Lineman of the Year honors for the second straight year, as the Mohawks made their second straight MIAA Division 4 playoff appearance.

Olmsted also told ESPNBoston.com today that Wisconsin and UCLA plan on making visits to Millis in April. Both those schools have been known in recent years to take last-minute flyers on Bay State products -- the Bruins with Lawrence Academy linebacker Mike Orloff shortly before signing day in 2011, and Wisconsin late last month picking up Everett defensive back Jakarrie Washington.