Boston High School:

Damion Smith
March, 28, 2012
3/28/12
6:49
PM ET
By
Brendan Hall
| ESPNBoston.com
With the unveiling of our MIAA All-State Teams for Boys and Girls late last week, the 2011-12 basketball season has come to close. But before we officially slam the book on another exciting season of hoop, and move on to spring sports, I wanted to get out a few thoughts on the landscape for next season.

To whet your appetite for the 2012-13 season, here are my early projections on the state's must-see teams to watch:

BOYS

Central Catholic - Plenty of talent returning with this squad, which captured the No. 1 overall spot in Division 1 North despite missing Luis Puello (ankle) for most of the season. ESPN Boston All-State guard Tyler Nelson returns as one of the state's top shooters, but the Raiders also return all three of their regular bigs in Joel Berroa, Doug Gemmell and Nick Cambio.

New Mission – Apparently it's never too early for bulletin board fodder, because head coach Cory McCarthy is already making some barnstorming rounds, telling ESPNBoston.com this afternoon that if the Titans don't win the Division 2 state title next year, "I should be fired." Bold, yes, but it's hard not to like a lineup of Isshiah Coleman, Nate Anderson, Greg Bridges, Damion Smith and Shaquan Murray. There is some promising talent in those ranks.

Mansfield – Folks are talking about the Hornets being one of the South region's top teams in two years' time, between promising freshman Brendan Hill and sophomore Michael Hershman. I'm of the camp that believes with those two versatile parts, paired with a terrific coach in Mike Vaughan, the future is now.

Taunton – Shaquille O'Neal Davis. That's legitimately his full name, and one you certainly will not forget by this time next year, for reasons that have nothing to do with The Big Aristotle.

West Springfield – Terriers return virtually everyone, including Chris Lipscomb, Paul Bessette, Andy McNulty, Dewey King, and leading scorer Riyadh Asad. West Side is the early favorite next year in Division 1 West.

St. John's (Shrewsbury) – Junior transfer Tarik Octave was one of the nice surprises of the playoffs, and freshman Davon Jones has shades of former Pioneers great David White all over him (Doesn't hurt that Jones was also the Pioneers' starter at safety last fall, too). A boat load of underclassmen return, including Ken Harrington and T.J. Kelley, which should more than make up for the graduation of Matt Palecki.

Danvers – Falcons graduate 6-foot-7 center George Merry, an ESPN Boston All-State selection, but return some terrific guards. Nick McKenna, Nick Bates, Eric Martin and Dan Connors can all shoot the ball, and are perfectly-suited for John Walsh's four-out offensive system. My early pick to repeat at D3 champs.

BC High – Eagles return what ought to be one of the state's best backcourts in point guard Charles Collins and ESPN Boston All-State swingman Jameilen Jones. Throw into the mix one of the region's best basketball minds in Bill Loughnane (he of four state titles) and it's hard to think of the Eagles as anything but a favorite in the South.

Springfield Central – A plethora of talent graduates, including Chris Prophet, Lee Turner, Jevaughn McMilian, and ESPN Boston Super Teamer Tyrell Springer. But All-State forward Kamari Robinson should have another terrific season, and the way Cornelius Tyson exploded onto the scene in the Division 1 state final makes us all wonder if he's about to realize the potential that many in the Springfield area have been talking about for so long.

Stoughton – Super Teamer Aaron Calixte and Defensive Player of the Year Marcus Middleton formed the state's best backcourt in 2011-12. If all goes as planned, they'll be well-equipped to defend that notion next season.

Wareham – Vikings might not endure an unbeaten regular season again next year. But another year of All-State point guard Darien Fernandez means they're not going anywhere.

GIRLS

Braintree – Wamps started three freshmen this year: Ashley Russell, Bridget Herlihy, and 6-foot-1 center Molly Reagan. Expect them in conversation for state title contention from now until their time runs out in 2015.

Archbishop Williams – Ditto the Bishops, who have two 6-foot freshmen to look forward to the next three seasons. Add in sophomores Olivia Conrad and Leah Spencer, and their fiery mouthpiece Sara Ryan, and this could be another top-five team come December 2012.

Reading – The Rockets made a flawless run through the Division 2 gauntlet, winning their first Division 2 state title in school history as one of two final unbeaten squads in Massachusetts. Two-time Middlesex MVP and ESPN Boston All-State Olivia Healy returns, as does guard Morgan O'Brien.

Andover – Golden Warriors are expected to come down to Earth with the graduation of two-time ESPN Boston Miss Basketball, Nicole Boudreau, and UConn lacrosse commit Ally Fazio. What might be overlooked amidst Andover's unprecedented run to a third straight state title is that there were plenty of terrific complimentary backcourt pieces in the underclass.

Central Catholic – Raiders treaded water after some injuries early on. But once junior forward Casey McLaughlin was back to full strength, they made a run all the way to the Division 1 North semifinals. Have to imagine they'll be in conversation again next year.
December, 19, 2011
12/19/11
12:13
PM ET
By
Brendan Hall
| ESPNBoston.com
New Mission head coach Cory McCarthy confirmed this morning that former West Roxbury star Damion Smith has transferred into his school and is enrolled.
Smith, a Roxbury resident, starred as a freshman last year at West Roxbury High, and made ESPN Boston's inaugural
freshman All-State team
. After a run this summer with the Boston Amateur Basketball Club's 9th Grade squad, which included a national championship in Little Rock, Ark., Smith transferred to La Lumiere Prep in La Porte, Ind.
McCarthy said that he will not seek a waiver this year for Smith. When Smith is eligible again next fall, he will be a junior.
July, 24, 2011
7/24/11
4:29
PM ET
By
Brendan Hall
| ESPNBoston.com
Hampered by injuries to two key cogs, and already playing with a short bench, the Boston Amateur Basketball Club's 15-year-olds were able to persevere their way into the finals of the AAU Super Showcase, at Disney's Wide World of Sports Complex in Lake Buena Vista, Fla.
After making it to the Sweet Sixteen of the tournament, the BABC knocked off Dorian's Pride (Mich.), Florida Family and Team United (N.C.), before losing to D.C. power Team Takeover in the championship, 61-54.
Boston native Wayne Selden, the No. 7 overall Class of 2014 player, grabbed his share of attention as usual with a team-high 22 points -- "He ran it," coach Eggie McRae said -- while Bonzie Colson (12 points) and Damion Smith (11 points, nine rebounds) were solid contributors. But once again, point guard and Brockton native Jonathan Joseph (eight points, eight assists) was the unsung hero throughout the tournament.
"He ran the show," McRae said of Joseph, who is transferring from Brockton High to Putnam Science Academy (Conn.) and re-classifying to 2015. "Shoot, we had 8 games, and he might have came out a total of 10 minutes. He was like a maestro. He could do no wrong, he was maybe an 8 to 1 assist-to-turnover ratio for the week."
Early on in the tournament, the BABC lost Tyree Robinson and Joey O'Connell to injuries, forcing them to use sometimes as few as six players in games. But just like
in Little Rock earlier this month
, they were able to weather the storm.
"These players got big hearts," McRae said. "We don't get there without heart."
July, 9, 2011
7/09/11
9:20
PM ET
By
Brendan Hall
| ESPNBoston.com
After
strong showing at the LeBron James Skills Academy this week
at the University of Akron, Wayne Selden found himself sitting in his hotel room Friday night wondering how he was going to get down to Little Rock, Ark. today to join his Boston Amateur Basketball Club in the AAU Ninth Grade Championship.
Not sure of what time his flight was to leave, the Roxbury resident decided to give it the ol' college try and pull an all-nighter. He left for the airport today at 3:30 a.m., flew out at 7 and caught "maybe an hour" of sleep on the plane (thanks to a connector flight in Atlanta) before touching down in Little Rock at 11 a.m. and heading straight to the gym at Phillander Smith College to join his team.
Regrettable decision? Selden said at first he "felt nothing", but about three minutes into the championship game with the Louisiana-based Ascension Jaguars, "I didn't have my legs, I was exhausted."
[+] Enlarge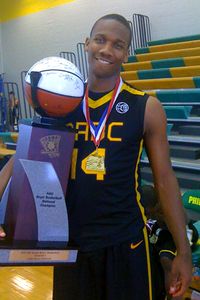 Jason Green for ESPN.comAfter pulling an all-nighter and playing with LeBron, Wayne Selden led the BABC to an AAU national championship.
Ultimately, the 6-foot-4 Selden persevered to lead the club with 20 points and chipped in five assists to lead the BABC to a 78-66 win and the national championship.
"I knew I had to be with the team," Selden said. "They worked so hard to get here, I felt I had to work hard and push through. It was all in the mind."
New Bedford native and St. Andrew's forward Bonzie Colson also had 18 points and 11 rebounds, while Fall River native and Putnam Science forward Tyree Robinson had 15 points, eight rebounds and five blocks to contribute to the win.
"It's a beautiful feeling," said coach Eggie McRae. "It's been a long year, but it was worth every minute of it after grabbing that big trophy."
BABC trailed just once through the entire tournament, today when the Jaguars scored the opening basket. And while the impact today of Selden was evident -- the Tilton (N.H.) swingman is currently the No. 2 shooting guard and No. 7 overall player in the Class of 2014 -- this tournament run was more testament to the arrival of undersized point guard Jonathan Joseph.
With a short bench and no backup point, the 5-foot-8 Brockton resident -- who earlier this year was named to
ESPNBoston's All-Freshman Team
-- excelled with clean entry passes to the bigs and scorers like Selden, Curtis Cobb and Damion Smith. McRae's troops preferred to attack from the inside out, so when Joseph was left open on the wing he made the opposition pay.
"People thought I'm too small to run a team," said Joseph, who is transferring to Putnam Science Academy (Conn.) and will re-classify to the Class of 2015. "But honestly, I don't think size has anything to do with it. It's about how big your heart is. I have the biggest heart, and nobody's taking that away."
Said McRae, "We had the best point guard in the tournament. He just ran the show. Little Johnny joseph, dictated tempo, made all the right decisions, gave everybody good looks."
Added Selden, "He knows how to set up. He may make a bad decision one in a while, but overall he's the one that got us to the national championship."
KING JAMES EDITION
Selden's getting some much-needed rest tonight, but his final day at LeBron Skills Academy will no doubt be on his mind forever.
On the final day, Selden got to run alongside his idol as LeBron James joined in on some scrimmages. On one fast break, James fed Selden a behind-the-back pass for a dunk.
"I loved it," Selden said. "He's my favorite player, and playing against the best competition, it was just a real good experience."
March, 25, 2011
3/25/11
5:09
PM ET
STARTING FIVE

Guard – Samir McDaniels, Sr., New Mission
The 6-foot-3 McDaniels was the steady hand that rocked the Titans' Division 2 state championship season. He averaged 18.8 points, 12.7 rebounds and 3.1 steals as the Titans became the first team in MIAA history to win the Division 4 and Division 2 titles in back to back seasons. McDaniels recently committed to the University of New Haven for next fall.

Guard – Pat Connaughton, Sr., St. John's Prep
The Notre Dame-bound Connaughton, currently ranked No. 96 in the ESPNU 100, once again saved his best performances for the postseason as the Eagles won the Division 1 state championship for the first time in school history. Connaughton averaged 21.8 points, 17 rebounds and 6.5 assists and took home the Massachusetts Gatorade Player of the Year award. Connaughton, who will play both baseball and basketball for the Fighting Irish next year, is ranked No. 77 in Baseball America's list of Top 100 high school prospects.

Forward – Richard Rodgers, Sr., St. John's (Shrewsbury)
Considered one of the best athletes to come out of Central Mass in the last two decades, the 6-foot-5, 235-pound Rodgers was a monster in all facets of the game as the Pioneers made their fourth straight appearance in the Division 1 state final. The senior, who will continue his football career next fall at Cal as a tight end, averaged 17.8 points, 10.8 rebounds, 4.5 blocks, 4.1 steals and 3.4 assists in his final season in Shrewsbury. He is also the son of Holy Cross defensive coordinator and former Cal great Richard Rodgers, and the cousin of Buffalo Bills cornerback Jairus Byrd.

Forward – Jake Layman, Jr., King Philip
The 6-foot-7 Layman lived up to his potential high-major billing in his junior season with the Warriors, helping them end a 15-year postseason drought and set a school single-season record for wins (17) before bowing out in the Division 2 South finals. Layman averaged 24.6 points, 13.6 rebounds, 4.6 blocks, 3.1 steals and 2.3 assists; he also took home Hockomock League MVP honors. Layman's 1,196 points at KP are the most by any boy in school history. He currently holds offers from UMass, Providence, Boston College, Notre Dame, Texas A&M and Brigham Young.

Center – Jimmy Zenevitch, Sr., Central Catholic
A force in the middle the last three seasons for the Raiders, the 6-foot-7 Zenevitch lived up to the hype headed into his senior season. He closed out his career with a strong finish, averaging 19 points, 11 rebounds, four assists and two blocks, and stretched many a defense with his ability to post up and shoot from long distance. He earned Merrimack Valley Conference All-Star nods, and his Raiders went 39-1 in MVC play the last two seasons. Zenevitch, whose older sister Kate is a freshman forward for Boston College, will continue his career next fall at Division 2 Assumption College.
BEST OF THE REST

Jaylen Alicea, Sr., Lawrence
Few had as explosive a postseason as the 5-foot-8 Alicea, who averaged 30.4 points in five playoff games as the Lancers became the first No. 15 seed since 1998 to advance to the Division 1 North final. The run included a 35-point effort in a shocking first round upset of No. 2 seed Cambridge, followed up the next game with 38 on Westford. For the season, Alicea averaged 19.3 points, four assists and three steals and earned a Merrimack Valley Conference All-Star nod.

Travonne Berry-Rogers, Sr., Lynn English
The 6-foot-1 Berry-Rogers made a name for himself as one of the North Shore's best finishers in his senior campaign, which ended in a D1 North semifinal loss to Lawrence but with some Northeastern Conference recognition. The senior, who was also an NEC All-Star in football, averaged 23.5 points, five assists and five rebounds to lead the 21-3 Bulldogs. He plans on pursuing basketball at the next level, and is considering several Division 2 and Division 3 colleges.

Joe Bramanti, Sr., Andover
The 6-foot-2 Bramanti was the Golden Warriors' prized horse in 2010-11, and they rode him to a 15-5 record and an appearance in the Division 1 North tournament. Bramanti averaged 22.3 points, six rebounds and four assists in his senior season, in which he took the Merrimack Valley Conference's MVP honors by an almost unanimous decision. Bramanti is currently looking into pursuing a post-graduate season at a prep school.
Grant Cooper, Sr., Northampton
Cooper, a 6-foot-3 forward, played an instrumental role in the Blue Devils' Division 1 Western Mass championship season, and established himself as one of the premier forwards in the western part of the state. He finished his career at Hamp on a high note, averaging 11 points, 12 rebounds, 4.5 assists this season while also posting a field goal percentage of .550.

Marco Coppola, Sr., Watertown
The 6-foot-1 Coppola was instrumental to the Raiders' run to their third Division 3 state title game in six seasons, and also pitched in tremendously on the defensive end -- before losing to Whitinsville Christian in the state championship, they held their previous four opponents in the 30's. Coppola was Eastern Mass' leading scorer, averaging 25.1 points per game, and finishes fourth all-time on the school's scoring list, behind his older brother Anthony, Max Kerman and Kyle Stockmal. Coppola is currently undecided on college plans, but is leaning heavily towards Worcester Polytechnic Institute.

Mark Cornelius, Sr., Westford
The 6-foot-2 Cornelius was a scoring machine this season for the Grey Ghosts, winning the Dual County League scoring title with an average of 21.1 points per game, and was co-MVP of the league. He saved arguably his best performance for last, getting 33 points and 23 rebounds in a loss to Lawrence in a Division 1 North quarterfinal. Also a standout wide receiver for the football team, Cornelius is undecided on college plans.

Alex Gartska, Sr., Westfield
One of the state's sharpest shooters, the 6-foot-1 guard averaged 19.7 points, three rebounds and two assists per game as the Bombers marched to a 20-3 record and an appearance in the Division 1 Western Mass final against Northampton. Gartska, who was recently named the MassLive/Basketball Hall of Fame's inaugural Western Mass Player of the Year, finished his career at Westfield with 1,172 career points. He is currently undecided on college plans.

Steve Haladyna, Jr., St. John's Prep
The 6-foot-3 junior was the Pippen to Pat Connaughton's Jordan on this year's squad, but that proved to be a pivotal role in the Eagles' first basketball state championship season. In 2010-11, he averaged 19.7 points and seven rebounds as the Eagles battled through the toughest Division 1 North bracket in recent memory.

John Henault, Sr., St. Bernard's
The Bernardians ended their season on a sour note with a shocking upset by Oxford in the Division 2 Central tournament, but the 6-foot-2 Henault ends his career on Harvard Street on a positively high one. He leaves St. B's as the school's all-time leading scorer (1,682 points) and led the state in scoring average (27.8 points) this season. He also racked up over 600 rebounds, 200 assists and 170 steals in his four-year career with the Bernardians. Henault is currently considering several Division 2 and 3 colleges.
Mike Lofton, Sr., Mansfield
With such a unique skill set, the 6-foot-4 senior played anywhere from point guard to power forward this year for the Hockomock League champions, and excelled in every role. Lofton averaged 13.5 points, 11 rebounds. 4.5 assists and 2.7 steals this season for the 24-3 Hornets, who won a wide-open Division 1 South before falling to eventual state champ St. John's Prep on the TD Garden floor. Lofton is currently considering several Division 2 and 3 schools.

Akosa Maduegbunam, Jr., Charlestown
In 25 games this season for the Townies, the 6-foot-4 slasher averaged 22 points, eight rebounds, three assists and two steals as they captured their first Boston City title since 2006. in his two seasons at Charlestown, he has averaged 20.5 points, seven rebounds and three assists. A two-time City all-star, Maduegbunam was also named the City tournament's Most Valuable Player.

Hans Miersma, Sr., Whitinsville Christian
Few teams in the state could match up with the Crusaders' size this season, and none was more pivotal than the 6-foot-9 Miersma. He averaged 14.3 points, 8.9 rebounds and 3.7 blocks as the Crusaders captured their first Division 3 state title since 2005. The first team All-Dual Valley Conference center will continue his playing career next fall at Gordon College.

Joe Mussachia, Sr., Manchester-Essex
The 6-foot-6, Amherst College-bound forward excelled in a multitude of roles for the Hornets, who won the Cape Ann League and advanced all the way to the Division 4 North semifinals. Mussachia averaged 25.2 points, 17 rebounds, five assists, four steals and three blocks, and finishes as the school's all-time leading scorer (1,714 points). For his career at M-E, he averaged 20.9 points, 11 rebounds, four assists and three blocks.

Jarrod Neumann, Jr., Northampton
The 6-foot-3 guard/forward helped to form Western Mass's most intimidating, swarming defenses, as the Blue Devils marched all the way to a 21-3 record and the Division 1 Central/West Final, where they lost to state runner-up St. John's of Shrewsbury. For the season, Neumann averaged 15 points and 10 rebounds. Barring the unexpected, Neumann should return next fall as one of the MIAA's top 2012 prospects.

Kachi Nzerem, Sr., New Mission
As one part of the Titans' three-headed monster of a backcourt, the 6-foot-5 Nzerem was a physical force around the rim. He averaged 17.1 points and 6.1 rebounds as the Titans became the first MIAA squad in history to win the Division 4 and Division 2 titles in back to back seasons. Nzerem is considering pursuing a post-graduate season at several prep schools.

Keandre Stanton, Jr., Lynn English
It was quite the breakout season for the 6-foot-6 Stanton, a Northeastern Conference All-Star who turned in a monster junior campaign to establish himself as one of the state's best pure athletes on the blocks. He averaged 19.5 points, 12 rebounds, six blocks and achieved 10 triple-doubles on the season for the 21-3 Bulldogs, who advanced all the way to the D1 North semifinals before bowing out to Lawrence.

Jacquil Taylor, Soph., Cambridge
At 6-foot-8, the sophomore was one of the state's most imposing forces in the paint. He has started every game in his two years on the Falcons' varsity, and has only blossomed under head coach Lance Dottin; after averaging nearly a double-double as a freshman (nine points, 10 rebounds), he turned in an even more impressive sophomore season, with 13.5 points, 11.4 rebounds and 4.8 blocks as the Falcons won the Greater Boston League outright for the second year in a row. He has already amassed 166 blocks in his young career (including over 100 this year), and is a two-time GBL All-Star.

Noah Vonleh, Soph., Haverhill
Ranked the No. 23 overall player nationally in the Class of 2013 by ESPN, the 6-foot-7 Vonleh came into the season with a load of hype, and lived up to it in spite of the Hillies' struggles to a 7-13 record this season. Vonleh averaged 18.4 points, 17 rebounds, seven assists and five blocks and earned Merrimack Valley Conference All-Star recognition. Kansas, Pitt and Boston College are among the early offers for Vonleh, but expect that list to get quite lengthy over the next six months.

COACH OF THE YEAR: SEAN CONNOLLY, ST. JOHN'S PREP
Yes, one of the North Shore's all-time schoolboy greats has had one of New England's top senior talents to work with the last three seasons. But this season, which culminated in the program's first state championship, was all about the role players. And between Steve Haladyna, Freddy Shove, Isaiah Robinson, Mike Carbone and Owen Marchetti, this season was about a different player stepping up every night to ease the load off superstar Pat Connaughton. For that, and to survive one of the most loaded Division 1 North brackets in recent history, Connolly deserves some credit.
RUNNERS-UP:
1. Paul Neal, Lawrence
2. Cory McCarthy, New Mission
FINALISTS:
Bill Daley, Westfield
Paul DiGeronimo, Fitchburg
Rey Harp, Northampton
Rick Kilpatrick, Acton-Boxborough
Sean McInnis, King Philip
Duane Sigsbury, Manchester-Essex
Malcolm Smith, East Boston
ALL-DEFENSIVE
G – Joe Bramanti, Sr., Andover
G – Luis Puello, Jr., Central Catholic
G – Akosa Maduegbunam, Jr., Charlestown
F/C – Jacquil Taylor, Soph., Cambridge
C – John Swords, Sr., Lincoln-Sudbury
ALL-SHOOTERS
Pat Connaughton, Sr., St. John's Prep
Marco Coppola, Sr., Watertown
Alex Gartska, Sr., Westfield
John Henault, Sr., St. Bernard's
Jake Laga, Sr., Northampton
ALL-FRESHMAN
G – Jonathan Joseph, Brockton
G – Tyler Nelson, Central Catholic
G – Damion Smith, West Roxbury
F – Drew Shea, Medfield
F – Aaron Falzon, Newton North
BEST FANS
1. Northampton
2. St. John's (Shrewsbury)
3. Newton North
4. Central Catholic
5. St. John's Prep
(NOTE: Some headshots were provided by ESPN's Adam Finkelstein, courtesy of his New England Recruiting Report)
February, 26, 2011
2/26/11
7:03
PM ET
By
Brendan Hall
| ESPNBoston.com
Every year, there is that one special player who erupts abuptly onto the basketball scene in March and puts many a college scout on notice. Think back to 2005, when Newton North's vicious backcourt of
Anthony Gurley
and
Corey Lowe
shone in the Tigers' first of two straight Division 1 state titles.
We saw it again in 2008, when Central Catholic's 6-foot-11 sophomore
Carson Desrosiers
filled the lane impressively and showed off his range for the Raiders in their D1 state title. We saw it again in 2009, when Lynn English's
Ryan Woumn
dropped 39 points on Brockton in the D1 EMass Finals. And we saw it again 12 months ago, when
Pat Connaughton
averaged 21.7 points and 19 rebounds as St. John's Prep made a surprise run to the D1 North finals.
So who is the next Connaughton, Woumn or Desrosiers? Below are nine underclassmen who could fit the bill.
JAKE LAYMAN, KING PHILIP
6-7, Jr. F
Why he matters:
Layman has been nothing short of phenomenal for the Warriors this season, as they set a program record for wins (14) and ended a 15-year postseason drought. Averaging 24 points, 13 rebounds and 4.8 blocks on the season, and coming close to a quadruple-double in a game against Stoughton earlier this season, don't be surprised to see him put up those kinds of numbers in the postseason. UMass, Providence and Boston College have offered him, while Notre Dame, BYU and Texas A&M have shown heavy interest.
What opposing coaches are saying:
"I think he could be a Dream Teamer this year, if you want my honest opinion. He's one of the top three players in the state. He can jump out of the gym, shoot three's, post you up, just an unbelievable talent…He can be the biggest prospect in the state of Massachusetts as far as I'm concerned. He is a major, major talent...His athleticism, he's so athletic for a 6-9 kid, and like I said, he has point guard skills. Kevin McHale moves inside, three, four, five dunks a game, just stuff you don't see in high school anymore. I mean he's one of best players I've seen in last 15 years, to be honest with you...Holy God. The thing with him is how skilled is in all facets of the game, how he runs the floor, he's so athletic. He honestly, and I hate to use the same terms over and over again, but a very high ceiling."
Scouts Inc.'s analysis of strengths:
"A long and athletic player, Layman has a terrific set of physical tools. He stands a legit six-foot-seven with great length and a solid frame which will eventually support a good deal of muscle mass. He is a very good athlete and gets his head on the rim between his length and leaping ability. He has good touch on his jump shot and projects as a very good three-point shooter down the road with a little refinement to his technique. He is a potentially versatile defensively who can change the game with his length on top of the press."
ESPN's Adam Finkelstein:
"Jake Layman may have more upside than anyone in the MIAA. At 6-foot-7 with long arms, a good frame, and athleticism that allows him to get his head on the rim he is the prototype high-major forward. He doesn't yet realize how good he is but has a tremendous future in front of him."
JARED TERRELL, WEYMOUTH
6-2, Soph. G
Why he matters:
The sophomore led the Bay State Conference in scoring (15.1 points) this season, and while those aren't eye-popping numbers, Terrell is a sight to be seen. In the mold of slashers like Charlestown's Akosa Maduegbunam, Terrell is an off-guard in a linebacker's body, able to create his own shot off the dribble but at his best when charging through the lane. Quite simply, there are few in Massachusetts with such physical maturity at this age. He's drawing an assortment of Division 1 interest, from the Atlantic-10 all the way up to schools like Washington and Clemson.
Opposing coaches:
"Jared Terrell is one of the purest athletes running around, if not the best athlete running around in the state. I think when he eliminates his dribbles and everything else like that, and just looks to take it to the hole, he can't be stopped...It's tough to make a comparison, because I think he's one of the top two athletes in the state. But as his progress keeps going up, I mean the sky's the limit. Historically? I don't know, because I'm not ready to give anything to these new jacks yet, but if I were to make a comparison I'd say his older brother Royce."
Scouts Inc.:
"Terrell is a power guard with a strong body and bouncy athleticism. He is as aggressive as he is powerful, getting after people on the defensive end and going hard to the rim offensively. He is a versatile defender who can make plays in full court pressure situations and also lock up opposing scorers in the half-court, bodying up with his upper body without fouling. Offensively, he has a good first step and quick springs and shows no fear attacking shot blockers."
Finkelstein:
"Jared Terrell is as explosive of a guard as you will find in the MIAA. He is powerful and athletic, allowing him to go through contact to make plays above the rim. If he can add a consistent jumper to his offensive repertoire his recruitment will go to the next level."
AARON FALZON, NEWTON NORTH
6-7, Fr. F/C
Why he matters:
While Falzon isn't the Tigers' top scoring option -- that falls unto guards Mike Thorpe and Avi Adler-Cohen -- the younger brother of senior Tevin Falzon is a game-changer in the middle. With his long arms and ability to step out to NBA-range three's, he has already drawn comparisons to former Tigers great and current Yale freshman Greg Kelley. The sky is the limit for Aaron, as the 14-year-old continues to grow and fill out.
Opposing coaches:
"I think his ceiling is just through the roof, he is certainly super skilled for a big kid. He has a very good touch. Right now, facing the basket is where he's best, but as he gets stronger he'll get more confident down on the low blocks. He's real tough...For us, the problem with him is clearly the size advantage. But in general, he's so skilled. With him, if a typical big guy covers him, you can draw them away from the basket, because he's got range up to and beyond the three-pointt line. The few times I've seen him go to the blocks, he's very skilled, and has versatility on defense with his length, but he's a real nice player...He's very similar [to Kelley], at 6-7 when you can draw guys out like he did. If he can extend the defense and open up shots in the lane for guys like Thorpe and Adler-Cohen, he's a tough guard for us."
Finkelstein:
"Aaron Falzon fits the new style big man in that he has the size to play down low but the skill set to step away and stretch the defense. With three more years to continue to develop his game and body, he has a chance to be a very highly pursued prospect if he continues to do the right things."
JACQUIL TAYLOR, CAMBRIDGE
6-9, Soph. C
Why he matters:
Taylor dominated the glass this year for the 19-1 Falcons, and has served as a wonderful complement to guards Deondre Starling, Kyroe Qualls-Betts and his brother, 6-foot-5 junior Maurice. There may not be a longer starting five in the state than Cambridge, and at the center is Jacquil, who runs the floor well for a player his size and can change momentum in a snap with one of his thunderous two-handed slams. A handful of Division 1 schools, including UMass and BC locally, have expressed interest.
Opposing coaches:
"He is a diamond in the rough. He's going to be real good, high-major maybe, with his shot blocking ability and rebounding ability. He's not as good as Nerlens Noel, but he's that type of player...His length is his strength, I'd say right now -- defensively especially, and on the glass, too. I think his offensive game will get better, but in terms of what he does around the basket, he's impressive...Jacquil has tremendous upside. I think he's getting ready to have breakout in the state tournament this year. Both him and his brother Mo are two outstanding basketball players."
Finkelstein:
"When you are big and mobile you have a chance to be very good and that's exactly what Jacquil is, not to mention a long lefty. His potential has never been questioned but now it's time to turn those tools into production on a consistent basis."
ADAM BRAMANTI, MASCONOMET
6-2, Jr. G
Why he matters:
One of the Cape Ann League's leading scorers (19.7 points per game), he is the cousin of Andover star
Joe Bramanti
, and could be ready to carve a name for himself on the family tree. Like Joe, he is an exceptional shooter -- most recently, Adam hit seven 3-pointers in a game with Manchester-Essex in late January -- who can give good chase on the perimeter.
Opposing coaches:
"He's a fantastic shooter. If he's on, it's in. I've seen him hit nine, 10 three's in a game, he's fantastic. He can work a little bit on his dribble-drive and finishing, but as far as being a shooter, he's top-notch."
Scouts Inc.:
"A very skilled guard with a high basketball I.Q. and terrific feel for the game, Bramanti is well schooled in the fundamentals of the game. He is an excellent three-point shooter who makes shots with deep range and also changes speeds with his dribble to get himself into the lane. He is a very efficient scorer off the catch, being tremendously efficient with his body movements, and owning a terrific shot fake. He always has his head up, has very good court vision, and can deliver quick passes off the dribble with a quick flick of his wrist."
Finkelstein:
"Adam Bramanti is a super skilled young guard with a high basketball I.Q. and instinctive feel for the game. Give him a year or two for his body to catch up, and his stock is bound to take off."
KEANDRE STANTON, LYNN ENGLISH
6-6, Jr. F
Why he matters:
In short, the junior is another one of those under-the-radar prospects. Stanton has had a breakout campaign this season for the 19-2 Bulldogs, complementing electric senior Travonne Berry-Rogers very nicely with his slashing ability in the post. With his size, length, and athletic ability on the break, Stanton has drawn comparisons to former English great
Jarell Byrd
, who is currently doing a post-graduate year at St. Thomas More (Conn.).
Opposing coaches:
"We're athletic, [but] he's freakishly athletic. The things he can do, even when he attacked the rim off the bounce, he tried to get a dunk a few times. He went right at us. Jimmy [Zenevitch, of Central Catholic] scores a lot, but he is also a good defender as far as bigs, and this kid went right at Jimmy. He's a great player, incredible athlete, and he's going to be a handful in the tournament...He's real skinny, but has a lot of athletic ability. He needs to play more. He has some big upside, too, but he needs to work on his ballhandling skils before he moves on to a higher level, because that's what he'll be with his size."
Finkelstein:
"Keandre Stanton has proven his worth this year at Lynn English but is still relatively unknown outside of Massachusetts' borders. A strong state tournament could be the first step towards a breakout summer."
TYLER NELSON, CENTRAL CATHOLIC
5-8, Fr. G
Why he matters:
The freshman, who is averaging nearly eight points a game off the bench, could very well end up winning a game for the Raiders in the postseason. He scores in bunches, often coming into the game and knocking down a pivotal three-pointer. When bringing the ball up, he directs traffic in the half-court calmly but smartly, and is unafraid to bark orders at one of his senior teammates. Overall, he's shown a maturity well beyond his years in his rookie season on the Raiders' varsity -- of course, it doesn't hurt that his father is an advance scout for the Utah Jazz.
Opposing coaches:
"He's probably the best shooter in the state, and that's no lie -- he's a deadly shooter. He's a baby he could only be an eighth grader for all we know, but the stronger he gets the better he'll get...He's gonna be a scholarship player someday, he has a real high basketball I.Q., no lie."
Finkelstein:
"Tyler Nelson gives Central Catholic a big boost with his three-point shooting and looks to have a very bright high school career in front of him. Any player who can make shots in bunches has a potential niche at the next level."
NATE ANDERSON, NEW MISSION
6-6, Soph. F
Why he matters:
Anderson is still relatively unknown on the big stage; and between the Titans' star-studded backcourt of Samir McDaniels, Darius Davis and Kachi Nzerem, the young Anderson gets a limited amount of touches, and often comes off the bench. With his ability to handle, Anderson's future with Mission could be in more of a point forward role, though in the possessions he plays around the rim he shows adept skill and rebounding and blocking. In short, Anderson's a question mark right now, but a year from now could be a firm exclamation point. A good run in the playoffs, though, could serve his stock well.
Opposing coaches:
"He has big upside, and we'll see that the more he plays and the more touches he gets. He's gonna be going to college somewhere, very athletic. He's good."
Finkelstein:
"Nate Anderson has all the physical tools for the next level with a long and strong body to match his high level athleticism. He makes his biggest impact on the defensive end right now but has shown good potential as a face-up four who can attack less mobile big men with his dribble."
CORNELIUS TYSON, SPRINGFIELD CENTRAL
6-1, Soph. G
Why he matters:
After a strong summer with the New England Playaz, the sophomore brought a considerable amount of hype with him to the Golden Eagles. And needless to say, at 11-9, they've grossly underperformed after starting the year off at No. 6 in ESPNBoston's MIAA Top 25 poll. This may be a head-scratcher, considering he's averaging just six points a game, but it's hard to ignore his creativity and the praise he's earned out of season.
Opposing coaches:
"Corn is quick as lightning, great little stroke, great on-ball defender. He's fearless, he'll step in and take a charge against 6-11 kids, he doesn't care...He's a great point guard with great instincts, knows how to find the open man, get to a guy going through the air, he's talented. On the AAU circuit, he's a 20-point scorer."
Scouts Inc.:
"A talented young point guard who already has a good understanding of how to distribute the basketball. Tyson has terrific court vision at a young age, makes good decisions handling and passing the ball against pressure, and can also get into the lane to create shots for himself and his teammates. He has also developed into a consistent shooter from behind the three-point arc. He has a terrific feel for the game for such a young player, already making good use of jab steps, jump stops, and other crafty maneuvers to open up passing/driving lanes."
Finkelstein:
"Tyson is a good looking young point guard who shows a mature understanding of the position for someone his age. He not only hits the open man but also has the creativity and vision to make plays for his teammates, making him very unique."
OTHERS TO WATCH
Aaron Calixte, Soph. G, Stoughton
Matt Droney, Jr. G, Catholic Memorial
Joey Glynn, Jr. F, Cardinal Spellman
Jameilen Jones, Soph. F, BC High
Jarrod Neumann, Jr. G/F, Northampton
Kenny Reed, Jr. G, Reading
Colin Richey, Soph. G, Whitinsville Christian
Damion Smith, Fr. G, West Roxbury
Michael Thorpe, Jr. G, Newton North
Brendan Hall is a high school editor for ESPNBoston.com. Follow him on Twitter.
February, 25, 2011
2/25/11
2:30
AM ET
By
Brendan Hall
| ESPNBoston.com



ROXBURY, Mass. -- Like several other of his Charlestown teammates, Akosa Maduegbanum couldn't help but snicker when the Townies' opponent in this Boston City Championships semifinal, West Roxbury, came onto the court wearing green shirts, with "We Run This 'Town'" written across the front in Townie red.

"I kinda scratched my head and I said, 'I'm a Townie. I run this town'," the 6-foot-4 junior swingman cracked.

And true to his word, the Townies defended Bunker Hill from all the way across the city on Malcolm X Boulevard, as they cruised to a 79-65 victory over the Raiders at Madison Park High School, and move on to face archrival East Boston for a third time this season, in the City Finals at the same location tonight.

As expected, the highly-touted Maduegbanum filled up the stat sheet with his explosive athleticism, charging through the lane on fast breaks en route to a team-high 20 points, and added seven rebounds. But the real key to this game relied in the manner in which forward CeeJae Dowell muscled his way to racking up 15 boards. Most importantly, eight of those came in the final frame, as the Raiders (15-6) -- known for their skilled shooting -- lined up perimeter shot after perimeter shot. He was also crucial on the Townies' end, as seven of his 15 rebounds were on the offensive glass.

"CeeJae, he's been carrying us all season long, defensive rebounds, offensive rebounds," Charlestown head coach Edson Cardoso said. "It gets ugly, it gets nasty, but he's been big, and really he's been the guy that's been carrying us all year."

Said Dowell, "At first it was hard in the fourth quarter, because my legs weren't that strong, but I had to kick in. That's all."

The Townies went on a 17-3 run in the second quarter, and went into the break with a 32-25 lead. Westie continued to chip away at the Townies, trailing 51-41 headed into the final frame and eventually cutting the lead to four with four minutes to go in the contest. Freshman Damion Smith (11 points) hauled in an errant three-point attempt by Charlestown's Iser Barnes, and heaved a long lob to fellow frosh Mike Rodriguez for an easy breakaway layup.

Westie wouldn't register another field goal again until a little over a minute remained in the contest, by then the Townies already ahead 75-59. Overall, the Townies outscored Westie 15-4 over the final four minutes, filled with hard-charging drives to the lane to draw fouls, and one big one-handed slam by junior Tyrik Jackson (10 points).

"Alot of people are expecting us to lose. We've got targets on our back," Maduegbanum said. "We kind of played to show people who [we are], to prove people wrong."

Seniors Roger Paul and Jason Hall led the way for Westie with 13 and 14 points, respectively, while Rony Fernandes was the fourth and final Townie hitting double-figures with 12.
February, 17, 2011
2/17/11
1:17
AM ET
By
Brendan Hall
| ESPNBoston.com


WEST ROXBURY, Mass. -- Forgive Roger Paul if he wants to grin a little bit. Heck, the last time his West Roxbury Raiders were in the Boston City League Championships, Dubya still was in office, and people couldn't shut up about some whiz kid named Gerard Coleman.

"When I was a freshman, that's all they used to talk about -- Gerard this, Gerard that," the senior laughed when asked about Coleman, currently a freshman guard at Providence and one of the MIAA's most electric scorers during his three-year run with the Raiders. "Ever since my junior year, that's all people want to talk about, we'd never be the same once Gerard left. Now we're back in City's, and everybody's forgotten about Gerard."

That last point's debatable, yes, but you get the general idea. In punching their first ticket to the Boston City Championships since 2008, thanks to a 72-60 win over Brighton on their home floor -- their second win over the Bengals in three days -- the Raiders have made a whole lot of followers quit dwelling on the past, and embrace the present.

Because as things currently stand -- sitting at 14-5 overall, seasoned by a competitive non-league schedule, and rounded out by a young but cerebral backcourt -- the Raiders look as good as just about anyone else in the wide-open Division 1 South.

"I still don't think we've put together a full game this year," Westie head coach Martin Somers said. "So, I believe if we do, we can beat anybody. So I'm just waiting for that game to happen, where we put four great quarters together."

This afternoon, the Raiders managed to put together three such quarters, taking a 62-39 lead into the final stanza before the Bengals (11-4) opened up the fourth on an 11-0 run to make a game of it again. Five-foot-5 sophomore Nate Hogan (10 points), playing in his first varsity action, provided plenty of spark off the bench, running the point in place of Kevon Young (suspension), who is expected back Friday.

Edward Toney (14 points, seven rebounds) provided mettle down low, and the Bengals caused a handful of turnovers with a full-court 2-2-1 press to spark the fourth quarter run. But in the end, just like their 73-70 overtime loss Monday to these same Raiders, there was too much to overcome.

"(They're) very well-disciplined," Brighton head coach Hugh Coleman said of Westie. "They're young, but they're mature. Mature, disciplined, they took their time running their sets, they did a great job. Great job."

Paul (15 points, five assists) and Jason Hall (11 points, eight rebounds) did their part in directing traffic in the half-court, running patient sets that wore down the Bengals' 2-3 zone. The Raiders hit four of their first five 3-point attempts, and shot 51 percent overall from the field in the first half while notching assists on 10 of their 14 first-half field goals.

Shoring up the other other end was the loose yet heady play of starting freshman guards Damion Smith (14 points, five rebounds) and Mike Rodriguez (10 points). The backcourt tandem came into the season with some hype, and has lived up to the billing these last few weeks.

"They each play their own part," Hall said. "They both complement our team real well, and I'm glad that they came here."

Said Somers, "They're seasoned guys even though they're young. They play on the AAU circuit, the national level, they've played in big games. They're not nervous out there, they've bought into the program, and I'm really proud of the freshmen. They've stepped up, and really given us big minutes."