Boston High School:

Dan Cardillo
October, 19, 2012
10/19/12
1:28
AM ET
FRIDAY
NO. 23 NEEDHAM (5-1) AT NO. 6 WALPOLE (6-0)
The Skinny: The Rockets received some help in the Bay State Carey race from Natick last week when the Red Hawks came away with a win at Weymouth. However, Needham will need to capitalize on that break with a win over the Herget's other undefeated entrant. Rockets running back Mike Panepinto continues to be one of the great breakout stories on the year while the Rebels will need to shuffle the deck a little with the loss of Mike Rando, who'll be out several weeks with an ankle injury. Of course, the Rebels counter with one of the more consistent and underrated linebacker units in the state, led by Cam Hanley and Steve Thulin.

Scott Barboza: Even sans Rando, the Rebels still have enough horses in the barn. Walpole, 26-21.

Hall: Losing Mike Rando, for however long a period of time, hurts. But this Rebels defense is still talented enough to get the job done and slow down Team Panepinto. Walpole, 20-7.

NO. 11 KING PHILIP (6-0) AT MANSFIELD (4-2)
The Skinny: This much anticipated Kelley-Rex matchup features one of the state's premier defenses against a recharged Hornets offense. Brett McEvoy anchors the Warriors defense, which has surrendered just six points a game through the first six weeks, along with Joe Johnston. Kyle Wisnieski has held down the quarterback position admirably in his first year as starter, but hasn't stared into a defense quite like that of the Warriors. If he has time to throw, Mike Hershman and Brendan Hill provide big-time targets. Let's not forget that last year's installment of this battle was the coming out party of KP quarterback John Dillon, who nearly lifted the Warriors to victory in a second-half comeback bid.

Barboza: Defense wins in big games, right? It's been a while that the Warriors last had Mansfield's number, but this is the year. KP, 20-14.

Hall: Can't have any pudding if you don't eat your meat. Mansfield, 24-21.

Wakefield (6-0) at Burlington (5-1)
The Skinny: Depending on how Stoneham does this weekend, this one's for at least a share, possibly sole possession of the Middlesex League's Freedom Division (can we just call it Small to alleviate any confusion?). Burlington has had some injuries, but still boast the league's top rushing attack led by Marcus Odiah and Anthony Cruz. They'll meet a Wakefield defense that features a number of playmakers and hasn't allowed a point in 11 quarters. With Dan Cardillo (ankle) gone, there's no real superstar for Wakefield -- but sophomore receiver Bruce Brown will be one to watch, coming off a 124-yard performance last week in a shutout of Wilmington.

Barboza: I'm calling this a split decision. My fan section vote goes to the Red Sea. But the action on the field is dictated differently. Burlington, 8-6.

Hall: This one will be close, and the Warriors might not solve Burlington's rushing attack, but they'll make a big stop late. Wakefield, 17-10.

Mashpee (4-2) at No. 25 Abington (6-0)
The Skinny: This is a battle for sole possession of first place in the South Shore League, with both teams sitting tied atop the league standings at 3-0. The undefeated Green Wave have been getting some terrific defense all season, and feature one of the more unheralded versatile athletes in senior Babila Fonkem. Mashpee stumbled out of the gates, with losses to Nauset and Austin Prep in the first month, but has rebounded with a three-game win streak. Leading the attack have been running backs Malik Lee and Jared Taylor, as well as emerging quarterback Cody Bingham-Hendricks.

Barboza: Fonkem provides the highlight reel plays running and on special teams, but Brian Kilmain and Jack Malafronte give the Green Wave balance. They're the difference. Abington, 28-20.

Hall: For the first time in three years, I managed to get through our picks on video and our podcast without mentioning my parents are Abington High Class of '79 (self high-five, folks). Don't get it twisted, though, that has nothing to do with why I've soured on Mashpee since the preseason. Abington, 28-17.

NO. 2 EVERETT (5-1) AT BC HIGH (2-3)
The Skinny: The Eagles are finally starting to heal, with starting quarterback Brendan Craven seeing action last week against Marlborough and running back Brandon Owens getting back into the mix. While they're still missing a couple key cogs on defense, Owens will help bolster BC High's run defense against Everett's double-wing-based ground attack. The Crimson Tide also have been nursing some injuries in recent weeks, but Jalen Felix returned for last week's game at Xaverian and Jakarrie Washington ran for three scores. Gilly De Souza, the glue that holds Everett's secondary together, continues playing with an ankle injury and didn't see the offensive side of the ball last week, but he's remained rock steady (as he has since freshman year) in the kicking game.

Barboza: BC High is pumped and ready for this one, but De Souza provides the game-winning boot late. Everett, 17-14.

Hall: Won't be fooled again. Everett, 24-10.

SATURDAY
XAVERIAN (1-5) AT NO. 21 BRIDGEWATER-RAYNHAM (3-3)
The Skinny: This one has the potential to please fans of power football. The Hawks could go heavy in the backfield with Hunter Taute with Mike Brennan doubtful for this weekend's game after a late injury in last week's loss to Everett. Or, the Hawks could air it out behind Austin DeCarr whose hit on touchdown passes of 30-plus yards in each of the last two weeks. The Trojans will look to pound the ball behind breakout sophomore running back Brandon Gallagher and a physical offensive line anchored by Joe MacInnis. Senior quarterback Jordan Cohen also gives B-R the opportunity to strike downfield while rolling out of the pocket.

Barboza: I went with the Hawks last week and promptly was served some humble pie by Everett's offensive line postgame. I'm sticking with my gut this week. Trojans have controlled this matchup in the last two seasons. B-R, 21-17.

Hall: Historically when the game slows to a ground-and-pound stalemate, the odds favor the Trojans. B-R, 20-10.

No. 18 Leominster (4-2) at No. 20 St. John's of Shrewsbury (4-2)
The Skinny: Back at the start of the season, we pegged this as must-see action to circle on one's calendar. It's still one of the games of the year in Central Mass., and we could even see a rematch come playoff time, but let the facts stand. Leominster and St. John's quickly fell from the Top 10 in the last several weeks; Leominster looked shaky in an upset loss to Wachusett and win over Algonquin, while St. John's has surrendered 100 points total in the last two games.

Barboza: That Pioneers defense tightens some, but just not quite enough to stop the Blue Devils. Leominster, 34-28.

Hall: If there's anything we've learned in the last two weeks, it's that if you can run on St. John's, you can go all Barry Switzer and "hang half a hundred on 'em". Leominster, 40-35.
March, 8, 2012
3/08/12
1:44
AM ET
By
Matt Noonan
| ESPNBoston.com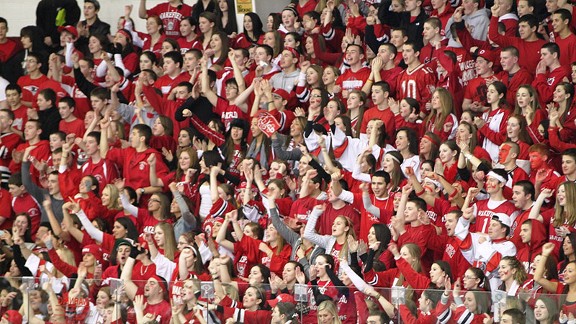 Ryan Kilian/Special to ESPNBoston.coWakefield's "Red Sea" were out in full effect to help the Warriors to a second-straight Division 1 North sectional final in a shootout win over Chelmsford on Wednesday.
CHELMSFORD, Mass. -- It was déjà vu all over again for the Wakefield Warriors, who escaped Wednesday's Div. 1 North semi-final clash by defeating Chelmsford, 2-1, in a shootout.
With the win, Wakefield once again earned themselves a spot in the sectional final, as the Warriors repeated their performance from a year ago. Wakefield also went to a shootout with Billerica in last year's semifinal.
"Down two periods all night, but we've been there before," Wakefield head coach Derek Edgerly said. "We've been down a couple games this year, [but] we just comeback fighting hard, and that's all it takes."
"It's called composure, positivity, keep your positive up all night and these kids just played excellent," Edgerly added. "What a great game."
Chelmsford notched the first goal early in the opening period when senior David DeDonato beat Wakefield senior goaltender Joe Cerulo (31 saves) before the Warriors answered in the third period with junior Daniel Cardillo, riffling the puck into the back of Lions' net, forcing overtime.
In the extra session, both teams chased the puck up and down the ice, but no resolution was found.
DeDonato eventually registered his team's first strike in the shootout.
Wakefield answered on their third attempt when senior Kevin Doherty beat Chelmsford's junior netminder Derek Noble, tying the shootout, 1-1. The Warriors then answered on their ensuing attempt when junior Alec Brown scored the clincher before Cerulo denied sophomore Jesse Lye.
"We go over shootouts every night in practice for 15 minutes because when it comes down to this end in a tournament, you've got to do your shootout," Edgerly said. "And one thing about these games, it's usually a blowout or it's an overtime win or shootout, there's nothing in between."
"We had a great year," Chelmsford head coach Mike McGrath said. "I would have to say if there was a word I'd use for these kids, it's adversity because we had kids out with mono, we had a lot of things where we were missing kids, and we battled through it, and peaked at the right time, and had a nice little run."
BURLINGTON 5, ACTON-BOXBOROUGH 1
After a sluggish two periods, the Red Devils offense exploded by tallying four goals in the final 15 minutes, which lifted Burlington past the Colonials, 5-1.
Senior Trevor Cimino registered his team's second goal 22 seconds into the final period before senior Brian Hood, junior Joe Berardi (1 G, 1 A) and sophomore Joe Scali (2 G) struck.
"[Dan McMahon] made a good play, dumping it into the zone and I just had a breakaway, put it home," Cimino said. "We got that first goal in the third period, [and] I think they kind of shut down because they didn't know what to do anymore."
"It took us two periods to figure it out," Burlington head coach Bob Conceison said. "They played Monday night, [and] I felt like we could wear them down in the third period, and I think that showed in the third period."
Burlington earned a one-goal advantage when Berardi connected with Scali late in the first period before Acton-Boxborough evened the score at 1-1 when senior T.J. Barrett wrapped around the cage and squeaked the puck past junior netminder Derek DeCastro for the score.
"I think he was disappointed in the goal that [he] let in," Conceison said of DeCastro. "It was kind of a funny late period goal that might have been in the nearside, but he made a big save on a break away at 3-1, it was a huge save for us. And Derek's that type of goalie, he comes up big in those situations when we needed and that was a big step, and we needed that, we really needed that."
A-B had chances to earn a lead, but solid defense and goaltending by Burlington helped them escape with a victory, and set up an exciting Division 1 North final against Wakefield, Monday at Tsongas.
"It will be fun," Conceison said. "I don't know [if our] crowd can outdo their crowd."
November, 30, 2011
11/30/11
1:25
AM ET
By
Corey J. Allen
| ESPNBoston.com



LYNN, Mass. -- Wakefield was down 6-0 for most of the game, but in the middle of the fourth quarter drove the ball 78 yards in roughly 3:30 minutes to post their first score of the game, a one-touchdown run by Josh Puccio with 1:52 remaining.

The extra point by Brian Auld made the game 7-6, but the Warriors' defense stopped the Marblehead Magicians from scoring as they had much of the game, holding on for the win and the opportunity to play for the Division 2A Super Bowl on Saturday.

"All season, we've kind of had some tough games," said quarterback Jamie Bourque. "Earlier this year we were in the same situation down 6-0 at the half. Once we went into the half today down 6-0 we knew that we were going to be able to do it. Stick to what was working, just execute. The first half we kind of had the jitters, but at the half we got over it when we realized it was just another football game."

With 5:55 left in the game, Marblehead was stopped on downs and punted to the Wakefield 22. After two incomplete passes, Matt McKenna caught a throw from Bourque for the first down. thee run plays, the first and third by the running back Puccio (14, 2 yards) and the second by Dan Cardillo (3) gave the Magicians a reason to close in on the Wakefield offensive attack, but that is When Bourque dopped back and found McKenna for a 10-yard gain and the first down.

The next play, Cardillo again rushed for thee yards, but on the next throw Bourque and McKenna would go for the fences, the result a 34-yard pass that was brought down to the one yard line setting up a first and goal, for which Puccio was brought back in to finish the job and put his team on the scoreboard.

First Draw Not Enough: Marblehead's only score of the game came with 7:54 left the in the first quarter, just over two minutes after the game had started. Five straight rushing plays, the first two and the last two by Will Quigley, netted Marblehead a quick score. For the rest of the match either Quigley or quarterback Ian Maag would run the ball, with passing attempts by the Magicians all failing until the final drive, in which the two completed passes proved unable to pulled Marblehead out of the hole which had been dug for them by the Wakefield offense.

Options: On Wakefield's scoring drive, McKenna caught three passes from Bourque, and 11 yard, 10 yard and the final a 34-yard snag which brought the Warriors down to the Marblehead one yard line. Prior to that series, Bourque had thrown two passes, both of them to McKenna, only one of them connecting.

"Our game plan going in was to see if we could run the ball," said Bourque. "Once we realized we had some good matchups on the outside we figured that we'd take advantage of that when we needed to."

Lack of options: Marblehead's only score, and main offense producer was Will Quigley. Although he took numerous carries throughout the game, he was unable to score again, and did not gain more than four yards on a carry during the second half.

"We made some adjustments on our defensive line at halftime. I think early on we were pursuing just a little bit too much... and we have great linebackers. They did a great job along with the front line," added Wakefield coach Mike Boyages.

November, 5, 2011
11/05/11
12:55
AM ET
By
Ryan Kilian
| ESPNBoston.com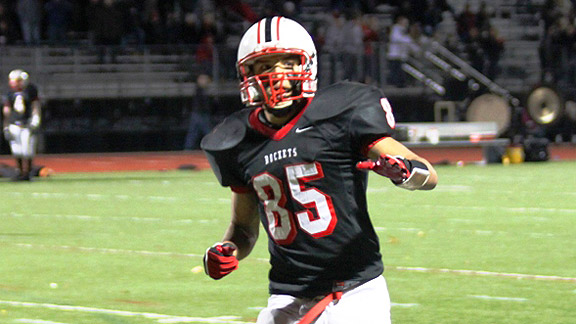 Ryan Kilian for ESPNBoston.comRyan Maney's circus catch was one of several highlights for Reading in its 28-27 thriller over Wakefield.
READING, Mass. -- No lead was safe in Reading on Friday night, as the Reading Rockets pulled out a come from behind, one point victory over the Wakefield Warriors, 28-27.
With less than two minutes remaining and Reading trailing by seven points, sophomore quarterback Drew Belcher led Reading down the field and into the end zone, on a six-yard plunge, with 38.5 seconds remaining in the game.
"We work on that stuff a lot," said Fiore of the game-winning drive. "We spread them out and made some plays to get our guys in space."
Belcher's touchdown run pulled Reading to within one point, 27-26, and Reading head coach John Fiore called for two. With his team struggling in the kicking game, Belcher took the field out of the shotgun, lowered his head and plunged in for the go-ahead conversion. Belcher had executed the same play earlier in the game, and this time the sophomore's score gave Reading the comeback win.
"We play for 44 minutes", said Fiore. "We made plays and made some adjustments at the half to some things we wanted to do. I am real proud of the kids and their effort tonight."
The game was a back and forth battle throughout, with both teams coming up with big plays and turnovers to shift momentum on multiple occasions.
Reading senior Anthony DeSimone had two interceptions at crucial junctures for the Rockets, while Wakefield's James Puccio had an interception late in the game and a lot of tough in between the tackles running on the night.
Wakefield wide receiver Matt McKenna made a juggling 16-yard touchdown reception on a halfback pass from junior running back Dan Cardillo in the third quarter. McKenna made big plays all night, as the senior also hauled in a spectacular 70-yard reception earlier in the first quarter that set up an early Wakefield touchdown.
"They are 7-2 for a reason," Fiore said of Wakefield. "They are a physical team with some excellent kids, and we took their best shot."
Catch of the Year:
Reading wide receiver Ryan Maney made the catch of the year tonight as the junior battled pass interference and jumped up in the back of the end zone to haul in a one-handed touchdown grab while falling to the ground. Maney managed to keep possession and get one foot in bounds for the 26-yard touchdown reception.
"That was a great catch," said Fiore.
The 6-foot-2 junior is fast becoming a household name as he has become a favorite target for Belcher and runs smooth routes and has the athleticism, strength and vertical leap to stretch a defense and haul in the big catch.
Bates Returns:
Wakefield senior running back Zach Bates made his return to Reading, where he played for the past two years before coming to Wakefield this season.
Bates scored on a 15-yard touchdown run and had 64 yards on the ground on the night. The signal-caller on defense also filled the gaps from his linebacker position and came up with some key stops early on.
The Playoff Picture:
Reading will match up against Tewksbury as the winner of the Middlesex Large conference. Tewksbury, despite losing to Haverhill on Friday, clinched the Merrimack Valley Division 2 conference with a Lawrence loss to Dracut.
Wakefield is also looking for a 2011 playoff berth, and plays Watertown next week in an important league match-up.
READING 28, WAKEFIELD 27
READ (6-3) 0 – 14 – 6 – 8 --- 28
WAKE (7-2) 14 – 0 – 13 – 0 –-- 27
First Quarter
W - James Bourque 1 run (Brian Auld kick)
W - Zach Bates 15 run (Auld kick)
Second Quarter
R - Alex Valente 9 run (kick failed)
R - Ryan Maney 26 pass from Drew Belcher (Belcher run)
Third Quarter
R - Jared Barros 20 pass from Belcher (kick failed)
W - James Puccio 11 run (kick failed)
W - Matt McKenna 16 pass from Dan Cardillo (Auld kick)

Fourth Quarter
R - Belcher 6 run (Belcher run)
October, 21, 2011
10/21/11
11:58
PM ET
By
Tom Layman
| ESPNBoston.com
WAKEFIELD, Mass. — Wakefield took a big step towards making sure the Middlesex League Large Division goes through them when the Warriors pushed their way to a 14-6 victory over Burlington last night at Landrigan Field.

The Warriors needed a little pick-me-up in the second half to get their offense going as they scored 14 unanswered points in the final 22 minutes of the game, while holding the Red Devils offense in check.

Just as the offense got going for the Warriors on the legs of Josh Puccio and his 102 yards and a score on 23 carries, the defense started to respond as well. Tyler MacDonald came up with an interception of a Shane Farley pass and Dan Cardillo made a game-saving strip and recovery deep in the Warriors territory in the waning minutes of the game.

Wakefield now sits at 6-1 overall and 2-0 in the Middlesex League, while Burlington drops to 4-3 and a game behind the Warriors in the standings.

There were plenty of twists and turns in this tight contest, so let's get right to them.

Momentum swing: The first half was all Burlington, and the Red Devils wasted little time proving its worth on the road. Marcus Odiah scored from 1-yard out on the opening possession, and the offense looked like it would put home a back-breaking score right before the half.

The Red Devils were plodding down the field and using their timeouts wisely with less than two minutes on the clock. Farley hit Jirair Manoukian over the middle for a 20-yard gain on third-and-6 to get the Red Devils down the to Warriors 10-yard line with 18 seconds left.

Farley went right back to Manoukian on the next play, and the receiver was trying to carry the pile into the end zone, but a host of defenders did well to stand him up at the 2-yard line and the pile up after the play didn't allow for the ball to be snapped again in the half.

"I told my kids anything in bounds you've got to gang tackle and try to keep him up on his feet and then when he is down lay on him so they couldn't get the ball," said Warriors head coach Mike Boyages. "That was a big break. It took any kind of momentum away."

Return of the power: The running game was clearly not working out for the Warriors spread offense in the first half, as they netted nine yards on nine carries, so Boyages went to a two-back set to begin the third quarter and put the game in Puccio's hands.

The Warriors' offense responded with a 14-play, 75-yard drive, ending with Puccio finding the left side on a sweep to tie the game at 6. Brian Auld knocked in the extra-point to give the Warriors a lead they wouldn't relinquish.

The nail(s) in the coffin: Notice the plural of nails.

The offense and the defense of the Warriors did a good job of driving this game home on their own turf.

After a punt set the Warriors up with great field position near midfield, the offense methodically moved the ball inside the 10-yard line with less than five minutes to go in the game.

Puccio lost a yard on his first carry and the Warriors were called for a holding penalty to back the ball up to the 20-yard line on second down.

Bourque's second-down pass fell incomplete, but his third-down pass did not. He avoided a rush and just got rid of the ball as he was being taken to the ground. Matt McKenna made a good adjustment on the ball in the end zone connecting for a 14-6 advantage.

"I think just stepping up gave him some extra time and he made a nice throw," said Boyages.

Added Bourque: "I knew we had our best receiver out there. Our line gave me enough time and I just stepped up and kind of put faith in him to catch it."

Bourque watched from the sidelines as Cardillo came up with the defensive stand of the game. Farley hit his receiver on an inside slant down to the 17-yard line, but Cardillo knocked the ball away from the ball-carrier and pounced on it to secure the game.

WAKEFIELD 14, BURLINGTON 6
BUR (4-3) 6 0 0 0 --- 0
WAK (6-1) 0 0 7 7 --- 14

First Quarter
B – Marcus Odiah 1 run (kick failed)

Third Quarter
W — Josh Puccio 7 run (Brian Auld kick)

Fourth Quarter
W — Matt McKenna 20 pass from James Bourque (Auld kick)