Boston High School:

Dan Cellucci
June, 22, 2012
6/22/12
2:09
PM ET
STARTING ROTATION
RHP – Matt Tulley, Sr., Lowell
The Virginia Tech signee lived up to every ounce of his preseason hype, taking ESPN Boston's 2012 Mr. Baseball Award earlier this week as the state's top player. He earned his third consecutive Merrimack Valley Conference Player of the Year honor, going 7-1 with 90 strikeouts in 59 innings and one save, for a 1.46 earned run average. Opponents batted just .159 against Tulley on the season. At the plate, Tulley batted .306 for the Raiders, leading the team in RBI (20) and ranking second in runs scored (19). For his career, Tulley went 20-2 with a 1.57 ERA and 200 strikeouts in 140 innings.
RHP – Pat Ruotolo, Jr., Peabody
The 5-foot-10 craftsman caught national attention this year after throwing three no-hitters in a span of four starts, and finished the season as the state's runner-up in strikeouts (130). In 76 innings of work, he went 8-1 with two saves, 31 hits allowed and 12 walks, for an ERA of 0.83, to earn Northeastern Conference MVP honors. He has 232 strikeouts since the start of his sophomore season, and over 300 for his career. Ruotolo is considering interest from a handful of Division 1 schools.
RHP – Alex Rozak, Sr., Plymouth North
The UMass-bound Rozak catapulted himself into discussion as one of the state's best pitchers with his postseason play, winning three games as the Blue Eagles made their fourth Division 2 state final appearance in five seasons. He also carried a no-hitter into the final out in the Division 2 Eastern Mass final. For the season, Rozak was 8-3 with 61 strikeouts and 13 walks, with a 1.02 ERA. He won 24 games in his career at North, including a 9-1 campaign in the Eagles' 2011 state championship season.
LHP – Steve Moyers, Sr., East Longmeadow
One of a handful of returning All-Staters, the University of Rhode Island signee is making his second appearance in the "Starting Rotation" after compiling a 7-2 record with 106 strikeouts. Over his last two seasons, he has gone 15-3 with 194 strikeouts, and he leaves East Longmeadow as one of the school's winningest, compiling a 30-3 career record.
LHP – Ben Bowden, Jr., Lynn English
The 6-foot-4, 220-pound southpaw got off to a hot start, throwing a perfect game on April 7, and didn't cool off. On the mound he had six wins, with 82 strikeouts in 51.2 innings for a 2.19 ERA. At the plate, he played a key role in the Bulldogs' stunning upset of Peabody in the Division 1 North tournament; on the season, he batted .394 with 21 RBI, two home runs and nine extra-base hits, and also drew 17 walks.
STARTING NINE
CF – Casey DeAndrade, Sr., East Bridgewater
The speedster joins exclusive company as one of several players to make All-State in two sports, having made the football squad last fall. This spring, he put up .455/.506/.682 totals at the plate, with 25 RBI, two home runs, 19 runs and 15 stolen bases. On the mound, he went 5-2 with 67 K's in 50.2 innings, holding opponents to a .106 average as the Vikings captured their first Division 3 South title since 1993. DeAndrade is headed to the University of New Hampshire in the fall for football.
2B – Chris Hoyt, Sr., Xaverian
Nobody elevated their stock in the playoffs more than the Stonehill College-bound Hoyt, who pounded out eight RBI in the MIAA tournament – including four in the Division 1 state final. Batting out of the leadoff spot this spring, Hoyt batted .411/.477/.526 totals, with 19 RBI, two home runs, stole 19 bases and only struck out three times in 107 plate appearances. He also posted a ridiculous OPS of 1.003.
C – Bobby Melley, Sr., BC High
A returning All-Stater, the 6-foot-3, 200-pound Centerville resident was one of the state's most dangerous power hitters, compiling .370/.557/.685 totals with 13 RBI, three home runs and drawing 22 walks. Behind the plate, only two runners attempted to steal on him, both of which were caught out. Melley will continue his career next year at UConn.
1B – Chris Shaw, Sr., Lexington
A returning All-Stater, Shaw was one of three Bay Staters taken in this year's MLB Draft, going to the New York Mets in the 26th round. This spring, he batted .480 with seven home runs and 27 RBI, and also went 5-0 on the mound with 95 strikeouts in 45 innings. Shaw will be honoring his commitment to Boston College rather than signing.
3B – Frank Crinella, Sr., Springfield Cathedral
In addition to flawless defense, Crinella was a tough out at the plate, hitting .456 on 26 hits, with 27 RBI and four home runs to go along with it as the Panthers went 18-2 before a surprise upset in the Division 1 West quarterfinals. Crinella will continue his career next year at Merrimack College.
SS – Matt O'Neil, Sr., East Longmeadow
Coupled with Moyers, the returning All-Stater formed an imposing 1-2 punch on the mound for the Spartans, who suffered a surprise upset in the Division 1 West semifinals. O'Neil batted four home runs to go along with 21 RBI; on the mound, he was 4-3 with 70 strikeouts in 41.1 innings. O'Neil will continue his career next year UConn.
1B – John Jennings, Sr., Newton South
The Dual County League's Large Division MVP was a force at the plate for the Lions, batting .415 with five home runs and 31 RBI. On the mound, he was 4-1 with 31 K's in 27.2 innings, for a 1.27 ERA. He will continue his career next year at UMass.
SS – Regan Aghdam, Sr., Burncoat
One of the state's premier leadoff hitters, Aghdam was solid at the plate, leading the Inter-High league in batting average (.463). On the mound, he went 6-0 with 43 strikeouts in 49 innings pitched. Aghdam will continue his career next year t the University of Rhode Island.
SS – Brandon Bingel, Jr., St. John's Prep
The Catholic Conference's co-MVP was a driving force for the Eagles, hitting .418 with 25 RBI and five home runs. On the mound, he was 5-1 with a 1.20 ERA in 40.2 innings pitched. Bingel is currently committed to Bryant University.
BULLPEN
LHP – Scott Tully, Jr., Reading
Tully had a breakout junior season, going 8-2 with four saves with a 0.99 ERA and 122 strikeouts in 63.1 innings, tied for third-most K's in the state. Tully also allowed just 27 hits this spring. He is currently committed to Notre Dame.
RHP – Pat Delano, Sr., Braintree
Nearly two years after Tommy John surgery, the 6-foot-7 fireballer found his way back to the top, going in the 35th round to the Boston Red Sox in the MLB Draft, and earning MVP honors in the Bay State Conference's Carey Division. He posted a 1.21 ERA with four wins and 50 strikeouts in 57 innings, and added four home runs at the plate. He was also named a Region 1 All-American by the American Baseball Coaches Association. Delano is currently committed to Vanderbilt, but has until the August 15 deadline to decide whether he'll sign or not.
RHP – Charlie Butler, Sr., Nashoba
A returning All-Stater, Butler was once again dominant on the mound for the Chieftains, striking out 90 in 54 innings for a 0.91 ERA and 6-2 record. At the plate, he batted .365 with 14 RBI and two home runs. Butler will continue his career next year at the University of Maine.
RHP – Mike Walkowicz, Sr., Amherst
Another one of the state's strikeout kings, Walkowicz went 5-4 on the mound as he rang up 112 batters in 65 innings of work for an average of nearly two K's per inning. He will continue his career next year at Endicott College.
LHP – Tyler Buck, Sr., Franklin
One of the state's most elusive lefties, Buck went 7-1 on the mound with 80 strikeouts and a 1.42 ERA for the Panthers, who were the No. 1 overall seed in Division 1 South. He also went .378 at the plate with 18 RBI and two home runs. Buck will play next year at St. Anselm College.
LHP – Mac Curran, Jr., Coyle-Cassidy
The hard-throwing 6-foot-4, 240-pound Lakeville resident was an intimidator for the Warriors, going 6-1 with a 0.52 ERA and 63 strikeouts in 49 innings. He also batted .351 at the plate, and is 14-3 so far as a starter for Coyle. Curran is currently fielding a slew of Division 1 interest.
RHP – Brandon Shileikis, Jr., Dighton-Rehoboth
The workhorse logged 68 innings and struck out 74 while walking just 12, going 9-1 with three saves, an ERA of 1.75 and a WHIP of 0.96. At the plate, Shileikis had .427/.456/.524 totals with 28 RBI and 27 runs. Shileikis is currently fielding various Division 1 interest.
RHP – Keegan Dellacona, Sr., Barnstable
The 6-foot-3 Dellacona formed a dynamic 1-2 punch on the mound along with UConn-bound Willie Nastasi, as the Red Raiders won the Old Colony League outright. For the season, Dellacona struck out 67 in 49.1 innings, for a 4-0 record and 0.89 ERA. He also threw 70 percent of his pitches for strikes, registered a 0.67 WHIP, and held opponents to just a .136 batting average. Dellacona is undecided on college plans.
LHP – Ryan McDonald, Sr., Acton-Boxborough
Another of the state's most deceiving lefties, McDonald went 5-2 with 71 strikeouts in 46 innings, for a 1.98 ERA. He also led the Dual County League in batting average (.468) and plated 16 runs, including two homers. McDonald had previously signed with Bryant University, but is currently uncommitted.
RHP – Lee Albertson, Sr., Westfield
Albertson was the ace of a Bombers staff that won its third Division 1 West title in five years this spring. He went 6-2 on the mount with two saves, and struck out 58 batters in 54 innings. Albertson will be heading to Holyoke Community College next season.
UTILITY
3B – Joelfi Arias, Sr., Springfield Central
The Eagles scored one of the biggest upsets of the MIAA tournament by knocking off Springfield Cathedral, and Arias played a big role. He had five home runs on the season to go with 24 RBI, and on the mount he had 65 strikeouts in 62 innings, logging a 5-2 record. Arias is headed to Juco power Indian Hills Community College, in Ottumwa, Iowa.
OF – Adam Benvie, Sr., Dighton-Rehoboth
One of several mashers on a lineup that batted nearly .400 as a team, Benvie posted .386/.538/.771 totals with 37 RBI and five home runs, scoring 27 runs and drawing 22 walks. Benvie will continue his career next year at UMass.
C – Joe Walsh, Sr., Taunton
The Old Colony League MVP led the Tigers on a surprise run to the Division 1 South final, where they lost to eventual state champ Xaverian. He batted .447 with 31 RBI, 23 runs scored and three home runs, for an on-base percentage of .562. He leaves Taunton a career .379 hitter with a .486 on-base percentage and 50 RBI. Walsh will play next year at Eckard College in St. Petersburg, Fla.
SS – Evan Mondor, Sr., Dighton-Rehoboth
One of several big bats that led the Falcons to the No. 1 seed in Division 2 South, Mondor posted .478/.617/.791 totals with 10 doubles, three home runs, and 20 RBI. Mondor also scored 35 runs and only struck out three times all year. He will continue his career next year at Bentley University.
SS – Brendan Skidmore, Sr., Franklin
Skidmore took home Hockomock MVP honors this season after batting .467 with five home runs and 21 RBI for the Panthers, who won the league outright as well as the No. 1 seed in Division 1 South. Skidmore will do a post-graduate year at Bridgton Academy next season.
OF – Jarrod Casey, Sr., Milford
A returning All-Stater and the reigning Mid-Wach A MVP, Casey put in another dominant season for the Scarlet Hawks, batting .490 with 22 RBI. On the mound, he was 6-2 with 73 strikeouts in 47 innings, for a 0.91 ERA. Over the last two years, Casey has gone 14-3 on the mound.
SS – Sean O'Neill, Sr., Norwood
The senior played a significant impact on the Mustangs' run to the Division 1 South quarterfinals, taking MVP of the Bay State Conference's Herget Division in the process after batting .416 with 16 RBI and a home run in the wood-bat league. O'Neill will play next year at Merrimack College.
SS – Dan Cellucci, Sr., Lincoln-Sudbury
Another returning All-Stater, Cellucci was consistent once again for the Warriors, batting .435 with 18 RBI and two home runs as the Warriors came up short in the Division 1 state title defense. Cellucci will continue his career next year at Bryant University.
1B – Adam Mayhew, Sr., Westfield
His numbers probably don't reflect his importance to the team (12 RBI; 3-0, 15 IP), but his defensive presence was without question as the Bombers won their third Division 1 West title in five years. Mayhew will continue his career next year at Westfield State University.
Photos of Adam Mayhew, Mike Walkowicz, Lee Albertson, Matt O'Neil and Joelfi Arias are courtesy of the Springfield Republican. Photos of Pat Ruotolo, Ben Bowden and Mac Curran are courtesy of the Area Code Games.
March, 1, 2012
3/01/12
11:45
AM ET
ESPNHS kicks off its baseball season coverage by unveiling its preseason All-State Teams for all 50 states plus the District of Columbia. A number of stars litter its Massachusetts squad, including BB&N's Rhett Wiseman, Lowell's Matt Tulley, Lexington's Chris Shaw and Braintree's Pat Delano.
You can find the entire list, which includes "Other Top Players"
by clicking here
. Below is ESPNHS' All-State Team for Massachusetts:
POSITION PLAYERS

Anthony Capuano, St. John's Prep, OF, Senior
Led SJP in hits, runs and stolen bases last year.

Jarrod Casey, Milford, OF/LHP, Senior
Batted .530 and posted an 8-1 record on the mound.

Dan Cellucci, Lincoln-Sudbury, SS, Senior
Posted a .536 BA and scored 44 runs for Division 1 state champs.

Chris McCarthy, Everett, C, Senior
Hit .585 and drove in 28 runs as a junior.

Bob Melley, BC High, C, Senior
Productive backstop has signed with UConn.

Matt O'Neil, East Longmeadow, SS/RHP, Senior
Batted .447 with 15 stolen bases last year, committed to UConn.

Christopher Shaw, Lexington, 1B/RHP, Senior
Boston College recruit hit eight home runs last year.

Ryan Summers, Westfield, C, Junior
Hit six home runs and drove in 27 last year; headed to Louisville.

Matt Tulley, Lowell, SS/RHP, Senior
Has signed to play at Virginia Tech.

Rhett Wiseman, BB&N, OF, Senior
Vanderbilt recruit hit .447 with 11 HRs and 29 SBs last year.


PITCHERS

Austin DeCarr, Xaverian, RHP/SS, Junior
Strong-armed athlete also took snaps as a quarterback in the fall.

Patrick Delano, Braintree, RHP, Senior
Big power pitcher is headed to Vanderbilt.

Tyler Dowd, Springfield Central, RHP/OF, Senior
Should be among state leaders in K's this spring.

Mike Krupczak, Springfield Cathedral, RHP, Senior
Went 7-0 with a 1.85 ERA last year.

Ryan McDonald, Acton-Boxboro, LHP, Junior
Posted a 0.90 ERA last year, striking out 71 batters over 55 innings.

Steve Moyers, East Longmeadow, LHP/OF, senior
Went 8-1 last year while posting a 0.44 ERA; career record of 23-2.

John Nicklas, St. Sebastian's, RHP, Senior
Has signed to play at Boston College.

Pat Ruotolo, Peabody, RHP, Junior
Struck out 102 batters last year, including three games of 15-plus K's.

Max Tishman, Lawrence Academy, LHP, Senior
Polished left-hander has signed with Wake Forest.

Troy Whitty, Dexter, RHP, Senior
Transferred from Oliver Ames, where he posted a 0.90 ERA last year.
November, 29, 2011
11/29/11
11:19
PM ET
By
Mike Scandura
| ESPNBoston.com
TAUNTON, Mass. -- Any resemblance between the Lincoln-Sudbury team in the second half of Tuesday's Eastern Mass. Division IA semifinal game versus Barnstable and the Lincoln-Sudbury team in the first half was pure coincidence.
The Warriors were dead in the water in the first half as the Red Raiders built a 13-0 lead. But Lincoln-Sudbury rallied behind quarterback Matt Cahill and edged Barnstable, 14-13 – with all of the Warriors' points coming in the fourth quarter.
[+] Enlarge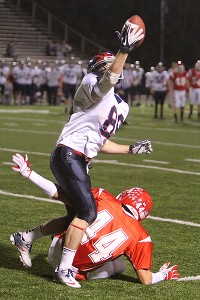 Eric Adler for ESPN.comJack Harris sparked the L-S comeback with several big grabs, including this one-hander.
Barnstable (7-5) was clinging to a 13-7 lead late in the fourth when it went for a first down on fourth-and-two from the Warriors' 6. But the Warriors slammed Hayden Murphy for a three-yard loss.
What transpired next was the stuff of legends as Cahill guided a 71-yard drive which culminated when he threw a 13-yard touchdown pass to Jack Harris with 2:19 remaining.
Will Twyman then kicked the second of his two PATs for what proved to be the winning point.
"Matt Cahill rebounded from a never-mind-the-first half and played a great second half," Warriors coach Tom Lopez said. "He's a great leader."
All Cahill did in the second half was complete 9-of-11 passes for 114 yards and two touchdowns.
Barnstable bolted to a 13-0 lead at halftime thanks to a 28-yard run by quarterback D.J. Crook late in the first quarter and a 30-yard touchdown pass by Crook to James Burke on the first play of the second.
"We thought we were making mistakes and that's why they were successful," Lopez said. "We thought we'd cut down on our mistakes. Having said that, we didn't play very well in the first half."
Lopez felt what was a momentum-shifter occurred in the third quarter.
"I think the key was when they stuffed us on fourth-and-two," Lopez said. "They went three-and-out and that gave us some confidence. All of a sudden the momentum changed."
Good point.
After Barnstable punted, the Warriors (11-1) reeled off a 93-yard drive that ended with Cahill's 11-yard touchdown pass to Harris.
What made the Warriors victory even more impressive was the fact the played all but a few minutes without one of their top players, Brian Carroll.
"We lost Brian Carroll on the second series (with a shoulder injury)," Lopez said. "He's basically been our whole offense. He had eight interceptions on defense and 800 yards rushing on offense.
"He's not in and Dan Cellucci, Greg Roder and Henry Guild all did a great job filling in. I couldn't be more proud of our kids."
LINCOLN-SUDBURY 14, BARNSTABLE 13
L-S (11-1) 0-0-0-14 - 14
Barnstable (7-5) 6-7-0-0 – 13
First quarter
B – D.J. Crook 28 run (kick failed)
Second quarter
B – James Burke 30 pass from Crook (Tom Mullen kick)
Fourth quarter
LS – Jack Harris 11 pass from Matt Cahill (Will Twyman kick)
LS - Harris 13 pass from Cahill (Twyman kick)
November, 5, 2011
11/05/11
1:34
AM ET
By
Corey J. Allen
| ESPNBoston.com



ACTON, Mass. -– Chris Giorgio led Lincoln-Sudbury to a close 21-14 win over league rival Acton-Boxborough last night with 10 carries for 40 yards and two touchdowns. The win keeps the Warriors on the undefeated (thus far) wall and pole position in the Dual County Small race.

"O-line played great today," said Giorgio after the game.

Giorgio scored his first touchdown with a leaping dive late in the first quarter over the bodies of offensive and defensive lineman on the grass as snow still piled up on the sidelines. The second, early in the second quarter, came after a three and out for A-B on the ensuing drive. Although Giorgio put the most points on the board, he still gave props to his teammates for producing their complimentary offense that allowed him to get space for his scores.

"Brian Carroll, Dan Cellucci ran the ball amazing, Henry Guild ran the ball, Jack Harris [caught] the ball well, Matt Cahill threw the ball well. I just ran it in easy," added Giorgio.

Cold as Ice: After last week's storm, the cold stayed in the area and as the game went along, so did the hard hits slow down. For the second week in a row, senior captain Kyle Ashley proved an alarming opponent with seven tackles, protecting the L-S end zone with as much fervor as he and the brethren could muster in near freezing temperatures.

"We knew that this was the game that… had the possibility to take us to the Super Bowl and we got it done and we're going to the playoffs," said Ashley.

Border Line Antagonist: Not only do the regional high schools of Acton-Boxborough and Lincoln-Sudbury exist within the same league but the towns of Acton and Boxborough sit above the towns of Lincoln and Sudbury geographically, so the need to show whose on top is there. According to Colonials coach Bill Maver, and exhibited by players in a close game picking each other up off the ground, the healthy rivalry is fierce during play, but dissipates once the whistle blows the ball dead.

"Tom [Lopez] is a great friend of mine. I want to beat him bad and I am sure he wants to beat me bad too," said Maver laughing. "After the game, we shake hands and we're friends. I think that's what's great about the rivalry."

Thin Edge: Late in the fourth quarter, Acton-Boxboro put together a sustained drive led by Kyle Sweeney with 46 yards on the series (112 on the day), but once they got down to the 20, on third and one, Chris Giorgio and William Twyman stuffed him for a two yard loss, and an incomplete pass to open space on fourth down killed the chance for the Colonials to take a game and slay the dragon. While it will go down in the history books as a win, it was not decisive in the eyes of L-S quarterback Matt Cahill; it was a game down to the last whistle.

"Acton came out and played and unbelievable game, they're an unbelievable team, a real class act," said senior quarterback Matt Cahill. "But at the end of the day, we were the ones on the right side of the score board, and that's a great feeling."

LINCOLN-SUDBURY 21, ACTON-BOXBOROUGH 14
LS (9-0, 3-0) 7 - 7 - 7 - 0 --– 21
AB (5-4, 1-1) 0 - 7 - 7 - 0 –-- 14

First Quarter
L – Chris Giorgio 6 run (William Twyman kick)

Second Quarter
L – Giorgio 3 run (Twyman kick)
A – Kyle Sweeney 6 pass from Ethan Dukes (Jack Perry kick)

Third Quarter
L – Dan Cellucci 33 pass from Matt Cahill (Twyman kick)
A – Billy Jackman 14 run (Perry kick)
October, 29, 2011
10/29/11
1:02
AM ET
By
Corey J. Allen
| ESPNBoston.com


SUDBURY, Mass. -- No. 13 Lincoln-Sudbury shut out Westford Academy in the second half of their 38-14 win.

The Warriors maintained their perfect season thus far (8-0, 2-0 2-0 DCL) as junior running back Christopher Giorgio ran for three touchdowns on the evening.

"First of all I give big credit to the O-linemen today, they made the holes really big and it was easy to run the ball," Giorgio said.

Giorgio and the rest of the offense amassed 280 yards on the ground last night.

Down 14-10 at the half after Westford's Justin Mount scored an 18-yard touchdown run up the gut of the Lincoln-Sudbury defense, Warriors head coach Tom Lopez did not panic because he saw a legitimate reason that his team was down and it was an easy fix – hold onto the ball.

"We gave them a short field two times," Lopez said. "We have to make them march. That was the key as we saw it. I don't think we punted during the day, so our offense was fine, but we can't give them the ball on our side of the field and expect the defense to hold them."

LOPEZ'S KEY DRIVE
Just before the half, the Westford Grey Ghosts (4-4) marched 48 yards to go ahead 14-10 after Brian Carroll fumbled the ball on the L-S 48. Carroll returned the kickoff nearly 60 yards, and despite a block in the back call on the play, the Warriors started on the Westford 47. Lincoln-Sudbury ate nearly five minutes off the clock and used seven of their most effective players on the drive, holding onto the ball and executing the way Lopez had expected them to.

"It changed the momentum of the game. The momentum of the game was definitely with them at 14-10… If they hold us, force us to punt, they control the ball while they have the lead it's a whole different game."

'DOUBLE COVERAGE' HARRIS



On three of L-S four scoring drives of the second half, John Harris caught passes of 18, 45 and 38 yards respectively, to bring his team within striking distance. Although he did not make it into the box score, Harris' catches surely made a world of difference in sealing the win for the Warriors. His teammates call him "Double Coverage" for his ability to snag balls at will and the need for defenses to put more than one player on him to stop his terror in the secondary.

"We're a run-first team… but when we got into spots, third and short, third and long, we have to go to the air, [quarterback] Matt [Cahill]'s able to make reads on the coverage… makes a good call and we can beet them deep."

A LITTLE OLDER, HEALING WOUNDS



The first two games of the season saw senior captain Kyle Ashley on the sidelines due to an elbow injury. As a three-year starter, Lopez noted that the team would miss Ashley. But with the team rolling as they are, Ashley's offseason workout that kept him in shape allowed him to play out the whole game on this cold New England night without any serious issues. With 27 seniors, compared to Westford's 11, the core of the Warriors team, led by Ashley, know how to tough out a cold game and bring home the W.

"We all knew to lead by example and just leave everything on the field because it's our last season and we don't want to lose it."

Westford Academy (4-4) - 7 7 0 0 -- 14
Lincoln-Sudbury (8-0) - 0 10 14 14 -- 38



1st Quarter
W – Alex Eaton 1 run (Alex Locker kick)

2nd Quarter
L – Daniel Cellucci 24 pass from Matthew Cahill (William Twyman kick)
L – Twyman 28 yard field goal
W – Justin Mount 18 run (Locker kick)

3rd Quarter
L – Christopher Giorgio 1 run (Twyman kick)
L – Brian Carroll 9 run (Twyman kick)

4th Quarter
L – Giorgio 6 run (Twyman kick)
L – Giorgio 30 run (Twyman kick)
August, 24, 2011
8/24/11
11:45
PM ET
By
Corey J. Allen
| ESPNBoston.com
Losing is never an easy thing and losing a playoff game is tough. Getting shut out at home in the playoffs could be potentially grueling.

But Lincoln-Sudbury football head coach Tom Lopez, he's a different kind of guy.

"Hopefully we can pick up on some of the positive enthusiasm we ended with last year," said Lopez of his team's 21-0 loss at the hands of the Super Bowl champions Gloucester. "That was to be expected. They were 11-0 coming into the game, we were coming off of a 5-6 season and realistically, they were better than us. I told the guys, if we had played them 10 times we probably would have lost ten times. Usually, I'd say if we play somebody 10 times, we could lose nine and win one, with Gloucester I don't know if we would."

When asked why his team would not have won one of the contests, Lopez did not hesitate - his team was simply outmuscled.

"Basically, the difference between us and Gloucester, was from tight end, to the other tackle," Lopez said. "We weren't tough, and Gloucester was just moving us off the ball. We'd move the ball a little bit, get a five-yard penalty or a holding call and we couldn't make up the penalty. Gloucester would have a 10-yard holding penalty and they'd still make the first down."

The feeling wasn't so settling for returning senior captain Kyle Ashley.

"I had that bitter taste in my mouth from losing to Gloucester, having them doing their fight song on our field after not scoring a point was really disappointing."

Ashley, the team's starting center, will miss the first few weeks of game play because of an elbow injury, but Lopez has a number of players that he is confident can get the ball back to senior quarterback Matthew Cahill.

While the Warriors have a senior-heavy team (30), they also have 22 juniors, but two standout for coach Lopez: Brian Carroll and Chris Giorgio.

"They were sophomores and the only kids that went both ways last year," said Lopez. "This, with a junior class last year of 8 kids who had started as sophomores. Giorgio and Carroll, week in and week out, every down, went both ways."

Lopez said that while the senior class is very talented, Carroll and Giorgio are still exceptional, and they haven't limited their skills to just football.

During the offseason, Giorgio played on the L-S lacrosse team that surprised everyone by making it into the playoffs. While the boys' lacrosse team bowed out to St. John's Prep in the quarterfinals of the D1 tournament, like the football team, the lacrosse squad's run was an improbable one.

Carroll, on the other hand, played for the state championship baseball team. Lopez attributed the winning that swept across the school as a "good cycle", but Carroll sees it as more of a byproduct of the school's coaching staffs and players working together.

"We have a number of athletes that go out for several sports and our athletic department is good about staying on guys, keeping us in shape to make sure that we can be competitive in all sports," Carroll said.

Lopez said that he will still run the Wing-T offense this year, but with his dynamic backers a constant threat out of the backfield and talented skill players lined up outside of the tackles, he will look to open up the field and bet on the house.

"With guys like Carroll, Giorgio, [running back Dan] Cellucci, [receiver John] Harris and Cahill, that a can make people miss in the open field, we are going to make teams play in spaces," added Lopez, who admitted that the Wing-T has been his meat and potatoes for years.

But with the personnel that he's got, it might be time to open up the Warriors offense more regularly. Last year, the Warriors were not expected to win the Dual County Large, so now that they are the team favored to take it, Lopez wants to makes sure that teams do not get comfortable with his sets and that he gives his players the best possible chance to win games with their play .

"If they are going to try and cover the other guys with a linebacker and a strong safety, that's going to be to our advantage. I like the advantage of our kids one on one."
August, 23, 2011
8/23/11
9:14
PM ET
By
Brendan Hall
| ESPNBoston.com
Lincoln-Sudbury senior infielder Dan Cellucci has verbally committed to Bryant University for the 2012-13 school year, head coach Kirk Fredericks announced tonight.

Cellucci batted .540 this season for the Warriors, who captured their third state title in seven seasons this spring with a convincing win over Minnechaug in the Division 1 title game. He was also named to ESPNBoston's inaugural MIAA All-State Team. Cellucci will join L-S teammate and incoming Bulldogs freshman Carl Anderson, the state's home run leader in 2010.
June, 29, 2011
6/29/11
9:19
AM ET
THE STARTING ROTATION

Adam Ravenelle, Sr. RHP, Lincoln-Sudbury
The 6-foot-4, 185-pound fireballer was an integral part of the Warriors' run to the Division 1 state championship this season, going 8-0 with 93 strikeouts in 56 innings -- including a career-high 18 in a win over Arlington. He also batted .481 with 44 RBIs. Earlier this month, the Vanderbilt-bound Ravenelle was drafted in the 44th round by the New York Yankees.

Pat Connaughton, Sr. RHP, St. John's Prep
The 6-foot-4 Connaughton, who was also a starter on ESPNBoston's inaugural All-State basketball squad, strung together some dominant performances this season, including a no-hitter against his hometown Arlington High. On the mound, he went 2-2 with one save, with 86 strikeouts in 50 innings for an ERA of 1.83. At the plate, he also hit .400 with four home runs, a .547 on-base percentage and .750 slugging percentage. Earlier this month, Connaughton was drafted in the 38th round by the San Diego Padres

John Gorman, Sr. RHP, Catholic Memorial
The Boston College-bound Gorman was named the state's Gatorade Player of the Year last month, and was also named the Catholic Conference MVP, after a stellar senior season with the Knights. As the No. 1 ace, Gorman went 6-2 with 80 strikeouts and an ERA of 0.24. At the plate, he also hit .354 with 11 RBI, 14 runs scored an a home run. Earlier this month, the Norwood resident was drafted in the 50th round by the Boston Red Sox.

Steve Moyers, Jr. LHP, East Longmeadow
One of the state's most elusive lefties, Moyers turned in another strong campaign on the mound as the Spartans advanced to the Division 1 West Final. He went 8-1 this season, with 88 strikeouts in 64 innings with an ERA of 0.44. For his career, Moyers is 23-2 and has averaged better than a strikeout per inning. He is receiving various interest from Division 1 schools in the Atlantic-10, Patriot League and Big East conferences.

Garrison Banas, Sr. LHP, Hopkins Academy
Stats-wise, there isn't another pitcher in the state who can lay claim to the numbers Banas put up this season. He went 9-2 this season for the Golden Hawks, with 173 strikeouts in 87.2 innings for an ERA of 0.48, before bowing out in the Division 3 West final. For his career, Banas was 26-6 with five no-hitters and a perfect game, and is in the state's ever-exclusive 400-strikeout club with 415 career K's. He will pursue a post-graduate season next year at Salisbury School, in Connecticut.
STARTING NINE
Matt Walsh, Sr. C, Plymouth North
The Franklin Pierce-bound Walsh was one of the more intimidating hitters in the region this season, as he led the Eagles to their second Division 2 state title in four years by hitting over .530 with 36 RBIs. But the most outstanding stat on Walsh has to be the respect he commands behind the plate. Counting the playoffs, only five runners attempted to steal on Walsh, and four were thrown out.
Chris McCarthy, Jr. C, Everett
Equipped with a live arm, the junior backstop was as efficient at the plate as he was at throwing out runners, batting over .585 with 28 RBIs and an on-base percentage close to .700. McCarthy is receiving varied degrees of interest from Division 1 schools in the Big East, Atlantic Coast and Atlantic 10 conferences.
Mike Barry, Sr. C/OF, Lincoln-Sudbury
The 6-foot-2 Barry was one of the most prolific hitters on arguably the state's most dangerous lineup, as the Warriors captured their third state title in seven seasons. For the season, he hit .437 with 38 RBIs and seven home runs,
Matt O'Neil, Jr. SS, East Longmeadow
As one of the premier position players in Western Mass, O'Neil turned in a solid junior season for the Spartans, batting .447 with six home runs and stealing 15 bases. He was also efficient on the mound, going 6-1 and striking out 69 batters in 43 innings. O'Neil is verbally committed to UConn.
Chris Shaw, Jr. 1B, Lexington
As the Middlesex League co-MVP alongside teammate Will Marcal, Shaw put on a clinic at the plate, with the numbers to show. He batted over .490 with eight home runs, and plated 41 runs. Shaw is verbally committed to Boston College.
Ryan Summers, Jr. C, Westfield
The junior got off to an explosive start to the season for the Bombers, with 21 RBIs and six home runs through the first three weeks of the season. He finished the year with 27 RBIs and six home runs.
Jarrod Casey, Jr. OF/LHP, Milford
The latest in a line of Caseys to succeed on the diamond at Milford, the 5-foot-11 junior was one of the premier hitters in Central Mass, hitting .530 while also going 8-1 on the mound. Casey was also the Mid-Wach A Most Valuable Player.
Lorenzo Papa, Sr. 1B, Arlington Catholic
The Stoneham resident led the state in home runs last season with 10, and followed up with another solid campaign in 2011, finishing with eight homers for the Cougars. Papa will continue his career at the University of Rhode Island next year.
Sean Amaru, Sr. 1B, Westwood
Also a star on the gridiron, Amaru was a standout in the Tri-Valley League in 2011, turning in a monster season. He batted .515 with 34 RBIs, and also led the state in home runs with 10.
BULLPEN
Will Archibald, Sr. RHP, Milton
Freddy Andujar, Sr. LHP, Holyoke
Dan Dymecki, Sr. RHP, Wellesley
Evan Mackintosh, Sr. LHP, Northbridge
Will Marcal, Sr. LHP, Lexington
Ryan McDonald, Jr. LHP, Acton-Boxborough
Victor Mendez, Sr. RHP, Lawrence
Donny Murray, Sr. RHP, BC High
Matt Tulley, Jr. RHP, Lowell
Brandon Walsh, Jr. RHP, North Andover
UTILITY
Charlie Butler, Jr. IF/RHP, Nashoba
Dan Cellucci, Jr. SS, Lincoln-Sudbury
Aaron Fossas, Sr. SS, Holy Name
Matt Goreham, Sr. 1B, Catholic Memorial
Keith Kelley, Sr. SS, St. John's (Shrewsbury)
Dan Light, Sr. 1B, St. John's (Shrewsbury)
Bob Melley, Jr. C, BC High
Rory O'Connor, Jr. OF, Lowell
Tyler Sterner, Sr. SS, Doherty
Ramses Vittini, Sr. OF, Peabody
Alex Witkus, Sr. OF, North Attleborough
Paul Yanakopulos, Sr. SS, Malden Catholic
June, 16, 2011
6/16/11
1:49
AM ET
By
Brendan Hall
| ESPNBoston.com



LOWELL, Mass. -- The clock has finally struck midnight on Franklin's magical, even Cinderella-ish run through the Division 1 tournament.

Lincoln-Sudbury's bats struck often and early, to the tune of 20 total hits, as they cruised to a 16-2 win over the Panthers (16-9) at Alumni Field to make their third state final appearance in seven seasons.

The Warriors (23-4) will face Western Mass champion Minnechaug -- themselves a surprise contender, entering the postseason a No. 10 seed at 10-10 but winning five straight -- Saturday at Lynn's Fraser Field for the state title.

"We hit the ball very well," L-S head coach Kirk Fredericks said. "We took advantage of and used a lot of the things we practice all the time, to get up on them and work some things in, which is great."

L-S wasted little time getting on the scoreboard in the top of the first inning, with senior catcher Mike Barry (2 for 4, four RBI) driving in Carl Anderson with a sacrifice fly to left field out of the cleanup spot. Keith Anderson (3 for 4, three RBI) and Ricky Antonellis (2 for 4) each drove in a run in the next two at bats to make it 3-0.

Then in the fourth, already ahead 5-0, the Warriors exploded for five more to blow this thing wide open, with Keith Anderson, Ryan Bassinger and Barry all driving in runs. Barry then made it 12-0 in the fifth, blasting an 0-2 curveball over left.

"I thought they were going to throw me a curveball, and I guess I got a good piece of it," Barry said.

Said Fredericks of Barry, "Michael's been struggling a little bit when we've been taking batting practice, I was concerned that his technique was a little off. But in games, he brings it right home." Asked to elaborate on what techniques, Fredericks simply said, "That's between Michael and myself."

The Warriors beat Worcester Tech for the Division 2 title in 2005, and Algonquin two seasons later for the D1 crown. Based on a snapshot of tonight, one has to like their chances for a third title.

Like the Panthers one day earlier in their walkoff win over Xaverian for the South crown, L-S demonstrated mature plate instincts, balance patience and aggression at the right times. Adam Ravenelle, Dan Cellucci and Brian Carroll (two RBI) also drove in runs to help the effort.

All of it made the job for its starter, Bryant-bound senior lefty Carl Anderson, that much more comfortable. In five innings of work, he Anderson struck out four batters, allowed four hits and gave up one earned run. Five pitchers combined for the final four innings of relief.

"I don't think Carl will tell you, but I'm sure he's sore," Fredericks said. "He had to pitch on three days' rest during the tournament, through five innings...And I'd betcha if we're in the state championship and we need another inning or two, he'd come on too. So, Carl has been an awesome player at Lincoln-Sudbury, and he'll continue to be until the end."

After such a dramatic win less than 24 hours earlier, Franklin head coach Dave Niro's fears of a day-after letdown came true.

"It's tough to get up two days in a row," Niro said. "We're coming off a big emotional win yesterday. I could tell on the bus ride up that we're gonna come out flat. The guys usually have a lot of energy coming to games, they're usually pretty loose. But today [it] was real quiet on the bus ride up, and I kinda thought we didn't have much energy left."

Surely, the Panthers were without key arms used in yesterday's win, leaving junior lefty Tyler Buck with the start after throwing 166 pitches in his start in last week's D1 South quarterfinals against BC High, a 17-6 win. Buck was knocked out of the game with one out in the third, with the score already well in hand at 8-0.

"I don't know if they [the team] knew that, but I knew that," Fredericks said when asked about Buck's 166-pitch start. "And as the rain kept coming and moving games back, it worked to our disadvantage, because it gives him more rest.

"But I talked to BC High, who played them, and got a pretty good scouting report on what he had, and what to do against him. Our kids executed, and did a great job."



June, 13, 2011
6/13/11
10:17
PM ET
By
Andy Smith
| ESPNBoston.com


LOWELL, Mass. -- Shutouts are far from rare in high school baseball. To shutout a team twice in one season? Possible.

But to shutout a team three times in one season? Especially when that team beat Lowell, previously-undefeated Lexington, and Lawrence to get to the sectional final? That is very difficult.

Lincoln-Sudbury did it Monday, however, with a 7-0 victory over Dual County League foe Acton-Boxborough at Alumni Field. L-S outscored A-B 30-0 over the three games they have played this season.

Of course, it is easier when you have Adam Ravenelle, the hard-throwing New York Yankee draftee, on the mound. The right-hander, who pitched in the previous two shut-outs for L-S, pitched six innings of one-hit baseball, striking out eight and surrendering three walks.

"I felt good today, it's been a while since I've felt good with both my fastball and my curveball," Ravenelle said. "It's definitely a good time for that to come out."

"Usually my strikeout pitch is my curveball, but today it was the fastball. I set it up with the curveball, and I guess they were still looking for it and I just kind of froze them with the fastball."

With the win, L-S (22-2) moves on to play the winner of the D1 South Final, either Xaverian or Franklin, on Wednesday for the right to play for the Division 1 State Championship.

L-S knows that game will be a challenge, regardless of who they play.

"We have two teams left that we've played," L-S coach Kirk Fredericks said. "Xaverian we played and lost 4-0. They're a good, scrappy team, very well-coached. Franklin we played in the MetroWest Classic Championship game. They hit the ball well and have five or six pitchers that throw the ball as good as any of our guys. We fully expect it to be a war on Wednesday."



Even though he didn't let a runner past second base in his six innings of work, it was predetermined that Ravenelle would exit the game when he did. An A-B (18-6) runner did not make it past second base the entire game.

"We decided that we'd probably throw him about five innings today, regardless of the score," said Fredericks. "He said he wanted to go one more, so we left him out there for one more."

A-B's Tyler Dickinson was moving along smoothly on the mound until the third inning when he surrendered back-to-back singles to Matt Cahill and Brian Carroll. Then he walked Dan Cellucci to load the bases. He struck out Carl Anderson for the second out of the inning, but gave up back-to-back singles to Ravenelle and Michael Berry that scored all three runners.

L-S struck again in the fifth with four runs on three hits in a walk, which included a two-run triple by Anderson that was made possible when the A-B leftfielder dove to try to catch the ball, but he missed, which allowed it to roll all the way to the wall.

"That's baseball," said A-B coach Patrick Grucela. "That was two phenomenal teams playing a game. We've talked all season that big innings are the curse and they got one three-run inning and one four-run inning when things didn't quite go our way and that was the difference in the game."

L-S got great production from Cahill and Carroll, their No. 8 and 9 hitters, who each went 3-for-4 in the game. It will need that if it hopes to advance to the State Championship game.

"Everyone takes their turn, and when we can put it together we're a tough team," Fredericks said.


June, 9, 2011
6/09/11
1:04
AM ET
By
Andy Smith
| ESPNBoston.com
LOWELL, Mass. -- It would be very difficult to find a baseball player in Massachusetts that had a better day than Adam Ravenelle Wednesday.

Mere hours after the Lincoln-Sudbury senior was drafted by the New York Yankees in the 44th Round of the Major League Baseball entry draft, he went out and hit for the cycle in a Division 1 North quarterfinal game against Chelmsford, helping propel his team to an 8-1 victory at Alumni Stadium.

The Warriors will play the winner of Thursday night's matchup between Lawrence and Acton-Boxborough, at Alumni Stadium, for the Division 1 North Championship Saturday at LeLacheur Park.

"I would definitely say this is a pretty good day for me," he said after the game. "There was a lot of anxiety all day, leading up to the final moment I did get drafted, but once I did get drafted, the weight was lifted off my shoulders and I kind of got to relax a little bit and play a game that I love. So it was a good day."

The Vanderbilt commit had no problem focusing on the task at hand, even with it being such a momentous day. He went 4 for 4 at the plate with a walk.

"If anything, it made me have more of a positive attitude because I was up and I was excited so I came in here excited and we got the job done," he said.

On the field, L-S (21-4) was able to overcome a tough fielding day for the position players with exceptional offense and pitching. Carl Anderson pitched five scoreless innings, and was able to get himself out of trouble when in difficult spots in the game. In the fourth inning, with runners on second and third with one out, he struck out one hitter and got the next to fly to center to get out of the jam.

"He gave us fits," Chelmsford head coach Mike O'Keefe said. "We got a little bit out of our comfort zone and tried to do things that we're not really capable of doing and got a little bit away from the plan that we had. You tip your hat to the kid."

The lefty exited the game with six strikeouts, while giving up only three hits and two walks.

"He did that on four days rest," L-S head coach Kirk Fredericks said of Anderson. "We were looking for five innings, but didn't know if we'd get two, didn't know if we'd get seven, but we were looking for five. He did a great job and gave us a chance to win the game."

A walk, fielding error, and single gave Chelmsford (16-8) the bases loaded with one out in the fifth, but L-S caught a break to keep the game scoreless. Dom Zaher, Chelmsford's No. 3 hitter, hit a scorching ground ball at second baseman Ryan Bassinger, who was unable to handle it.

The ball ricocheted off Bassinger's body, however, right into Dan Cellucci's waiting glove at second base. He tagged the bag and threw to first to finish the double play and keep the Lions off the board.

Those breaks in the game and the scoreboard helped mask the five errors the defense made, which was uncharacteristic for a team like Lincoln-Sudbury.

"We were gross today, absolutely awful," Fredericks said. "We hit the ball a little bit but we were awful. Defensively, mentally, we're a very tired team. We're terrible defensively and we're struggling to be able to get bunts down, base running, etc. etc. So we're not playing well right now."

The Chelmsford bats did not come through until the eighth inning when back-to-back hits by Matt Rabbito and Kevin Driscoll plated the only Lion run of the game. Even then, the L-S bats answered back in the bottom of the inning with back-to-back triples by Ravenelle and Michael Barry and a single by Keith Anderson to put two more runs on the board.
June, 6, 2011
6/06/11
11:22
PM ET
By
Tom Layman
| ESPNBoston.com
SUDBURY, Mass. -- Lincoln-Sudbury head coach Kirk Fredericks knew the challenge that his hitters could have with No. 7 St. John's Prep ace Pat Connaughton in the Div. 1 North quarterfinals.

But with a little extra work and some unconventional practice, the No. 2 Warriors (20-2) knocked around the Prep star in the early innings and got to the bullpen late in it's three-hour, 9-5 victory on Monday night at Feeley Field in the Div. 1 North tournament.

As soon as his team eliminated Boston Latin in the first round, Fredericks and his coaching staff set up the pitching machine at 90 mph to get his team ready for a helping of faster than normal heaters. He also set up the L-screen 20 feet from the hitters and had the coaches fire the ball as hard as they could to get the hitters reaction time just a step quicker.

That plan allowed the Warriors to be ready for Connaughton and the results showed as the Eagles' ace didn't get out of the fourth inning, surrendering five runs (four earned), walking seven and throwing over 100 pitches in his brief stint.

"We had a plan and we executed it well," said Fredericks, whose team will play Chelmsford in the Div. 1 North semis. "It got the pitch count up and more importantly it gave our kids confidence. … If they could hit me the way I was throwing from right in front of them, they could hit Connaughton, Tyler Beede or Adam Ravenelle."

That plan was executed best by Warriors' lead off hitter Dan Cellucci. The junior outfielder went 3-for-3 with three runs scored and the go-ahead homer in the seventh inning to break a 5-5 tie. Cellucci reached base safely all six times he approached the plate with three walks to go along with his three hits.

"It helped a lot," Cellucci said of the extra work. "You can't just go up in a game and face that speed. You've got to practice it and it definitely helped the whole team."

The Warriors were able to get the leadoff hitter on base in six out of their eight at-bats against Connaughton and the three other Prep pitchers.

With the game tied at two, the Warriors plated three unanswered runs in the third and fourth inning. With runners on second and third with one out, Adam Ravenelle nubbed a swinging bunt down the third base line. Connaughton tried to make a play on the well-positioned ball, but his throw sailed wide of first allowing both runs to come through for the 5-2 lead.

"I couldn't throw strikes," said Connaughton. "It was a control issue. I've had it in the past and I've always had it from lack of playing this sport enough. If I were able to throw strikes maybe it would have been a little different."

His Prep teammates picked him up immediately in the top of the fifth inning to tie the game at 5. The Eagles got the first four guys to reach in the inning, with Justin Peluso hitting a RBI single and Connaughton ripping a RBI double to the right field gap.

Cellucci delivered the game-winning run with a shot to center with two out in the bottom of the seventh off of Prep reliever Bobby Woodworth. Keith Anderson fueled a three-run eighth-inning with a bloop two-RBI single into left on a 0-2 pitch.

"Two games in a row," Fredericks said of Anderson's plate presence. "Keith got a huge hit and three RBI in the Boston Latin game and he had another huge hit today. He's helped us a great deal coming on at the end here."